I've often said that the key to securing the perfect airline award ticket is to lock something in as early as you can and then keep checking back to see if you can improve on that.
Of course it all depends on what you're looking to do, because in many cases you can lock in a "perfect" award 11 months out:
But there are some people going for more "aspirational" awards, and also some people who don't plan early enough.
Let me give an example of a case where I modified an award reservation seven times to create what I consider to be the perfect award. Before I get too deep into this, let me explain that I'm completely obsessive and nuts. I don't even want to admit how many hours I've spent looking at award options to perfect this award in such a way.
Long story short, in September Ford and I decided it would be fun to go to the Maldives for New Year's. Amazingly the Park Hyatt had award availability (exactly one room left, actually), so it seemed like it was meant to be. With rates for a base room of ~$2,000, redeeming just 25,000 Gold Passport points per night is a steal (despite the annoying mandatory New Year's Eve dinner).

Now before I get yelled at for going to the Maldives again, let me explain that this isn't a trip I'm taking for the sole purpose of reviewing, but rather one I'm taking because I actually want to spend quality time with Ford. So while I'll be writing a trip report about the flights, I realize it won't be everyone's cup of tea, given that I was in the Maldives in April. The good news is I'm reviewing several new business class products in January.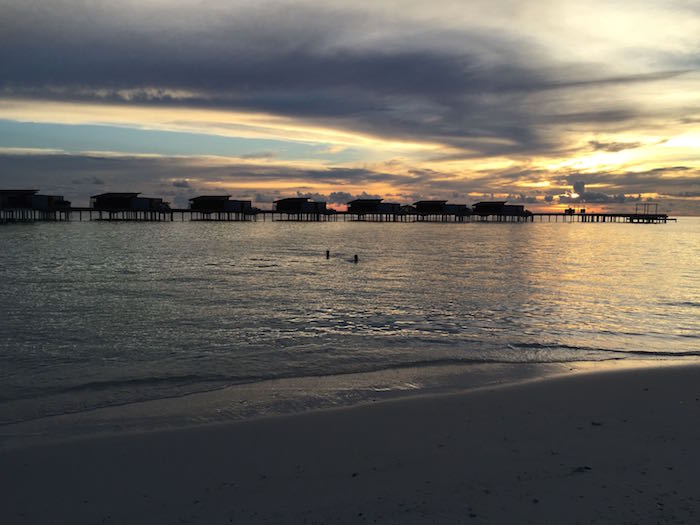 Let me explain the "evolution" of our award tickets, in hopes of showing how much awards can be improved upon as the departure date approaches, even for travel over peak dates.
Award #1
Much to my amazement, about three months out I found Qatar Airways award availability in business class from Miami to Doha for our exact preferred date. There were two seats available, and since we'd both be in Florida over Christmas, it seemed like the perfect option.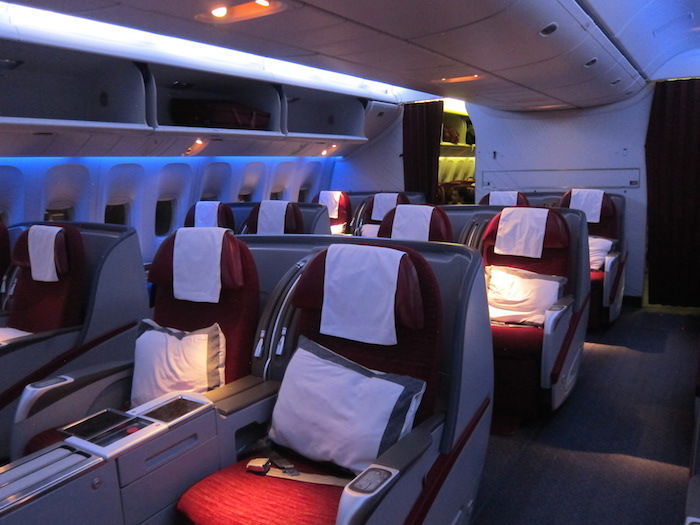 Qatar Airways business class
The following day there was a connection in Qatar Airways economy from Doha to Male. Okay, so 4.5 hours in economy isn't ideal, but hey, beggars can't be choosers. We were planning only a few months out for travel over peak dates.
So I was perfectly happy with it, though of course thought there might still be a way we could improve on it.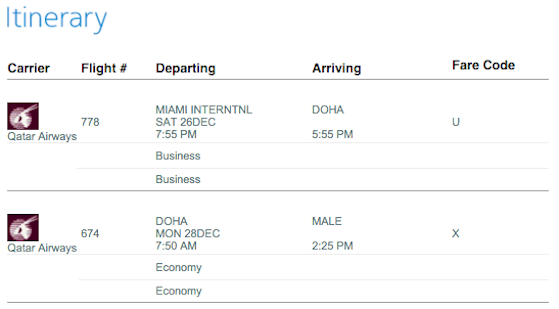 Award #2
While Qatar Airways business class was sold out from Doha to Male, about two weeks before departure I noticed that Etihad Airways made business class award space available on the date we needed. The flight was sold out in business class prior to that (not only on miles, but even for revenue seats), so I was excited about that.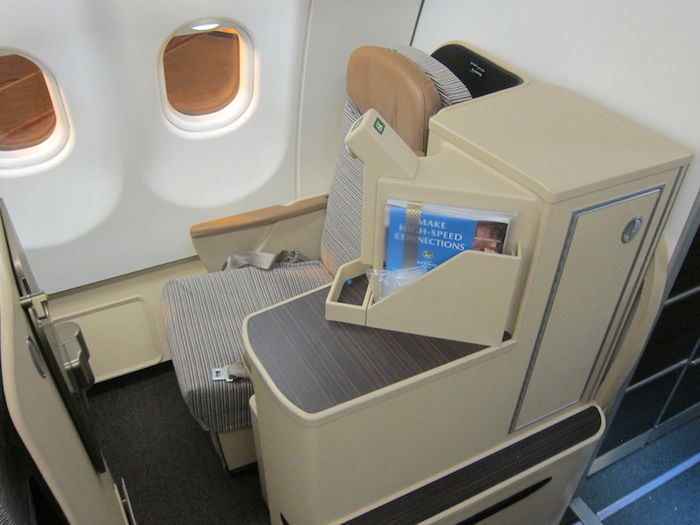 Etihad Airways business class
The catch is that we'd be adding a segment to the itinerary, and would have to fly Doha to Abu Dhabi. That's just a 30 minute flight and service on the sector is incredible, so I didn't mind one bit. The "catch" was that there was only an 11:55PM flight from Doha to Abu Dhabi, meaning we'd have a six hour layover in Doha and then a seven hour layover in Abu Dhabi. That certainly limited our potential to sleep, but still seemed like a significant upgrade (especially since we could spend the six hours in the Al Safwa Lounge).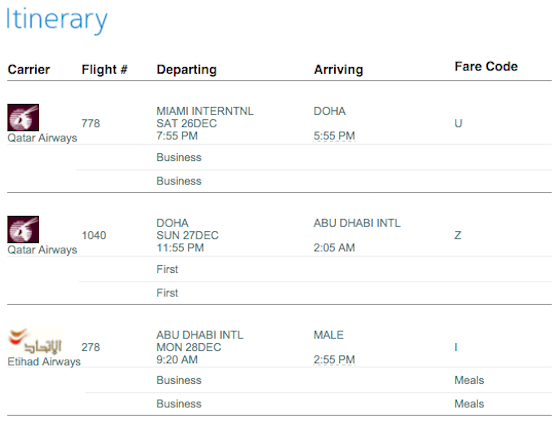 Award #3
Literally a day after I ticketed the above, award availability opened up on the 8:15PM flight from Doha to Abu Dhabi. That would give us a roughly two hour layover in Doha, and then an 11 hour layover in Abu Dhabi. That would allow us to get a proper night of sleep in Abu Dhabi before going to the Maldives.
Score! At this point I considered the award ticket to be a total success — we were in premium cabins all the way with a fairly direct routing and no long layovers. What more could you ask for?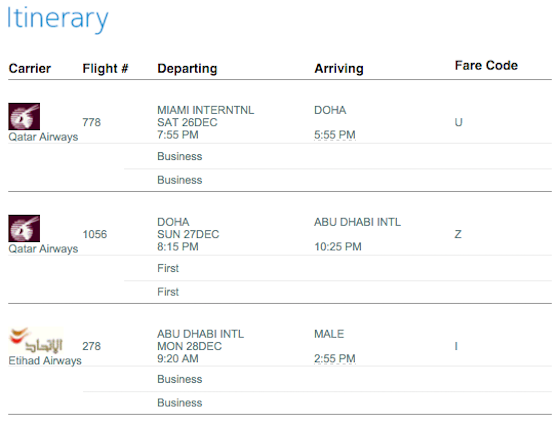 Award #4
Okay, I'm not going to lie, I had my eye on the prize the whole time. And by "eye on the prize," I mean I had been monitoring award space for the Etihad A380 First Class Apartment between New York and Abu Dhabi. Ford loved Emirates first class, so I was sure he'd enjoy Etihad just as much, if not more.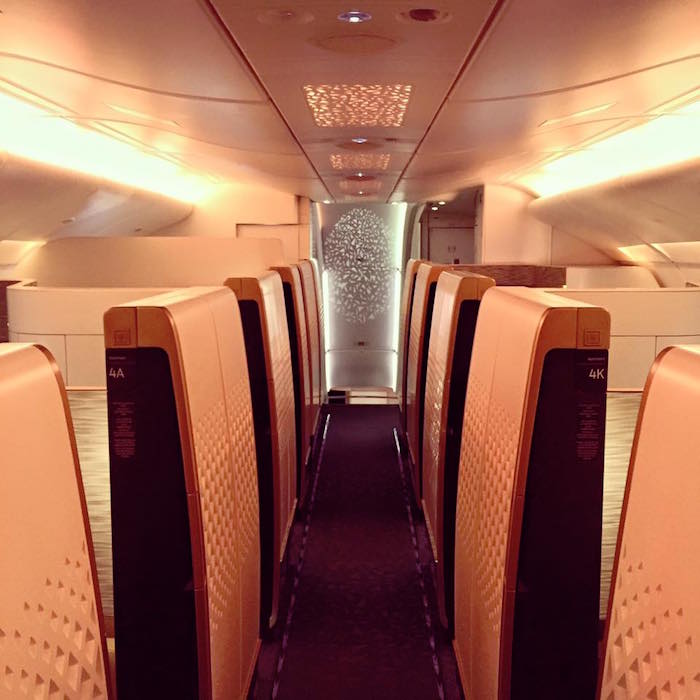 Etihad Airways A380 first class
Starting about a week before departure I started monitoring space very closely. I had finally figured out the pattern with which they release space, and literally checked every five minutes for space to open.
Before going to bed on the 23rd I checked award availability one last time, and one first class seat had opened from New York to Abu Dhabi.
I don't think there's a more "competitive" award seat to book, so I phoned up AAdvantage faster than a Belieber would agree to a meet-and-greet with Justin Bieber.
Of course there was a "catch" here:
Ford and I wanted to fly together, so I didn't actually want to change one award to Etihad first class, which would have been too much of a risk
At the same time I didn't want anyone else to snag the first class seat, so I held it as a separate reservation
So at this point I had a separate record locator from New York to Abu Dhabi on Etihad for Ford.

Award #5
I kept monitoring and monitoring and monitoring and monitoring. For the next day there wasn't a moment where I didn't have the Etihad award search tool open in one of my browsers.
I checked space at around 11PM and there was nothing. I checked three minutes later, and there was space. No joke.
Again, I phoned up American fast as I could and held the seat. Again I had them create a new record, since I figured adjusting the itinerary could have taken a while, and someone else could have snagged the seat in the meantime. Etihad A380 first class award seats sell out faster than Adele concert tickets.
At this point I had New York to Abu Dhabi for both Ford and me, though it was separate from our Miami to Doha to Abu Dhabi to Male reservation.
Award #6
Now I was in a bit of a pickle. I had a 90,000 mile first class award from New York to Abu Dhabi, and a 67,500 mile business class award from Miami to Doha to Abu Dhabi to Male. The issue was:
There's no way to "merge" segments from different itineraries, so at best I could have kept the 90,000 mile business class award and kept the Abu Dhabi to Male business class segment from the other itinerary, but I would have had to pay for it separately (meaning I'd pay an extra 25,000 miles).
Etihad did have award availability in economy from Abu Dhabi to Male, which I could have added to the same award at no additional cost, since it's the same region
So at this point I did something rather risky — I cancelled the Miami to Doha to Abu Dhabi to Male award, and hoped the business class seats from Abu Dhabi to Male would once again be available with miles (award space doesn't always go back into inventory — for many airlines it rarely does, actually). I canceled the ticket and looked at award availability, and it wasn't there. Crap. Economy it was!
I checked again five minutes later, and the seats were back. So I phoned up American and had them add the Abu Dhabi to Male business class segments to our reservation.
SCORE!!!
Award #7
One very minor problem, still. We were in Miami and needed to get to New York. Now tickets weren't expensive. I actually saw some $49 fares. While American had award space on virtually every flight between Miami and New York on the 25th, not a single flight on the 26th had space.
Well, the afternoon of the 25th they finally opened first class award availability on the exact Miami to New York flight we needed.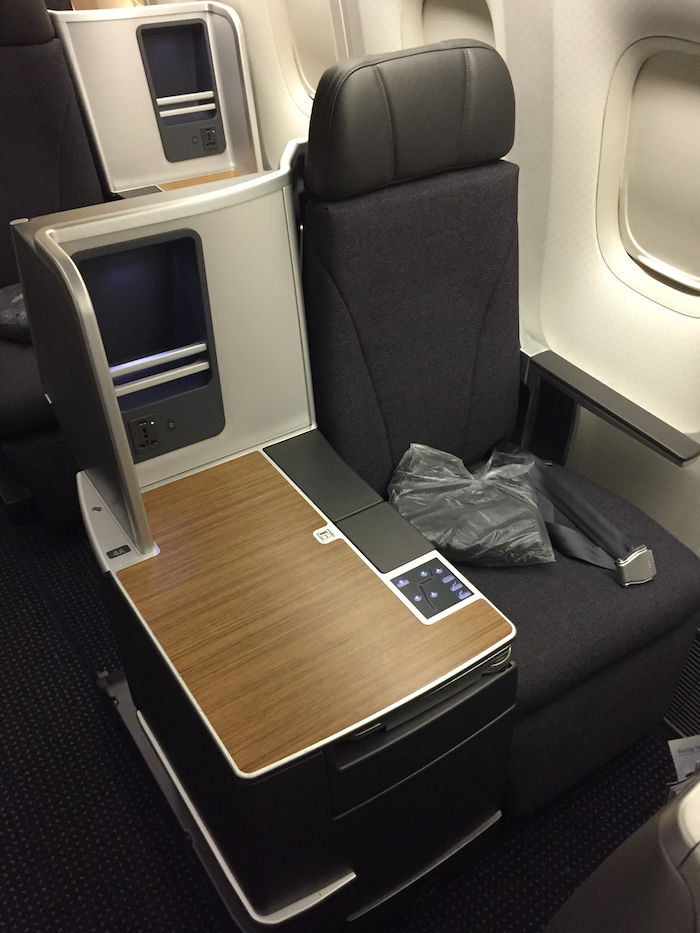 American business class
And with that, we had the truly perfect award.

Bottom line
What's the moral of the story here? I spent a countless number of hours "improving" this itinerary. Like, I don't even want to think of how many hours I spent looking at availability. But the reality is that I do that regardless of whether or not I'm traveling, as I like to stay on top of award availability trends. Regardless of whether I'm planning travel for myself or not, I probably spend at least a couple of hours a day looking at award availability.
With airlines holding back award availability more than ever before, it's important to be flexible. But beyond that, it pays to be vigilant. We're traveling over a peak period and booked what I'd consider to be the perfect award. And that's despite having zero date flexibility, but rather just routing flexibility.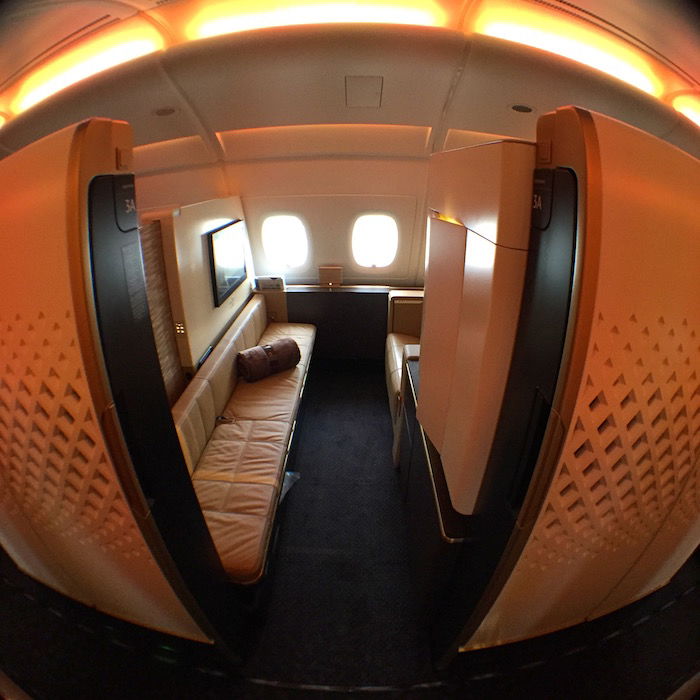 Etihad Airways A380 first class
Even over peak travel dates, booking the world's best first class product last minute is perfectly feasible. It just requires monitoring. One thing I should add is that I also have the benefit of being an Executive Platinum member, meaning I get waived change fees. However, with American you can change the routing, dates, and flights at no cost even as a non-elite member, as long as the origin and destination remain the same.
For everyone else's sanity, hopefully you don't spend quite as much time as I do looking at award availability. But hopefully this also gives some perspective and hope in the value of monitoring for availability.
So book something you're ultimately happy with when you can, and then keep checking. I felt very fortunate to snag Miami to Doha to Male (with the second leg in economy) just a few months out over peak travel dates. The fact that I could improve on it is the icing on the cake.