I recently took my boyfriend, Ford, on his first ever trip to the Middle East. And of course I did so in style — in Emirates first class. He's the furthest thing from a miles & points hobbyist (which is oddly refreshing, I must say, as someone who is otherwise pretty insulated to our miles & points world), and this was his first time in international first class.
Below he's sharing his thoughts on the experience. Suffice to say we had an amazing time.
For more of his pictures from the trip, you can follow him on Instagram.
---
As someone with my sensibilities famously said, "a luxury, once sampled, becomes a necessity." This certainly applies to Emirates A380 First Class, which I flew for the first time about a week ago from Dallas to Dubai.
How does one begin to enumerate the details and nuances of the experience that make it so incredibly pleasant, enjoyable, and frankly – fun?
To get them out of the way, I'll start with the things I found slightly unappealing (I suppose once could say "dislike" but that sounds a bit harsh and hyperbolic):
Five minutes of water in the shower isn't much, and I felt rushed and ultimately finished my shower in fewer than three! I live in LA, so I'm familiar with water conservation efforts, although I doubt the water policy is an effort at environmentalism. Given that there were only three passengers in First Class, including me and Ben, it would make sense to allocate a bit more water to each passenger. Emirates may want to consider a sliding scale for water allocation…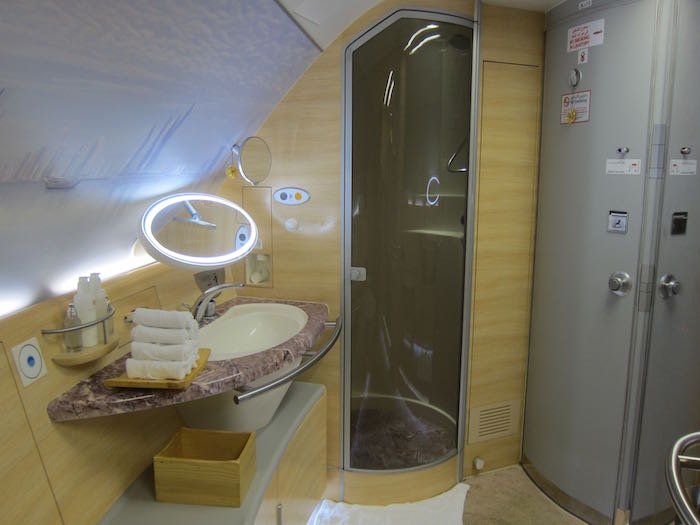 Some of the DFW-DXB passengers were odd, especially the Business Class passengers throwing back drinks in the bar – some of the older women were up past their bedtimes and drunk out of their minds, to the point that they took pics of me and Ben with their iPads (it's a very mom and grandma thing to do), but they were sweet and having fun, so who can blame them, really? I hope to be that awesome in 40+ years. I make the distinction between Business and First Class in the bar only because Ben and I were the only ones from First to venture back and take advantage of the bar.
No size SMALL PJs?! I'm actually a medium, but I'm 6 feet tall, so that leads me to wonder about what smaller passengers do? Do they drown in beige cotton?
I can't speak much to the entertainment system on board, as I was busy eating, drinking, napping, and later looking out the window as we approached Dubai (I moved from Suite 3F to 3A for landing). However, I can speak to nearly everything else.
The cabin was incredible. Certainly on the blingy side, with the gold, polished maple, and leather fixtures and finishings – not how I would personally decorate, but still pretty fabulous. In fact, I kind of love it for the very reason that it isn't my style. The "Suite" aspect was the highlight for me, though. I loved shutting the doors and creating a cocoon where I could stretch out on the fully flat bed, look up the glowing stars on the ceiling, and tune out.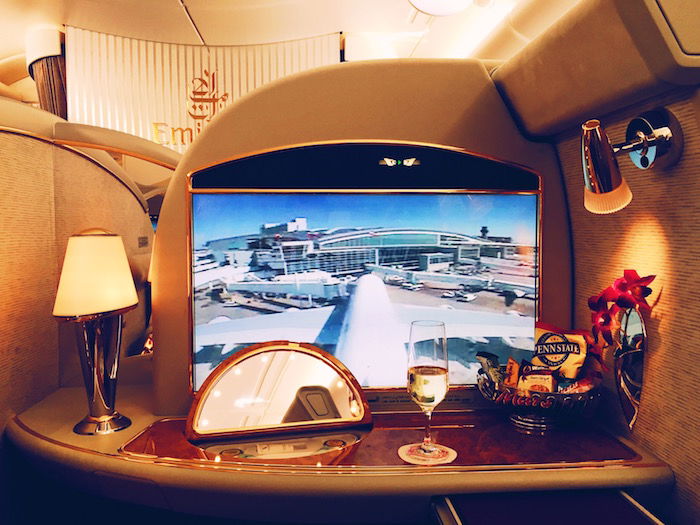 The service was impeccable. The Purser introduced himself to us before takeoff and assured us we would have a blast. He later followed Ben and me back to the bar with a bottle of Dom Perignon '05 to make sure it was stocked for us. The flight attendants were also extremely attentive, arriving within seconds of whenever I pressed the call button.
My champagne glass was literally never empty, my Perrier and Voss were replenished in the minibar regularly, and they brought me back from the brink with paracetamol and pancakes when I awoke with a headache. They also were quick to engage us, chat about Dubai, and share a few quips. They also coordinated a birthday surprise for me (spearheaded by Ben) and brought out a red velvet cake complete with glowing electronic candles and a few fresh roses. Their kindness and sincerity was evident in the act. Thanks ladies!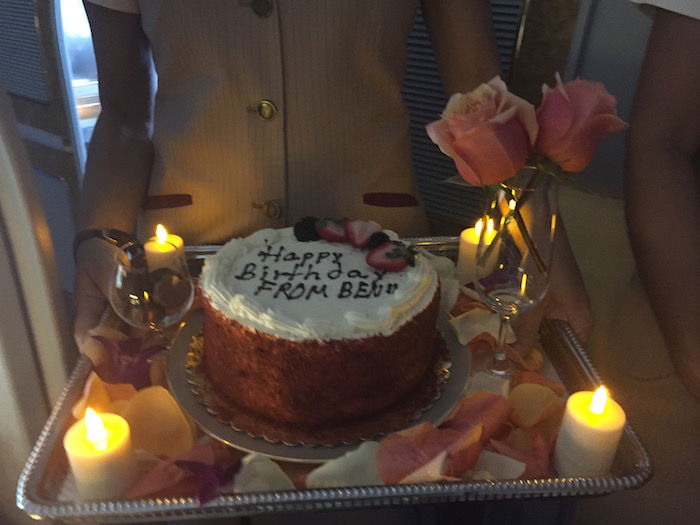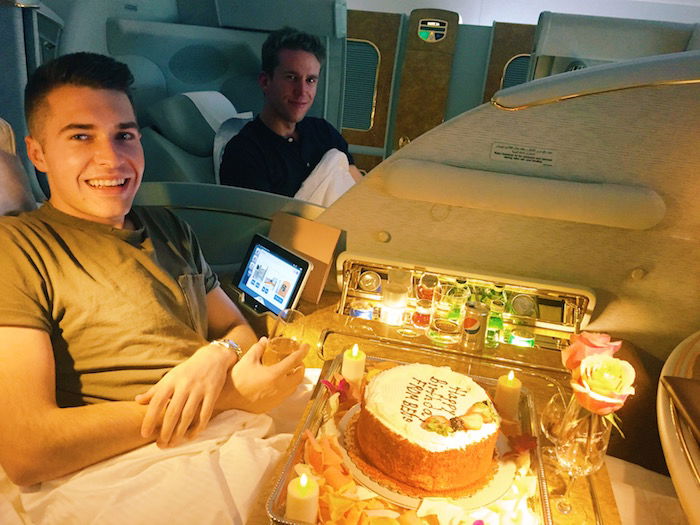 The bar, as Jennifer Aniston has shown us recently, kind of makes the experience. When you have 14 hours to kill, the opportunity to stretch one's legs with purpose (as opposed to wandering up and down the aisle to prevent embolisms) and head back to the bar is key. While we didn't chat much with other passengers, I did enjoy standing at the bar as well as sitting on the couch while sampling a few different cocktails: a sip of Ben's Hennessy Paradis and Dom, a Ketel One Filthy Martini, a Flamingo – a sweet cosmo with cherry liqueur courtesy of the innovative and beautiful Irish bartender.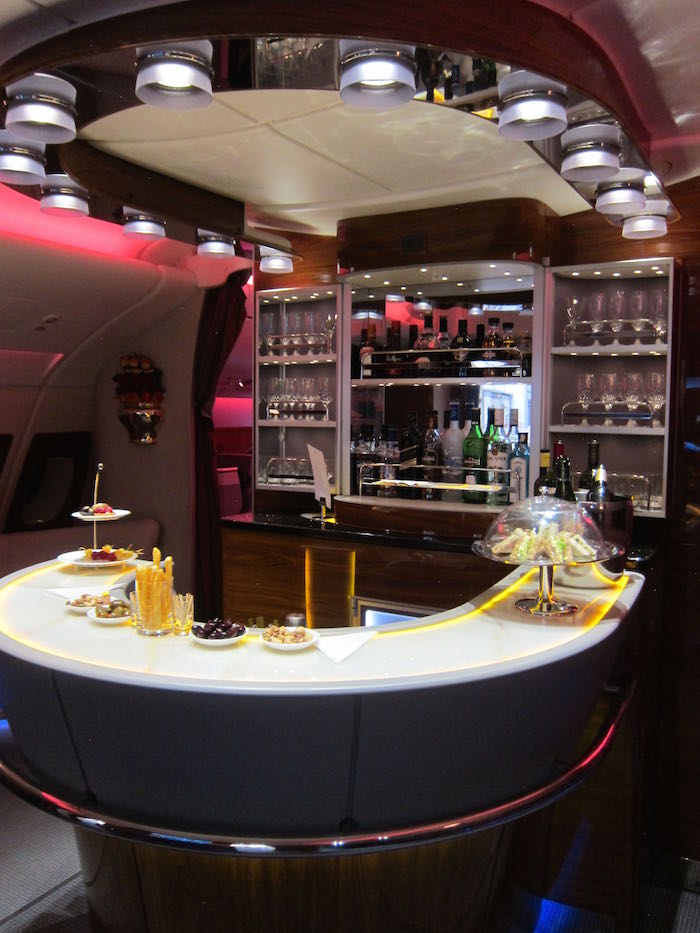 The food on flight was likewise impressive. I found myself craving the Salmon Wasabi Burger more than once while in Oman. The portions were on the small side, so that several items could be enjoyed as a meal rather than just one item.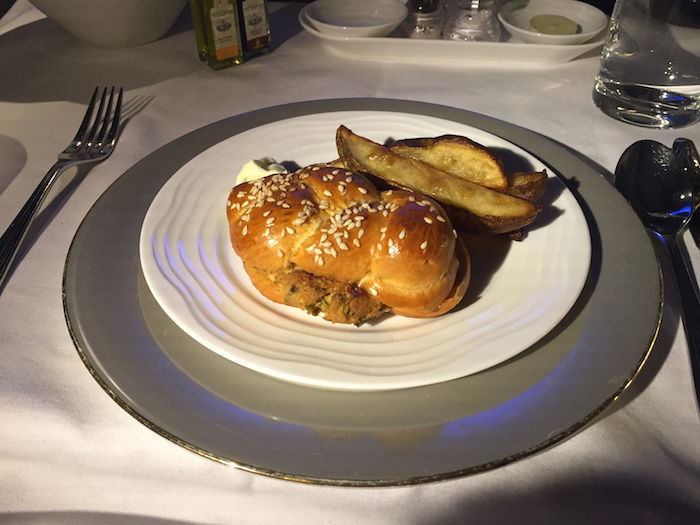 The caviar, which I ordered twice during the flight, was smooth and creamy. While Arabic Mezze isn't something I would normally think to mention because of personal taste, the presentation alone makes it worth ordering!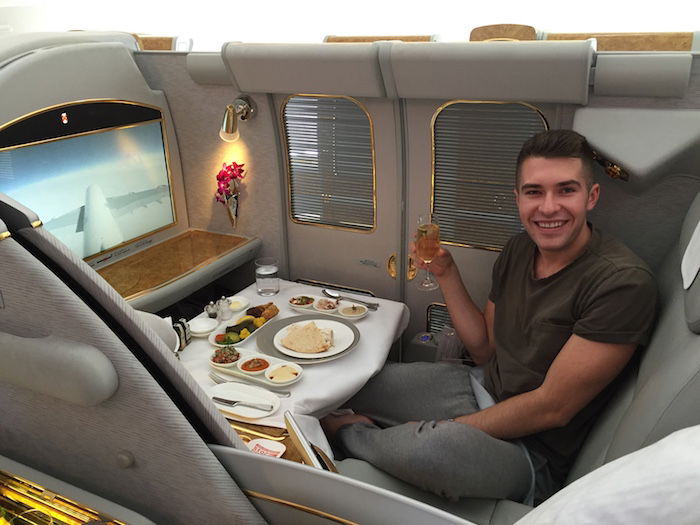 Finally, the bathroom and shower… For some airplane aficionados, the shower is the most exciting and exhilarating aspect of Emirates First Class. I most enjoyed that the bathroom was spacious, well lighted, modern, and very clean. Since there were only three of us in First, the bathrooms were more or less private. I often end up dehydrated after a flight, even while flying in Business or First, because I'm reluctant to drink too much water for fear of having to use the crowded and often unclean bathrooms! It's not so much a conscious decision as it is one that is subconscious – informed by each trip up the aisle to the cramped little bathroom that I often find gross. The bathrooms in Emirates First Class couldn't be more of a departure from this experience. I arrived in Dubai better hydrated than when I departed Dallas. I also loved the full-length mirrors than run along one side of the bathroom make dressing and grooming simple.
In summary, if you haven't had the chance to fly Emirates First Class yet, move it to the top of your priority list. I relished the experience and would even say it is worth routing a trip through Dubai, if you have a little extra time. It certainly didn't feel like a 14-hour flight. Perhaps because it wasn't so much a "flight" as an immersive flying experience!