Hello from London! Yesterday I took a flight that has been on my radar for quite a while, as I flew RwandAir from Kigali to Brussels to London Gatwick. I first wrote about the airline a bit over two years ago, when I mentioned that RwandAir has Africa's best business class hard product on their two Airbus A330 aircraft.
So, how was the RwandAir experience on the eight hour flight to Brussels, and then 40 minute hop to London Gatwick?
RwandAir's A330-300 has a total of 30 business class seats in a staggered configuration. They have Vantage XL seats, which are the same you'll find on airlines like SAS. This is a solid hard product, especially when you consider that most African airlines aren't exactly cutting edge in this regard.
I managed to snag a "true" window seat, which gives you quite a bit of privacy. I quite liked the seat finishes, as I found the green and brown to be pretty unique.
In bed mode the seat is fairly comfortable as well, though the footwell is on the small side.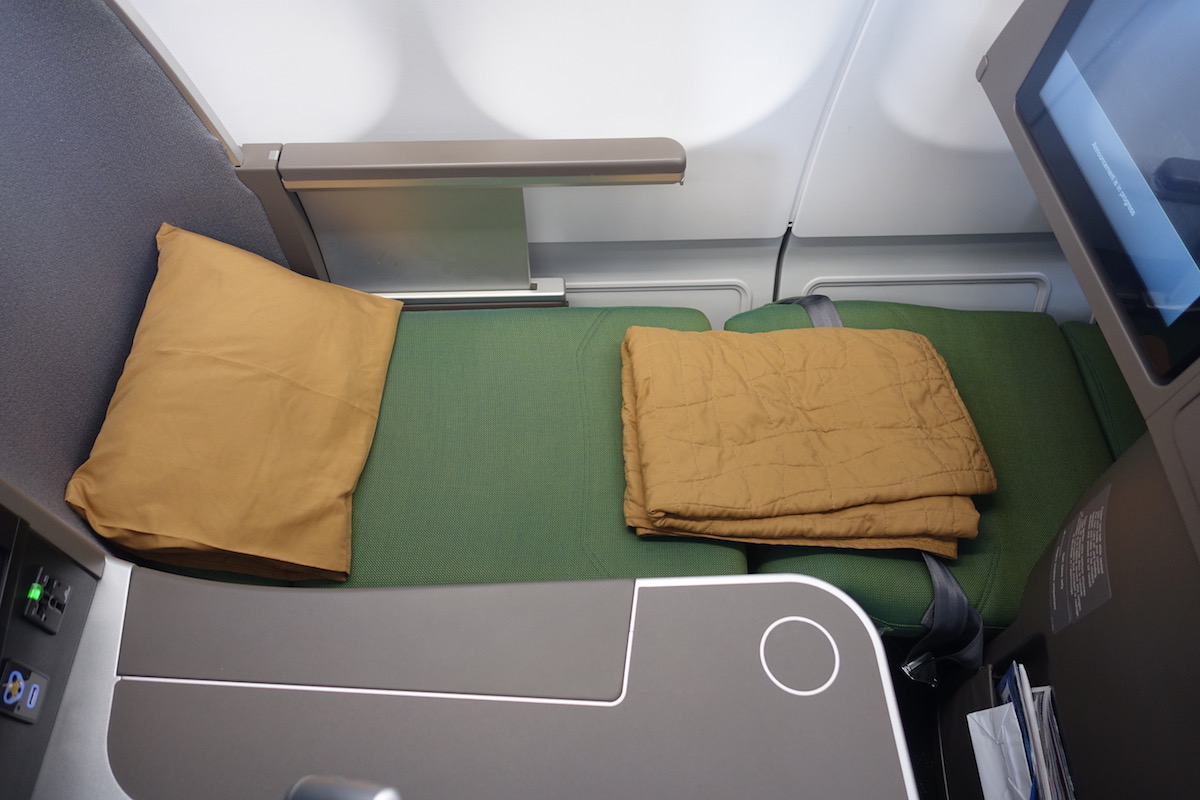 When it comes to amenities, all business class passengers received a thin pillow and a comfortable blanket. I would have been pretty happy if I could have a second or third pillow, but a single pillow this thin really didn't do the trick.
There were also amenity kits, which were quite nice, and well stocked.
Rwandair has wifi on their A330s, though they use the OnAir service, which is probably the slowest in the sky. A 300MB pass valid the entire flight cost $30. Entertainment options were limited, as there were under 30 movies, so that wasn't ideal.
Now, let's talk about the food and the service. We'll start with the good. The crew was excellent. The ladies working business class were extremely friendly and genuine, so I can't fault their service at all.
Unfortunately the food didn't impress me as much. The flight left at 8AM, and after takeoff breakfast was served. This consisted of a fruit plate, a selection from the bread basket, and a choice of two egg dishes (I chose the omelet).
There was nothing else to the breakfast service — no yogurt, cereal, or any other accompaniments.
Then the next meal was served 3.5 hours before landing, which meant there were really only about three hours between meals. This meal was similarly disappointing.
The meal started with an appetizer consisting of a little bit of salmon and some veggies. There were no choices of appetizers, no soup, no salad, etc. That was the only option.
Then there were two choices for the main course — either chicken with rice or beef with rice.
Lastly there was dessert.
All things considered this was one of the most underwhelming meal services I've had on a longhaul flight in a long time. There were no menus, just two choices for main courses, no choices for appetizers, and no yogurt or cereal with breakfast, or soup or salad for lunch.
I'll have a full trip report soon, but I'd say the service was warmer than I was expecting, while the food wasn't as good as I was hoping for.
That being said, as far as African airlines go, I'd say their product is still very competitive.
RwandAir has indicated that they want to launch flights to New York in 2019, and I'm very curious to see if that happens…