---
After doing some lounge hopping at Nairobi Airport, it was time to fly to Kigali. My flight was scheduled to depart at 3:15PM, and my boarding pass indicated that boarding was scheduled to start at 2:30PM.
So I headed to the gate at around 2:20PM. My flight was departing from gate 5, and security was at the actual gate (rather than at a centralized checkpoint), though there was no queue.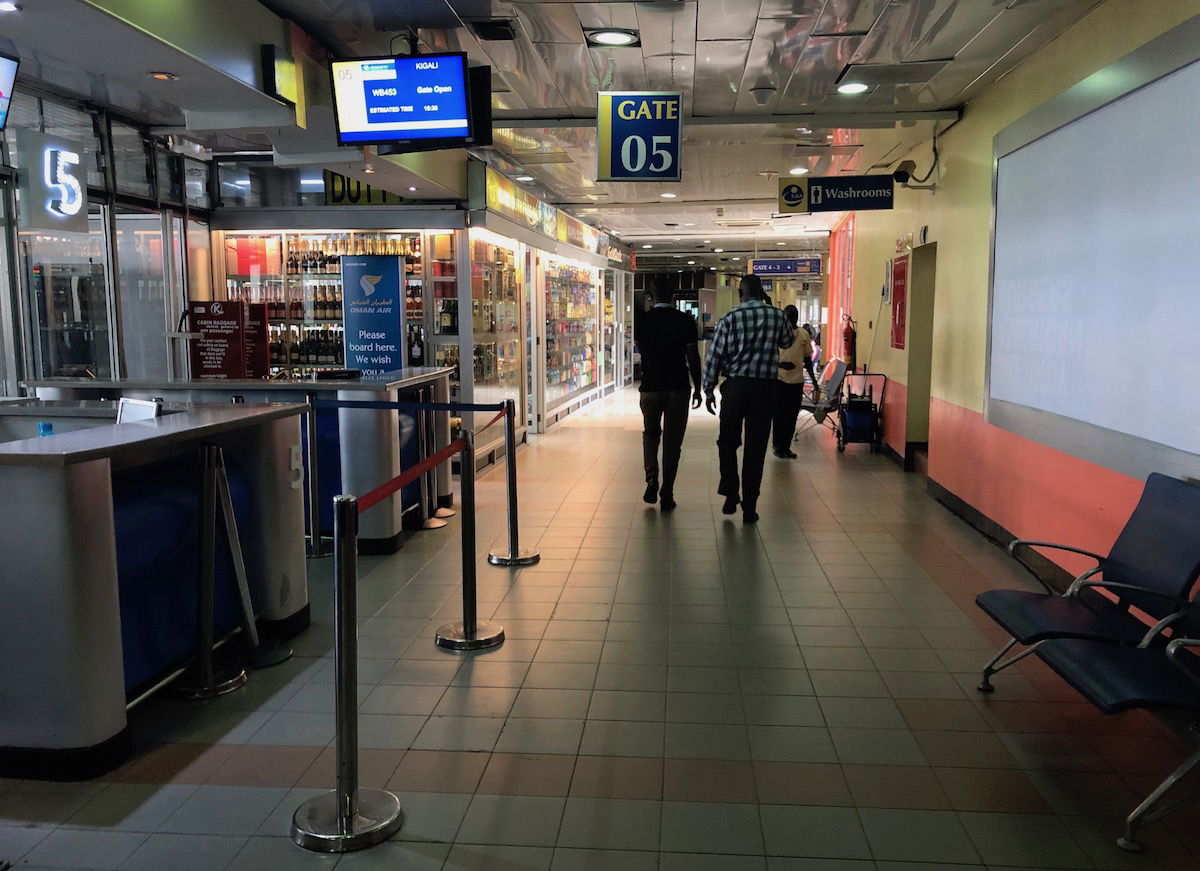 Nairobi Airport terminal
The gate area pretty quickly filled up, though I was confused, because there was no RwandAir plane in sight. There still wasn't one at 2:40… 2:50… 3:00… 3:10…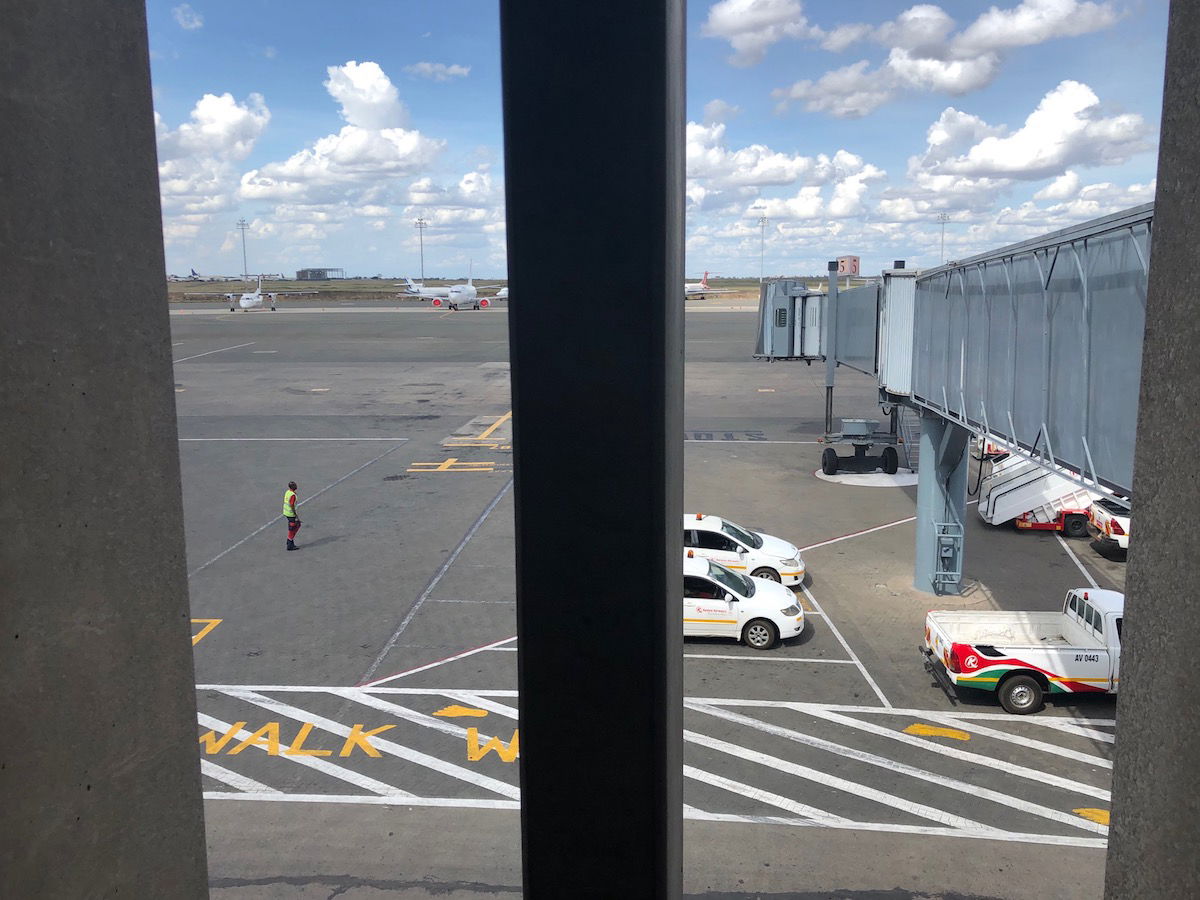 Nairobi Airport departure gate
Finally at 3:15PM (our departure time) the gate agent opened the boarding door and walked us all down a hall and set of stairs.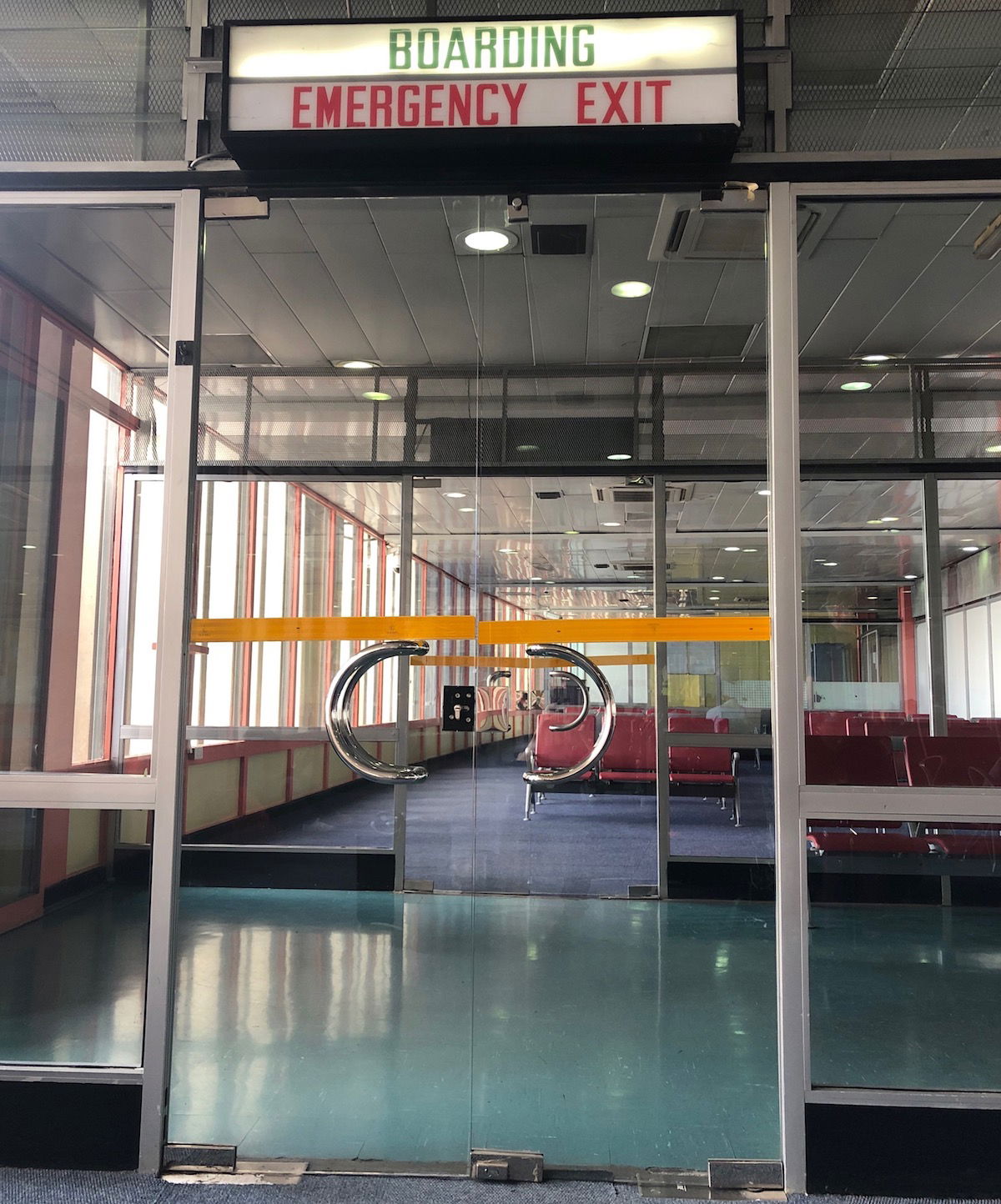 RwandAir departure gate Nairobi
As it turned out, our flight was departing from an apron position without a jet bridge, so she just walked everyone to the plane. Ah, that explains things.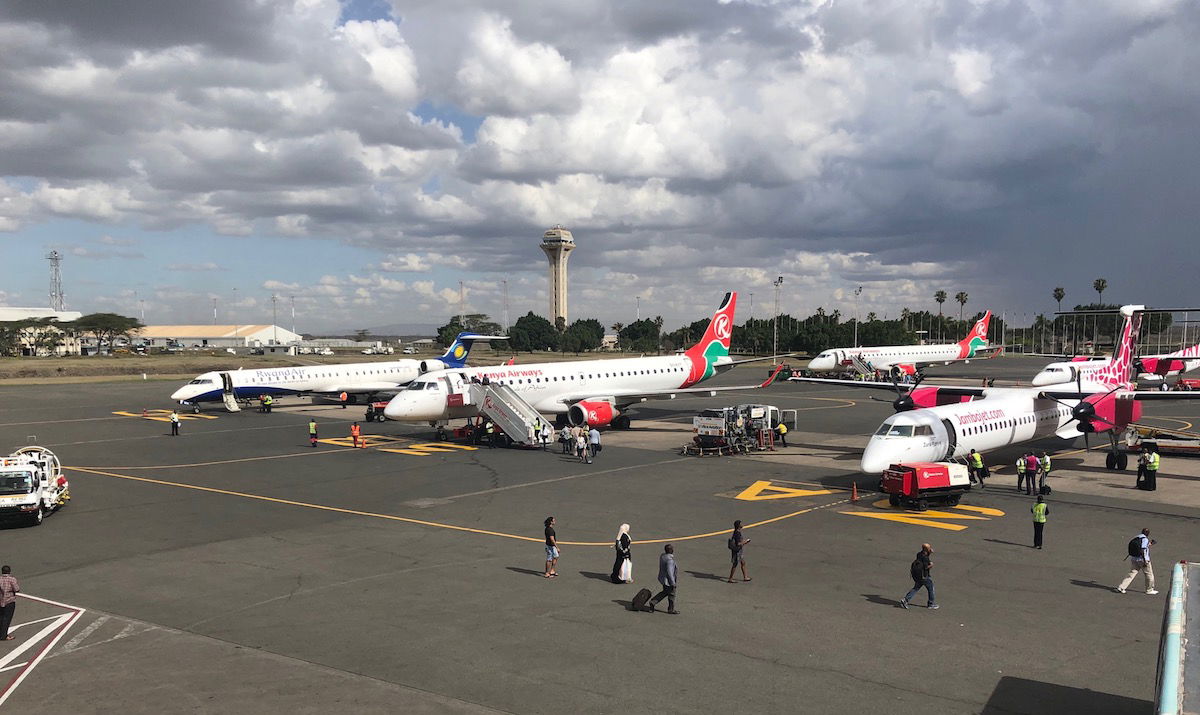 Nairobi Airport apron
The rest of the planes parked there were Kenya Airways Embraers as well as Jambojet Dash 8s, and then our cute RwandAir CRJ-900 was parked in the very back.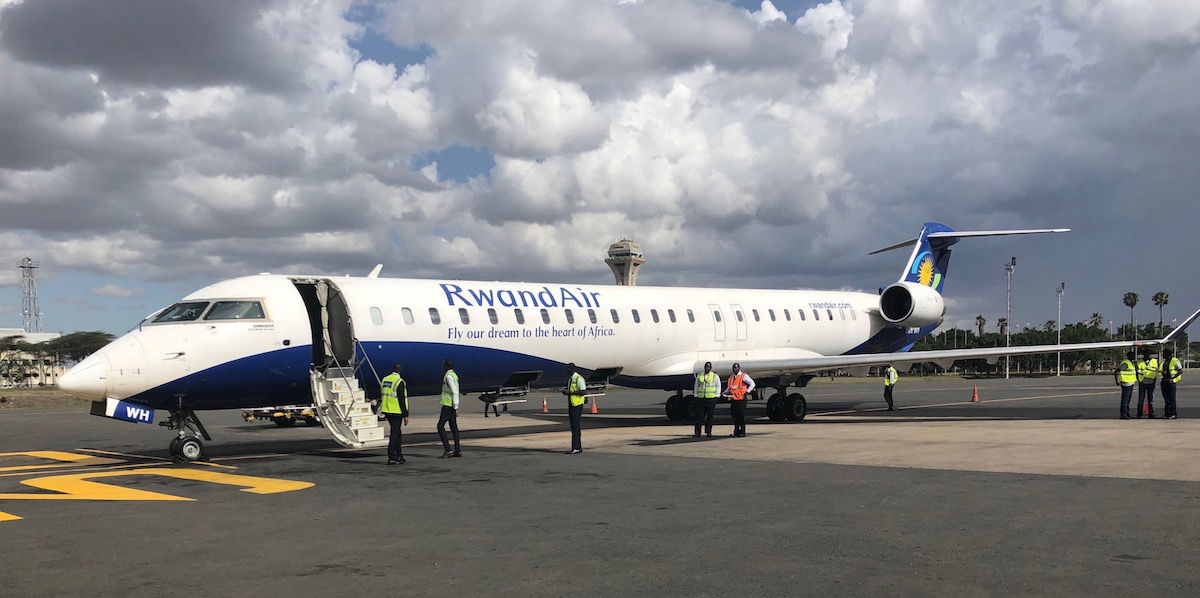 RwandAir CRJ-900 Nairobi Airport
RwandAir 453
Nairobi (NBO) – Kigali (KGL)
Friday, November 9
Depart: 3:15PM
Arrive: 3:40PM
Duration: 1hr25min
Aircraft: CRJ-900
Seat: 2A (Business Class)
The plane was already about half full. RwandAir operates a bunch of one-stop routes around Africa, though I hadn't realized that this was one of them. As it turns out, this plane was coming from Entebbe, Uganda. That's a rather roundabout way to fly from Entebbe to Kigali, no?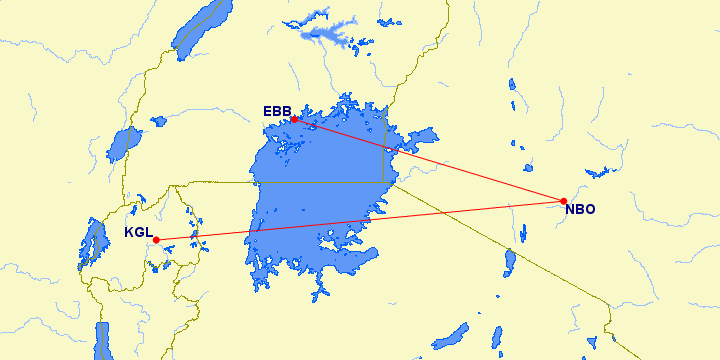 So given that the plane was already about half full, it was tough to get pictures of the entire cabin. RwandAir's CRJ-900 has a total of seven business class seats.
The cabin was in a 1-2 configuration, with three rows along the left side of the cabin and two rows along the right side of the cabin. The cabin was comfortable, and pretty standard for a regional jet premium cabin.
Obviously if traveling alone I'd far prefer the single seats on the left side.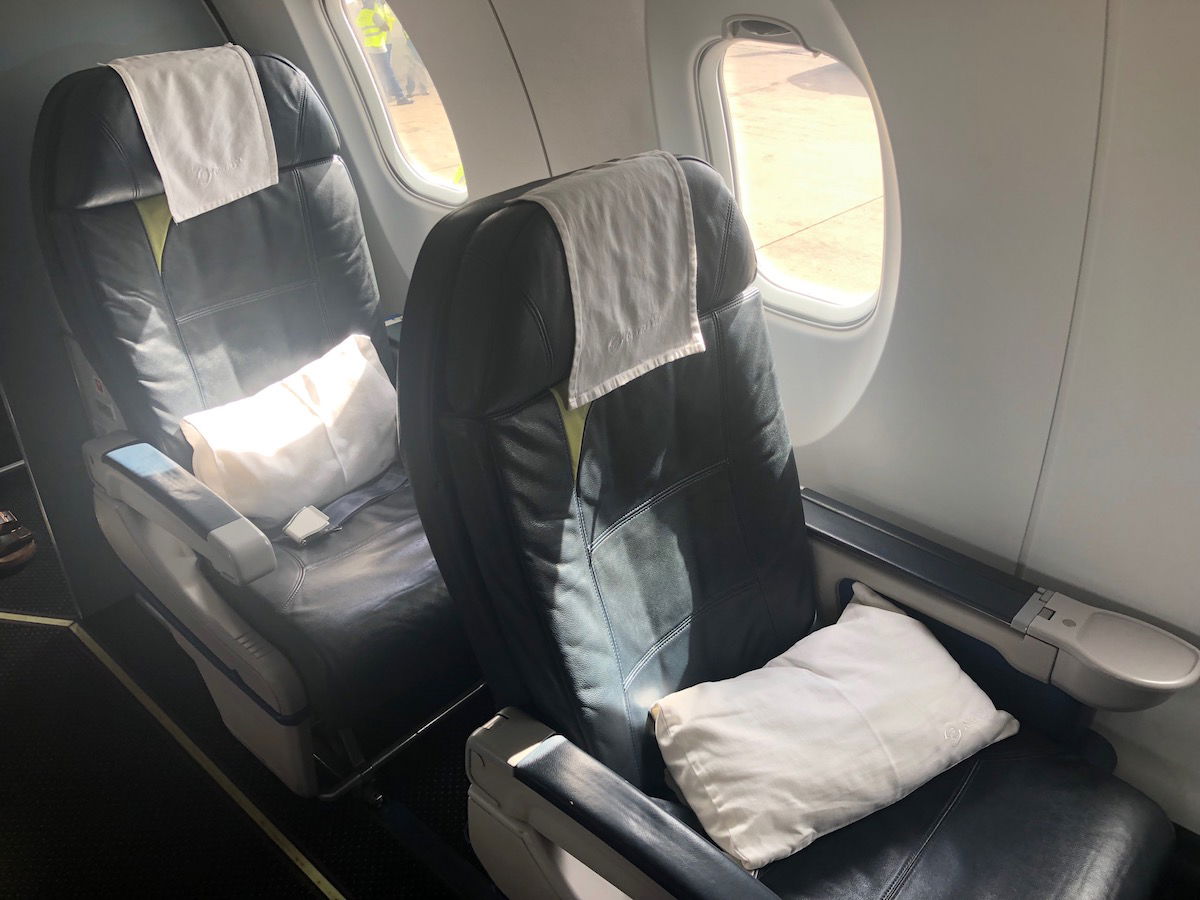 RwandAir business class CRJ-900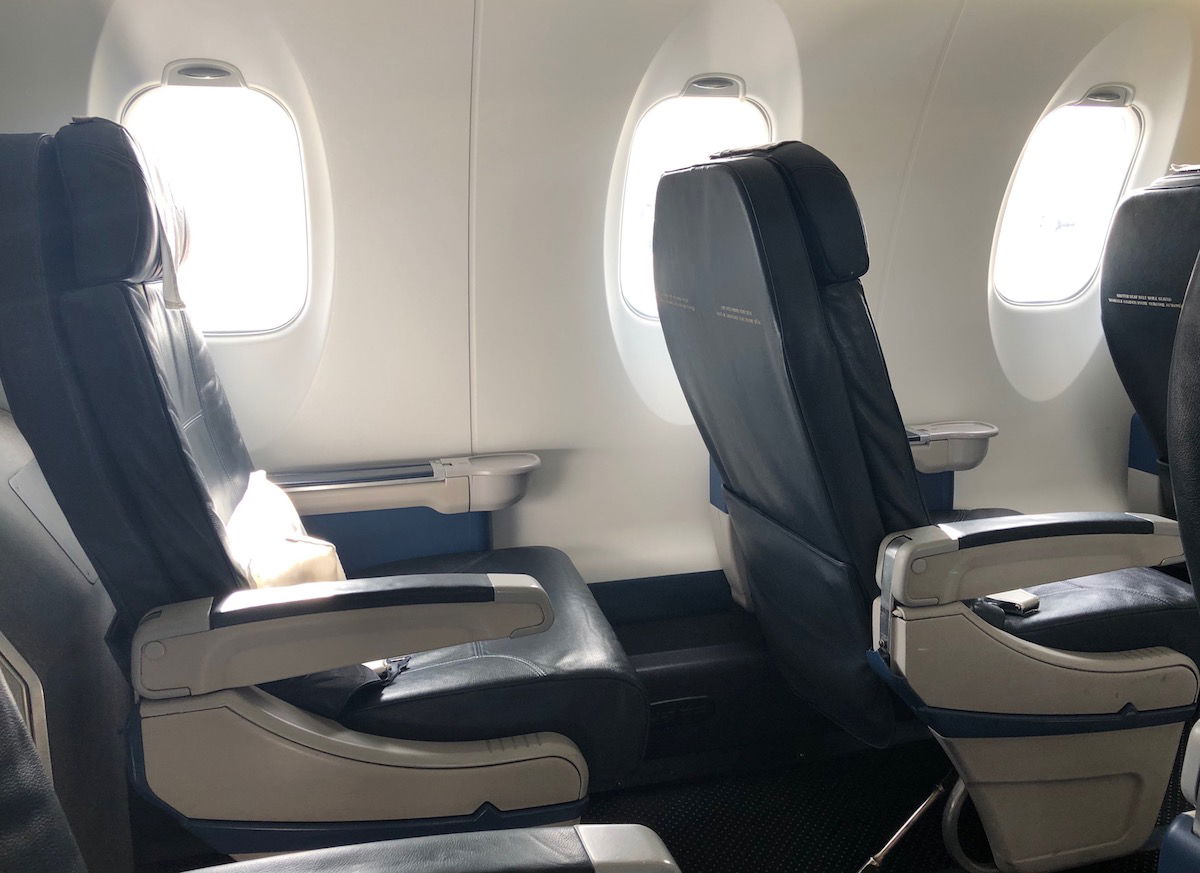 RwandAir CRJ business class seat
Then on the right side are sets of two seats.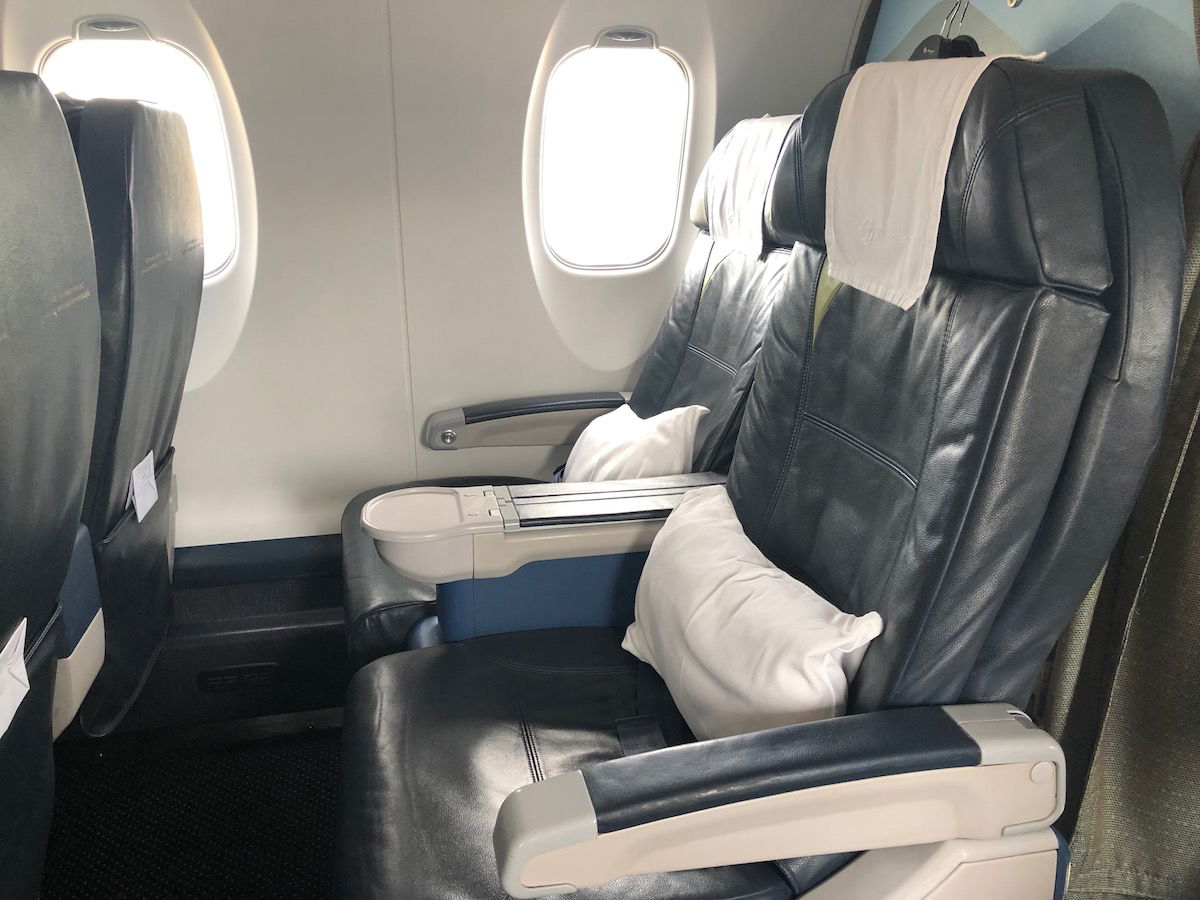 RwandAir business class seats CRJ-900
Initially I had assigned myself seat 2A, the window seat on the left in the second row. The seat had an armrest with a tray on the side for a drink.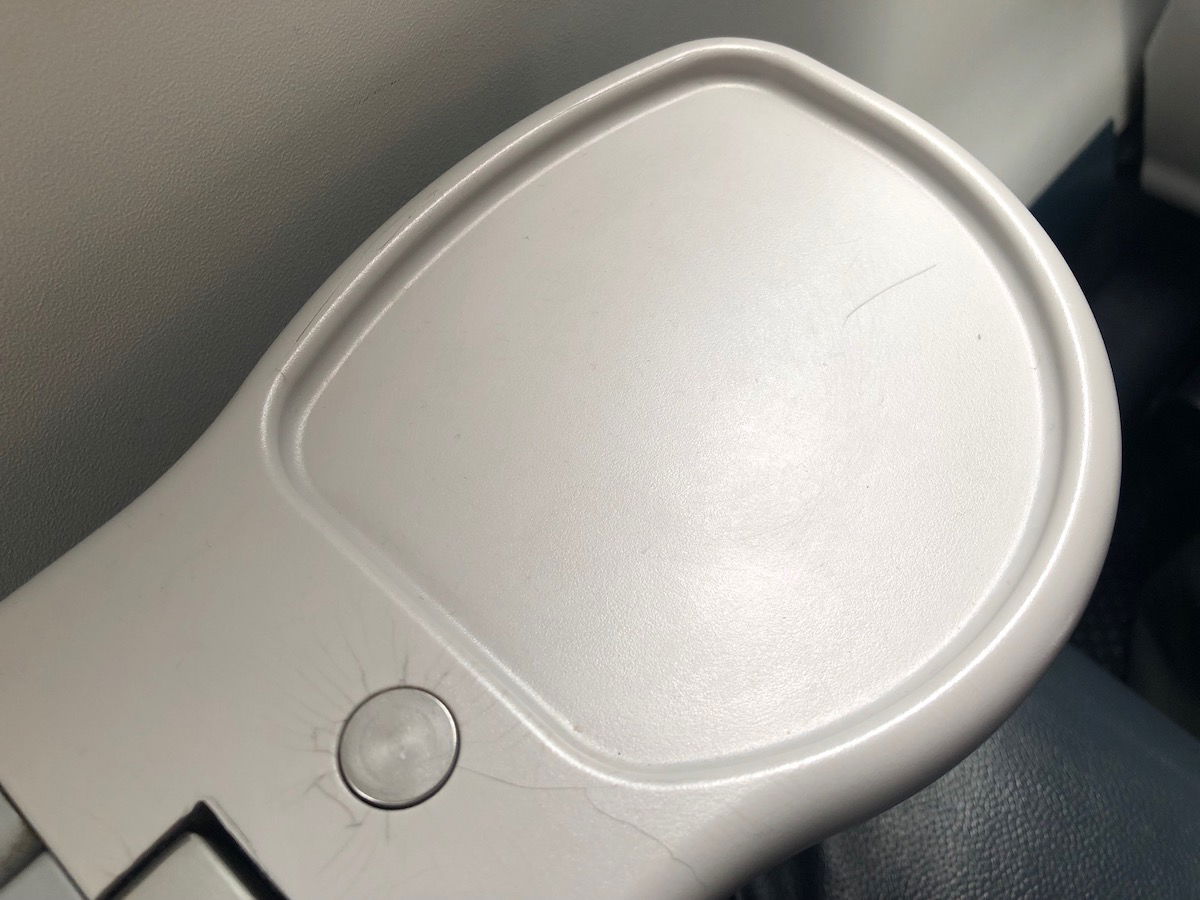 RwandAir business class tray
The tray table folded out from the armrest, and could be folded in half.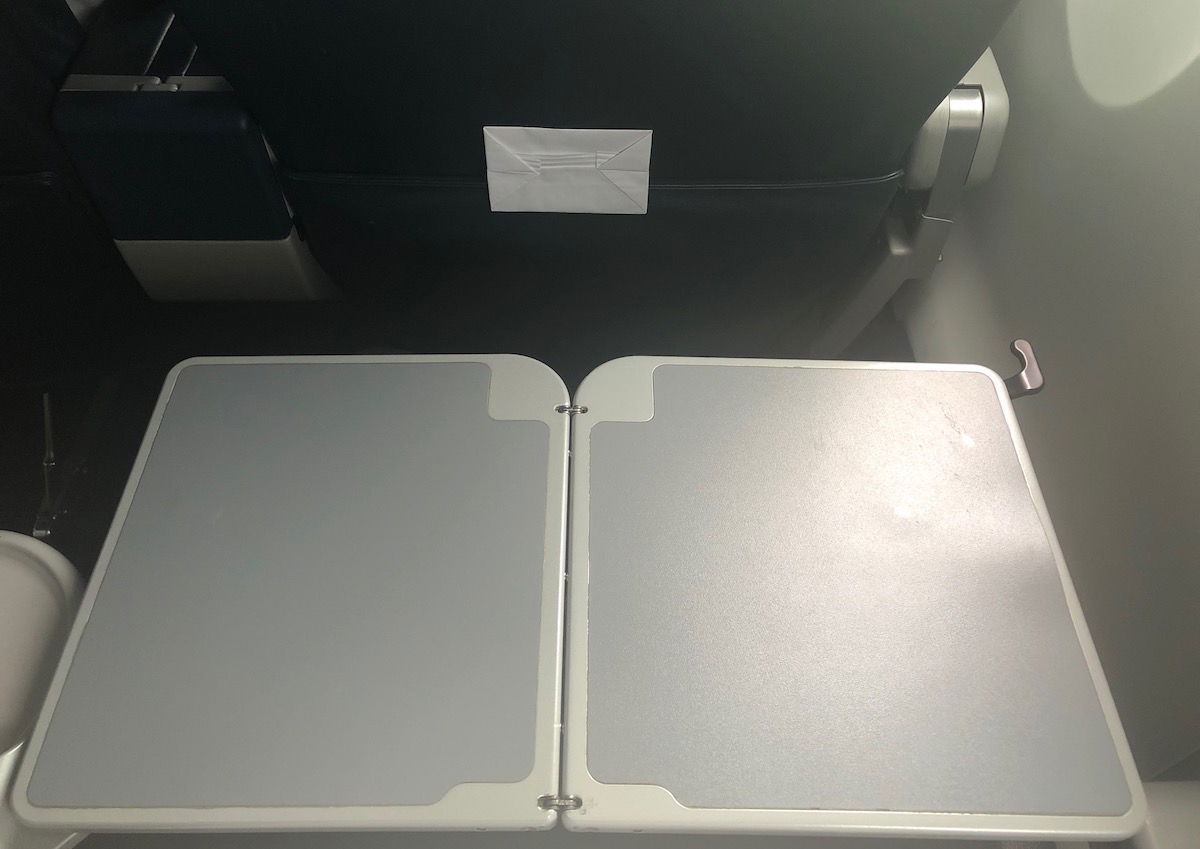 RwandAir business class tray table CRJ-900
There was lighting and individual air nozzles at each seat.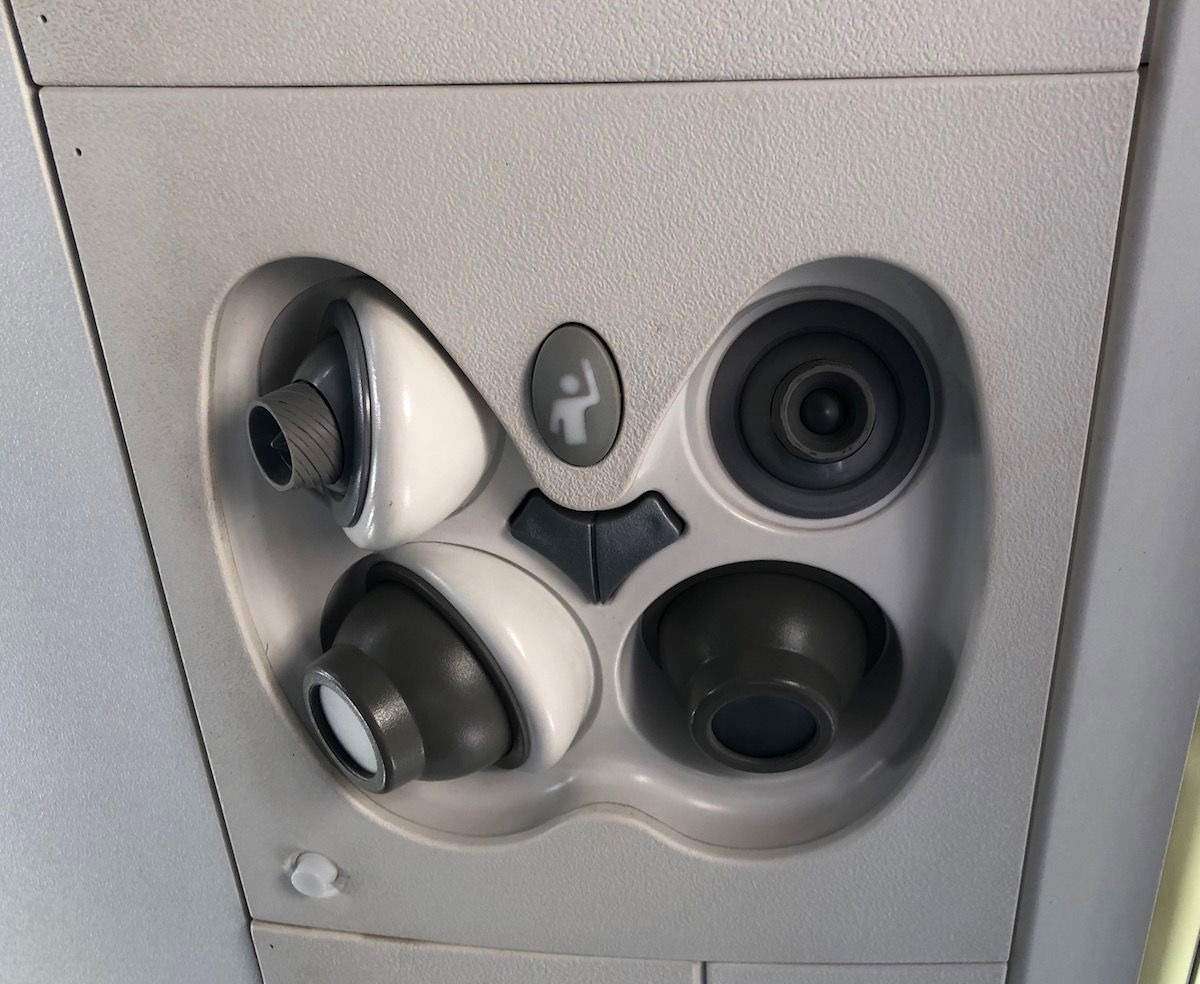 RwandAir business class air nozzles CRJ-900
Each business class seat also had a pillow.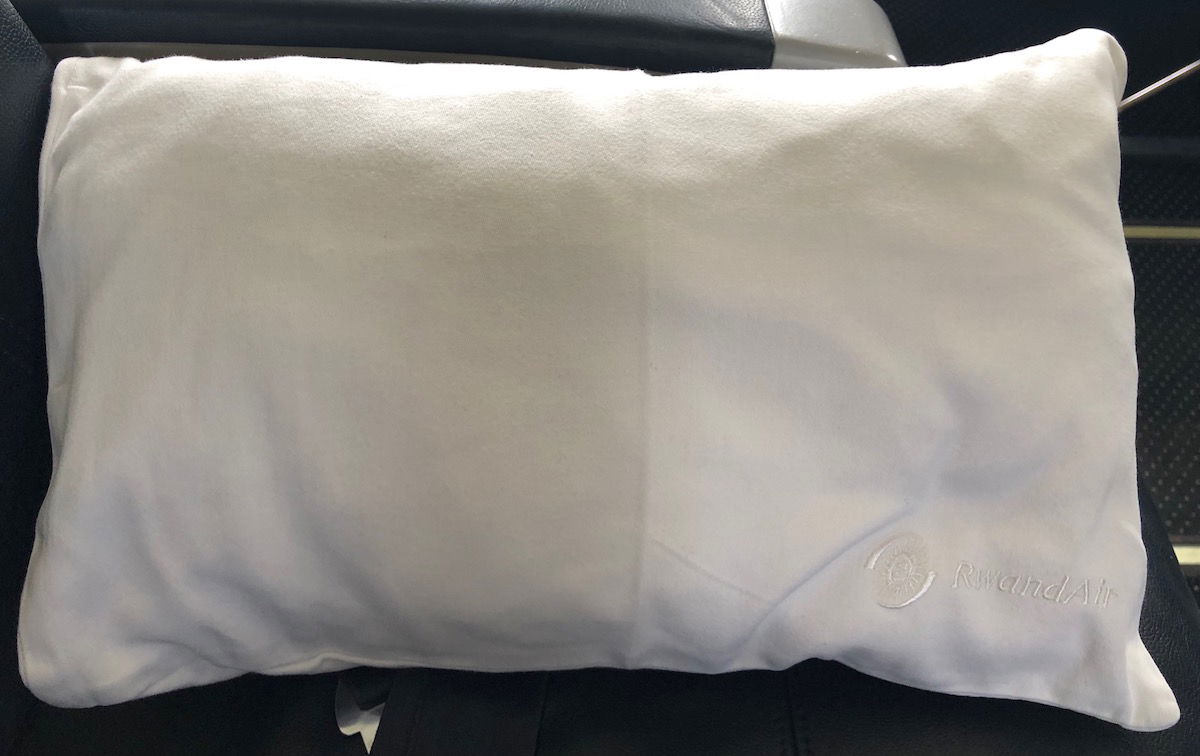 RwandAir business class pillow
There was a lady in 1A, then there was an off duty pilot and a young lady seated across from me, and then row three seemed to be completely empty. So I moved to 3A (simply because I take a lot of pictures, so I prefer to have as few people around me as possible).
However, a few minutes later a guy came from the back of the cabin and sat down in 3A. As it turns out, RwandAir has security officers on every flight. I guess they're air marshals of sorts.
So when he arrived I decided to move over to the set of two seats across from him in row three, since they were both empty. So in the end there were three passengers (including me), one pilot, and one security officer in business class.
The captain seated in front of me was hitting on his seatmate hard. She seemed receptive, and at the end of the flight they exchanged info.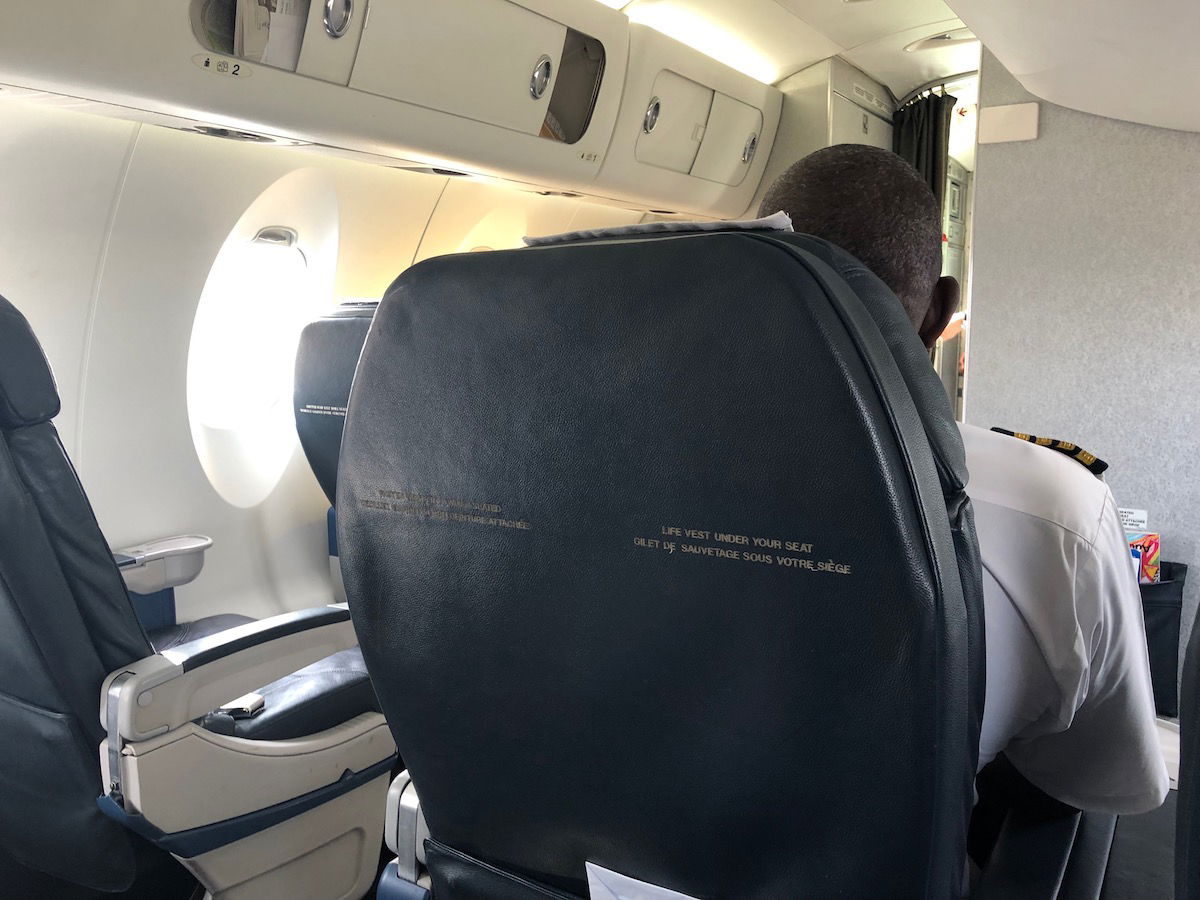 Flirting captain on RwandAir
One funny thing was that they tried to gate check the captain's carry-on, but he got quite angry and refused.
At around 3:25PM the captain (who sounded Italian to me) added his welcome aboard and informed us of our flight time of 64 minutes, and our cruising altitude of 38,000 feet. He advised that he expected some turbulence on approach to Kigali, but otherwise a smooth flight.
At 3:30PM the door closed, and then a couple of minutes later the manual safety demonstration began.
There was no need to push back (since we were at a remote stand), and at 3:40PM we began our taxi.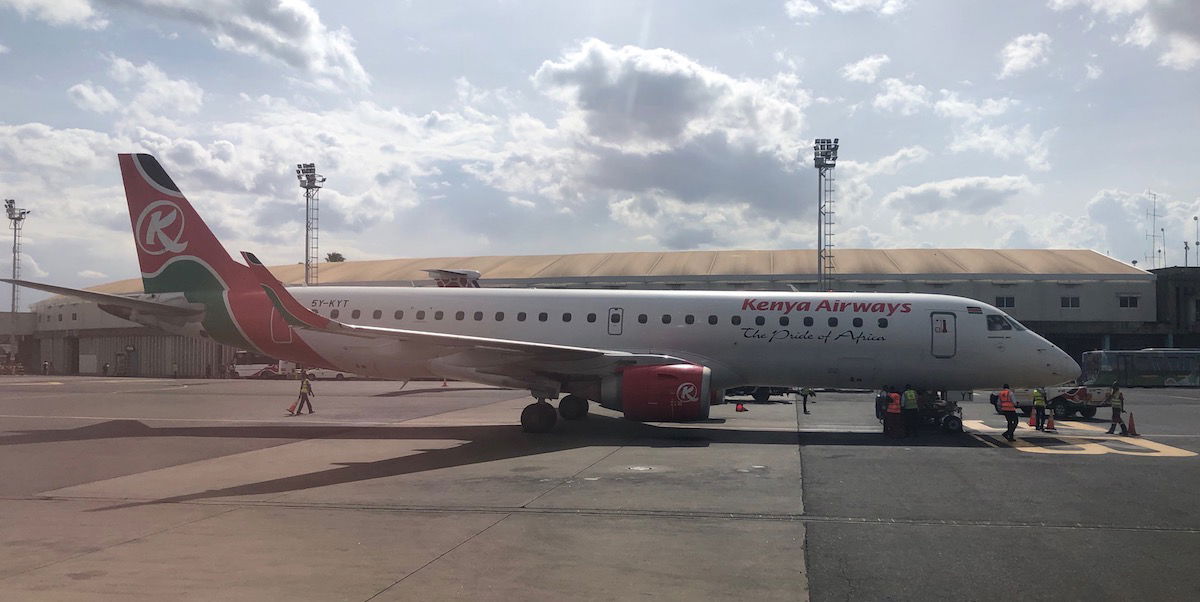 Kenya Airways Embraer Nairobi Airport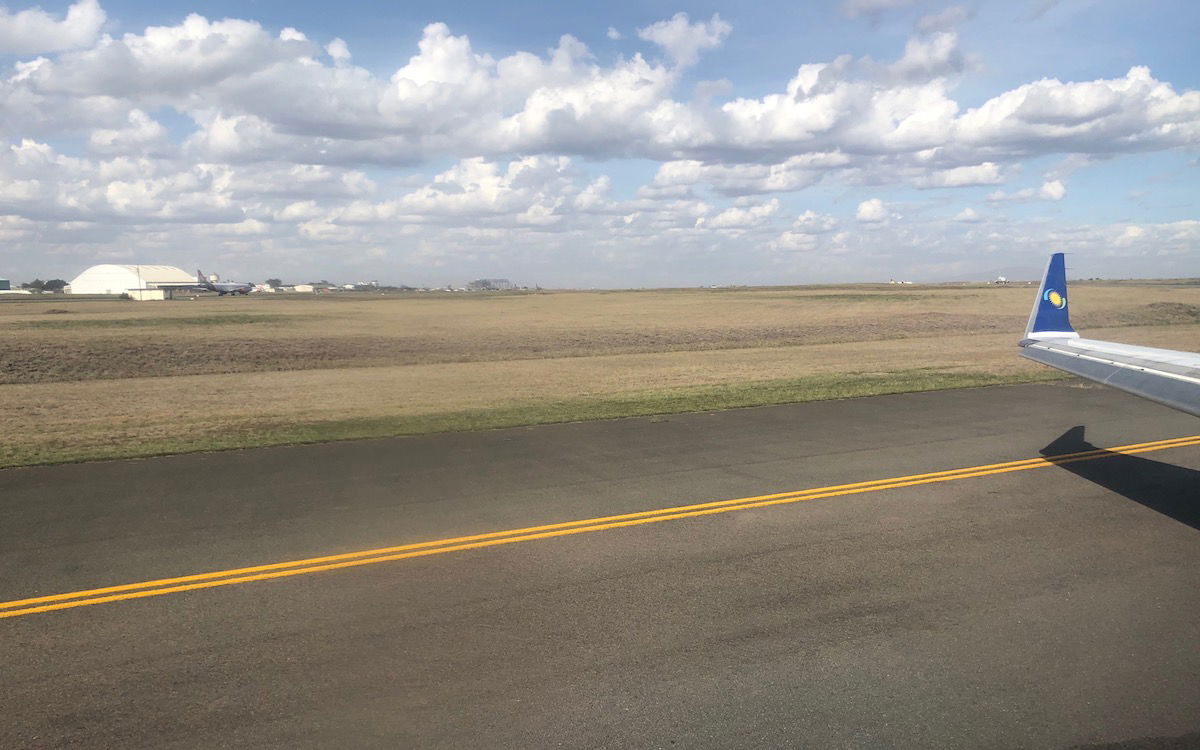 Taxiing Nairobi Airport
We had a roughly 10 minute taxi, and at 3:50PM were cleared for takeoff on runway 6.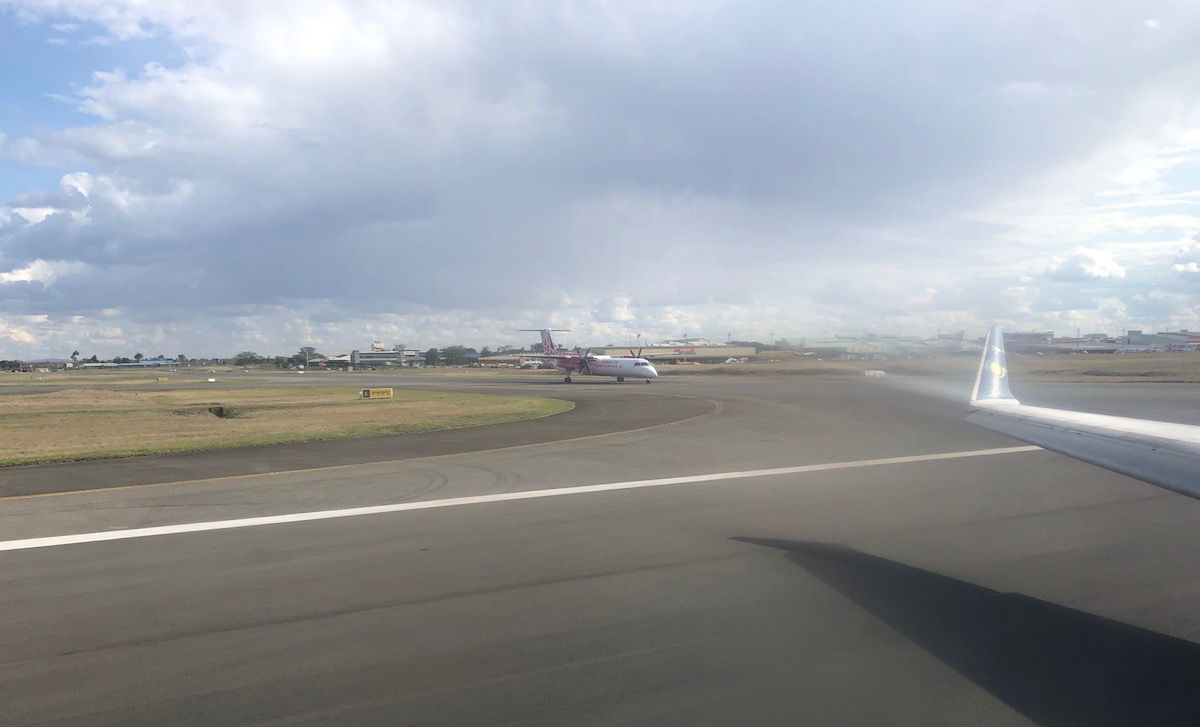 Taking off from Nairobi
The area around Nairobi is pretty flat, so there wasn't much in the way of views on the initial climb out.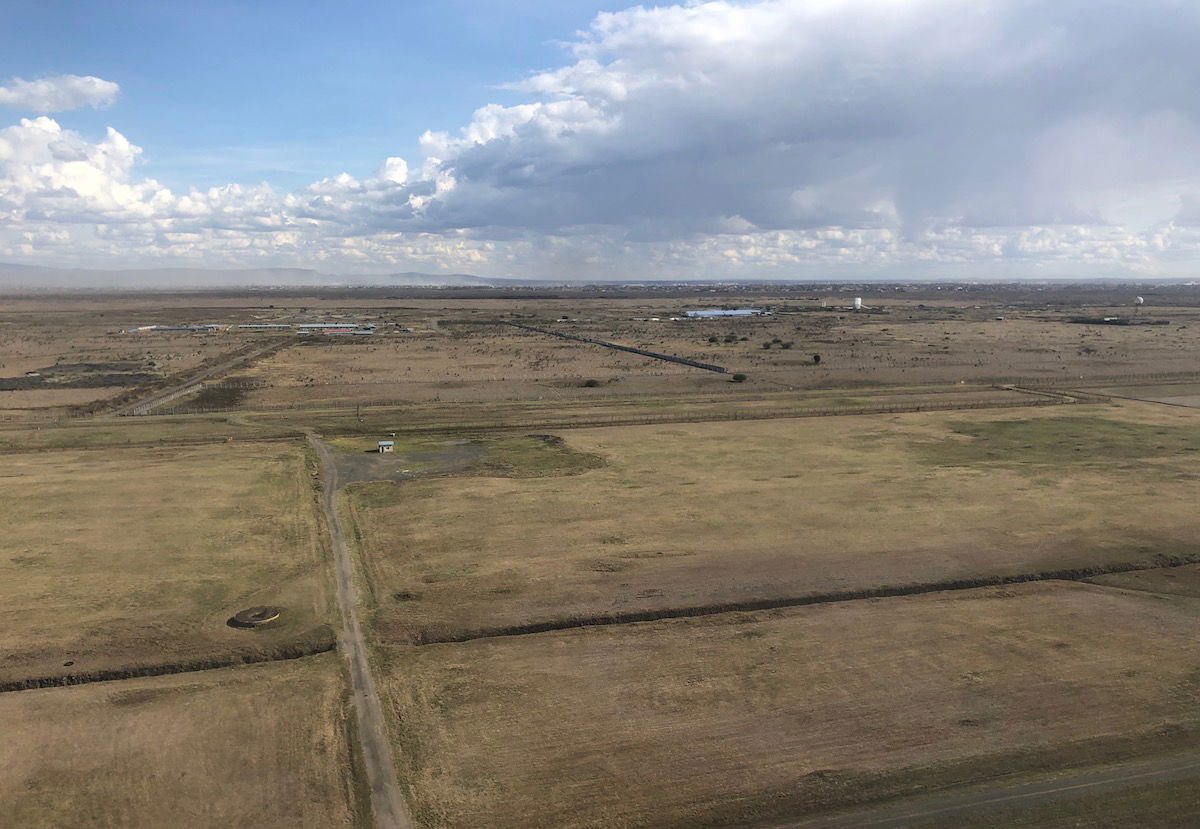 View after takeoff from Nairobi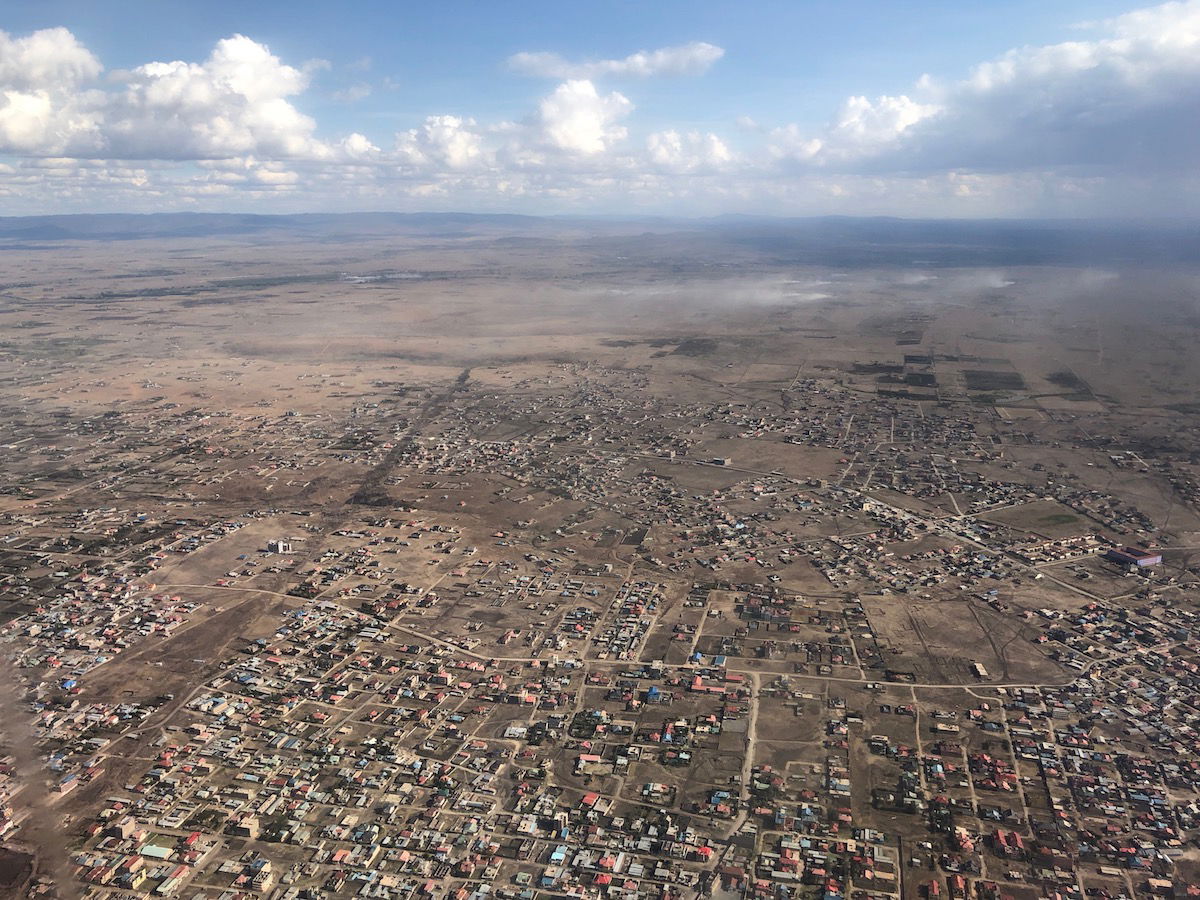 View after takeoff from Nairobi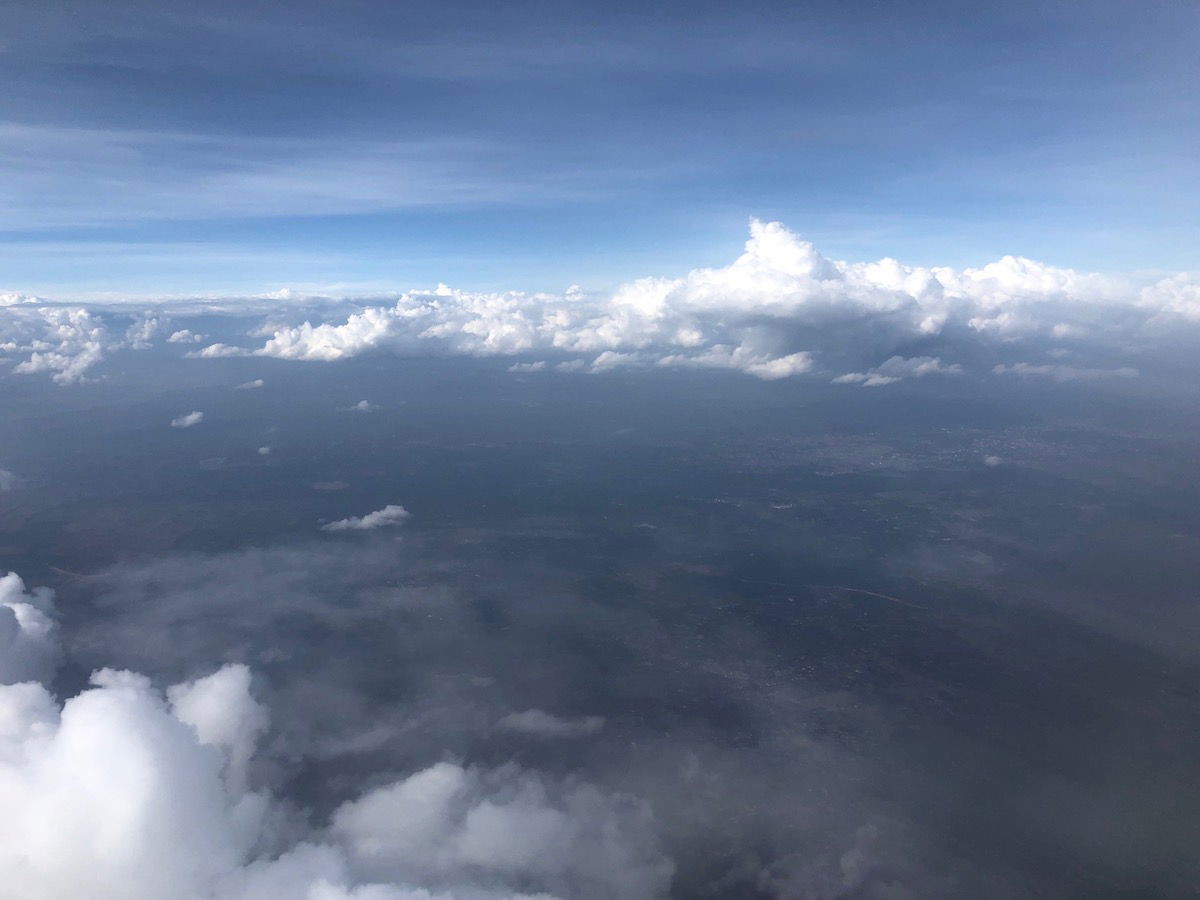 View enroute to Kigali
The seatbelt sign was turned off about five minutes after takeoff. Then about 10 minutes after takeoff the captain emerged from the cockpit to use the bathroom. Fair enough. Unlike some other airlines, RwandAir doesn't have a two person cockpit rule.
The captain then walked into the cabin, and walked up to the security officer in seat 3A. "Just give me 10 minutes, okay?"
So the captain sat down in 3A, and then rather begrudgingly the security officer sat down next to me. The captain even took a picture of his meal. He didn't return to the cockpit until less than 20 minutes before landing.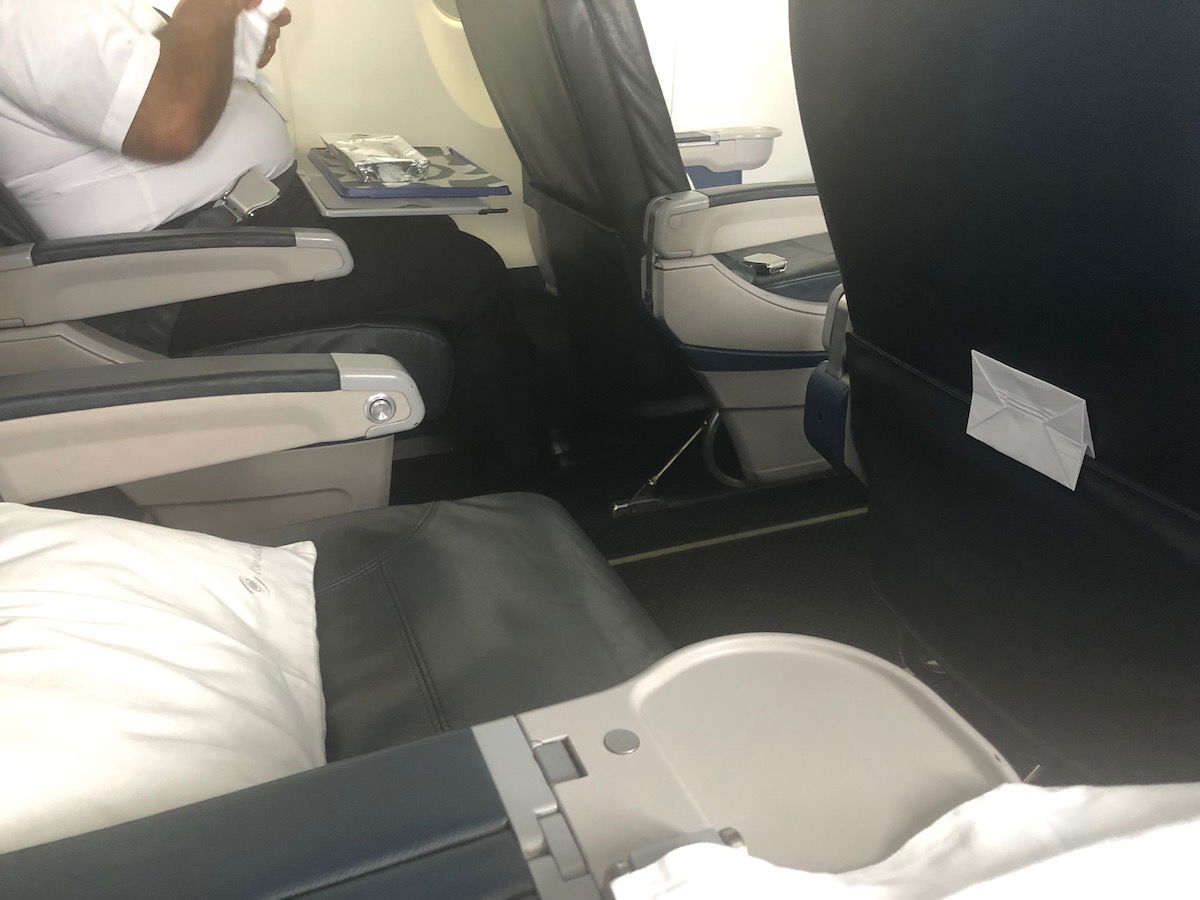 RwandAir business class captain
Anyway, in the meantime the flight attendant came to my seat and asked me what I wanted to eat and drink. The choices were either beef with mashed potatoes or chicken with rice. I selected the chicken with rice, and ordered a glass of champagne.
I was then brought a tablecloth and a glass of Moet Chandon, which is very nice champagne for a short flight on a regional jet.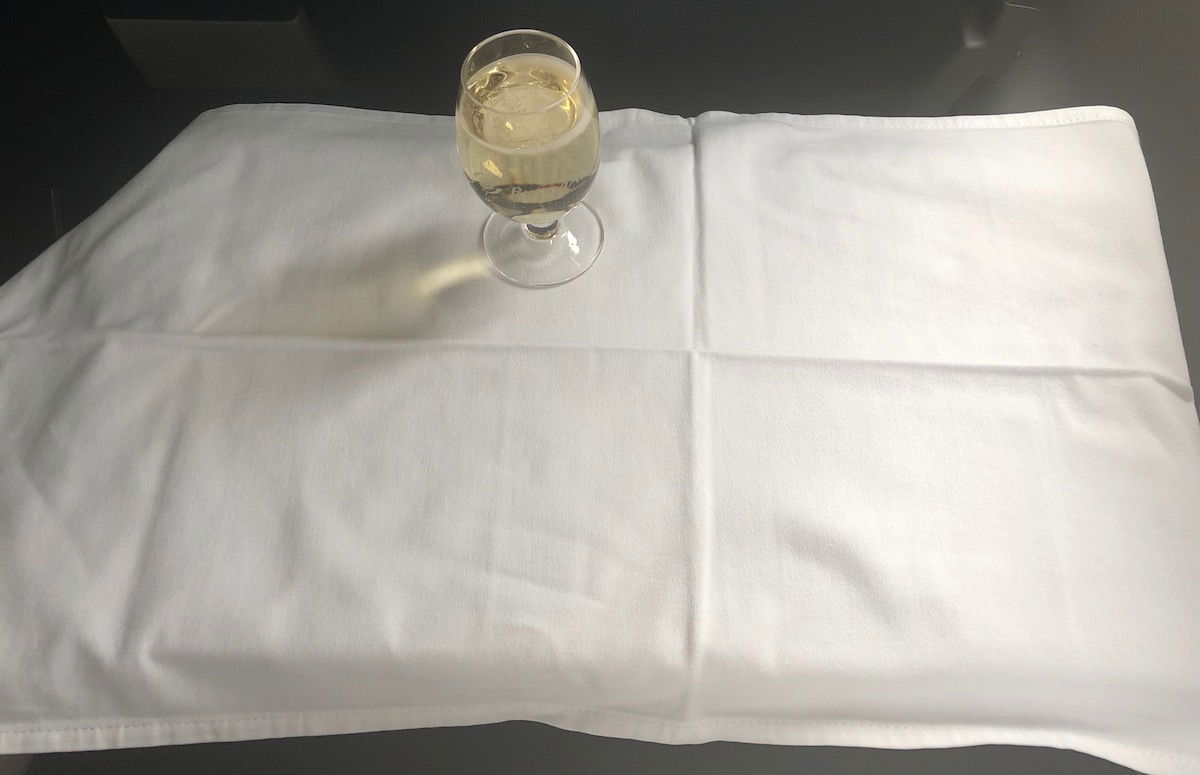 RwandAir business class tablecloth & champagne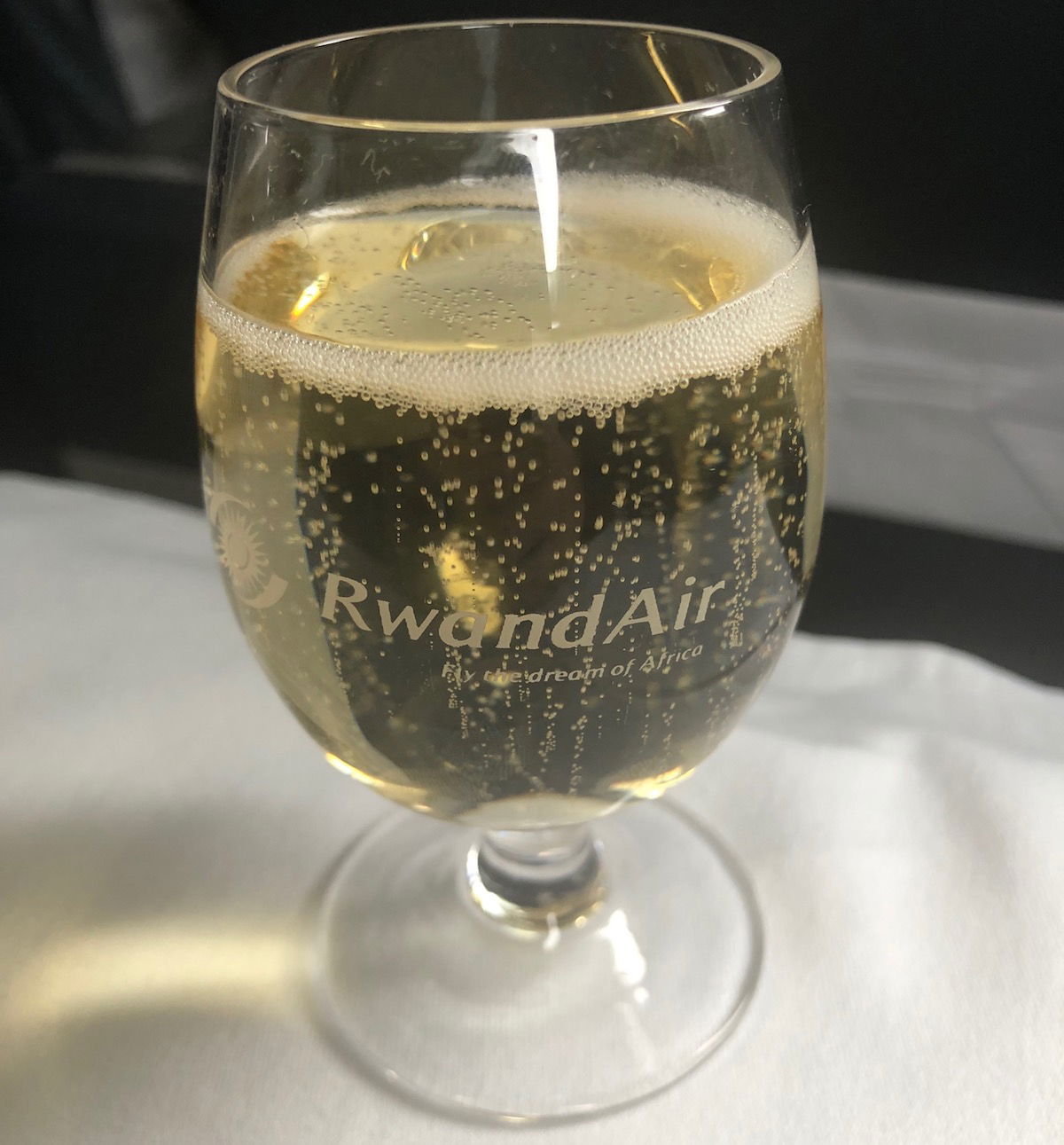 RwandAir business class champagne
Five minutes later my meal was brought out.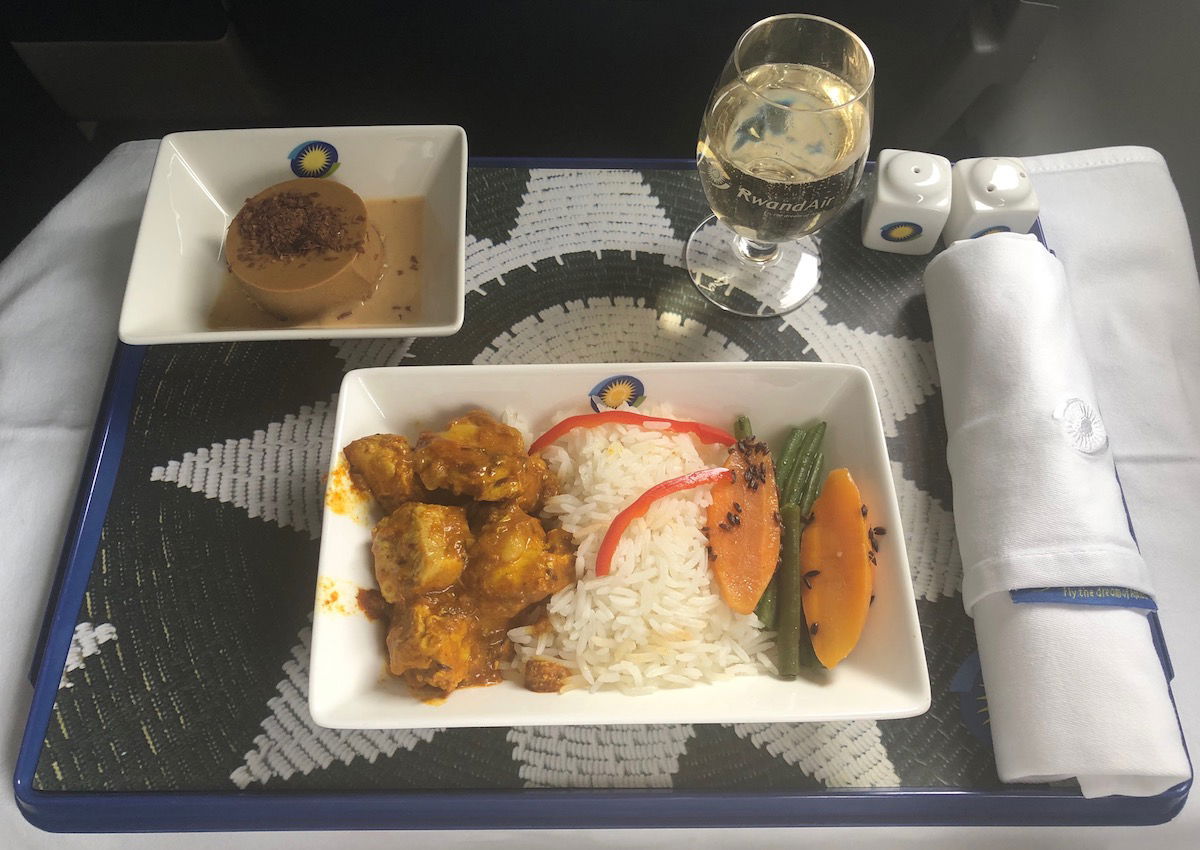 RwandAir business class lunch service
The chicken with rice, carrots, and green beans, were actually quite tasty.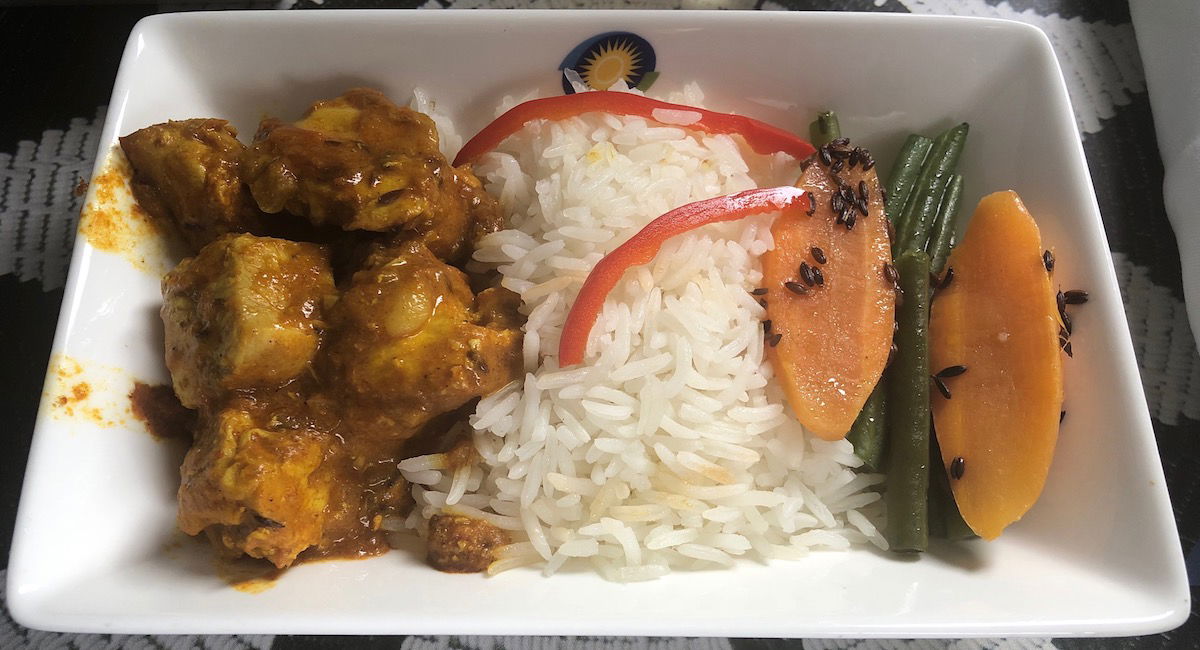 RwandAir business class lunch
The same was true of the small chocolate cake for dessert.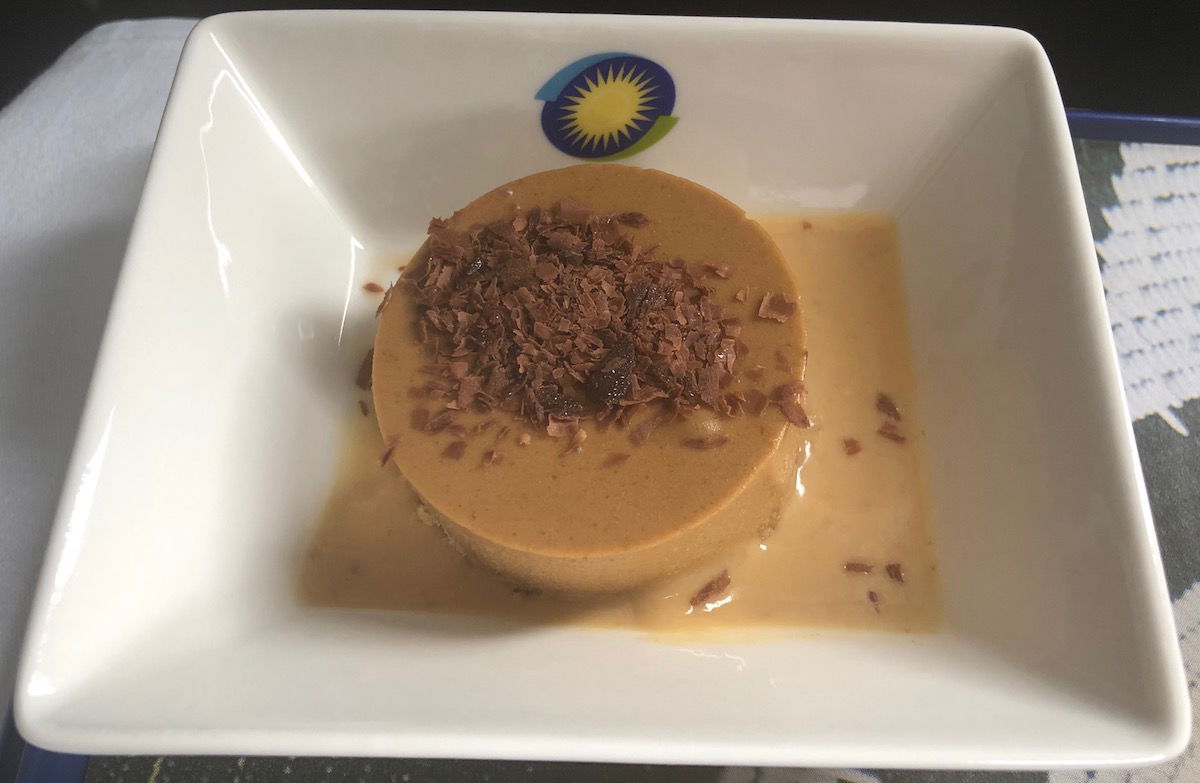 RwandAir business class dessert
Unfortunately there wasn't any service for the next 30 minutes. That's because the plane only had two flight attendants, so as soon as the flight attendant completed the business class service she went to help in economy, and returned only shortly before landing. I do have to say she was extremely friendly with the few interactions I had with her, though.
Before landing I headed to the lavatory at the front of the cabin, which was tiny.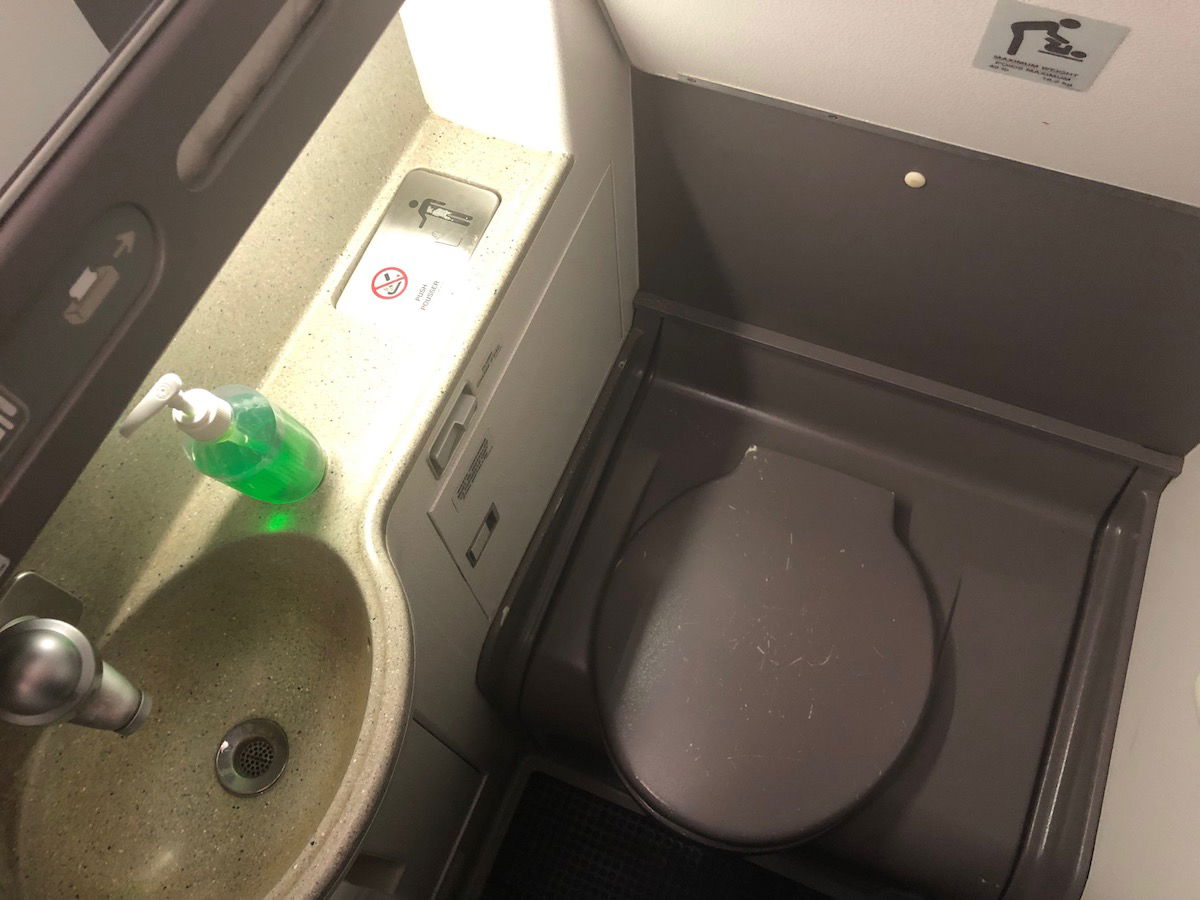 RwandAir CRJ-900 lavatory
I spent most of the rest of the flight just enjoying views out the window.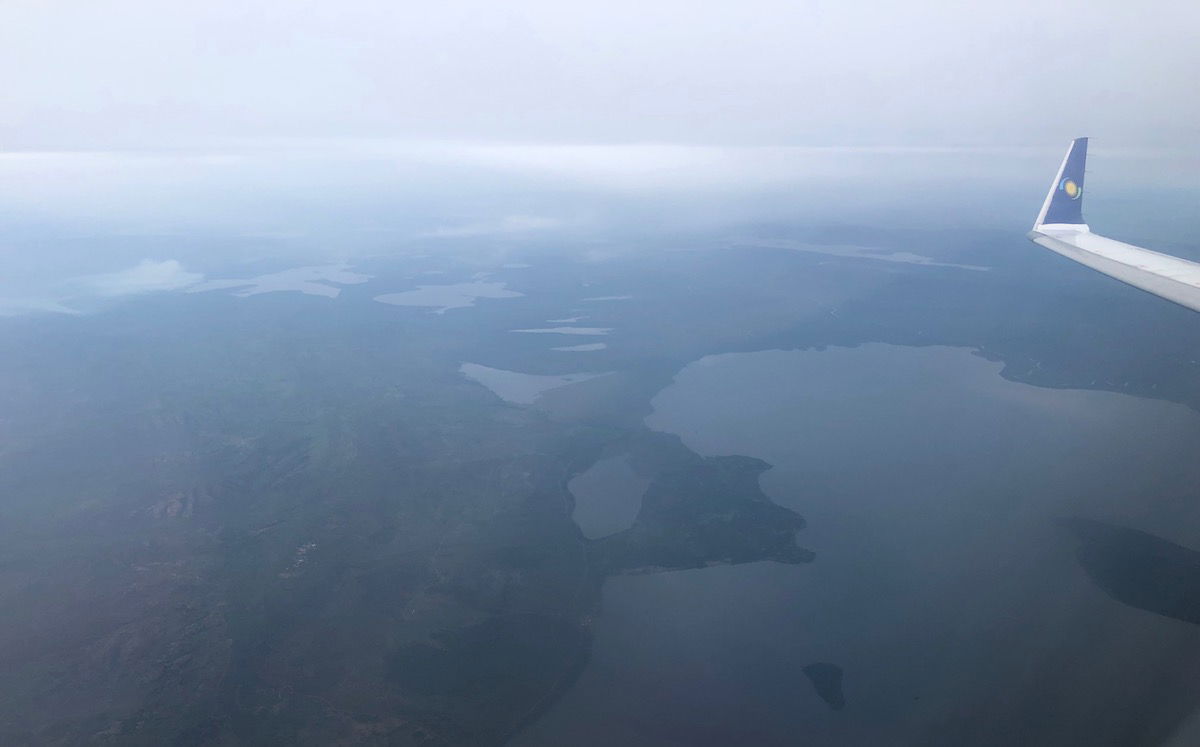 View enroute to Kigali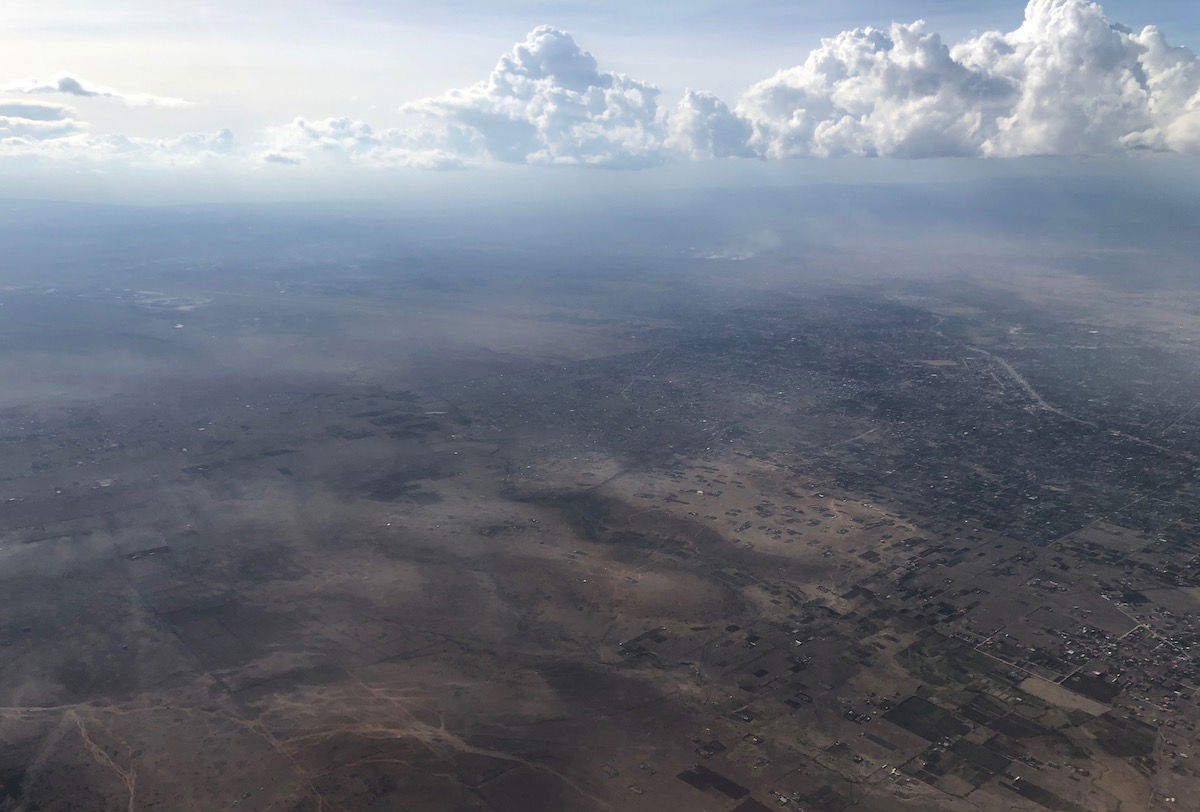 View enroute to Kigali
About 25 minutes before landing we began our descent, and then about 15 minutes before landing the captain announced we'd be landing soon and asked the flight attendants to prepare the cabin for arrival, just a moment after he returned to the cockpit.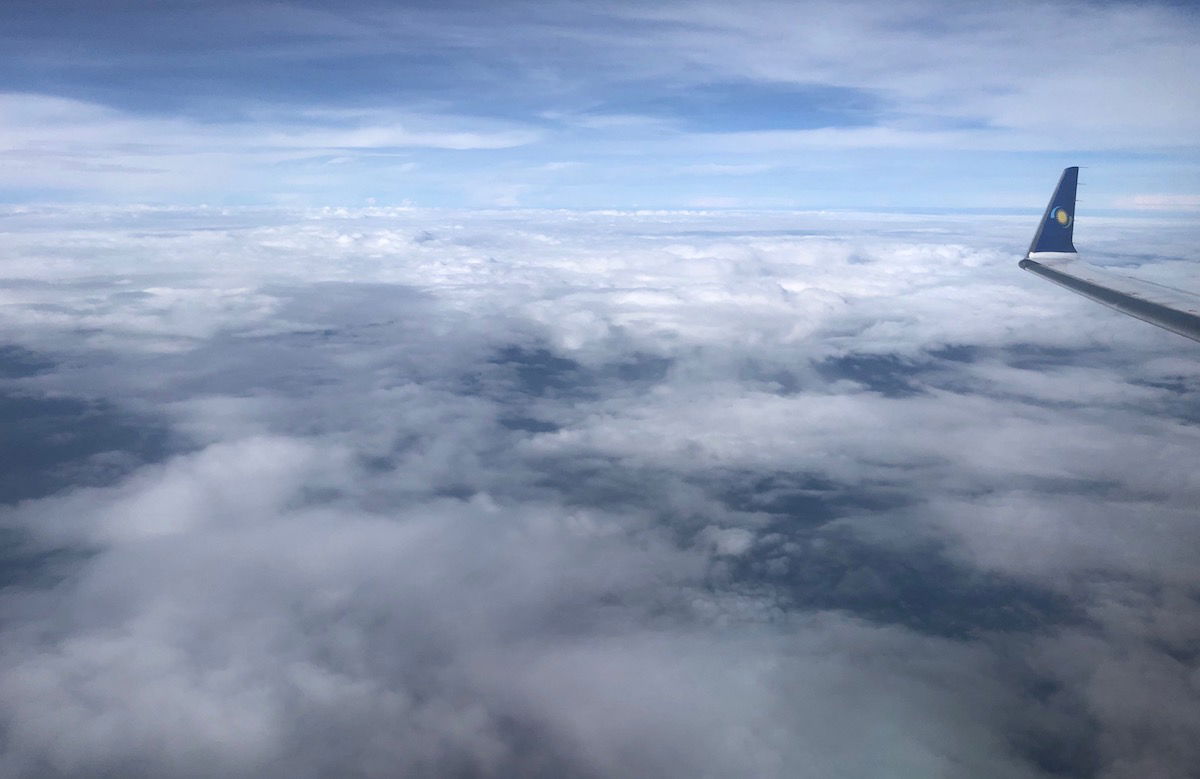 View enroute to Kigali
While the area around Nairobi was fairly flat, the views on approach to Kigali were incredible. The landscape was lush and hilly.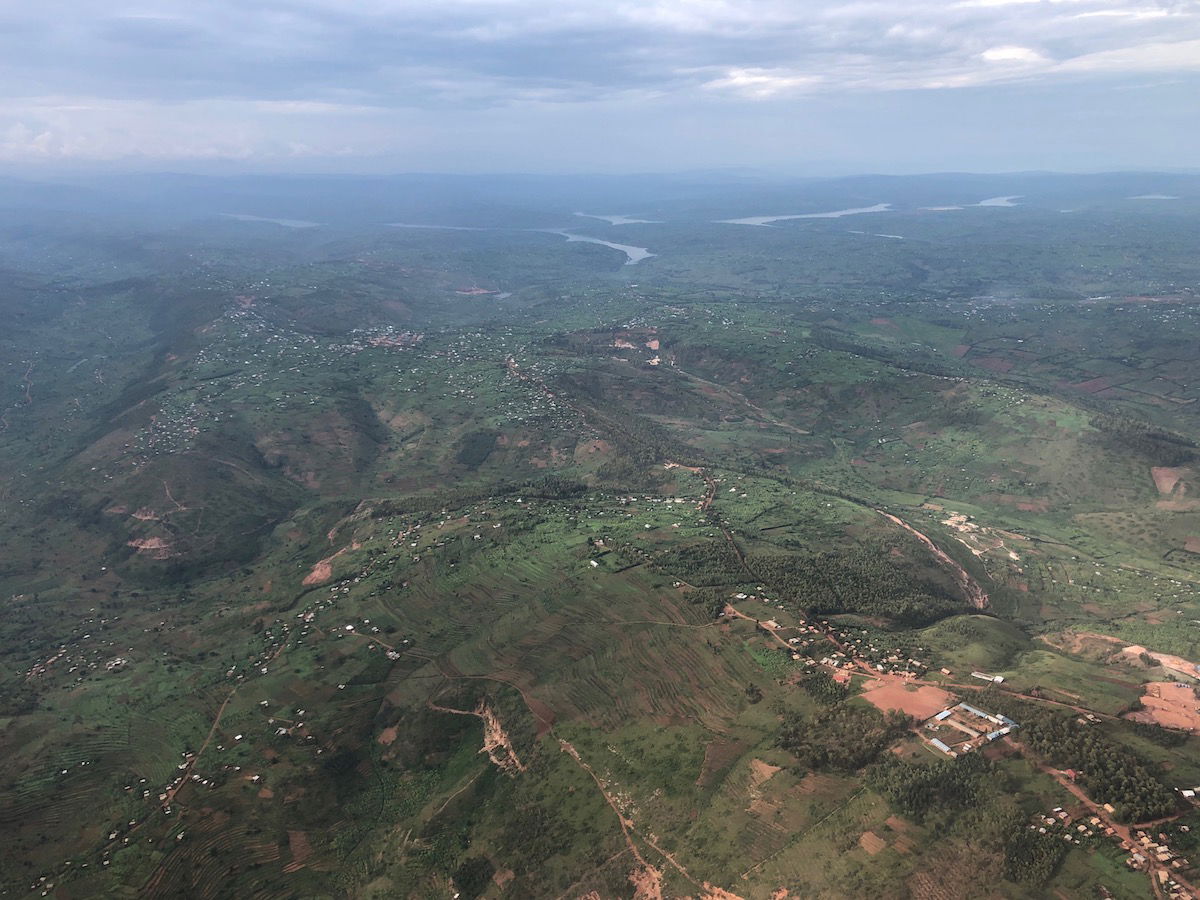 View approaching Kigali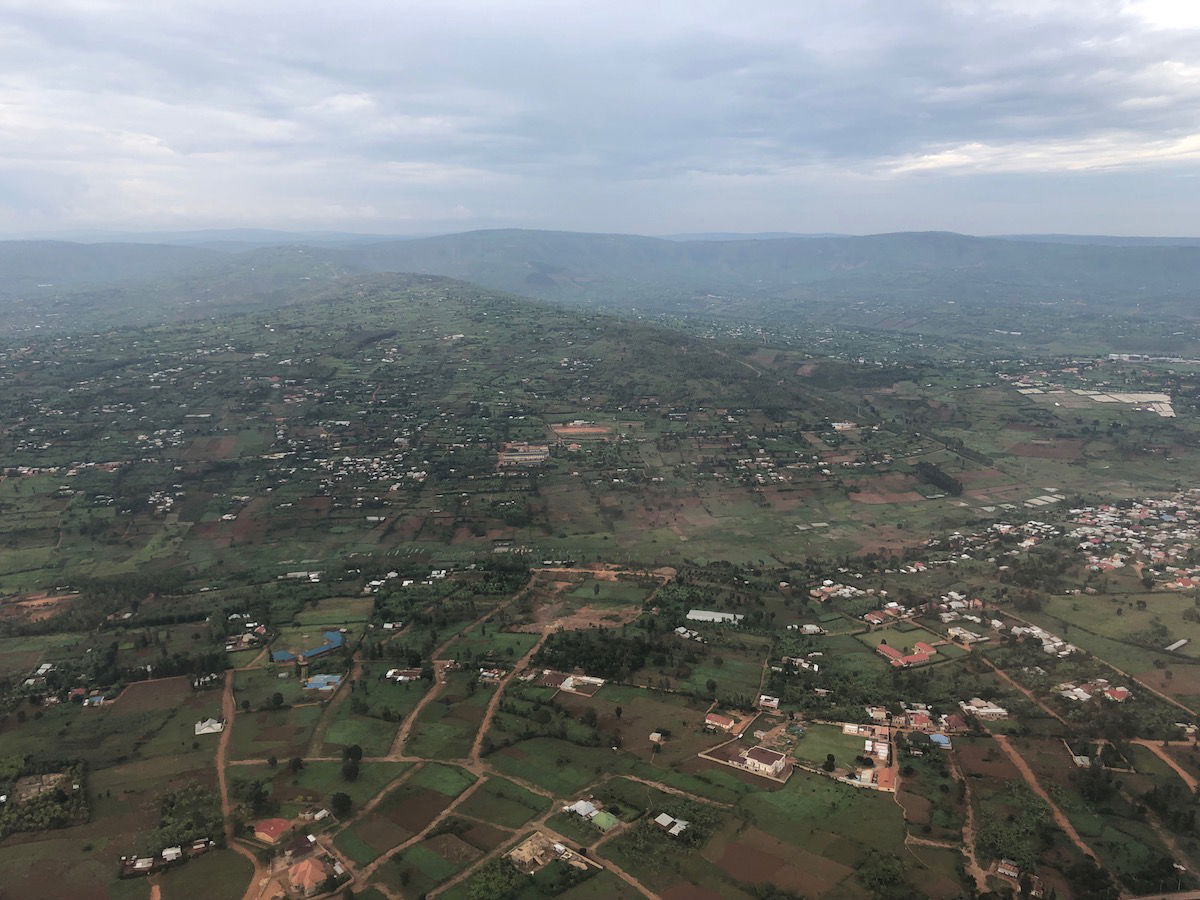 View approaching Kigali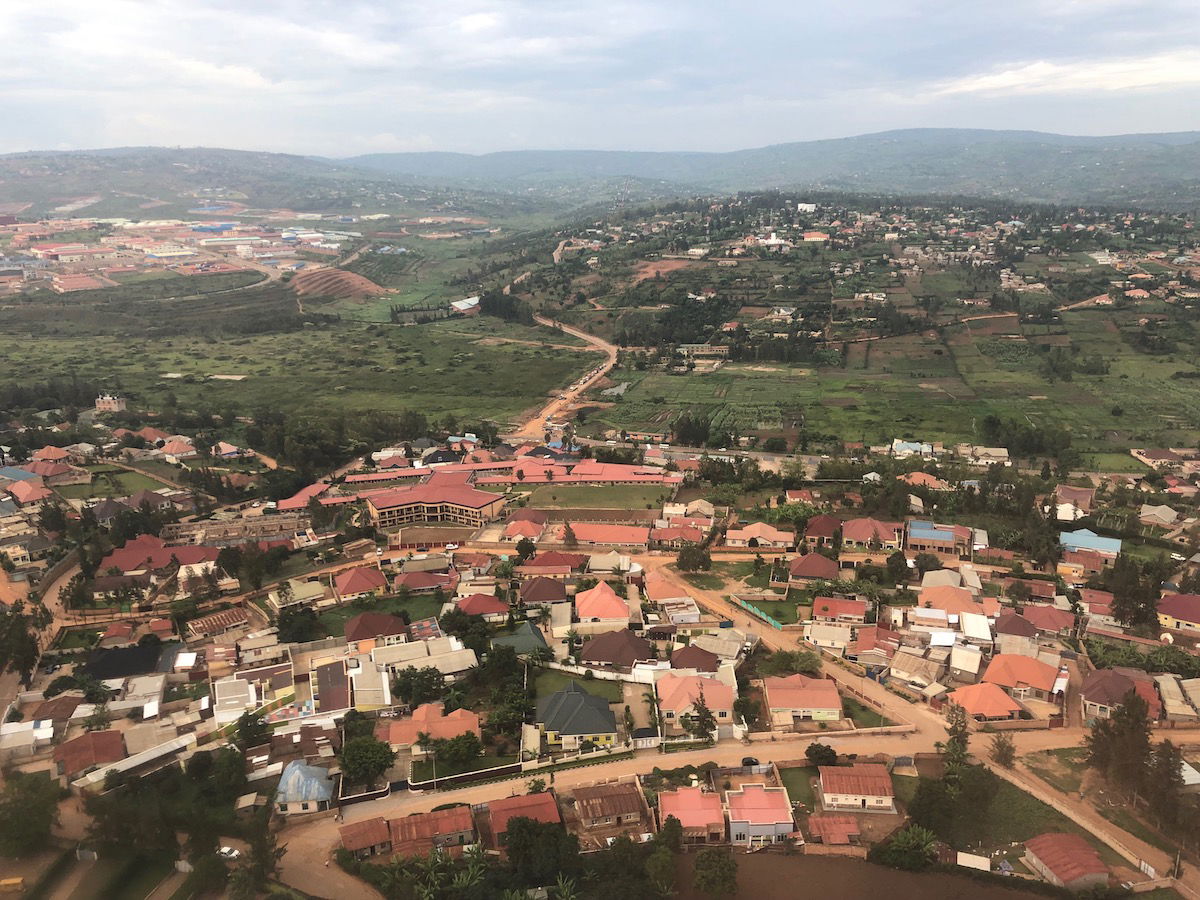 View approaching Kigali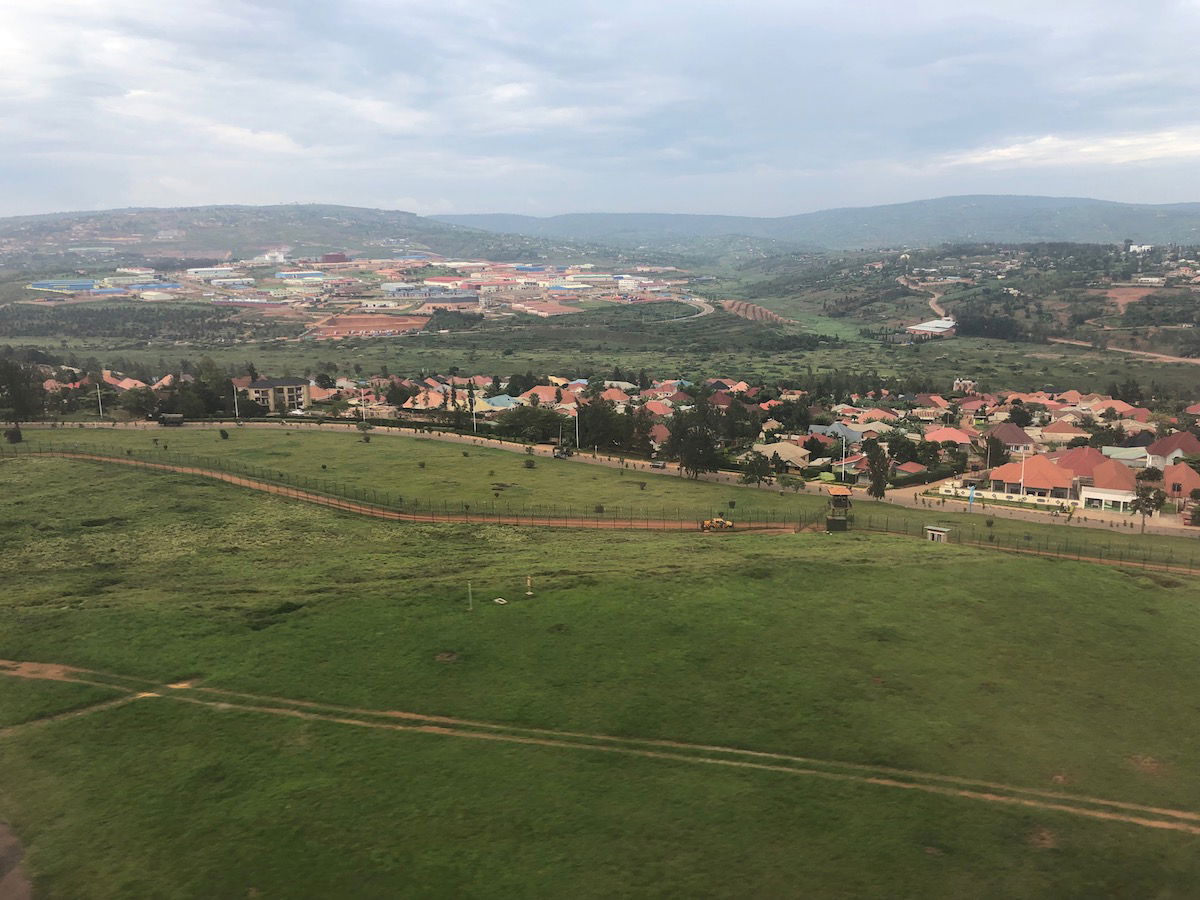 View approaching Kigali
We landed at Kigali Airport at 4PM (there was a one hour time change), and two minutes later we arrived at our stand.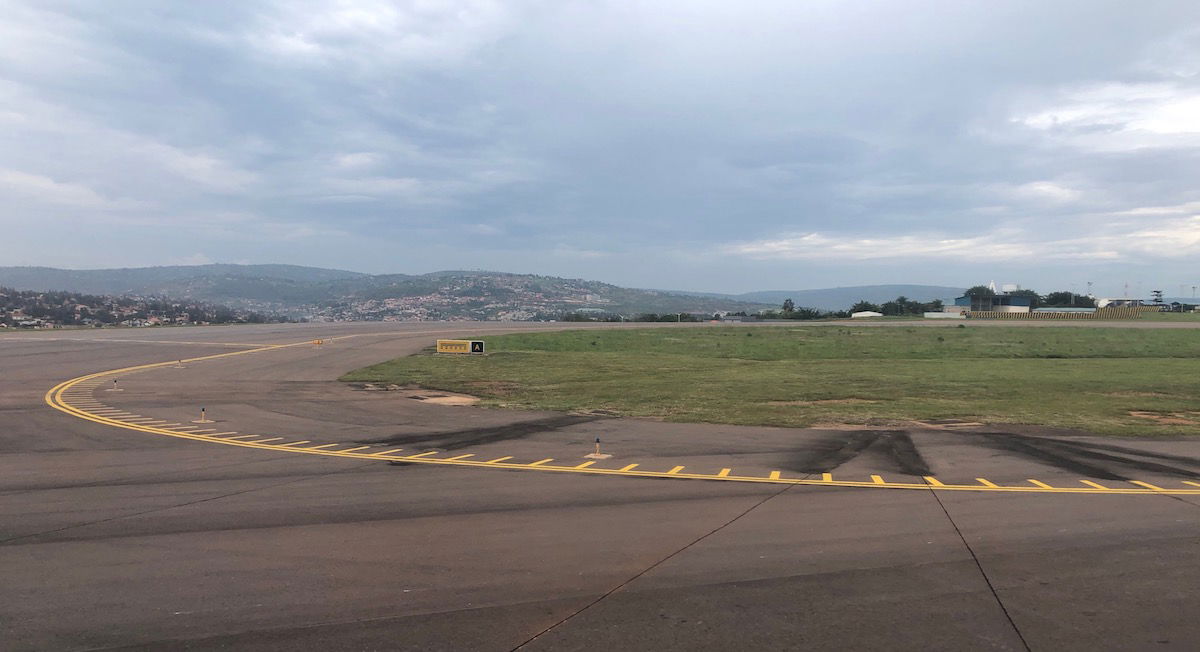 Taxiing Kigali Airport
We parked with a RwandAir Dash 8 to our right, and a UN 767 to our left.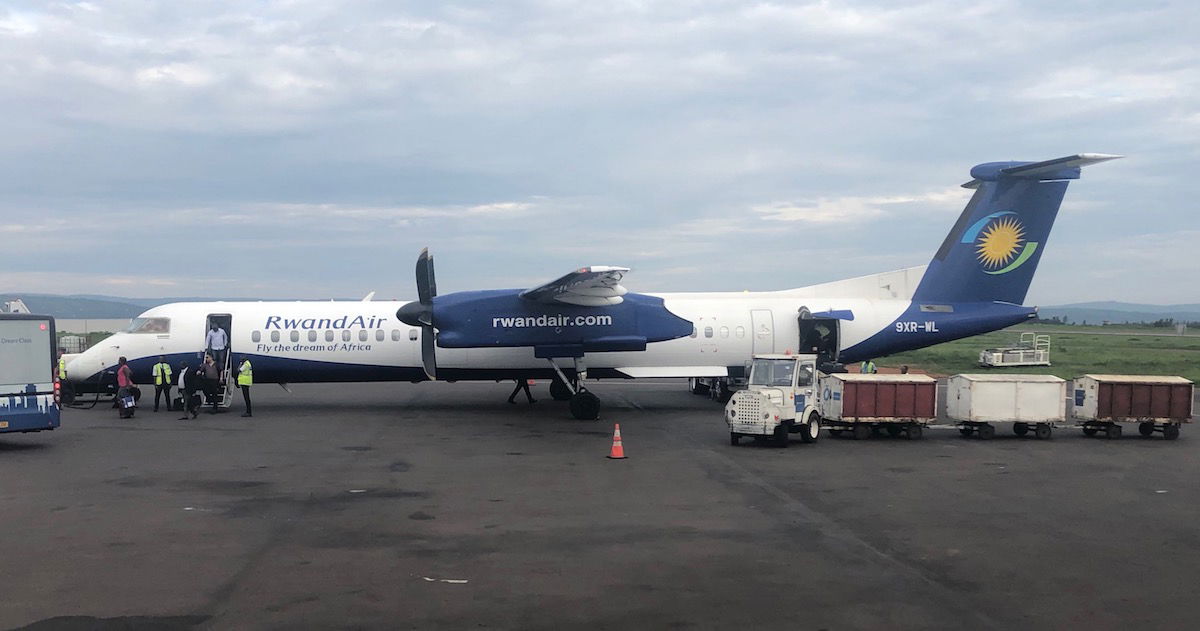 RwandAir turboprop Kigali Airport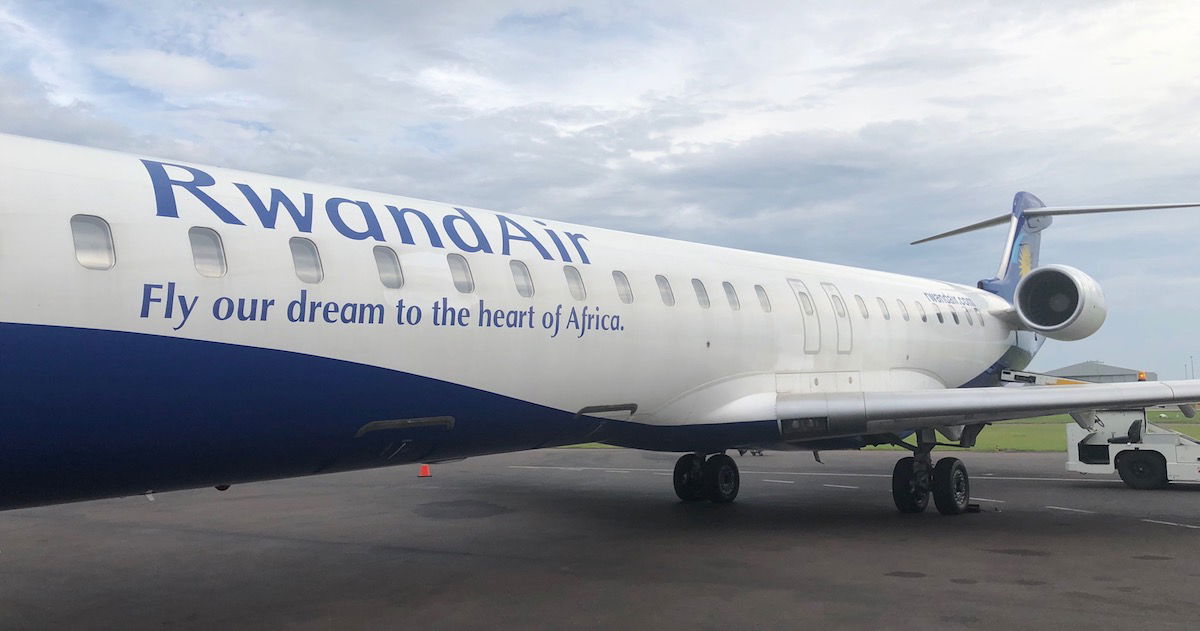 RwandAir CRJ-900 Kigali Airport
I was super impressed that RwandAir had a separate bus with seating for business class passengers. There were only three of us, so we were on our way to the terminal quickly.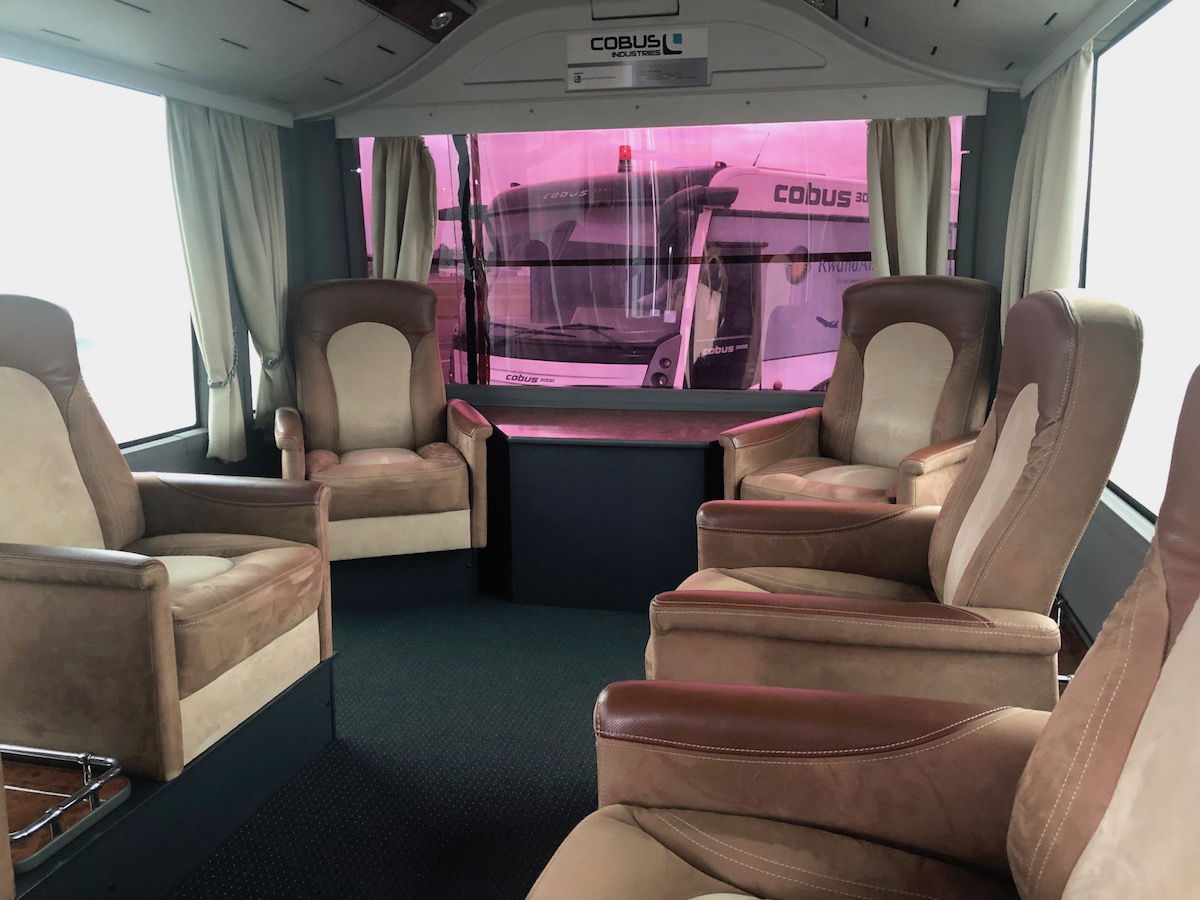 Business class bus Kigali Airport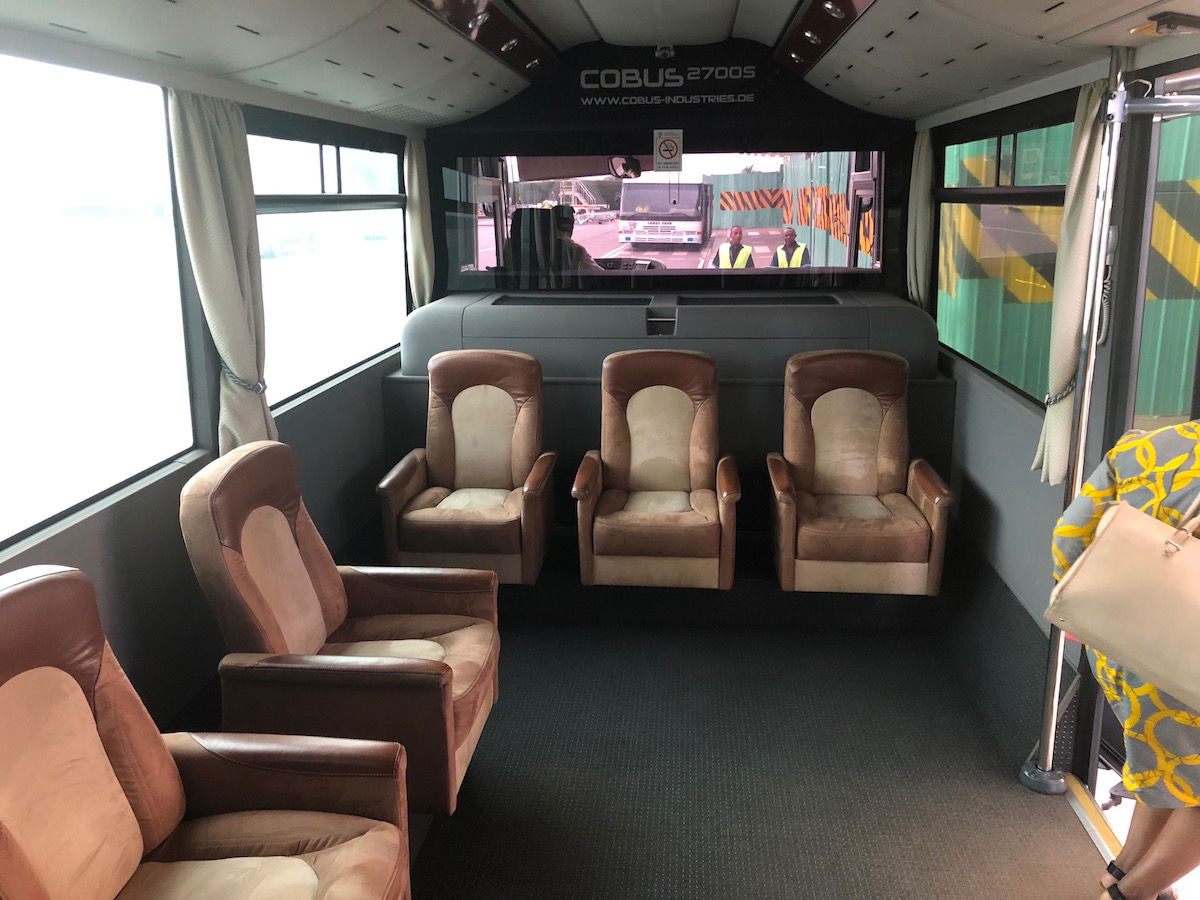 Business class bus Kigali Airport
Once in the terminal there was a fast track immigration lane for business class passengers, and I just had to pay my $30 visa on arrival fee before entering the country.
RwandAir CRJ business class bottom line
RwandAir offers a pleasant regional business class product with a tasty hot meal, Moet Chandon champagne, and "proper" business class seats for a regional jet.
The product was a bit quirky though. Between the security officer, the flirting captain, and the resting captain, there was quite some inflight entertainment, despite the lack of actual IFE. 😉