This morning Ford and I took the high speed Sapsan train from St. Petersburg to Moscow, an experience I was very pleasantly surprised by. I know just about everywhere in the world is better than the US when it comes to train travel, but the service and punctuality really impressed me.
With that in mind, here are my thoughts:
Why did we take the train from St. Petersburg to Moscow rather than flying?
You can fly from St. Petersburg to Moscow in about an hour (the airports are 400+ miles apart), or you can take the high speed train, which takes about four hours. We figured it would be a lot more fun to take the train, so we could see a bit of the Russian countryside, and also since it would probably end up being just as fast, more comfortable, and less of a hassle. In both Moscow and St. Petersburg the airports are a good distance from the city, while the train stations are closer to the city center.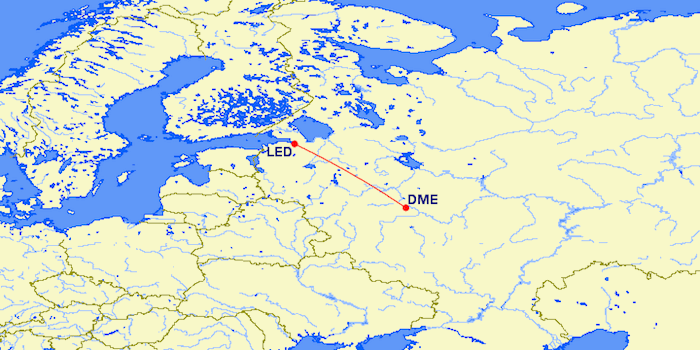 How much are train tickets between St. Petersburg and Moscow?
We booked our tickets a couple of days in advance through russiantrains.com. The site was easy to use, and we decided on the 9AM train, arriving at 12:50PM.
There are three classes of service on the train — economy, business, and first/premium. For our trip:
Economy cost ~$102
Business cost ~$159
First/premium cost ~$269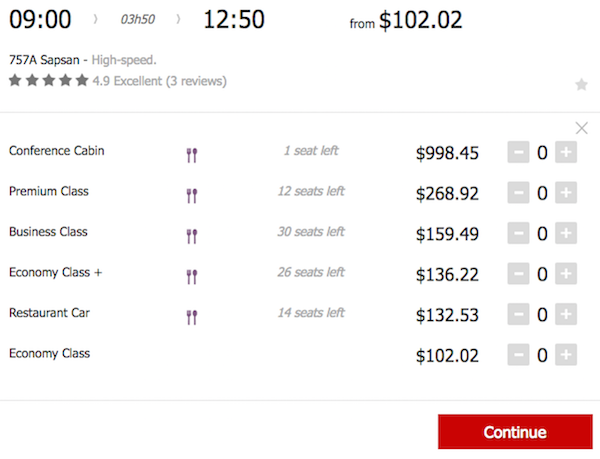 I wasn't exactly sure of the differences between the cabins, but rather blindly decided to book business class. I figured $60 was a reasonable premium for a four hour train ride, while an extra ~$110 on top of that seemed a bit unnecessary. It was my understanding that the first class seats recline more, but for a daytime train ride that seemed unnecessary.
How early should you arrive for the Sapsan train?
We didn't want to miss the train, so we left our hotel at 7:45AM for our 9AM departure. We got to the train station at 8AM.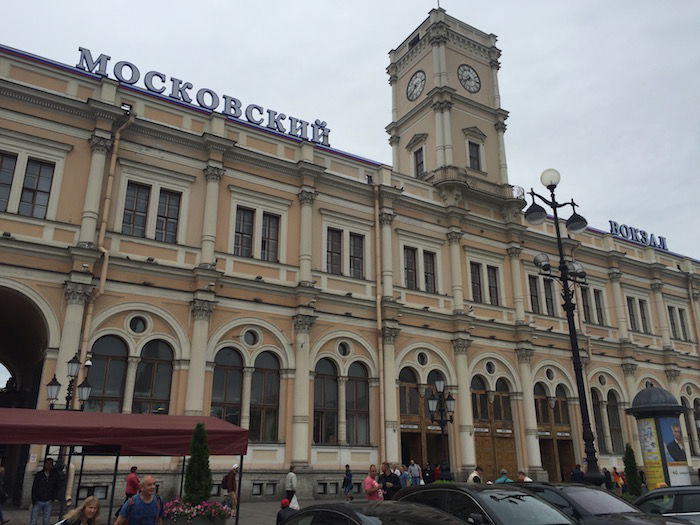 The station isn't the nicest place to pass time, as there were some shady characters roaming around, birds flying around the inside, etc.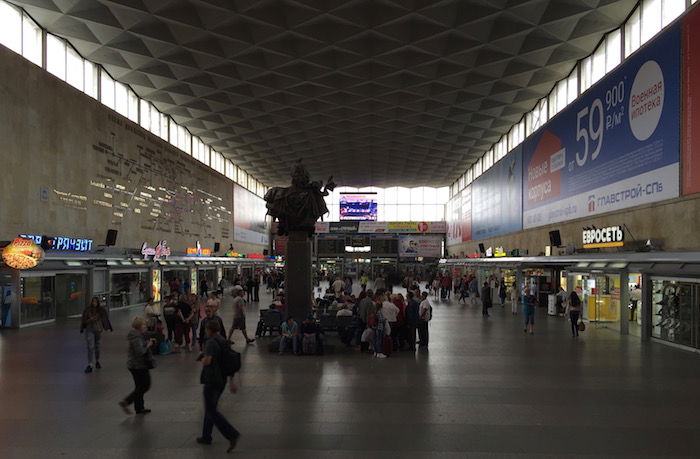 We sat down in the one coffee shop that looked decent, and at 8:30AM our train was ready for boarding, as the track for the train was posted to the departures board (fortunately Ford can read Russian, which made all of this easier). For what it's worth, I found out after the fact that there's apparently a lounge for first and business class passengers, though we didn't realize it till it was too late.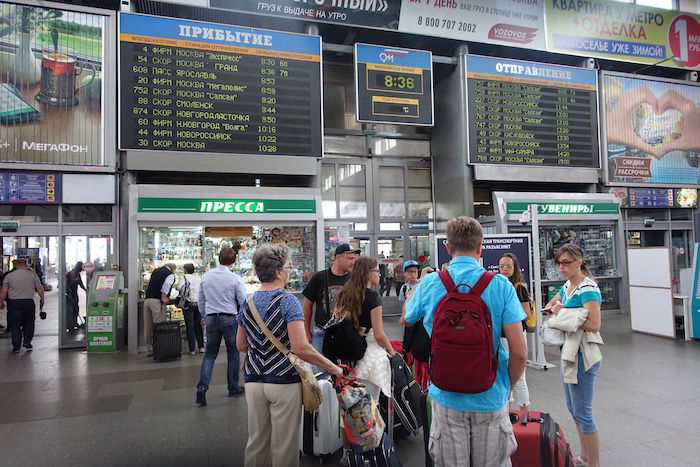 Interestingly as the train arrived a loud song played throughout the train station at a very high volume, which I believe was the same one as in this video:
Alrighty then…
There is legit security for those taking the Sapsan train, much like when going through an airport. Your bags are screened, and you go through a metal detector.
Our train left from track 11, so we boarded right away, though there's no need to board so early.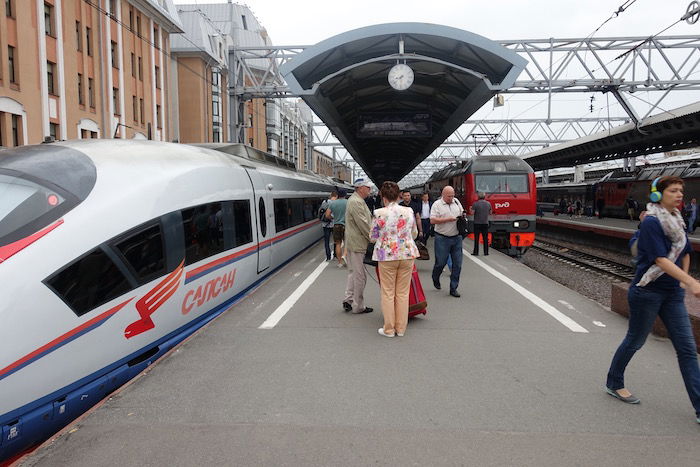 In our case it just seemed nicer to sit in our seats than to sit in the train station.
Sapsan train business class experience
The business class cabin on the Sapsan is in a 2-2 configuration, with leather seats. There's space for your bags in the front and rear of the cabin, in addition to the overhead luggage racks.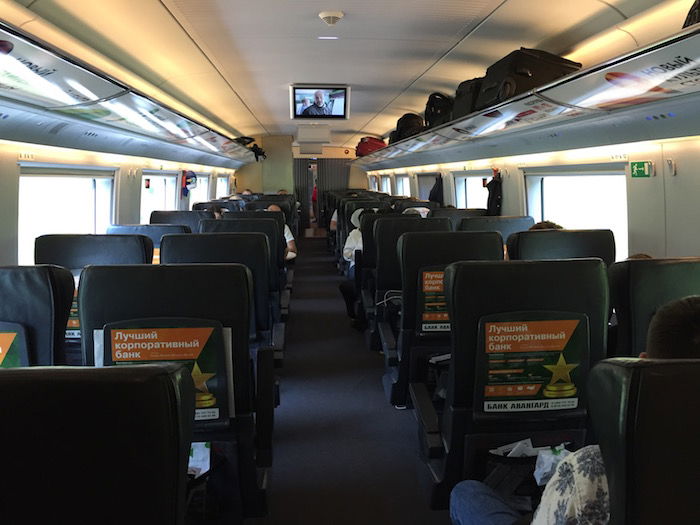 The seats were comfortable, though not overly spacious. They had plenty of legroom, though seat width was limited.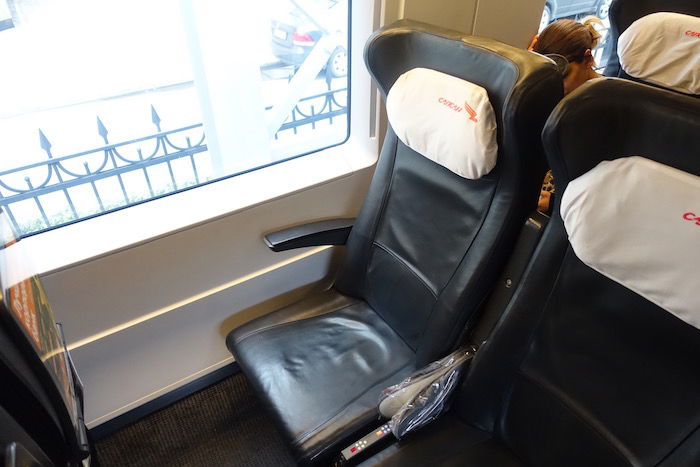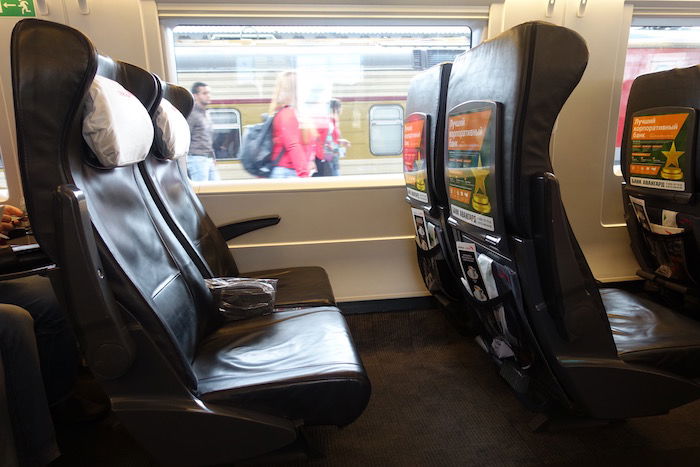 There was a footrest at each seat.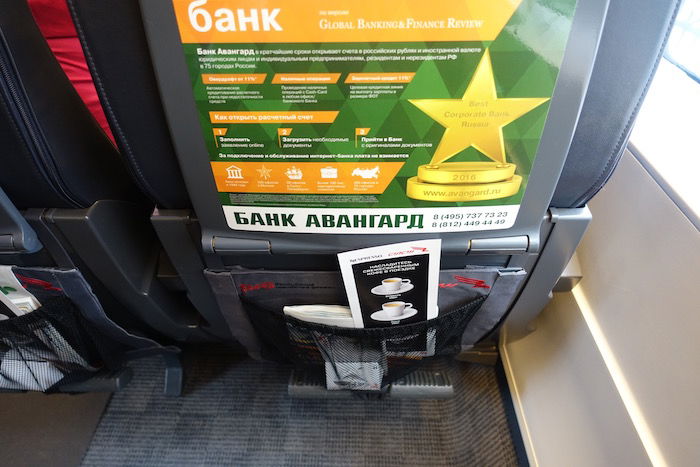 The train departed and arrived exactly on time, to the minute.
Shortly after departure tablecloths were distributed, and then moist towels and drinks were served.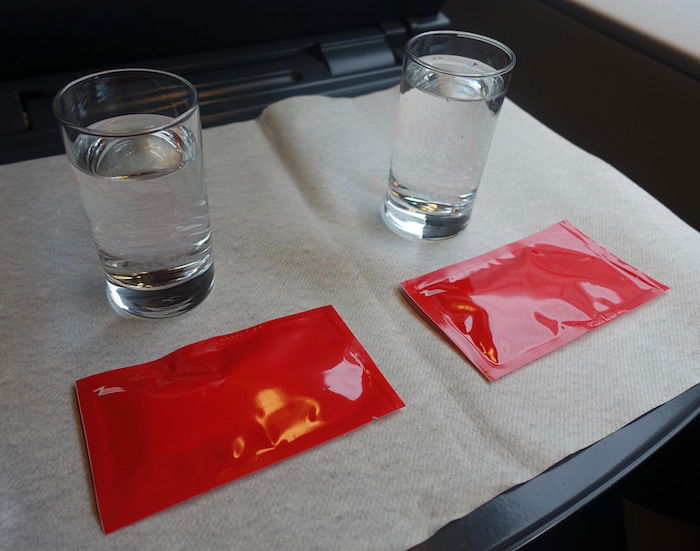 After that the crew came through with the breakfast service.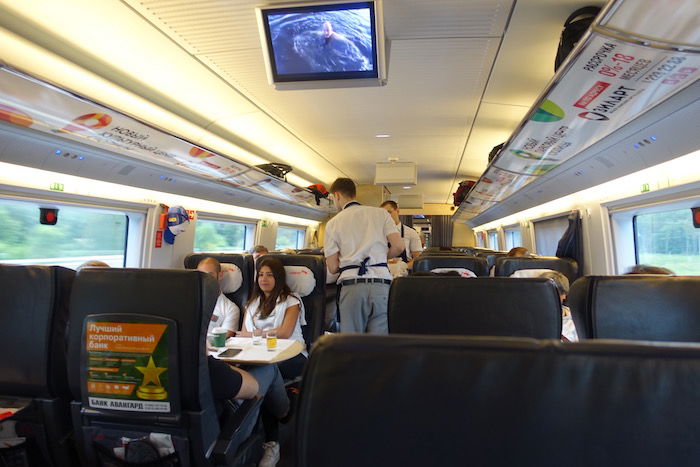 The choice was between a "cheese casserole" (as they described it) and oatmeal. I chose the former, which was served with a piece of bread and yogurt. The breakfast was surprisingly decent.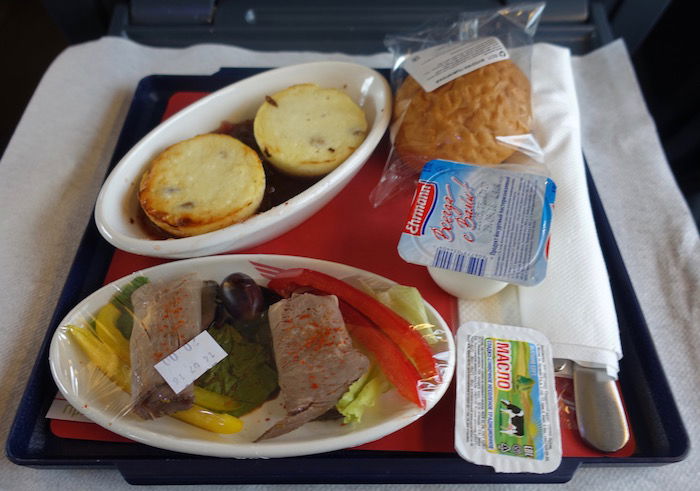 Ford ordered the oatmeal just so I could take a picture, though he wasn't hungry.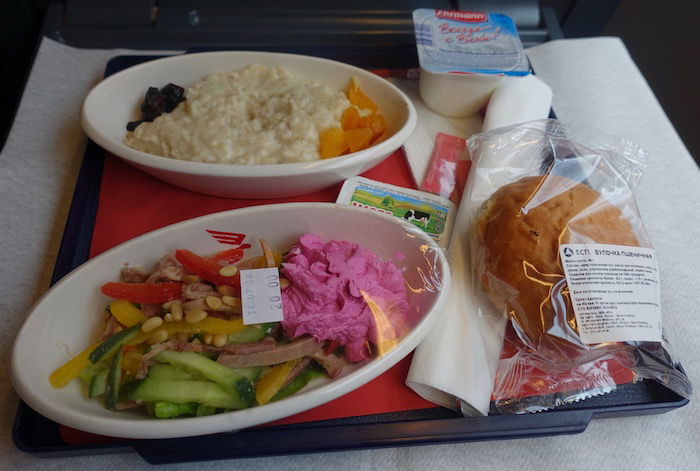 I tried the oatmeal, which was fine as well, though the accompaniments of both dishes looked a bit less appetizing.
After breakfast the crew came through with coffee, tea, and croissants.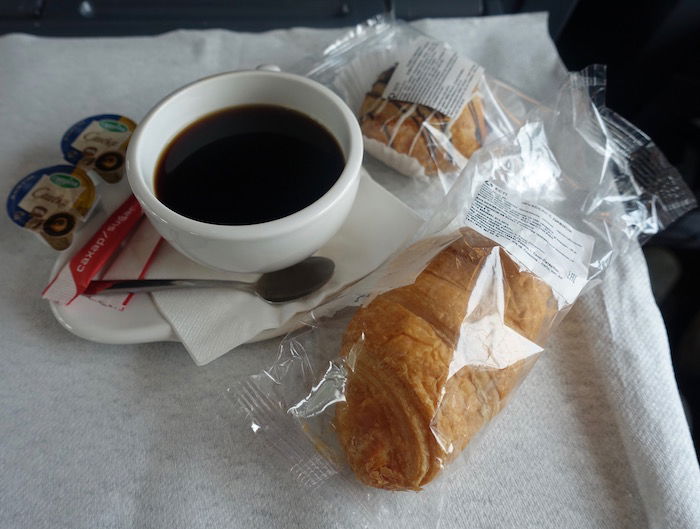 In a way the service was a nice distraction, and made the time pass a bit more quickly.
For the most part the views enroute were just of trees near the train tracks. There were a couple of brief moments where there were better views, but that was the exception rather than the norm.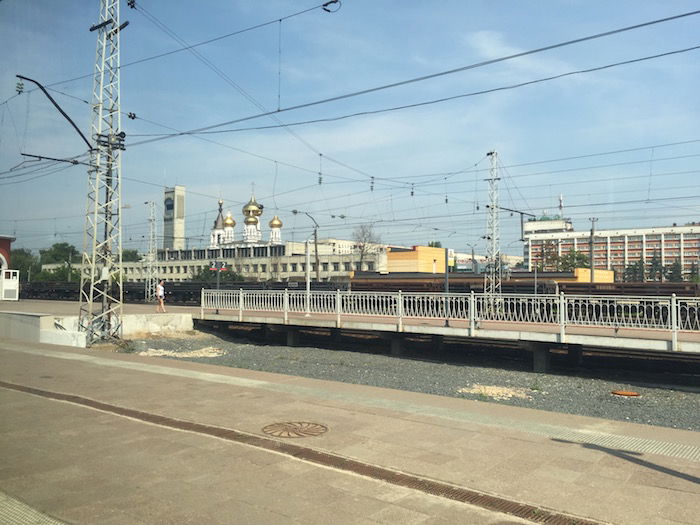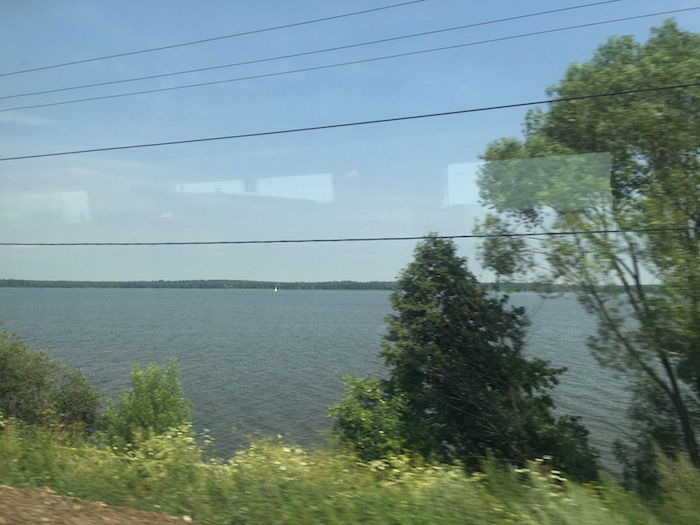 The train also has complimentary Wi-Fi, though they text you a Wi-Fi access code in order to be able to connect to the Wi-Fi. The Wi-Fi was probably a bit slower than inflight Wi-Fi on most airlines, though it was decently usable, and better than tethering off my phone.
There was a power outlet between seats, which meant I could keep my electronics charged throughout the ride.
What's the difference between first, business, and economy?
I can only officially chime in on business class, since what's what I experienced, but here's what I believe distinguishes the cabins:
Sapsan first class/premium class
These seats actually recline, and are in a 1-2 configuration, rather than the 2-2 configuration in economy and business class. If traveling alone it seems nice to be able to sit alone. Perhaps service is also more attentive, and of course there's a meal served.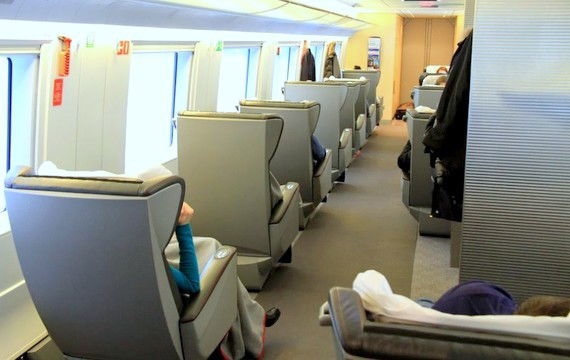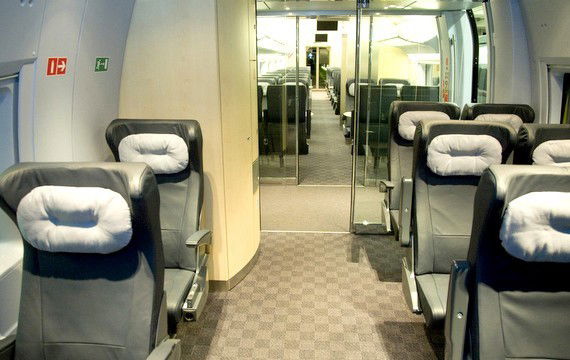 Sapsan business class
Business class is in a 2-2 configuration, with complimentary food and generally attentive service.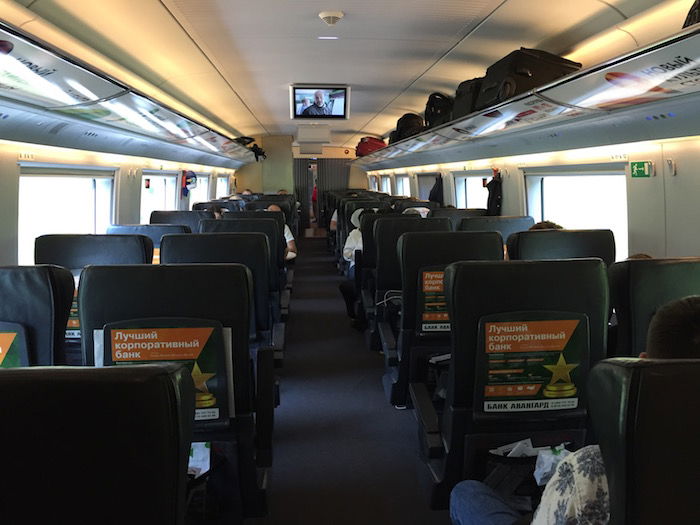 Sapsan economy class
Economy is also in a 2-2 configuration, though the seats are cloth rather than leather. Also, I don't believe there's any complimentary service, but rather you can go to the dining cart and buy something.
In terms of space, the seats looked very similar to business class, though perhaps legroom was slightly less; I'm not sure.
One thing I'd note is that the economy cabin was packed, and there were a lot more families traveling with small children when I went back there. I'm not sure if that was just a coincidence, but perhaps first and business class are generally a bit quieter (which is generally true on planes as well).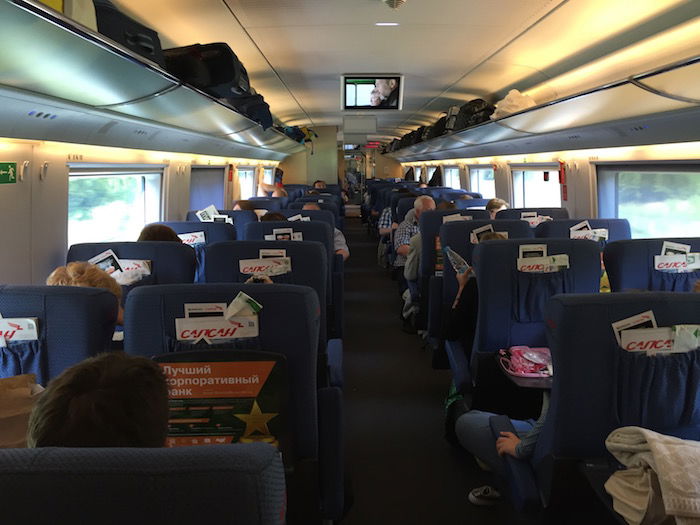 Sapsan high speed train bottom line
We had a great experience on the Sapsan. The ride was exactly on time, the service friendly and attentive, and the seats comfortable.
In the future I'd probably arrive at the train station a bit closer to departure, though I guess it's better to arrive too early rather than too late.
Ultimately the main difference between economy and business is that you get free food in business, and the seats are leather and perhaps a little more spacious. I think both cabins are perfectly comfortable, and couldn't imagine justifying first class unless it was an overnight train and I wanted to try and get some sleep.
I highly recommend taking the Sapsan between Moscow and St. Petersburg, as it's a comfortable and efficient way to travel.