Update: We were all able to rebook at the correct Category 7 rate of 60,000 points per night, and received a refund of the extra points.
My wife and I are going to Al Maha with Tiffany and her husband later this year. We planned this trip back when Emirates had a great deal on first class tickets to Milan via Dubai.
Al Maha was a selling point for all involved, so we were committed to going regardless of what happened with the SPG/Marriott merger, and locked in award bookings well in advance. But, we all had a bit of guarded optimism when Marriott made their commitment to pricing hotels with only non-standard rooms at the Category 7 level.
But, I can confirm these rooms are now bookable – with one catch on the points price.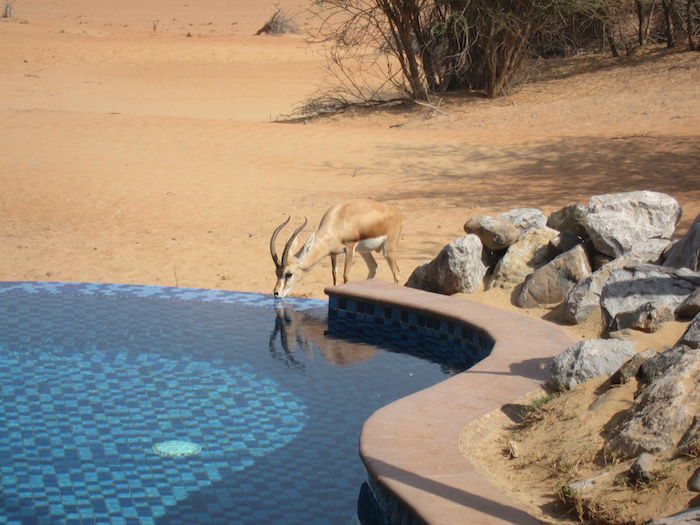 Making the revised booking
Because we knew we wanted to stay at Al Maha, even if it cost an obscene amount of points, we made reservations earlier this year. We were slightly hopeful that SPG might have one last 35% off resorts promo, but the new Marriott rates are even better.
The difference in price is substantial, so I've been motivated to get this changed. I originally booked just after SPG increased their categories for this year, so spent 70k SPG points per night (210k Marriott). The new pricing brings a Category 7 property down to 20k SPG points per night (60k Marriott).
After trying once each day for the last few days, I finally got through to an SPG agent yesterday who thought he could manage the refund or rebooking.
We discussed the best way to proceed. He gave me a few options including forcing a manual refund, cancelling the existing reservation and booking a new stay and a third option I didn't quite follow because it was more about their backend systems.
I stressed my biggest concern was losing the existing booking without a way to reinstate it. He was concerned about a manual refund getting lost in the merger. So, we decided on a brand new booking. And then, once that was processed with a confirmation number, we cancelled the original reservation.
The downside to this, and I was warned in advance, is the refund from the original booking isn't automatic because of all the other merger processes that are currently ongoing. So, I have even more points tied up in this stay. But, I'll eventually get those and make some other travel plans.
Tiffany's booking process was a little different
Tiffany, on the other hand, was initially told the system was still down and award bookings weren't possible. And when she called back later and was told the same thing, and that Al Maha was listed as a "suites property" and thus not bookable, she provided my new reservation number as an example they could in fact be booked.
Her agent looked at the notes to confirm the details, then decided to process this as a manual refund.
So, Tiffany kept her original confirmation number and received a boatload of points back in the SPG version of her Marriott account right away (like many of us, her accounts haven't been formally merged yet). She doesn't have any line-item account activity for this, so that will be interesting should anything go awry.
We were charged an extra 6,000 points per night
Here's the kicker though — we were both quoted and charged more than the top Category 7 rate. Neither of us were given clear (or consistent) explanations for why our three night stays cost an additional 18,000 Marriott points. But, our total was 198,000 Marriott points for the three nights.
The best explanation I have is from my Marriott account, which shows two line items for this redemption. The first is the correct amount for 180,000 points. The second, as you can see, says it's for "Upgraded Room Points."

Based on my call, it sounded like this was hardcoded into their systems. There wasn't a moment when the agent appeared to be calculating anything on his own. Tiffany's agent also repeatedly referenced "suite awards" while booking.
What to make of the (slightly) higher price?
So, maybe this is the new policy.
Marriott's brand new award chart does say the following at the bottom, despite the insistence from representatives that all rooms would be bookable at standard rates.
"Free Night Awards at some locations require higher points redemption amounts either because the hotel does not have standard rooms or the standard rooms it offers have mandatory full board requirements."
Or, it might indicate how Marriott plans to deal with non-standard properties in the future. Or, something is just haywire right now and will be fixed later. Either way, I'm more excited about the big refund than I am about the marginal price increase.
Has anyone else been able to book at non-standard properties? Were you also charged a premium for an upgraded room?