On June 1, 2016, Qatar Airways inaugurated one of the most controversial flights in recent history, between Doha and Atlanta. There's a huge conflict between the US and Gulf carriers, and perhaps the most outspoken airlines on both sides have been Delta and Qatar.
I'm sure you can imagine Delta's response when Qatar launched service to their hub, a route which Qatar's CEO claims is being launched to "rub salt in the wound of Delta." To send even more of a message, Qatar Airways operated the inaugural flight using an Airbus A380, rather than the Boeing 777 which will operate the route subsequently.
That made for some great entertainment, as Qatar Airways ended up having to park their A380 at a remote stand in Atlanta, rather than getting the airport's one A380 gate (which was instead occupied by a much smaller Delta plane). This annoyed Qatar Airways, though they didn't go through the proper channels for getting the plane type approved, and then had to pay the price.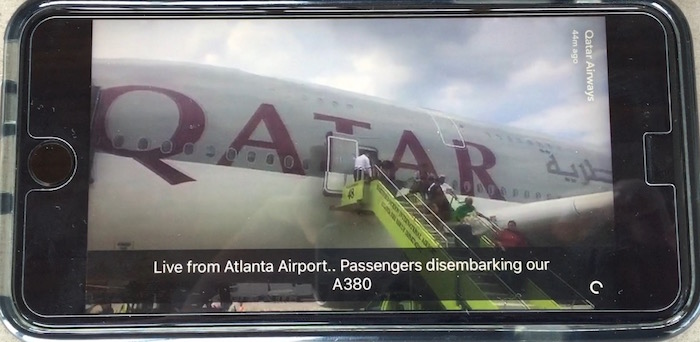 The follow-up correspondence between Atlanta Airport and Qatar Airways was fascinating, to the point that Al Baker threatened that the issue would be taken "very seriously" by the Qatari government (even though Qatar Airways was the one at fault, for not getting proper approval).
While the drama seems to have now mostly subsided, Qatar Airways published a cool video of their first flight to Atlanta, including the landing, water canon salute, and even their arrival at a remote stand:
For even more cheesy entertainment, check out the "Qatar Airways cabin crew guide to Atlanta:"
The only thing which would make the videos even better is if they had some quotes in them from His Excellency!