Today Qatar Airways inaugurated one of the most controversial flights in recent history, between Doha and Atlanta.
There's a huge conflict between the US and Gulf carriers, and perhaps the most outspoken airlines on both sides have been Delta and Qatar.
I'm sure you can imagine Delta's response when Qatar launched service to their hub, a route which Qatar's CEO claims is being launched to "rub salt in the wound of Delta."
To send even more of a message, Qatar Airways is operating the inaugural flight using an Airbus A380, rather than the Boeing 777 which will operate the route subsequently.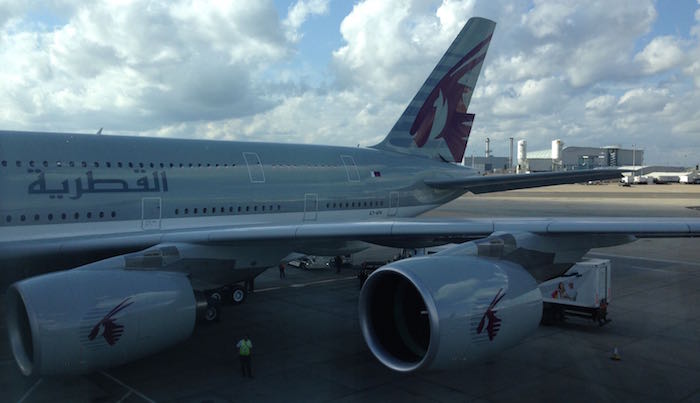 There has been tons of drama regarding this new route before it even launched. Qatar Airways hosted a party at Atlanta's historic Fox Theatre, which Delta is a sponsor of. Delta was angry they weren't consulted about renting out the space to their rival, so Delta dropped their longstanding sponsorship of the theatre.
Well, that inaugural A380 landed in Atlanta several hours ago, and there were a couple of things which were especially interesting about it.
Did Qatar Airways get a water cannon salute?
In areas without water shortages, it's pretty common for inaugural flights to get water cannon salutes upon arrival.
I was curious if Qatar Airways would get a water canon salute, given the controversy surrounding their new flight, and that Atlanta is Delta's turf.
Well, from the looks of it, Qatar Airways did get a water cannon salute upon landing in Atlanta.
My boy @GoldboxATL checking out the inaugural @qatarairways landing at #ATL pic.twitter.com/SStqrO7PZj

— Tony Geronimos (@tonygeronimos) June 1, 2016
But Qatar Airways didn't get…
…a gate. Instead, Qatar's A380 had to be serviced using airstairs and buses. Ouch!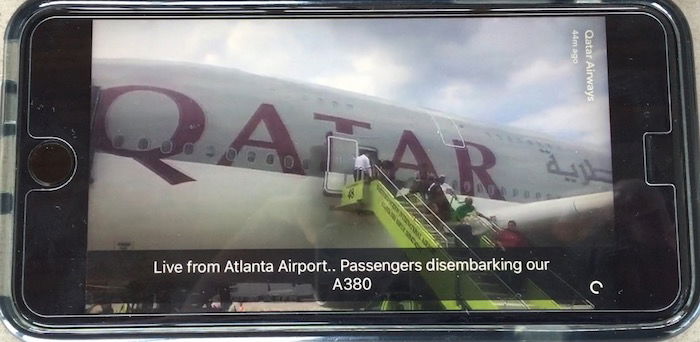 Atlanta does have an A380 gate, but unfortunately it was occupied by another plane… specifically, a Delta Airbus A320.
How did that happen? Basically Delta didn't want to reshuffle their operations to accommodate Qatar Airways, per ajc.com:
The airport had asked Delta if it could accommodate the Qatar A380. Delta, which develops its flight schedules and plans for gate usage months in advance, said it had planned to work with the airport on a solution. But the Atlanta airline said it couldn't find a viable option to move its aircraft in the time allotted, adding that it would have had to move multiple aircraft to make room for the huge A380.
As much as I think Delta has been ridiculous and petty in many ways, I can't really blame them on this front. Should they really give up one of their gates and rework their operations so one of their competitors can show off their plane and "rub salt in their wound?"
Either way, it's quite embarrassing for Qatar Airways that they wanted to show off this new plane, and ended up having to bus passengers to and from the terminal.
How does Atlanta's mayor feel about Qatar Airways?
Also rather interesting is that Delta has tried to shame Atlanta's mayor for attending the Qatar Airways gala in Atlanta which was held a couple of weeks ago, but he has stuck to his guns in supporting their new service. Per ajc.com:
Some people tweeted "about me being against women because I went to welcome an airline," Reed said. He also said Delta expressed "frustration" over his attendance at the event.

"I'm trying to send a message. You're either in the international game or you're out," Reed said when the topic came up at a press conference last week.

When dealing with airlines from other places, "We have to understand… they have different values and operate differently than we do. So if we're going to apply a standard, it's going to make it hard for us to be the most connected city… in the United States, which is my goal."
Bottom line
None of this drama really comes as a surprise, but as an onlooker it sure is entertaining. Qatar Airways got a water canon salute when they arrived in Atlanta, but they didn't get a gate. As much as I'd like to, I really can't blame Delta for not wanting to put effort into reshuffling their operations so that a spiteful competitor can show off.