The most talked about movie the past couple of weeks has been "Crazy Rich Asians." I've been wanting to see it since it came out, and finally had the chance to do so last night. I don't really like going to the movies, because usually I'll just wait until a movie is on planes, because goodness knows I have enough time to catch up on movies there. But I made an exception for this movie.
Anyway, for those of you who live under a rock and haven't even heard of the movie, here's a trailer:
So, how was "Crazy Rich Asians?"
This blog obviously isn't about movie reviews (I'd probably review them about as well as I review food), though I'll still briefly share my thoughts, and then get into the real point of the post. Overall I thought the movie was very good, though I say that as someone who generally has a terrible taste in movies. I love a cheesy rom-com, and in many ways I think that's what this was. But it was a good cheesy rom-com.
One of the things I respect most about the movie is that they wanted it to be authentic to "Asian" culture (I put "Asian" in quotes because obviously there are many cultures within Asia, but…) — the movie has an all-Asian cast, and they were focused on portraying characters in a different way than how you'll usually see movies stereotypically portray Asian characters. Of course this still only tells the story of crazy rich Asians, so it's not all that relatable to most.
At times I did think the casting was a bit odd. For example, Ken Jeong (Mr. Chow from "Hangover" fame) was cast in the movie, and the second he appeared on the screen everyone in the theater started laughing. It just seemed a bit off. Similarly, as funny as it is, I'm not sure what was up with the accent of the lady who plays Rachel's friend in Singapore — is she from the deep south of the US?
So I really did enjoy the movie as someone who admits to having terrible taste in movies, though I'm surprised by how well this movie has been rated by critics.
My real takeaway from "Crazy Rich Asians"
The real point of this post is that oh my gosh, this movie is probably the best advertisement I've ever seen for anything. And specifically, that "thing" is Singapore. Wandering Aramean had the same takeaway.
At the end of the movie, the guy seated next to me said "now I want to visit Singapore." Ford said he wanted to go back to Singapore. A friend said "wait, is Singapore really that amazing?" Truly the takeaway from this movie largely seems to be that Singapore is pretty awesome.
Now, I imagine part of the reason people have this impression is simply because the movie is two hours of showing crazy rich people in Singapore, so subconsciously we'll associate that with the destination.
But the movie also does a remarkably good job showcasing the destination in a way that's approachable for anyone visiting. This includes when they land at Changi Airport — the main character says "Changi has a butterfly garden. All JFK has is salmonella and despair."
Then it showcases so many of Singapore's major landmarks, including Marina Bay Sands, the hawker stands (including an explanation of how they work), Gardens by the Bay, and so much more.
If Singapore didn't pay for placement here, they got the best deal ever. Especially when you consider that this is how they spend their money on advertising their destination:
One thing that surprised me is that they didn't use Singapore Airlines branding for their plane scenes. I'm not sure if they just couldn't get permission, or if Singapore Airlines wasn't willing to pay, or what.
They fly an A380 from New York to Singapore with incredible first class suites nonstop, though the airline is called "Pacific Asean Airlines." Given Singapore Airlines' incredible first class suites, you'd think they would have just used the "real" airline.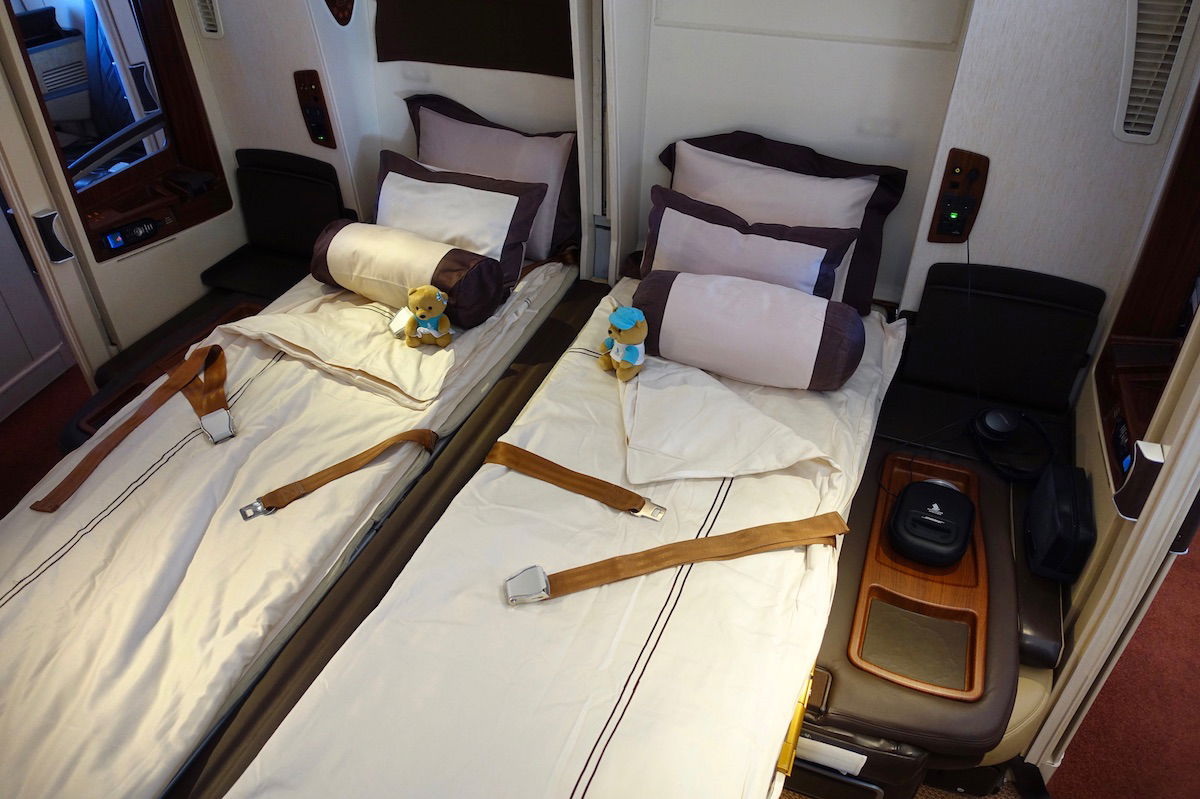 Singapore's "old" A380 Suites
That being said, I now want to fly Pacific Asean Airlines, because the product looked pretty darn good, and it's not a first class suite I've seen before!
Bottom line
I've probably been to Singapore a couple of dozen times, and after watching the movie I almost wanted to plan a trip back there. That's how well the movie showcases the destination. It's funny that I feel that way because I like Singapore, but don't necessarily love it.
I like it for a fairly quick stopover, and I love the food. But I do think the movie perhaps is slightly overselling the destination. Or maybe I'm just not getting invited to the right parties while in Singapore. 😉
If you watched "Crazy Rich Asians," what did you think?