In early May I wrote about Qatar Airways' substantial US expansion, whereby in 2016 they're adding several new destinations/frequencies to the US. As was announced at the time:
Daily Doha to Los Angeles 777-200LR flight as of January 1, 2016
Second daily Doha to New York A350 flight as of March 1, 2016
Daily Doha to Boston A350 flight as of March 16, 2016
Daily Doha to Atlanta flight as of July 1, 2016
While the expansion as such is logical, I'd be shocked if the new Doha to Atlanta flight weren't at least somewhat motivated by the rivalry/mutual hatred between the CEOs of Qatar Airways and Delta Air Lines.
Anyway, it's interesting to note that bookings are now open for Qatar Airways' flight between Doha and Atlanta, and the flight has even been pushed forward by a month. Qatar Airways will now launch daily Boeing 777-200LR flights between Doha and Atlanta as of June 1, 2016 (rather than July 1, 2016).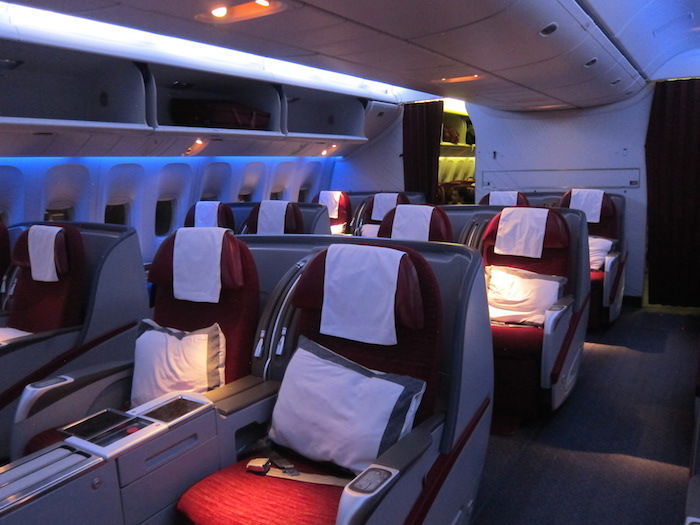 Via airlineroute.net, the schedule for the Doha to Atlanta route will be as follows:
QR755 Doha to Atlanta departing 8:30AM arriving 4:25PM
QR756 Atlanta to Doha departing 8:30PM arriving 5:30PM (+1 day)
That's a pretty logical schedule, and matches the timing of most of Qatar's other US bound flights. The flight is blocked at 14hr55min westbound, and 14hr eastbound.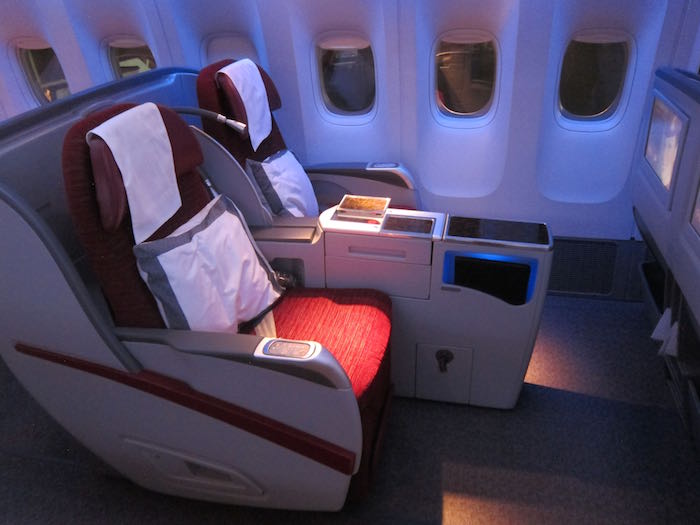 Now that the schedule is finally open, it's worth noting that award space is wide open in business class on the new flight, per the British Airways award search tool.
Qatar Airways seems to have four business class award seats per flight between Doha and Atlanta: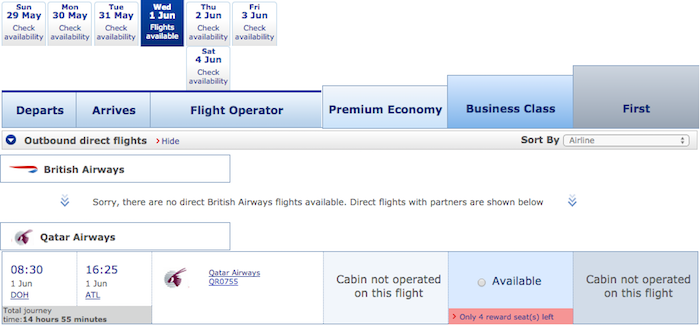 And the same is true in the other direction as well: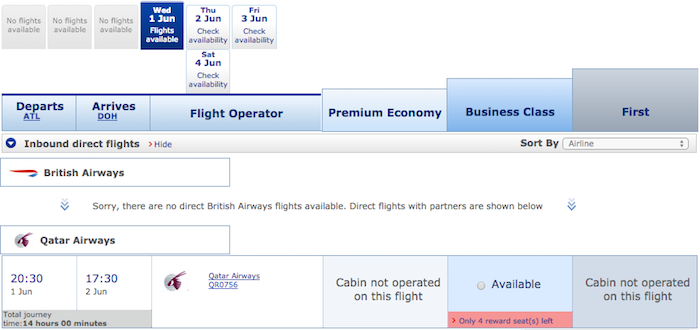 If you're trying to redeem American AAdvantage miles, it's worth noting they only have access to award space at most 331 days out, so it'll be a little while before the route is bookable with AAdvantage miles.
If I were a betting man, I'd say His Excellency is very likely to be on the inaugural, as I'm sure there's nothing he wants to do more than give a speech at Atlanta Airport and thank Mr. Anderson for the hospitality. 😉 So if you want to fly with Al Baker…
As far as the 777-200LR goes, it features Qatar's standard forward facing business class product, which is in a 2-2-2 configuration. The 777 should be the first plane to get Qatar Airways' new "super business class" product, if/when that actually happens. Too bad they're not flying an A350 to Atlanta, which has a much better product.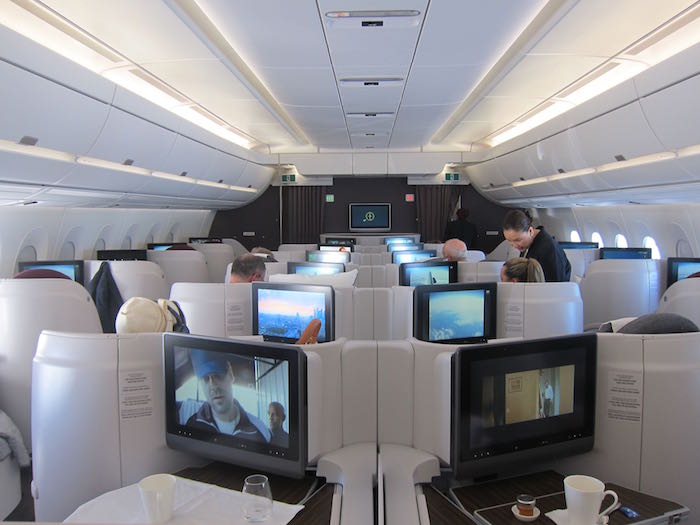 Bottom line
It's an exciting time for Atlanta Airport, as they're getting both service from Qatar Airways as well as Turkish Airlines. I would be surprised if Emirates didn't announce service to Atlanta within the next year as well.
Do any Atlanta flyers plan on trying Qatar Airways' new service to Doha?