Qatar Airways first revealed their A380 schedule back in late April, when they announced that they'd inaugurate A380 service between Doha and London Heathrow as of June 17, 2014.
As soon as they updated the route to reflect the A380 they stopped releasing first and business class award seats on those flights. That trend continued when they announced A380 service to Paris, and has also continued throughout the delivery delays.
As it stands now, the Qatar Airways A380 inaugural flight to London is scheduled for October 10, 2014, while the A380 inaugural to Paris is scheduled for October 16, 2014. However, I would bet that's not actually realistic, and would optimistically guess it will be closer to the end of the year before Qatar Airways actually starts flying the A380.
However, there's one trend that has just recently been reversed — Qatar Airways is now releasing first and business class award space on their A380 flights.
On most A380 flights I'm now seeing two first class award seats and four business class award seats. Availability is definitely better to Paris than London, though that's generally true of those routes for Qatar Airways. As a reminder, Qatar is planning to put the A380 on the QR003/004 London frequencies, and the QR039/040 Paris frequencies.
This isn't just over a small period, but through the end of the schedule. It's true in November:
And next March:
And next June:

And as I said above, to London as well:
Again, I wouldn't count on getting an A380 this year, but if you book for travel next year, I think chances are really good that your flight would be operated by the A380.
It's certainly nice to see this policy reversed, whether it was intentional or not.
Redeem miles for Qatar Airways A380 first & business class
In terms of redeeming miles for Qatar Airways premium cabins, your best bets are American or US Airways:
American charges 30,000 AAdvantage miles for one-way business class between Europe and the Middle East, and 40,000 miles for one-way first class
US Airways charges 60,000 Dividend Miles for roundtrip business class travel between Europe and the Middle East, and 80,000 miles for roundtrip first class
If you have top tier status with either airline, it's especially easy to lock in seats now, since you can always cancel them later without a fee.
Qatar Airways A380 first class
Qatar Airways' first class doesn't actually look that spectacular, especially after we've seen Etihad's plans for their A380, and Emirates has said that they'll match. So I'd try this more for the novelty than expecting to fly the world's best first class product.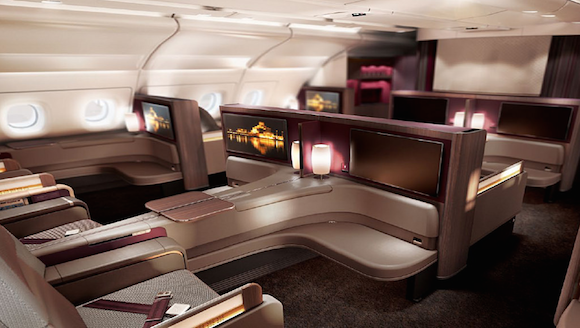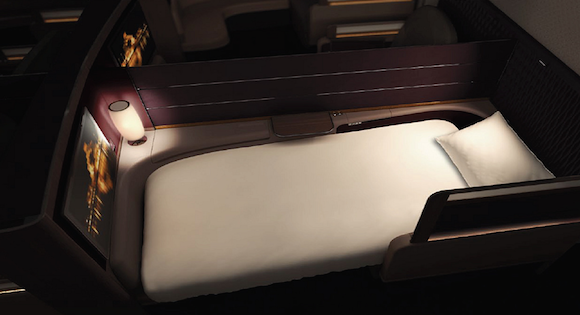 Now, I have a sneaking suspicion that this whole A380 delay is an Akbar Al Baker ego ploy and that they're actually totally redesigning the first class cabin. I know it's farfetched and you can call me a conspiracy theorist, but we are talking about His Excellency here. Only time will tell, I suppose…
Bottom line
Woohoo! Another A380 first class product that can easily be checked off the list! Now I just need to hop on the Asiana A380, as I've done all the other A380 first class products out there:
(Tip of the hat to Naveen)