One of the next airlines to take delivery of the Airbus A380 is Qatar Airways, which plans to take delivery of their first three A380s in June. A couple of weeks ago Qatar Airways revealed that their first A380 destination will be in Europe, and that they hope to start service with it by the third quarter of the year.
Anyway, today at ITB Berlin, Qatar Airways finally revealed the interior of their new eight seat first class cabin, which will be located on the upper deck: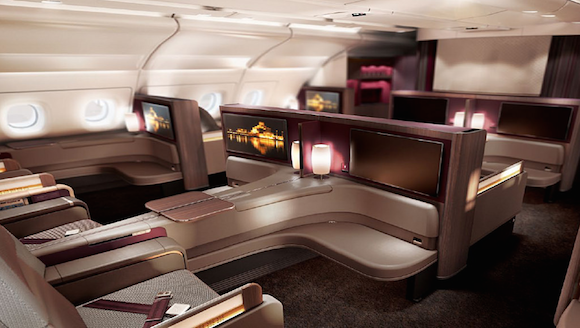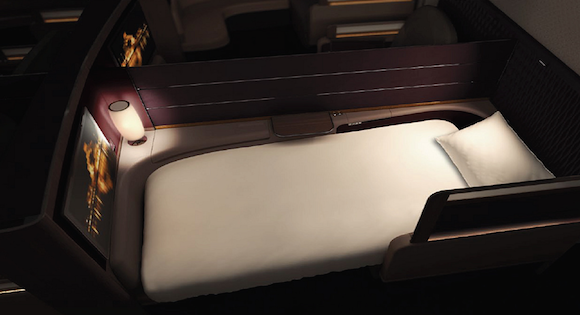 So it certainly does look nice and spacious, but hardly cutting edge, in my opinion. While the suites aren't fully enclosed, they do look fairly private, since they have "shields" that go up around them.
It's a huge improvement over their old first class, though.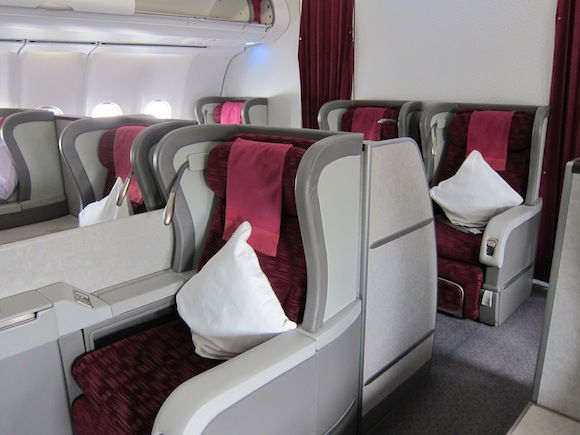 Here's the extent of the description of the new seat in the press release:
The new First Class A380 seat, revealed by Mr. Al Baker at a ceremony attended by the Mayor of Berlin, Mr Klaus Wowereit as Guest of Honour, features a 90-inch seat pitch, transforming into a fully flat bed, together with an expansive choice of entertainment options displayed on individual 19-inch television screens.
They've also revealed that the first Qatar Airways A380 destination will be London Heathrow, as of this summer:
Mr. Akbar Al Baker said: "It is a landmark moment to see this fantastic new First Class A380 seat displayed here at ITB Berlin, the perfect event at which to announce such important innovations to our global audience. Operating on the Doha to London Heathrow route, this cabin will offer a new level of comfort for passengers traveling to the United Kingdom, who will also benefit from our Premium Terminal in Doha and the new Qatar Airways Premium Lounge in London Heathrow Terminal 4.
The real star of the plane is business class, which is in a reverse herringbone configuration, hands down making it the best A380 business class product of any airline. FlightGlobal has a picture of the new business class cabin (though says that the business class cabin is in a six-abreast configuration, which isn't correct).
Can't wait till they announce which flight will operate the A380 and as of when, so I can hopefully snag a seat.
What do you think of Qatar Airways' new first class product?
(Tip of the hat to Henry)