Qatar Airways will be one of the next major carriers to take delivery of the A380, and for a while I've been speculating about which route they'll launch them on. Qatar Airways will be taking delivery of their first three of thirteen A380s this summer. They were supposed to take delivery of their A380s earlier, but due to the delayed opening of the Hamad International Airport they had the delivery dates delayed by a bit.
Back in February Qatar Airways announced that they planned on launching longhaul A380 service to Europe by the third quarter of 2014.
They quickly followed that up by revealing what their new A380 first class product would look like. While their first class won't consist of fully enclosed suites, it does look really sleek and comfortable, especially since it won't be operating ultra longhaul flights, due to the fact that they primarily plan on flying them to Europe.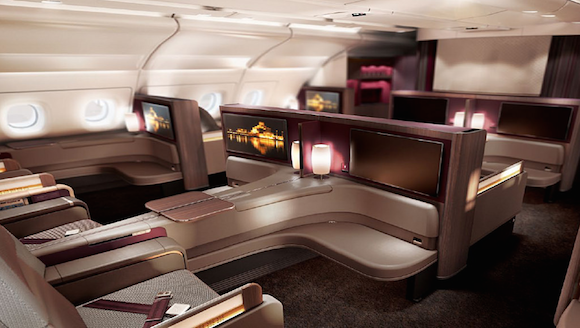 Qatar Airways A380 first class cabin
Anyway, today Qatar Airways has finally published their A380 plans. As of June 17, Qatar Airways will begin once daily A380 service to London Heathrow.
The A380 will operate the QR3/4 service, with the following schedule:
Qatar 3 Doha to London departing 7:55AM arriving 1:15PM
Qatar 4 London to Doha departing 3:05PM arriving 11:50PM
The A380 actually replaces one of their daily 777-300ER services, which didn't previously have a first class cabin. So this represents a nice increase in first class capacity on the route. Previously three of the six daily flights featured a first class cabin, while as of June 17 four of the six daily flights will feature a first class cabin.
Unfortunately I'm not seeing any award availability whatsoever on the new A380. Not just in first and business class, but even in economy class.
And beyond that, they're actually not releasing the "lower" revenue fare classes either. I can understand that being the case for the inaugural flight or even for the first week or month of service, but here are the fare buckets for a random date next year:

As you can see, Qatar Airways has two flights to London which are 20 minutes apart, with the first being operated by an A340 and the second being operated by an A380.
The A340 has all three types of first class fare classes available (F, P, and A), while the A380 only has the F fare class available.
In business class the A340 has all four types of business class fare classes available (J, C, D, and I), while the A380 only has the full fare J and C classes available.
Even in economy they're not releasing space in the lower fare buckets.
Now admittedly loads do vary day-to-day, though this is consistently the case. Given everything we know about Qatar Airways and how great they think they are, I wouldn't be surprised if they actually think they can sell seats on the flight at a premium. I'm sure very quickly they'll start releasing availability in the lower fare buckets, and I'm sure award availability will quickly follow as well. I guess we should just hope that they won't block first class award redemptions across the board on that route.
If anyone finds any award availability on the new service I'd love to hear about it! Anyone book the new aircraft yet, if only by coincidence from being previously booked on the 777-300ER?