There are three airlines taking delivery of their first A380s this year. This includes Asiana, Qatar Airways, and Etihad Airways. Asiana has already announced their first longhaul A380 route will be Los Angeles, while Qatar Airways announced their first longhaul A380 route will be London Heathrow.
So up until today that only left Etihad Airways having not announced their first A380 destination.
Etihad Airways, the national carrier of the United Arab Emirates, unveiled their A380 interiors and first destinations today.
And my gosh, I think they've just put every other airline in the world to shame.
Etihad's long term A380 plans
Etihad Airways has a total of 10 A380s on firm order. The delivery schedule for these planes is as follows:
One in 2014
Four in 2015
Three in 2016
Two in 2017
Etihad's first A380 routes

It's hardly surprising that Etihad's first A380 destination will be London Heathrow, and the service will commence as of December 2014.
Specifically, the A380 will operate the EY11/12 service daily as of December 27, 2014, as follows:
EY11 Abu Dhabi to London departing 2:35AM arriving 6:35AM
EY12 London to Abu Dhabi departing 9:15AM arriving 8:05PM
A second A380 will operate the route as of the first quarter of 2015.
By the end of 2015 Etihad will have a total of five A380s, and plans to also fly them to Sydney and New York JFK.
Etihad's A380 cabin layout
Etihad's A380s will be configured with a total of 498 seats, spread across four "living spaces." These include the following:
2 VIP guests in "The Residences"
9 guests in the "First Class Apartments"
70 guests in the "Business Class Studios"
417 guests in Economy Class (no quotations needed)
Here's the Etihad A380 seatmap: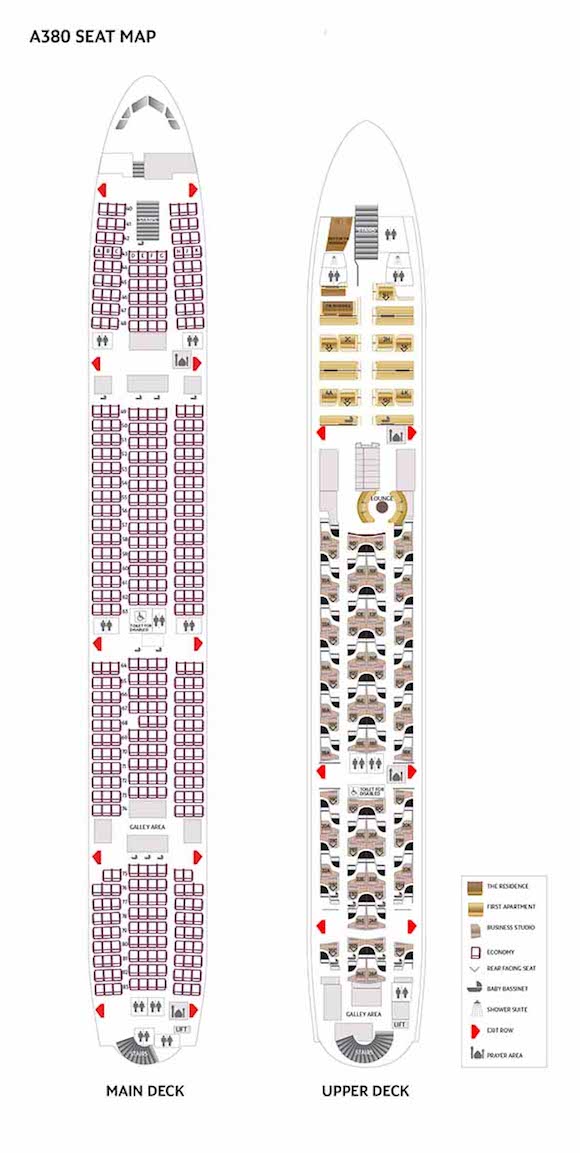 Etihad's new The Residences is quite possibly the greatest thing we'll ever see on a commercial airplane. I've flown A380 first class on every airline that operates them, and this cabin is in a completely different league.
There's just Residence on each plane which can accommodate up to two guests, and there will be no way to upgrade into them — the only way to sit in them is by paying cash.
Here's a short video of the cabin:
And here's a video narrated by Dannii Minogue:
Each Residence consists of a living room, bedroom, and private bathroom with shower, measuring a total of 125 square feet. The Residences also have a private butler specially trained by Savoy Hotels.
Yes, you get three rooms to yourself and a butler.
Absolutely ridiculous.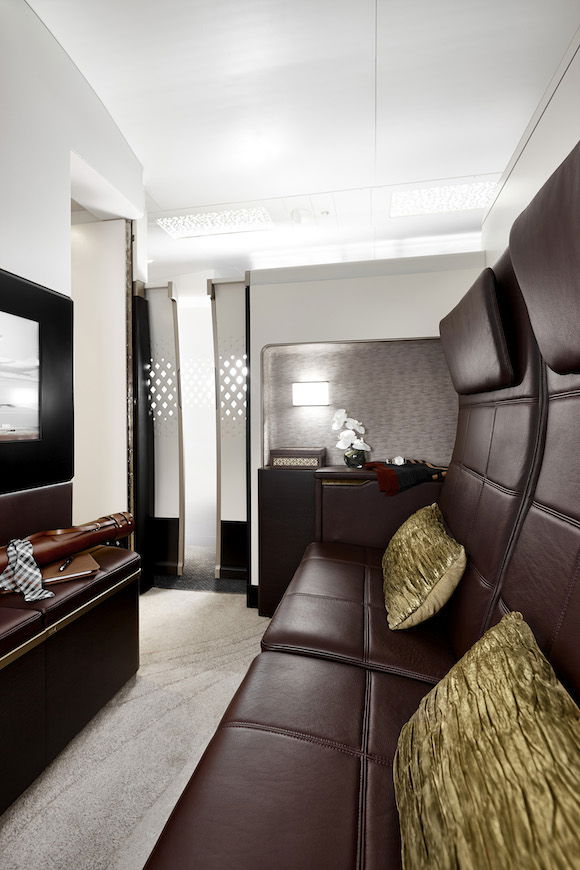 The Residences Living Room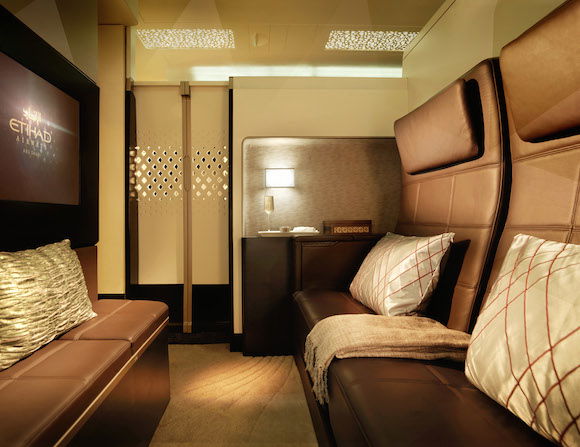 The Residences Living Room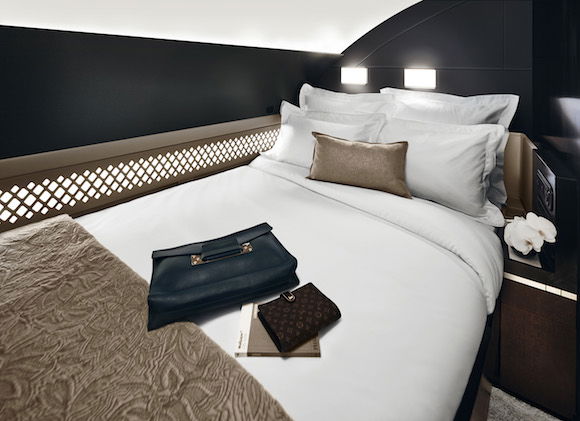 The Residences Bedroom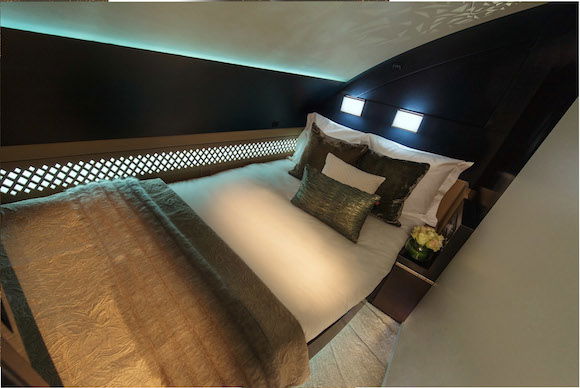 The Residences Bedroom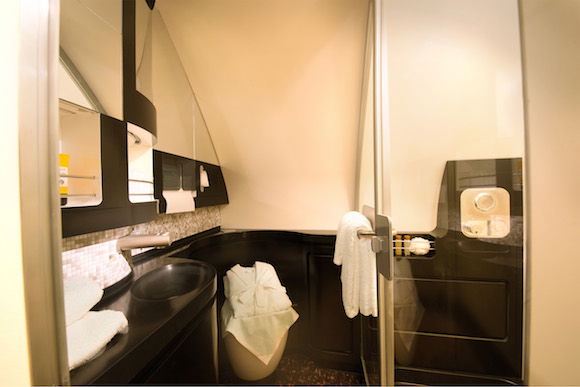 The Residences Bathroom
Etihad's A380 First Class Apartments

Etihad's first class product on the A380 is also great, though after seeing The Residences I can't help but feel like it pales in comparison and almost feels second class.
There are nine Apartments on the A380, and they're each 39 square feet. Six of them are adjoining, meaning you can convert them into double beds. Singapore Airlines isn't alone in having that feature anymore!
Here's a narrated video of the First Class Apartment: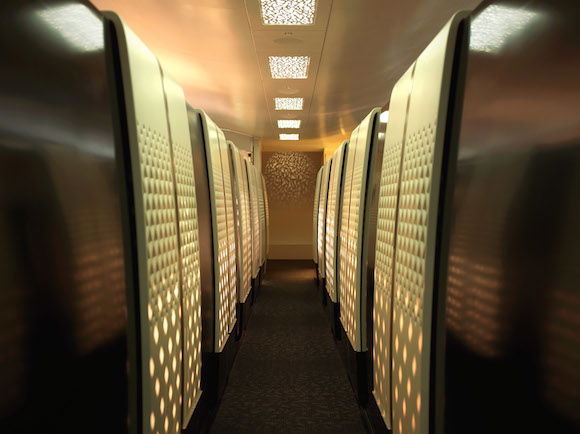 First Class Apartment Aisle
Each "apartment" will consist of a separate seat and bed, and looks ridiculously spacious.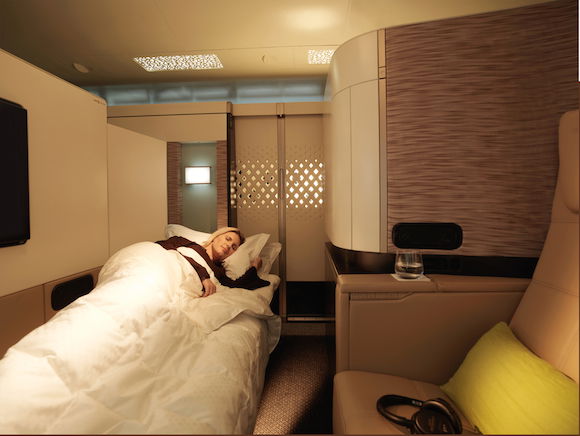 First Class Apartment Bed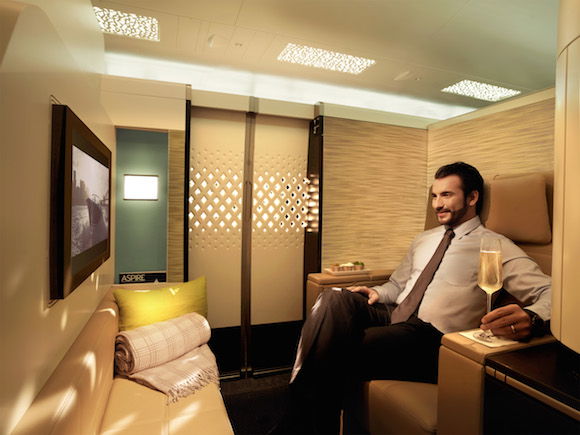 First Class Apartment Seat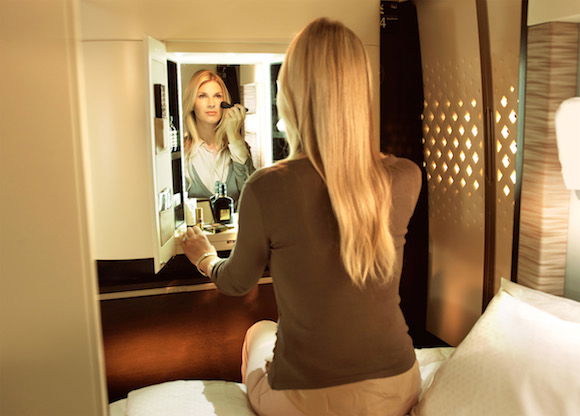 First Class Apartment Vanity
First class passengers will also have access to a shared bathroom which will also feature a shower.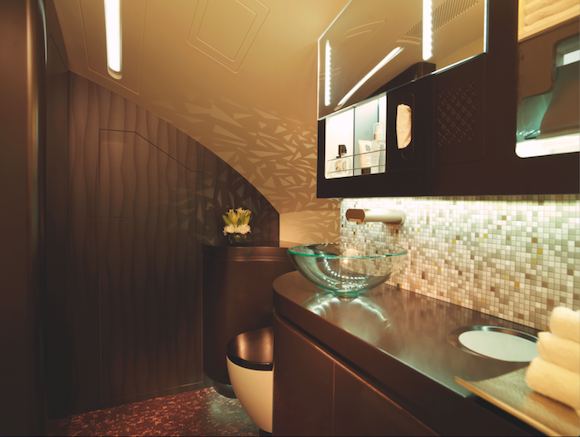 First Class Apartment Bathroom
Etihad's A380 The Lobby

There's also a shared lounge between first and business class, which looks like one of the most elegant lounges I've ever seen on a plane.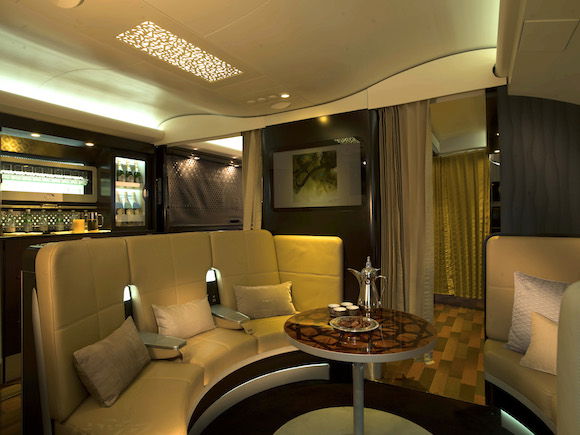 The Lobby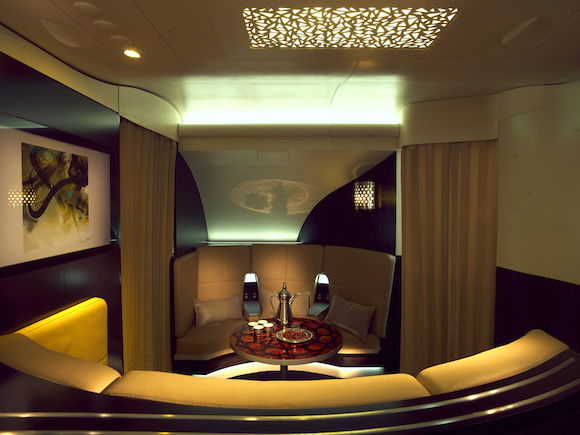 The Lobby
Etihad's A380 Business Studios
When I first saw Etihad's Business Studios I assumed it was their new first class, because it looked that good.
Here's a narrated video of the new Business Studio: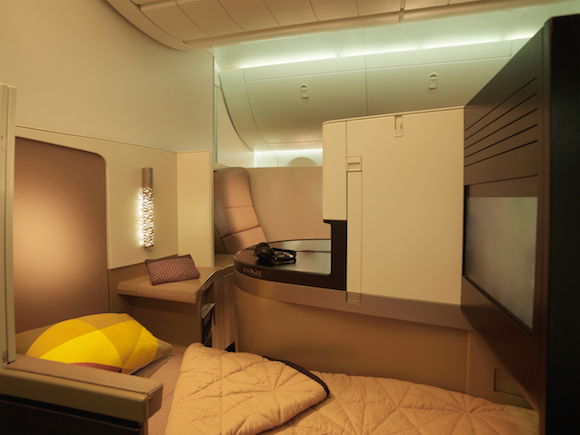 Business Studio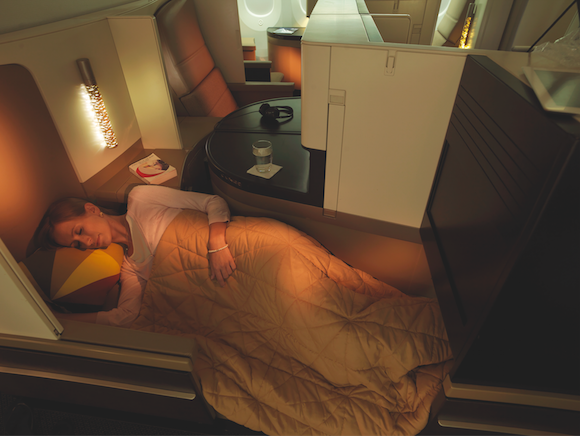 Business Studio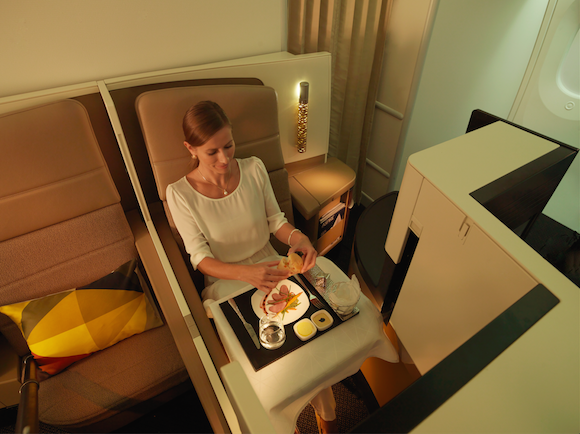 Business Studio
Bottom line
I don't think words can do justice to Etihad's new A380 cabins. Wow, wow, wow. Amazing across the board.
Unfortunately it looks like Etihad isn't releasing any First Class Apartment award space on the A380, and they're certainly not allowing any awards or upgrades for The Residences.
It's also really interesting to look at the fares. Etihad's one-way fare in the Residences from Abu Dhabi to London is over $20,000USD — WOW!

Just amazing. From the actual product to the branding, this is pure brilliance.
What do you think of Etihad's new A380 cabins?