After a pleasant flight in Jet Airways business class from Newark to Brussels, I was excited to fly with Qatar Airways from Brussels to Doha, which was the last portion of my 67,500 AAdvantage mile business class award between the US and the Middle East.
I've only flown Qatar Airways on one trip previously, and that was several years ago in first class, which was long before they joined oneworld. At the time I thought the product was a bit dated and wasn't really blown away by any aspect of the experience. So I was curious to see how business class on their new Dreamliner compared.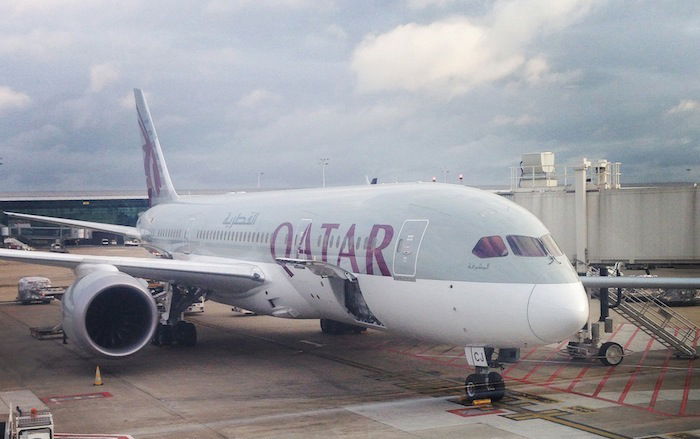 Qatar Airways 787
Qatar Airways Business Class 787 Seat
Qatar Airways' 787s feature reverse herringbone seats. The business class cabin is gorgeous, and consists of 22 fully flat business class seats. While I've flown the Dreamliner on a few other airlines (including ANA, Ethiopian, and LOT), the cabin didn't feel all that different to me on those airlines. Qatar does an amazing job with their 787s.
The entryway feels incredibly spacious, with a bar setup and some magazines and newspapers on display.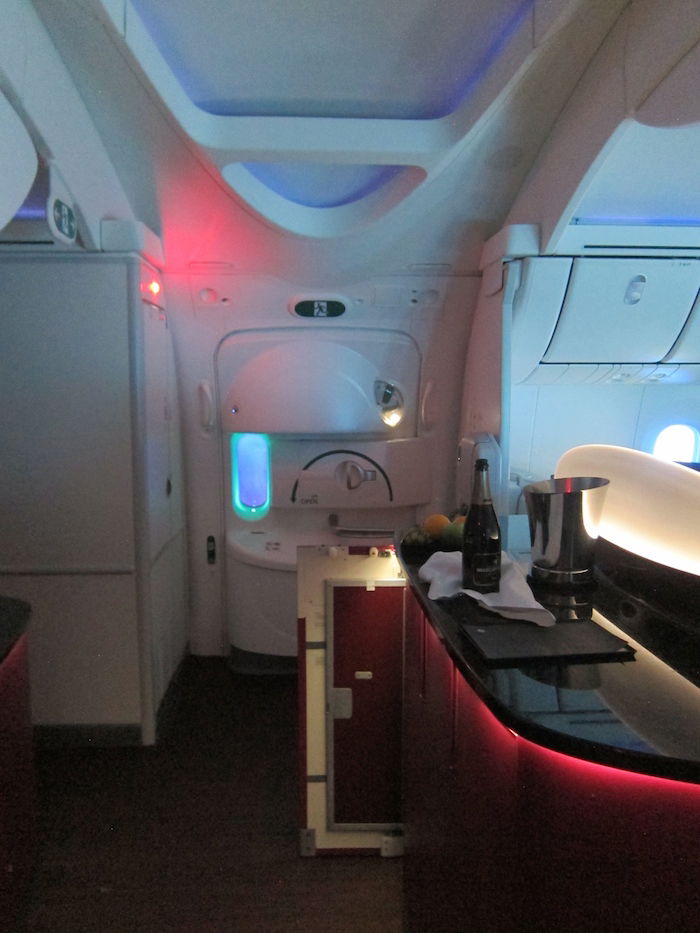 Qatar Airways 787 entryway
One of the unique things about the cabin is that there are two seats behind the main cabin, which seem private and exposed at the same time. They're all alone, with no seats by the windows, so you have that part of the cabin all to yourself. At the same time you're directly facing the entryway.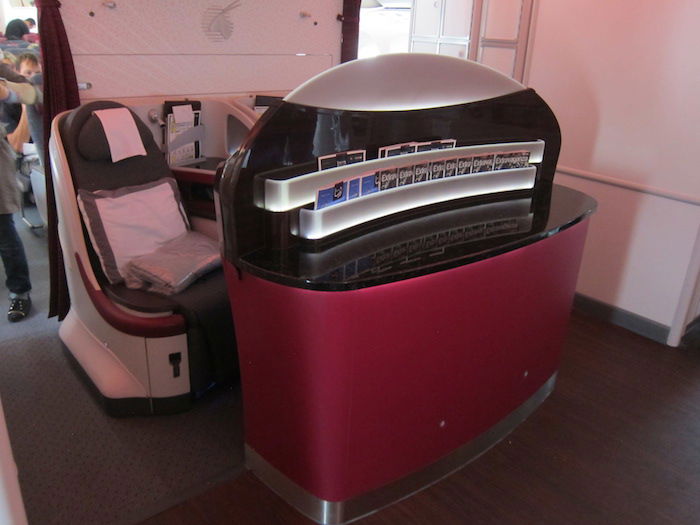 Qatar Airways 787 business class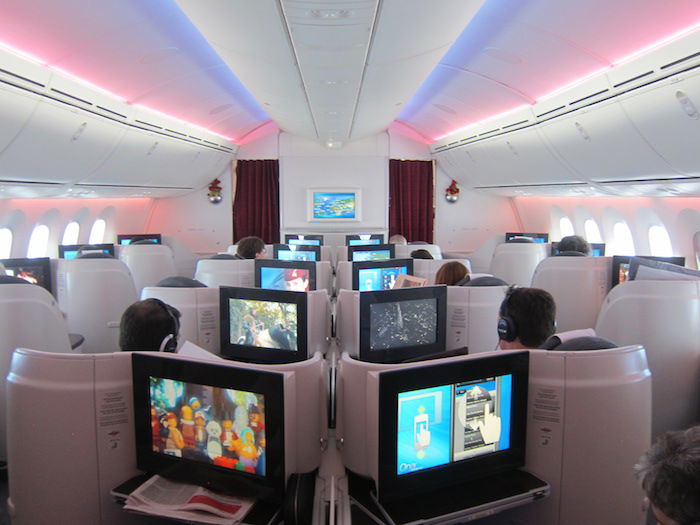 Qatar Airways 787 business class cabin
Qatar Airways didn't just take the reverse herringbone design from many other airlines (like American, Cathay Pacific, and EVA Air), but instead innovated it in many ways.
Let me start with the one weakness, because if it weren't for it I'd argue this is hands down the best business class seat in the world. There's not any sort of a "shield" on the side of the seat for added privacy. On some of the other reverse herringbone configurations you have more privacy by your head, which isn't present here.
Everything else about the seat is simply amazing.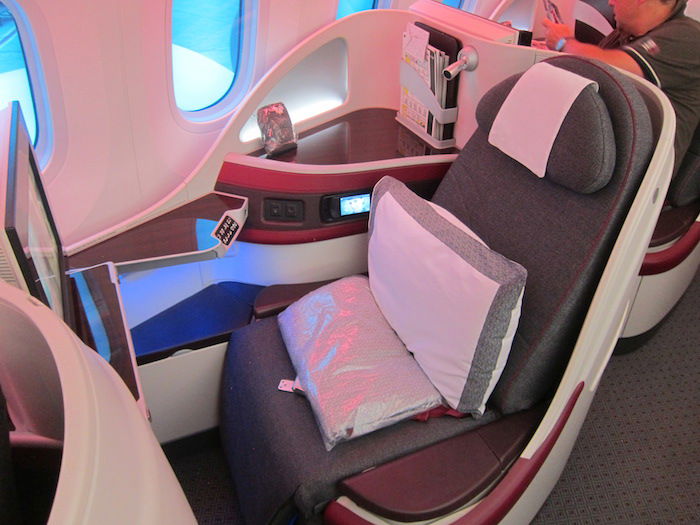 Qatar Airways 787 business class seat
There's tons of storage — there's a storage compartment to the side of the seat.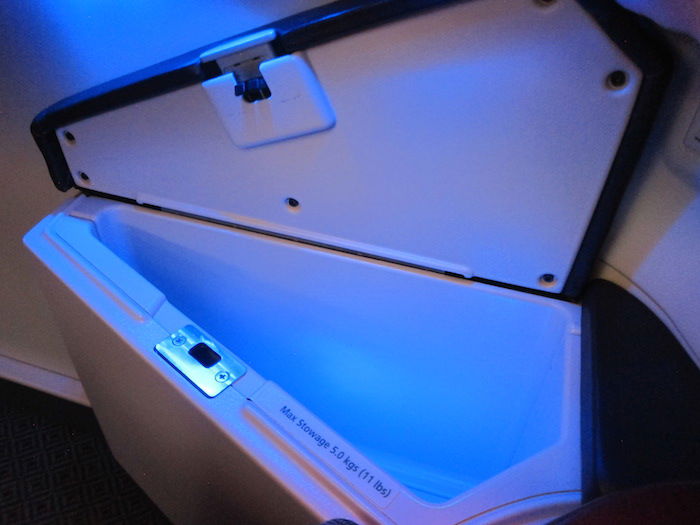 Qatar Airways 787 business class storage
Then on the other side of the seat is a well designed compartment for headphones and a bottle of water, which also acts as the adjustable armrest.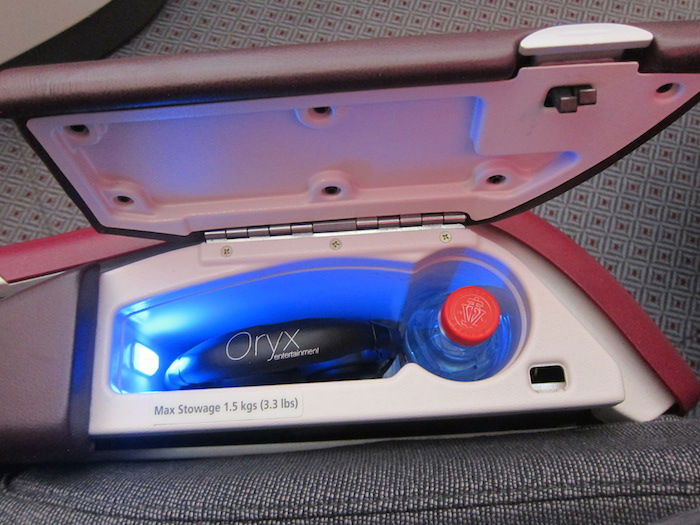 Qatar Airways 787 business class storage
The seat controls are intuitive and probably the easiest to use of any airline.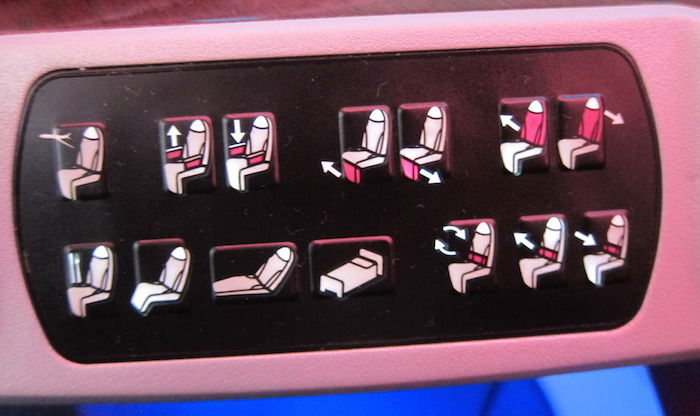 Qatar Airways 787 business class seat controls

Then the tray table actually slides out from under the entertainment system. That's pretty cool, since it means you don't have to pull the TV screen out from the side of the seat, which makes it easier to use during takeoff and landing.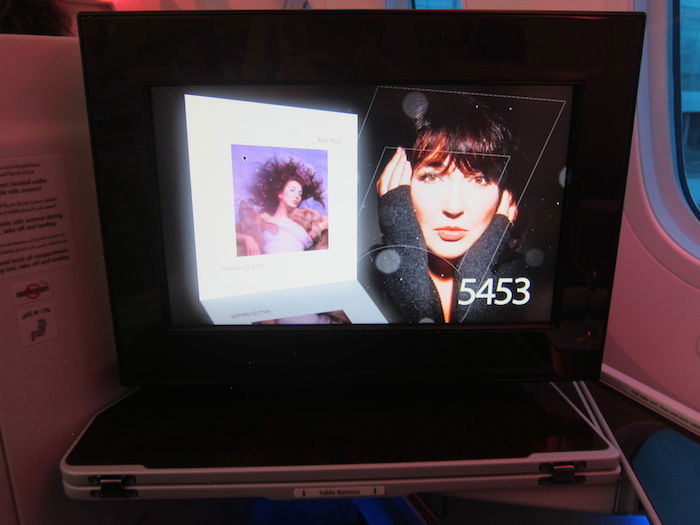 Qatar Airways 787 business class entertainment system

So overall it's a brilliantly designed seat. I wish there were more privacy around the head, but otherwise it's simply fantastic.
Qatar Airways Business Class Food
As is the case with most Middle Eastern airlines, there's an "on demand" dining service. The menu and wine list were housed in a leather folder, which is impressive for business class.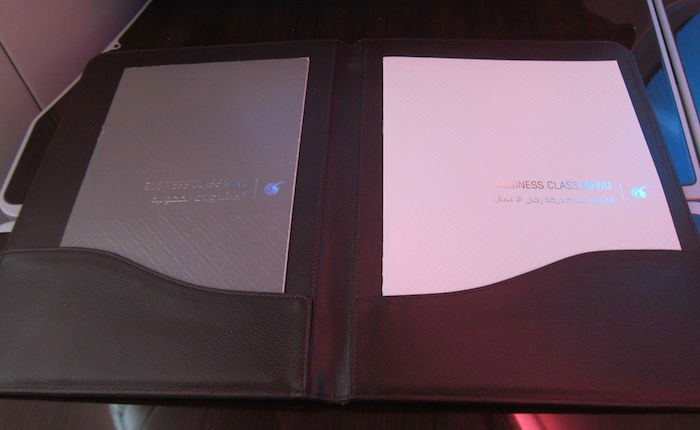 Qatar Airways business class menu
Since they have a dine on demand concept, there's a big menu and you can order what you want when you want.
A spicy crab cake with salsa was served as an amuse bouche. I had a glass of rose to accompany it.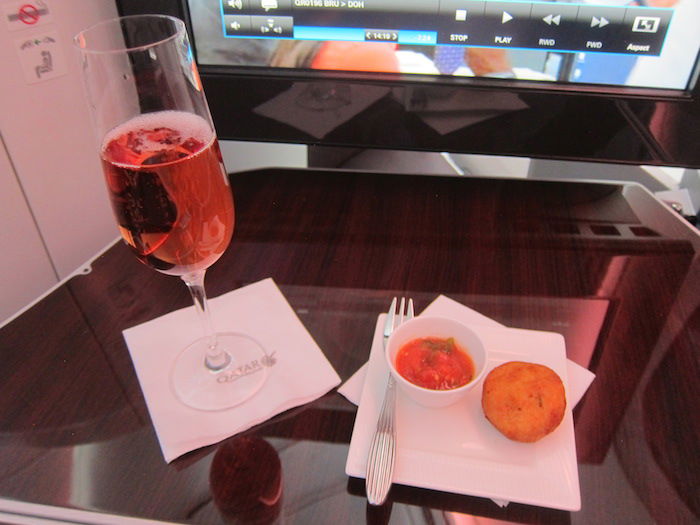 Qatar Airways business class amuse bouche

Then I had the arabic mezze as an appetizer. It was simple but good.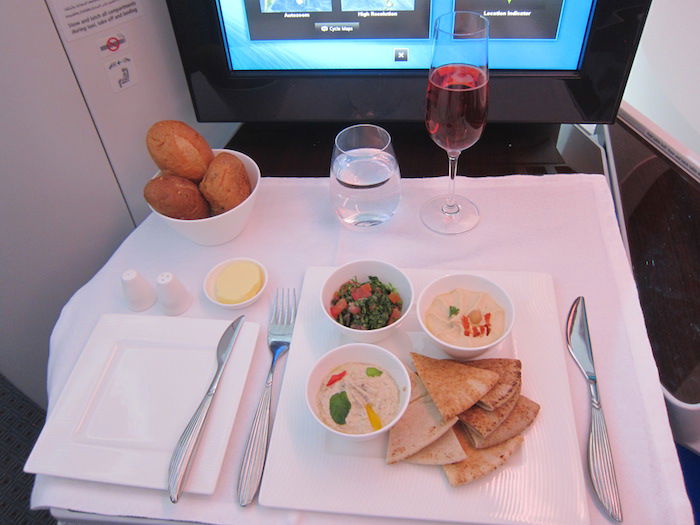 Qatar Airways business class appetizer
For the main course I had hammour, served with rice, asparagus, and a bean stew. While the presentation was so colorful that it almost looked like a kid's meal, it was one of the best fish dishes I've had on a plane. It was flavorful, light, and flaky, all at the same time. Fantastic.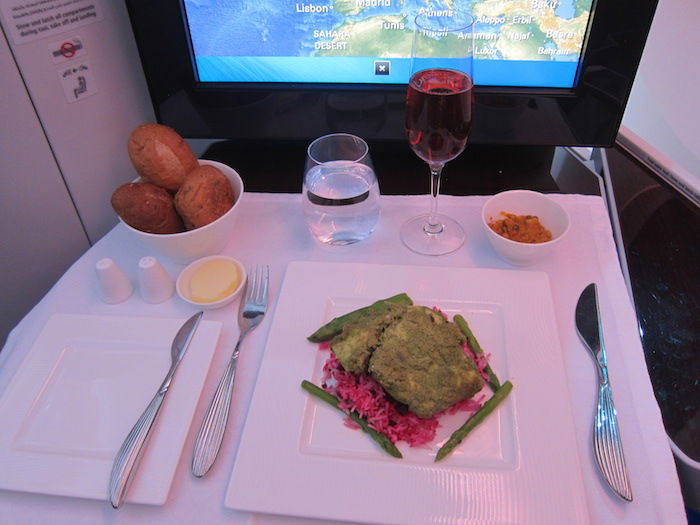 Qatar Airways business class main course

Then for dessert I had a chocolate tart by Laduree. Amazing presentation, amazing taste, and a great brand. Kudos to Qatar for one of the most brilliant "luxury" desserts I've seen on an airplane.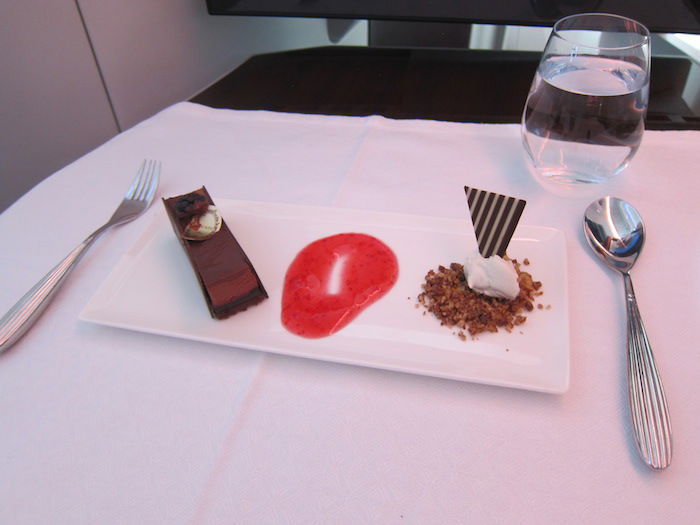 Qatar Airways business class dessert
The flight time was about six hours, so while I didn't have a meal before landing, I did have some ice cream. I was expecting something in a box, but nope, it was an actual freshly made sundae of sorts.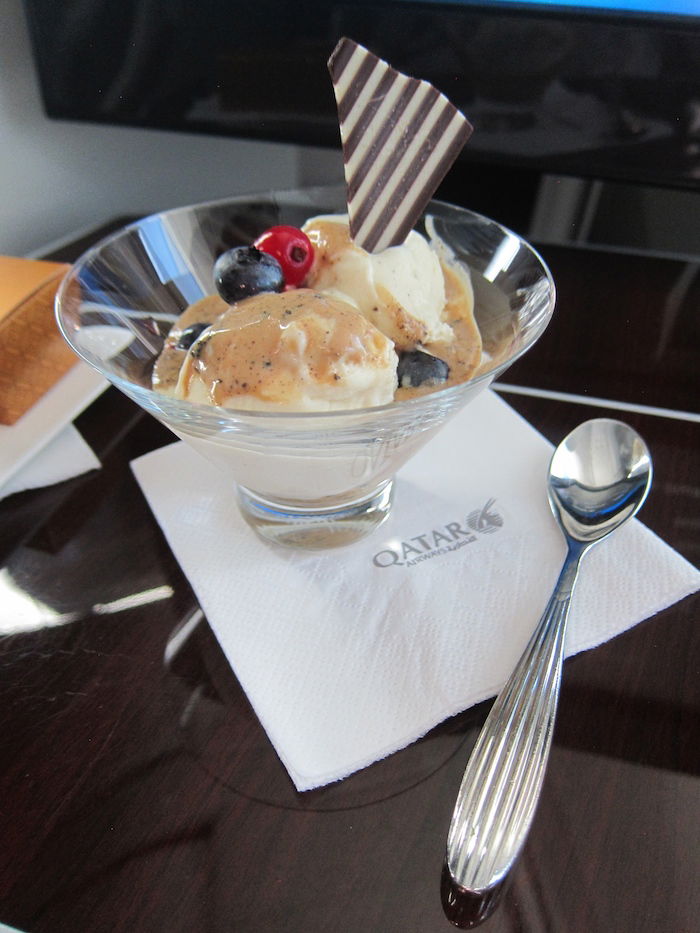 Qatar Airways business class ice cream

Qatar gets a 10/10 on food. Absolutely perfect. And they also get high marks on champagne — they had Billecart-Salmon as the champagne, and Taittinger Rose.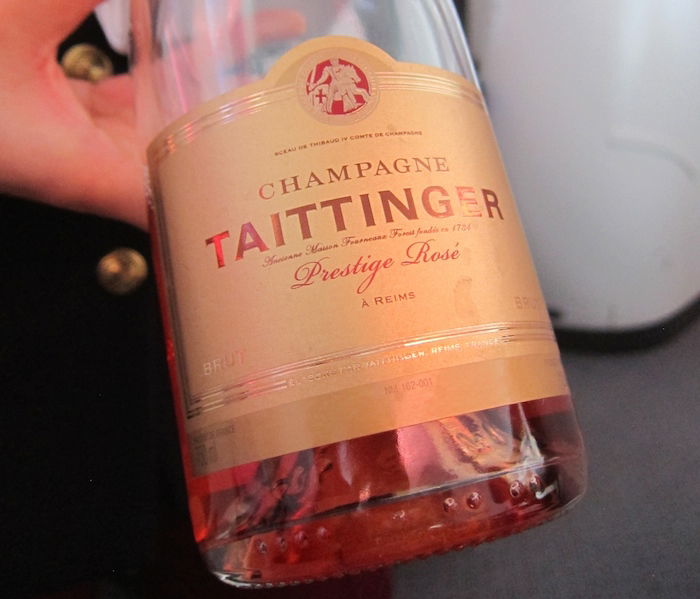 Qatar Airways business class Taittinger Rose

Qatar Airways Business Class Service
The service was good.
I've said it before and I'll say it again — Middle Eastern airlines don't typically have the level of service you'll get from the top Asian airlines out there. And that's simply a function of the work conditions, their training, and also often the cultural differences between crews.
That being said, I had a Thai flight attendant taking care of me, and she was one of the best flight attendants I've ever had on a Middle Eastern airline. She really made me feel like I was in first class. I guess that's not too difficult given how small the cabin is.
She wasn't proactive in the sense that she wasn't constantly wandering the cabin, but she was extremely friendly, attentive during the meal, and spot on in terms of her attention to detail. When I pushed the call button I was helped within seconds with a smile.
Qatar Airways Business Class Amenities
Again, Qatar Airways gets high marks here. They had a really nice amenity kit with Salvatore Ferragamo amenities. For a sub-six hour daytime flight, that's pretty impressive.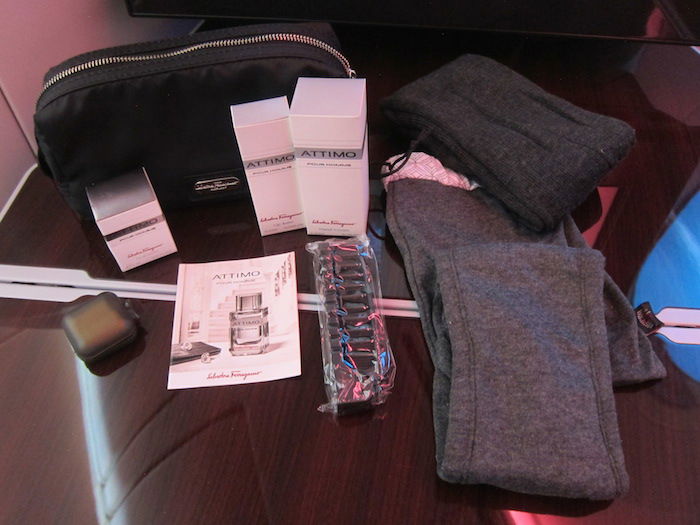 Qatar Airways business class amenity kit

The pillow and blanket were great, and in terms of design complemented the cabin quite nicely.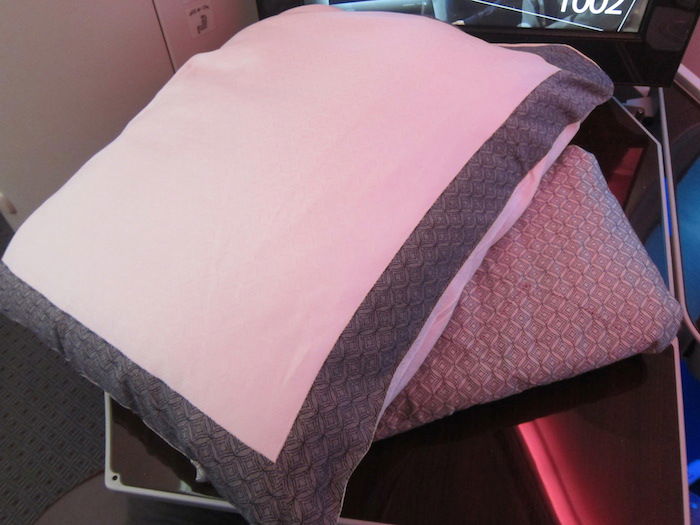 Qatar Airways business class pillow & blanket

And the Oryx entertainment system was top notch.
Qatar also has OnAir Wi-Fi, which is charged based on data usage. That being said, the price was cheaper than Singapore, and quality also a bit better.
Qatar Airways Business Class Bottom Line
It kills me to admit it, but His Excellency's almost obsessive attention to detail really was reflected on this flight, from the cabin to the seat to the food to the amenities.
Now, Qatar Airways claims to be "the world's five star airline," which is a real stretch. Their hard product on their 777s is pathetic for an airline making such a claim, and many of their A330s still feature an old angled product. Beyond that, the few first class cabins they do have are about as dated as American's MD-80s.
But their 787 product sure is impressive.
I hate to admit it, but I'm starting to like Chief Akbar… I think?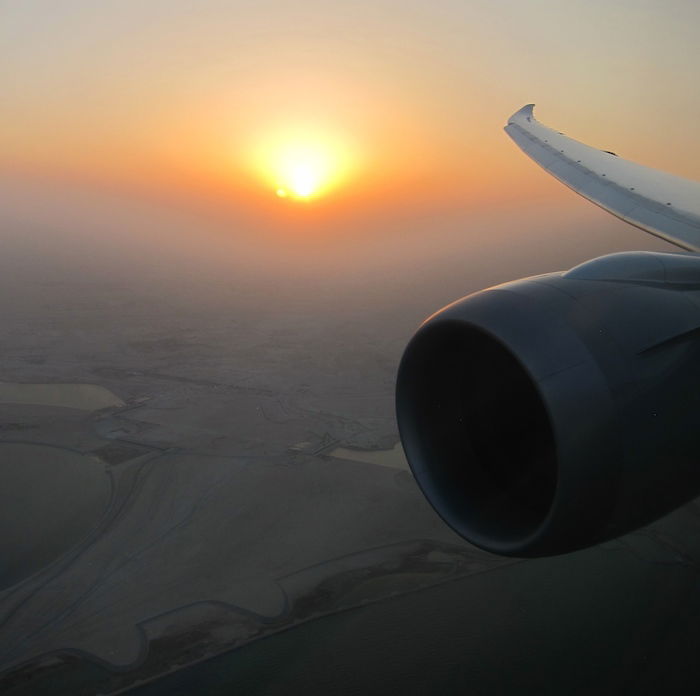 Sunset approaching Doha
If you've flown Qatar Airways business class, what was your experience?