It's exciting anytime a major airline joins an alliance, since ultimately it's good news for frequent flyers. Qatar Airways officially joined OneWorld today (after all, it is October 30, 2013 in most of the world), and I'd say this is one of the most significant alliance developments in a while.
The Real Housewives of Doha
The year-long process of Qatar Airways joining OneWorld has been nothing short of an episode of The Real Housewives of Doha (if there were such a thing). Qatar's CEO, Al-Baker, did an impressive job denying any possibility of Qatar Airways joining OneWorld, even going so far as saying that they're not joining OneWorld and that it was all rumors… till they officially announced it a couple of days later.

Why Qatar Airways joining OneWorld is significant
Beyond the drama associated with Qatar Airways joining OneWorld, this has been an especially exciting addition because of the implications it has on the industry as a whole. Qatar Airways is the first of the major Gulf carriers to join an alliance, and it draws a lot of partnerships into question. For example, American partners with Etihad Airways, so what will happen with their relationship now that Qatar Airways is a member of OneWorld? Similar, Qantas, a key member of OneWorld, has a joint business venture with Emirates. It'll be fascinating to see how these partnerships shake up the industry, and whether they ultimately lead to the other major Gulf airlines joining an alliance or other carriers leaving an alliance to focus on joint ventures.
This isn't just your average airline joining an alliance…
OneWorld Sapphire and OneWorld Emerald lounge access in Doha
So one of the big questions for me was how Qatar Airways would handle lounge access at Doha Airport. Qatar has a "premium terminal" in Doha with both a first and business class lounge. I reviewed the Doha premium terminal first class lounge when I visited a couple of years back.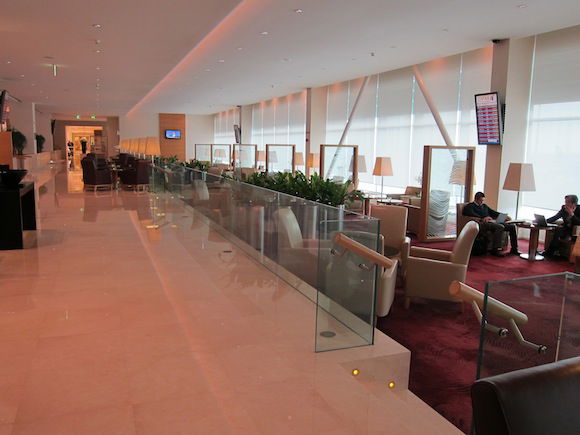 As a rule, OneWorld Emerald members get first class lounge access while OneWorld Sapphire members get business class lounge access. There are some exceptions, like British Airways, which only lets OneWorld Emerald members into their Galleries First Lounge and not the Concorde Room, which is their "true" first class lounge.
Per the OneWorld website, it appears as if Qatar Airways will not be allowing OneWorld Emerald and Sapphire members into their premium terminal solely based on status:
oneworld Emerald, Sapphire and Ruby cardholders departing from Doha on other oneworld member airlines or flying Economy Class on Qatar Airways will be able to receive the privileges and benefits to which they are entitled – access to premium check-in facilities, lounges, etc., as appropriate – at Doha's main passenger terminal. Facilities at Qatar Airways' Premium Passenger Terminal at its Doha hub will continue to be accessible only by customers holding First Class or Business Class tickets on Qatar Airways.
I'm not totally clear on what the above means, though. It's clear that if you're a OneWorld Emerald or Sapphire in coach you don't get access to the premium terminal, but if you're a OneWorld Emerald in business class can you use the first class lounge? The above doesn't seem to clarify that one way or the other.
Award availability trends for travel on Qatar Airways
Earlier in the month I had a look at Qatar Airways award space across many of their routes. Generally award space is quite good, often with four business class award seats available per flight.
Double OneWorld miles for travel on Qatar Airways
As part of Qatar Airways joining OneWorld, all OneWorld carriers will be offering double miles for travel on Qatar Airways for a period of two months.
While not all OneWorld airlines have published their double miles promotion yet, American has published their promotion for AAdvantage members.
They're offering double redeemable AAdvantage miles for travel on Qatar Airways between November 15 and December 19, 2013, and between January 6 and January 31, 2014 (thus excluding the holiday travel period, which seems a bit cheap). Registration is required prior to travel, and I'll be sure to post once the other airlines have published similar promotions.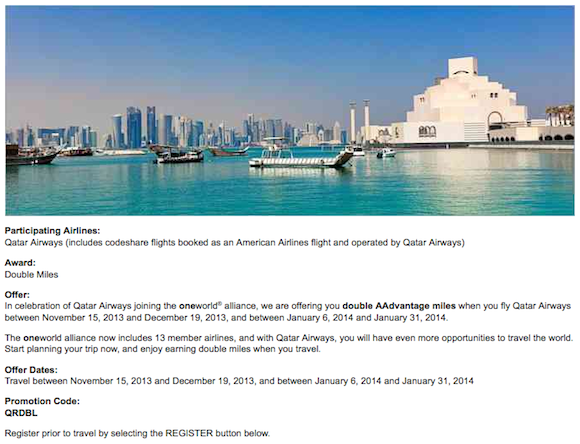 Lackluster OneWorld mileage earning rates for travel on Qatar Airways
This doesn't really come as a surprise since American began their reciprocal mileage earning agreement with Qatar Airways in September, but the earnings rates for travel on Qatar Airways are pretty low. For example, here's American's chart for accruing AAdvantage miles for travel on Qatar Airways: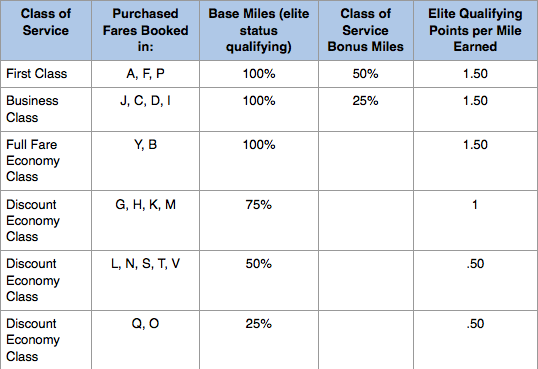 Meanwhile when flying British Airways you accrue 100% of AAdvantage miles even for discounted economy.
ONEWORLD DISTANCE BASED AWARDS — FINALLY!
The single most exciting aspect of Qatar Airways joining the OneWorld alliance will be the ability to include Qatar on American's distance based award tickets. While American ordinarily charges 135,000 miles for roundtrip business class between the US and Middle East, on a distance based award you can fly 14,001-20,000 miles for 130,000 miles in business class, or 20,001-25,000 miles for 150,000 miles in business class. The especially lucrative aspect is that you can make up to fifteen stopovers on the itinerary (since you can stop everywhere along the way and a maximum of 16 segments are allowed on a distance based award).
Given Doha's location, they'll prove to be a key partner for maximizing these awards!
Can't wait to fly Qatar Airways again soon!