---
I'm used to crazy travel days, though the day we flew to London was one of the crazier ones for me. On Monday I had flown from Abu Dhabi to New York on the inaugural Etihad A380 flight, I had stuff going on all day in New York upon landing, then on Tuesday morning I flew from Newark to Charlotte to Los Angeles at 5AM.
When I got to LA I washed my clothes and met up with Ford, and then at around 4:30PM we headed to LAX for our 8:55PM flight to London Heathrow. We got to the airport at around 5PM, which of course is way early, but:
I was on the verge of falling asleep due to exhaustion, and figured I was better off battling that with decent coffee in the Qantas Lounge than elsewhere
The Qantas Lounge LAX (which oneworld carriers use for their first class and oneworld Emerald passengers) is actually nice and worth spending some time in
So we got to LAX at around 5PM, where it was already pitch dark. Goodness, this time of year is depressing, as someone who instantly gets tired when it's dark.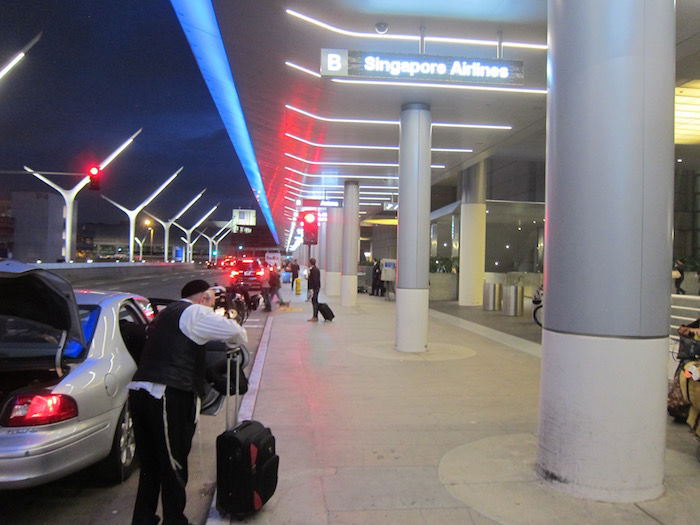 Tom Bradley International Terminal, LAX
Once inside Tom Bradley International Terminal we headed to the "B" counters, where British Airways check-in is located.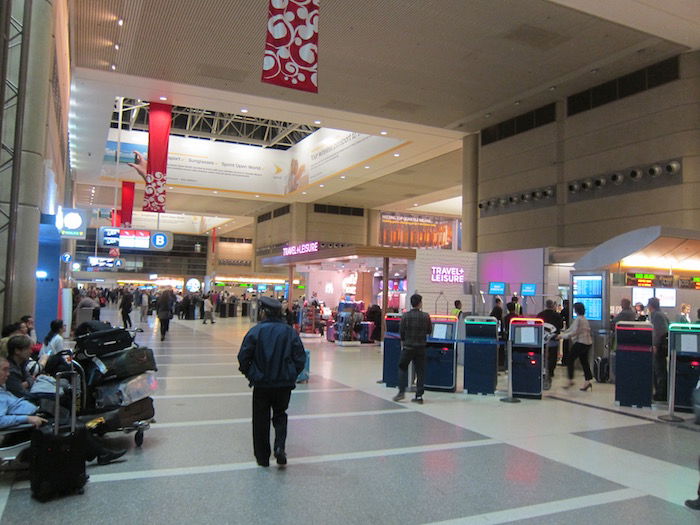 Tom Bradley International Terminal departures hall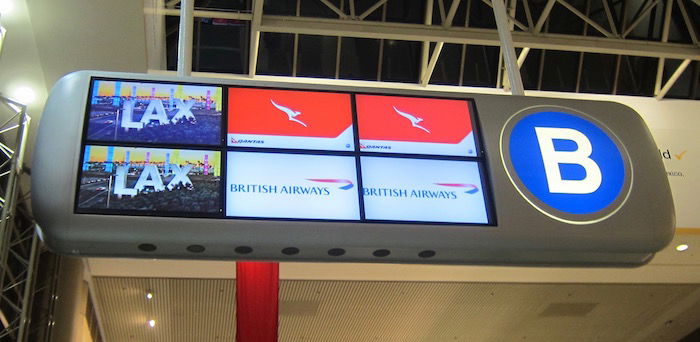 British Airways check-in signage at LAX
Since we got there so early, there were no queues at check-in. I'm used to British Airways being pretty strict about carry-on limits, so was relived when our request to not check bags was met with the agent saying "yeah, that's what I like to do as well," rather than "please place your bags on the scale."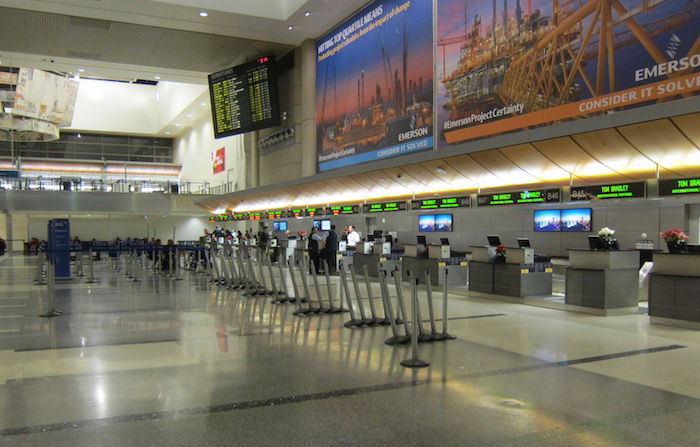 British Airways check-in LAX
Security at Tom Bradley International Terminal can be a disaster, given that they don't have Pre-Check and that so many flights depart from it in the evening. Fortunately we lucked out, presumably since it was the Tuesday before Thanksgiving, as the queue was very short. There were maybe a handful of people in the priority queue ahead of us, but even the economy queue didn't look long at all either.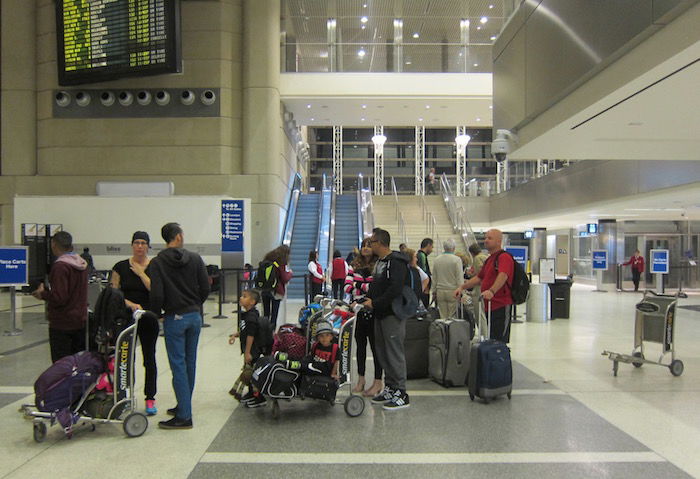 Entrance to security checkpoint at LAX
Just past the security checkpoint were some couches which were "Courtesy of American Express," presumably a subtle hint at American Express soon opening a Centurion Lounge at the airport.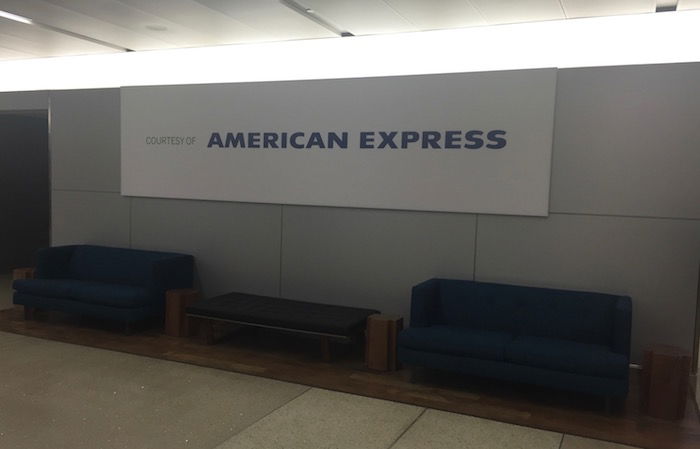 American Express couches at LAX — Centurion Lounge coming?
Tom Bradley International Terminal is absolutely stunning, I'd argue the most gorgeous in the country. It's one of the few terminals in the US which is actually worth being proud of (even if the rest of LAX is a bit of a mess).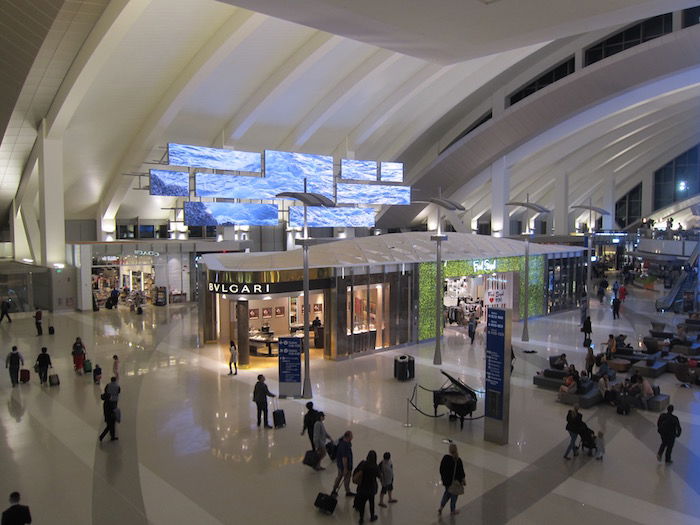 Gorgeous Tom Bradley International Terminal
Once through the security checkpoint, the Qantas First Class Lounge is located up one level and to the left. So you turn left and then take the elevator at the far end of the hallway.
Before I talk too much about the lounge, I should mention that I had the chance to visit the Qantas First Class Lounge last year when it opened, so wrote an extensive review of the lounge with lots of pictures then. This post will supplement it, as it was my first time seeing the lounge in "action." In a follow up post I said it was one of my favorite lounges in the US, so is that still the case?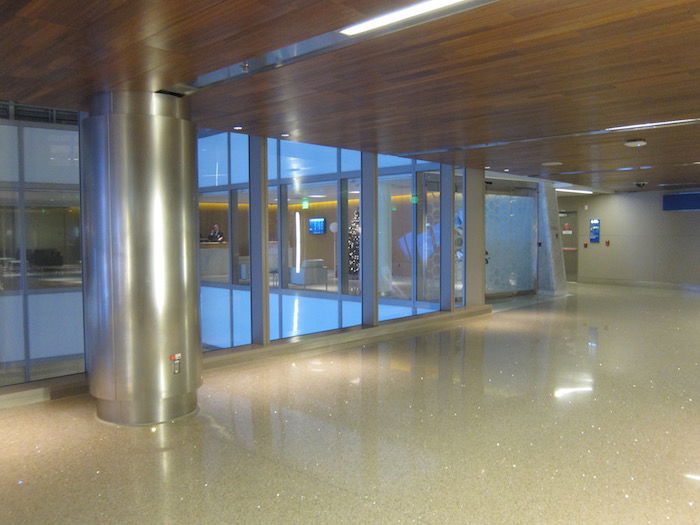 Qantas Lounge LAX exterior
At the entrance we were promptly admitted with my British Airways business class boarding pass, which indicated my oneworld Emerald status. If I weren't a oneworld Emerald member, we would have have had to use the oneworld Business Class Lounge next door, which is still quite nice for a business class lounge.
There are quite a few people eligible for access to this lounge in the evenings, as there are oneworld flights to London, Sydney, Melbourne, Brisbane, Hong Kong, etc.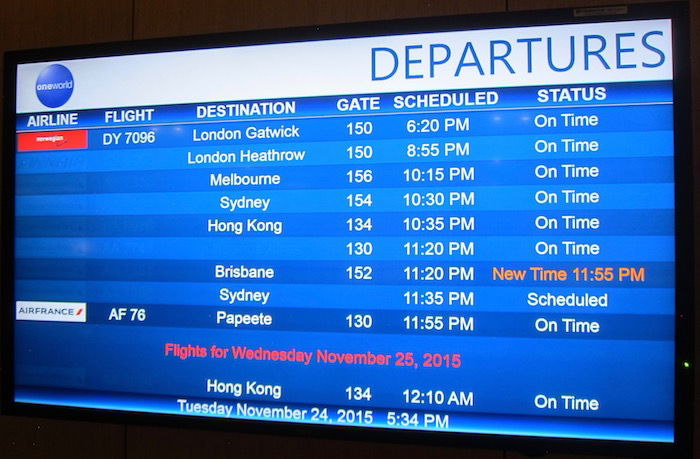 Qantas Lounge Los Angeles Airport departures monitor
Anyway, the Qantas First Lounge is gorgeously designed, though I know it's not everyone's style. The lounge is in a rectangular shape, and near the entrance are eight black leather chairs and a small bar with coffee, tea, and cookies. If you look carefully you'll see there are also some "private" rooms, which have similar seating with a bit more privacy. They're primarily reserved for celebrities. The Star Alliance First Class Lounge LAX has a similar "private" room.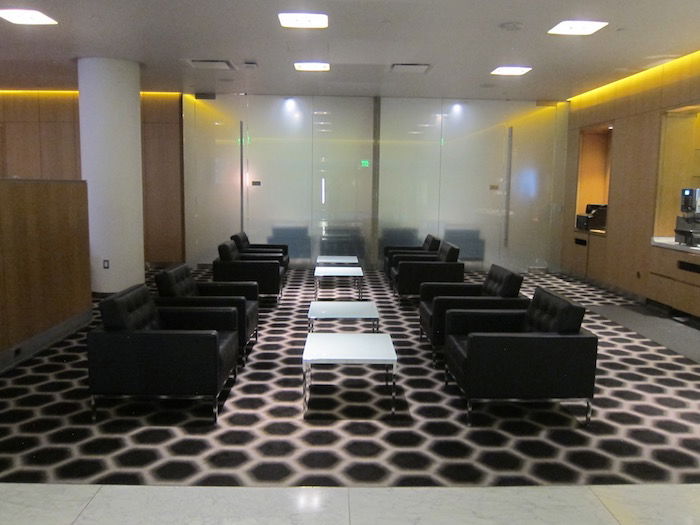 Qantas Lounge LAX seating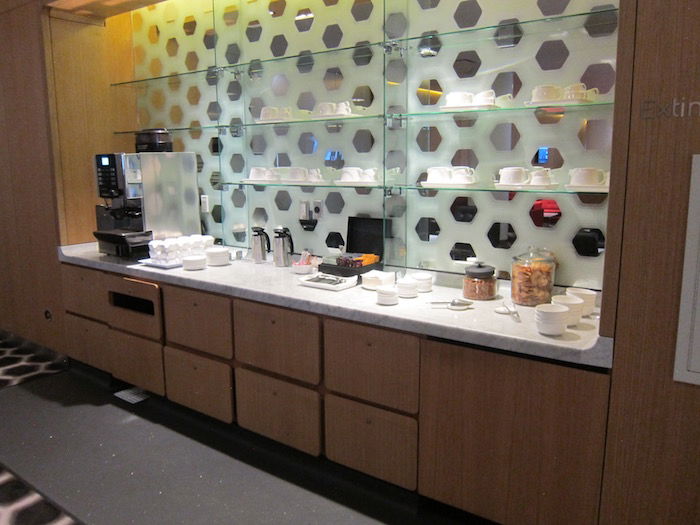 Qantas Lounge LAX snack setup
Past the black chairs are some red chairs which are lined up along the length of the lounge, with TVs at both ends.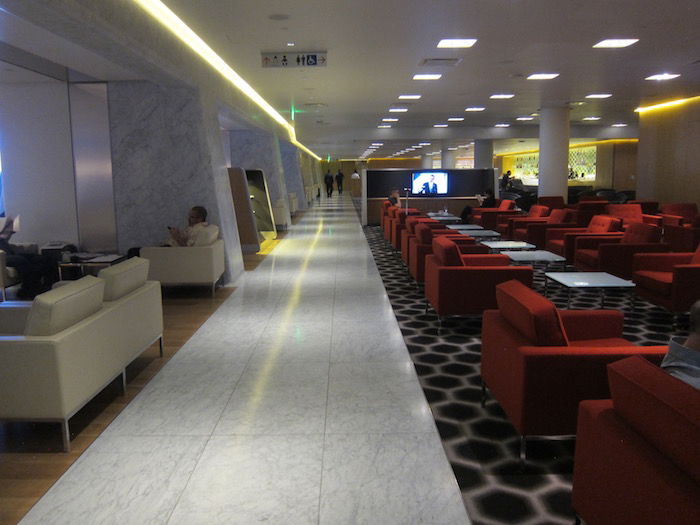 Qantas Lounge LAX seating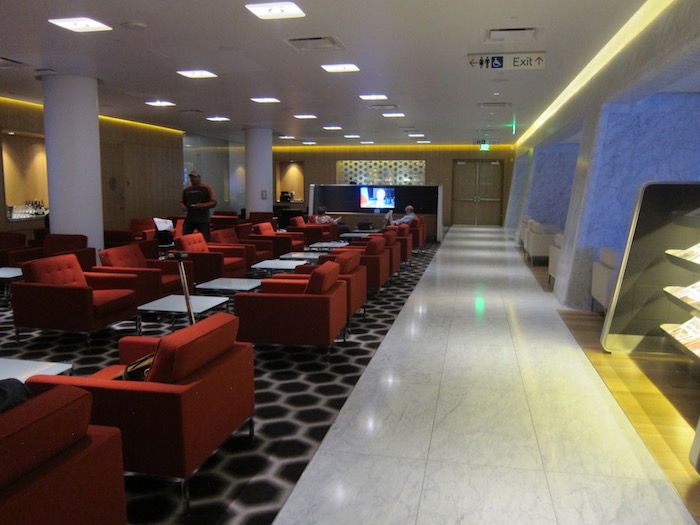 Qantas Lounge LAX seating
The TV partitions that area from an area with a similar design, except it has black chairs on circular bases.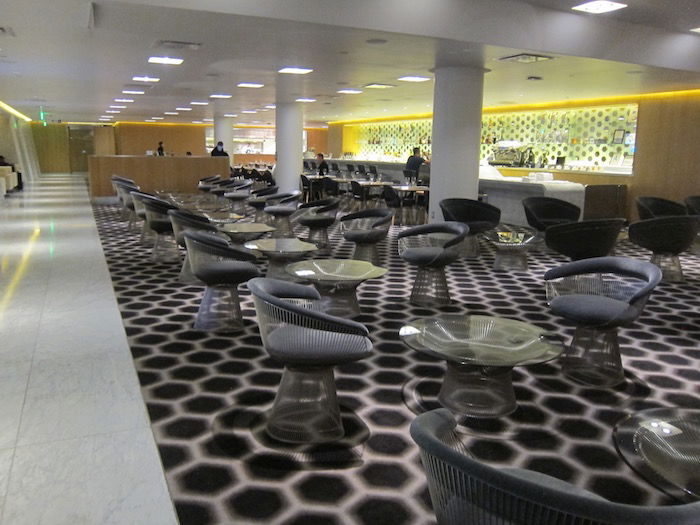 Qantas Lounge LAX seating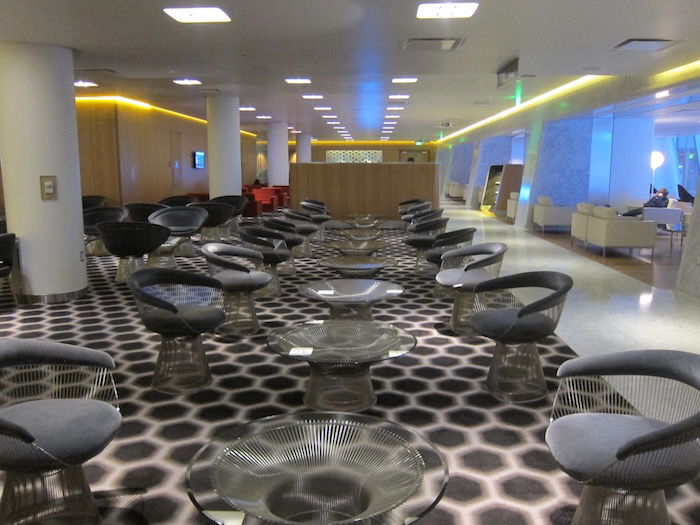 Qantas Lounge LAX seating
The only thing "sticking" out from the rectangular shape is a seating area near the entrance and to the side, which offers seats overlooking the (interior facing) windows, as well as some slightly more private and varied seating.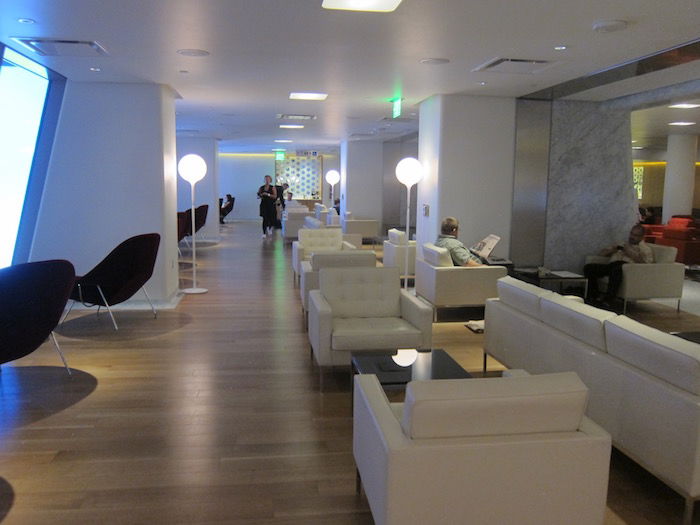 Qantas Lounge LAX seating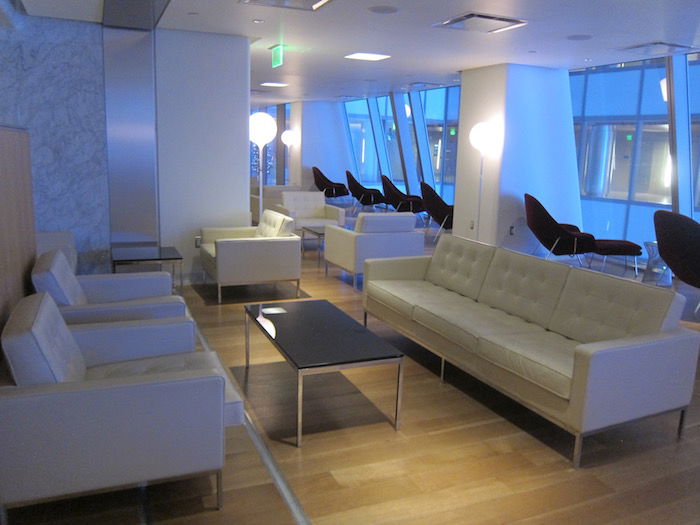 Qantas Lounge LAX seating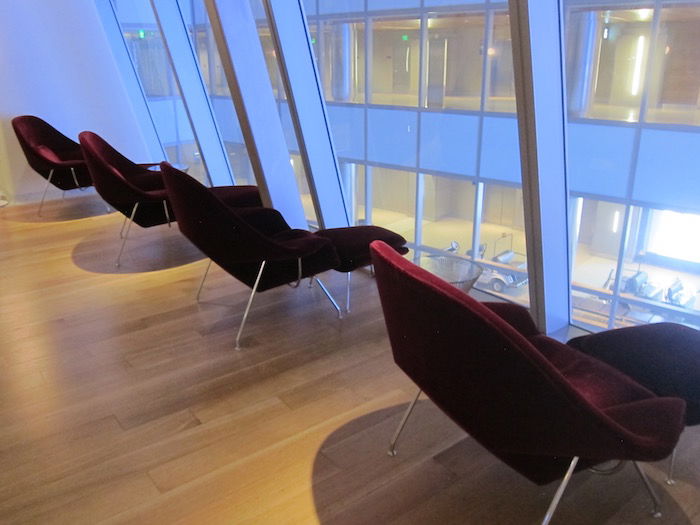 Qantas Lounge LAX seating
In that area there's also a self serve bar with all kinds of wine, champagne, mixed nuts, etc.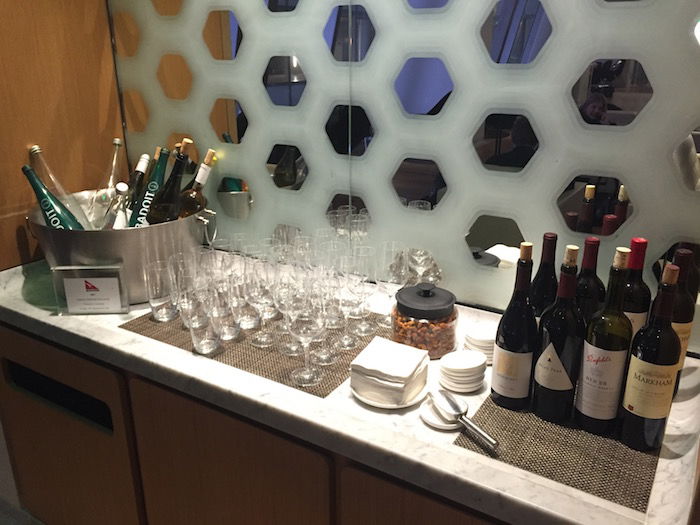 Qantas Lounge Los Angeles Airport self serve drinks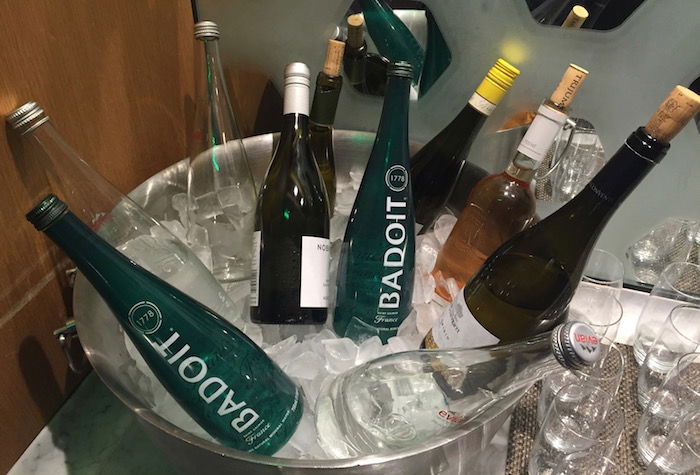 Qantas Lounge Los Angeles Airport self serve drinks
At the very end of the lounge, presumably where people spend most of their time, is the bar & restaurant.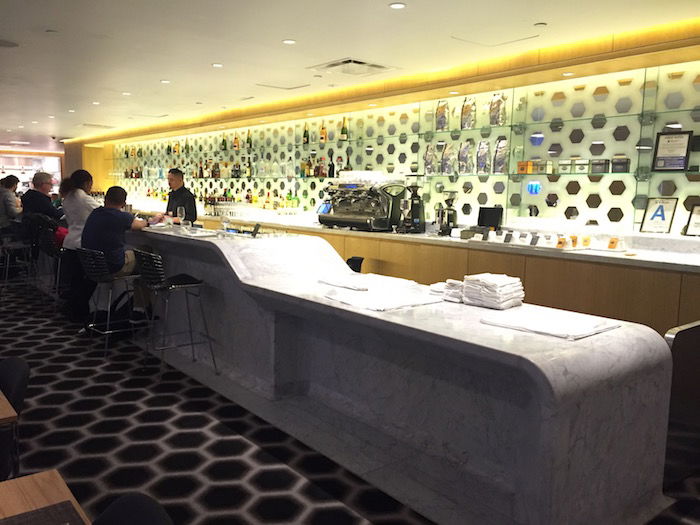 Qantas Lounge Los Angeles Airport bar
There are a couple of dozen tables, seating either two or four people, though they can be pushed together for larger parties if required.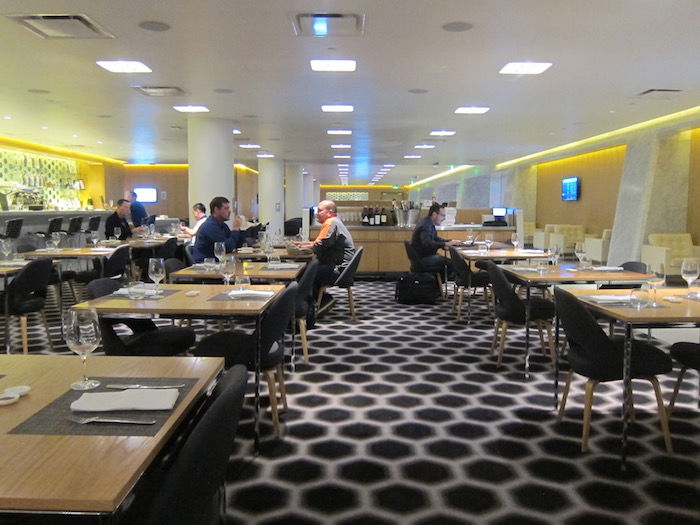 Qantas Lounge Los Angeles Airport dining area
The restaurant area features a quasi-open kitchen design.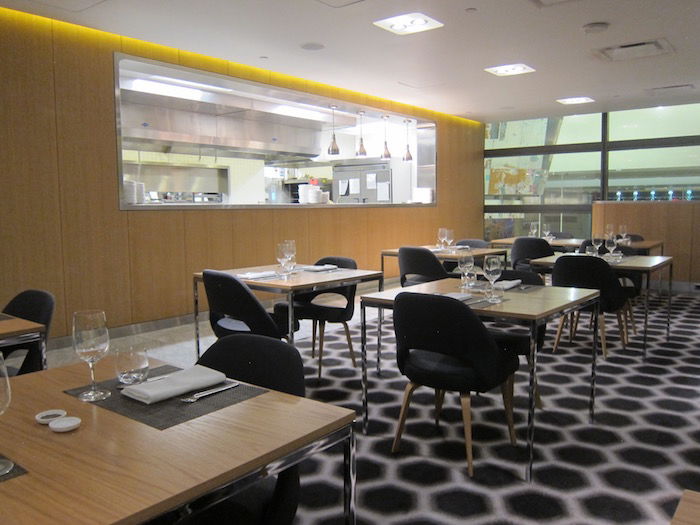 Qantas Lounge Los Angeles Airport dining area
The dining area is what sets the lounge apart in my opinon, as it's designed by Neil Perry and based around his Rockpool restaurants. Furthermore, the servers are Sofitel trained, and all look quite sharp in their white jackets and black slacks.
The autumn menu read as follows (it's available starting midday):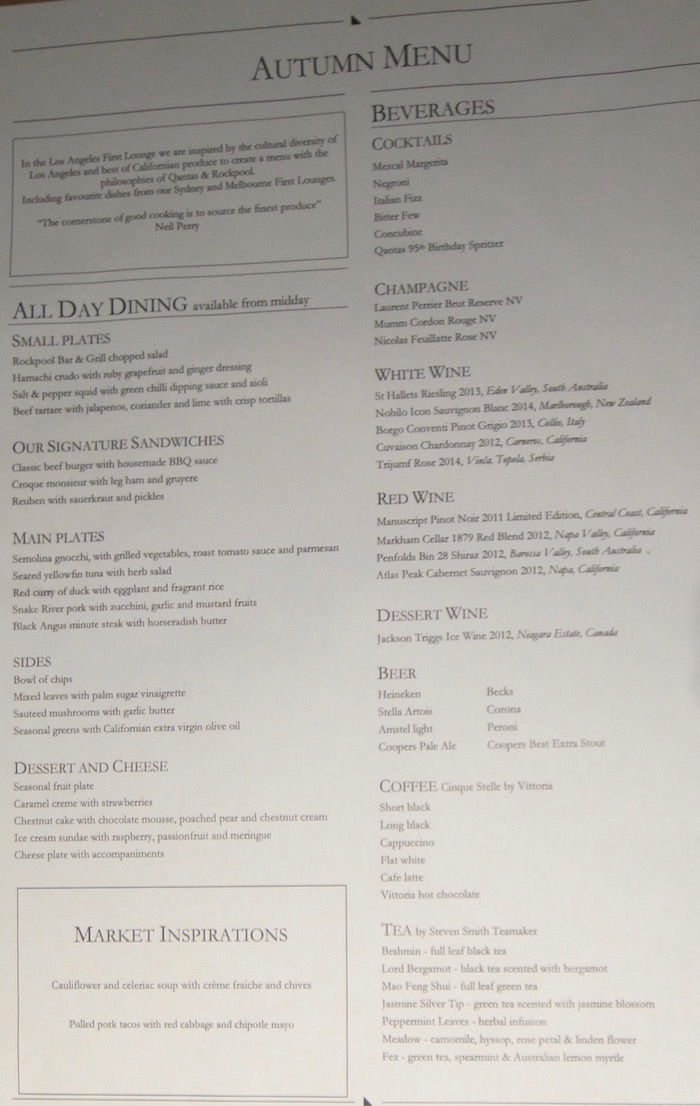 Before we had anything to eat, Ford and I both needed a kick of caffeine. So naturally we ordered some espresso martinis. They were delicious. So delicious, in fact, that a second round was ordered… just to get our caffeine fix, of course. 😉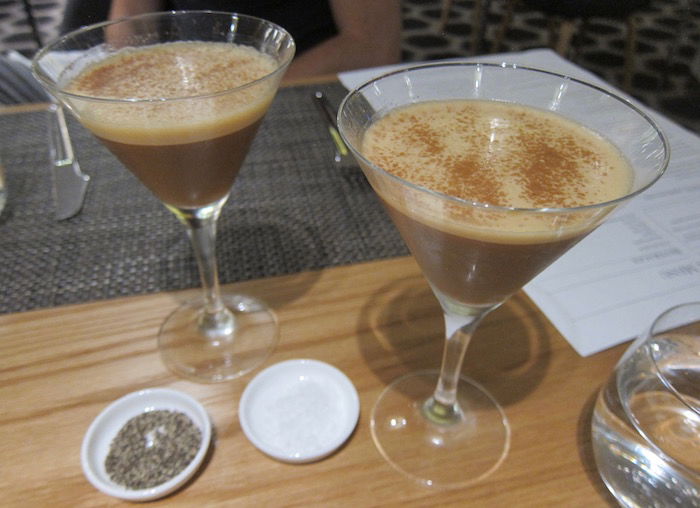 Qantas Lounge Los Angeles Airport espresso martinis
After sitting for a while we decided to order some food. Our served was friendly and explained the dining "concept," and the dishes which were most popular.
We ordered the hamachi crudo and salt & pepper squid to start (I'm not usually a fan of squid, but Qantas does it really well). Both were top notch. With the food we switched to champagne, specifically Laurent Perrier.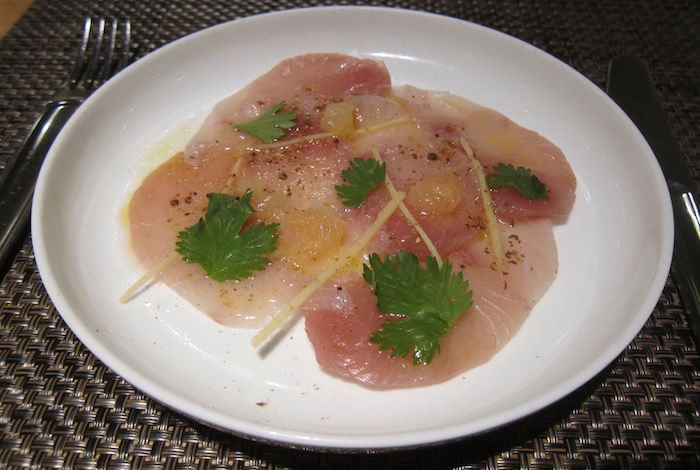 Qantas Lounge Los Angeles Airport starter — hamachi crudo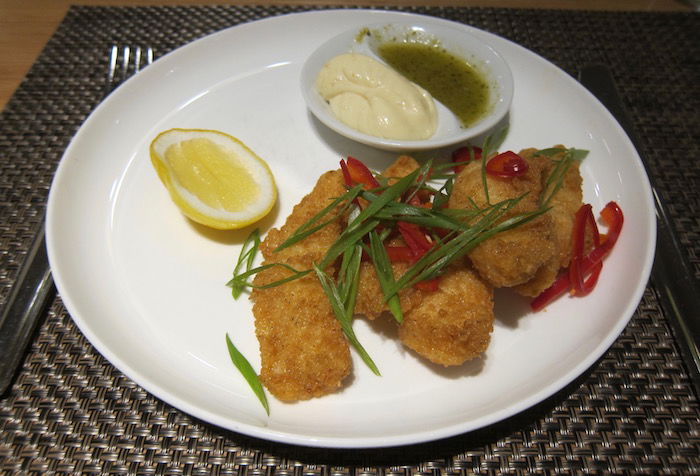 Qantas Lounge Los Angeles Airport starter — salt & pepper squid
After our appetizers were cleared I noticed that the staff were having a "team meeting" in the corner of the restaurant which I seem to notice every time I visit this lounge. In it they discuss how many guests they're expecting that day, and some outrageously obvious stuff. "Remember that the more you interact with guests, the more of a connection you can build with them." While I appreciate the concept, hopefully they don't have to listen to that in a briefing every single day!
When the team meeting was done, our main courses were brought out. I ordered the gnocchi, which was excellent.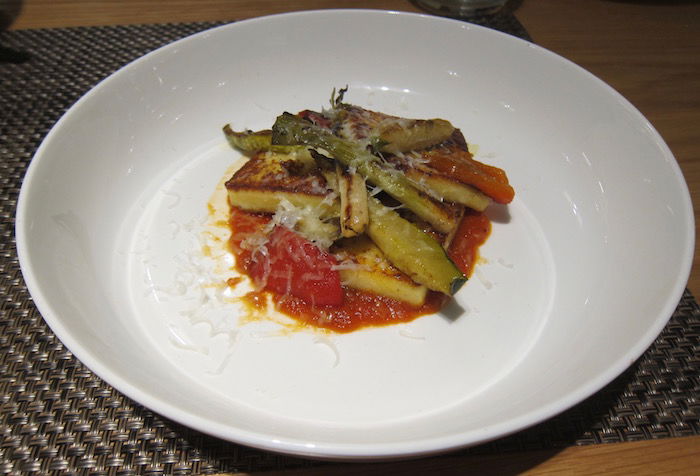 Qantas Lounge Los Angeles Airport main — semolina gnocchi
Meanwhile Ford ordered the burger, which he enjoyed.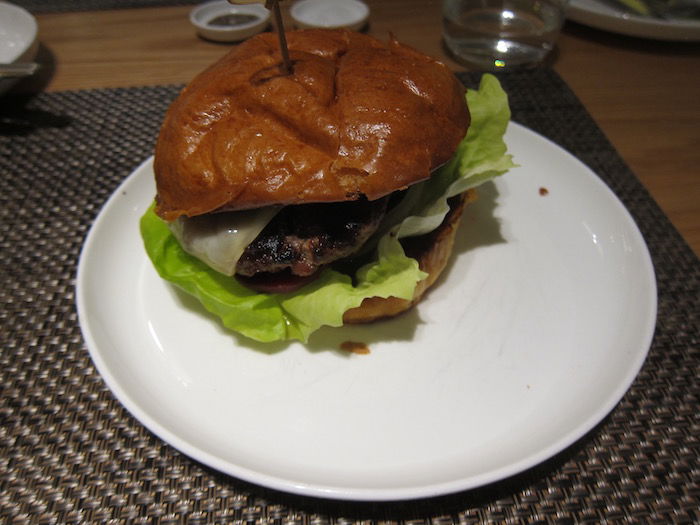 Qantas Lounge Los Angeles Airport main — beef burger
We had a side of french fries (or "chips," as the Aussies call them) to accompany the meal, which were sinfully delicious.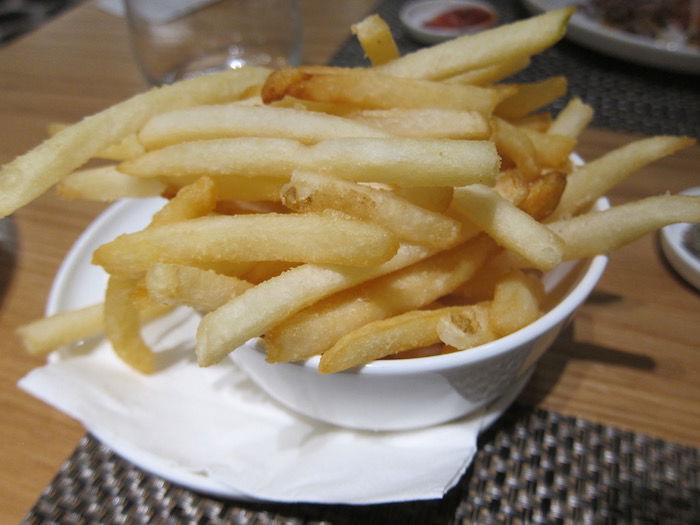 Qantas Lounge Los Angeles Airport main — french fries
The food in the Qantas Lounge is top notch and truly restaurant quality. Like, there are lounges in the US with good food, but if we're being honest we wouldn't pay for those meals in restaurants. The food served in this lounge is different. Which is why I think it's worth arriving at the airport early to dine here, especially if you're flying a carrier with sub-par food. Might as well stop here instead of at a restaurant on the way to the airport!
Since I knew there wouldn't be Wi-Fi on the flight, I spent the next couple of hours getting caught up on work. Meanwhile Ford struggled to stay awake and was dreaming of a nap room, I think. 😉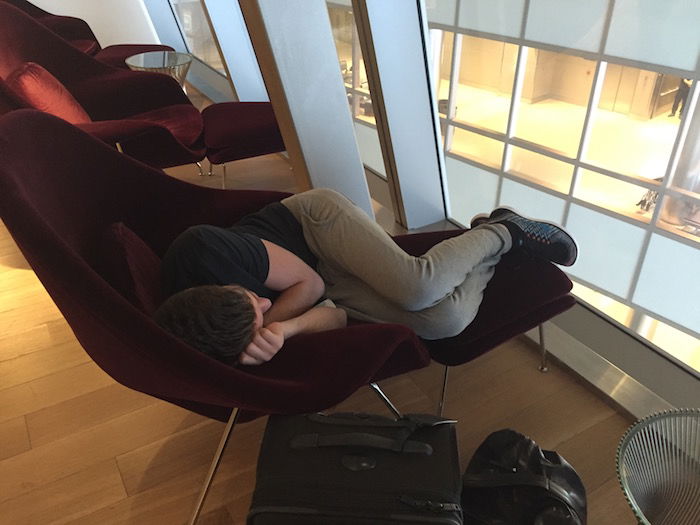 Makeshift daybed
While the service was quite good in the restaurant area, I found it interesting that service was virtually non-existent in the lounge otherwise. In the 2+ hours we were in the lounge outside the restaurant, I wasn't once offered a drink. I'm not sure if that was by design or not, though the contrast in service in the restaurant vs. the rest of the lounge was drastic.
The lounge really started to fill up around 7:30PM, as many Qantas passengers began to arrive. At around 8PM we decided to head to our departure gate, for our 8:55PM departure to London. I wanted to be a bit early so I could hopefully snag a few pictures of the cabin before it filled up.
We were departing from Gate 150, which was one of the first gates in the South Concourse, so was just a very short walk from the lounge.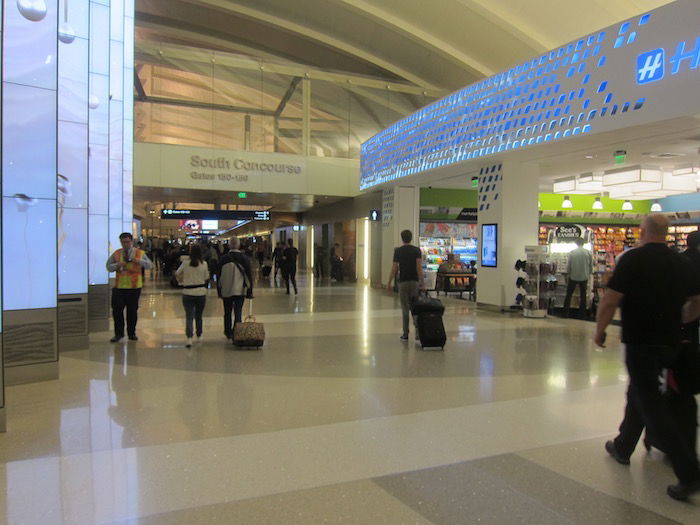 Tom Bradley International Terminal departure gates
The gate area was still fairly quiet, and it looked like they were nowhere close to commencing boarding. That was especially apparent as the crew was just slowly strolling up to the gate.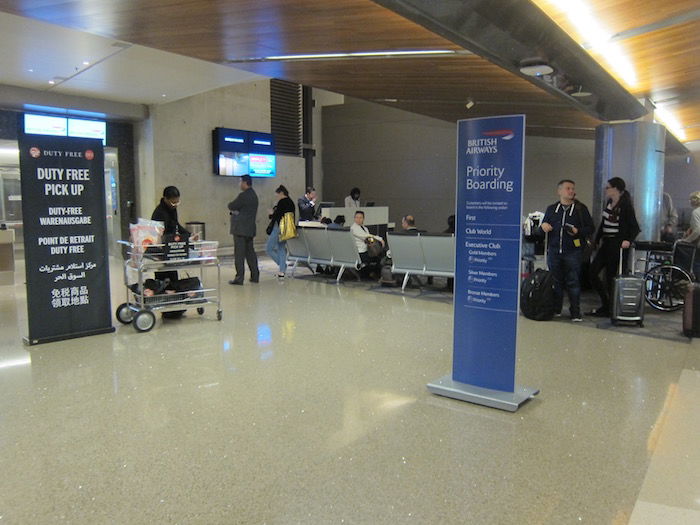 British Airways departures gate LAX
Finally at around 8:30PM the "gate supervisor" began explaining the "very specific boarding process" which British Airways follows. I thought it was interesting that she was British, presumably to add a bit of "authentic" flair to the announcements. I always appreciate when a station manager or gate supervisor is from the airline's home country.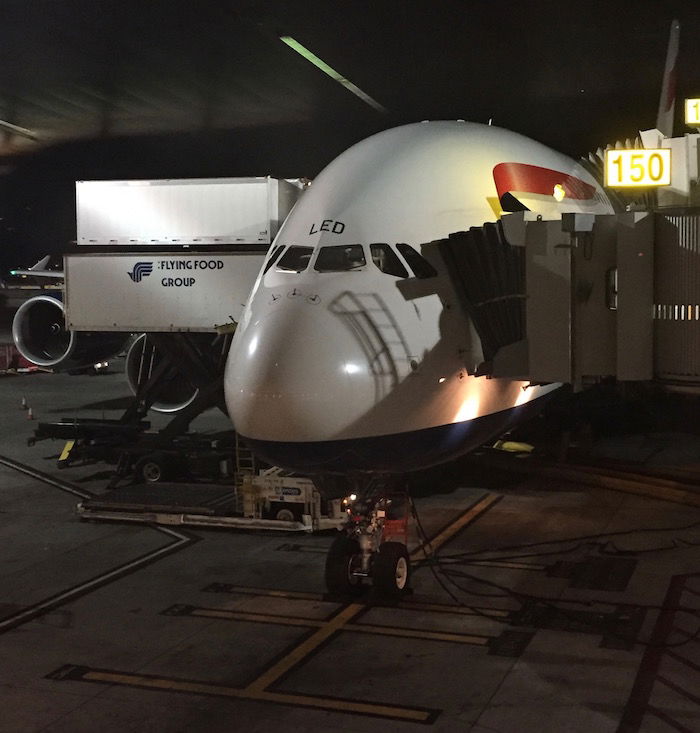 British Airways A380 taking us to London
Admittedly the gate area was chaotic and people seem incapable of listening, though I don't recall ever hearing a gate agent talk so much over the PA. She spent a good 10 minutes explaining the boarding process over and over before actually starting boarding.
Eventually she announced boarding for first class, followed by business class. We were aboard by 8:45PM.
Qantas First Class Lounge LAX bottom line
The Qantas Lounge LAX hands down has the best food of any lounge in the US. While the design is nice (and is intended to somewhat mimic the lounges in Sydney and Melbourne), I do wish the lounge had some natural light, which it otherwise lacks.
I do maintain that this is one of the best airline lounges in the US. It's always worth stopping here for a meal, as it will almost certainly be better than what you're served aboard. That being said, it's not the most "fun" lounge out there. It might sound silly to some, but I actively enjoy spending time in the Virgin Atlantic Clubhouse JFK, for example. It has a fun vibe, fun staff, and is quirky.
The Qantas Lounge feels a bit more "proper," and as a result isn't all that enjoyable to actively spend time in, as the focus of the lounge seems to be more on stylish design over comfortable, private areas to relax.
Still, I consider this to be the best lounge at LAX, and also the best lounge for dining in the US. Kudos to Qantas for this lounge.
If you've visited the Qantas Lounge LAX, what was your experience like?