Hello live from 40,000 feet, just off the coast of Canada on Etihad's very first A380 flight to the US!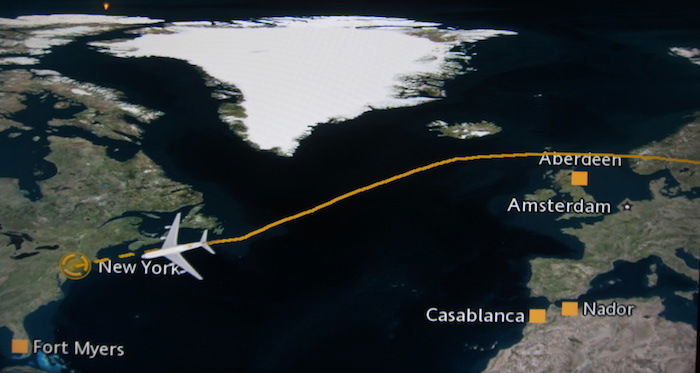 Approaching the US!
I got a great ~8 hours of sleep in my First Class Apartment, then I had an amazing shower (yes, on a plane — it never gets old!), then I caught up on some work thanks to the onboard Wi-Fi, then I chatted with some friends in The Lobby, and now the onboard chef is preparing my cooked to order eggs for breakfast.
Does flying/life get better than this?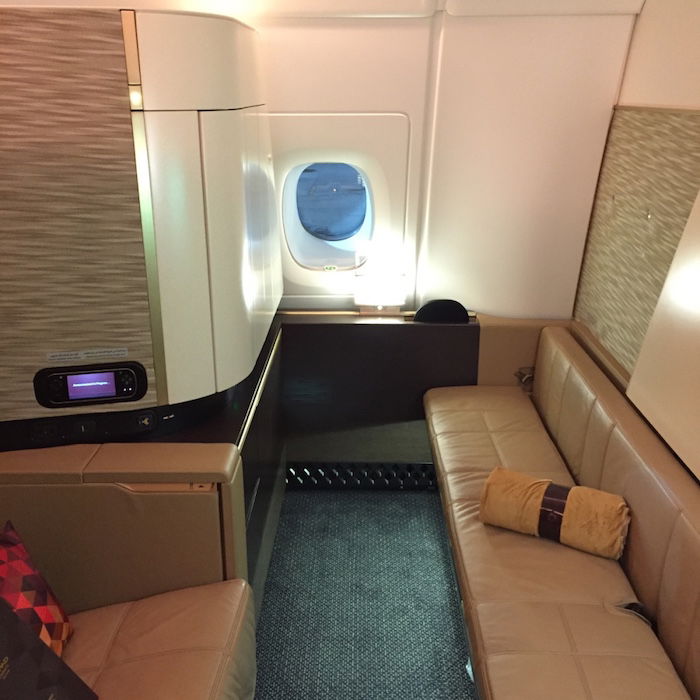 My First Class Apartment on the Etihad A380
For those of you not familiar, late last year Etihad took delivery of their first Airbus A380, which they began flying between Abu Dhabi and London on December 27, 2014. I was lucky enough to be on the first ever flight, and was absolutely blown away. I had high hopes based on the pictures I had seen, but it exceeded my expectations. I've flown every A380 first class product in service, and this was by far the best first class hard product I had ever experienced.
Etihad's slogan is "Flying Reimagined," and as much as that might sound like a cheesy marketing line, it's 100% true on the A380. With their First Class Apartments they didn't evolve first class, but rather really did reinvent it.
https://www.youtube.com/watch?v=F_ZnqlbqQRI
For the past many months Etihad has been flying the A380s exclusively to London and Sydney, though as of today (November 23, 2015), Etihad is launching daily A380 flights between Abu Dhabi and New York. This is super exciting news, as it marks the introduction of what I consider to be the world's best first class product to the US.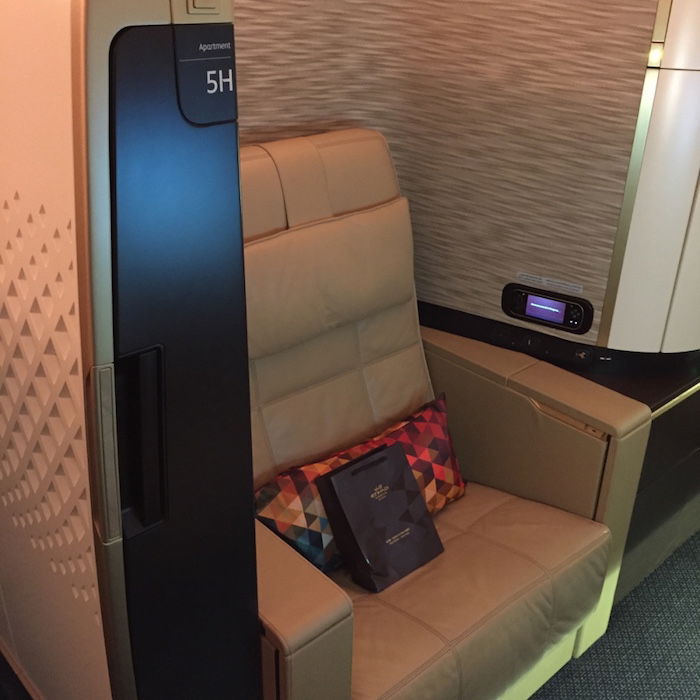 Apartment 5H on the Etihad A380
What makes Etihad's A380 First Class Apartments so special? For one, the seat itself. It's by far the most spacious and comfortable in the sky. I remember being in shock the first time I boarded the Etihad A380. I actually couldn't come to terms with how gorgeous the cabin is.
The First Class Apartments are on the upper deck of the A380, and feature a single aisle, which is the first time that has ever been done on the A380.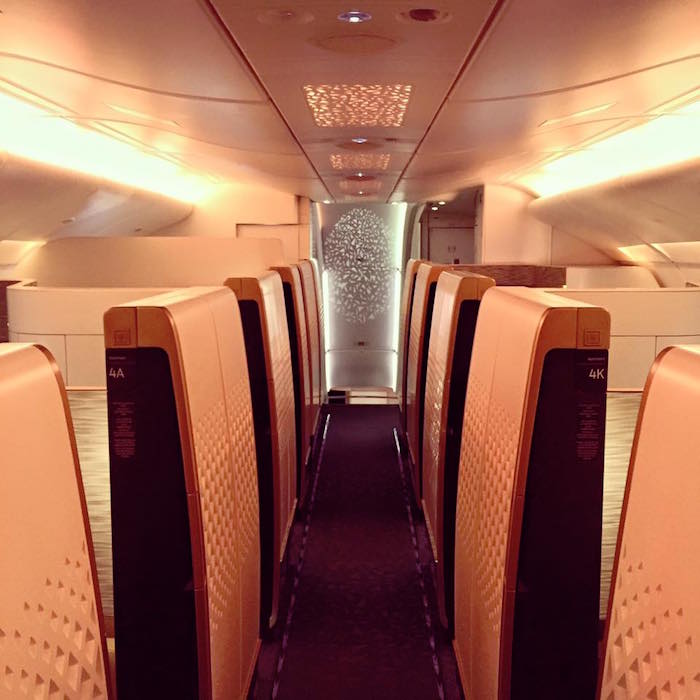 The gorgeous aisle on the Etihad A380
There's only one Apartment on each side of the aisle, and it couldn't be more spacious. There's a seat, and then a nicely padded bench which turns into a bed. In terms of capacity you could also just about host an house apartment party in your suite. 😉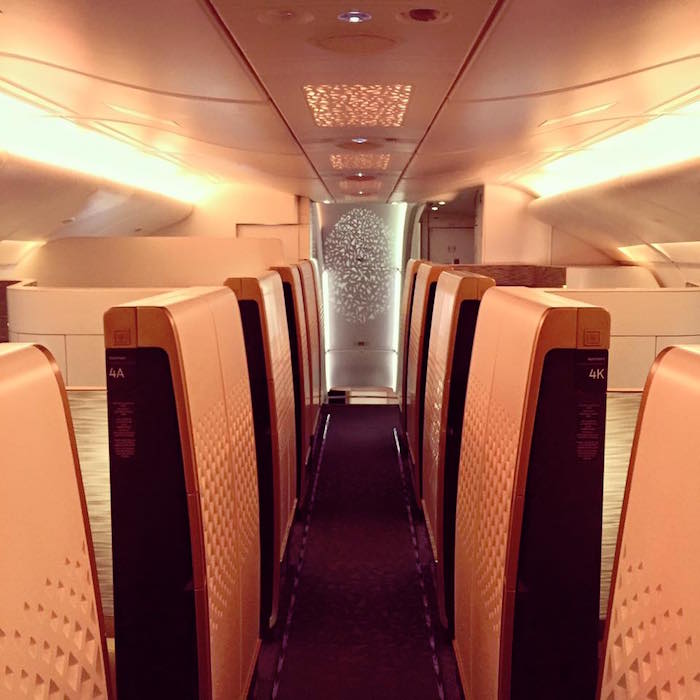 Bed mode in the First Class Apartment
Etihad has both an onboard chef and food & beverage manager responsible for first class, and they did a fantastic job. The menu was varied and on demand, so you could have what you want when you want. For dinner I had an arabic mezze to start, followed by a fantastic salmon biryani, followed by a dessert taster.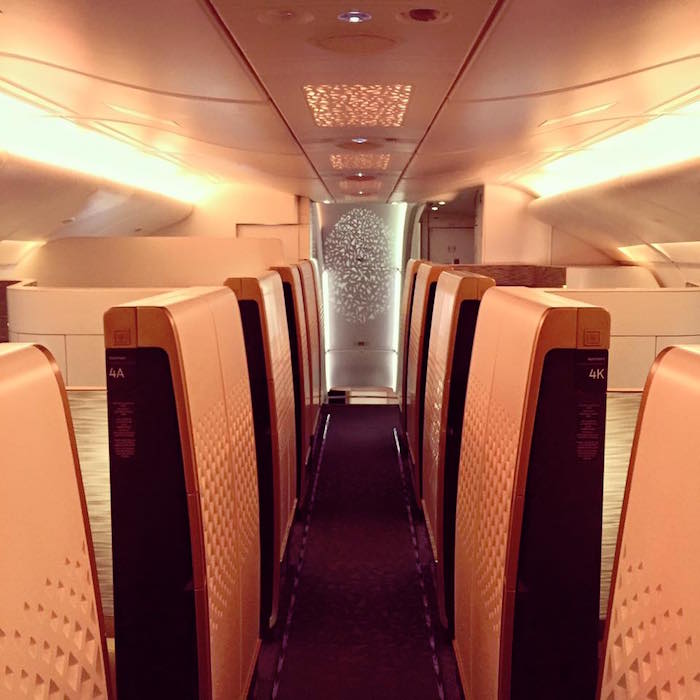 Salmon biryani for dinner!
And then later on after a nap I had afternoon tea in The Lobby…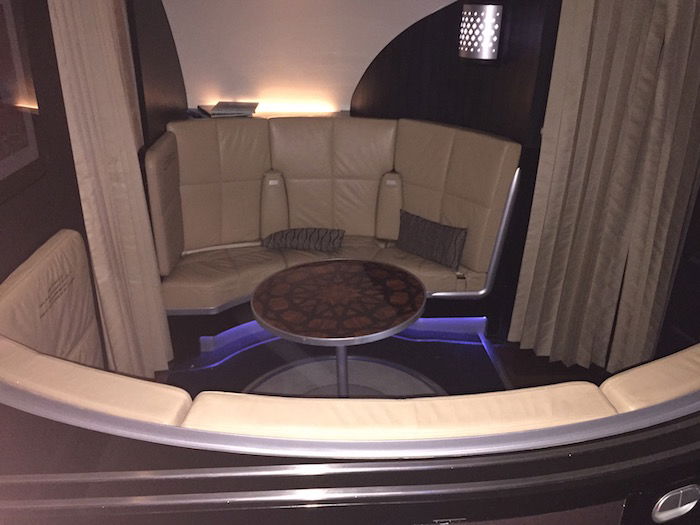 The Lobby (shared communal space for first & business class passengers)
…because who doesn't have afternoon tea at 6AM somewhere over Europe?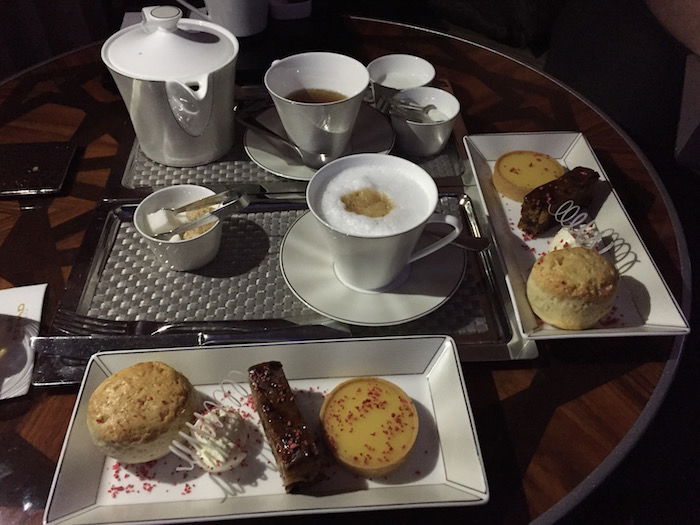 Afternoon tea in the middle of the night
And that quickly turned into royal tea (in other words, we added champagne to the mix)… because why not.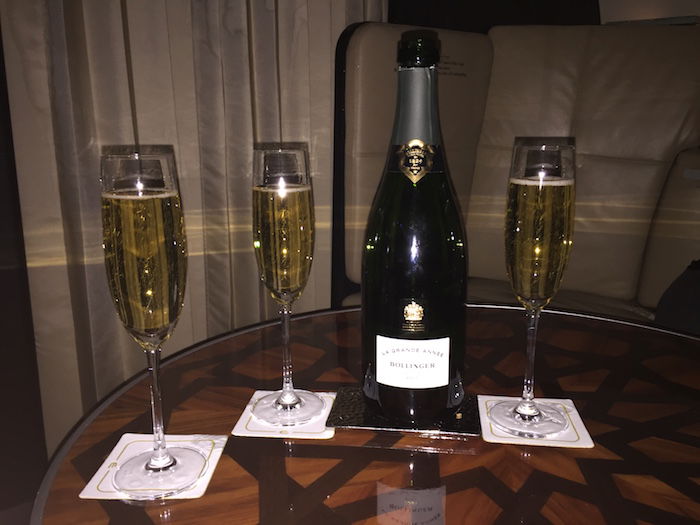 Champagne party in The Lobby!
The crew on this sector was fantastic as well. The cabin manager, food & beverage manager, chef, and two first class flight attendants couldn't have been more attentive. It was truly Etihad at its finest. They were attentive throughout the service, and every time I headed to the restroom or The Lobby, I'd return to find my bed had been tidied again.
The service was flawless, the best I've had on Etihad.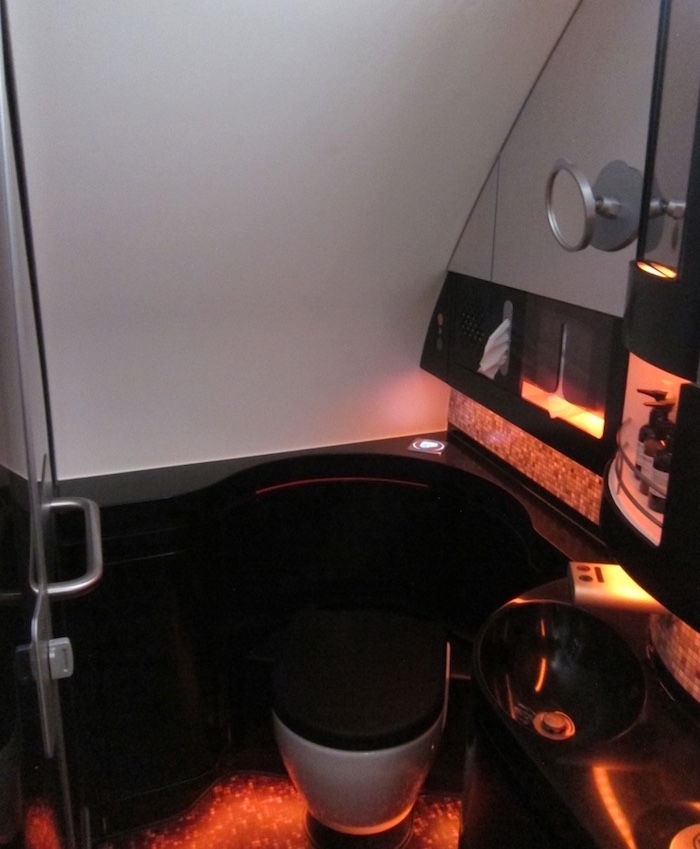 Etihad's A380 First Class Apartment shower
Bottom line
In my opinion Etihad's A380 is the most gorgeous commercial aircraft in the sky. While it's beautiful in all cabins, the First Class Apartments are such a stand-out, and in my opinion hands down the best first class hard product out there. I'm so excited to see Etihad expanding their A380 flights to the US, and hope that they'll fly them to more US destinations soon!
Have you flown Etihad's A380 yet, or do you have plans to?