We've seen airlines liquidate all kinds of excess inventory during the pandemic, ranging from mixed nuts, to pajamas, to gin. However, Qantas has arguably put the coolest thing yet on sale… go figure it's sold out already, and was only available for shipping within Australia anyway.
Qantas put 747 bar carts on sale
Qantas recently retired its remaining Boeing 747 aircraft, and on top of that the airline has an excess of just about everything that passengers would usually be offered on planes. Well, the airline has combined those two things to sell fully stocked bar carts to the Australian public.
With this you can enjoy an airplane-style drink service at home with a fully stocked bar. The cart is stocked with a variety of onboard items, including champagne, bottles of red and white wine, snacks, pajamas, blankets, amenity kits, and more.
As you'd expect, the bar carts have signs of wear and tear, given that they presumably spent many years in service.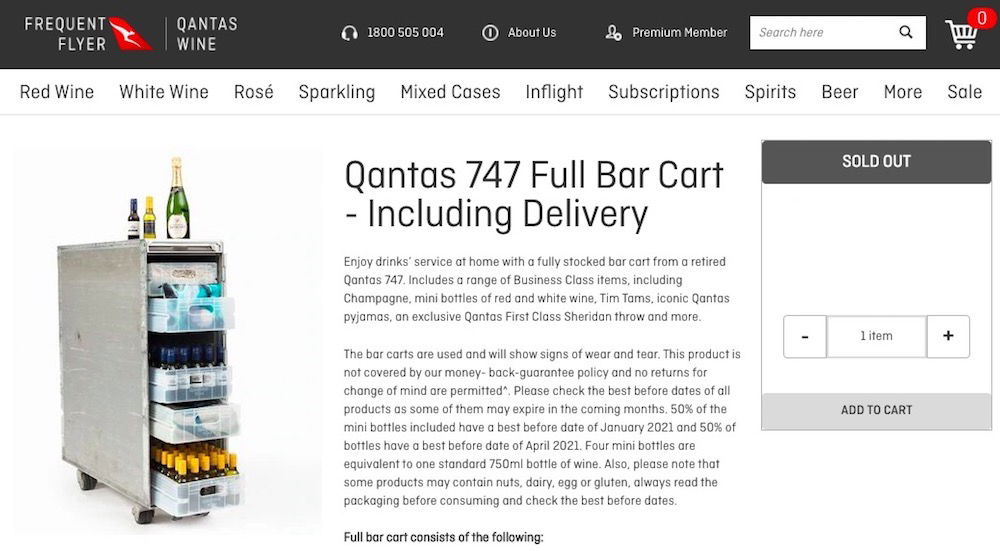 What's included with each Qantas bar cart?
Each Qantas bar cart on sale came with the following items:
1x full cart – used (not new)
10x lightweight plastic drawers – used (not new)
80x 187ml bottles of white wine (equivalent to 20 standard 750ml bottles)
80x 187ml bottles of red wine (equivalent to 20 standard 750ml bottles)
2x sleeves of Tim Tams
2x sleeves of savory biscuits
2x bottles of champagne
2x packs of smoked almonds 200g (first class)
4x amenity kits
2x first class blankets (Sheridan)
4x sleeper suites (2x M/L and 2x L/XL)
How much did Qantas bar carts cost?
The bar carts that were available for sale retailed for 1,474.70 AUD, which is 1,048 USD with current exchange rates. That price even included delivery within Australia, ranging from four to 15 business days.
Bottom line
Unfortunately Qantas' 747 bar carts sold out before I could even publish this post. Nonetheless I think these carts are worth highlighting. How cool to see an airline not only sell bar carts directly to consumers, but to sell them fully stocked with drinks, snacks, amenity kits, pajamas, and more.
I'm sure I'm not the only avgeek who loves this concept. Emirates, if you're looking to offload any bar carts with Dom Perignon and caviar, I'm sure you'd have some takers. 😉
Would you consider buying a fully stocked bar cart like this from your favorite airline?
(Tip of the hat to Kieran)