With airlines operating fewer flights than in the past, there's a lot of excess inventory of just about anything you'd usually find on a flight. As a result, we've seen some items being sold directly to consumers, ranging from American Airlines' first class nuts, to Qantas' business class pajamas.
Well, British Airways' onboard products are the latest to hit the market. Pickering's Gin is selling minis of British Airways' gin that was specially created for the company's centenary celebration.
The company is selling a case of 24 minis for £32.00, suggesting that the regular price would be £84.00, so that does represent quite a discount. The price includes tax but doesn't include shipping, and unfortunately they'll only ship to the UK.
This is gin that was presumably supposed to be served onboard flights, but with British Airways scaling back its operations, the company has excess inventory.
British Airways first introduced this gin last year. As Pickering's Gin describes this product:
A world first, this gin has been expertly distilled to taste as good at altitude as it does on the ground. Our unique ten botanical blend celebrates the very best of British flora and fauna with rose petals and heather lending a soft and sweet note to our signature Bombay blend.

Expertly distilled in partnership with British Airways to celebrate its Centenary year, we're offering you the chance to buy a case of 24 plastic miniatures at a remarkably good price.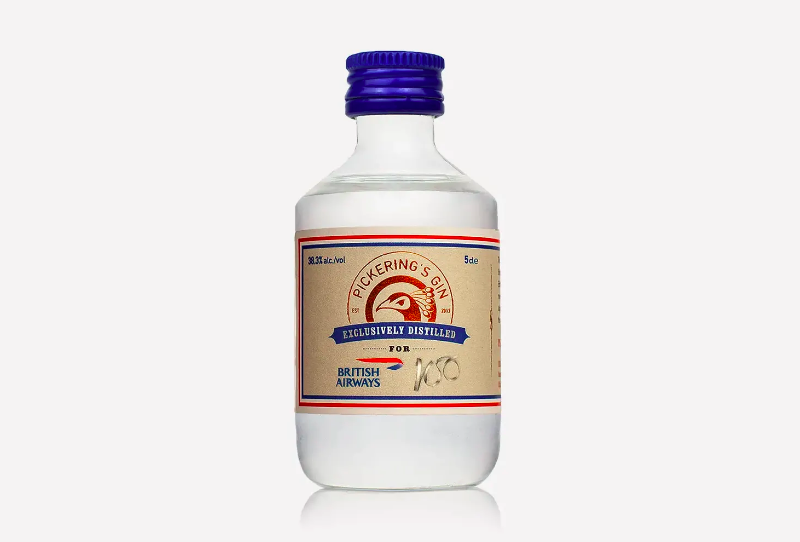 British Airways heavily promoted this gin when it was introduced last year. The primary selling point of this gin was supposed to be that it was designed to taste as good at altitude as on the ground. Our tastebuds are often duller at altitude (due to the dry air, pressure, etc.), so this gin was designed to address that.
In a way it's rather ironic that a gin was specially designed to taste as good as possible in the air, and now it's being sold to consumers directly on the ground. 😉
Bottom line
A lot of businesses are being impacted by the huge decrease in demand that airlines are seeing, and that includes food & drink suppliers. We're now seeing British Airways' gin supplier sell BA's "special" anniversary gin in minis.
It's cool that you could enjoy this at home, though at the same time, if the gin was designed specifically for consumption at altitude, then arguably it might not be as great on the ground.
If you want to buy something from British Airways and have a higher budget, you can always pick up some artwork from British Airways lounges…
Anyone in the UK plan on buying some British Airways gin?