This is more a cool aviation geek story than anything that's actually significant (which I kinda feel is what we all need at this point).
Qantas ending all international flying
As we recently learned, Qantas will be suspending all international flying in a few days, before the end of March. This comes as Australia has added strict measures on people entering the country, making it tough for the airline to continue international operations.
Challenges with Qantas' Sydney To Singapore to London flight
One of Qantas' flagship routes is their flight from Sydney to Singapore to London, which is scheduled to operate westbound through March 26, and eastbound through March 27.
The Sydney to London route can't be operated nonstop, so Singapore is chosen as the stopover point. The airline has fifth freedom rights on the flight, meaning passengers can choose to fly just a segment of that as well (including from Singapore to London).
Well, the airline has just run into a major hurdle — Singapore is no longer allowing transit passengers. That means the airline can no longer fly from Sydney to Singapore to London with transit passengers, which kind of eliminates the point of using Singapore as a stopover.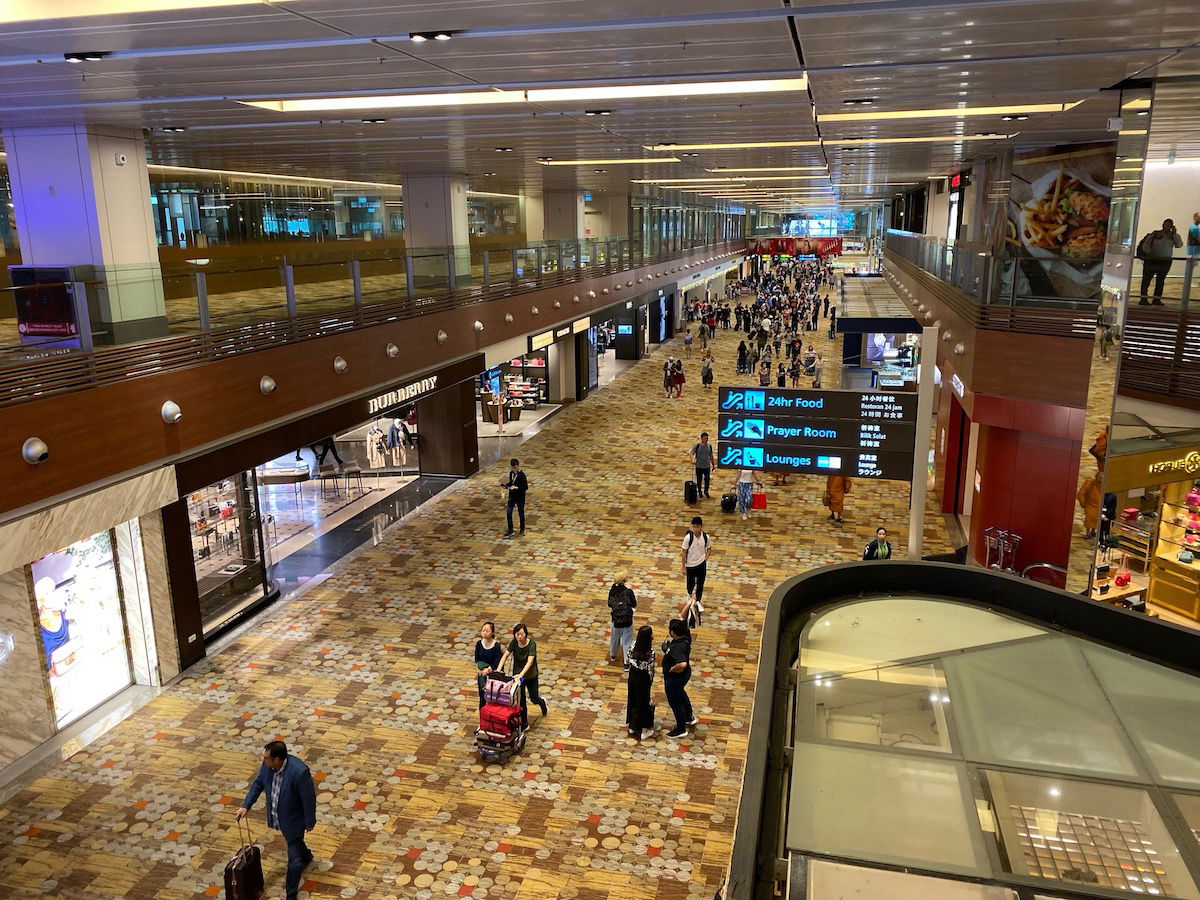 Singapore Changi is no longer allowing transit passengers
Qantas now operating London flights via Darwin
Qantas has gotten creative, as noted by Executive Traveller — for the last few days the flight is offered, QF1 and QF2 will operate via Darwin rather than Singapore. Suffice to say that's the first time Darwin has seen scheduled A380 service, let alone an A380 nonstop to Europe.
For that matter, I think this may be the first ever nonstop A380 passenger flight from Australia to London?
With this, the Sydney to Darwin flight covers a distance of 1,957 miles, and the Darwin to London flight covers a distance of 8,620 miles. That long haul flight is just ~40 miles longer than Qantas' normal longest A380 route, between Sydney and Dallas.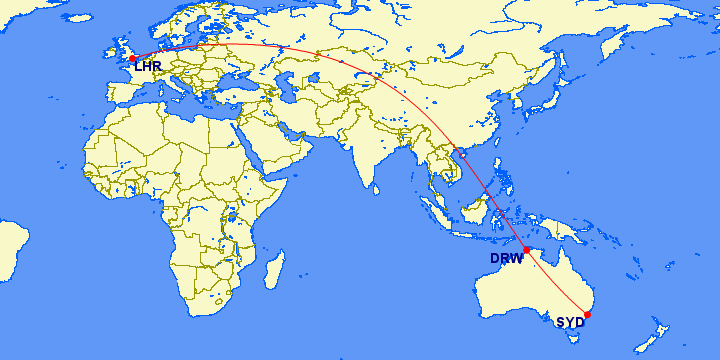 Why the Darwin stopover?
Since Darwin is in northern Australia, it's the closest major Australian airport to London
This is pretty much as direct as you can fly from Sydney to London — a nonstop Sydney to London flight would cover 10,573 miles, while this routing is just four miles longer
By keeping this a domestic flight, the airline won't deal with the ever-changing immigration and transit policies of other countries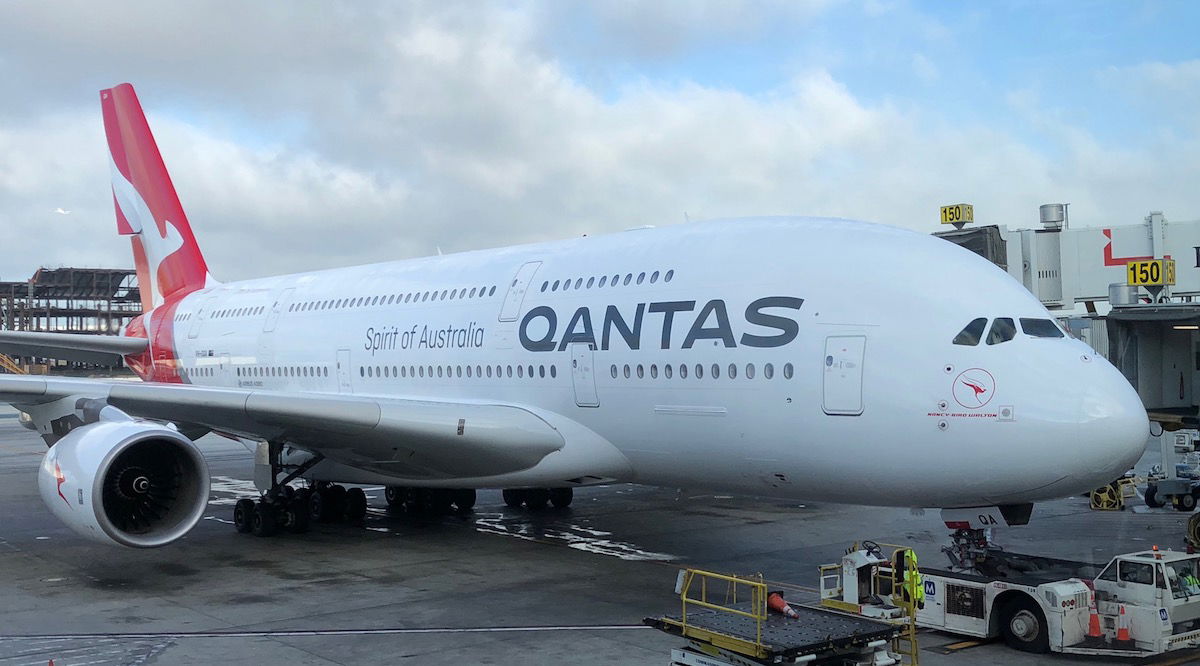 Qantas is flying the A380 nonstop from Darwin to London
The airline is purely using Darwin for refueling, so you can't book the A380 between Sydney and Darwin, or between Darwin and London.
The flight is operated with the following schedule:
QF1 Sydney to Darwin departing 5:00PM arriving 9:15PM
QF1 Darwin to London departing 11:00PM arriving 6:15AM (+1 day)
QF2 London to Darwin departing 10:05PM arriving 11:45M (+1 day)
QF2 Darwin to Sydney departing 1:15AM arriving 7:00AM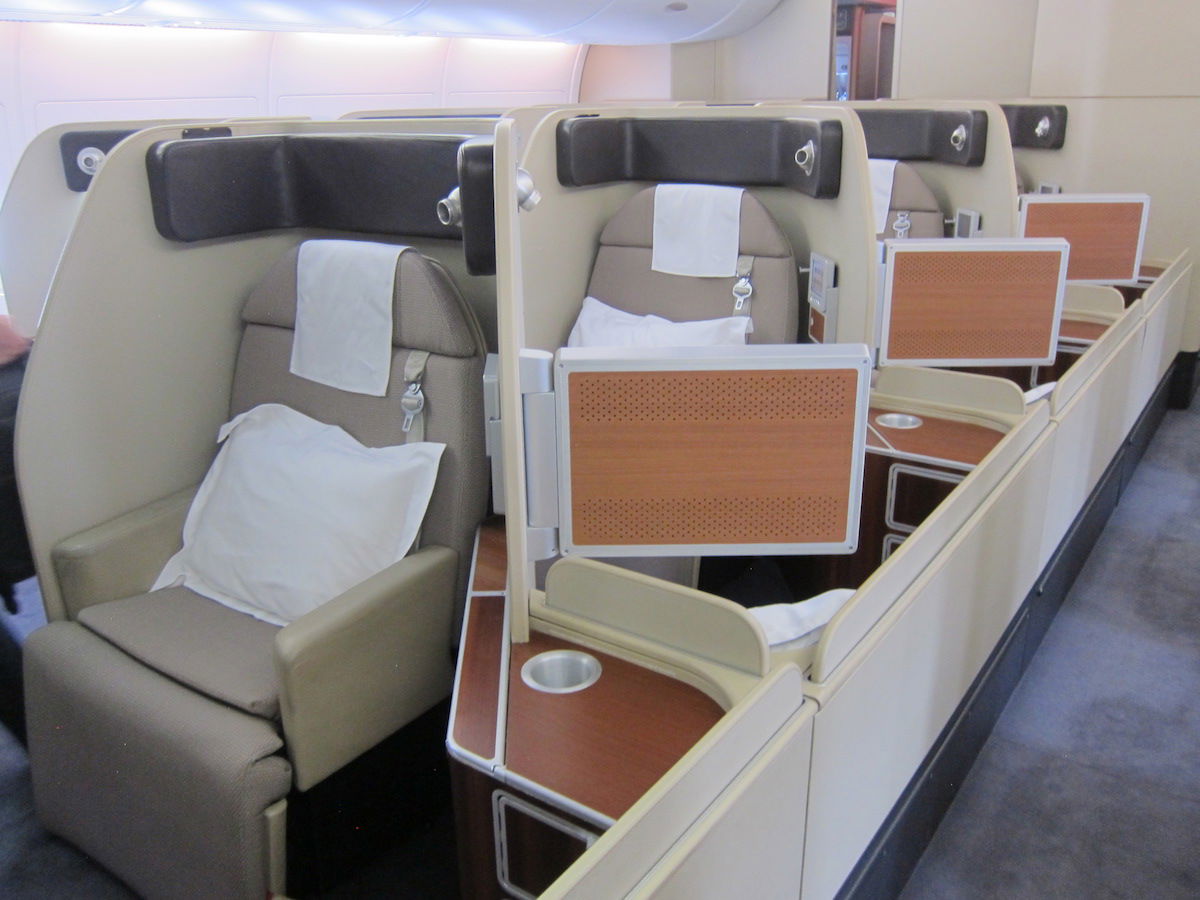 Qantas A380 first class
Bottom line
For the next couple of days Qantas will operate their QF1 & QF2 service via Darwin rather than Singapore. After that Qantas will be cutting all international routes.
As I said above, this ultimately isn't that significant, though as an aviation geek it sure is cool to see an A380 flying nonstop from Australia to London.