United Airlines' first reconfigured narrow body jet with new cabins is entering service as of today, which is an exciting milestone for the airline.
United is modernizing its domestic aircraft
In June 2021, United made an exciting announcement, as part of its effort to become more premium. The airline revealed that it would modernize the interiors of its narrow body jets, used primarily for domestic flights.
The project is called United NEXT, and as part of this, the airline is completely overhauling the cabins of its standard domestic aircraft. Clearly this is part of United's effort to compete more directly with Delta, leaving American as a distant third when it comes to product (but American doesn't seem to care, because as the company's Chief Revenue Officer explains, American's product is its schedule).
Among other things, all United mainline narrow body aircraft will eventually feature the following:
Seatback entertainment at every seat — first class has 13″ monitors, while economy has 10″ monitors
Larger overhead bins
High speed Wi-Fi
AC power and USB outlets at every seat
Bluetooth audio connections for inflight entertainment
LED lighting throughout the cabin
For the past couple of years, United has been taking delivery of Boeing 737 MAXs featuring these new cabins. You can expect to find these interiors on roughly 75 aircraft, including all 737 MAX 8s, and select 737 MAX 9s. This means that many passengers are already enjoying this experience.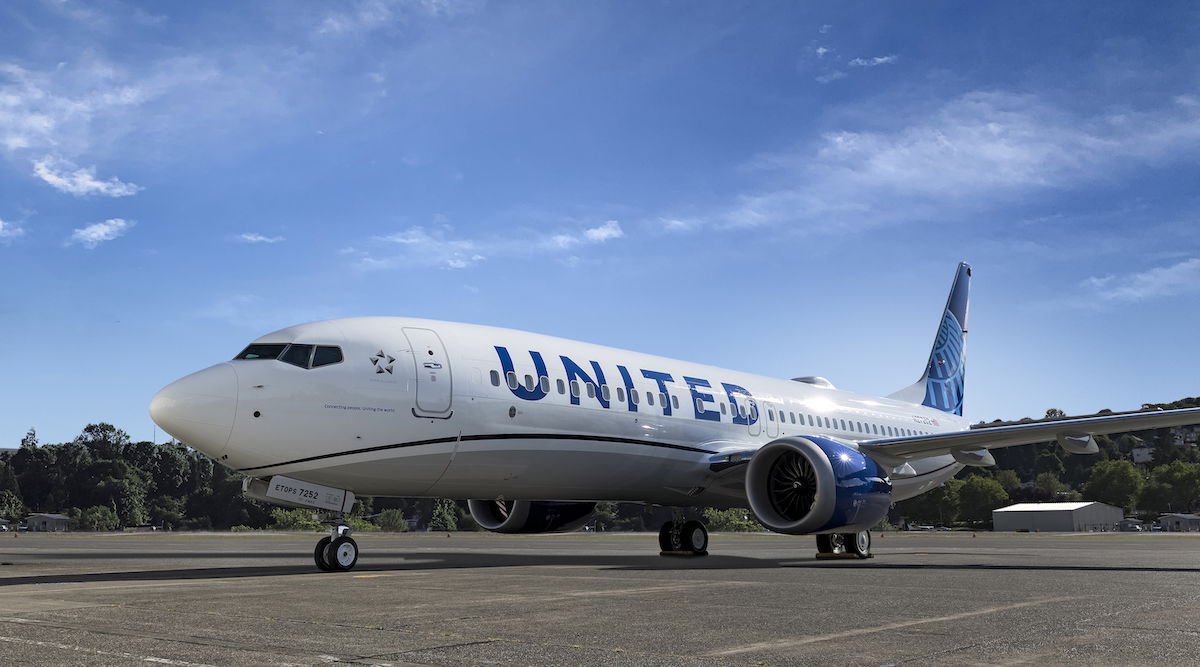 First reconfigured United A319 enters service
United promised that existing aircraft would be reconfigured with these new cabins. Nearly two years after that announcement was made, the first reconfigured aircraft with new interiors has entered service. Specifically, the roughly 25-year-old Airbus A319 with the registration code N801UA is the first plane to be reconfigured with these signature interiors.
The aircraft flew to Melbourne, Florida (MLB) on January 2, 2023, where it had most of its cabin work done. Then on April 26, 2023, the plane flew to Roswell, New Mexico (ROW), presumably for a new paint job. The plane then flew to Chicago, Illinois (ORD) on May 10, 2023, and it's expected to enter passenger service as of today.
You can track the jet's location here. United has 81 Airbus A319s, so for the time being, your odds of randomly ending up on this plane are pretty limited.
The pictures shared of the cabin look like a huge improvement over the old product, so it's awesome to see these changes at United, as I'm sure passengers will appreciate the effort.
The catch with any of these kinds of projects is managing customer expectations, and also getting retrofits done. United has hundreds of planes to reconfigure, and I imagine it's going to take years before this project is complete, given that it took nearly two years for the first plane to be reconfigured.
This is always challenging in terms of managing expectations:
Airlines often advertise new cabins, and then passengers are disappointed when they don't get them
A passenger might get a cabin like this once, but then be disappointed when their next flight doesn't feature it
I commend United for this transformation… let's just hope planes are reconfigured at a decent pace. Fortunately United also has a lot of narrow body jets on order, which will be delivered with these cabins.
Bottom line
United Airlines' first Airbus A319 with refreshed cabins is entering service as of today. This is the first plane to be reconfigured with new cabins, and it joins all of the existing Boeing 737 MAXs that were delivered with these interiors. This is a huge step in the right direction, so well done to United.
What do you make of United's new cabin interiors?