On Tuesday I had the chance to tour American Airlines' headquarters in Fort Worth, Texas (I'm in Dallas for an unrelated reason, which I'll save for another post).
I can count on one hand the number of airline headquarters I've visited, though this one is special, because it's kind of made for aviation geeks. In this post I wanted to provide a quick picture tour of this very impressive complex.
Basics of American Airlines' Fort Worth headquarters
American Airlines opened its new headquarters in Fort Worth, Texas just over a year ago, in September 2019. American Airlines claims the headquarters cost $350 million, while DFW Airport claims that the entire 300-acre campus will be a $1 billion investment by the airline (the campus technically sits on DFW's land).
The current headquarters consists of at least eight buildings, and the campus is known as "Skyview." Each building is assigned a number, one through eight.
American's new headquarters isn't even completely done. The airline is building a 600 room hotel intended to house employees who are in training (especially for flight attendants and pilots), though for now that has been put on pause, as American is looking to cut capital expenditures.
It goes without saying that the timing of all of this likely wasn't ideal. American has cut its management and support staff by somewhere around 30%, and most of the remaining staff are only coming into the office roughly one day per week, and are otherwise working from home.
Picture tour of American Airlines' Skyview campus
American Airlines' headquarters definitely feels very 21st century, so let's take a look at it. As an aviation geek you'll notice that just about everything is airline and airplane themed, either in a very obvious way, or at least subtly.
Skyview 8 is the center of American Airlines' headquarters.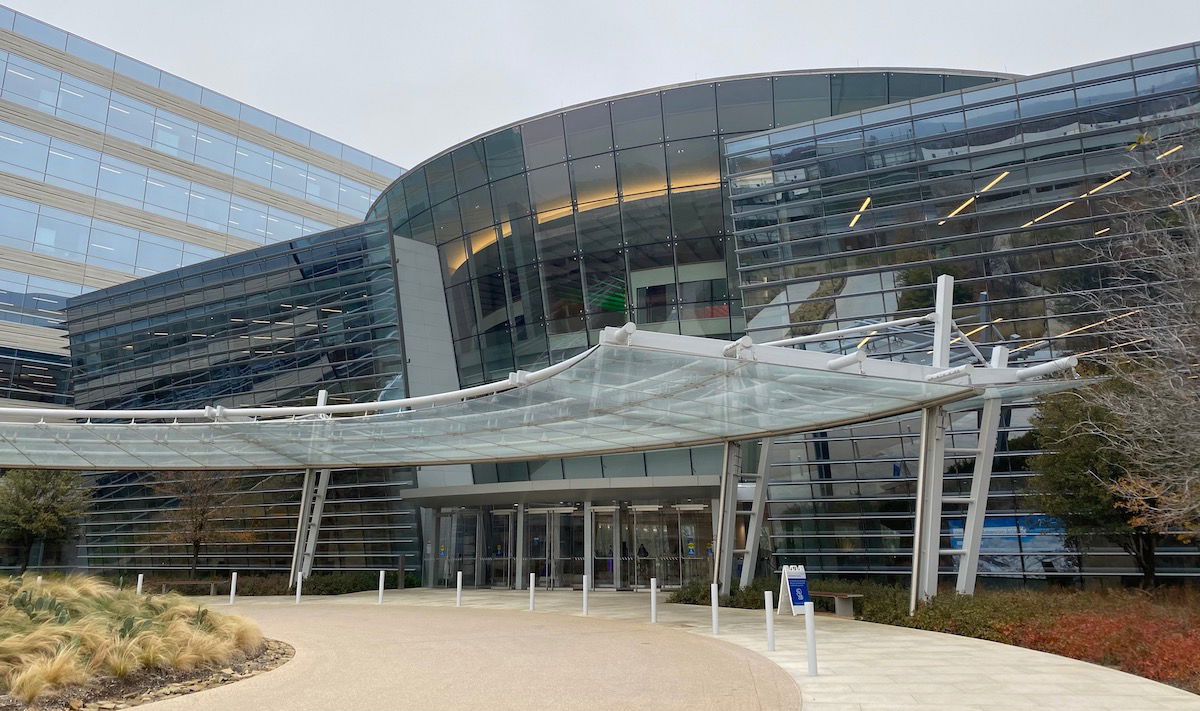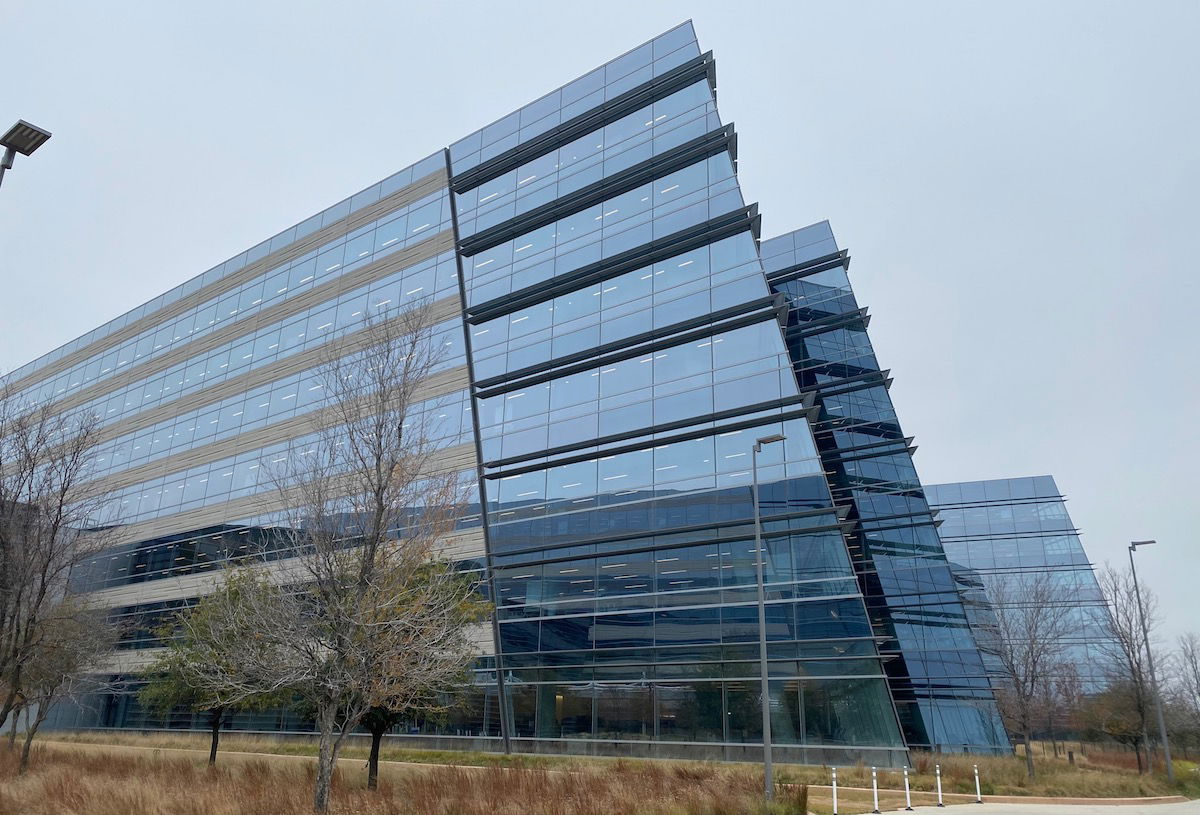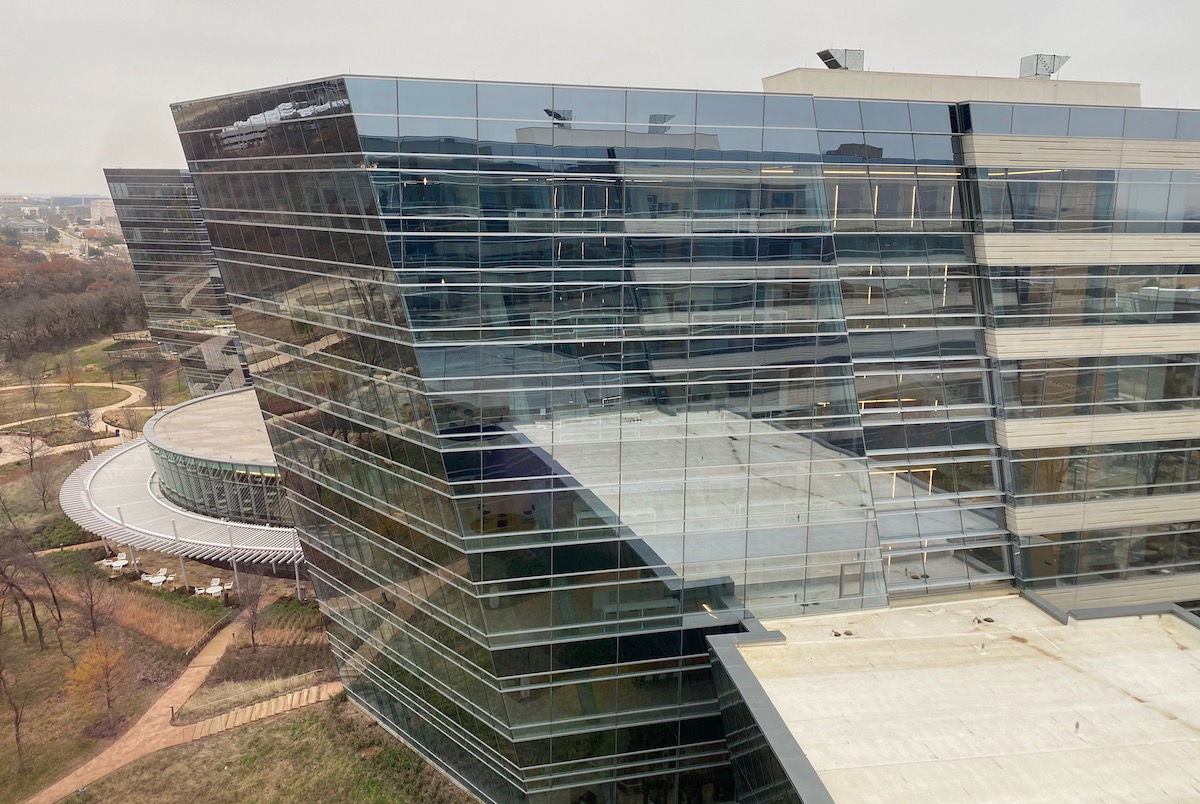 There are temperature checks as you enter, and everyone is required to wear a mask at all times.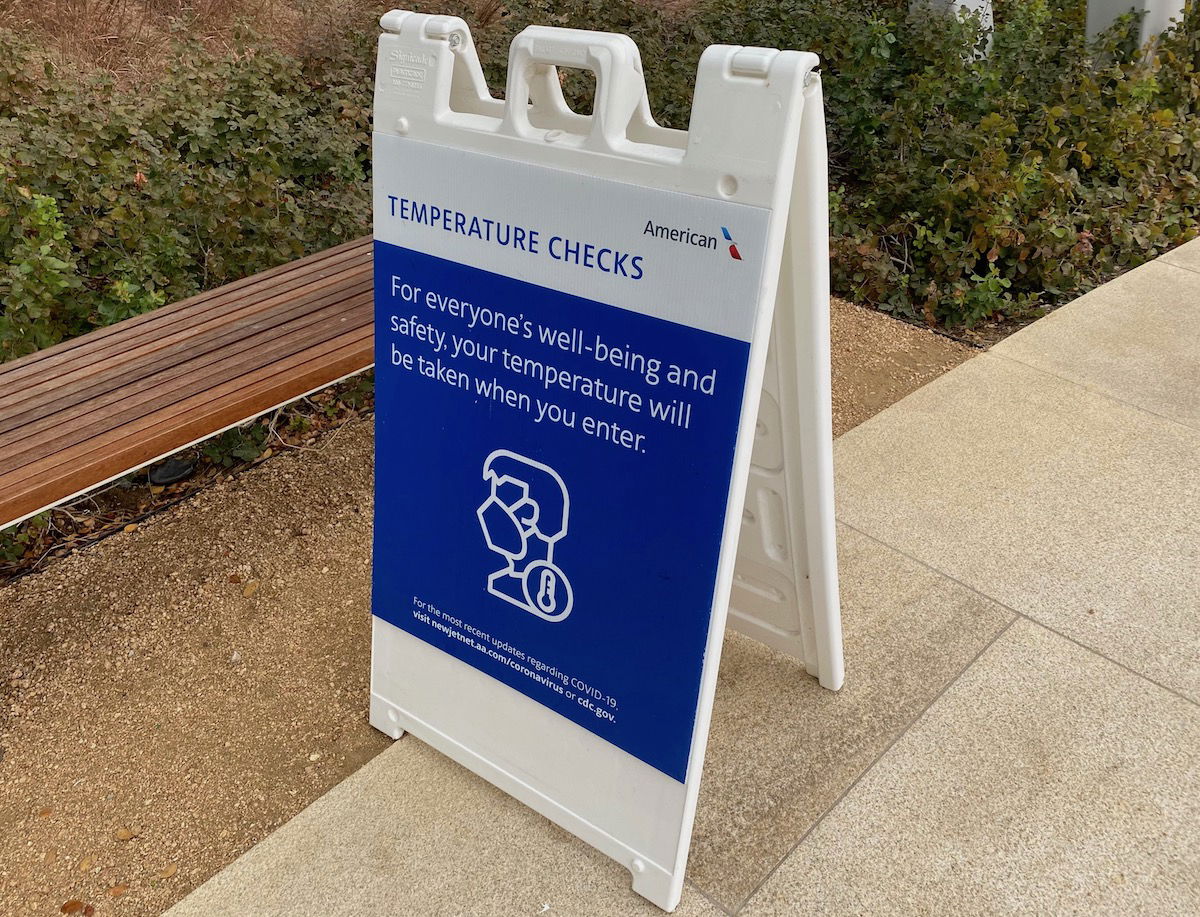 When you enter Skyview 8 there's a massive rotunda of sorts, with the ceiling is meant to look like a jet engine. You'll immediately notice the variety of workspace options, though there are no offices here — yes, even Doug Parker just has a cubicle.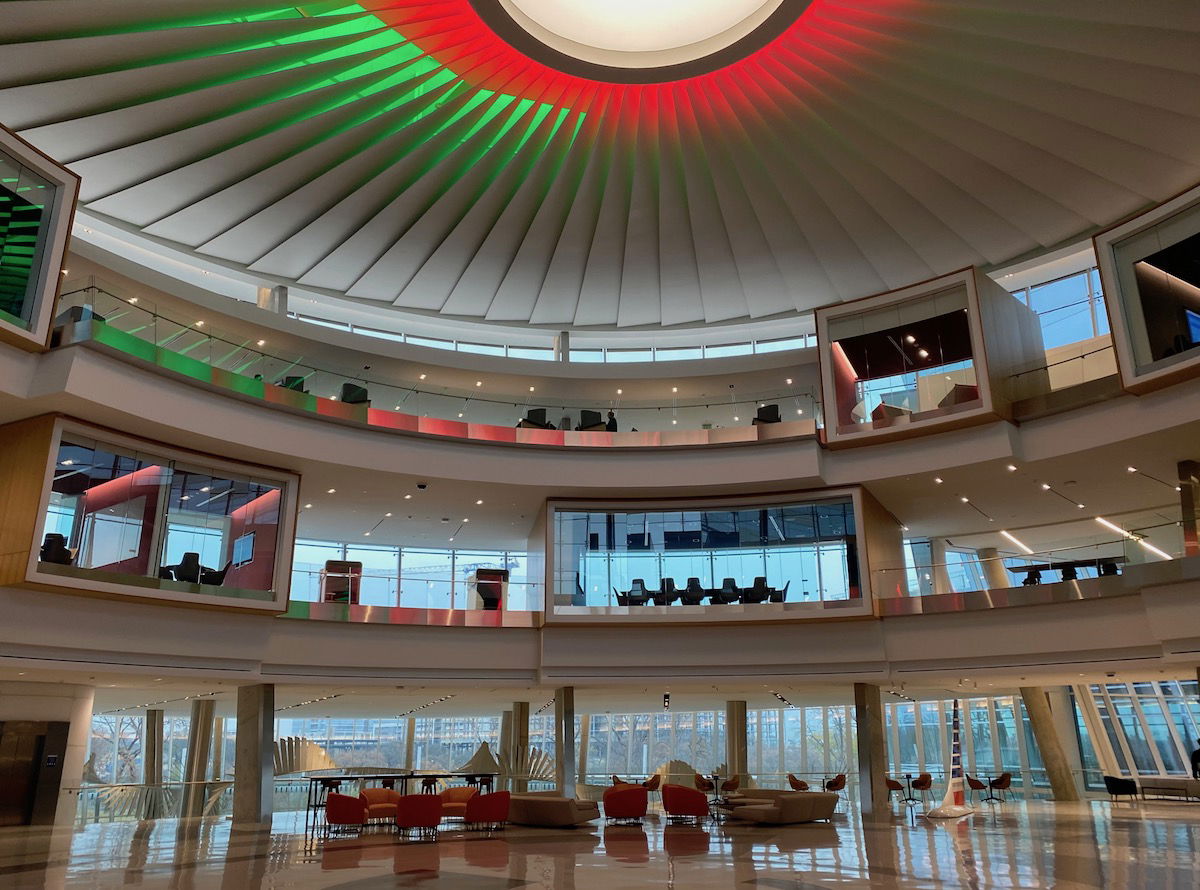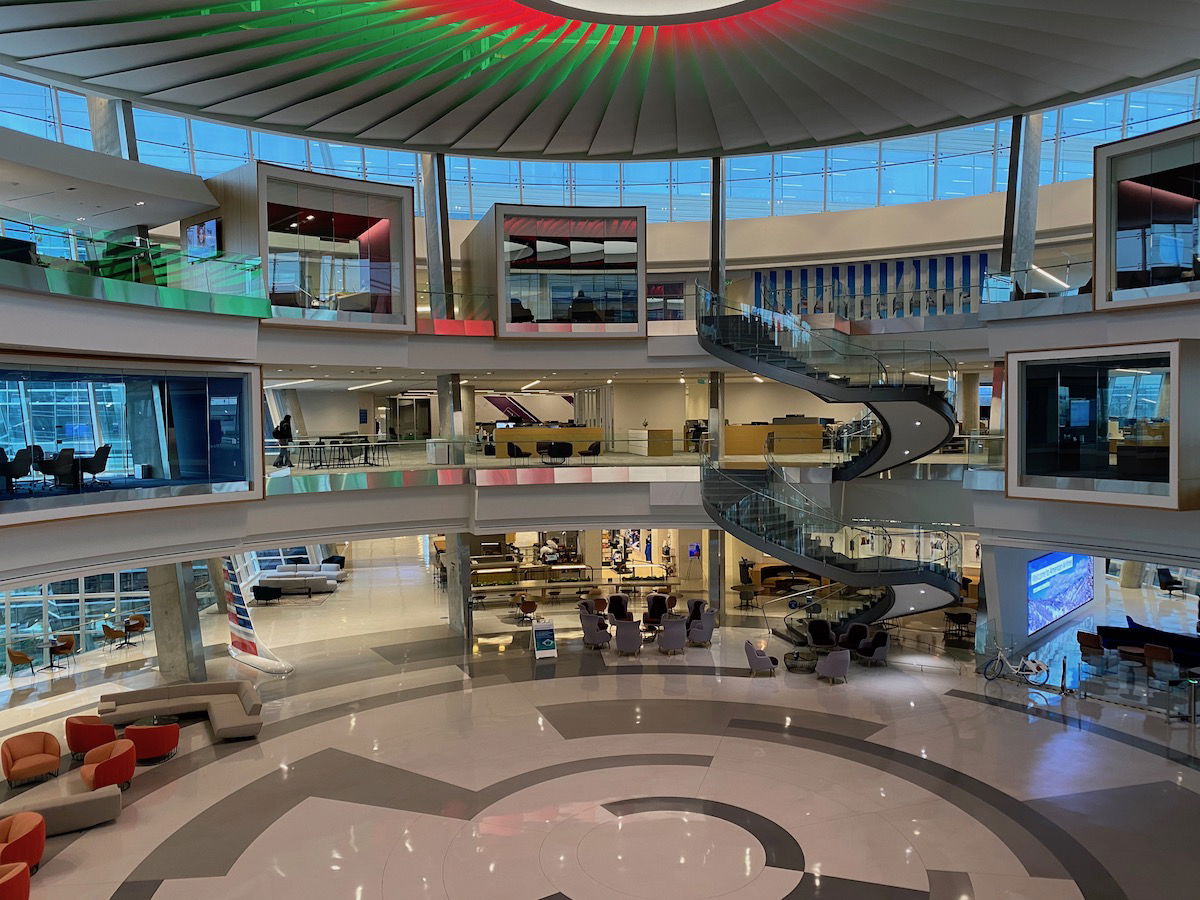 I loved the amount of airplane themed displays, ranging from landing gear, to safety card displays, to massive seatbelts, to aircraft tails, to engines, to aircraft wheels.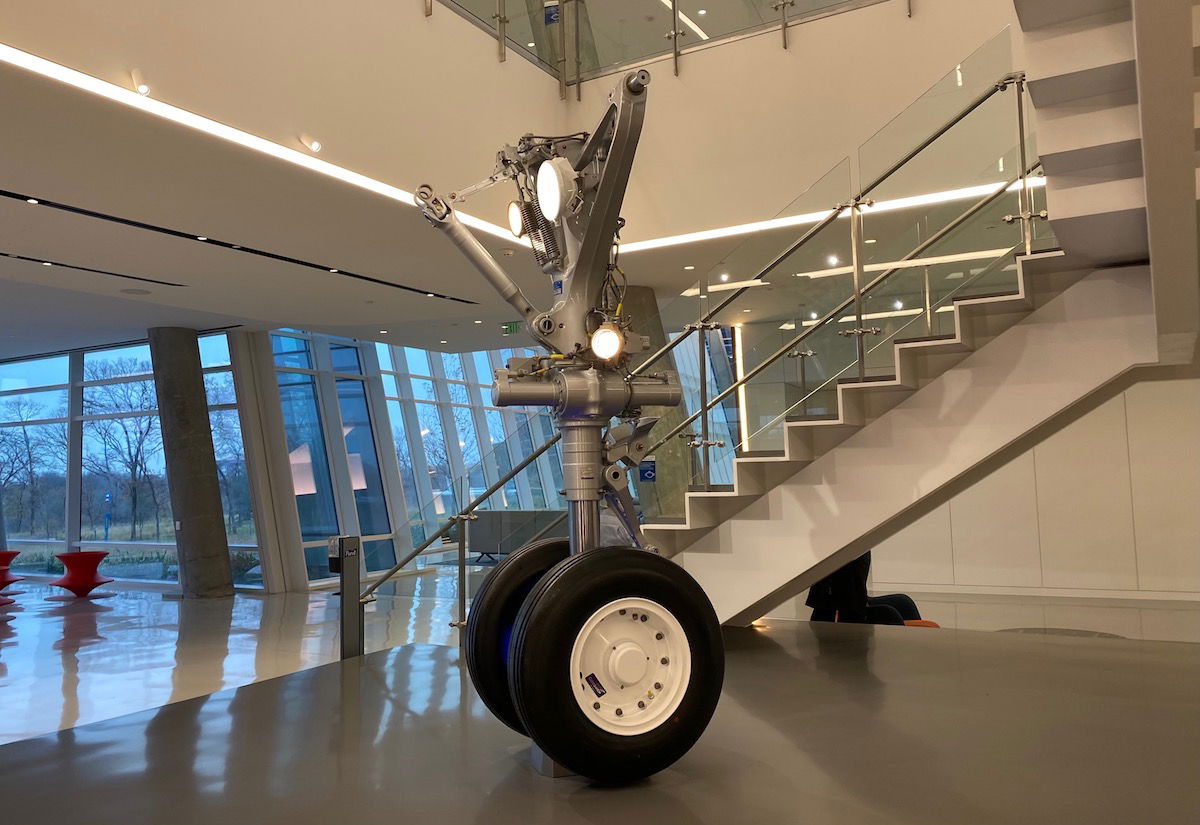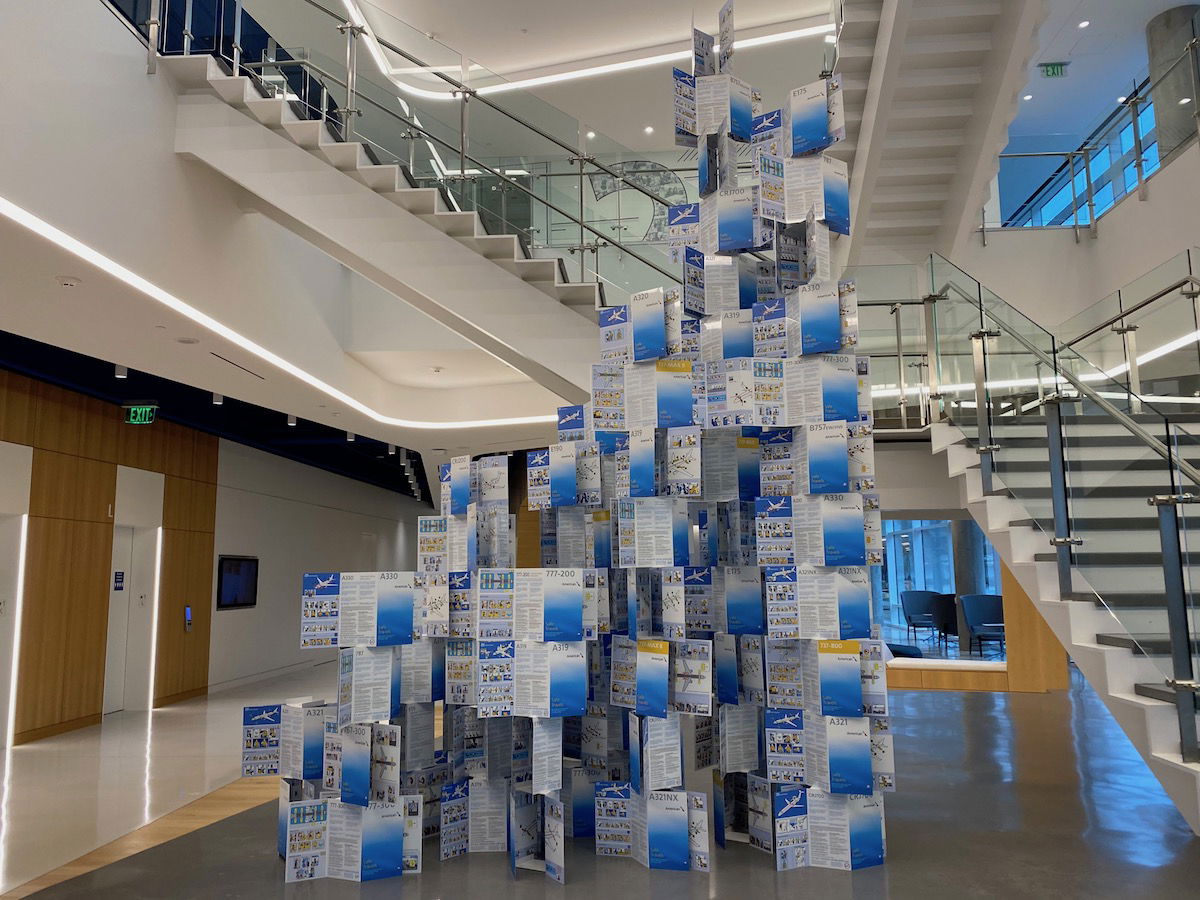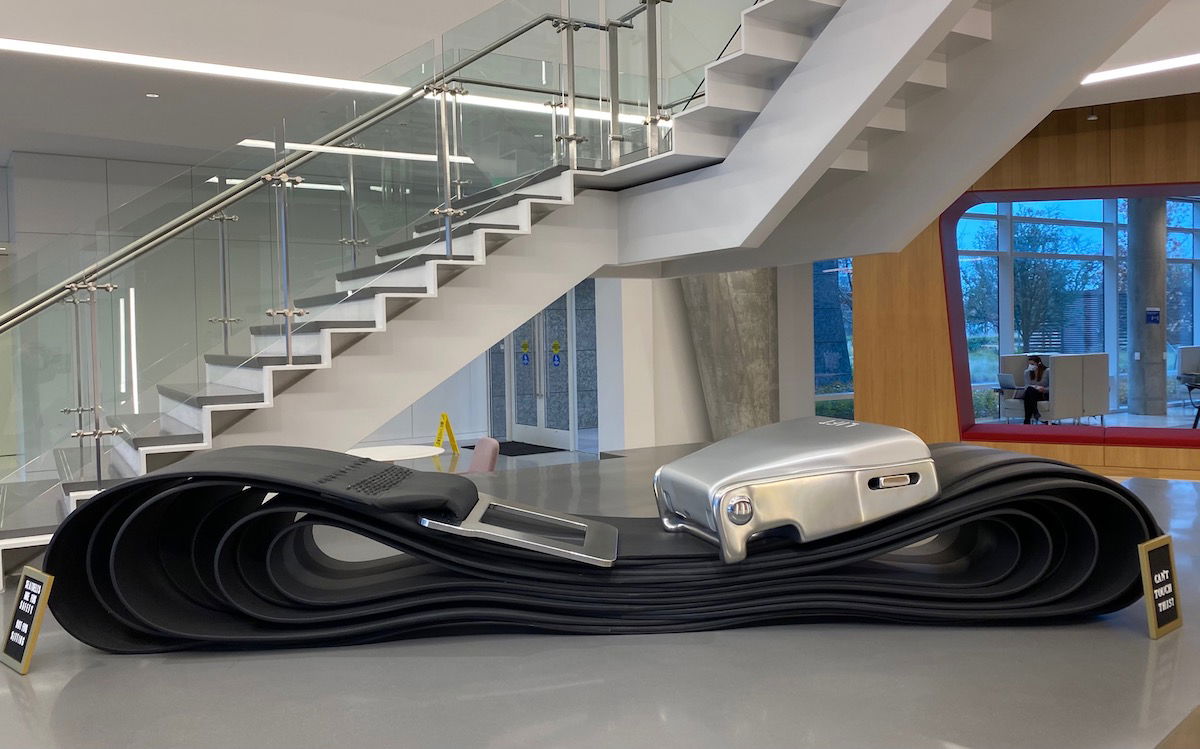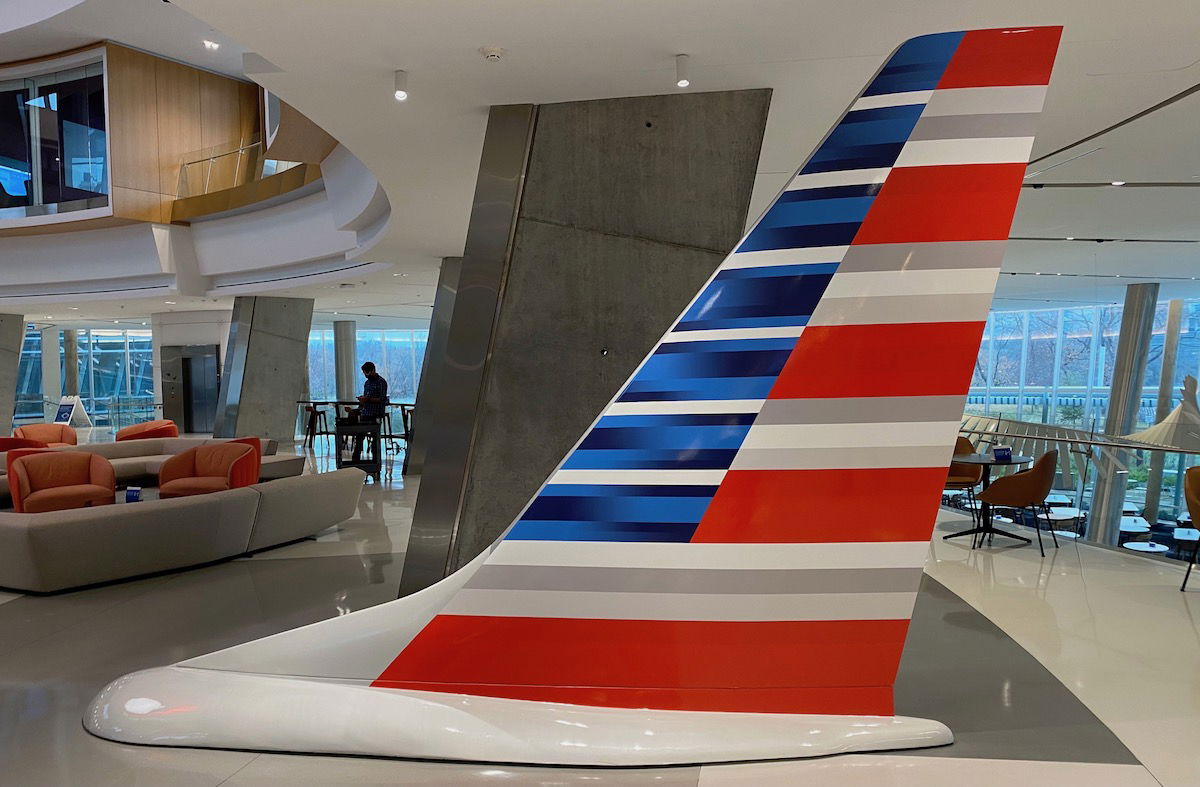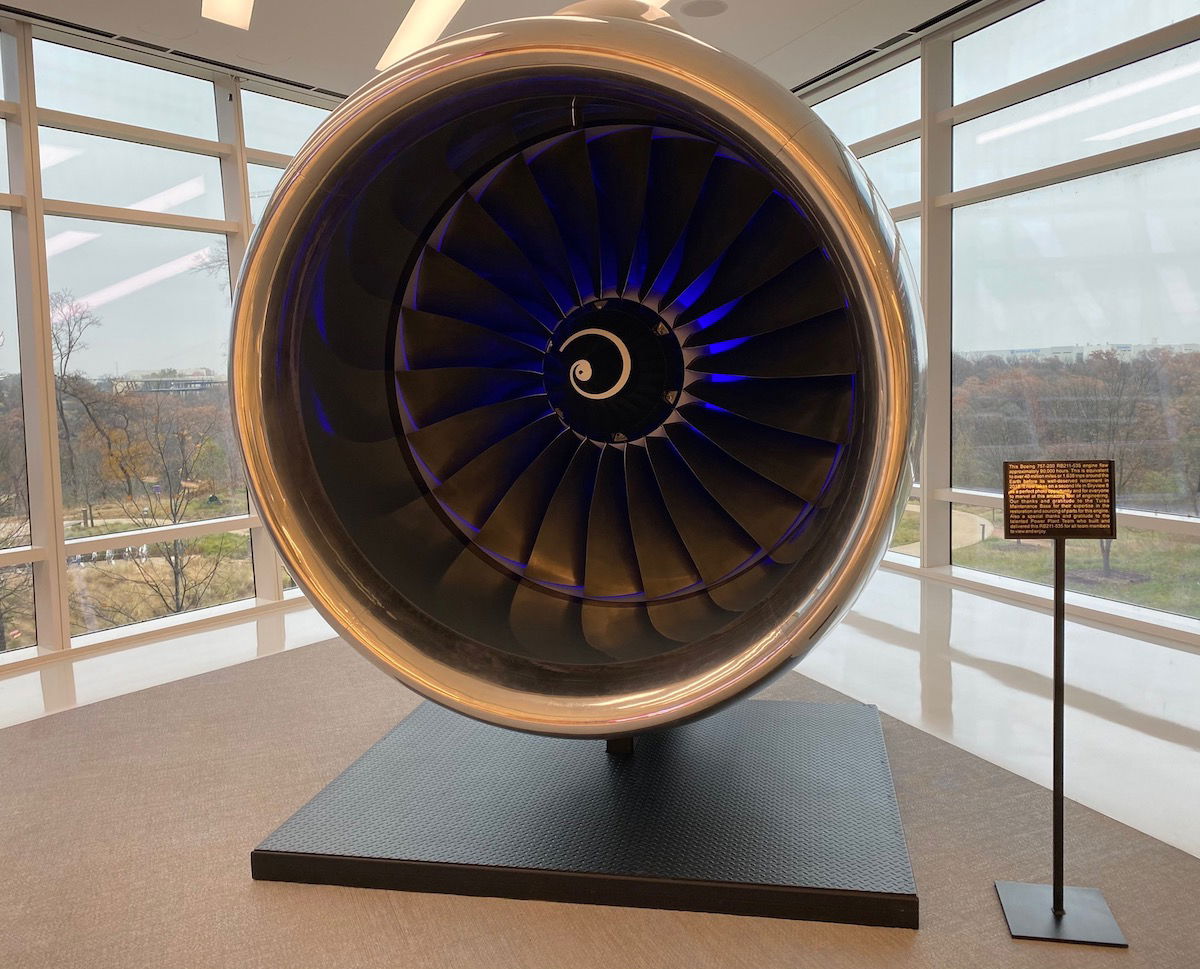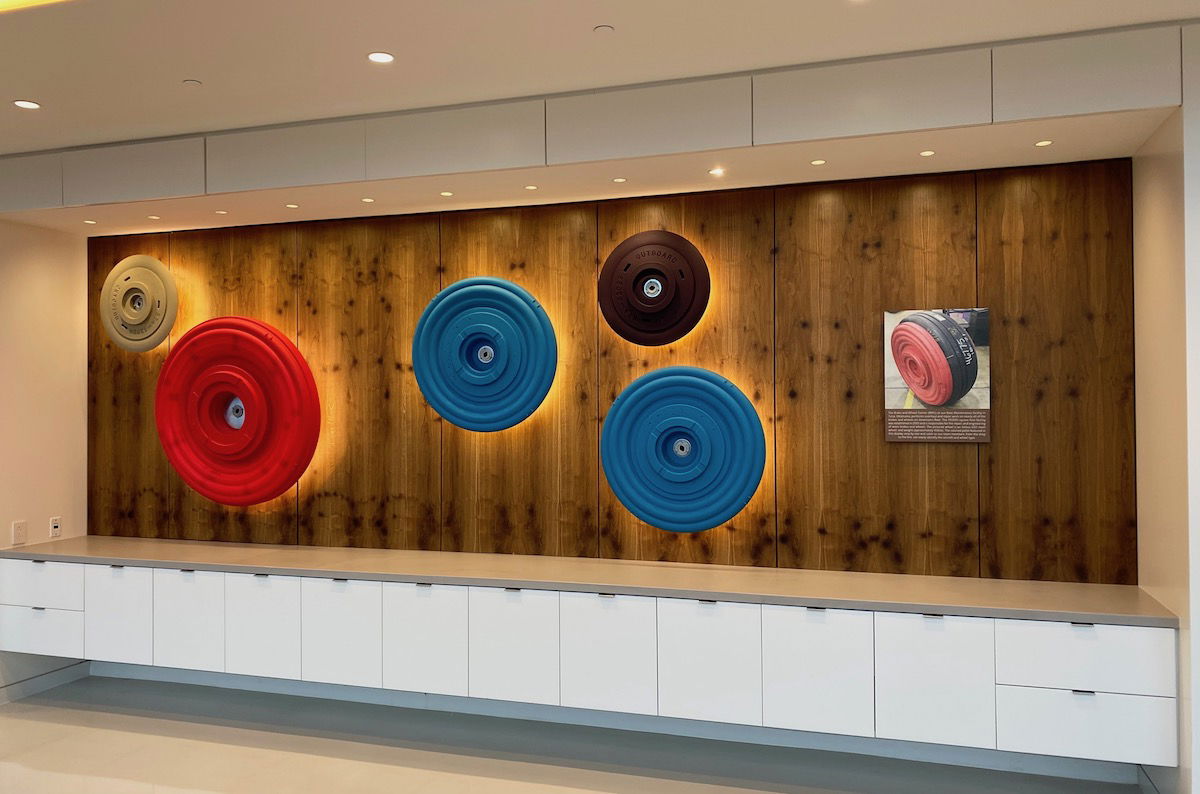 There are monitors all over the place, listing everything from the carrier's number of daily on-time departures, to the daily completion factor.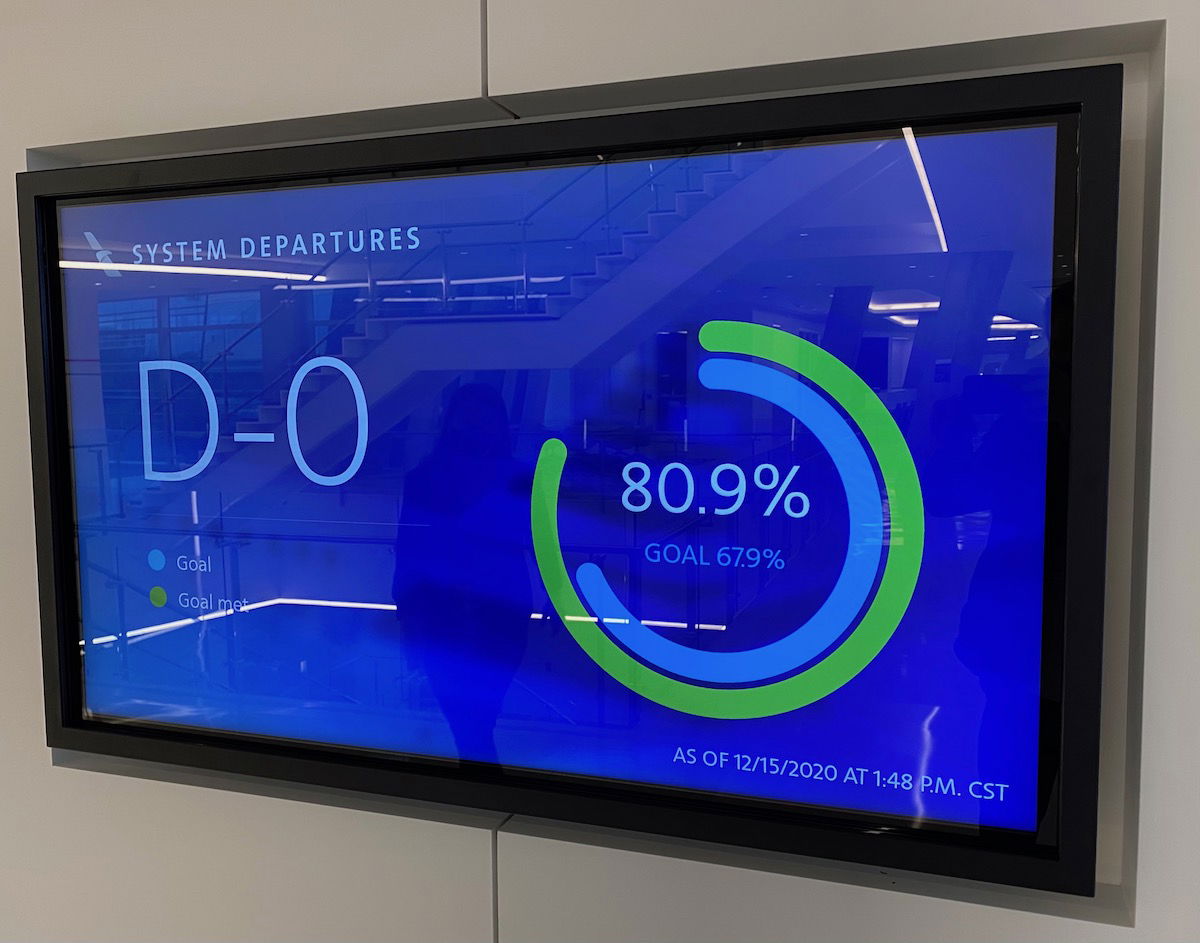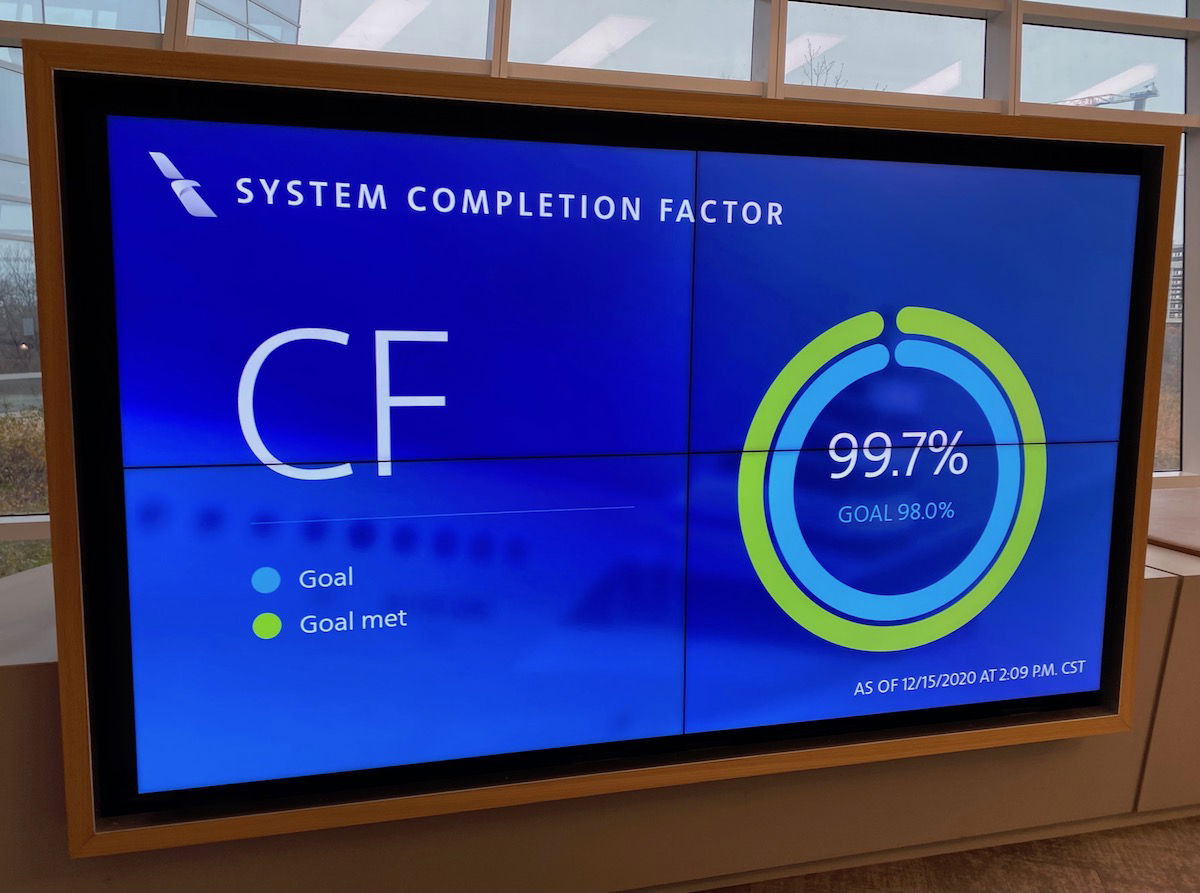 There's even a traditional flap display departures board.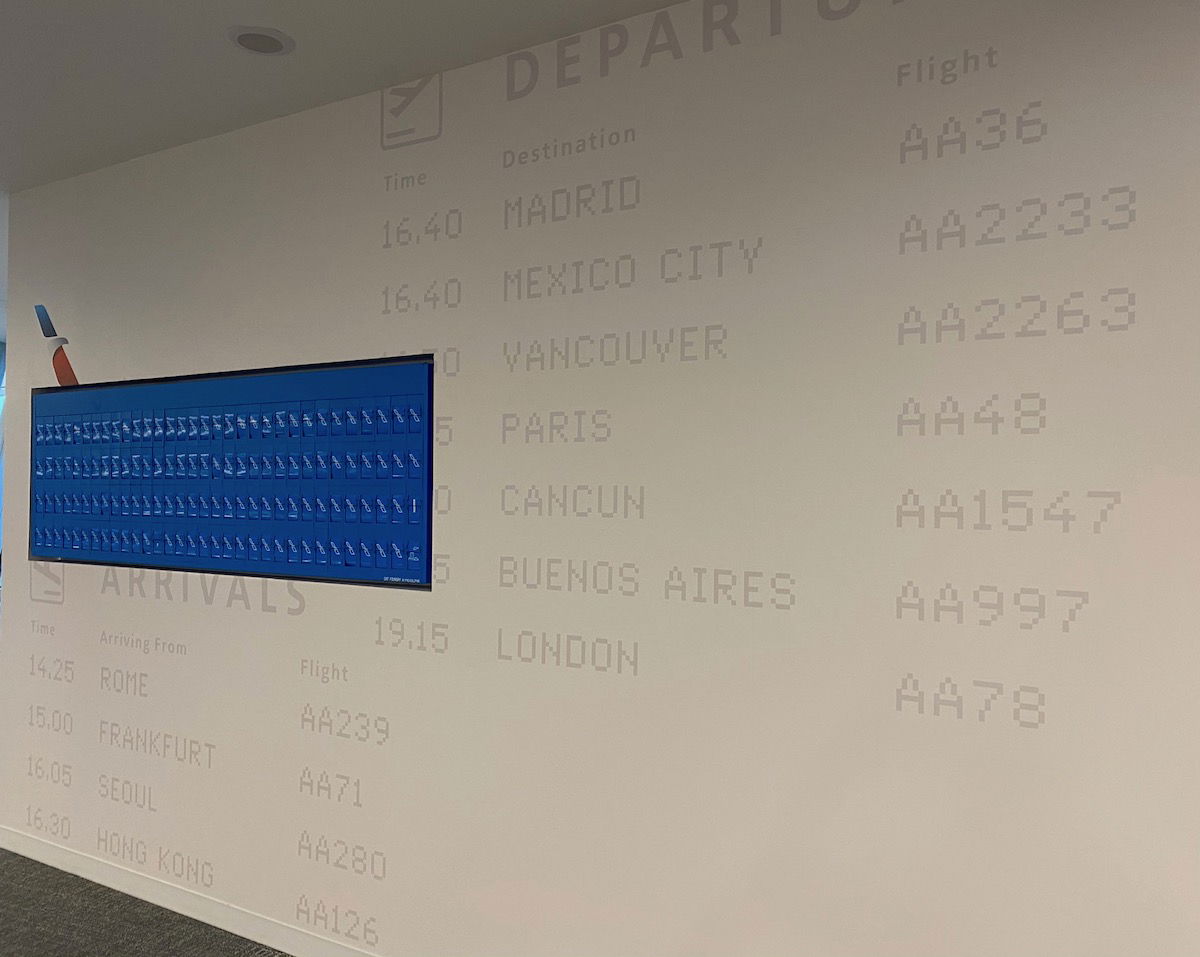 Different communal areas to get away from your desk have specific airport themes.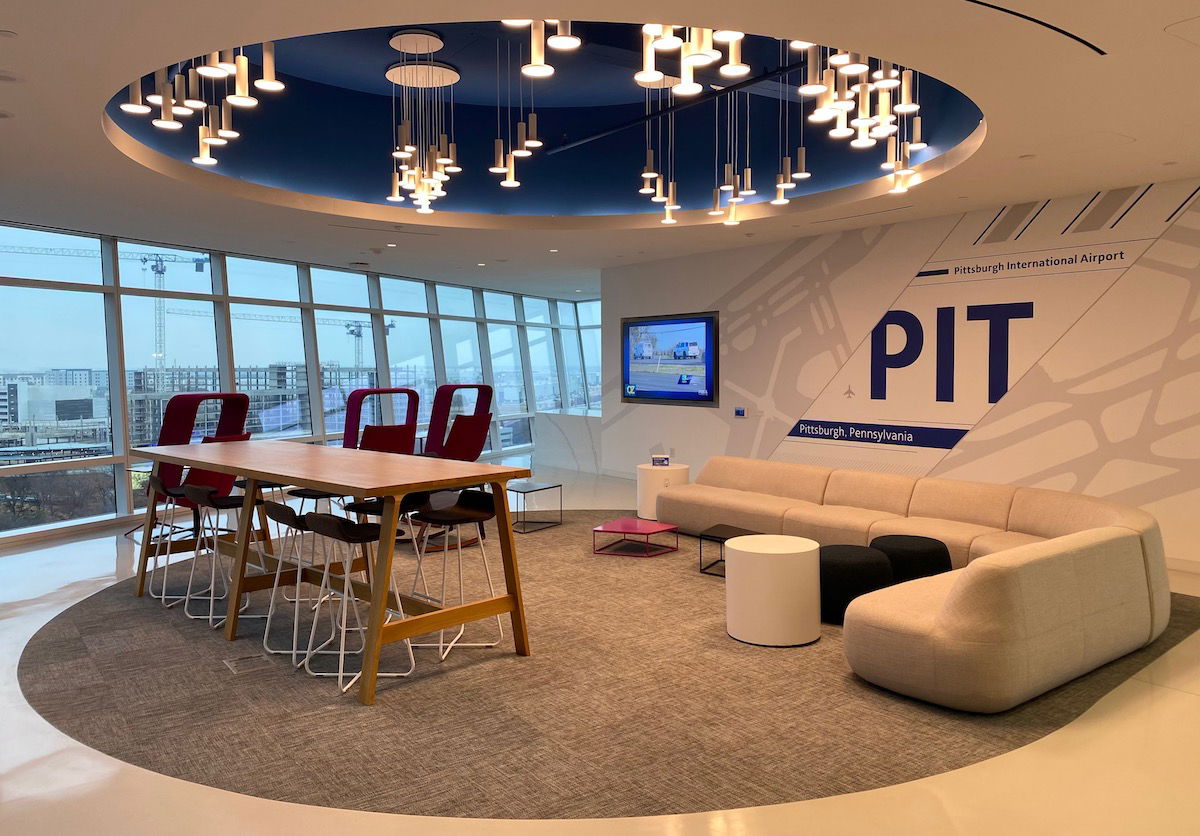 Meanwhile different private conference rooms are dedicated to particular employees.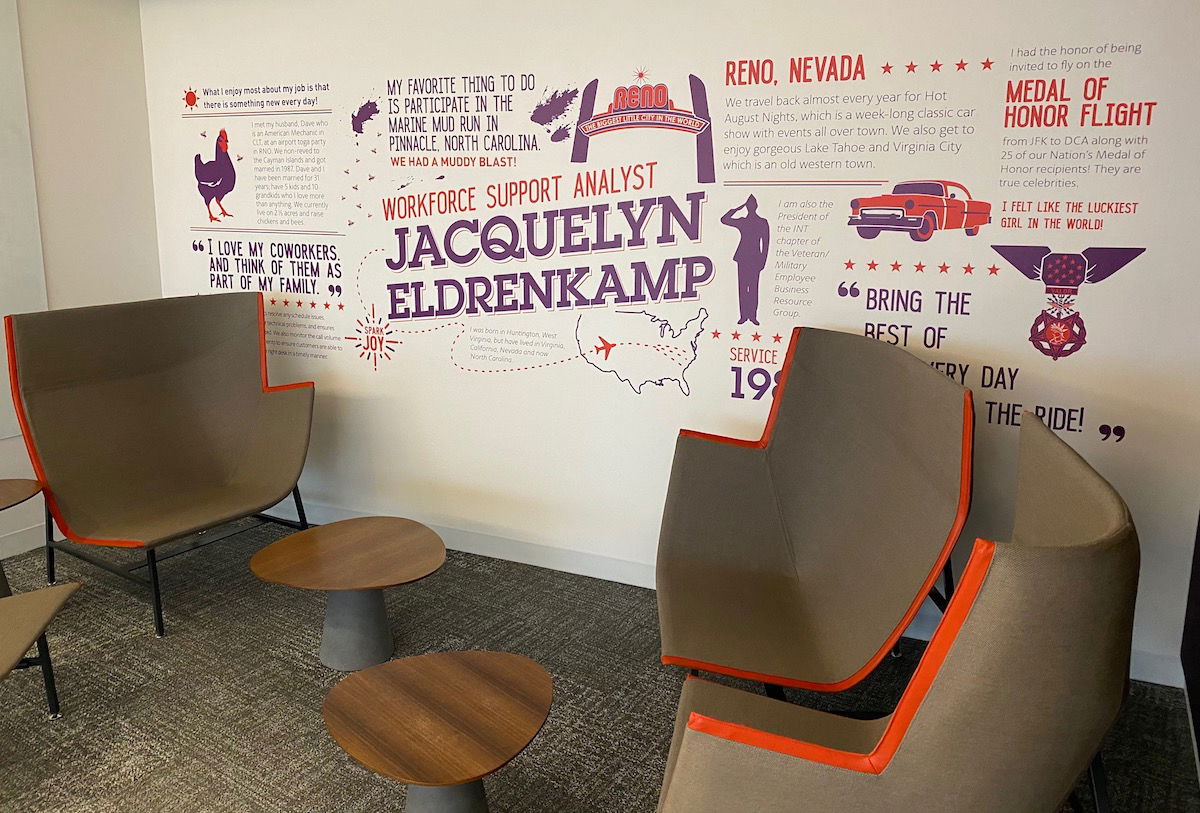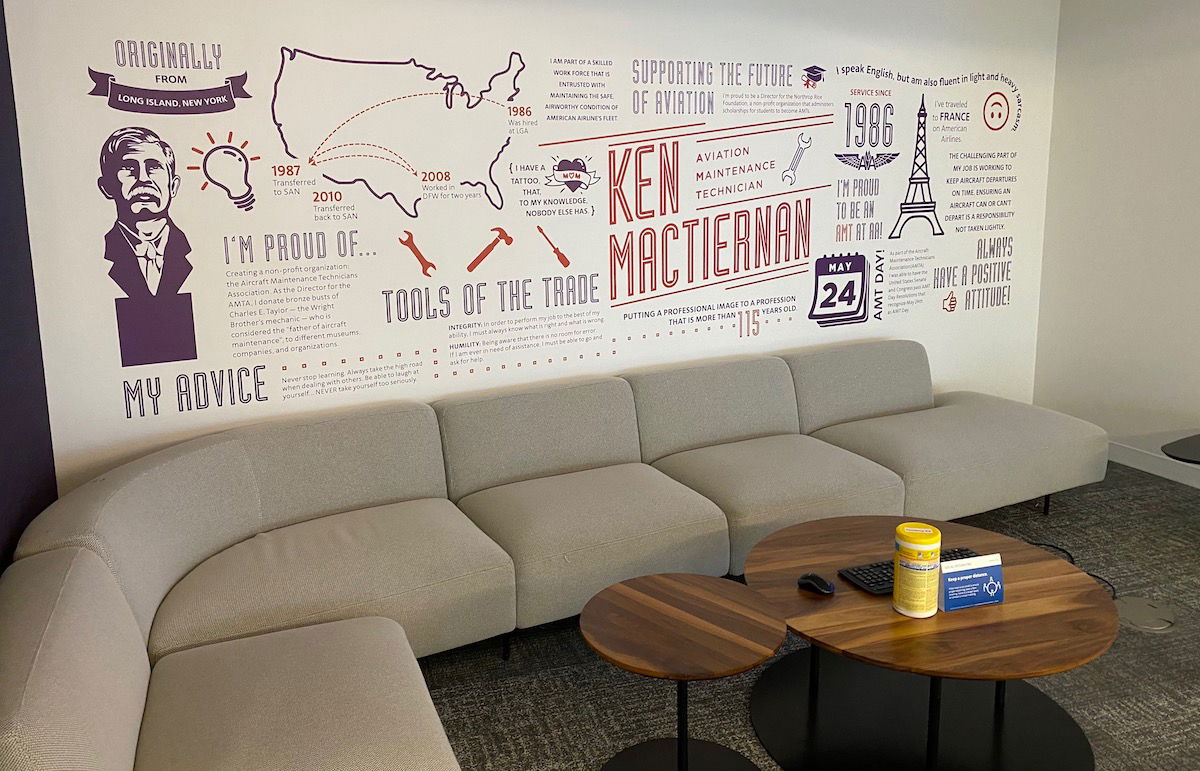 In general I was surprised that the furniture didn't match what you'd find in an Admirals Club or Flagship Lounge. I'm not sure why I was expecting that, but… 😉 Instead the furniture was… significantly less generic.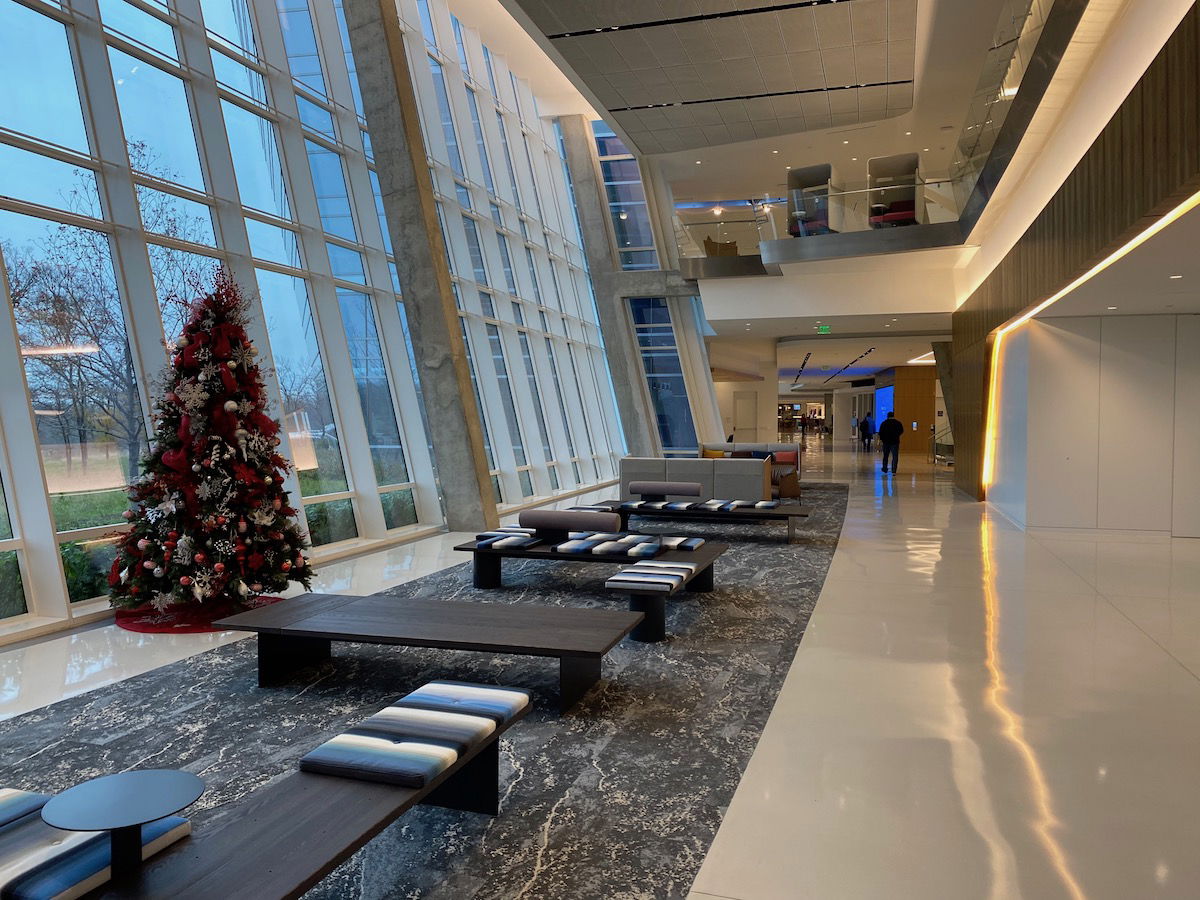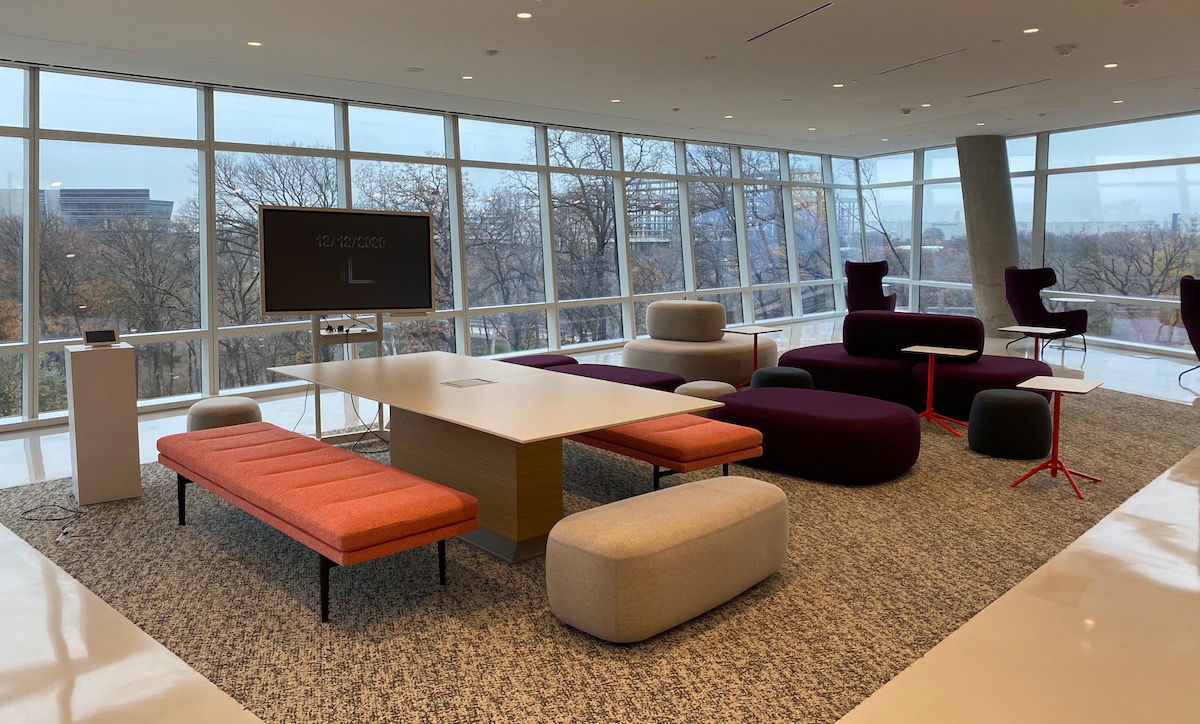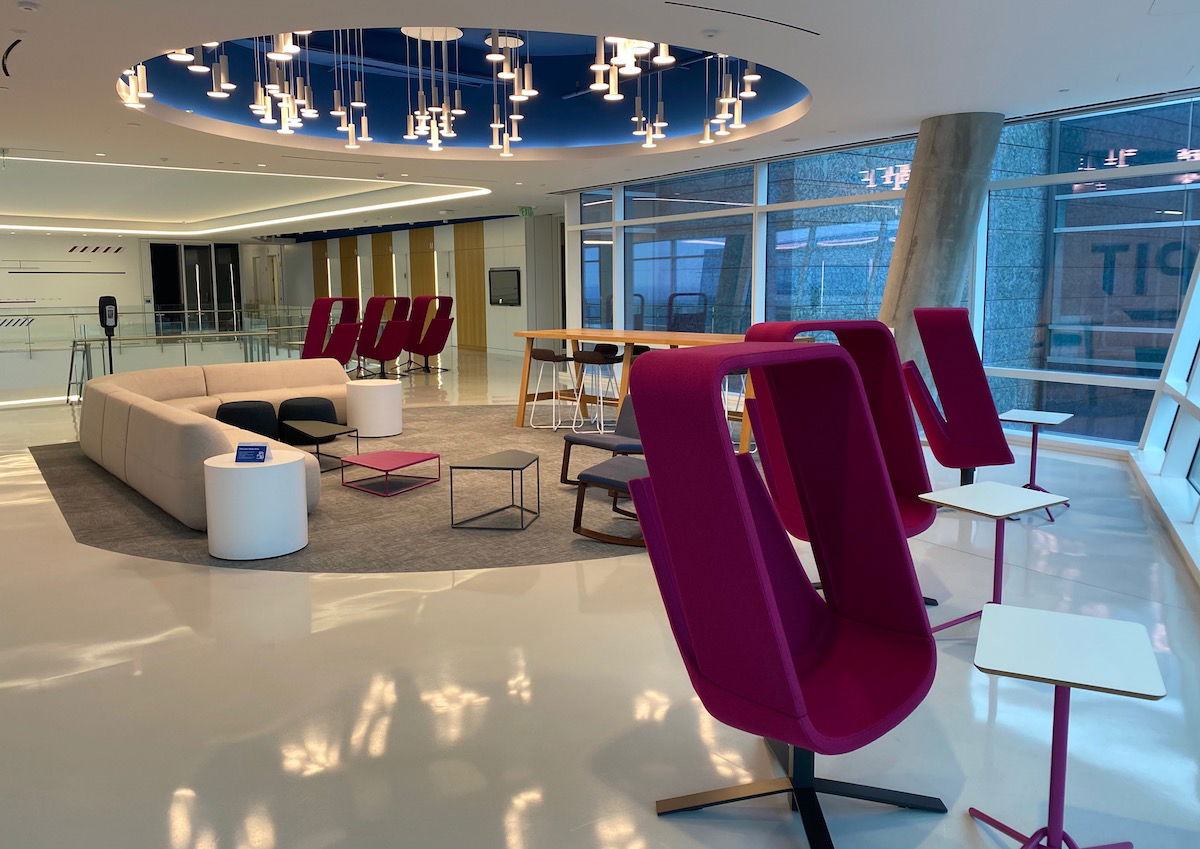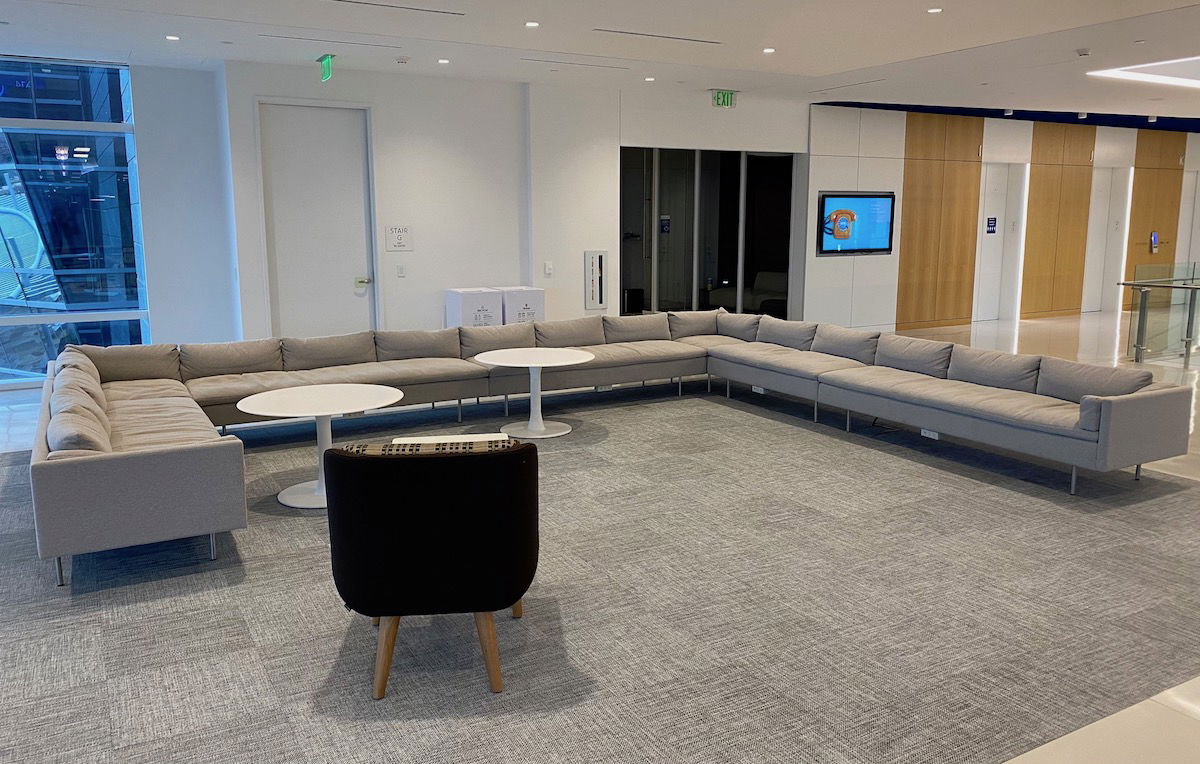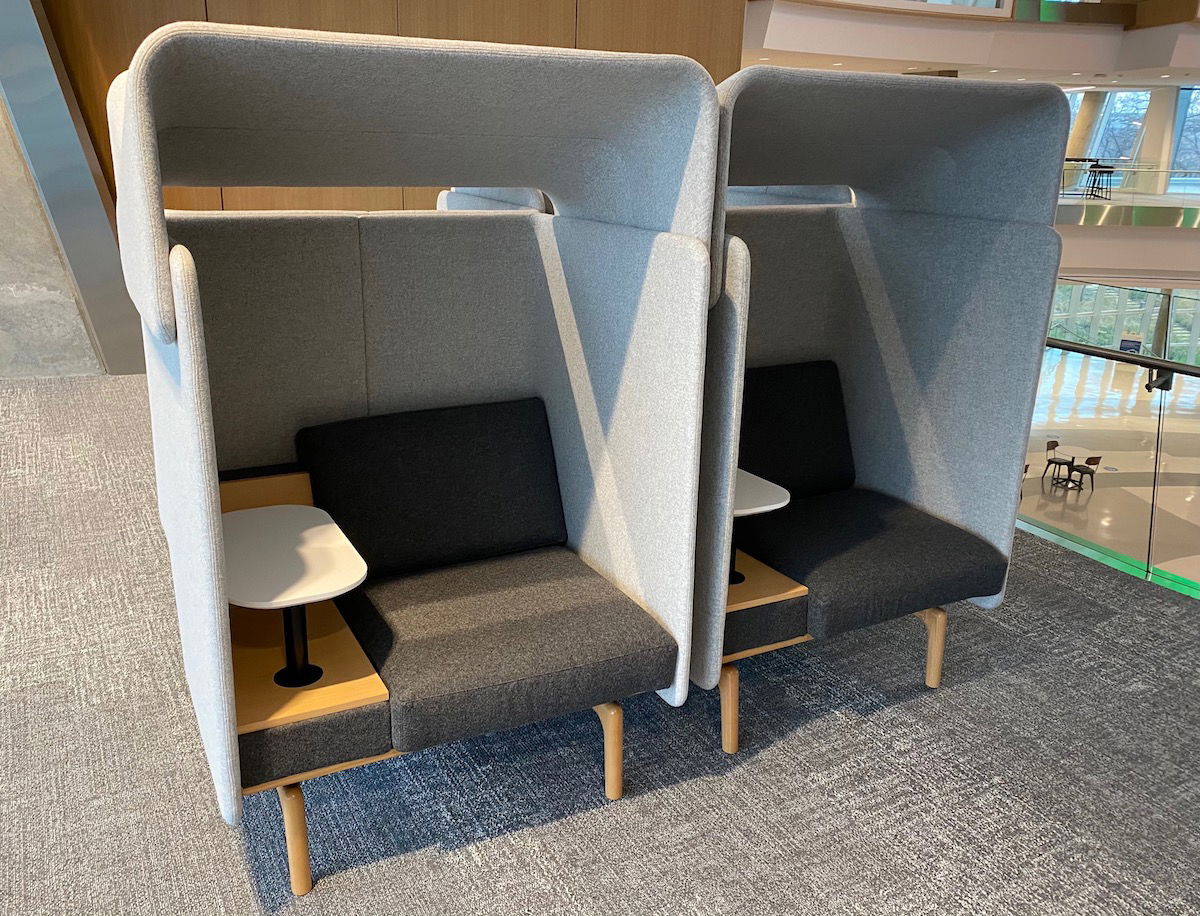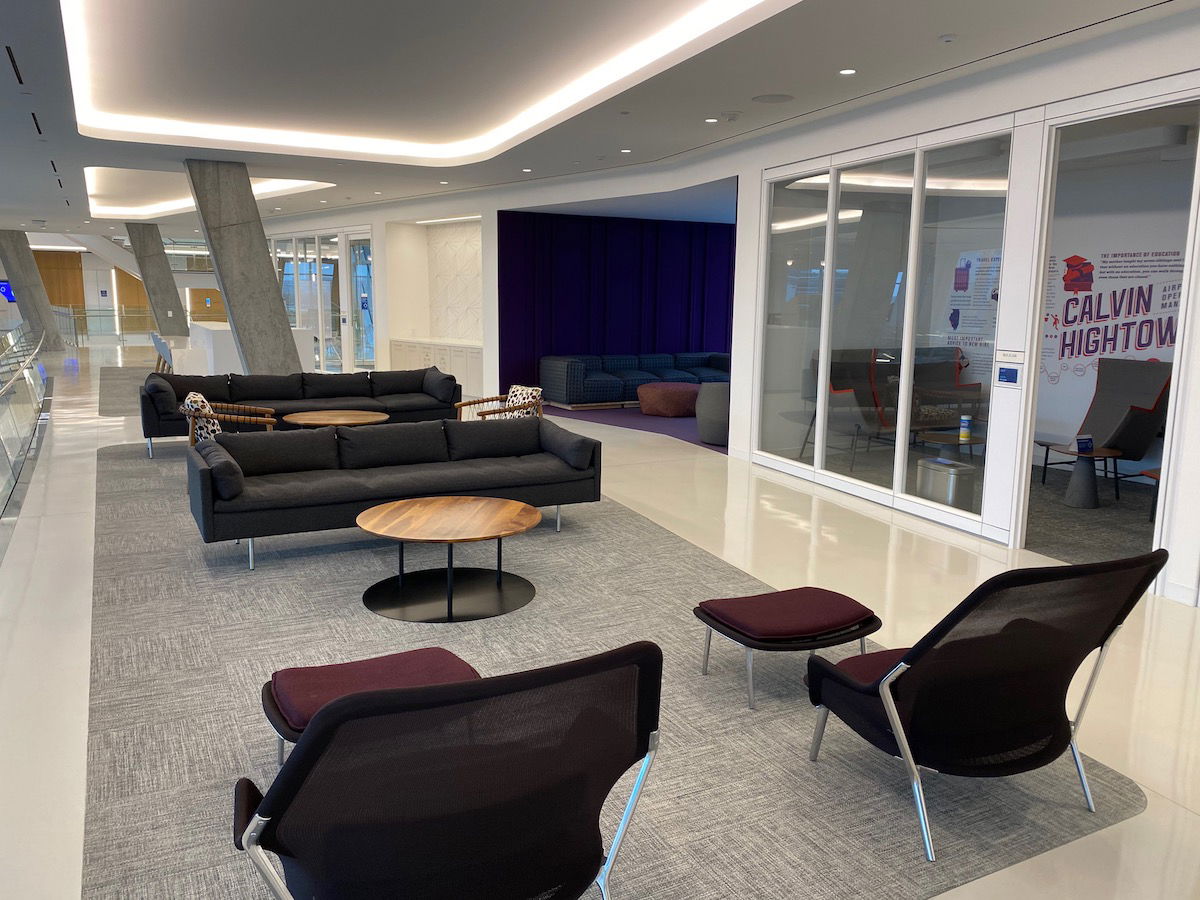 There were all kinds of dining venues throughout headquarters, ranging from a cafeteria, to a coffee shop, to a grab-and-go market.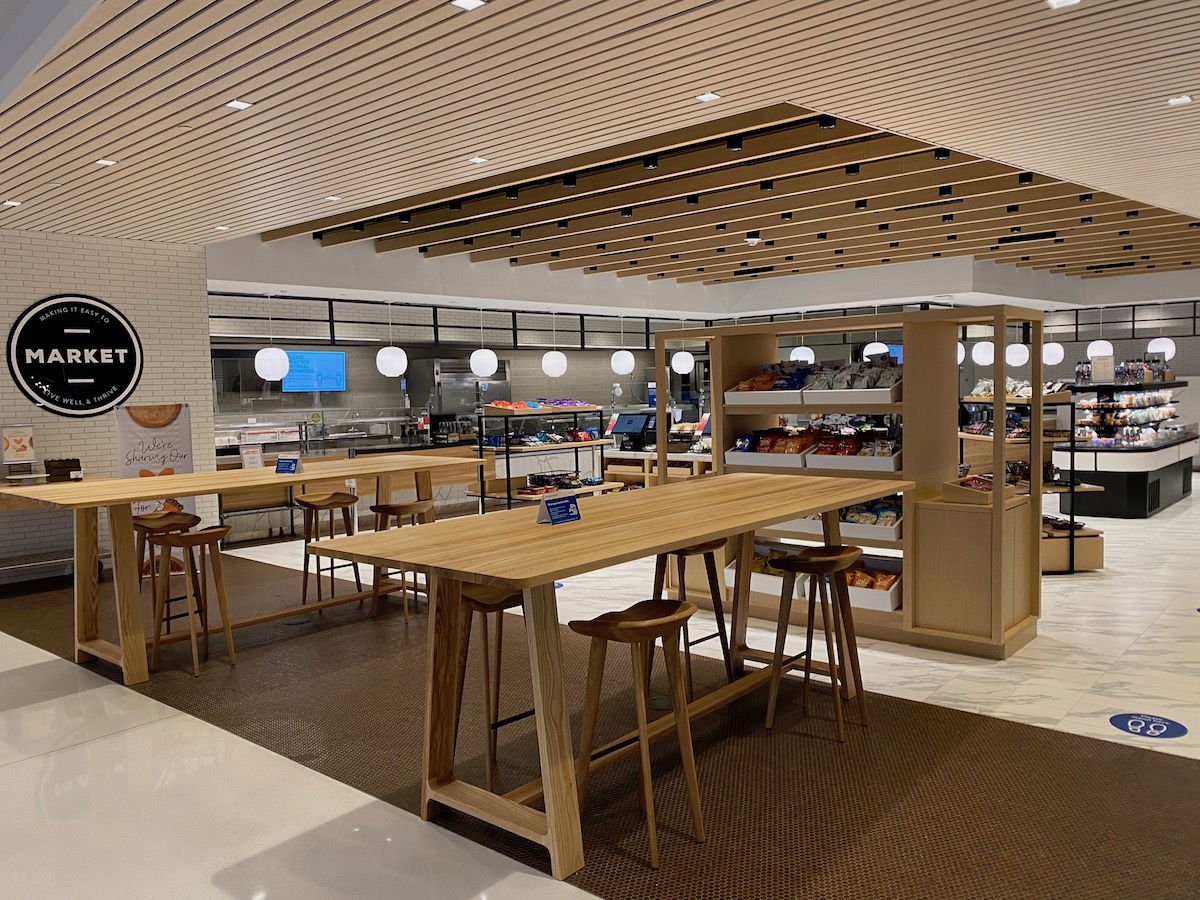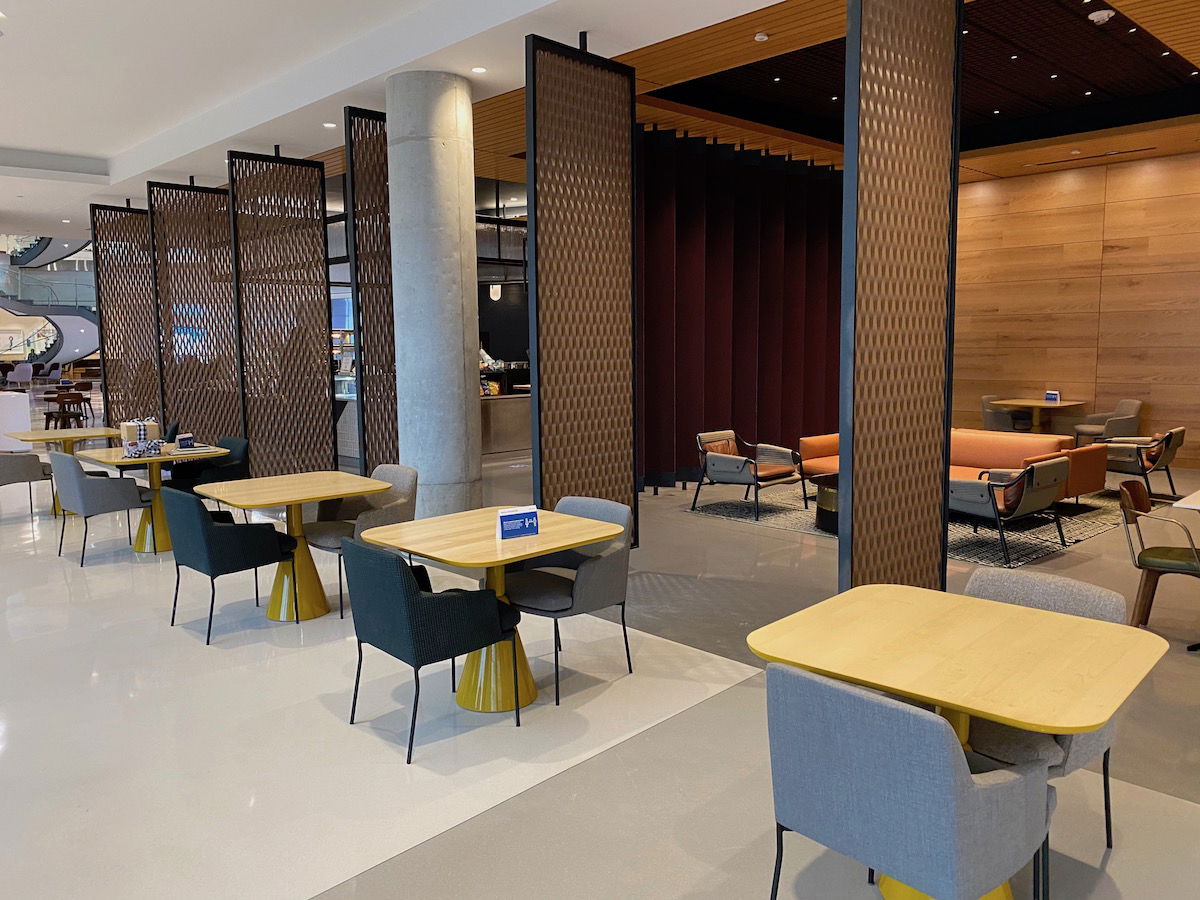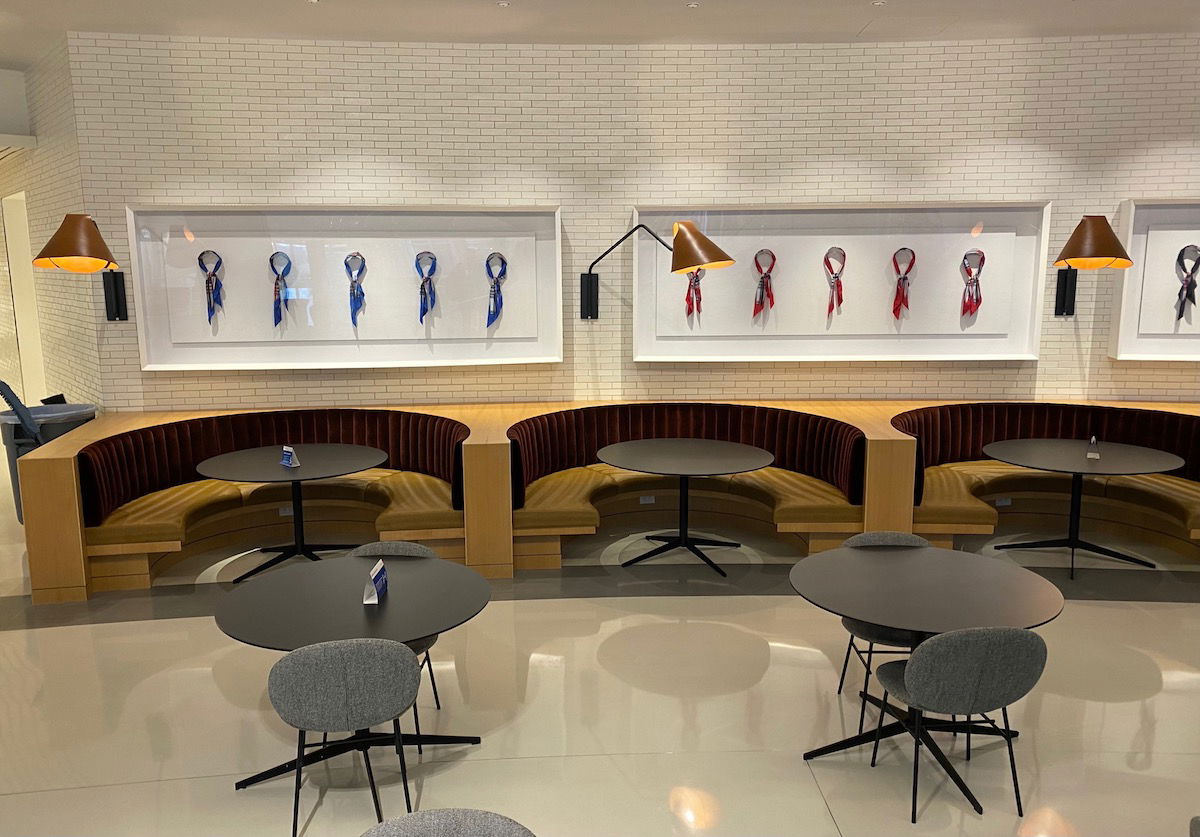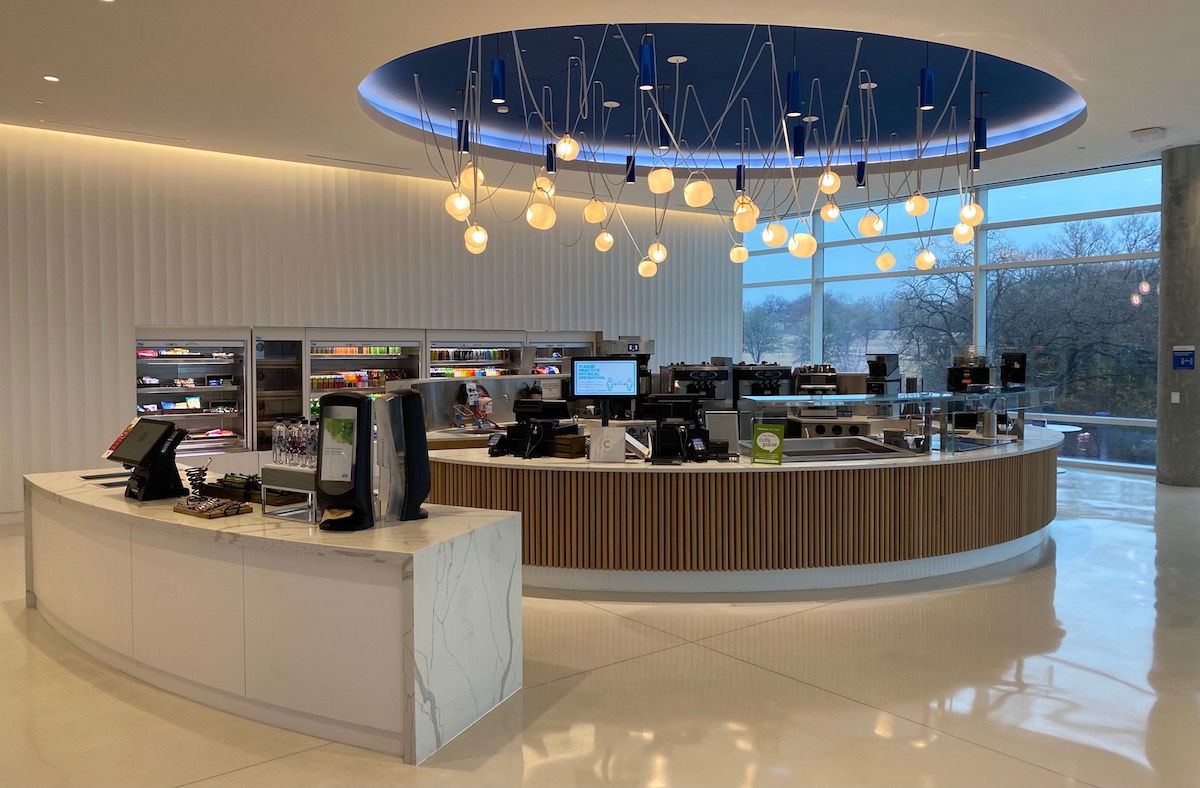 There's also a studio, where every video you see produced from American headquarters is filmed.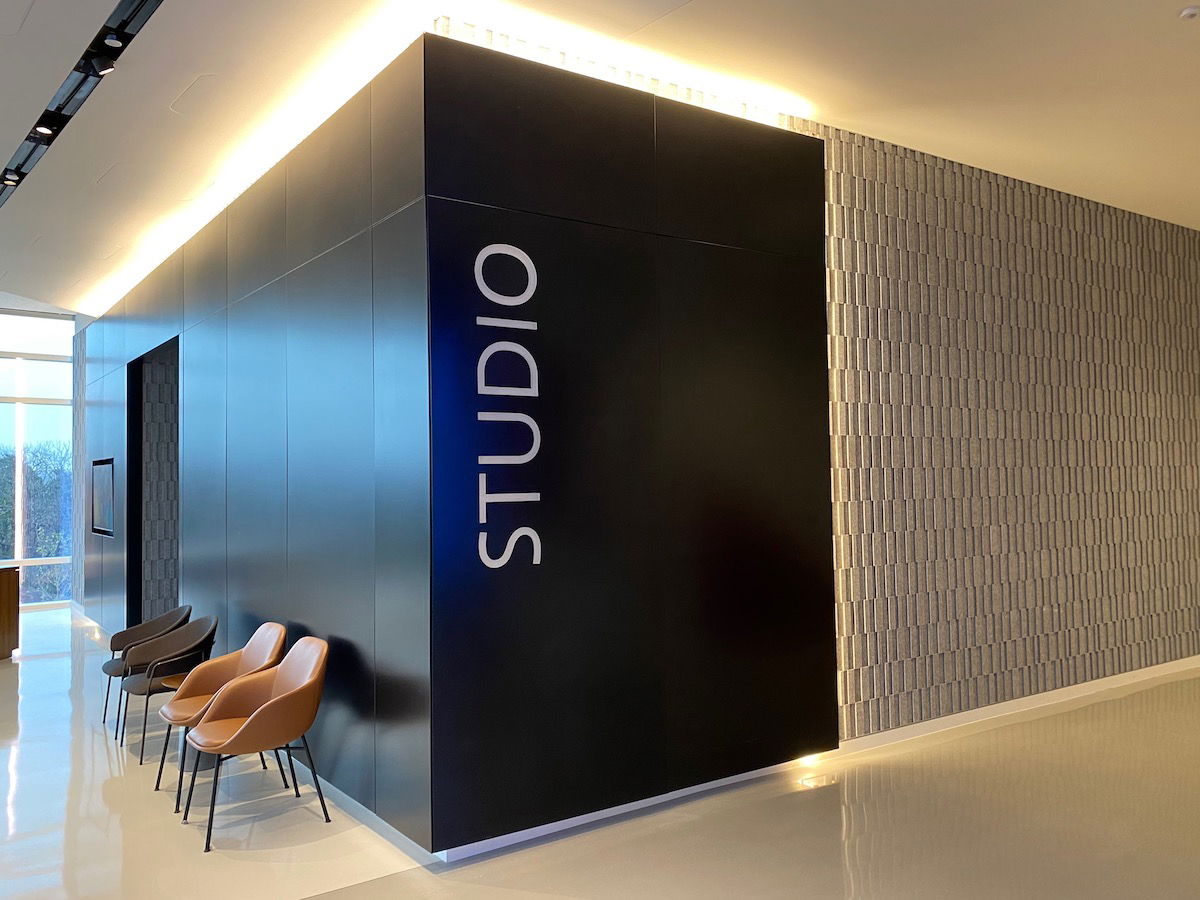 Skyview also had all kinds of other leisure areas, from pool tables to billiard tables. That being said, this wasn't like one of those new-age tech campuses where you have everything from a gym to a swimming pool to a basketball court.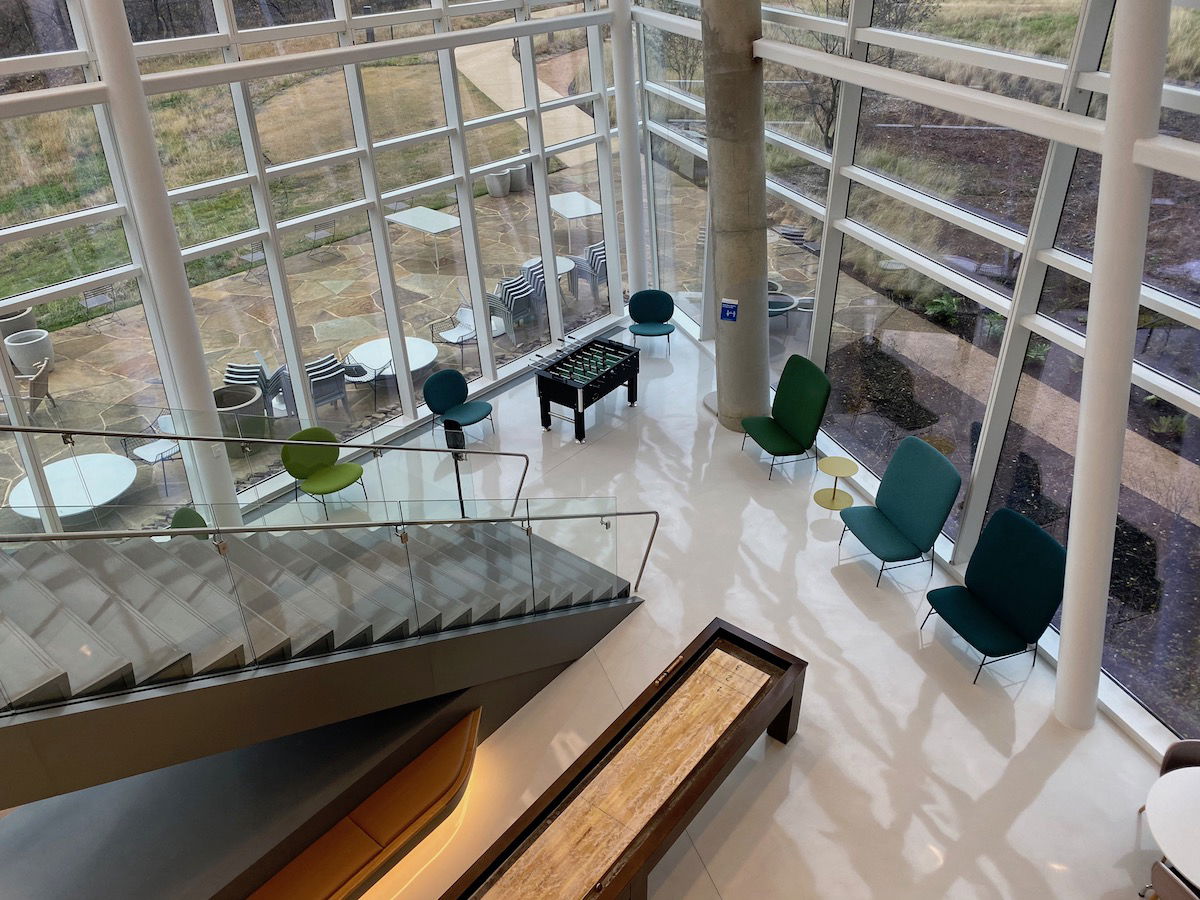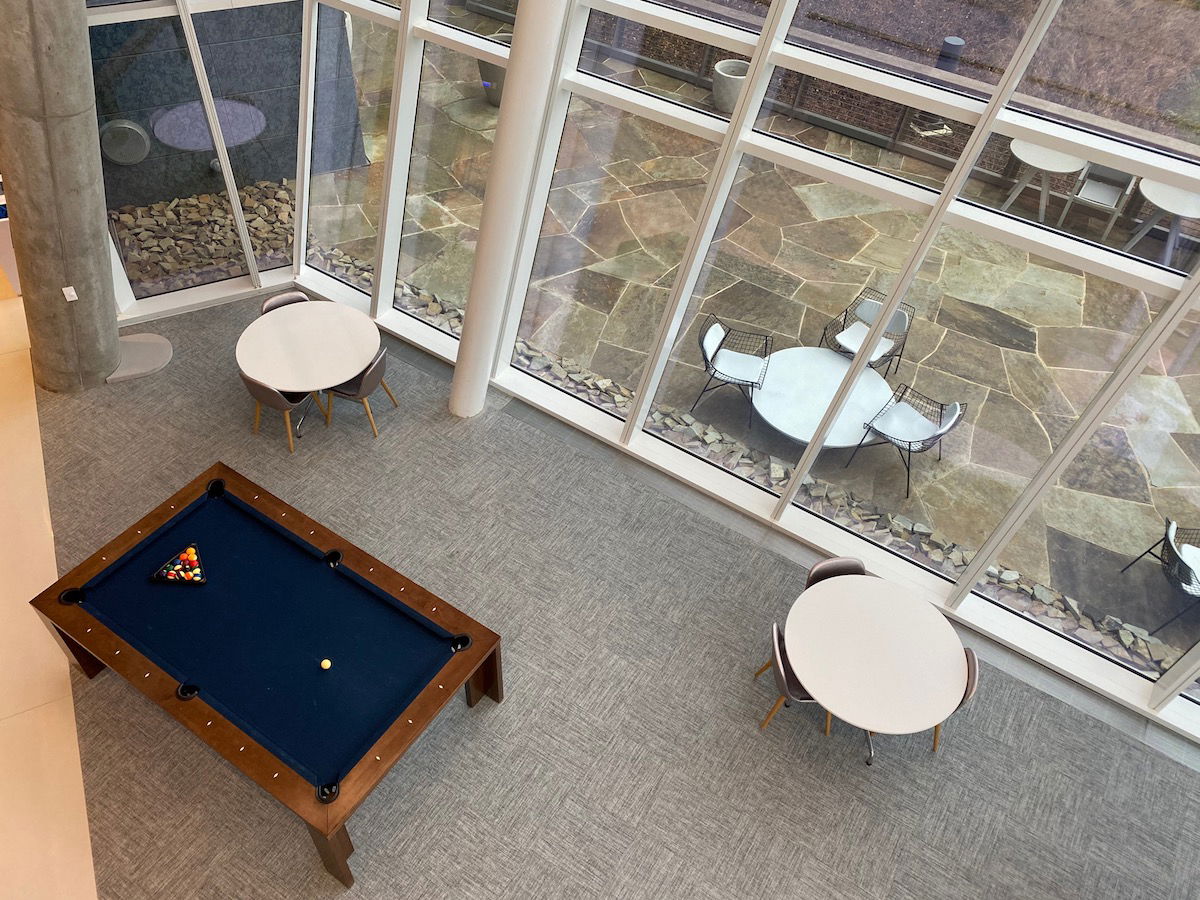 Frankly the thing that stood out most to me about this visit is just how many people work on the back-end to make airlines function the way they do. Sure, I knew that was the case in theory, but it really puts things into perspective when you see just how much space there is in a building like this.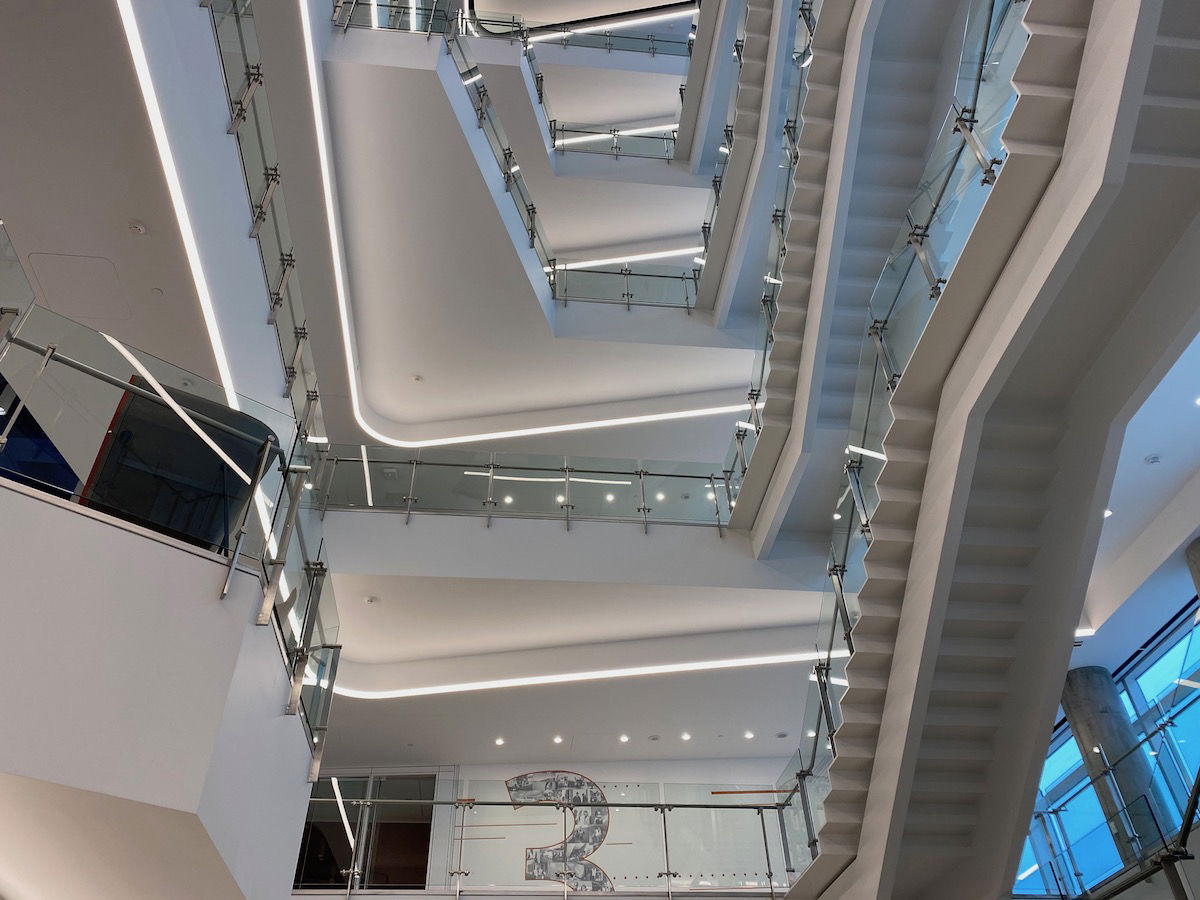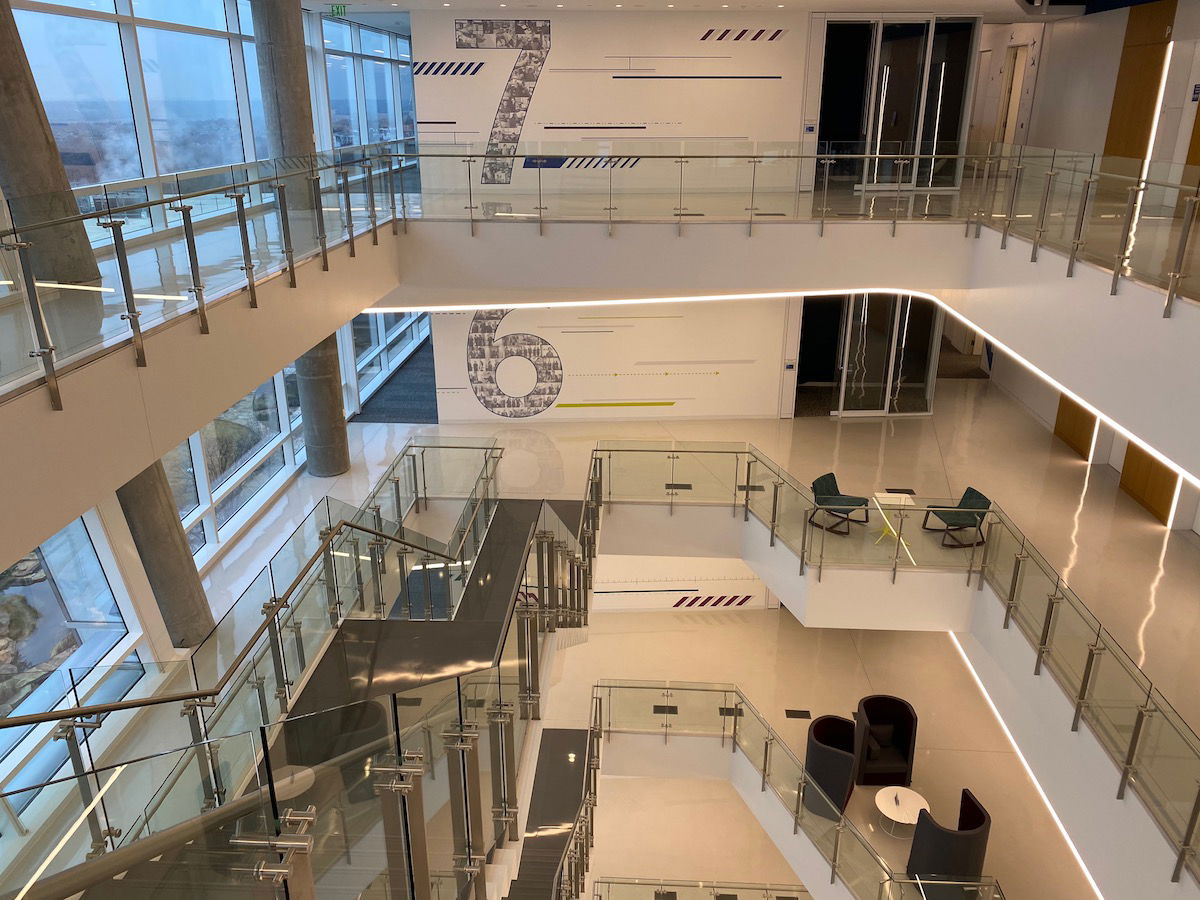 This is a really cool office, but…
I've never worked for a big company, or in a formal office environment. So perhaps the logical follow-up question is "so, with an office this cool, do you wish you worked in the corporate world?"
Heck no. I absolutely loved visiting, but I couldn't imagine coming into an office like this every day. Not because it isn't beautiful, but because I'm an introvert, and I would find this kind of environment to be incredibly exhausting (even though there are plenty of areas where introverts can go to escape here).
I fully recognize that I'm lucky that I have this kind of flexibility, though I also know plenty of people who have the opposite perspective that I do. I've had friends who are now forced to work from home message me and say "how do you do this, I'm about to lose it?"
Different folks, different strokes. Winston is the only (home) office companion I'll ever need…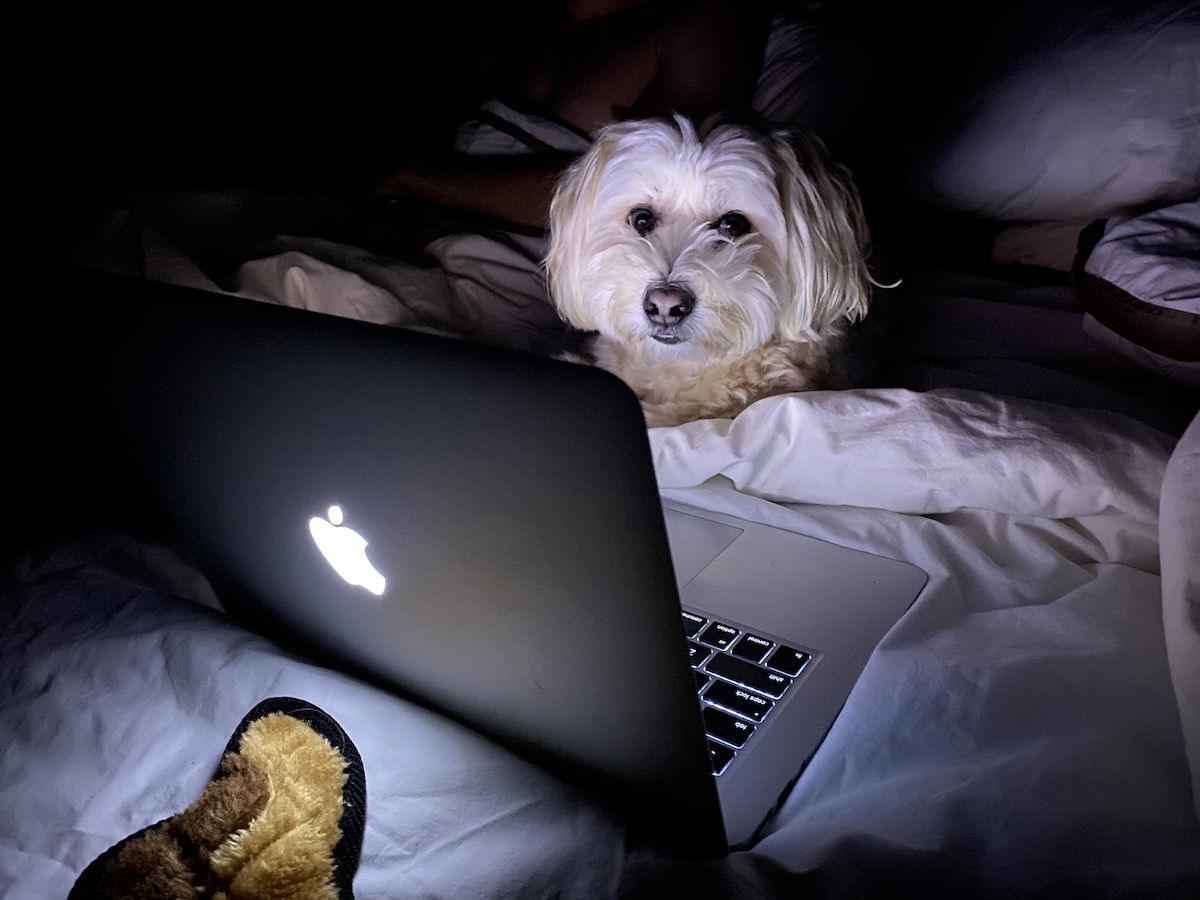 Sorry, it's the COVID-19 era, so I should have posted this picture…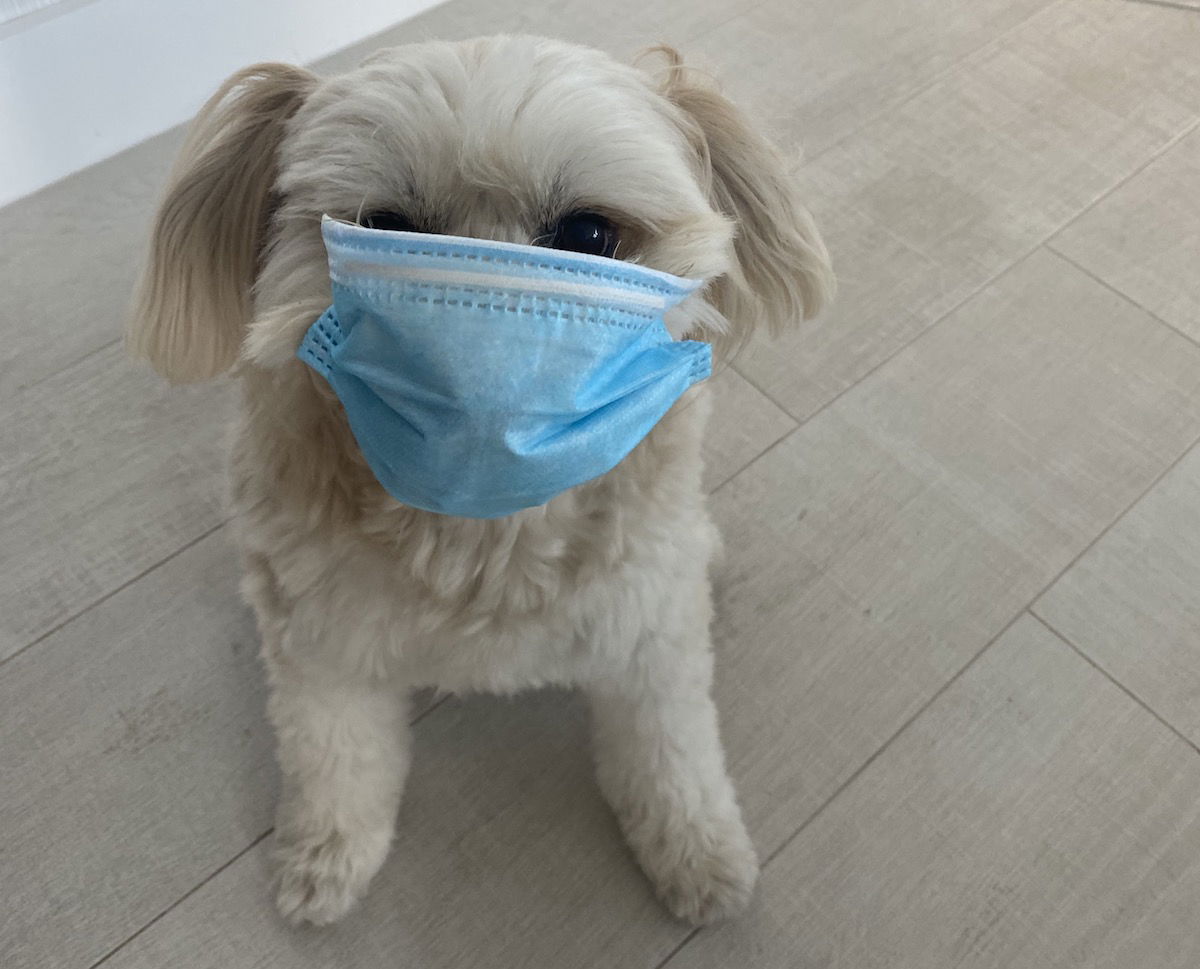 Bottom line
American Airlines' new headquarters opened in 2019, and it's a ridiculously impressive building that any aviation geek will love. I'm grateful I had the opportunity to visit, as I haven't been to many airline headquarters (by design). As far as I know, American is the only US airline to have offices this new and modern.
For better or worse I'm sure I didn't get a true sense of the buzz this place usually has, given how eerily quiet it was.
What do you make of American Airlines' headquarters?