Earlier this year, JetBlue and Qatar Airways announced plans to expand their partnership. This followed American and Qatar Airways launching a strategic partnership, and American and JetBlue launching a strategic partnership. JetBlue and Qatar Airways have now taken their relationship to the next level, and have introduced reciprocal mileage earning. Let's go over all the details.
JetBlue & Qatar Airways expand codeshares
As of April 2021, JetBlue and Qatar Airways introduced an expanded codeshare agreement. While the airlines have had some form of a partnership since 2011, this signified the partnership being taken to the next level. With this change, it became possible to book Qatar Airways flights between select markets directly on jetblue.com, even if no segments were on JetBlue.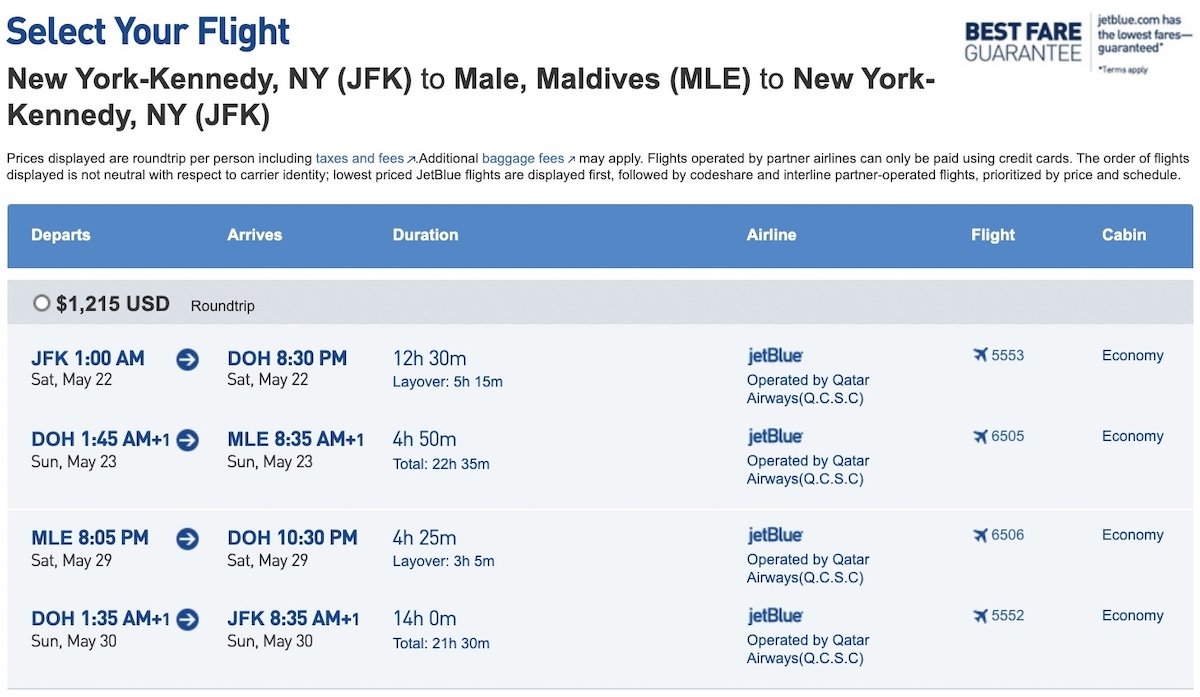 Now, generally you're still better off booking direct unless you're planning an itinerary that involves travel on both airlines, but it's still cool to see. Qatar Airways may have cheaper fares direct, you have more mileage earning potential if you're on a direct "QR" code flight (not to be confused with the "QR codes" that have become so commonplace due to coronavirus), and it'll be easier to make changes if there are schedule changes or you need to cancel.
With this development, the "B6" (JetBlue) code has been placed on flights between the following nine airports and Doha's Hamad International Airport (DOH):
Boston Logan International Airport (BOS)
Chicago's O'Hare International Airport (ORD)
Dallas/Fort Worth International Airport (DFW)
Hartsfield–Jackson Atlanta International Airport (ATL)
Houston's George Bush Intercontinental Airport (IAH)
Miami International Airport (MIA)
New York's John F. Kennedy international Airport (JFK)
Philadelphia International Airport (PHL)
Washington Dulles International Airport (IAD)
This is intended to provide unique connectivity between the United States, the Caribbean, and Latin America, and Africa, Asia, and the Middle East.
On top of that, the JetBlue code has been placed on Qatar Airways flights to the following seven destinations beyond Doha, allowing further connections:
Amman, Jordan's Queen Alia International Airport (AMM)
Malaysia's Kuala Lumpur International Airport (KUL)
Maldives' Male International Airport (MLE)
Oman's Muscat International Airport (MCT) & Salalah International Airport (SLL)
Seychelles International Airport (SEZ)
Singapore Changi Airport (SIN)
Uganda's Entebbe International Airport (EBB)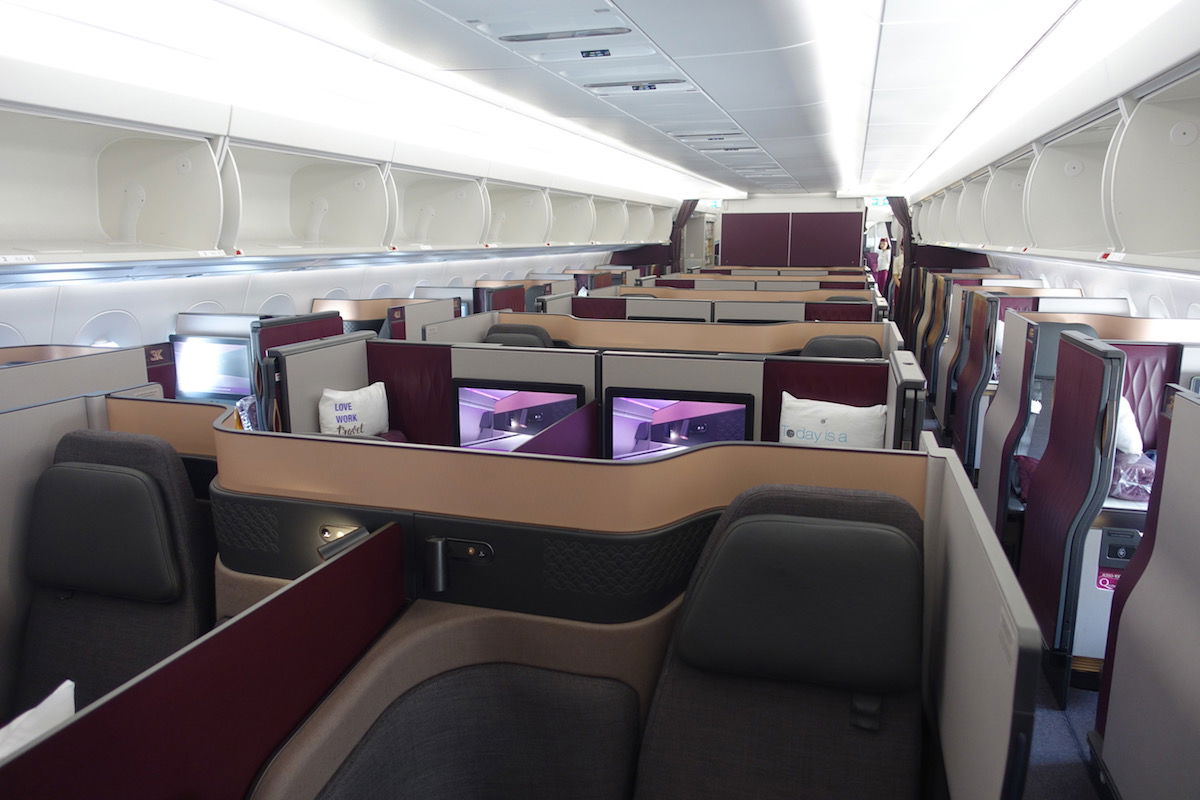 Reciprocal mileage earning is now live
As of today, JetBlue TrueBlue and Qatar Airways Privilege Club have launched reciprocal mileage earning opportunities.
Here's the chart for earning Qatar Airways Qmiles for travel on JetBlue: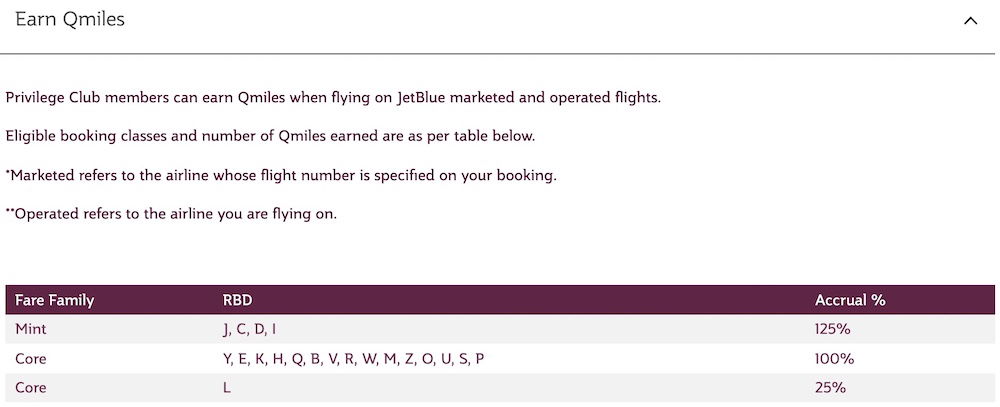 Here's the chart for earning JetBlue TrueBlue points for travel on Qatar Airways: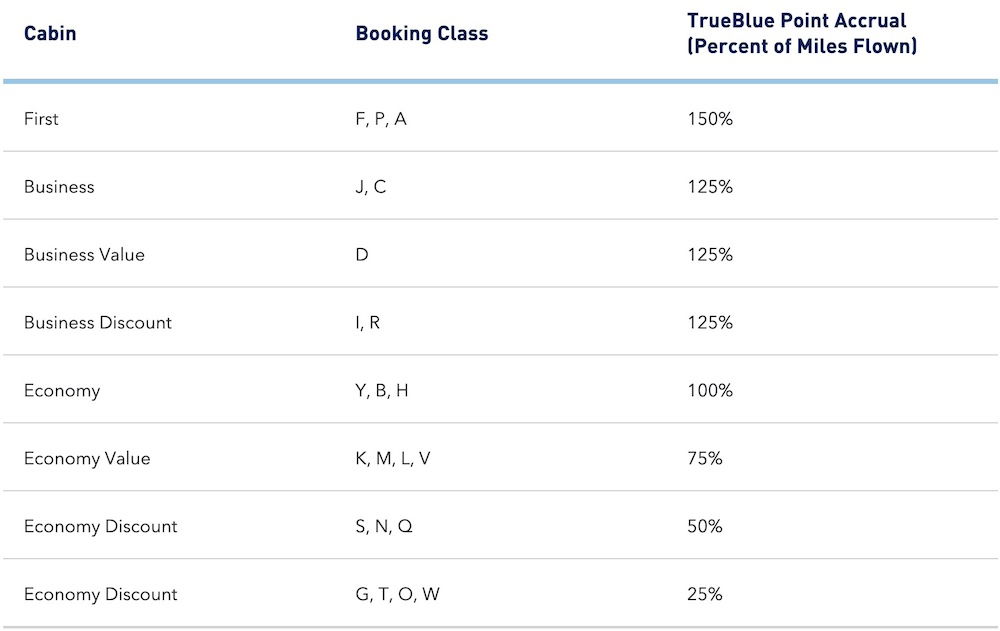 As you can see, in both cases miles are accrued as a percentage of the distance flown.
It's also stated that we can expect reciprocal mileage redemptions at some point in the future. However, there's no timeline for that yet, and there are no further details about what redemption rates will be like. For that matter, the Qatar Airways Privilege Club partner award chart isn't very lucrative, so I wouldn't expect that to be a very good deal even when it's live (conversely, Emirates Skywards redemptions on JetBlue are quite a good deal).
Up until now one major downside of the TrueBlue program has been the lack of decent partner redemptions, and it would be awesome to see that change.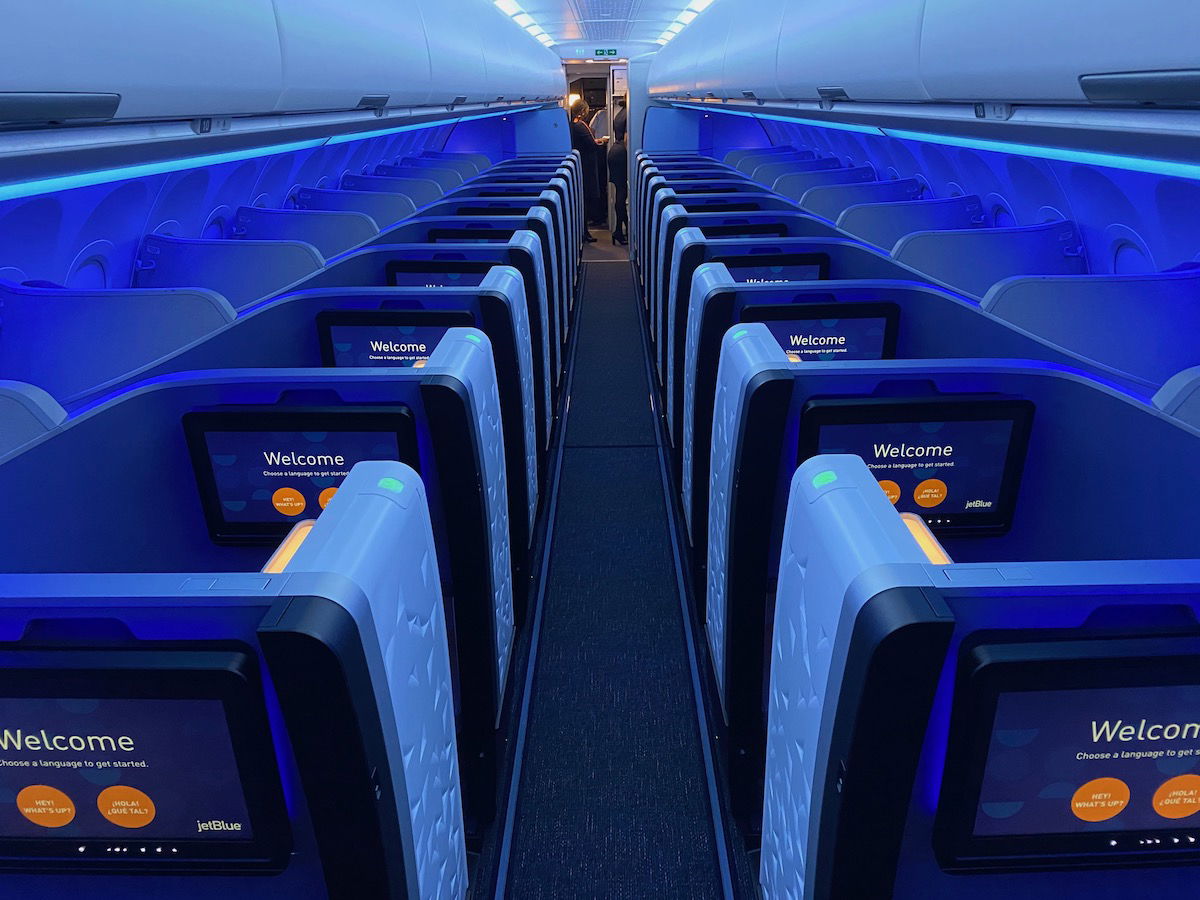 My take on this expanded partnership
I have three major thoughts and takeaways from this announcement.
First of all, I'm thrilled to see Qatar Airways' success as of late, in particular with the airline improving partnerships with both other airlines and countries:
For years we saw a battle between US and Gulf carriers, and that's now a thing of the past, with Qatar Airways partnering with Alaska, American, and JetBlue; Qatar Airways claims to partner with US airlines on more routes across the US than any other global airline
On top of that, the Gulf blockade was ended in early 2021, so Qatar Airways again has access to Bahrain, Egypt, Saudi Arabia, and the UAE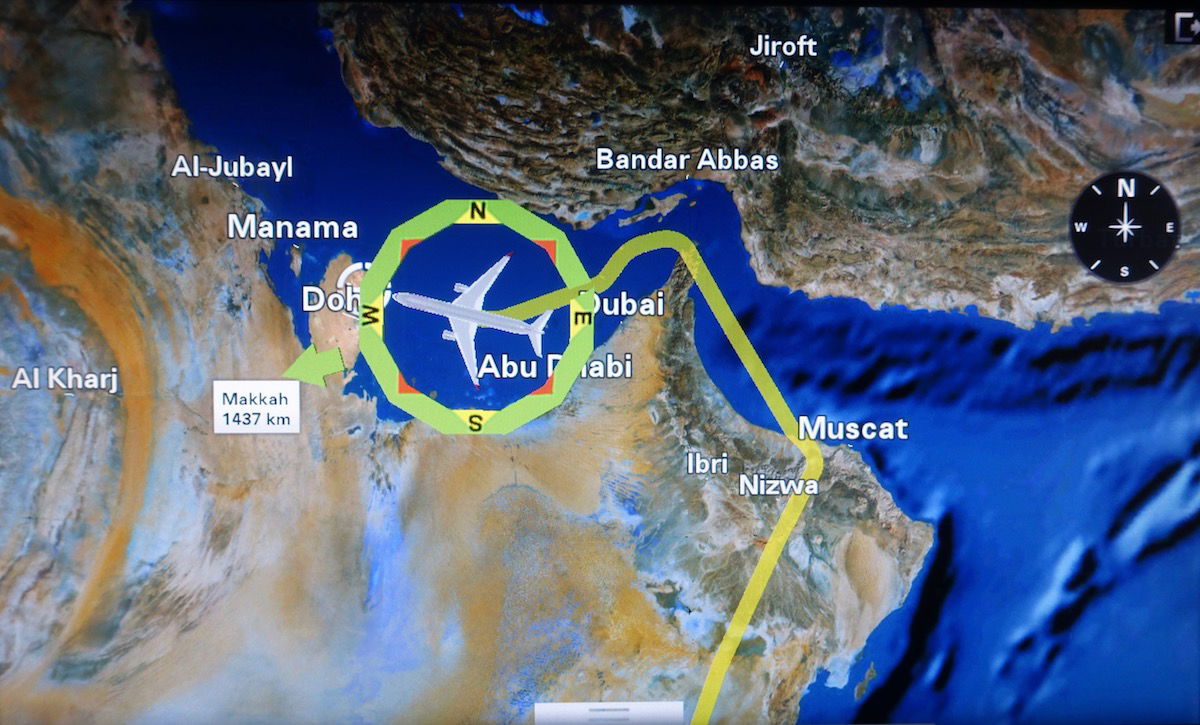 Second of all, there's the bigger question of how exactly the American, Alaska, and JetBlue partnerships will evolve:
American now has separate close partnerships with Alaska and JetBlue
Qatar Airways has close partnerships with all of these airlines
Alaska Airlines recently joined oneworld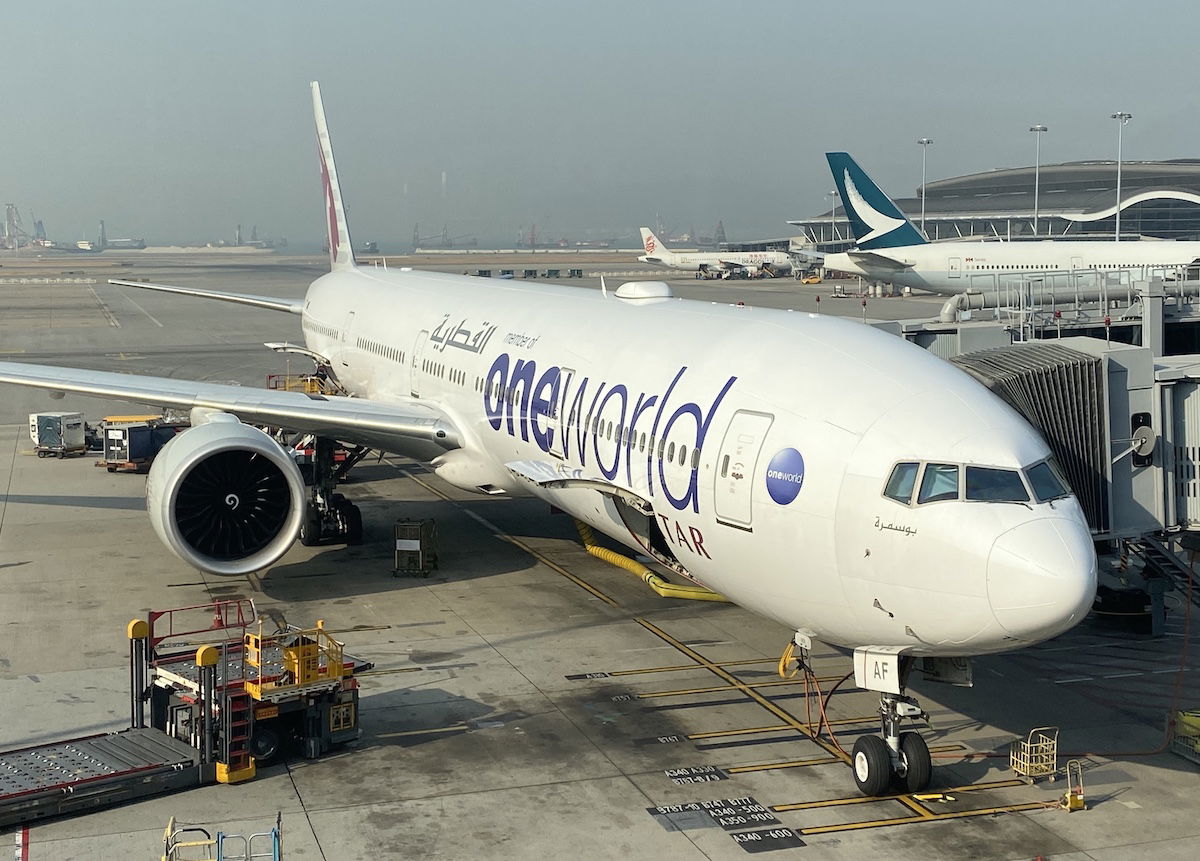 While I wouldn't necessarily read into this purely based on this development, some questions remain:
Could we eventually see JetBlue join the oneworld alliance, especially with the alliance actively recruiting new members? It seems unlikely, but then again, a couple of years ago it would have seemed unlikely for Alaska to join oneworld, so who knows
Will we see some consolidation in the US, either between American and Alaska, American and JetBlue, or Alaska and JetBlue? Regulatory issues aside, these airlines are largely complementary
A few years back Qatar Airways wanted to invest in a US airline, so one has to wonder if that might be on the table once again
Lastly, isn't it funny how it kind of just seems to be the whole airline industry vs. Delta here? Alaska, American, and JetBlue are basically teaming up to try to compete as efficiently as possible against Delta in many markets, and on top of that we know that Delta and Qatar Airways don't get along particularly well, to put it mildly.
Bottom line
In April 2021, JetBlue and Qatar Airways expanded their codeshare agreement, meaning that JetBlue now codeshares on most of Qatar Airways' routes out of the US. On top of that, as of today the two airlines have introduced reciprocal mileage earning, with reciprocal redemptions expected at some point in the future.
This is especially exciting news for Qatar Airways, as it now has three strong US partners. On top of that, I can't help but feel like we're eventually getting to the point where something further might happen between any combination of Alaska, American, and JetBlue (then again, at this point that would likely face regulatory issues, given that the DOJ is challenging the alliance between American and JetBlue).
What do you make of the expanded JetBlue and Qatar Airways partnership?