Yesterday I shared all the details of the new Hilton Honors program, which will be kicking off over the coming months.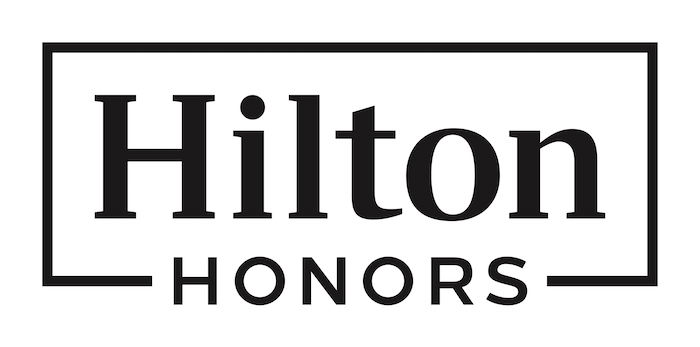 We're seeing five changes, really:
The name of the program is being changed from Hilton Honors to Hilton Honors
The introduction of points pooling, where you can pool points with up to 10 Hilton Honors members at no cost
The ability to redeem points for Amazon purchases; this isn't something any of us will likely ever use, but I can see value in this for the "average" person
The ability to extend Diamond status for free as a one-time benefit, assuming you've earned Diamond for three years and have at least 250 lifetime elite qualifying nights or 500,000 base points
The introduction of Points & Money awards, and in the process, Hilton is getting rid of their traditional award chart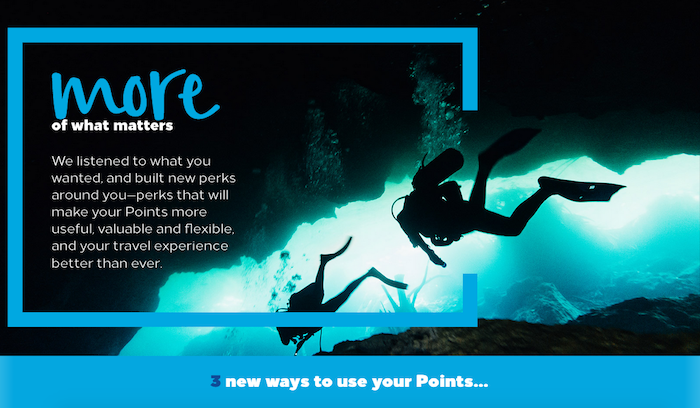 So I think we can all agree that the points pooling and Diamond extension are positive changes. The name change won't materially affect us, and I think the Amazon redemption option is something some will find valuable, though not those of us looking to maximize our points.
That leaves us with Hilton's new Points & Money awards, which the verdict is still out about.
The basics of Hilton's new award pricing
Hilton is completely changing up the way their award chart currently works, and in particular is reimagining their points plus cash awards. Presently their points plus cash bookings are capacity controlled. While they can offer outsized value, I also rarely see them available, personally.
Soon it will be possible to make a Points & Money booking for any reservation where a standard room is available for sale. You'll have the flexibility of a sliding scale, where you redeem anywhere between 1,000 points and for the full cost of the stay.
Here's how Hilton explains the changes in their own words:
Members will soon be able to choose nearly any combination of Points and money to pay for their stay.* With this new perk, Points pricing will become more flexible too.

What this means: Just as the rate of a hotel room can change, the number of Points for a reward stay can vary as well.

What's the benefit: When demand is lower, many nights will have a lower Points price. And when demand is higher, you won't need to redeem more Points than the maximum price today.

While the pricing will be mostly linear no matter how many points you redeem for each particular booking, the value you'll get per point through this option will vary depending on the reservation. We'll have to wait until we have a better sense of pricing before we draw too many conclusions.
As part of this, Hilton is also ditching their current system of having hotel categories, which look as follows: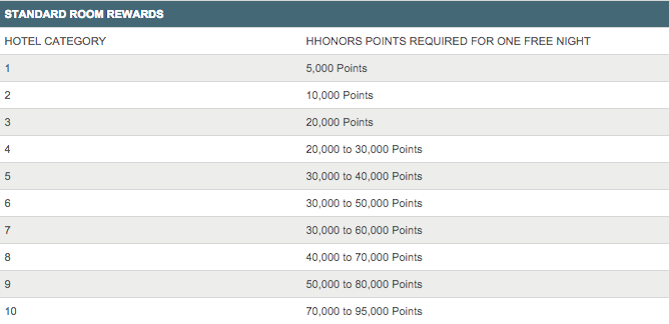 While that sounds bad, Hilton promises they won't charge more than the current maximum being charged for a given category. In other words, Hilton's most aspirational hotels won't cost more than 95,000 points per night. Here's a chart they made comparing the pricing under the new and old system: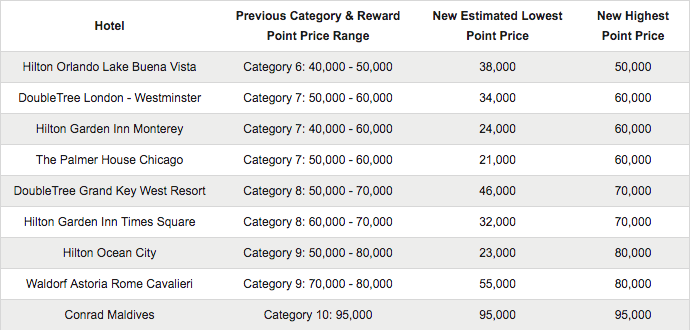 Hilton's program is already the closest hotel loyalty program to being revenue based, so I suspect we'll see that trend continue. In other words, we'll see stays become cheaper seasonally, though it remains to be seen what rates will be like otherwise.
What concerns me about Hilton's new award pricing
When I first heard about this, it sure sounded a lot like Delta SkyMiles and how they eliminated award charts. I value transparency, and on the surface eliminating award charts is not a transparent move. It makes it tougher for customers to know how much something should cost.
However, Hilton is also approaching this differently than Delta did. Specifically, Hilton Honors has a website where you can compare the old and new rates at Hilton properties now that the categories are being eliminated.

Hilton's award category system was confusing, given the range within each category. When the cost of a free night in a given category can vary by 30,000 points, and when a Category 6 stay could cost more than a Category 8 stay, is the system really that logical?
Let's look at some examples of new free night pricing
Given that Hilton Honors has a calculator showing the cost for various redemptions, let's actually play around with their online tool a bit.
Want to redeem at a Category 1 hotel? That will still cost just 5,000 points per night.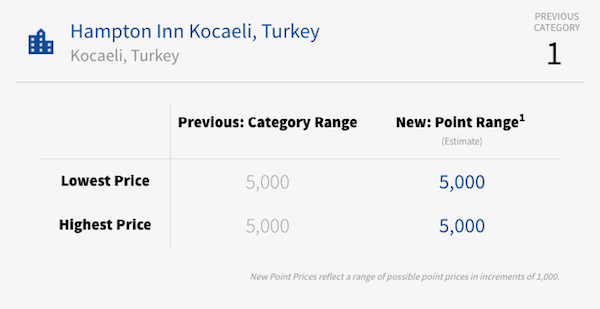 Do you want to redeem at a Category 10 hotel, like the Conrad Koh Samui? That will still cost no more than 95,000 points per night, though may end up being a bit cheaper in the off season.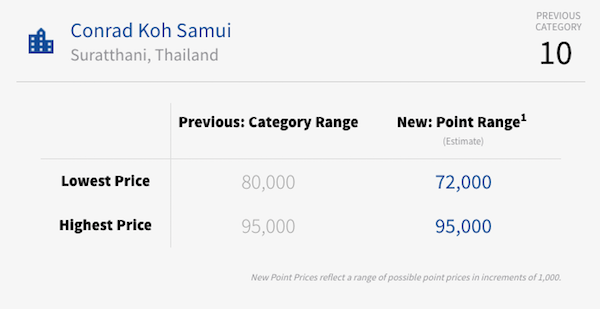 Given how high rates consistently are at the Conrad Maldives, that hotel will continue to cost 95,000 points per night no matter what.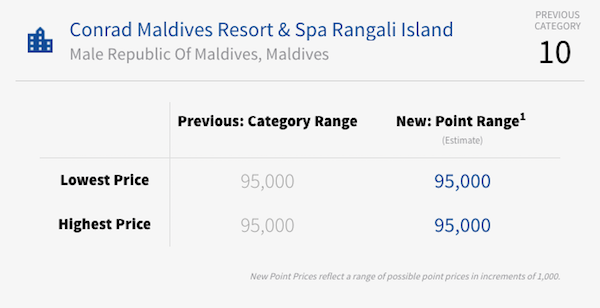 The mid-range hotels that many people found to be among the best redemption values will also remain mostly unchanged. For example, the DoubleTree Beijing will continue to cost 20,000 points per night.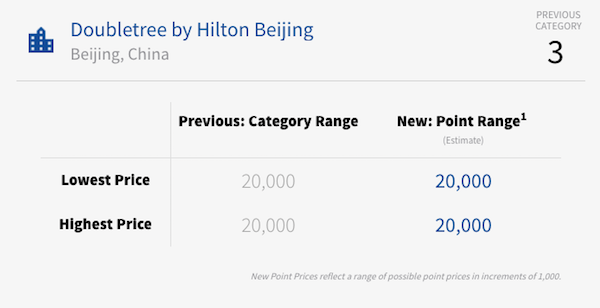 Meanwhile at the Hilton Seattle the cost of a free night presently ranges from 50,000 points (in the off season) to 70,000 points (in the peak of summer). Under the new program it will cost between 31,000 points per night (presumably in the very off season) and 70,000 points per night.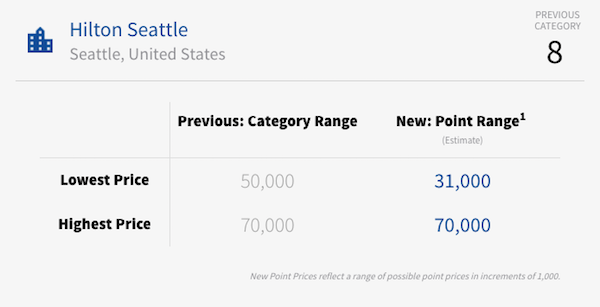 Meanwhile at the Hilton JFK, a free night currently costs 40,000-50,000 points per night, while under the new system it will cost 39,000-50,000 points per night. That's not much of a change.
My conclusion about Hilton's new award pricing
Ultimately we'll have to wait until booking is fully live to be able to determine the value of the new program. We'll want to see how often lower award rates actually available, and how much value you can get out of Points & Money rewards.
The upside here is that in the off season you'll be able to get a better value out of Hilton hotel stays. Furthermore, on the high end nothing is getting worse.
The potential downside is that we may see hotels more often than not priced towards the "top" of their category. In other words, in theory a hotel could presently be a Category 8, which ranges from 40,000 to 70,000 points per night. In reality that hotel could be 40,000 points per night year round, while under the new system they could price it 70,000 points per night most nights. However, in practice that's something that Hilton could already do without any sort of a published devaluation.
Hilton's program was already pretty close to being revenue based, in the sense that there was great pricing variability within each category. So the way I see it, this new system doesn't change things much, especially since the cost of the most expensive redemptions for each hotel won't be going up.
Like I said, we'll have to wait until the functionality is fully live to be sure, but I'm actually fairly optimistic about this. At least I see relatively limited downside.
What do you make of Hilton's new award pricing, now that the online tool is available? Notice anything that I missed?