In the interest of full disclosure, OMAAT earns a referral bonus for anyone that's approved through some of the below links. The information and associated card details on this page for the Hilton Honors American Express Surpass
®
Card, and Hilton Honors American Express Aspire Card have been collected independently by OMAAT and has not been reviewed or provided by the card issuer. These are the best publicly available offers (terms apply) that we have found for each product or service. Opinions expressed here are the author's alone, not those of the bank, credit card issuer, airline, hotel chain, or product manufacturer/service provider, and have not been reviewed, approved or otherwise endorsed by any of these entities. Please check out
our advertiser policy
for further details about our partners, and thanks for your support!
Every loyalty program has a different policy when it comes to being able to combine points among members. Arguably Hilton Honors has the most generous policy of any program when it comes to letting members combine points, so I wanted to take a closer look at that in this post.
For what it's worth, I've written in the past about the policies of Marriott Bonvoy and World of Hyatt when it comes to combining points.
Basics of combining Hilton Honors points
Hilton Honors offers what's arguably the most generous free feature for combining points that you'll find at any hotel loyalty program. First let's go over the basics:
Hilton Honors members can transfer points to other members at a 1:1 ratio at no cost
Points can be transferred in increments of 1,000
Each Hilton Honors member can transfer no more than 500,000 points and receive no more than 2,000,000 points per calendar year
Each Hilton Honors member is limited to making six transfers to other members per calendar year
New Hilton Honors members can pool, transfer, or receive points 30 days after enrollment, assuming they have some activity on their account; assuming there's no activity, members are eligible 90 days after account opening
While bartering points isn't allowed, beyond that there's no limit on who you can transfer points to, meaning that this isn't strictly for family members, for people at the same household, etc.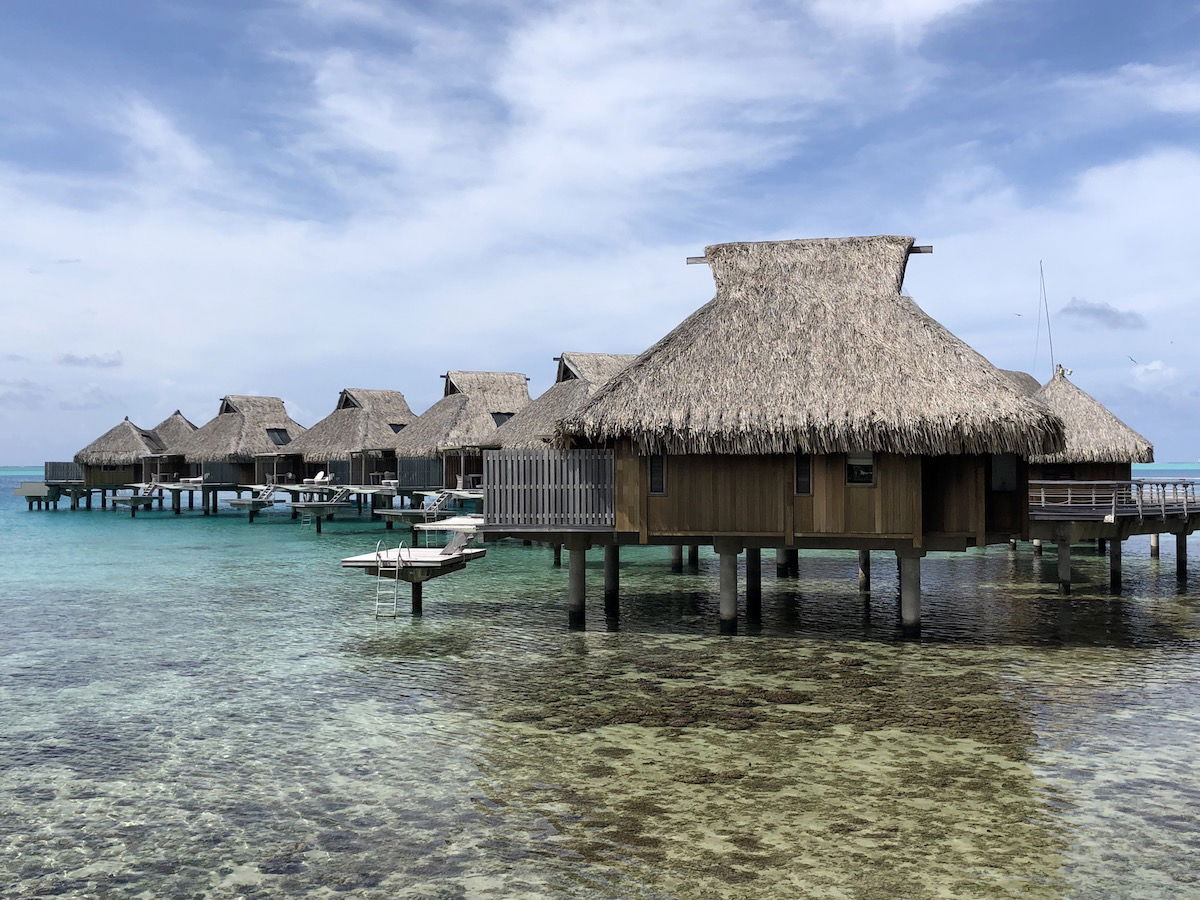 Difference between points pooling & combining points
Technically Hilton Honors has two features by which you can combine points for free, and this can cause quite a bit of confusion. These two options are as follows:
There's the free points transfer feature, where one Hilton Honors member can transfer points to another Hilton Honors member
There's the free points pooling feature, where up to 11 Hilton Honors members can pool points
The reality is that these two options are more similar than they may sound. The same limits exist on points transfers regardless of which method you choose:
If you choose the points transfer option, you can choose to transfer points to anyone, and the receiving member's participation isn't even needed
If you choose the points pooling feature, the person wanting the points would request points from the person sending them, so it's more of a collaborative effort
The end result is the same, though, which is that points are being consolidated in one account. Given the similar restrictions on transfers, personally I think it's easier to just use the points transfer feature over the points pooling feature, which just adds an unnecessary step.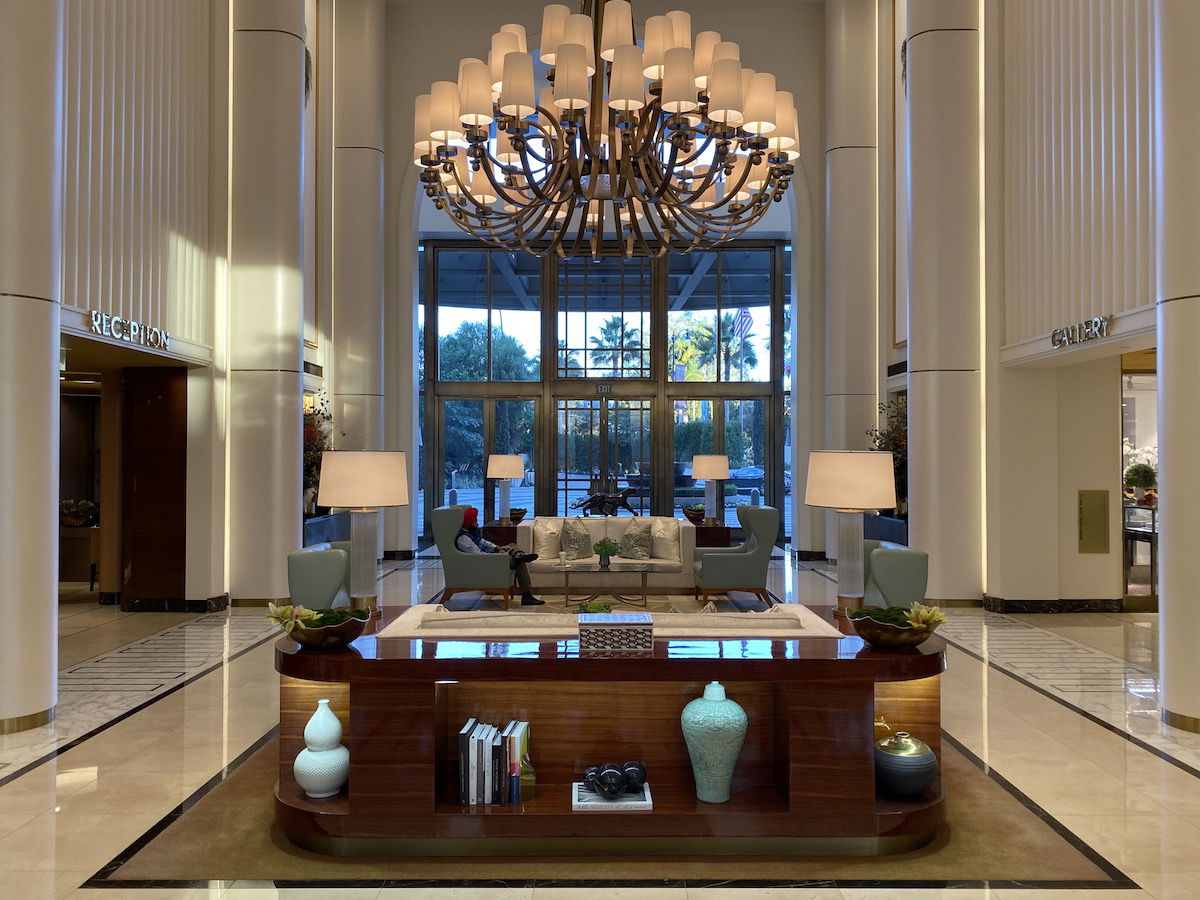 Why you should care about combining Hilton points
Before we talk about how combining Hilton points works, why should you even care about this feature? There are a few reasons this could make a difference:
If you don't have enough points for a free night redemption, combining points could get you there
If you're making a longer stay, there's value in having enough points for four nights in one account, since Hilton offers a fifth night free on award redemptions when booking a consecutive stay
If you're a couple and one person has Hilton Honors Gold or Hilton Honors Diamond status but the other doesn't, this is an easy way to get points into the account of the elite member, so you can maximize elite perks
This could be useful if you want to maximize the points you can get in one account through credit card sign-up bonuses, buying points, etc.
Long story short, being able to combine points just gives you a lot more flexibility.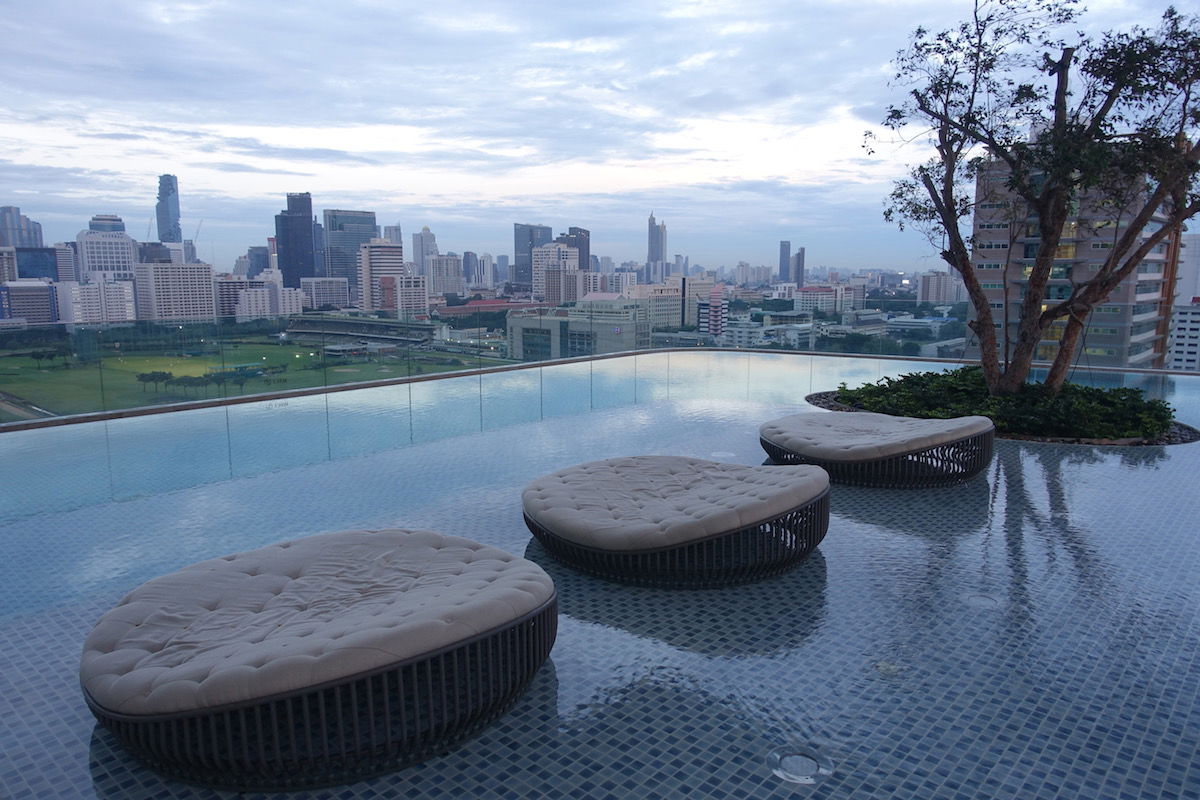 Guide to combining Hilton Honors points
The process of combining Hilton Honors points differs based on whether you're just looking to make a simple transfer, or are looking to create a points pool with up to 11 accounts.
How to transfer Hilton Honors points
This is the most basic function, and also what I recommend. Visit the Hilton Honors points transfer page to start the process of transferring points from one Hilton Honors account to another.
You'll be prompted to log into your Hilton Honors account, and then will be asked to enter the number of points you want to transfer (between 1,000 and 500,000), along with the name, email address, and Hilton Honors number of the person you want to transfer points to.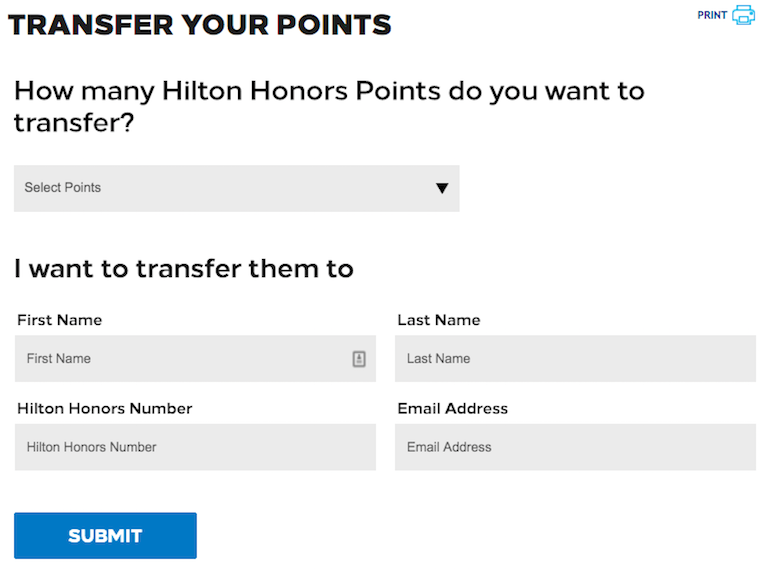 This is still facilitated by points.com (as points purchases usually are), except in this case you're not paying anything. While the points are supposed to be available for redemption immediately, they may only show in your online account activity 24 hours after the transaction was processed.
How to pool Hilton Honors points
This is the function to be aware of if you want to have up to 11 people combine points into one account. Visit the Hilton Honors points pooling page to start the process of creating a pooling account with multiple Hilton Honors members.
While the points transfer feature only requires the participation of the member who is transferring points, the process of pooling points requires participation of all members involved. One person can start sending invitations to pool points, which requires entering the names and email addresses of the people you want to invite.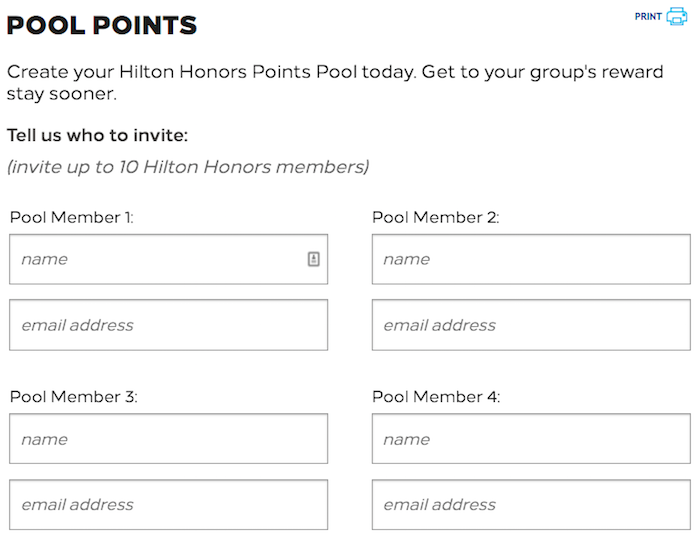 That person will receive an email invitation to join your points pool, at which point they can transfer points to you.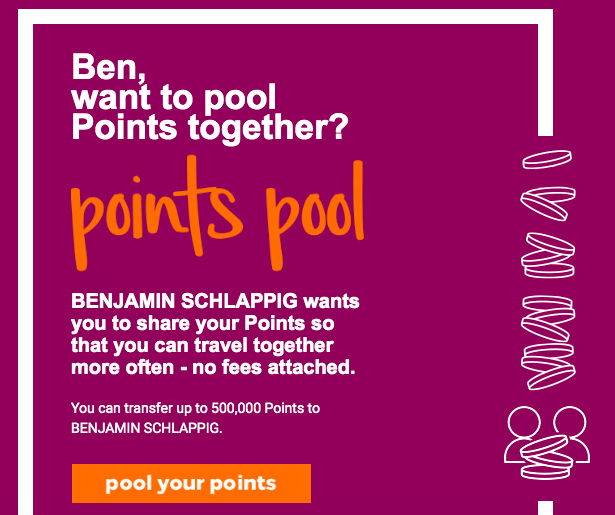 The person will have to log into their Hilton Honors account, and then they'll be brought to the same page for combining points as above.
If the member does choose to pool/transfer points, the person who invited them will be informed.
The reality is that this process is more or less the same as just combining points, with the difference being that someone is prompted to transfer points, rather than just doing so straight out of their account with no prompting.
Best ways to earn Hilton Honors points
Not only does Hilton Honors offer an excellent rate of return (in points) on hotel stays, but there are lots of other great ways to earn Hilton Honors points.
For one, there are four excellent co-branded Hilton Amex credit cards in the United States, including the following:
On top of that, Hilton Honors often sells points at a discount. In many cases there's a 100% bonus on purchased points, which allows you to purchase points for just 0.5 cents each. This can be a great deal, particularly for high-end redemptions.
The information and associated card details on this page for the Hilton Honors American Express Aspire Card and Hilton Honors American Express Surpass Card has been collected independently by OMAAT and has not been reviewed or provided by the card issuer.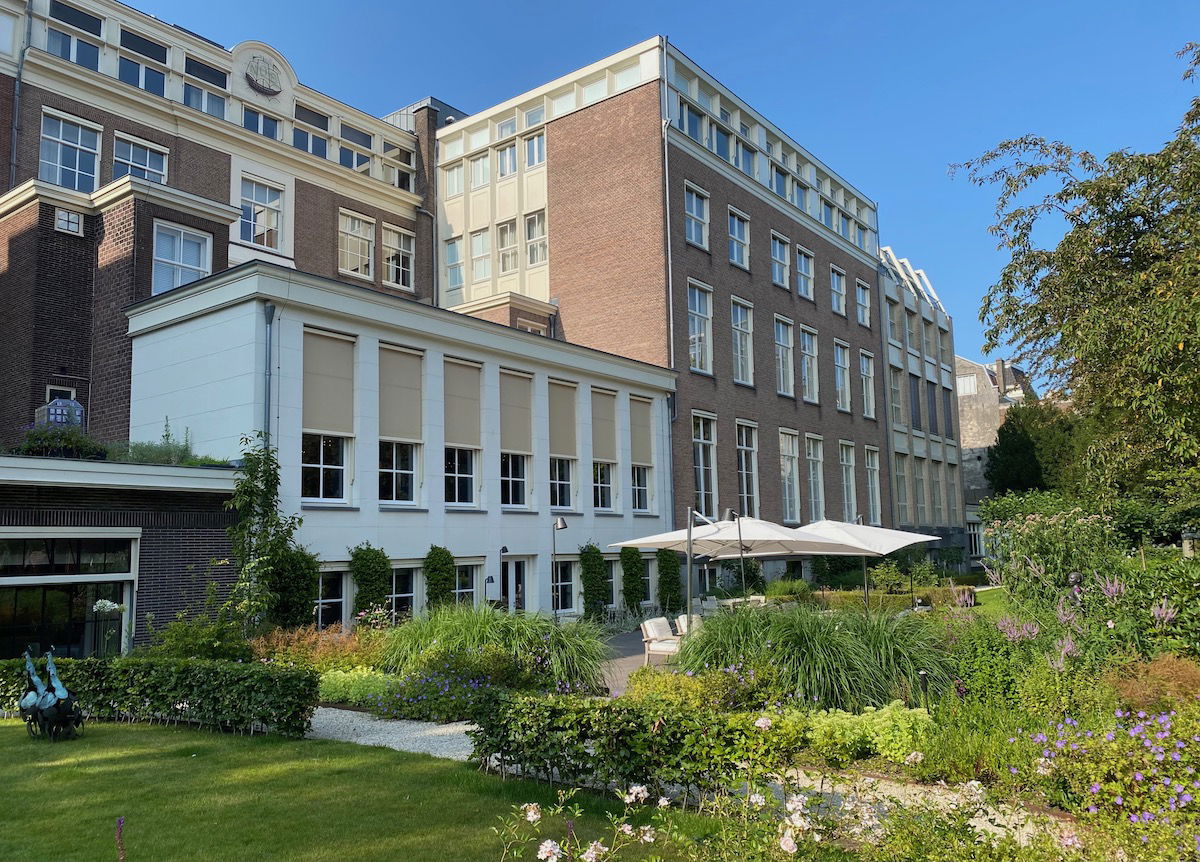 Bottom line
It's always nice to easily be able to move points between loyalty program accounts in order to maximize them. As far as hotel loyalty programs go, Hilton Honors has what's arguably the best option for combining points.
You can combine points at no cost, with some reasonable limits in place. You can either use the standard points transfer option, or you can go through the process of pooling points; personally I find the former option to be easier.
Have you ever used Hilton Honors' points pooling feature? If so, what was your experience like?