Avianca joined the Star Alliance a few years back, and their LifeMiles program is one the most useful frequent flyer programs out there. They frequently sell miles at a discount, for as little as ~1.32 cents each. They're probably the most aggressive airlines out there about selling miles, and their offers seem to keep getting better.

The program hasn't been without problems, though. For a couple of years they blocked virtually all Lufthansa first class award seats. That has recently been changed, and it's once again possible to redeem LifeMiles for Lufthansa first class.
But perhaps the single biggest pain of booking with them has been that LifeMiles didn't allow mixed cabin awards, which is an absolutely ridiculous policy. In other words, if you're flying Lufthansa first class from Boston to Frankfurt, you couldn't connect in economy or business class on an intra-Europe flight. That's despite the fact that there's no first class cabin on those flights.
The policy is entirely non-sensical, and they're the only program I know of which doesn't let you voluntarily "downgrade" a segment of your award, either based on availability, or because the flight actually doesn't have premium cabin award availability.
I suspect this restriction was initially an IT limitation or glitch of some sort, and then they ended up seeing that it was saving them money on award redemptions, so they kept it. Well, not anymore.
LifeMiles mixed cabin awards now possible
LifeMiles now lets you book mixed cabin awards, either through their website or call center (not that I'd ever recommend booking a LifeMiles award through the airline's call center).
For example, you can now book an award in Lufthansa first class from the US to Europe, and then a connection in intra-Europe business class on the same award.
Similarly, you can book an Asiana first class transpacific flight, and then include a connection in economy because there's not a first class cabin on the plane and isn't any business class award availability either.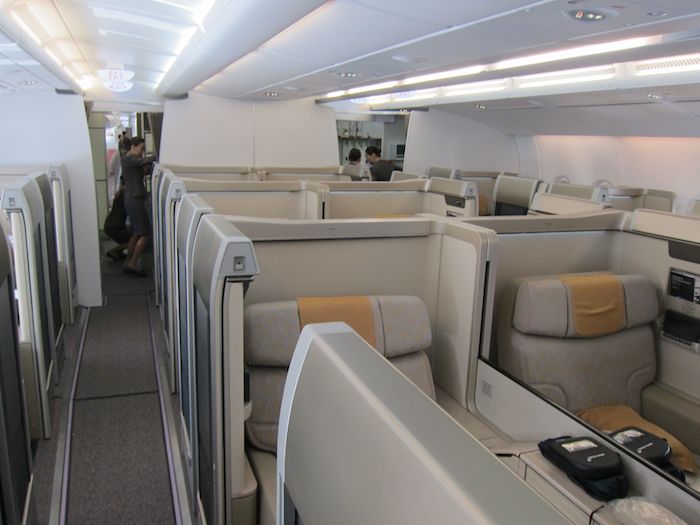 Asiana first class cabin
There's even a special disclaimer when you book a mixed cabin award, where they make you acknowledge that you're agreeing to pay the cost for the highest cabin you're flying:
Your selection includes mixed cabins, meaning combining segments in economy, business and first class. The mileage needed for the whole award ticket corresponds to the mileage for the highest cabin. Reimbursements and date changes are subject to an administrative charge. Date changes are subject to availability. If there is no availability on the redeemed cabin on the desired date, if the member chooses to do so, cabin changes are allowed if at least one segment of each Origin/Destination is on the highest cabin. Change in cabins (even to an inferior cabin) will not result in a redeposit of the redeemed miles. Terms and conditions apply to the redemption of award tickets in mixed cabins, which can be found in the Terms and Conditions of the LifeMiles Program.

If you agree press continue.
Why would LifeMiles make this change now?
This change isn't just interesting because it's good news for those looking to redeem LifeMiles, but also for what it says about the program.
A bit over a year ago, LifeMiles increased the cost per purchased mile and also devalued their award chart. Prior to that they would consistently offer a 100% bonus on purchased miles, and it seemed to be well received. While the devaluation wasn't too extreme, it seems it may have been a bit more than consumers were okay with, between the decrease in the value of miles and increase in cost of purchasing them. At least it seems that way based on how LifeMiles has acted since:
Since the devaluation, LifeMiles has consistently been increasing the percentage bonus when they have a promotion on purchased miles, all the way up to 150%
The airline unblocked Lufthansa first class redemptions, knowing that this was something a lot of people valued for award redemptions
A couple of months ago LifeMiles announced a minor devaluation, though only for travel on Avianca flights, and not for travel on partners
Now the airline allows mixed cabin awards, which was probably the single biggest hang-up with the program
So while we assume airlines are always in the driver's seat when it comes to award chart devaluations and mileage pricing, this is a clear indication that our response was heard by them, and they're making changes in response. Because they want more of us to buy miles.
Bottom line
LifeMiles not allowing mixed cabin awards was my single biggest complaint about the program, given that it made certain types of awards impossible. If you wanted to book a first class award to anywhere but a hub city, you typically had to book two awards, since there wasn't a first class cabin on the connecting flight.
Kudos to LifeMiles for finally making this positive change. Now I'll be much more likely to buy LifeMiles the next time they have a promotion. And I'd argue this move singlehandedly increases the value of their miles by 10-20%.
How much do you care about LifeMiles allowing mixed cabin award tickets?
(Tip of the hat to Hristo)