Posts from me are going to be a bit lighter over the next week as I travel to the Maldives. Some of you may remember my friend Nick, who reviewed JetBlue's A321 Mint Class last August, along with his trip to South America. Nick is possibly the biggest Delta/SkyTeam apologist and funniest person I know, and I hope you find him interesting/amusing. 😉
---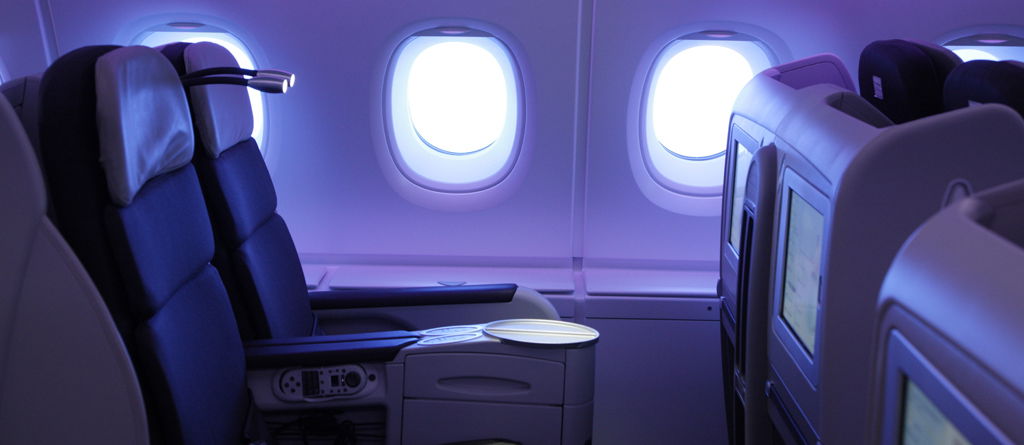 Lie-flat? No. Chic? Naturellement.
Hello! By way of introduction, I'm a friend of Ben and a One Mile at a Time blog reader and I'm honored that he's invited me to guest post now and then.
Unlike many points-and-miles bloggers, I rank fairly low on the totem pole as far as elite status and butt-in-seat miles are concerned. I don't travel often for my job, and were I to do mileage runs left and right and be on a plane for 36 hours a weekend, it would surely lead to impending divorce.
But, I love travel, I love airlines and hotels, and I love the challenge of accruing and redeeming points. I have elite status with Delta and low-level elite status with Hyatt (through my Hyatt Chase Visa) and Starwood (through the AmEx Platinum card) and that's about it, but I hope I can bring you guys my perspective of being a "casual traveler" who still enjoys the points-and-miles hobby in moderation. I also like to think that I bring the perspective of not being in the oneworld "bubble."
(Well, I realize that's not entirely fair. Lufthansa is in Star Alliance, after all, and what bigger Lufthansa fanboy is there than our adorably Teutonic Ben? And, yes, Ben'll fly Singapore now and then, but I'm convinced it's only because they offer both Krug and Dom, and you know our resident champagne ho…)
oneworld is fantastic, as you surely know from this blog, but lots of us have loyalties, preferences or miles banked elsewhere. So I hope my occasional posts can shed a bit of light on airlines Ben might not otherwise fly, or independent hotels unaffiliated with a loyalty program that still might be worth your while.
Don't get me wrong — I love redeeming free nights and flying across an ocean with caviar service (heck, I won't even complain if they don't give me a mother-of-pearl spoon!), but a quirky independent hotel or resort, or an airline that is deeply rooted in a sense of place, holds a great deal of value for me because it rounds out my traveling experience.
So that's why I'm here: I love Ben's blog, and I adore Ben as a person, but Ben would happily fly nothing but Etihad, Emirates, Lufthansa, Singapore and Cathay exclusively from here on out, staying at Hyatts and the occasional W.
I'll take an angled-flat seat (hi, Air France! Bisous!) with a charming French flight attendant, a lively glass of grower champagne, a tasty meal and a transporting feeling of being in France the moment I set foot in the cabin, versus a lie-flat seat on an airline with brusque service and barely edible food (looking your direction, Dallas). My goal is to bring you guys a bit of a different perspective, from an infrequent but passionate flyer who loves the experience of travel.
And yes, I'll be doing a fair bit of SkyTeam apologia. Someone has to!
In the coming few weeks, I've got a business class trip to Europe scheduled on KLM and Air France with a domestic leg in Delta's so-called "DeltaOne" (née BusinessElite) cabin, and I'd love to report back to you all with a trip report (impartial, I swear). I also have a fairly full-throated defense of Delta in the pipeline, all geared up for the next time Ben takes a potshot.
More usefully, I imagine I'm not the only infrequent traveler but frequent OMAAT reader out there, and I'd love to discuss how to leverage credit cards and points to get elite status anyway (or at least its perks). I'm honored that Ben has asked me to share my thoughts and experiences, and hope that I can entertain you guys in the process.
Are there any other topics you'd like to see a casual but experiential traveler like myself tackle? Thanks for reading!