Some of you may remember my friend Nick, who reviewed JetBlue's A321 Mint Class last August. He's back with another trip report, this time from his recent trip to South America. Nick is possibly the biggest Delta/SkyTeam apologist funniest person I know, and despite the fact that he toned it down a bit for the trip report, I hope you still find it interesting/amusing. 😉
Unfortunately due to a seat mishap his phone disappeared, so half of his pictures are gone. Or to quote Nick: "can you add an editors note that United ate my phone – to be discussed in UA post – so like half my photos were lost forever hence back off bitchy commenters?"
---
Introduction
Copa Airlines Business Class Los Angeles To Panama City To Buenos Aires
Layover In Panama City
Park Hyatt Buenos Aires
United BusinessFirst Buenos Aires To Houston
---
Copa Airlines has a fascinating business model.
World-class, it ain't, but it is a uniquely efficient carrier focusing on what might be one of the most convenient hubs in the world. With the Panama Canal in its backyard, Panama City has always been a city geared toward global transportation, and in aviation it serves as the key midpoint between North America and South America.
You won't get lie flat seats on Copa in Business Class – you'll get recliners only a little bit more comfortable than a domestic First seat – but none of Copa's flights are truly long-distance. The brilliance of Copa is that none of its flights are longer than seven hours, and most much shorter than that. Copa connects a number of cities in the U.S. and Canada (Los Angeles, New York, Las Vegas, Boston, Chicago, Orlando, Tampa, Miami, Washington Dulles, Montreal, and Toronto, with nonstops to Denver, Houston and Newark on partner United) to just about every destination imaginable in Latin America, and on top of that, has ridiculously abundant award space.
Although Copa is in the process of leaving MileagePlus as its native frequent flyer program (but will remain a Star Alliance carrier), the redemption rates for your United miles remain the same – a relative bargain on the MileagePlus chart – since United does not charge a premium for Star Alliance carriers to South America. North America to Southern South America is 55,000 miles one-way in business class, which is tough to beat when coupled with the wide-open award space.
So we figured – if we were going to fly a glorified domestic product all the way down to Argentina, we would take advantage of a stopover in Panama City, which we've heard great things about. We structured our trip so that we would leave LAX at 5:30am (!!!) on a Sunday, arriving in Panama around 2:45 in the afternoon following a 6 hour flight, giving us the afternoon and evening to explore the charming Casco Viejo district. The following day, we boarded a midday flight to Buenos Aires, which put us in Argentina around 8:45pm with six and a half hours in the air.
Copa 361
Los Angeles (LAX) – Panama City (PTY)
Sunday, December 21
Depart: 5:30AM
Arrive: 2:46PM
Duration: 6hr16min
Aircraft: Boeing 737-800
Seat: 2E (Business Class)
There is something particularly cruel about waking up at 3:00am to get ready to leave for the airport, and in fact, you're thinking to yourself "this flight leaves at 5:30 in the morning?" the entire time you're showering half-asleep. Indeed, Copa boasts the very earliest morning departure out of LAX for passenger flights, if you don't count the very late night redeyes that bleed into the early morning. Lucky us.
Of course, with a 5:30am departure, the upside is you can get to the airport in fifteen minutes, breeze through check-in and security and get to the gate with ample time to spare. The downside is that Copa operates out of LAX's Terminal 6 (shared with Alaska, Delta and US Airways), not out of the spectacular Tom Bradley International Terminal, and nothing is open in the terminal.
Not a lounge, not a coffee shop, not a newsstand. Never before have I been so eager to board a plane for the change of scenery.
Boarding was quick, efficient and on time. Copa operates fairly new 737-800s on most of its routes with the so-called "Boeing Sky Interior" concept, which as far as I can ascertain means that the cabin is bathed in a sickly blue light reminiscent of that little LED device dentists use to cure your fillings and whiten your teeth. Nothing says "enjoy your flight" like a vivid flashback to a cavity filling! In any event, the seats in "Clase Ejecutiva" were relatively comfortable recliners which offered in-seat power and small personal video screens that pulled out from the armrests. Nothing special, but nothing terrible, either, especially for what was essentially a transcontinental flight.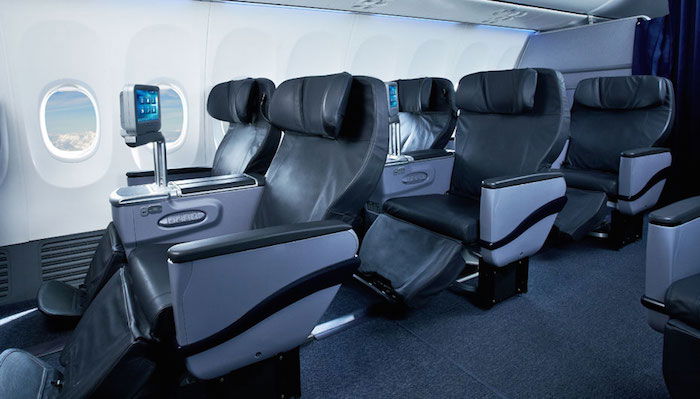 As we settled in the flight attendant came by to offer us water or orange juice served from a tray (I would lament the lack of champagne as an option, but it was 5:15 in the morning, I had zero interest, and in fact I wonder if they were legally allowed to serve it before 6am per California law anyway), as well as headphones, and a surprisingly well-designed amenity kit (showcasing the new Frank Gehry-designed Biomuseo in Panama City) stocked with toothpaste, a toothbrush, socks, earplugs, an eye mask, some lip balm and a curious hand cream package in yellow with graphics of lemons but alleged to have a "lime" scent, an obvious mistranslation which is sorta understandable considering the Spanish word for "lemon" is limón, but also, like, shouldn't someone have caught that?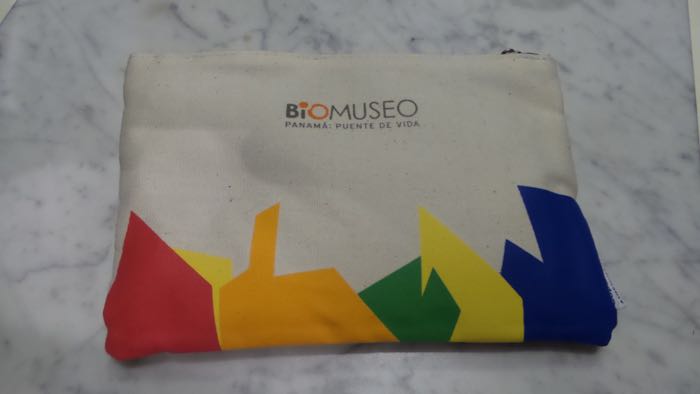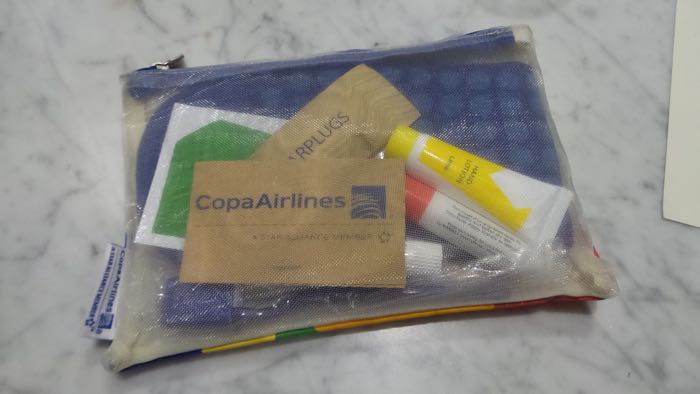 The flight attendant also gave us a menu (actually, all of the menus for all of Copa's flights that month; she turned the booklet to the page applicable for ours) which was collected upon ordering — it was made very, indeed forcefully, clear it was not our copy to keep.
Starting about 45 minutes after takeoff, the flight attendant came by to take our breakfast order. It was a two-course breakfast; the first course consisted of fresh fruit with yogurt and "freshly assorted rolls with butter," which amounted to a hard dinner roll (I passed on that).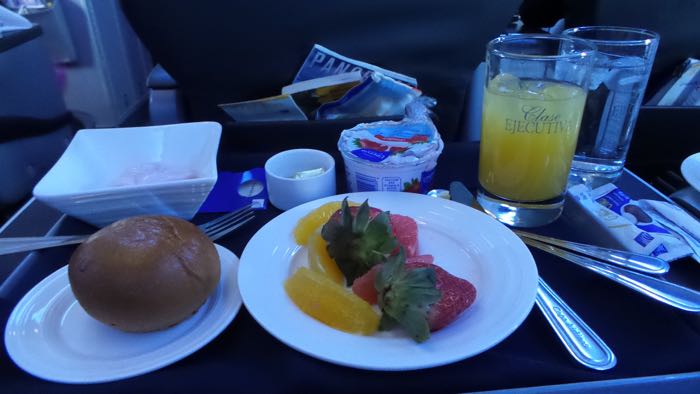 I ordered the scrambled eggs (since the alternative, a turkey Montecristo sandwich with maple syrup, didn't appeal to me) with "grilled bacon." The eggs were served with grilled asparagus (not as described on the menu) and were decent, but the "grilled bacon" was practically inedible. I ordered coffee and orange juice, neither of which were refilled nor offered to be refilled.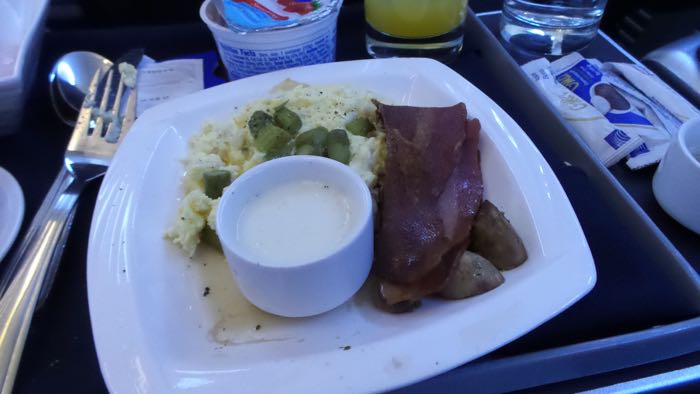 After a few minutes of dozing off here and there, I turned on the IFE system, which was limited but serviceable for a six hour flight: we had a choice of about a dozen movies on demand (only four new releases) and maybe five television shows in English, so I settled in to watch Magic in the Moonlight, followed by a few episodes of Modern Family.
At some point midway through the flight when I considered it an "acceptable" hour to order a drink, I asked the flight attendant if I could have a Bloody Mary, to which she responded: "Not yet. We'll be doing drink service later."
Keep in mind, it wasn't like she was otherwise slammed or busy doing something else: she just wasn't ready to do her drink service and didn't particularly care for my inquiring about a drink, either. I finally asked for a water and got served a bottle and some side-eye.
About an hour and a half before arrival, the flight attendant came by again with a small but satisfying (at least, compared to the limp bacon at breakfast) plate of cheese, crackers and cold cuts, and she proactively had prepared for me a Bailey's on the rocks… and when I said, "oh, I ordered a Bloody Mary," she sighed heavily and said, "you said BAILEY'S" and reluctantly mixed me a Bloody.
I did not dare ask for another round after that.
Not long after drink service ended, we prepared for arrival and touched down at Panama's Tocumen International Airport, which is an efficient Copa hub and a chaotic Latin American airport, which reminded me a great deal of Mexico City's airport. Since we were leaving the airport for a short layover in Panama City, we went through immigration and collected our bags (note: signage was going up and systems were in place for a Global Entry-affiliated automatic system, but the area was roped off when we arrived) and exited into the muggy, sultry Panama City air, but be aware that if you do connect on to South America on a same-day connection, you don't have to pass through immigration and in fact most of the connecting gates are close to one another. It is by all accounts an easy airport to transit.
Copa 279
Panama City (PTY) – Buenos Aires (EZE)
Monday, December 22
Depart: 12:10PM
Arrive: 9:18PM
Duration: 7h8min
Aircraft: Boeing 737-800
Seat: 2E (Business Class)
As we waited to board, we were entertained-slash-horrified by the antics of a definitely insane British woman at the adjacent gate who screamed and thrashed her arms at no one in particular, shouting that the airline had stolen her luggage and that the people at Tocumen International Airport really ought to learn better English since in her opinion Spanish was a gutter language. After ranting for a few minutes, she was swiftly carried away by airport security and, I hope, thrown into the Panama Canal; however, her uncomfortable rants made the awaiting Copa Airlines 737 seem like a luxurious oasis of peace and quiet.
Like the plane from LAX, this 737-800 was outfitted with the so-called "Sky Interior" design, and featured pull-out individual video monitors, air vents (which were sorely needed since the interior of the jet had a distinctly tropical climate), and, unlike the previous plane, a family of five boisterous, well-heeled Latin women for whom the directive to fasten seat-belts for takeoff was a laughable suggestion.
As rigid and unyielding as the flight attendant was on the LAX-PTY leg, the friendly male flight attendant on the PTY-EZE leg was delightful, generous with alcoholic drinks and perhaps (overly) disinterested in enforcing seat belt signs or general decorum.
Have you ever seen a mother place her newborn baby on all fours on the armrest of a business class seat during takeoff? Have you ever seen a mother, grandmother and collection of aunts actively encourage – via poking, shaking and frightening — a newborn baby to shriek and cry for their own entertainment purposes (like, the family thought sending the baby into a hysterical crying jag was just adorable), only to chastise the baby with a loud "shhh! Estupido!" when other passengers gave side-eye? These glimpses into a ghastly family dynamic, and other delights, awaited us on this six-and-a-half hour leg.
With the same limited selection of in-flight entertainment at our disposal, I selected The Hundred-Foot Journey, which, while not very good in general, featured lots of scenes of wonderfully prepared, delicious-looking meals which contrasted sharply with the dismal lunch offerings on our 3,300-mile journey. Thankfully, the flight attendant offered a wide selection of drinks and plied us with alcohol until the sound of a shrieking infant was merely white noise in the background. For sparkling wine, Copa offered Codorníu cava from Spain, which I passed on in favor of a decent glass (or two, or three, or eight) of Malbec that got us excited about our impending arrival in Argentina.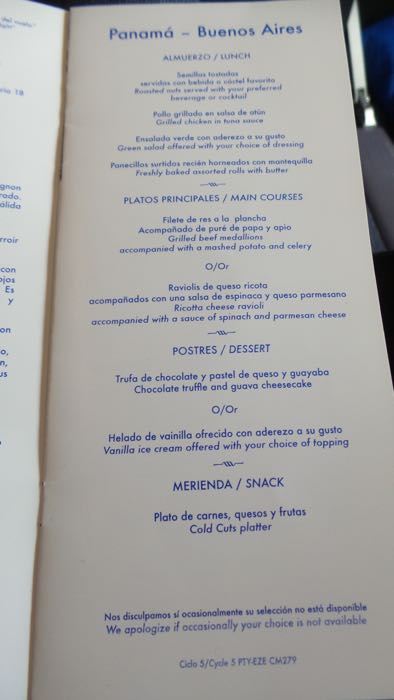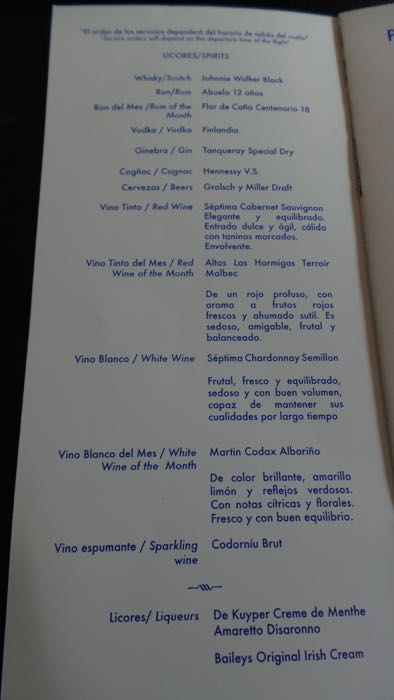 Per the menu, our lunch selection was to begin with roasted nuts (which weren't offered) followed by an appetizer of grilled chicken in tuna sauce with a side salad, which was a bit more than edible. I'm not sure quite how to describe what a "tuna sauce" is, but I think it was pureed canned tuna mixed with oil. It wasn't awful, but I sure don't know who at Copa decided that "tuna sauce" was a thing. For the main course, I chose the grilled beef medallions with mashed potato and celery, which was serviceable if unmemorable.
Soon enough, as the sun set on the horizon, the city lights of Buenos Aires appeared and we made our descent to Ezeiza International Airport, where a new adventure was about to begin.