---
Background on visiting the Maldives
As I mentioned in the first post of this series, I'm keeping this trip report pretty brief, and just focusing on the new aspects of the trip. So after checking out of the InterContinental Hong Kong we flew to London in Cathay Pacific first class, then to Abu Dhabi in Etihad first class, and then connected to Male in Etihad business class (which I didn't write about this time, but it's a route I've reviewed before).
That's because we were staying at the new St. Regis Maldives Vommuli, which opened last year. This hotel is expensive, and justifiably so — it's stunning. When the hotel first opened they allowed redemptions for 26,000 Starpoints for overwater villas for a very brief period, which is a great deal. I made a few reservations using this deal, but canceled all but one.
They updated the pricing pretty quickly, and I believe the property now costs 90,000 Starpoints per night. However, historically Starwood has run promotions for 35% off resort redemptions once per year, so I wouldn't be surprised if we see that at this property in the future.
Getting to the St. Regis Maldives
Like many resorts in the Maldives, the St. Regis is on a private island. Typically for resorts not near Male, there are two ways to get there.
You can take a seaplane on Trans Maldivian Airways directly to the resort; they're the world's largest operator of seaplanes, and the benefit is that they drop you off directly at the resort.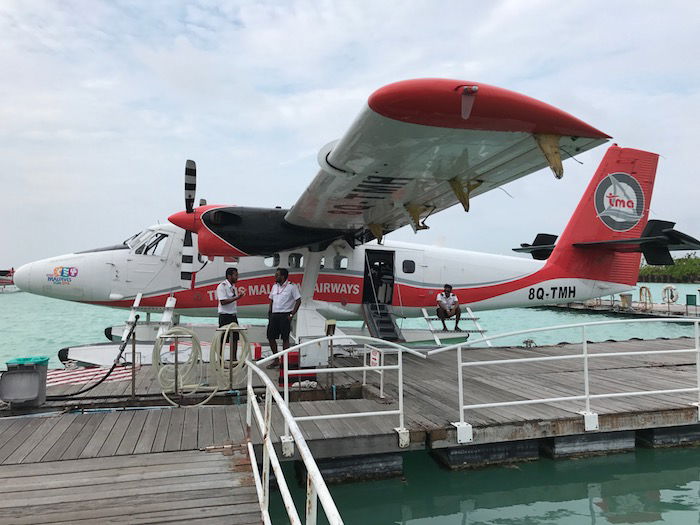 Or you can take a (non-seaplane) prop on Maldivian Airlines to another airport in the Maldives, and then take a boat from there to the hotel. This is the system the Park Hyatt uses, as you take a plane to Kooddoo Airport, and then from there it's a fairly short boat ride to the hotel.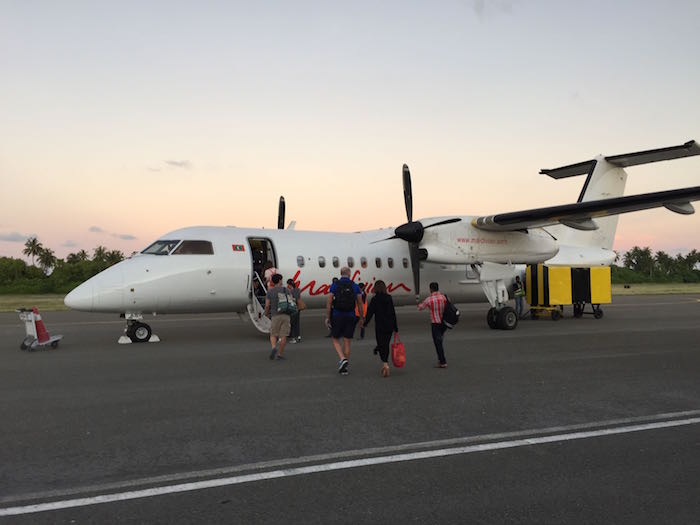 The St. Regis uses a seaplane service, so to get to the resort you take a seaplane directly from Male Airport to the hotel. They charge $645 per person for the service (which is pretty standard), and they handle everything, including the transfer at Male Airport, etc.
Do keep in mind that your flight has to get to Male Airport by about 3PM if you want to get to the resort same day. The seaplanes can only fly during the day, so the last flight to the resort is typically at around 4PM or so.
Now, on to the actual experience…
The St. Regis Maldives airport transfer
Our Etihad flight arrived at Male Airport at around 2:45PM, and we were through immigration in no time. Outside immigration we were met by representatives from the St. Regis, who took us over to the nearby Trans Maldivian Airways transfer desk.
Male Airport has three terminals — the international terminal, domestic terminal, and seaplane terminal. While the domestic and international terminal are more or less connected, the seaplane terminal is on the other side of the airport, so you have to drive there. That's why Trans Maldivian has a transfer desk, so you can check your luggage there, rather than having to bring it over yourself.
We asked when our flight would depart, and they still said they weren't sure. Typically you can trust you'll get to the hotel same day and won't have to wait too long, but don't expect to know exactly when the flight leaves until shortly before departure.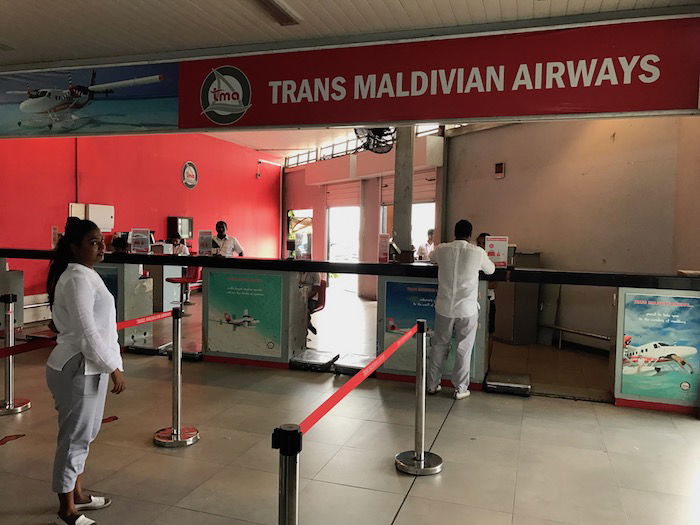 Trans Maldivian Airways check-in desk Male Airport
Once we were checked in, the coolest part of the transfer process started. The St. Regis Maldives has a Bentley they use to shuttle guests between the main terminal and seaplane terminal. Apparently it's the only Bentley on the island. How friggin cool is that?!?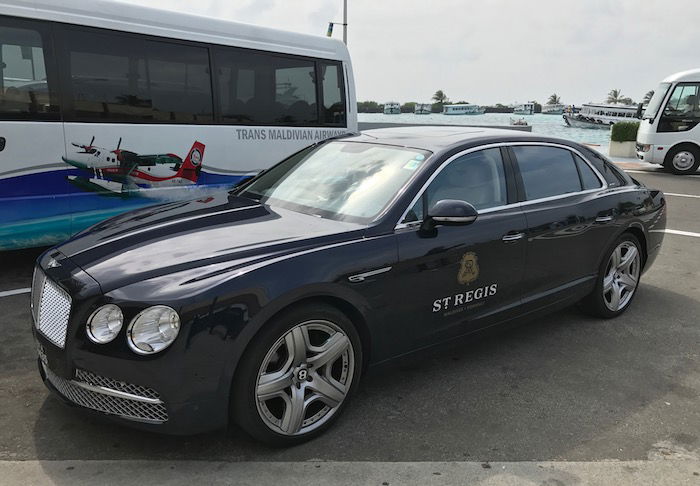 St. Regis Bentley Male Airport
Do note that they also have a (luxurious) van and a Land Rover, so the car you get depends on when you arrive. It doesn't seem unreasonable to ask if you can get the Bentley when you arrive, assuming you're not the last person they're waiting for before the seaplane departs to the resort, and the car isn't in the same area.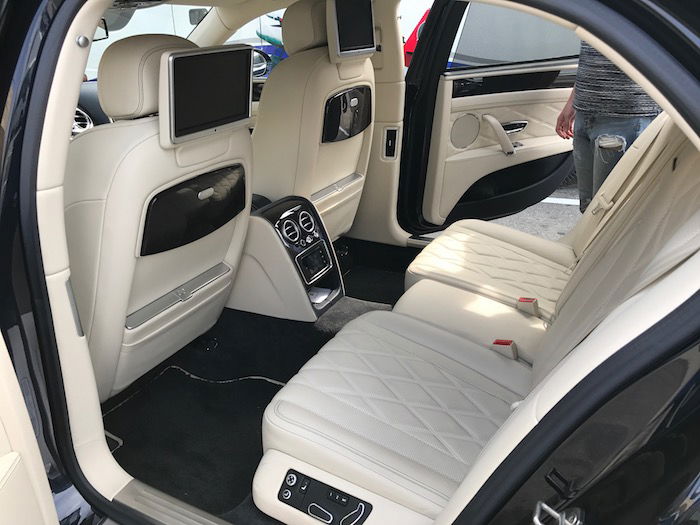 St. Regis Bentley Male Airport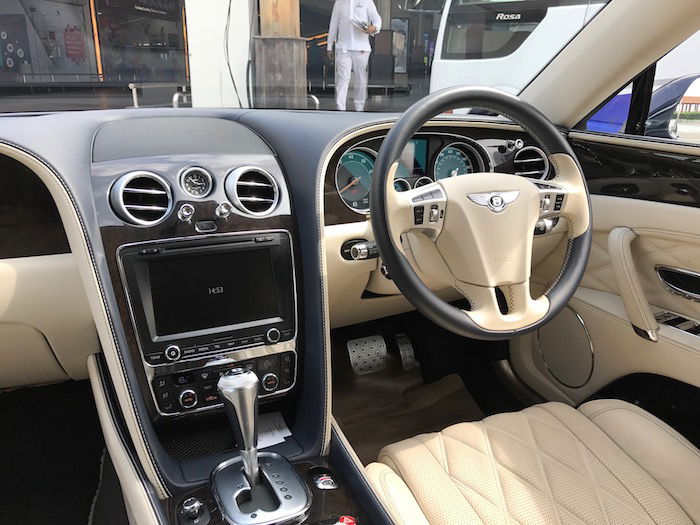 St. Regis Bentley Male Airport
The drive to the seaplane terminal took about five minutes. As far as I'm concerned they could have driven us all the way to the resort. 😉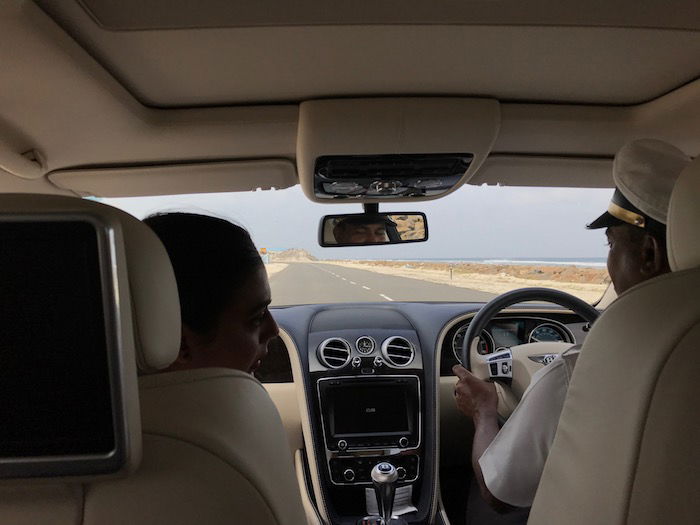 St. Regis Bentley Male Airport
While the domestic terminal has a shared lounge (which you have access to if you book your ticket through most resorts), the seaplane terminal doesn't. Instead some of the top hotels have their own lounges… including the St. Regis. This a great benefit for guests at some of the top hotels, but it's worth differentiating that these aren't traditional airport lounges that you may access via credit card.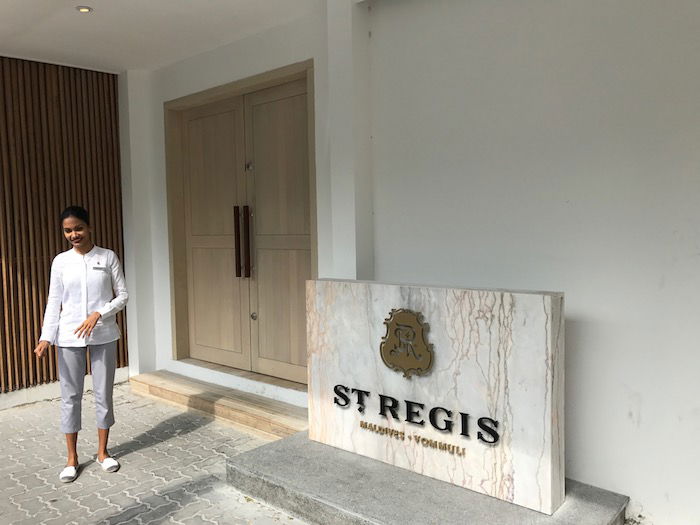 St. Regis Lounge Male Airport
The lounge was stunning, especially for Male Airport, and the design reminded me very much of a St. Regis. There was a reception area just past the entrance.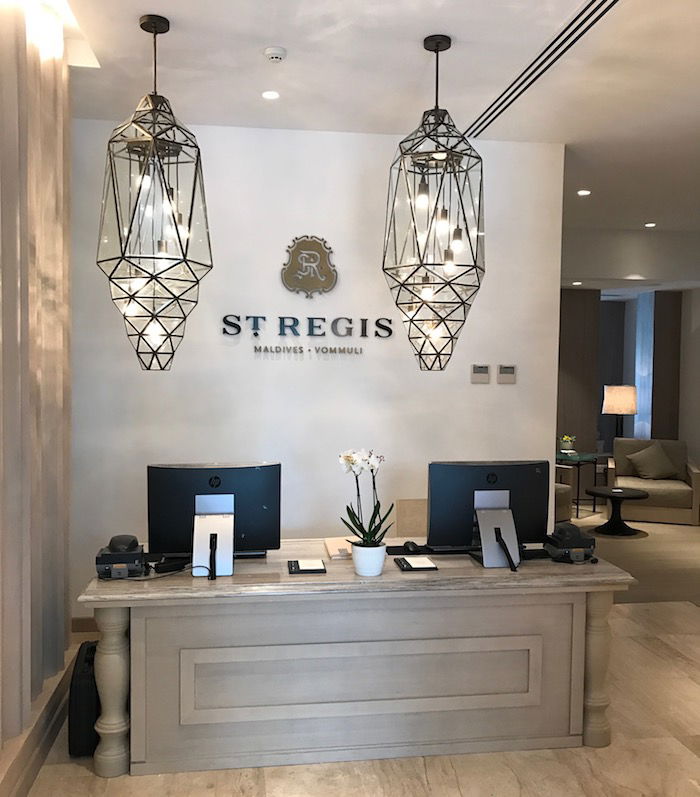 St. Regis Lounge Male Airport
The lounge wasn't huge, and it maybe had seating for 20 people. That's more than enough, when you consider that the seaplanes hold 14 passengers at most.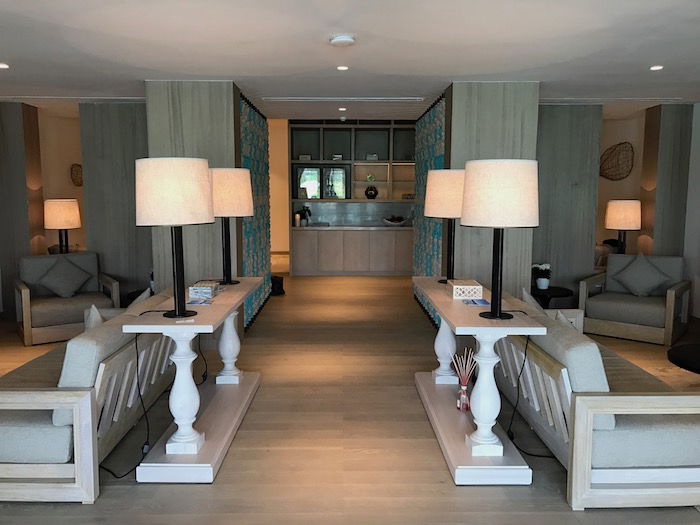 St. Regis Lounge Male Airport
The lounge had a variety of seating options, including couches, individual chairs, etc.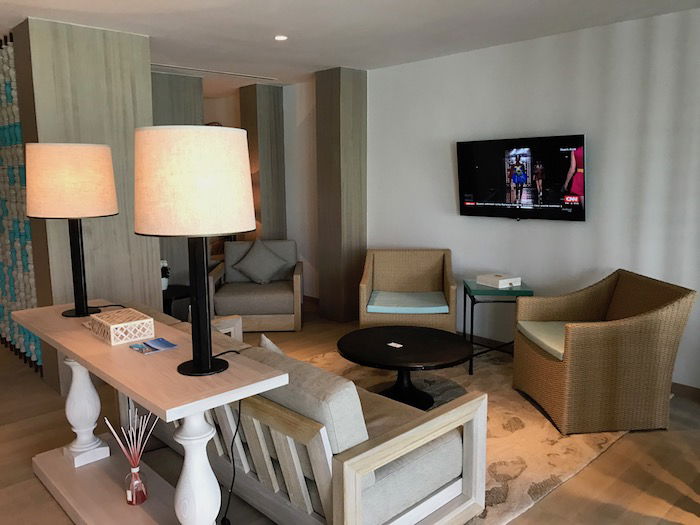 St. Regis Lounge Male Airport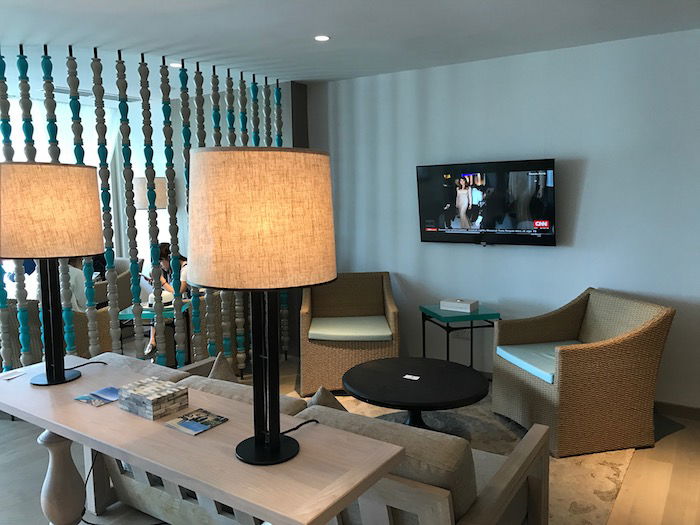 St. Regis Lounge Male Airport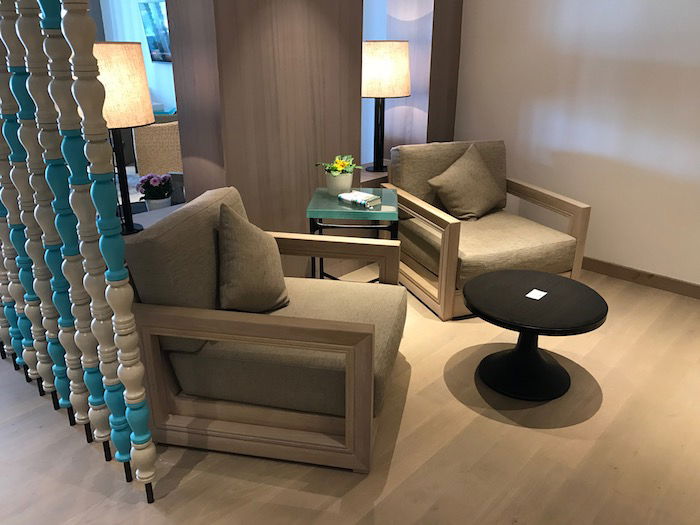 St. Regis Lounge Male Airport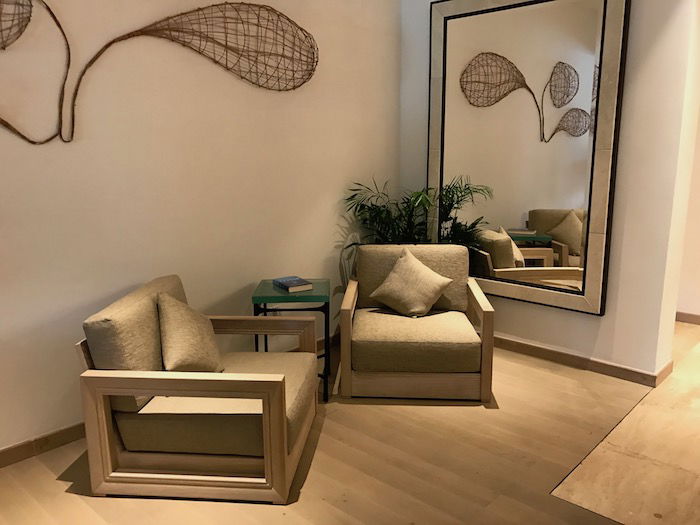 St. Regis Lounge Male Airport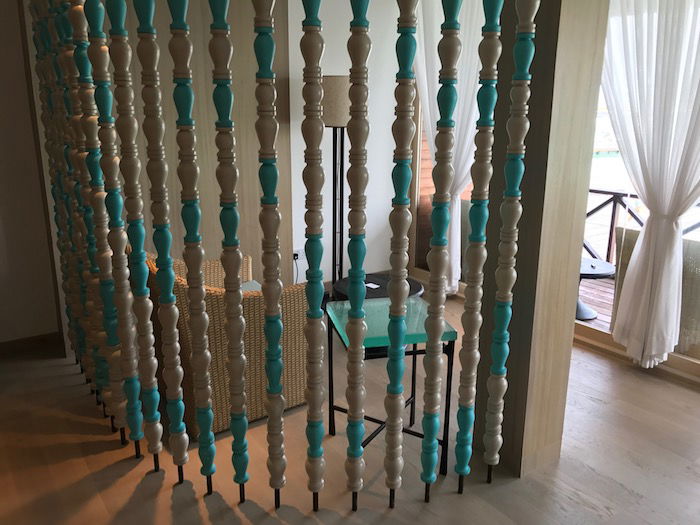 St. Regis Lounge Male Airport
There was even a small patio, which had great views of all the seaplanes.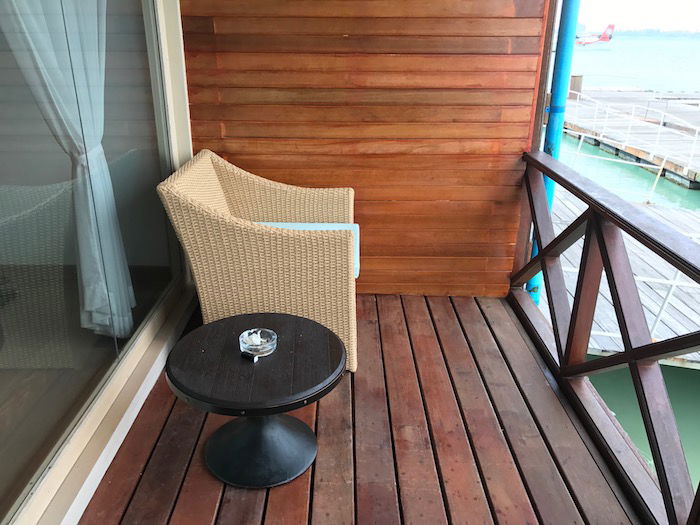 St. Regis Lounge Male Airport patio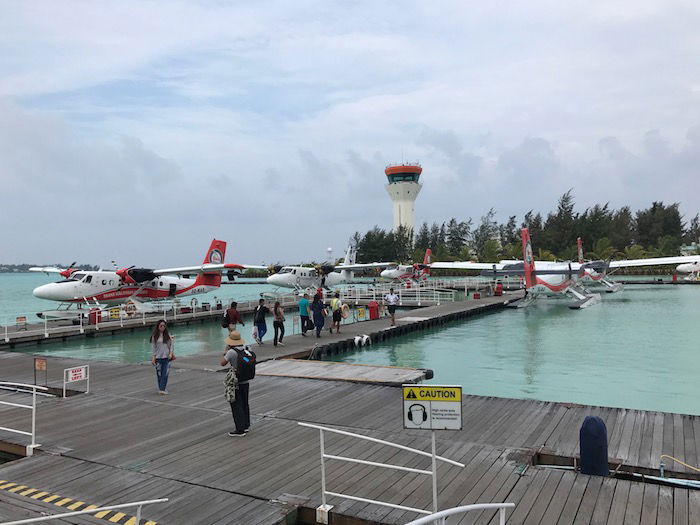 Trans Maldivian Airways planes Male Airport
The lounge had two gorgeous bathrooms with the typical St. Regis Remede toiletries, and one even had a shower.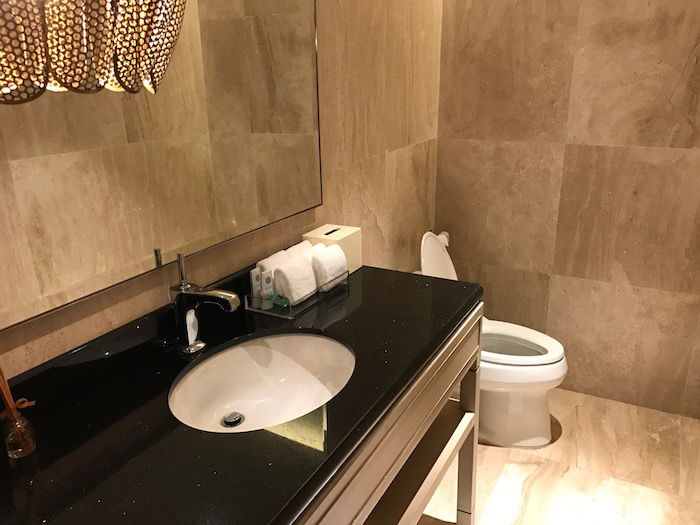 St. Regis Lounge Male Airport bathroom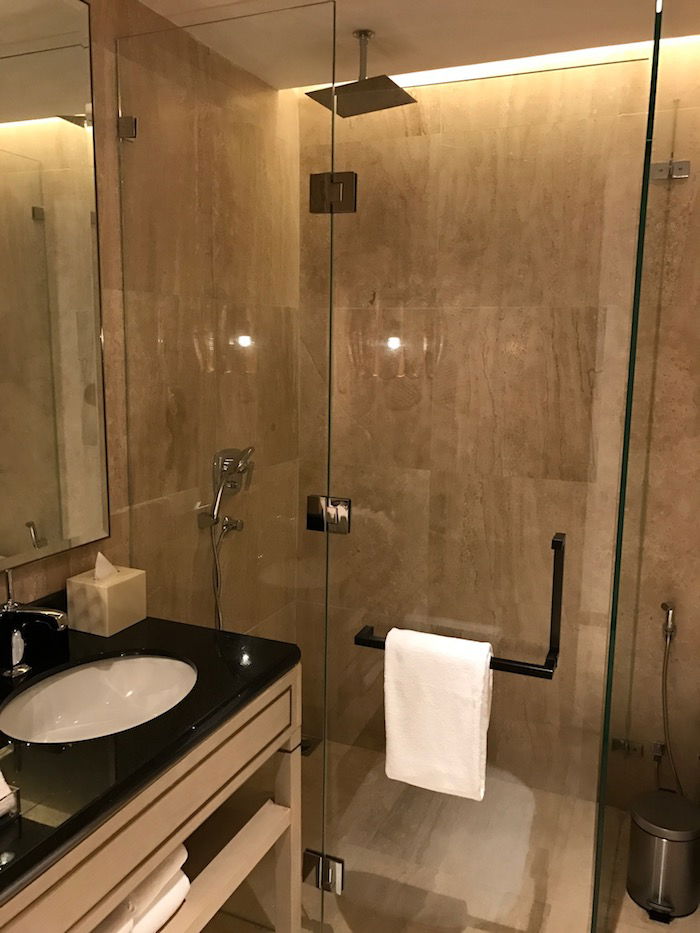 St. Regis Lounge Male Airport shower
There was also a modest selection of self serve drinks and snacks.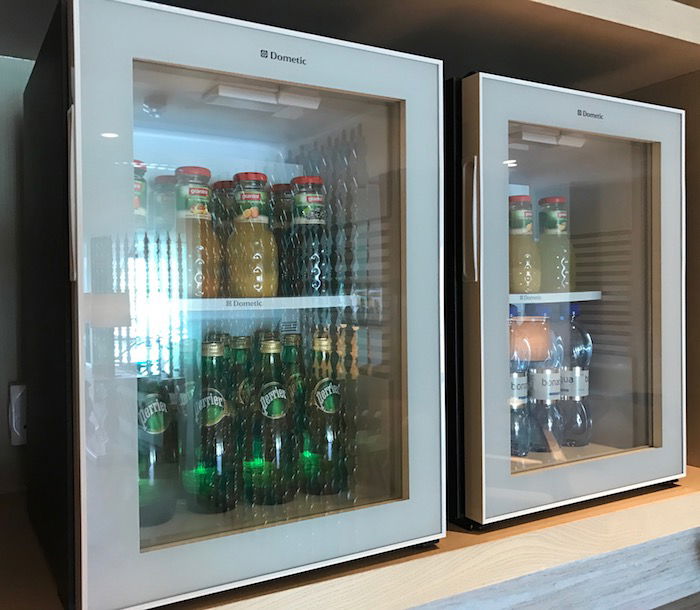 St. Regis Lounge Male Airport drinks
The service in the lounge was exceptional — shortly after arriving we were greeted by the lounge manager, and offered drinks, snacks, etc. I had a stomach bug at this point, so stuck to water and tea, though Ford had a sandwich.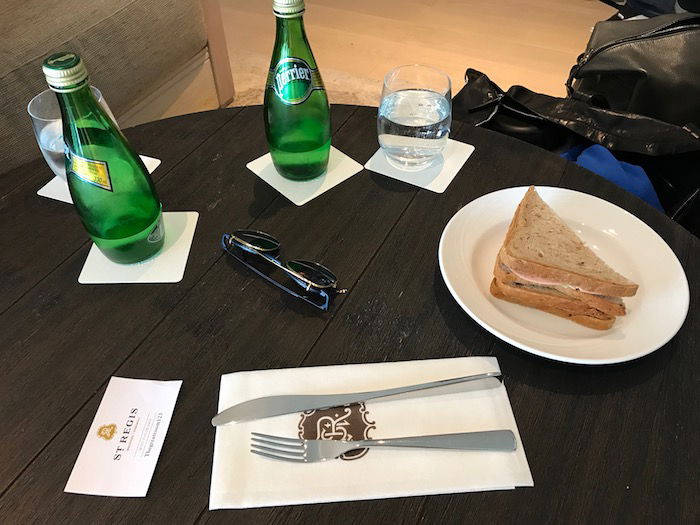 St. Regis Lounge Male Airport drinks & snacks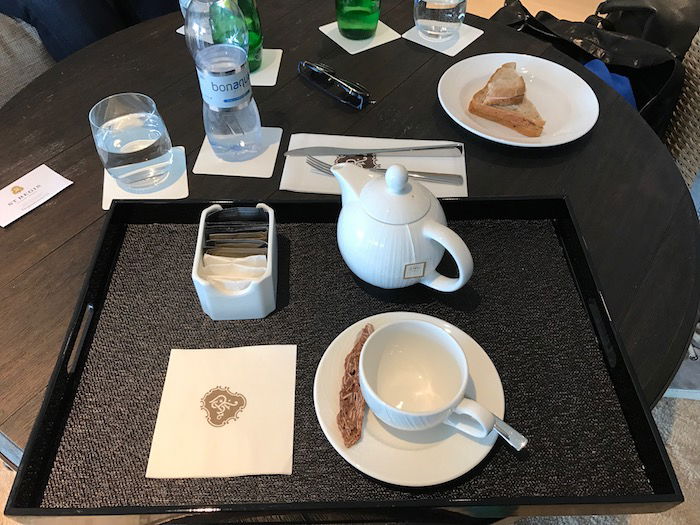 St. Regis Lounge Male Airport drinks & snacks
Later on we were presented with a small tray of afternoon tea goodies.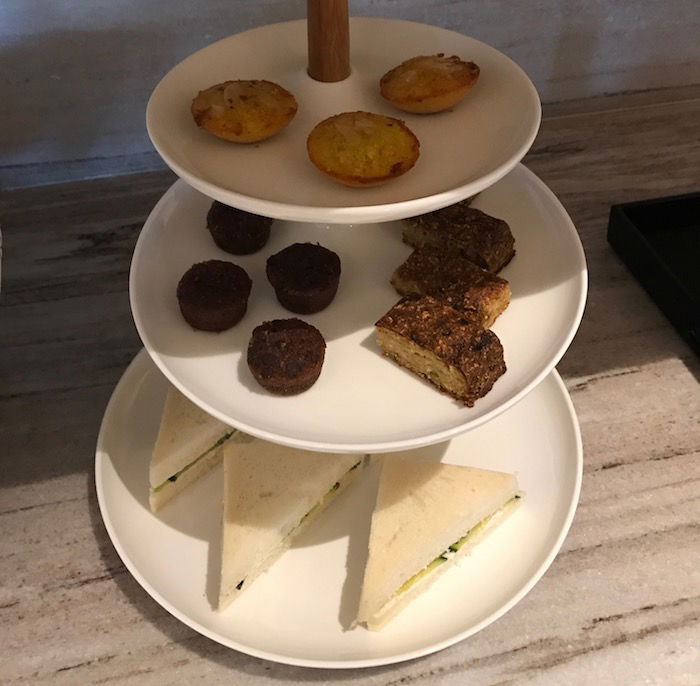 St. Regis Lounge Male Airport afternoon tea
I appreciate that the lounge handles check-in formalities for the hotel. You provide your credit card and passports there, so that when you arrive at the resort you're greeted by your butler and whisked straight to your room.
They even had an iPad with all the options of welcome drinks for when you arrive at the resort. So the second you get off the seaplane on arrival, your drink is waiting for you. Now that's attention to detail.

St. Regis Lounge Male Airport welcome drink selection
I should also note that the lounge has Wi-Fi, which was fairly decent. It was pretty fast when we first arrived, though as more people showed up it got slower.
Soon enough about 10 other guests showed up, as they arrived on the later Qatar Airways flight. We were informed that our flight would depart at around 4:30PM, and sure enough around that time we were fetched and escorted to the plane, which is where I'll pick up with the next installment.
St. Regis Lounge Male Airport bottom line
Usually transiting Male Airport is a bit of a pain. However, the St. Regis experience was unbeatable. Being driven to the seaplane terminal in a Bentley was excessive and awesome, while the lounge itself was a pleasant place to pass about an hour before our flight to the resort.
We were off to a good start!