Review: EVA Air Business Class 777 Los Angeles To Taipei
Review: Novotel Taipei Taoyuan Airport
Review: Hello Kitty Ridiculousness At Taipei Airport
Review: EVA Air Lounge Taipei Airport
Review: EVA Air Hello Kitty Business Class 777 Taipei To Singapore
Review: KLM Business Class 777 Singapore To Bali
Review: InterContinental Hong Kong
Review: St. Regis Lounge Male Airport
Review: Trans Maldivian Airways Flight
Review: St. Regis Maldives Overwater Villa
Review: St. Regis Maldives Vommuli Resort
Review: Prince De Galles Hotel Paris
Review: Alitalia Lounge New York JFK
Review: Philippine Airlines Business Class 777 New York To Vancouver
---
While I love EVA Air's business class in general, I was especially excited about this flight, because it was one of their special "Hello Kitty" services. EVA Air operates Hello Kitty themed flights on certain routes, and I intentionally booked my Taipei to Singapore flight for the Hello Kitty experience. I took Hello Kitty flights from Tokyo to Taipei and Taipei to Los Angeles a few years back, so was curious to see how the concept was holding up.
EVA Air 215
Taipei (TPE) – Singapore (SIN)
Friday, February 10 
Depart: 9:55AM
Arrive: 2:30PM
Duration: 4hr35min
Aircraft: Boeing 777-300ER
Seat: 11K (Business Class)
I boarded through door L1, where I was greeted by two friendly flight attendants, and escorted to my seat. I had assigned myself seat 11K, which is the window seat in the last row of business class on the right side.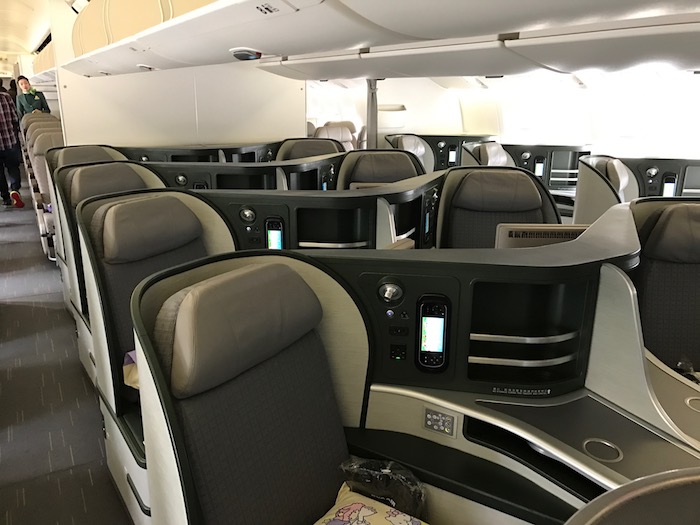 EVA Air 777 business class cabin
This is in the rear mini cabin, which has just four rows of seats.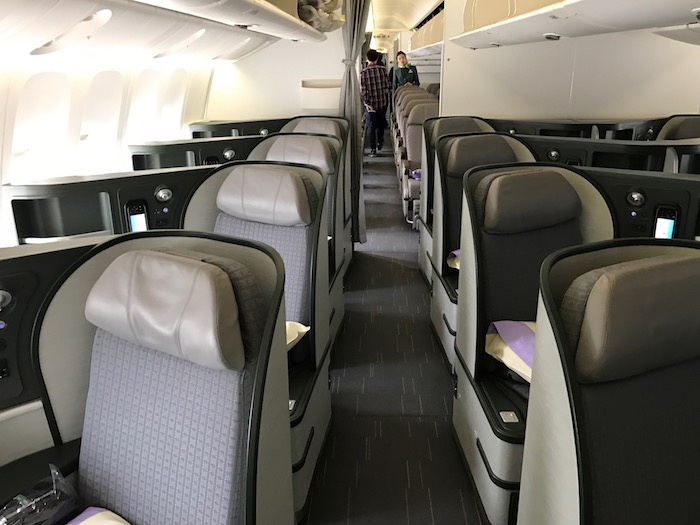 EVA Air 777 business class cabin
Waiting at my seat was a Hello Kitty pillow, and playing on the entertainment screen was a Hello Kitty video — we were off to a good start!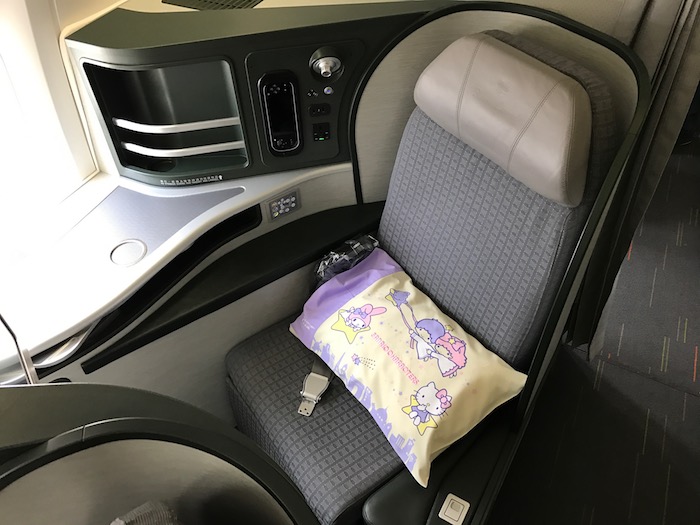 EVA Air 777 business class seat

EVA Air 777 business class seat
As you can see, there's even some Hello Kitty art on the bulkhead.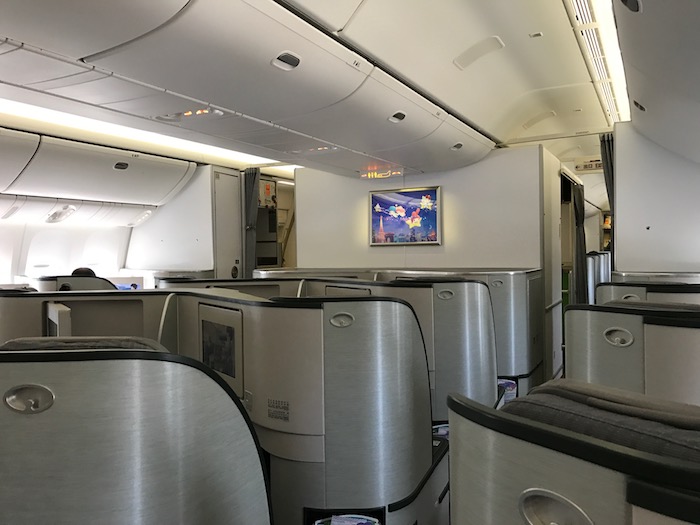 EVA Air 777 business class cabin
I quickly peeked my head into the premium economy cabin, located immediately behind my seat. It looked reasonably comfortable — I really should try premium economy on a longhaul flight at some point.
As I settled in, I enjoyed the Hello Kitty programming on the personal entertainment screen.

EVA Air Hello Kitty entertainment
Within a few minutes of settling in I was offered a pre-departure beverage. I requested a glass of champagne, which was served with a warm towel and a Hello Kitty napkin.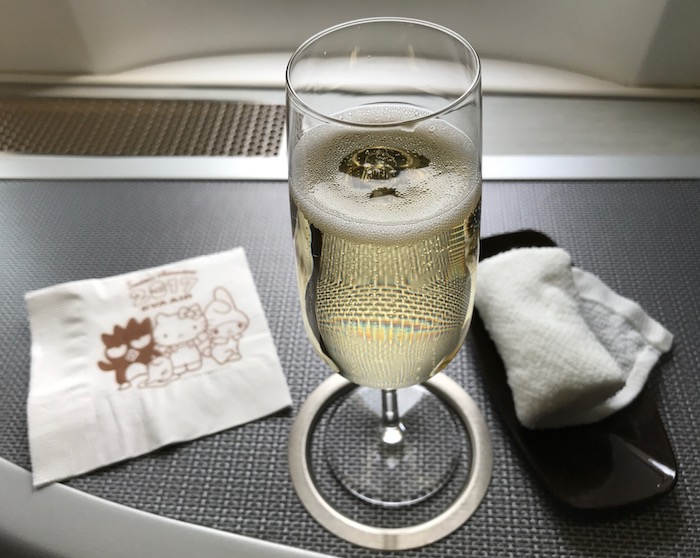 EVA Air pre-departure champagne & warm towel
One of the highlights of the Hello Kitty experience is the bathroom, so I had to quickly check that out. Not only does EVA Air have Hello Kitty toiletries, but they even have Hello Kitty toilet paper and air fresheners!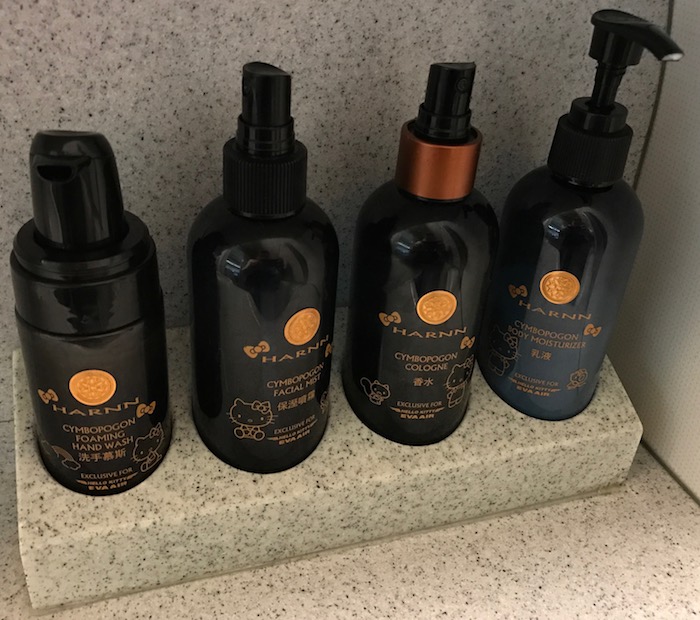 EVA Air Hello Kitty toiletries

EVA Air Hello Kitty toilet paper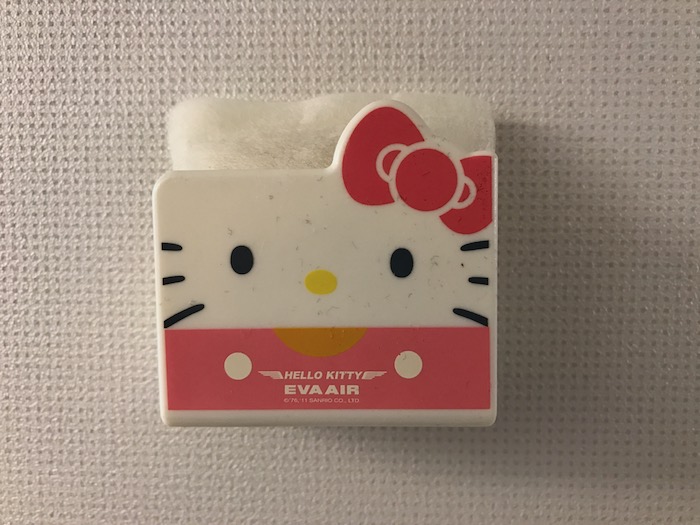 EVA Air Hello Kitty air freshener
Shortly after returning to my seat I was presented with slippers and the menu for the flight. I decided to take inventory of all the Hello Kitty goodies I had at this point.
Yes, even the slippers were Hello Kitty branded.
The flight to Singapore wasn't especially full. For example, in the mini business class cabin just six seats were taken, and all the center seats stayed empty. By 9:45AM boarding was complete, and five minutes later we began our pushback.
The coolest part of the pushback? EVA AIR HAS A SPECIAL HELLO KITTY TUG!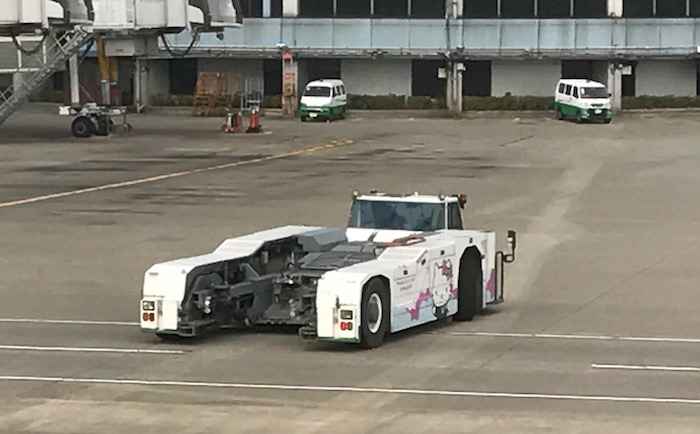 Hello Kitty tug Taoyuan Airport
As we taxied out, the lead flight attendant announced our flight time of 4hr15min.
Our taxi out to the departure runway was quick, and we taxied past the maintenance facility, where I saw an Austrian 767 and EVA Air Hello Kitty 777 undergoing maintenance.

EVA Air Hello Kitty 777 Taoyuan Airport
By 10AM we were cleared for takeoff on runway 5R.
Our climb out was smooth, though despite that, the seatbelt sign stayed on for 20 minutes (which is pretty normal in the U.S., though rare on foreign carriers).
As we climbed out I took a look at our route on the airshow.
Within 30 minutes of takeoff the crew came around the cabin to take meal orders. The flight attendants working these flights wear special Hello Kitty aprons.
The menu read as follows:
The drink list read as follows: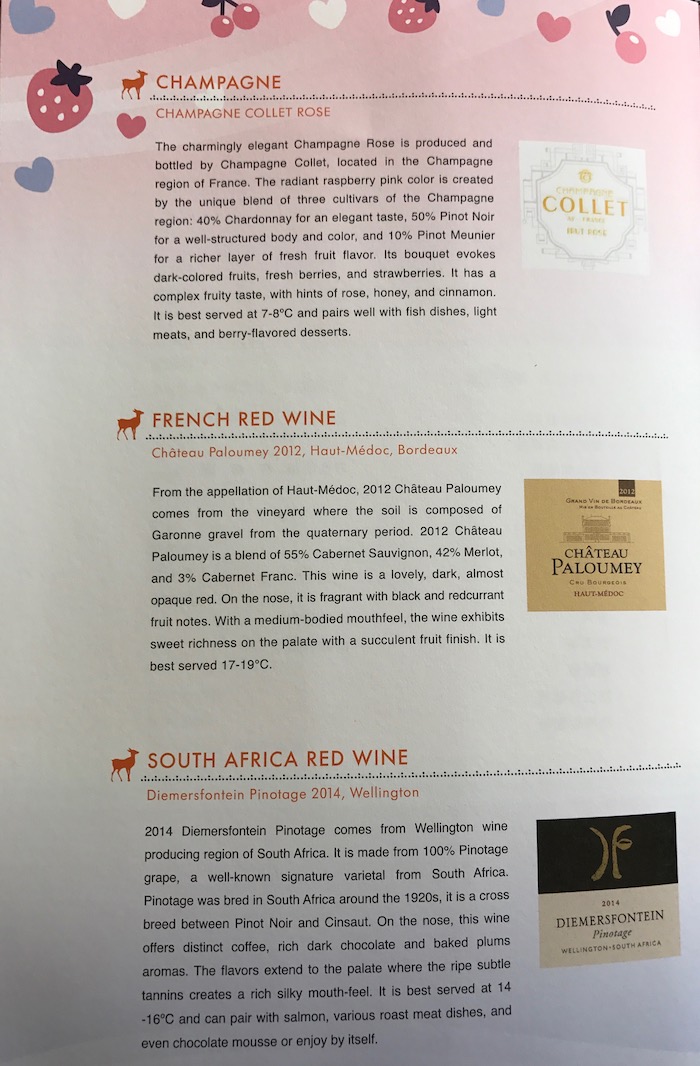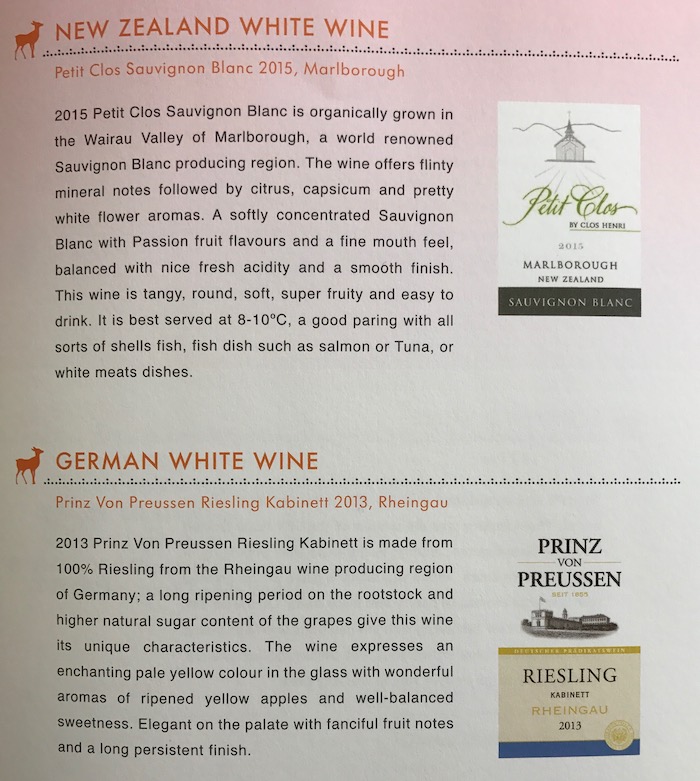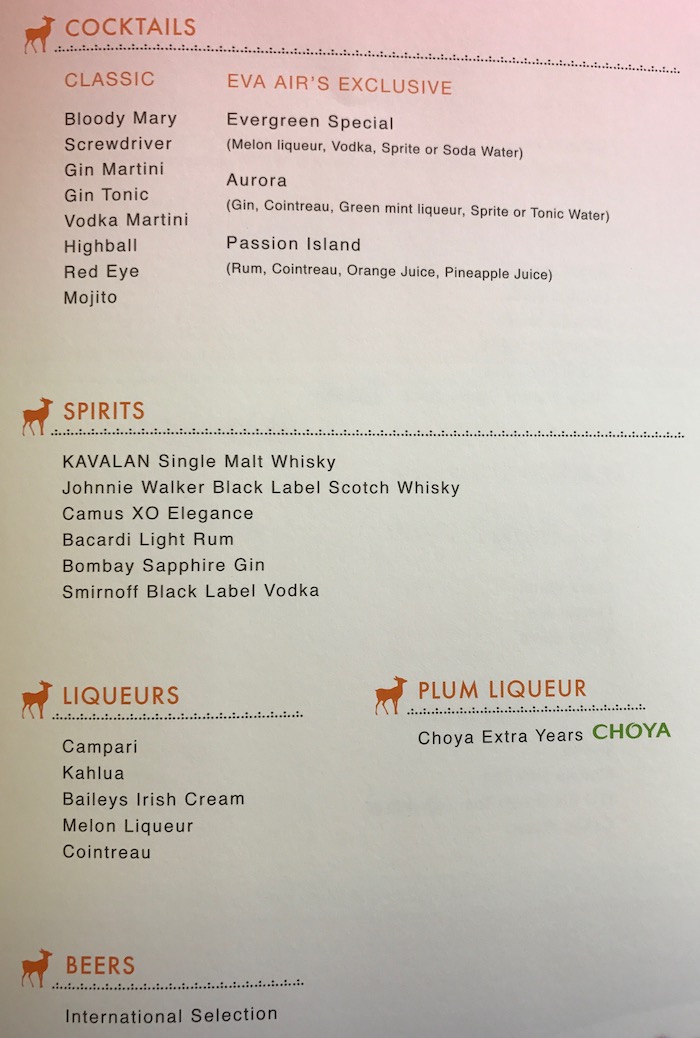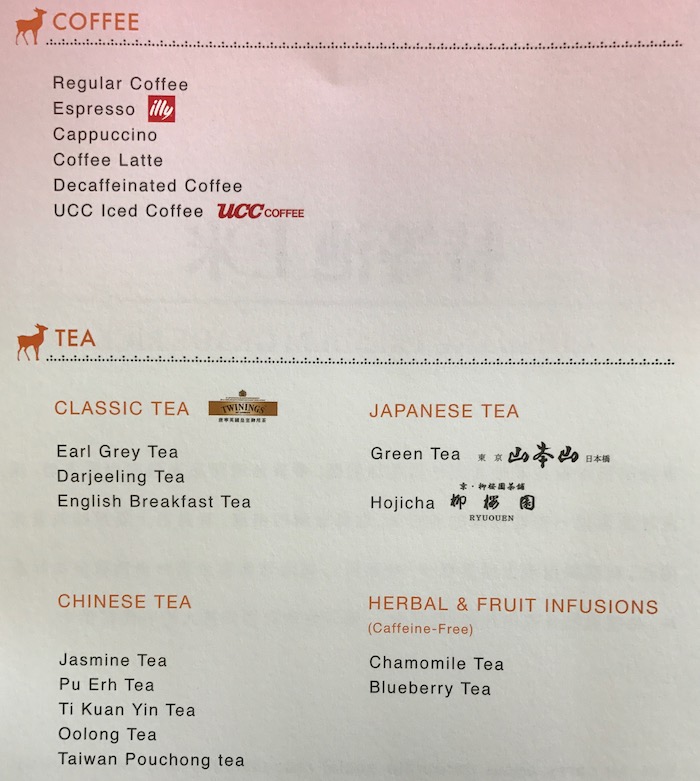 A few minutes after my order was taken I was presented with a drink, which was served on a Hello Kitty coaster.
I ordered some champagne, and sticking to the Hello Kitty theme, they have rose on this flight. That was served with some mixed nuts and rice crackers.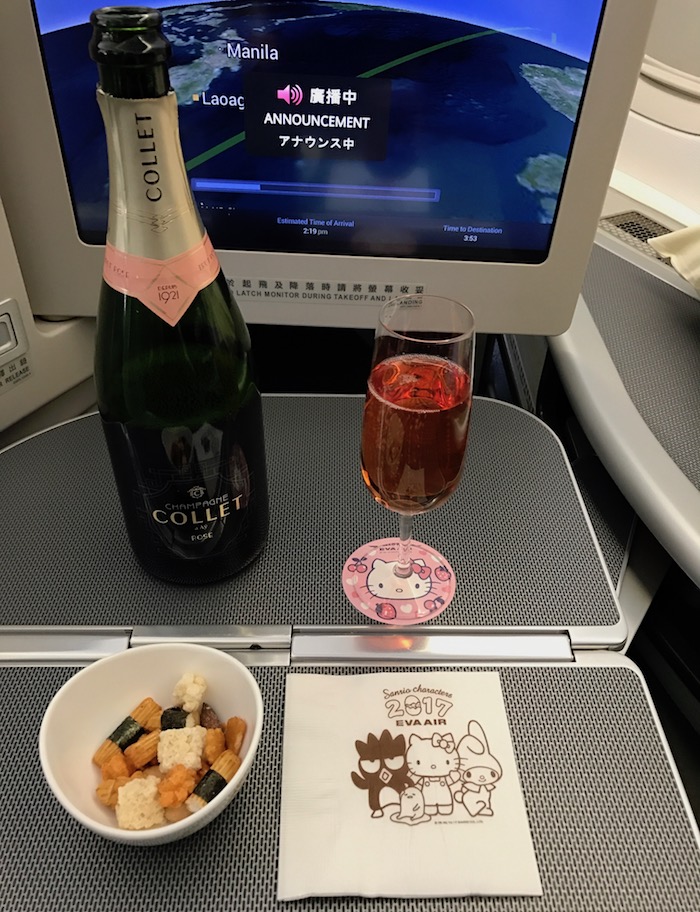 EVA Air business class rose champagne and snacks
After having a glass of champagne I had to use the lavatory, and as I walked there I noticed dozens of packaged Hello Kitty snacks. I asked the flight attendant why she had been withholding those from us, and she explained that they emptied the contents of them into ramekins. I explained that on a Hello Kitty service that's unacceptable, and they should be left in the Hello Kitty approved packaging. 😉
Moments later she came to my seat with a few bags of Hello Kitty snacks — that's more like it!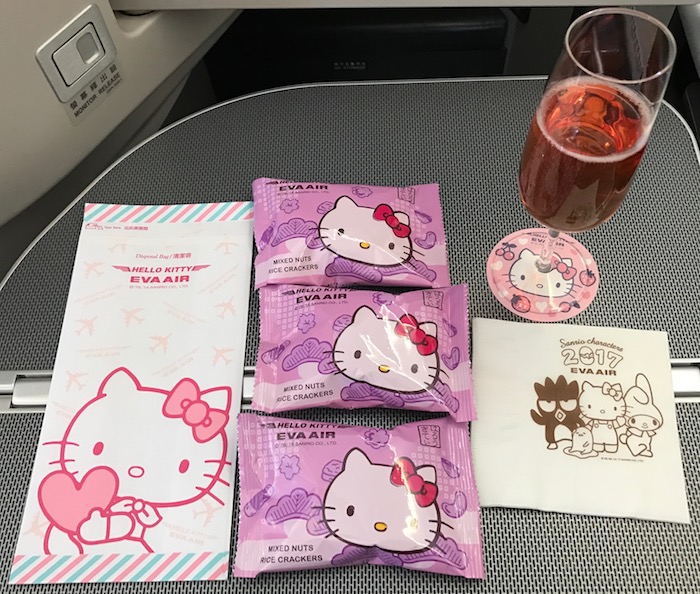 EVA Air Hello Kitty business class snacks (and barf bag)
About an hour after takeoff the meal service began, starting with Hello Kitty tablecloths being distributed.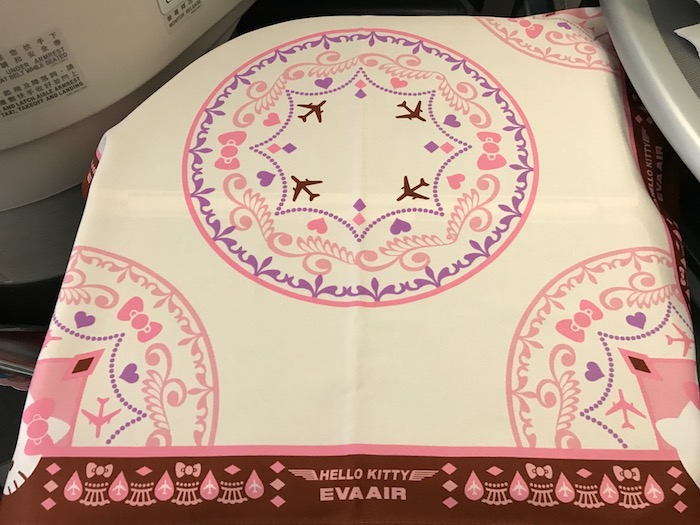 EVA Air Hello Kitty business class tablecloth
On longhaul EVA Air business class flights the main meal is served directly on the tray table rather than on a tray, though on short-hauls they use trays (which is understandable).
The appetizer consisted of goose liver. Between that and the foie gras on the previous flight, I'm not sure I love EVA Air's appetizer choices. Personally I was most excited about the Hello Kitty cheese cube. 😉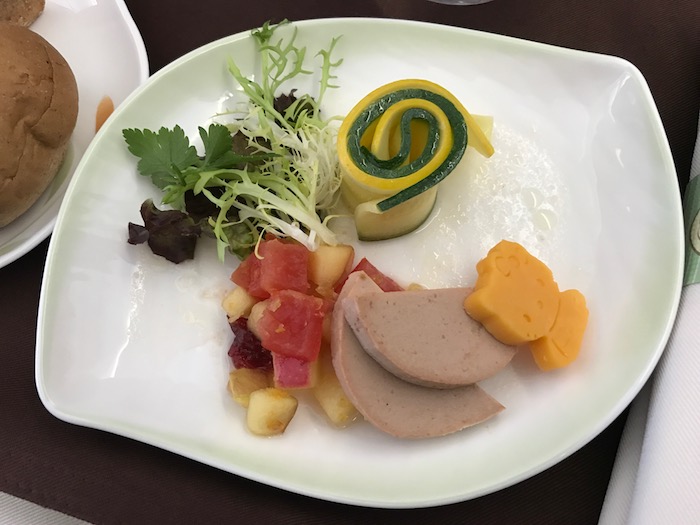 EVA Air business class lunch — goose liver mousse slices with zucchini and mixed fruit salad
I was also offered a selection of bread.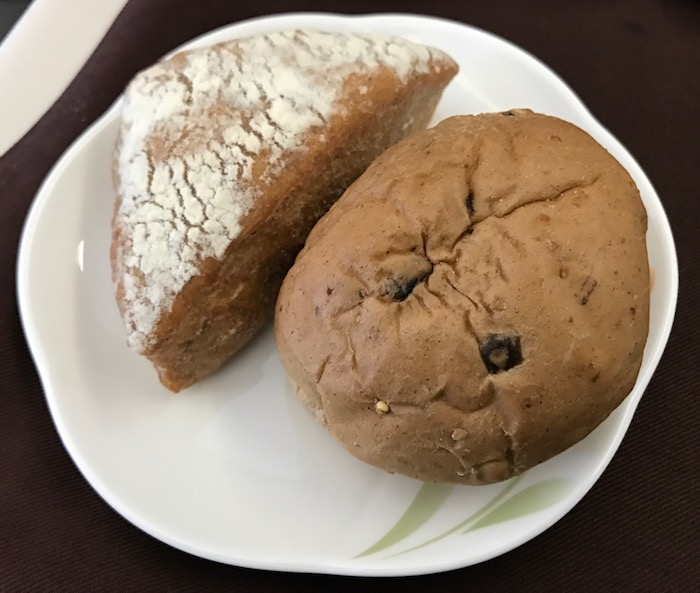 EVA Air business class lunch — bread
For the main course I ordered the wok fried seafood with ginger and scallion in oyster sauce with mixed vegetables and rice. As it turns out, the seafood simply consisted of shrimp, and was quite good.

EVA Air business class lunch — wok fried seafood
After that I was offered a fruit plate.

EVA Air business class lunch — fruit plate
Then lastly for dessert was a chia seed apricot mousse cake, which was light and tasty.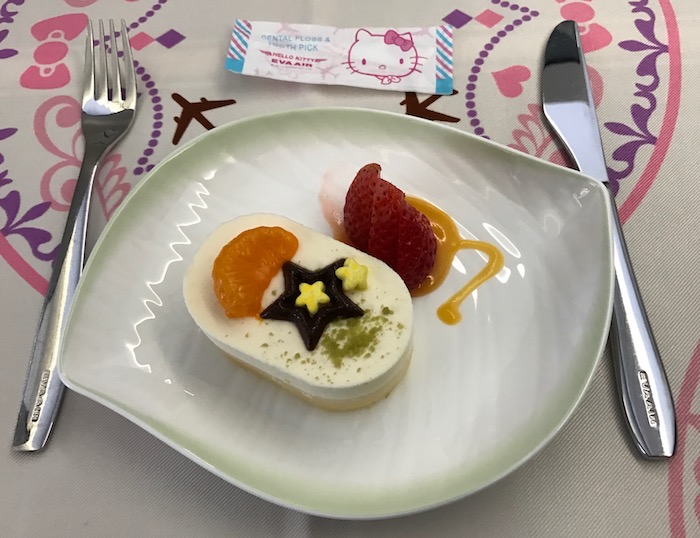 EVA Air business class lunch — chia seed apricot mousse cake
I can't say enough good things about the crew on this sector. They were so personable and charming, and such good sports. They noted my enthusiasm for Hello Kitty, and presented me with a Hello Kitty pen, Hello Kitty playing cards, etc.
I asked "my" awesome flight attendant if she liked Hello Kitty, and she explained that she did before she took this job. 😉 She noted how I was the first non-Taiwanese passenger she had who was excited about Hello Kitty.
After a tasty Hello Kitty meal, it was time for some Hello Kitty retail therapy. If nothing else, it's worth buying something just so you can get the Hello Kitty duty free bag. I decided to buy a Hello Kitty model airplane, and also a Hello Kitty apron — the same one worn by the crew.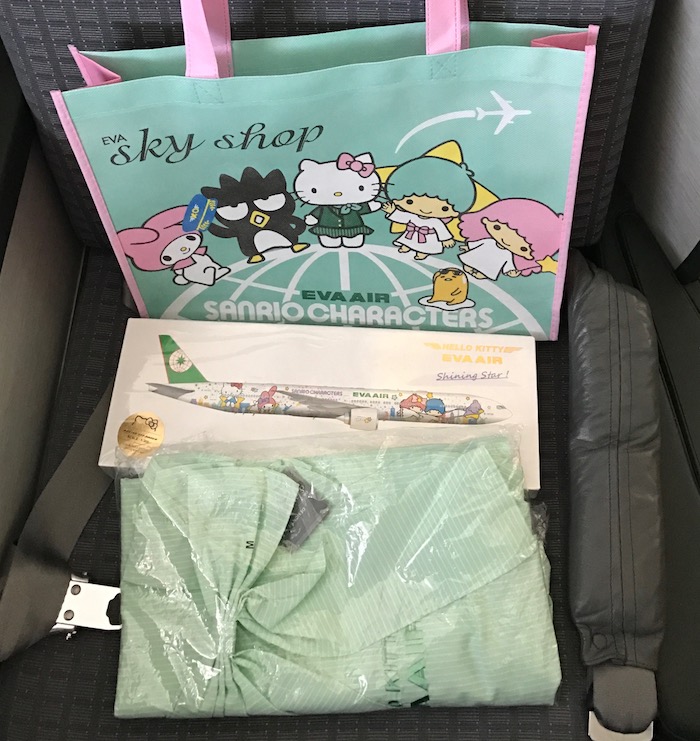 Retail therapy, Hello Kitty style
At that point I figured I'd try on the apron. The crew was nice enough to assist me with putting it on. I was going to ask for a group picture of us all wearing our Hello Kitty aprons, but they asked first, so it was a win-win. 😉
For most of the rest of the flight I got caught up on work and gazed out the window.
At around 2PM we began our descent into Singapore.
I always enjoy the views on approach into Singapore, in particular of all the boats in the harbor.
We had a smooth touchdown at Changi Airport at 2:25PM.
From there it was just a five minute taxi to our arrival gate, where we pulled in next to a gorgeous Qatar Airways A350.

Qatar Airways A350 Changi Airport
EVA Air Hello Kitty flight bottom line
With the right attitude, there's nothing more fun than an EVA Air Hello Kitty flight, even if you're not a Hello Kitty fan. I love how EVA Air picks a theme and sticks to it. I had such a great flight, thanks partly to the branding, and partly to the great crew.
I can't wait to take another Hello Kitty flight — next time I'll have to make sure it's a longhaul flight.