The US legacy airlines seem to be doing everything in their power to destroy the value of being loyal frequent flyers. They'd rather always give consumers exactly what they pay for with each transaction, without much consideration for the overall business customers provide to the airlines. I'm not saying that's necessarily a bad long term strategy, but the speed at which these changes are occurring is insane.
Just looking at Executive Platinum status with American this year. For my favorite redemption preferences miles are worth ~30% less than they were last year, my favorite Executive Platinum perk (eight systemwide upgrades) got cut in half, and the average person is probably earning about half as many redeemable miles as they used to, thanks to American's new revenue based frequent flyer program. How much more value can you take out of a program in a single year?
While that's bad for frequent flyers in theory, there's a silver lining. Airlines want to sell first & business class seats rather than upgrading people to them, and as a result we're seeing a trend of much lower paid premium cabin fares than before.
Would I rather get a free upgrade than pay for first class? Of course. But there's also something to be said for paying a reasonable premium for first class so you don't have to sweat out the upgrade and can fly whichever airline has the most convenient schedule for you.
With that in mind, I've found myself increasingly paying for first & business class, even on revenue tickets. I've booked a couple of paid business class tickets on British Airways between the US and Europe for ~$1,100, which is basically business class at economy pricing. Those were no brainers, given that the ticket cost was roughly the same as the carrier imposed surcharges would have been on a British Airways business class award ticket.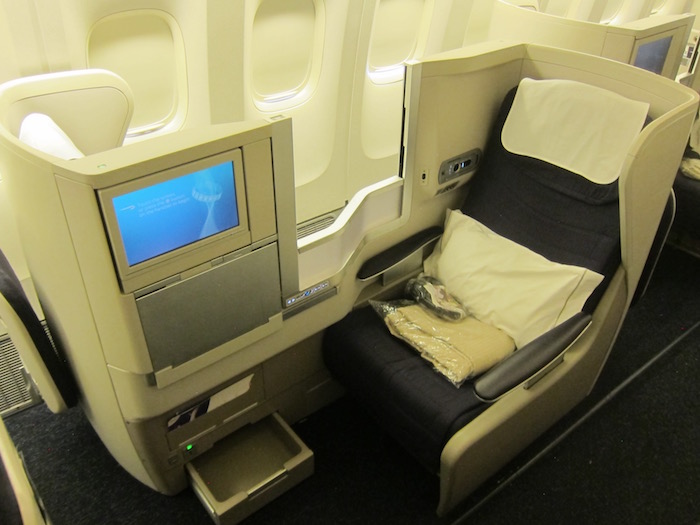 However, even domestically I've found myself paying for first class a good amount of the time lately, even when I'm otherwise eligible for an upgrade. That's not because I want to throw money out the window, but rather because I think it makes sense in many cases.
Given that I'm increasingly doing this, I've tried to crunch the numbers on how much of a premium I'm willing to pay for first class, though it's not quite as straightforward as that.
How do I decide whether to pay for first class?
For me, being in economy vs. domestic first class is the difference between being able to work efficiently and barely being able to work. Domestic first class may not be glamorous, but at least I can get work done in comfort. If I have personal space, I work as efficiently on a plane as on the ground.
I simply can't do that in economy. Even with a privacy screen on my laptop, the person seated next to me is usually looking at my screen, and I'm having to position my arms in such a way that it's extremely uncomfortable to work.
With that in mind, the real deciding factor for me is what my upgrade odds would otherwise look like. Back in the day I'd almost always clear my upgrades as an Executive Platinum member, while nowadays I feel like I have to select my flights very carefully if I have any chance of clearing. I avoid transcons, because if I instead route through Dallas I'll at least "only" be in economy for a few hours at a time.
But if you're flying from Los Angeles to New York on a Thursday, for example, it probably doesn't matter what you book, you're likely to end up in economy. There's also something to be said for the peace of mind of knowing you'll be in first class. If I'm traveling during "business hours," I have to plan differently if I'll be in economy vs. first class, since my productivity varies substantially.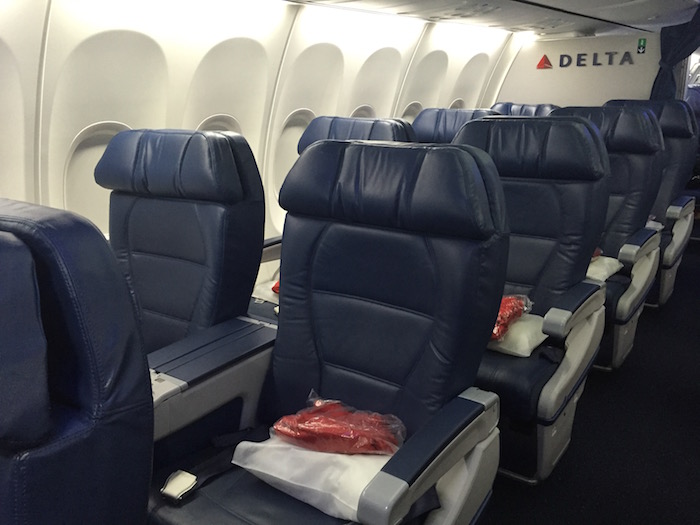 How much of a premium am I willing to pay for first class?
I conservatively value being in first class over economy at $40 per hour or 500 miles. In reality it's probably a bit more than that, and there are a lot of variables, though that's a starting point. So then I have to factor in:
What are my odds of clearing the upgrade? It's worth paying the $40 per hour premium if I have no shot at an upgrade otherwise, while if the upgrade is near guaranteed, I shouldn't be willing to pay that much of a premium.
How many miles am I earning incrementally for first class over economy class, which could help offset the cost?
Let me give a real life example. Take the below trip between Los Angeles and Tampa, which is pretty average nowadays for my trips between the two cities. Economy is $339, while first class is $588, meaning first class is $249 more expensive.
Now, for the marginal $249 I'm paying, I'd earn 11 miles per dollar spent, which I value at ~1.5 cents each, plus three points per dollar spent on my credit card for the incremental amount. So that's in excess of a 20% return on that marginal spend. That's a further $50+ discount, and doesn't factor in the bonus elite qualifying miles I'd be earning.
So the price difference is ~$200. In looking at the flights, I don't think I'd otherwise have a good shot at the transcon upgrade, which is for a roughly five hour flight. I might otherwise clear the Charlotte to Tampa upgrade. So when crunching the numbers, I'm coming out more or less even.
Bottom line
Everyone values first class differently, so there's no consistent formula for calculating how much of a premium it's worth paying, especially given how many variables there are.
Personally I value first class at ~$40 per hour over economy, and that's largely because I can work productively in first class, while I can't in economy. That doesn't even account for such things as generally being comfortable, getting a meal and free drinks, earning bonus elite qualifying miles, etc.
When deciding what to book, I also factor in my upgrade chances, as well as the miles I'm earning for the difference in fare, since I view that as a discount.
Long term the good news is that I think this will drive me to simply not be loyal to an airline anymore. If first class is available for a reasonable premium, then there's less of a reason to be loyal, in my opinion.
Have you found yourself paying for first class? What's your threshold for when it's worthwhile?