In late 2022, SWISS formally announced that it would take delivery of Airbus A350s in the coming years. I wanted to recap the details of this, especially as the airline has just revealed the seat map for this aircraft, and it contains some surprises.
SWISS adding five Airbus A350s to fleet
SWISS' long haul fleet currently consists of Boeing 777-300ERs, Airbus A330-300s, and Airbus A340-300s. SWISS belongs to Lufthansa Group, and the overall airline group places aircraft orders centrally, and then allocates planes accordingly.
Lufthansa Group has dozens of Airbus A350-900s and Boeing 787-9s on order, and these will be split between Lufthansa, SWISS, and Austrian. What we know for sure as of now is that SWISS will take delivery of five Airbus A350-900s, starting in 2025.
These new A350s will be used to replace the carrier's fleet of five Airbus A340-300s. For what it's worth, SWISS has no plans to retire its Airbus A330-300s and Boeing 777-300ERs. The A350 is an incredible aircraft, with huge range, excellent economics, and great passenger comfort.
For context on the rest of the Lufthansa Group fleet, the plan is for Austrian to take delivery of Boeing 787s, and for Lufthansa to take delivery of both Airbus A350s and Boeing 787s. Keep in mind that a lot more A350s could be coming SWISS' way in the future. Not all of the Lufthansa Group A350s have been allocated yet.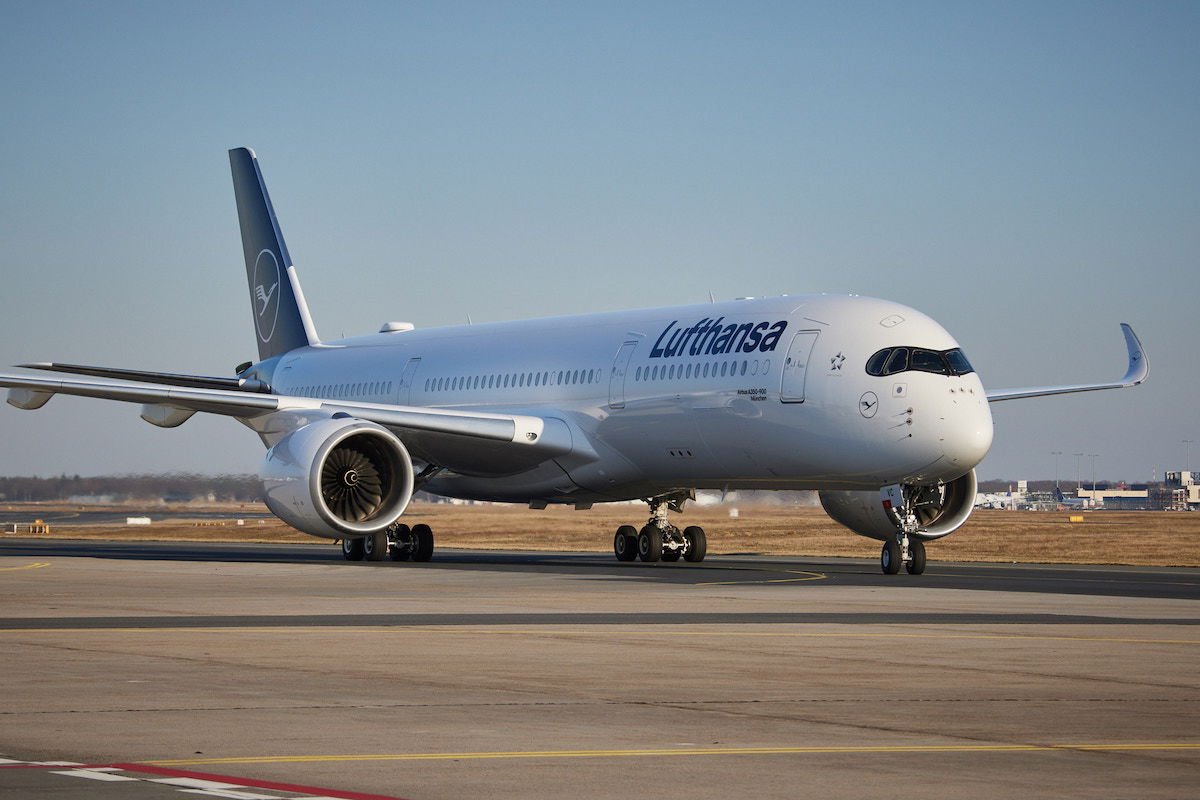 SWISS has a cool video that it published about the A350 joining its fleet, which is well done. There's more to the video than meets the eyes, with lots of hidden clues. For example, the alarm goes off at 3:40AM, which I have to imagine is a reference to the A340.
A350s will feature new SWISS Senses cabins
The Lufthansa Group is in the process of overhauling its cabins. Lufthansa has its new Allegris cabins, which include a new first class and new business class. SWISS will also be introducing new cabin interiors as of 2025, which will be known as SWISS Senses.
This is essentially the same product that Lufthansa is introducing, except it will feature SWISS branding. So you can expect SWISS to introduce a new first class product, featuring a door at each seat, plus a double suite in the center.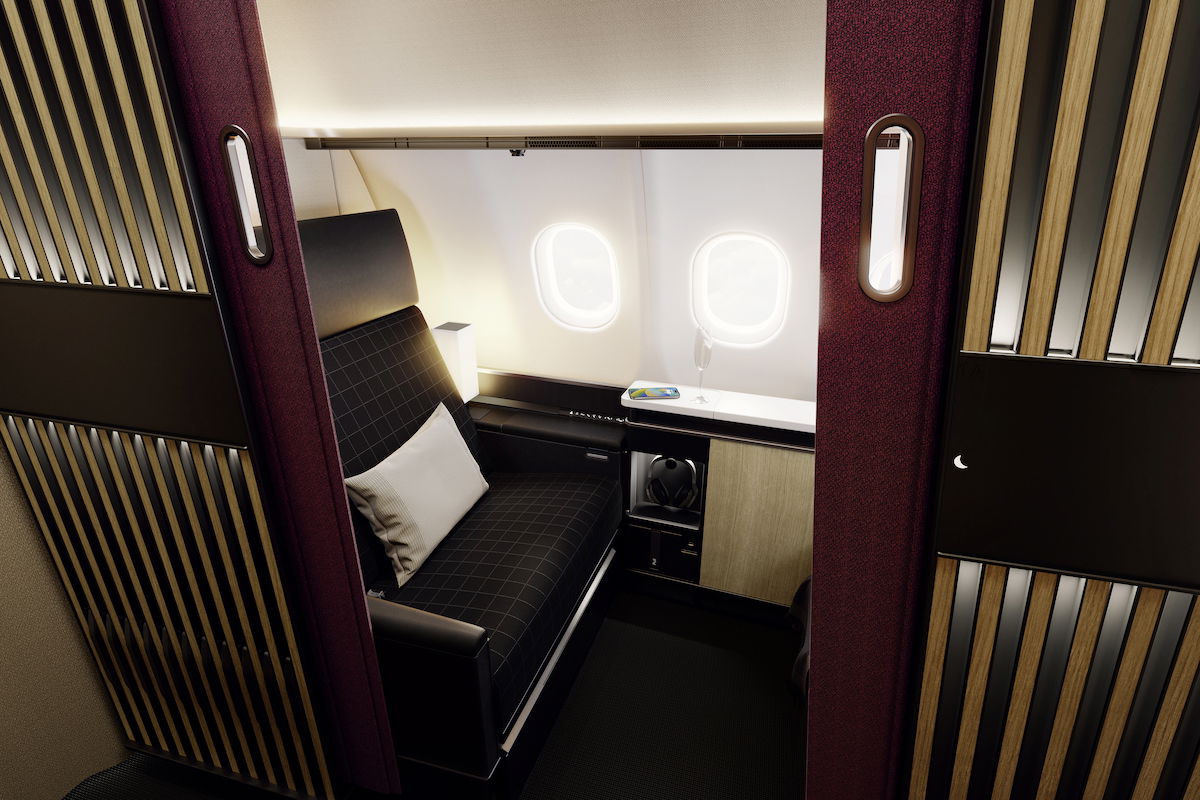 This also includes a new business class product, featuring a staggered configuration that's highly customized. Yes, this is the same product that Lufthansa announced all the way back in 2017.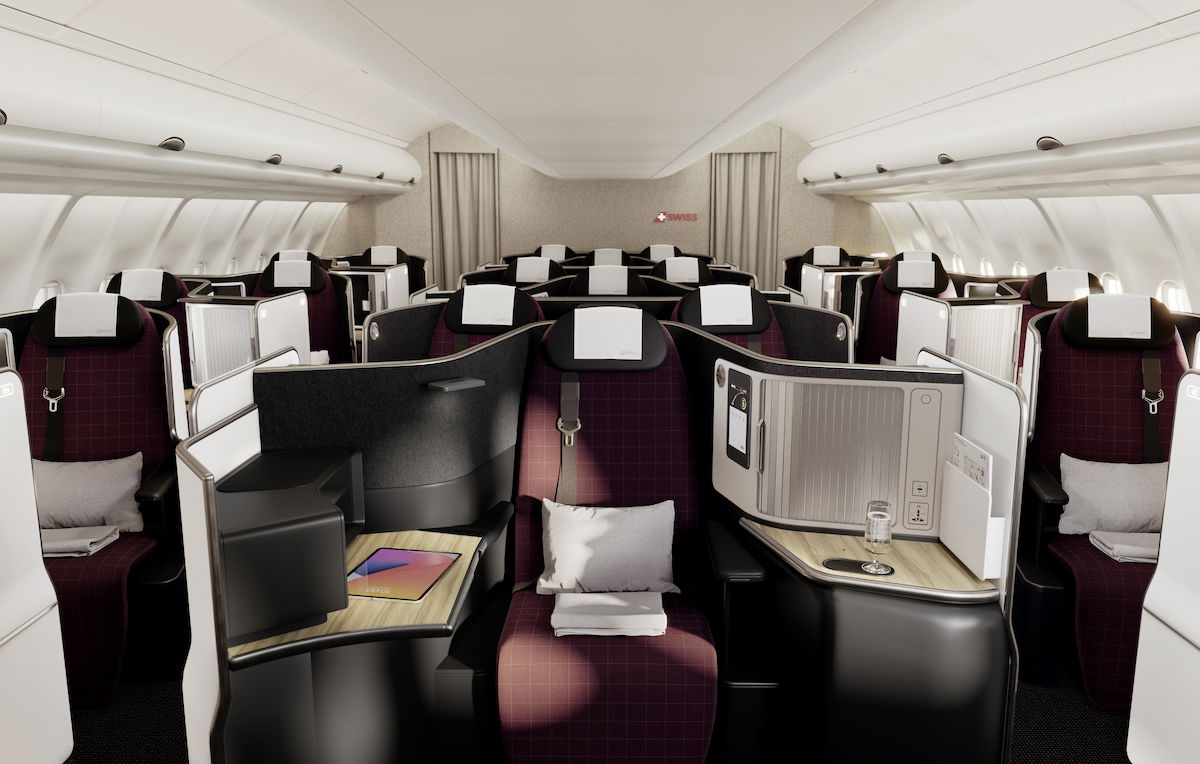 This new product looks like a great improvement over SWISS' current inflight products. These new seats should also eventually be installed on other SWISS long haul aircraft, though only in 2025 and beyond.
SWISS A350s to have 242 seats in four cabins
SWISS has just revealed its planned layout for Airbus A350-900s, and I'm a bit surprised by some of the details. SWISS A350s are expected to feature 242 seats, including:
Three first class seats (with the center seat being able to accommodate two people)
45 business class seats
38 premium economy seats
156 economy seats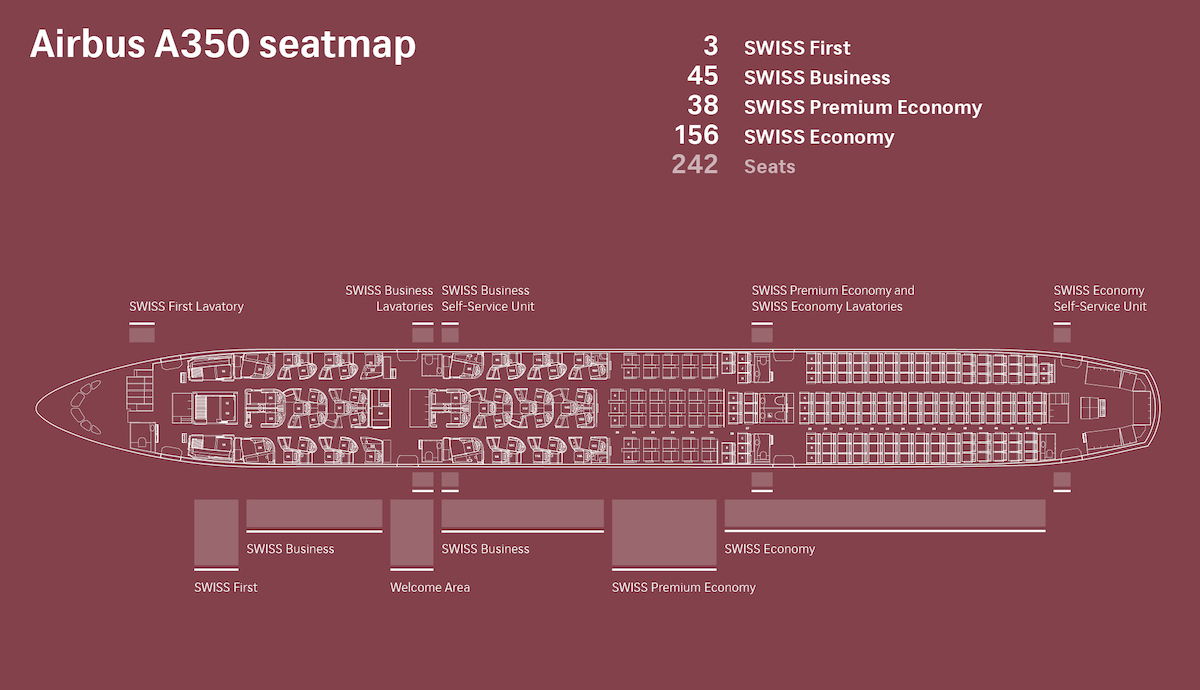 SWISS highlights a couple of key points about this configuration. First of all, the premium economy cabin is considerably larger than on any other long haul aircraft in the SWISS fleet. Second of all, SWISS will be the only airline in the world to continue having first class on all long haul aircraft.
Now, there are a few things that sort of surprise me here, or at a minimum, that I find noteworthy:
SWISS has long highlighted the amount of first class demand it has, and the airline has eight first class seats on all long haul aircraft; I'm a bit disappointed that SWISS didn't choose to introduce two rows of first class, but is just installing one row, like on Lufthansa, as this represents a 50-62% reduction in first class capacity
There are only two lavatories for 45 business class seats, which is a pretty awful passenger to lavatory ratio for a premium cabin
It's interesting how there are two rows of economy in front of the third set of doors, behind premium economy; it sure would be nice if airlines made premium economy a bit more exclusive by offering separate lavatories, rather than making people walk back to the regular economy cabin
All-in-all, this is quite a premium layout with fairly few seats, as most airlines have closer to 300 seats on A350-900s
Bottom line
SWISS will be taking delivery of Airbus A350s as of 2025. These are part of the overall order that Lufthansa Group has placed for the planes, and the intent is that they replace SWISS' current A340s, and perhaps even some other existing jets over time.
These planes will feature the new SWISS Senses cabins, including the carrier's new first and business class. We also now know that the airline will have 242 seats on these planes, with only one row of first class, and quite a big business class and premium economy cabin.
What do you make of SWISS' plans to fly Airbus A350s?