Passengers traveling with German leisure airline Condor on a recent transatlantic flight had quite the journey, as they stopped on two different Atlantic islands, neither of which was their intended destination. This is a rough situation, though seems like it was handled well by the airline (thanks to Klaus for flagging this).
Condor 767 diverts to Azores due to fighting passengers
On Sunday, June 18, 2023, Condor flight DE2208 was scheduled to fly from Frankfurt, Germany (FRA), to Punta Cana, Dominican Republic (PUJ). The 4,603-mile flight was blocked at 10hr10min, and was operated by a 30-year-old Boeing 767-300 with the registration code D-ABUD.
The flight started out okay, and began its transatlantic crossing, flying at 33,000 feet. Unfortunately several hours into the flight, a brawl erupted between two passengers, and it became physical. The situation got so bad that the decision was made to divert.
As you'd expect, there aren't many diversion points over the Atlantic, especially for a southerly routing like this. So the decision was made to divert to Ponta Delgada, Azores (PDL), which required a bit of backtracking. The plane landed there just under 6hr20min after it departed.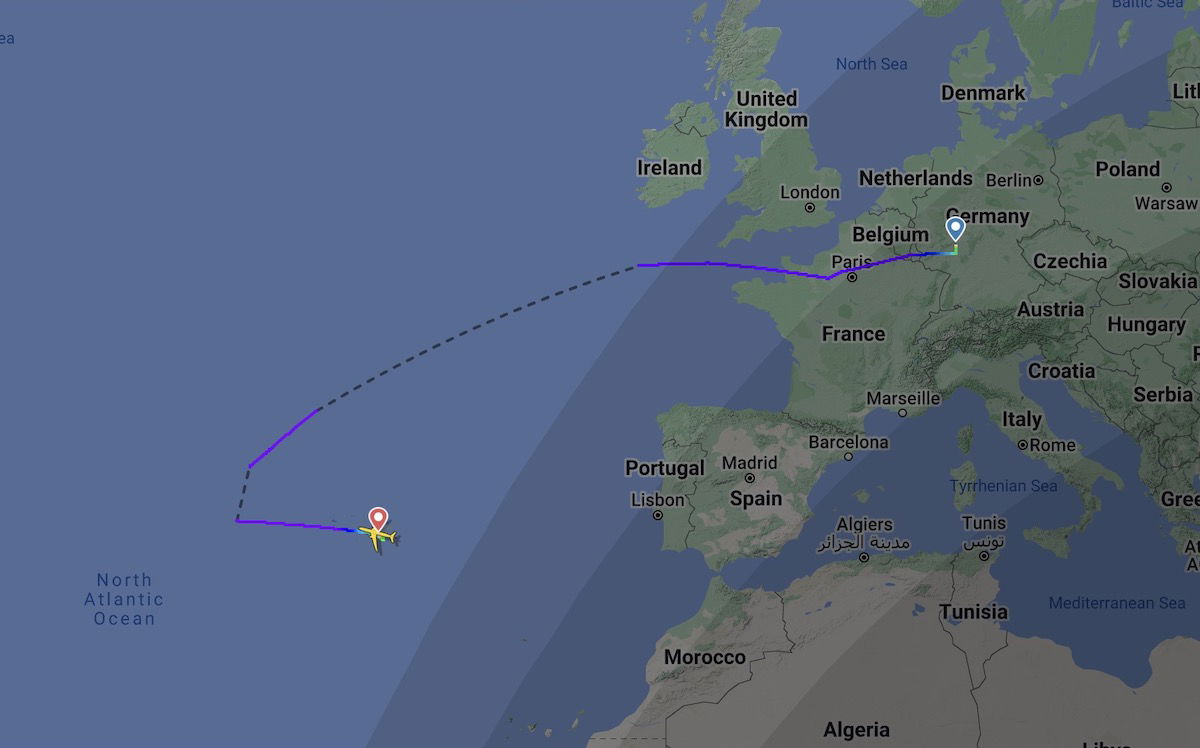 Here's what a Condor spokesperson had to say about the diversion:
"We can confirm that there was a physical altercation between guests on board flight DE2208. Our crews are trained for such cases. However, because no lasting de-escalation could be brought about, the captain decided, as planned in such a scenario, for an unscheduled stopover in the Azores in Ponta Delgada."
Condor 767 crew times out, so the plane flies to Tenerife
As you might expect, it takes some time to remove rowdy passengers, refuel a jet, etc. There was then a new problem — the crew couldn't legally fly all the way to the Dominican Republic, as they'd time out. Okay, you'd think the plane would just spend the night in the Azores so that everyone could rest, right?
Well, there was one additional problem — there weren't enough hotel rooms in the Azores for all passengers and crew to be accommodated, so they made a new plan. The airline made the decision to fly to the nearest major airport with hotel rooms, which was… Tenerife, Spain (TFS).
So after about two hours on the ground, the jet finally took off for Tenerife, a journey that took just under two hours. Once there, passengers and crew were accommodated in hotels for the night.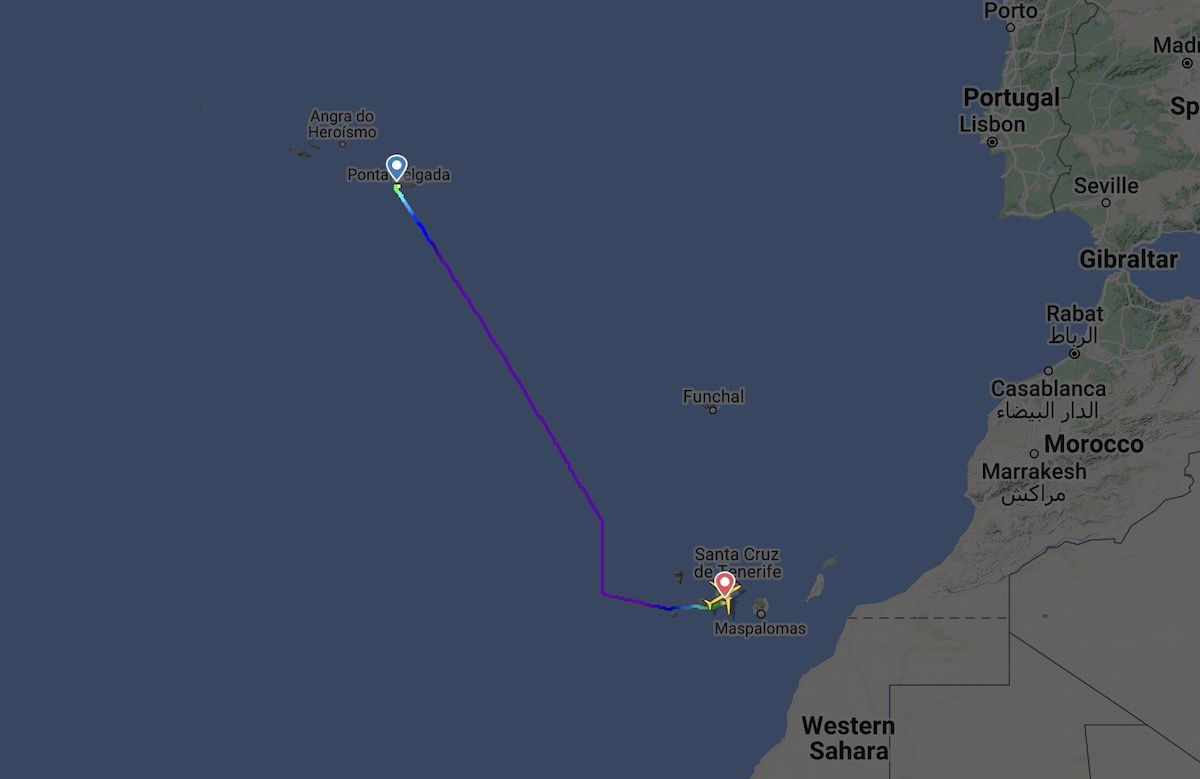 Here's what a Condor spokesperson had to say about the second diversion:
"After there was not enough hotel capacity in Ponta Delgada, the plane flew to Tenerife in order to be able to observe the appropriate crew rest time there, while all guests could be accommodated and fed in hotels,"
Condor 767 flies from Tenerife to Punta Cana
On Monday, June 19, 2023, after a night of rest, the flight finally continued to its intended destination. The aircraft flew from Tenerife to Punta Cana in a flight time of around 6hr40min. The plane landed there at 8:45PM on Monday, roughly 25 hours behind the scheduled arrival time of 7:45PM on Sunday.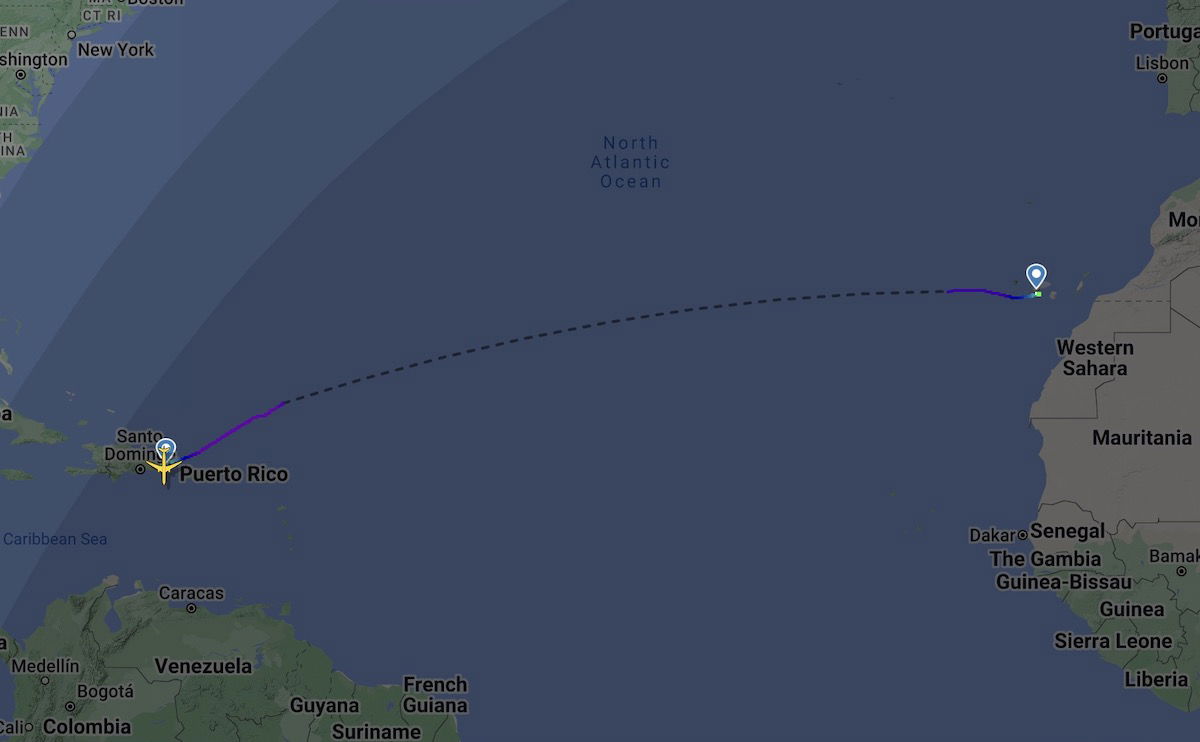 Bottom line
Passenger on Sunday's Condor flight from Frankfurt to Punta Cana had quite the adventure. A fight escalated between passengers over the Atlantic, requiring a diversion. The only practical diversion point was Ponta Delgada, where the passengers were taken into custody by police.
At that point the crew would have timed out and couldn't fly to Punta Cana anymore. Unfortunately there also weren't enough hotel rooms on the island, so the airline decided to send passengers to Tenerife, where they'd spend the night. Then the following day, the airline flew from Tenerife to Punta Cana, arriving around 25 hours behind schedule.
While this was no doubt a pain for all involved (including the airline — this was costly), it sounds like Condor handled the situation as well as it possibly could have. I could also see plenty of airlines just saying "well, the crew timed out, tough luck on the lack of hotel rooms."
What do you make of this Condor diversion?