If there were an animated movie entitled "The Secret Life of OMAAT Contributors," it might just be 90 minutes of a Pixar-rendered Tiffany instant messaging with similarly animated versions of Travis, Andrew B., Mike, Matt, Ford and myself.
Because both Tiffany and I stayed at renovated hotels recently with very noticeable design directions — Tiffany, at the Concourse Hotel LAX, which was redesigned with a "mid-century aviation" approach to great success, and me, at the Fairmont Olympic Seattle, a former grande dame whose renovation was executed in the "Z Gallerie Outlet, but slightly cheaper looking" aesthetic — we found ourselves in a discussion about what we like and dislike in hotel design.
Tiffany's also currently staying at a Fairmont property, so we discussed the peculiarities of that chain — one we both really like, but one that's hard to pin down.
So here goes, against Tiffany's every instinct, our first (and possibly last!) installment of "An OMAAT Chat" – a nice, open-minded back and forth between Tiffany and me. But, as always, OMAAT is about the readership — so consider this just the beginning of a conversation, and please add your thoughts to the comments below!
Nick: Great review on the Concourse – it actually looks nice? At least from a room perspective, maybe the top option at LAX?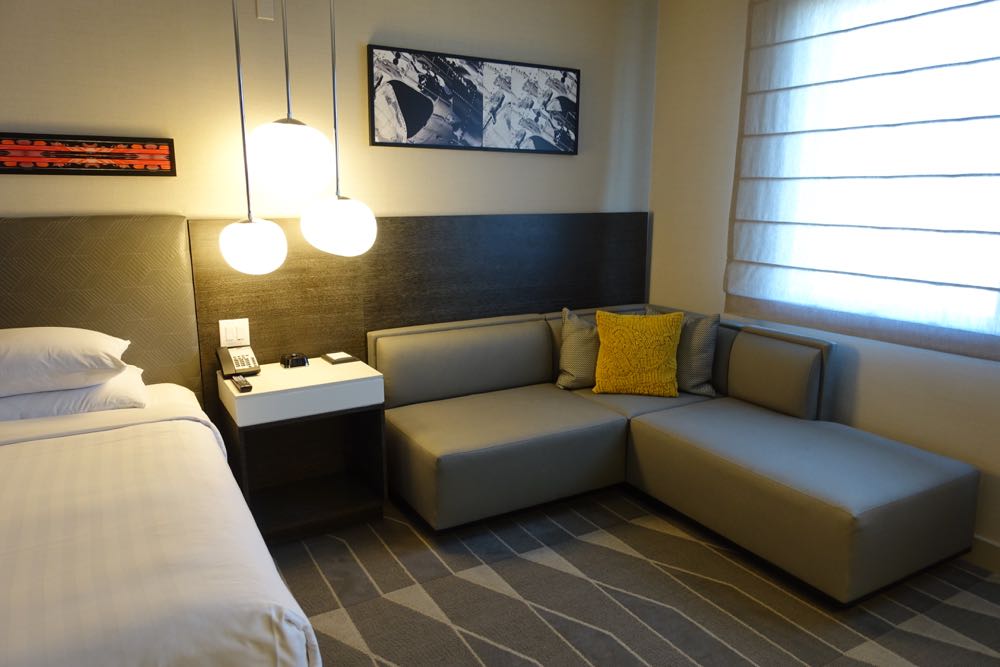 Tiffany: Yeah, for sure. It has the best shuttle situation, and is walkable.
Nick: Speaking of hotels, how's the Fairmont? Are you stocking up on Le Labo?
Tiffany: Service is great, really impressed!
Nick: I really do admire the Fairmont brand now, even if they screwed the pooch on the Olympic redo. They're kind of hard to place on the hotel spectrum… like not quite up there with Four Seasons, Ritz, St. Regis, Park Hyatt; but also clearly better than a Westin or JW Marriott.
Maybe the equivalency is… Le Meridien? Intercontinental?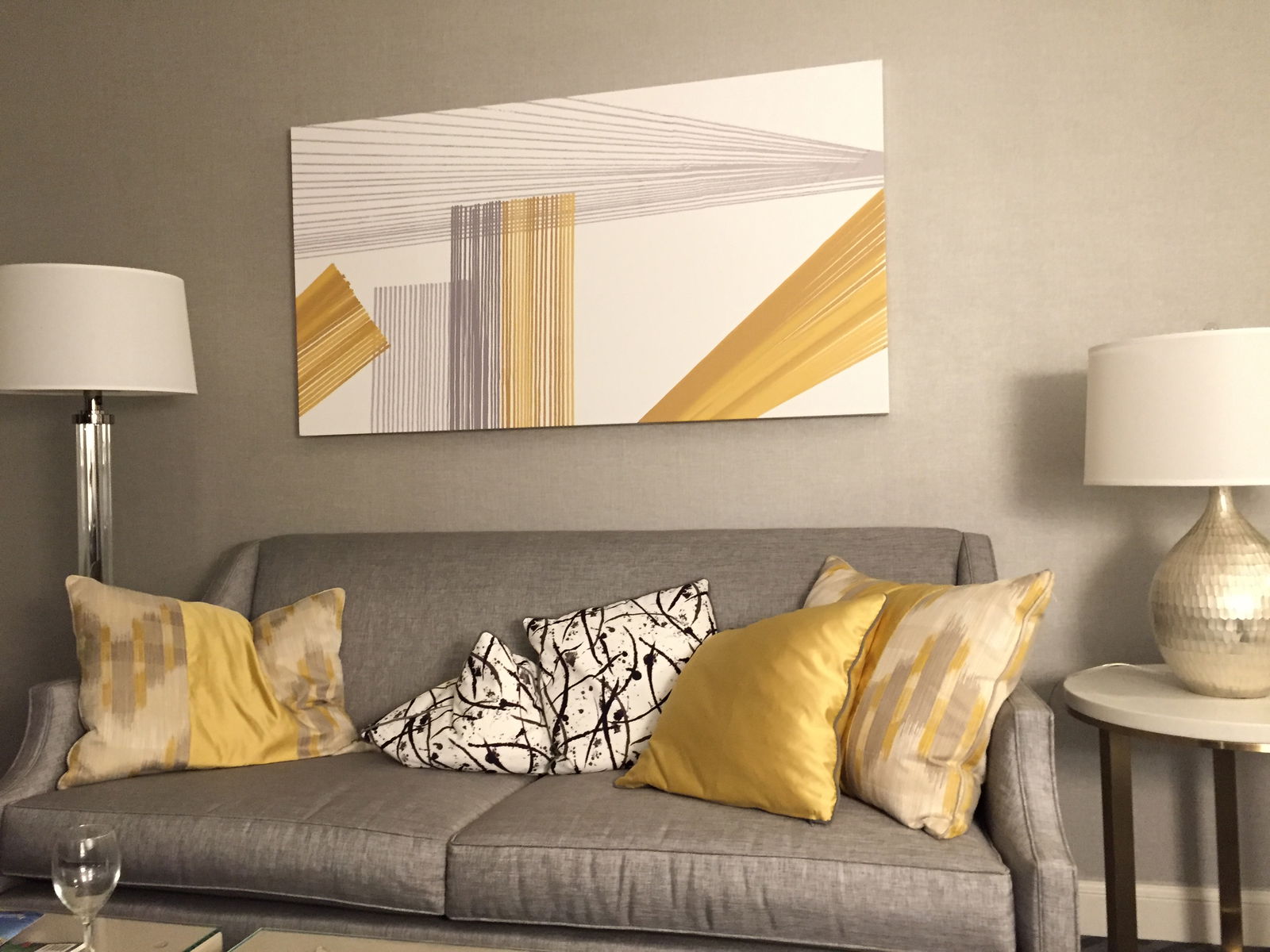 Tiffany: For this property? I think it's like a big Park Hyatt, if that makes any sense.
Nick: Sort of? But there are certainly some middle of the road Fairmonts, especially, I think, in Canada.
Tiffany: Well, I'm thinking the service level is 5*/Boutique levels. The physical plants are not necessarily great.
Nick: Hmm, I'm still a little miffed by the bizarre breakfast benefit at the Fairmont Olympic — I thought it was cheap. It felt very nickel and dimey in a way that I don't think a Four Seasons would ever do.
Tiffany: Fair point.
Nick: As for the physical plant, are the rooms updated? The pools nice? I recall it being a giant white Moorish castle… which may or may not feel dated years down the road.
Tiffany: Umm, not really updated, but so neutral as to not feel necessarily dated. I don't expect much in terms of style from Hawaii hotels, honestly.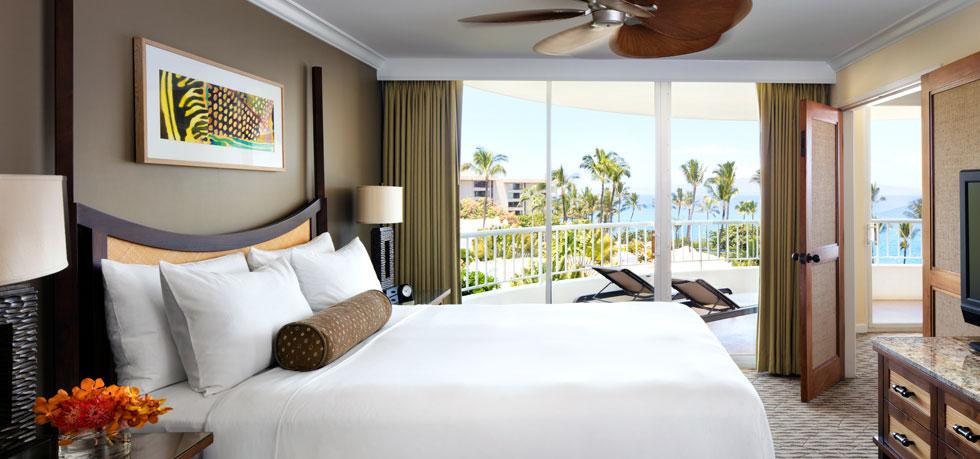 Nick: Which, my gosh, shouldn't be that the ethos behind any hotel renovation?
Tiffany: Sure, but I can see the desire to have things be "fresh" and "current." This is all sorta "island-neutral." Not bad, just not notable.
Nick: Right. And I can't think of any Hawaii hotels that go balls-out, decor wise. Maybe the Royal Hawaiian redo, but that actually sort of looks fun?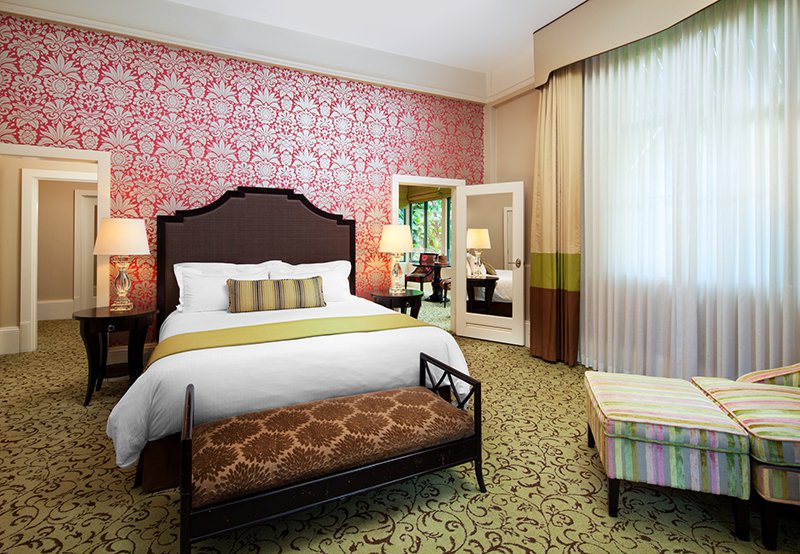 Tiffany: I think my hotel preferences might be esoteric.
Nick: I mean, you DID love that wackadoo hotel in Milan.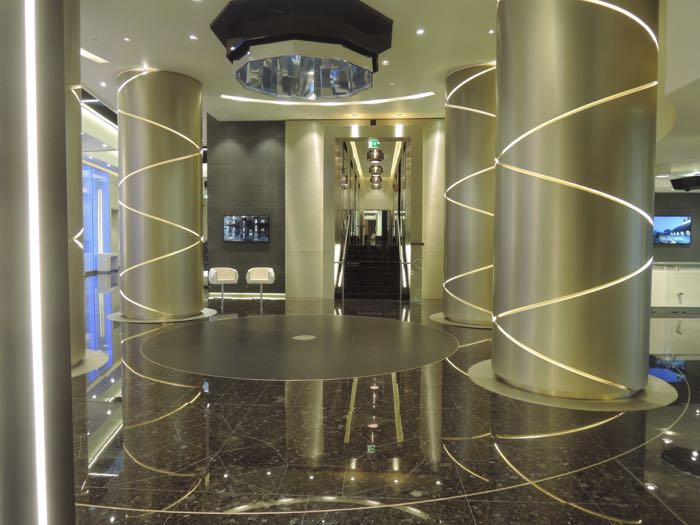 Tiffany: Well, I loved that it was unique and committed — I am a fan of commitment in general.
Nick: Right, like with the retro midcentury modern airplane decor at the Concourse.
Tiffany: Exactly!
Nick: I mean, some Vegas hotels do that to horrifying effect, though!
Tiffany: Hah, yes…
Nick: I had to stay at the Westgate for work and they upgraded me to a suite and I've never seen so much vinyl and crushed velvet used to such ill-suited ends.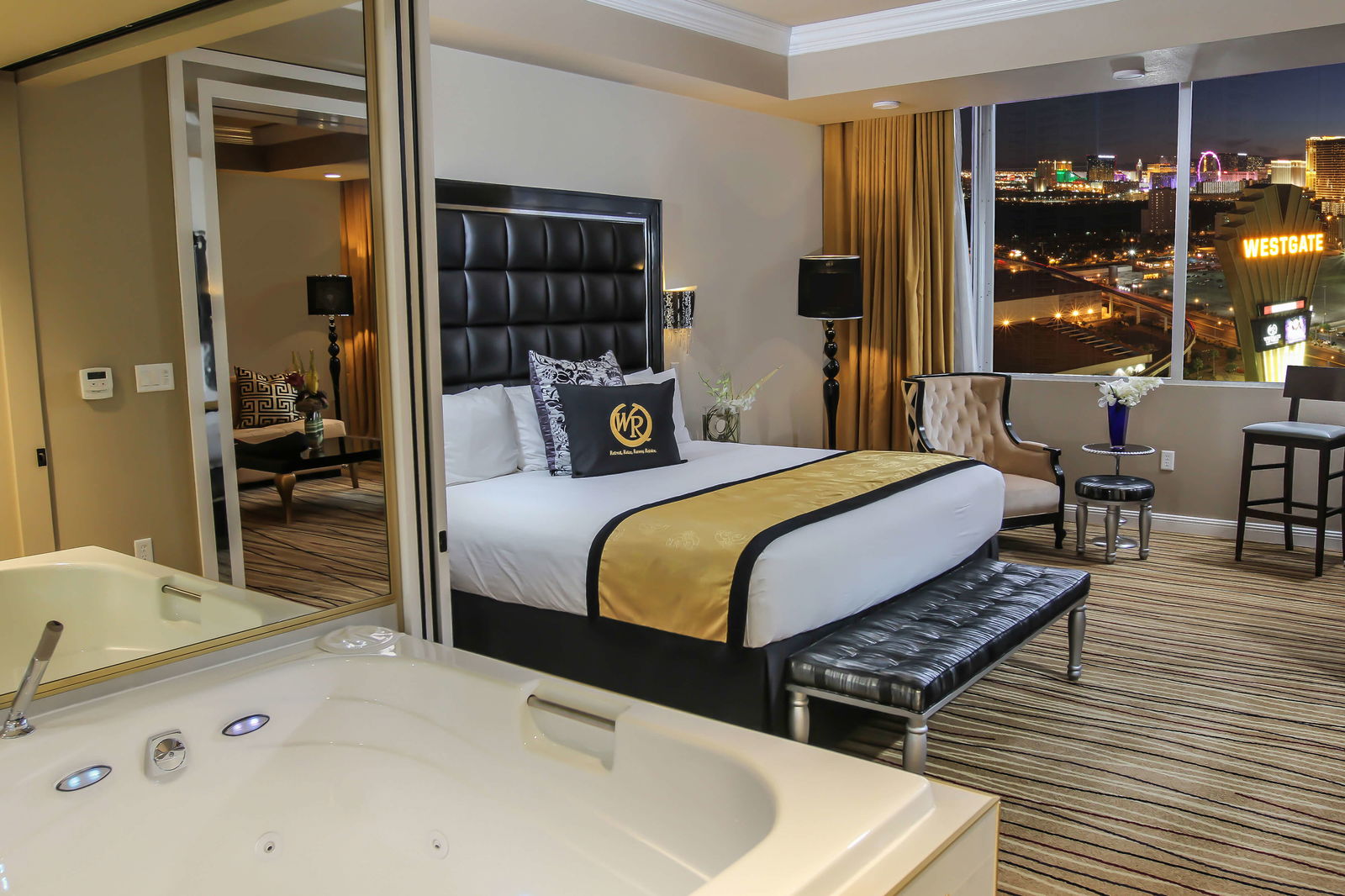 Tiffany: Okay, so that's actually a good example — I remember when I was a kid we stayed at the Disneyland Hotel — I was super little, so this would have been late '80's. My parents thought it was strange that the only "theming" was Mickey silhouettes stamped into the ashtrays.
And it's like…why not go all the way?
Nick: Versus the hotels at Disney World, which are themed out.
Tiffany: Yeah, and they're all better now, this was years ago.
Nick: I mean, when I was a kid we stayed at the Contemporary which was probably un-themed. But, the Grand Floridian was certainly themed, in a Mary Poppins-y way.
Tiffany: The "theme" of the Contemporary is sorta "we put a monorail through our Holiday Inn."
Nick: HA!
Tiffany: So I'm not saying I'm a fan of themes per se.
Nick: Well, I admire when a hotel can commit to a concept without necessarily going in on a theme.
Tiffany: Just the commitment to a design concept, yes.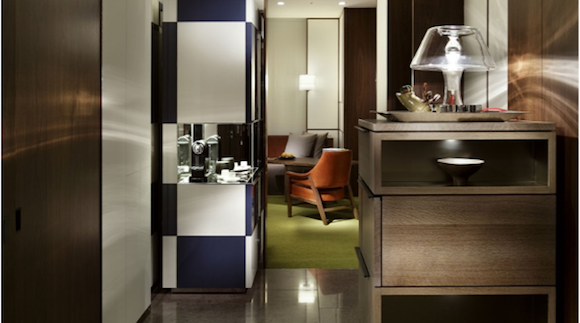 Nick: I mean, the Andaz Tokyo did that, to me, exceptionally well. Probably my favorite hotel room in recent memory… and you know how I feel about the Park Hyatt there, whose theme is "1993."
Tiffany: I liked at Al Maha that they had Bedouin fabrics and art pieces, but I didn't actually feel like I was camping.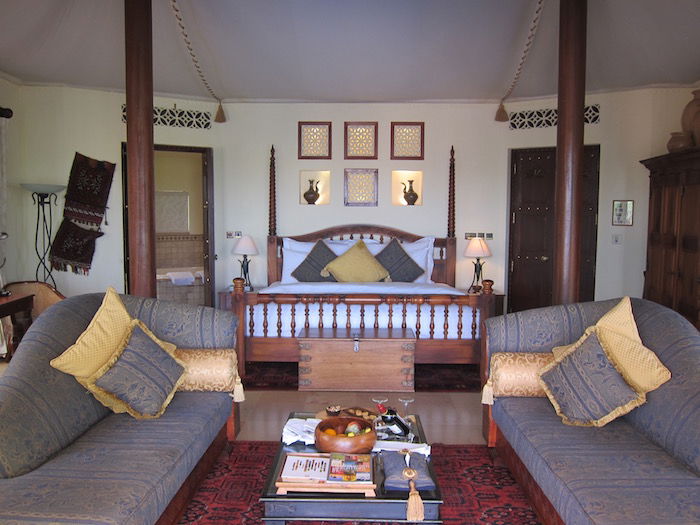 Nick: Right, I saw your trip reports from those places and it seems the Luxury Collection does have some truly excellent properties in the Middle East in that regard.
Tiffany: Love the Hyatt Regency Kyoto, which is super minimalist, lots of organics, very garden-inspired.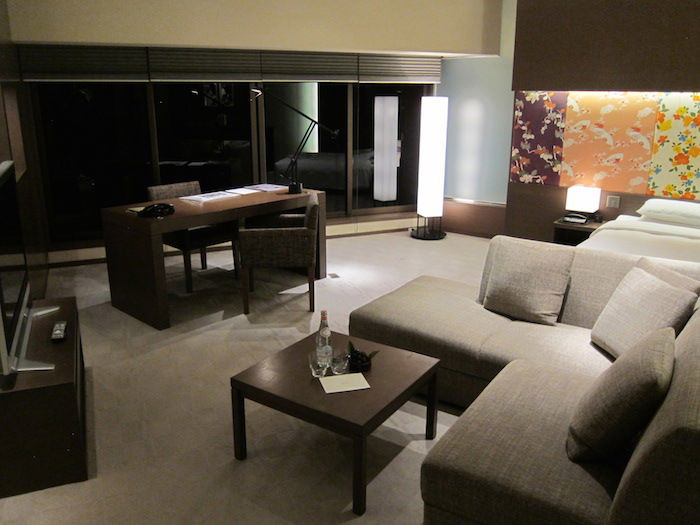 Nick: Yeah, those photos make it look beautiful. I think minimalism is maybe a concept more US hotels should embrace…
Tiffany: Well, but you have to be careful there, because that is so often done so poorly as well.
Nick: True, and when it is – yikes!
But, like, at the Fairmont Olympic — they had faux curtains that were affixed to the wall. That's just absurd.
Tiffany: Westin Berlin had that too — you opened them up to reveal…blank wall.
Nick: Well that's even worse – using them to pretend there are windows when there aren't!
I don't know that anyone walks into a space and says "God, I love the look of curtains!!"
Tiffany: Mmm, women of a certain age do, I think…
Nick: That's funny. I showed my mom pics of the renovated rooms at the Park Hyatt Saigon and her reaction was "why did they make it look like someone's grandma's house?"
Tiffany: Yeah. Fair question!
Nick: I can't wait to actually see the Park Hyatt Saigon – it could either really work or really flop. Talk about commitment — have you seen the photos?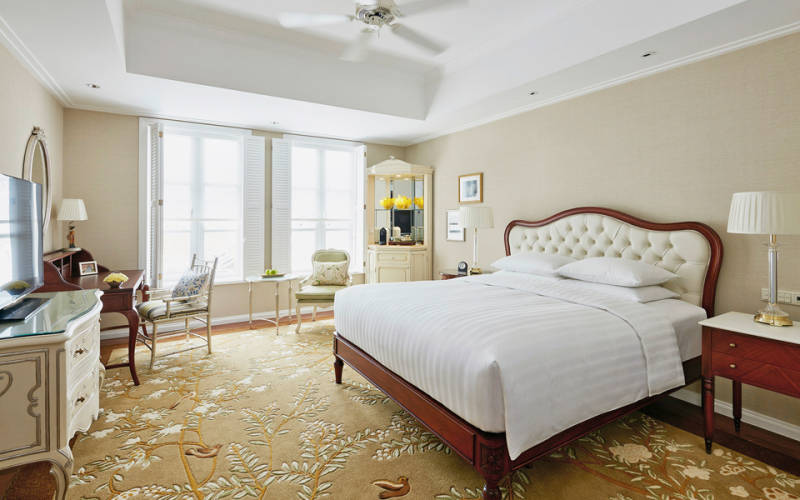 Tiffany: Hah, yes!
Nick: It's maybe just the slightest bit American Girl dollhouse.
Tiffany: Let's go back to why you think the Gallia hotel in Milan was wackadoo — I thought it was great!
Nick [looking at photos from Tiffany's trip report]: OK, so first thoughts — granite or dark marble tiled floors always make me feel like I'm in a nice medical office building, so it seems cold in a hotel.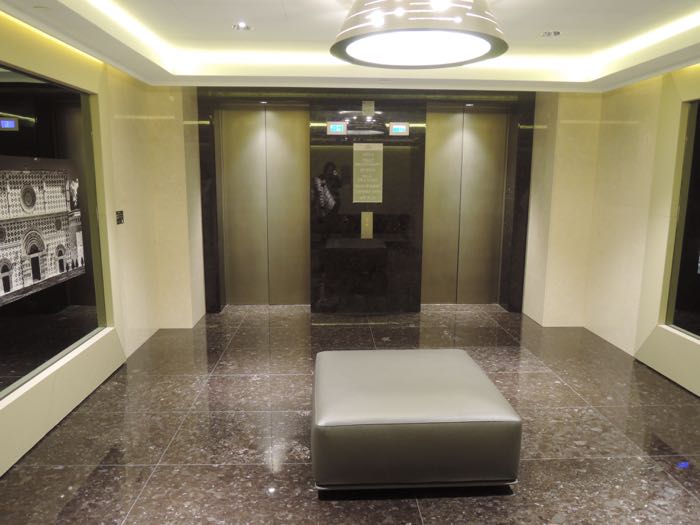 Tiffany: But it's Milan! If it didn't have granite or marble floors, it would look low-rent.
Nick: Does the hotel want to be Art Deco or Mid-Mod? It can't decide.
I grant you that it's not a cookie-cutter renovation, and that's commendable. But I have an aversion to that sort of poofy colored leather (white/red, etc.) 1980's Italian look, personally, but if the hotel carried that all the way through it'd be great — what's jarring is that it is in a historic building and that some of the spaces reflect that and others don't… like the pool and gym area is a wildly different aesthetic than the guestrooms.
And they are using an art-deco 1930's font for all their signage which jars against a 1960s-1980s design concept. And you know how I feel about fonts!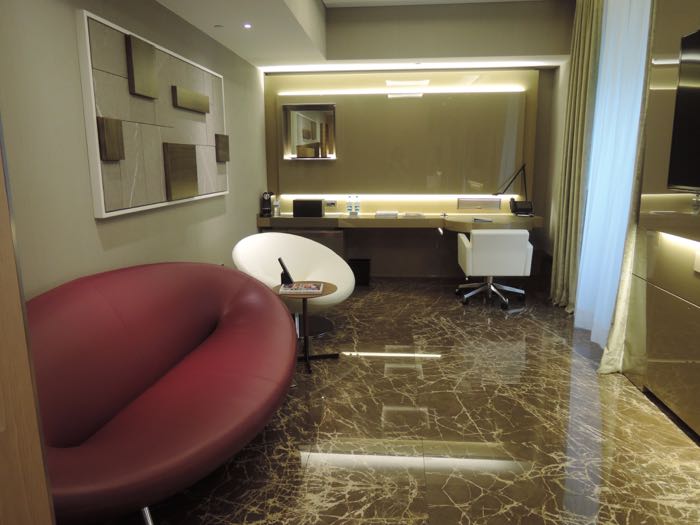 Tiffany: See, and I sorta liked that it was their own thing. Like an homage to Milanese style over the decades, culling the best aspects of each style.
Nick: That's fair, of course. I mean at least they took design cues from Milan and the rest of Italy. I mean, the Hyatt Carmelo, in Uruguay – which used to be a Four Seasons! – is designed to look like a Balinese villa and it's in Uruguay! Weird.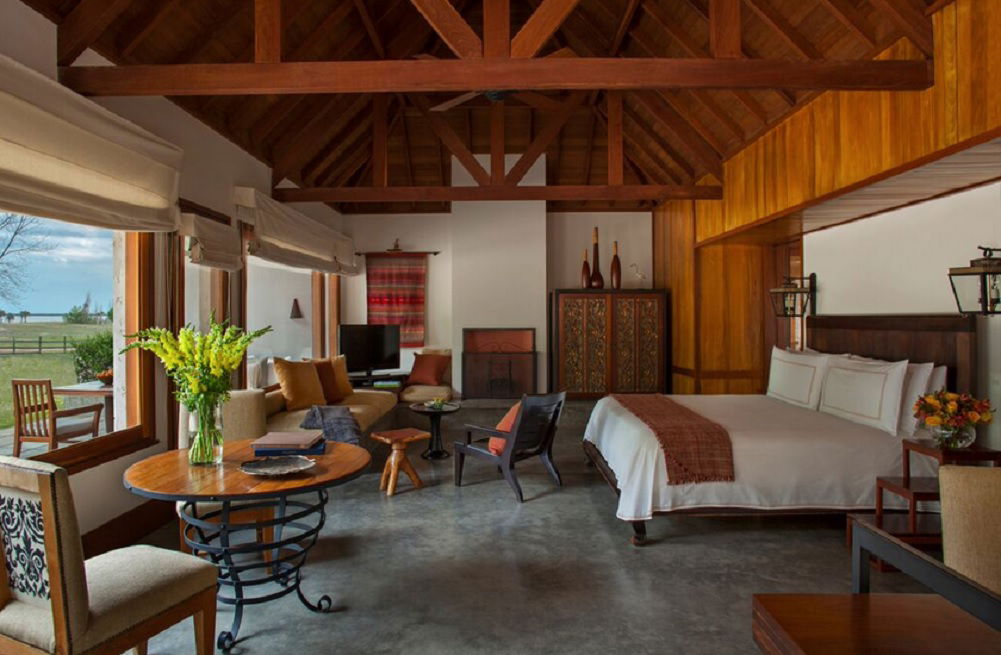 Nick: Do you love the Park Hyatt Paris Vendome, too?
Tiffany: I've only stayed there for one night.
Nick: I think they did a great job of fusing the 1930's Parisian art deco look with modern touches.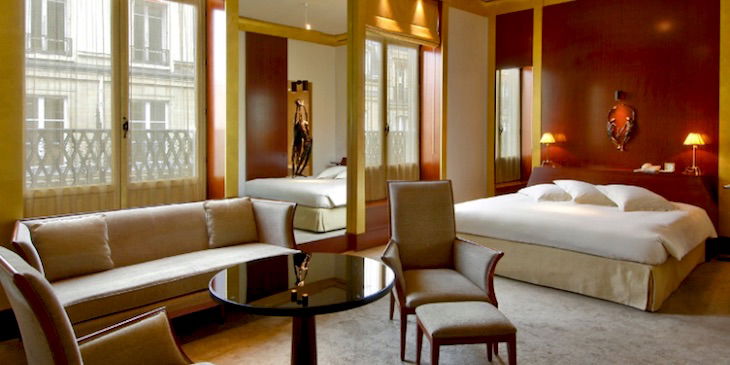 Tiffany: I'll defer to your judgment there, I mostly remember there being a ton of gold.
Nick: Well, it sounds like the bottom line is, taste is subjective for everyone! But we can all agree: the old, pre-renovation Concourse at LAX Hotel was crappy.
What are your favorite and least-favorite examples of hotel design? Would you rather have a neutral room or a balls-to-the-wall example of local flavor? Let's continue the conversation!