Last time I ventured up to Seattle, I had a bit of a hard time using my free Chase Hyatt Visa award night at the Hyatt Olive 8. I actually ended up staying at the Grand Hyatt Seattle, which I thought was surprisingly luxurious — especially since a "typical" domestic Grand Hyatt tends to read as a boring, cookie-cutter convention hotel to me.
I had an unexpected business trip to Seattle last week that put me up at the Fairmont Olympic Hotel downtown. The Olympic is famously Seattle's grande dame hotel, and was in fact refurbished by and branded a Four Seasons from 1981 through 2003, when Fairmont took over the hotel's management contract.
Though it was just for a quick one-night stay, I was excited to try the hotel given its pedigree, even if the photos of the hotel's guestrooms on Trip Advisor showed that the decor was a bit on the fuddy-duddy side.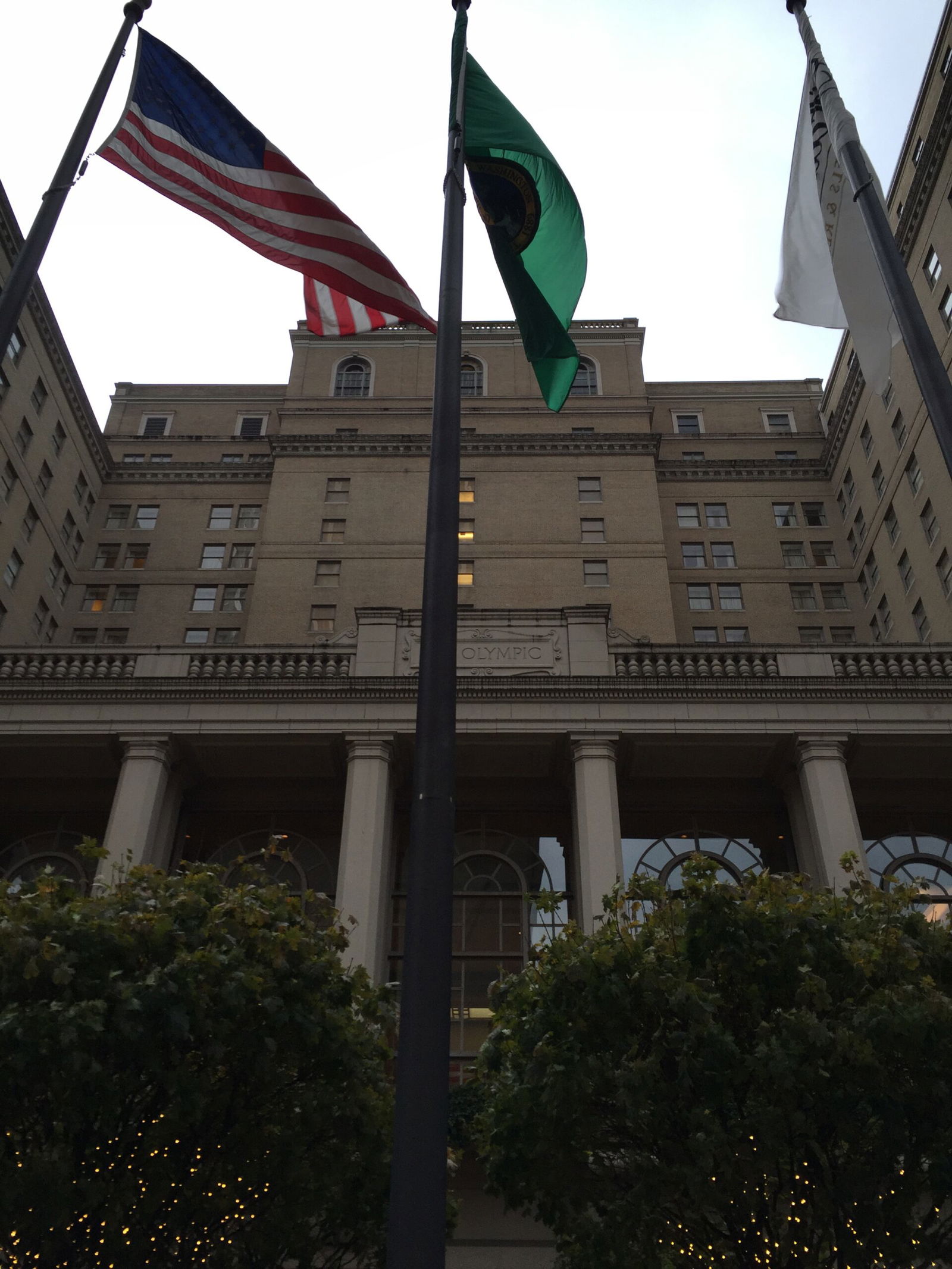 Built in 1924, the hotel has a grand porte-cochère entrance off of University Street, which is in fact one floor below the lobby. From the valet drop-off area, you take an escalator up to the reception area.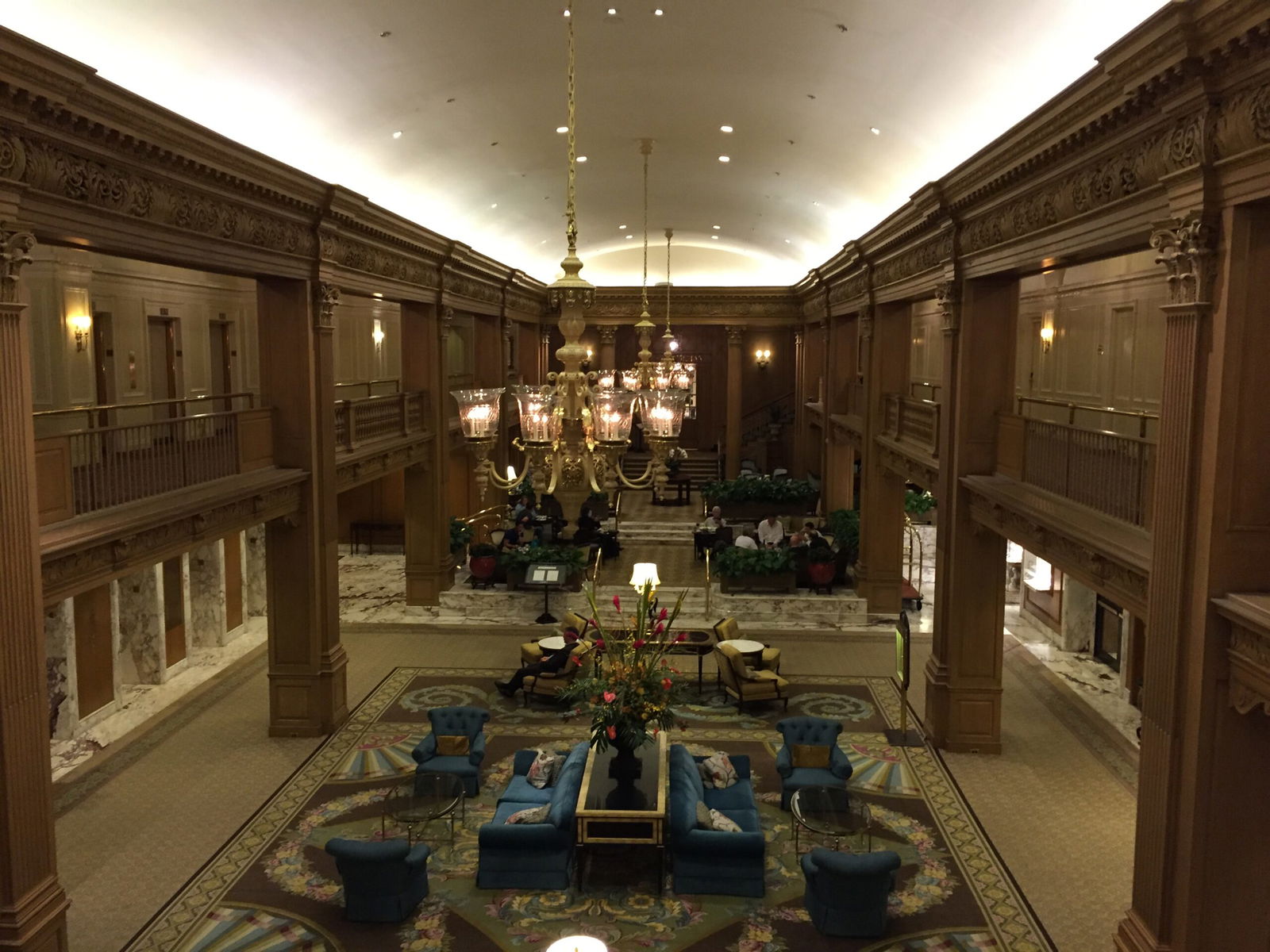 The lobby is pretty breathtaking, actually, and reads as very old-world and elegant. You could also call it "fussy," but in a historic luxury hotel from 1924, sometimes classic, timeless "luxury hotel decor" fits the bill so much better than, say, modern white leather sofas and sleek "modern" accents. Trends die out and look dated. (This was my primary complaint about the decor at the Park Hyatt Palacio Duhau Buenos Aires, which I felt was "trendy" — at least trendy as of 2006, when it was designed — but did no service to the gorgeous history behind the structure itself.)
Anyway, the lobby is an atrium of sorts that spans the length of the entire hotel. I'll let the pictures speak for themselves.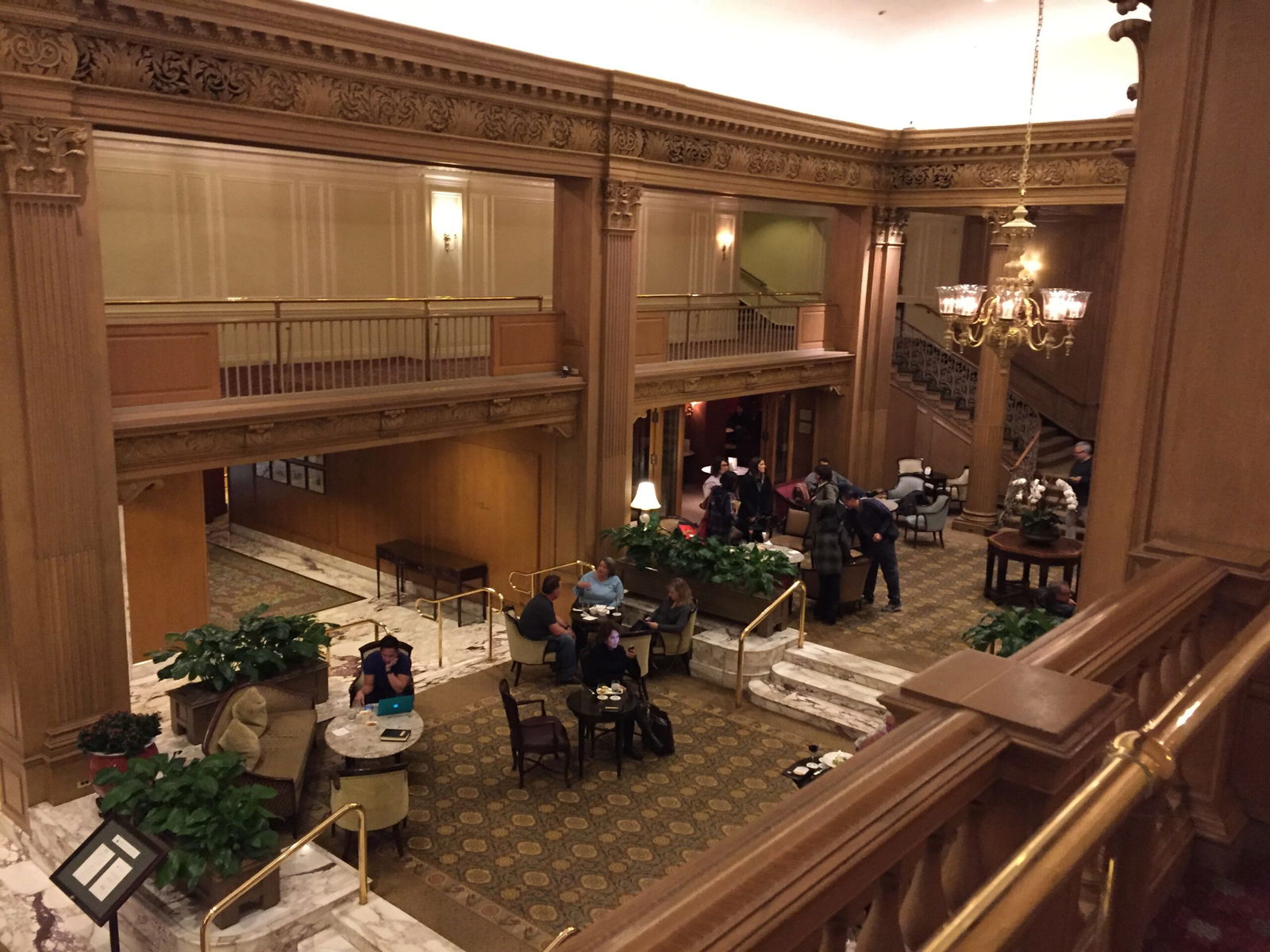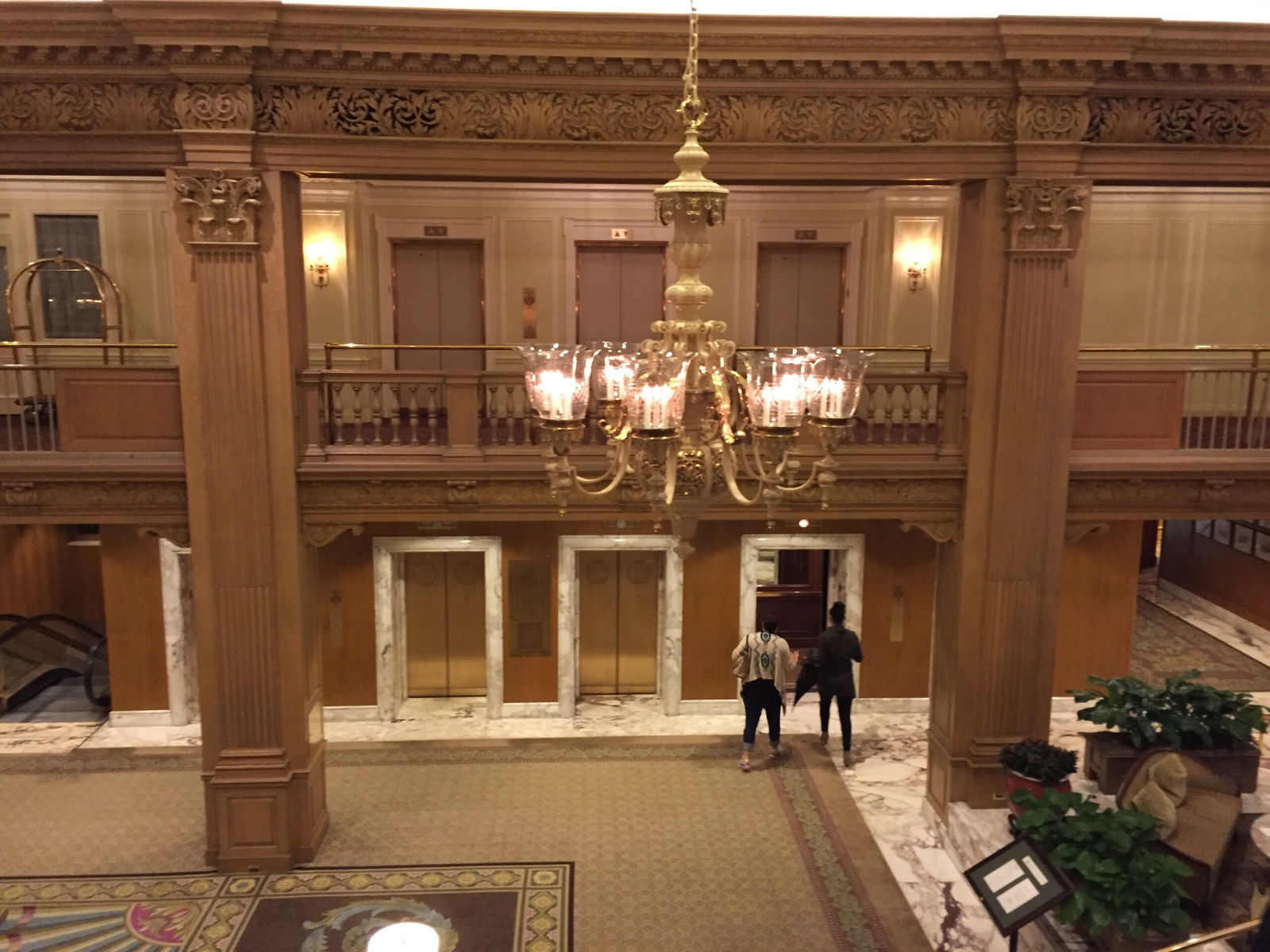 I was fairly struck by the elevator bank, with its heavy brass-plated doors and white marble trim — it's just not something you see every day.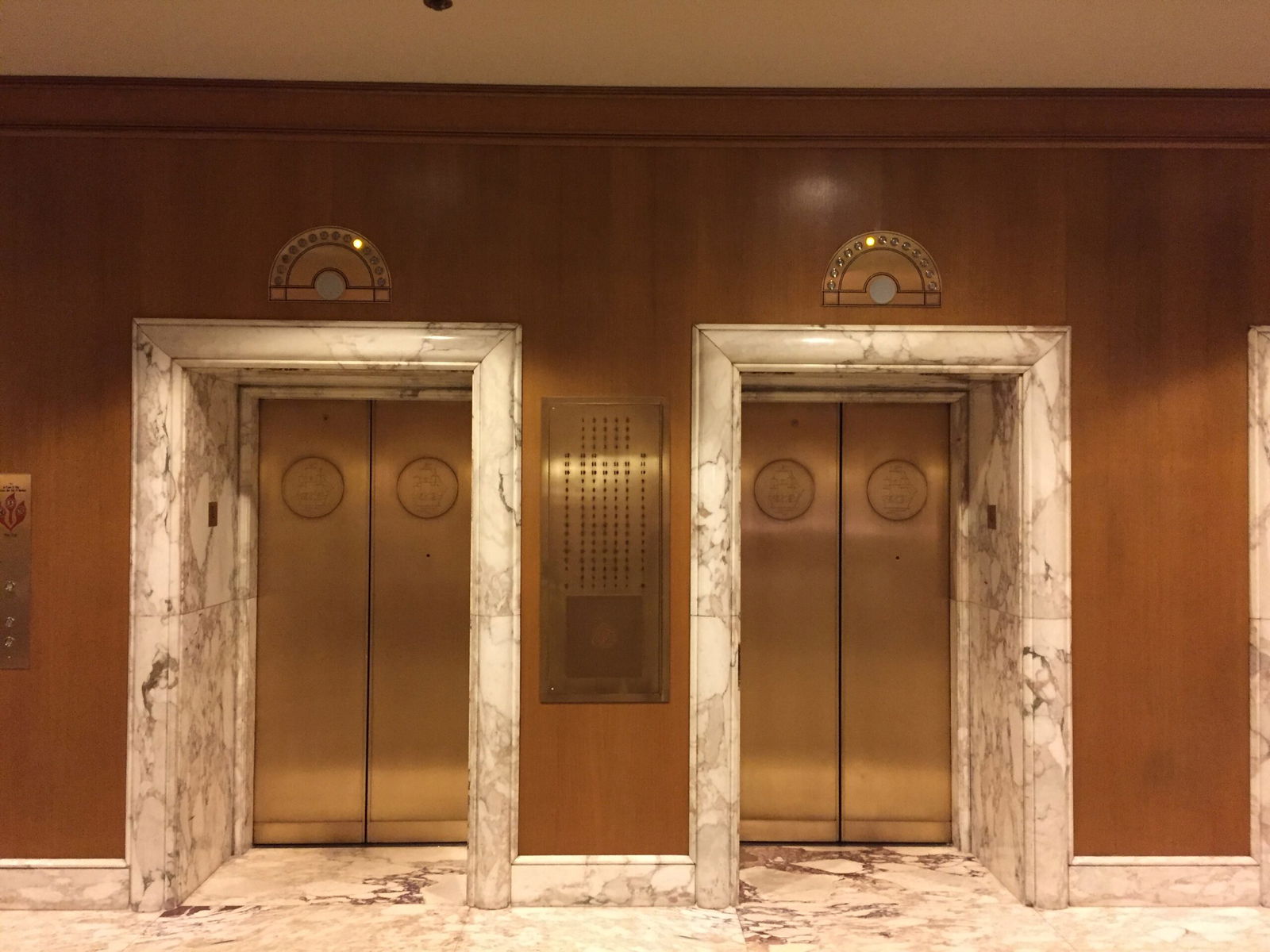 Check-in was rapid, efficient and friendly and I was given keys to a room on the second floor, which appears to have been a Fairmont ADA King.
I found the carpeted and wainscoted guestroom floor hallways to be charming, even though I might find them ostentatious in a cookie-cutter Ritz-Carlton. Again, it's all about the context for me.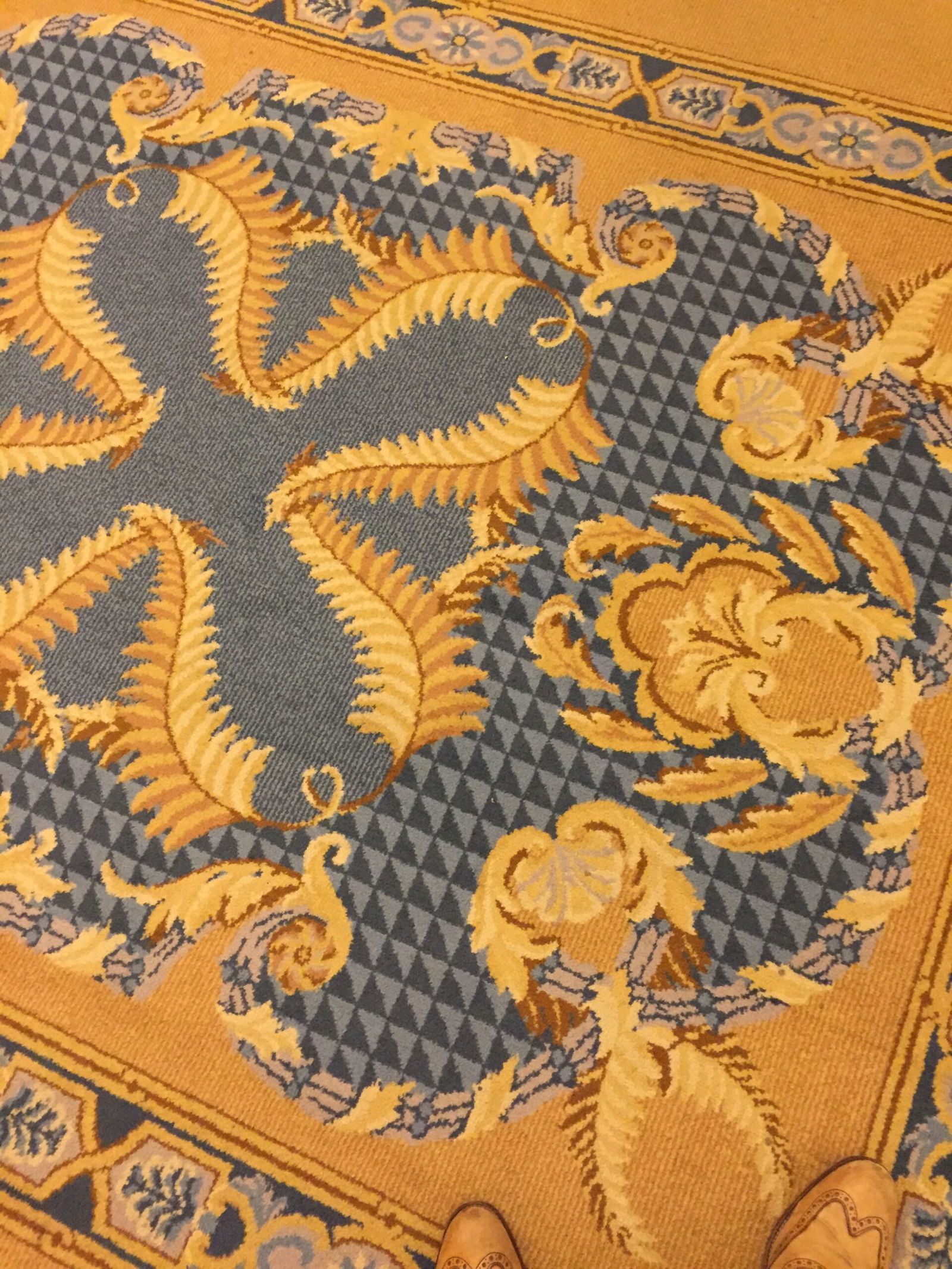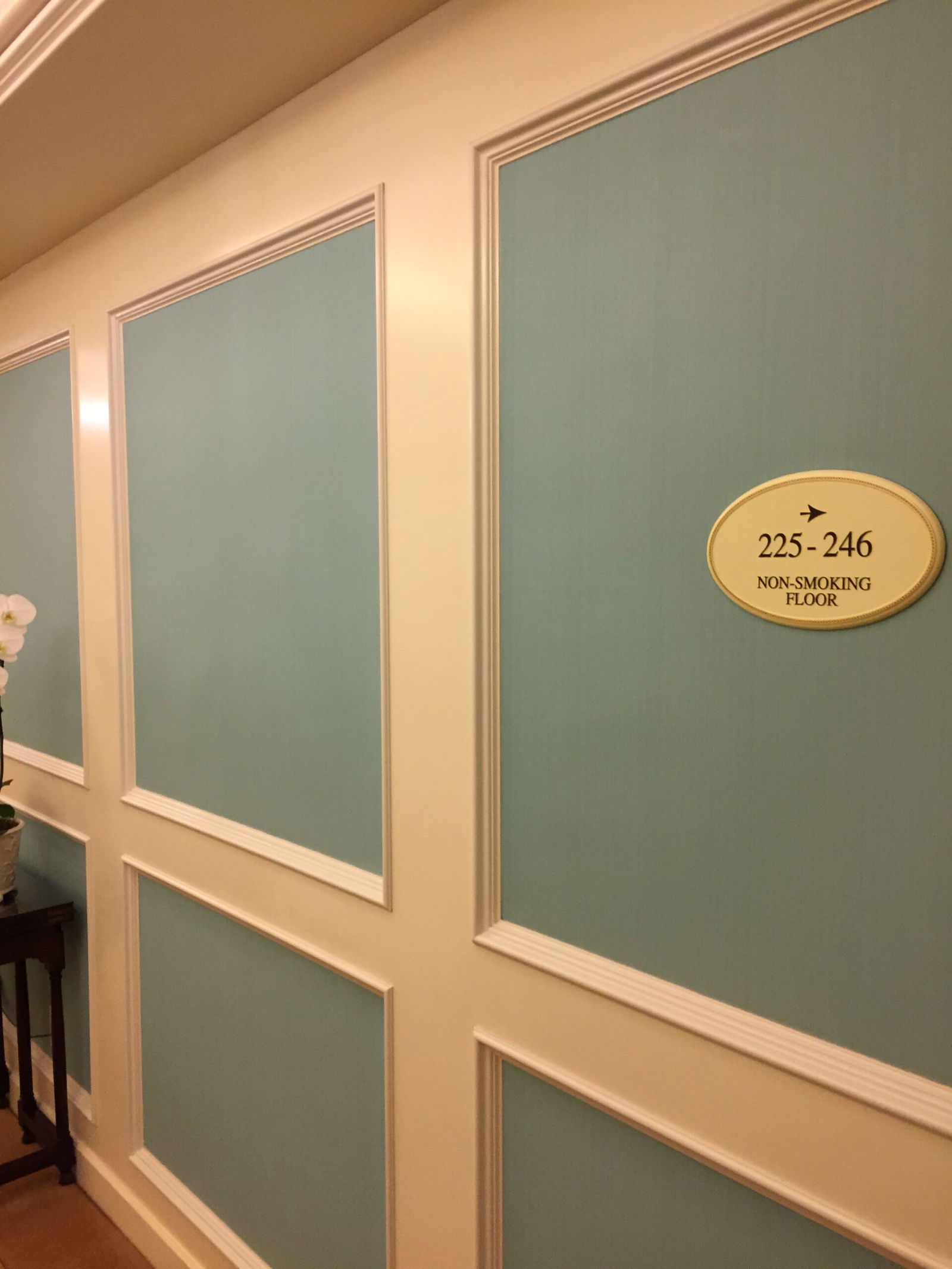 The Room
My room was certainly spacious. For a standard room, indeed, it was huge.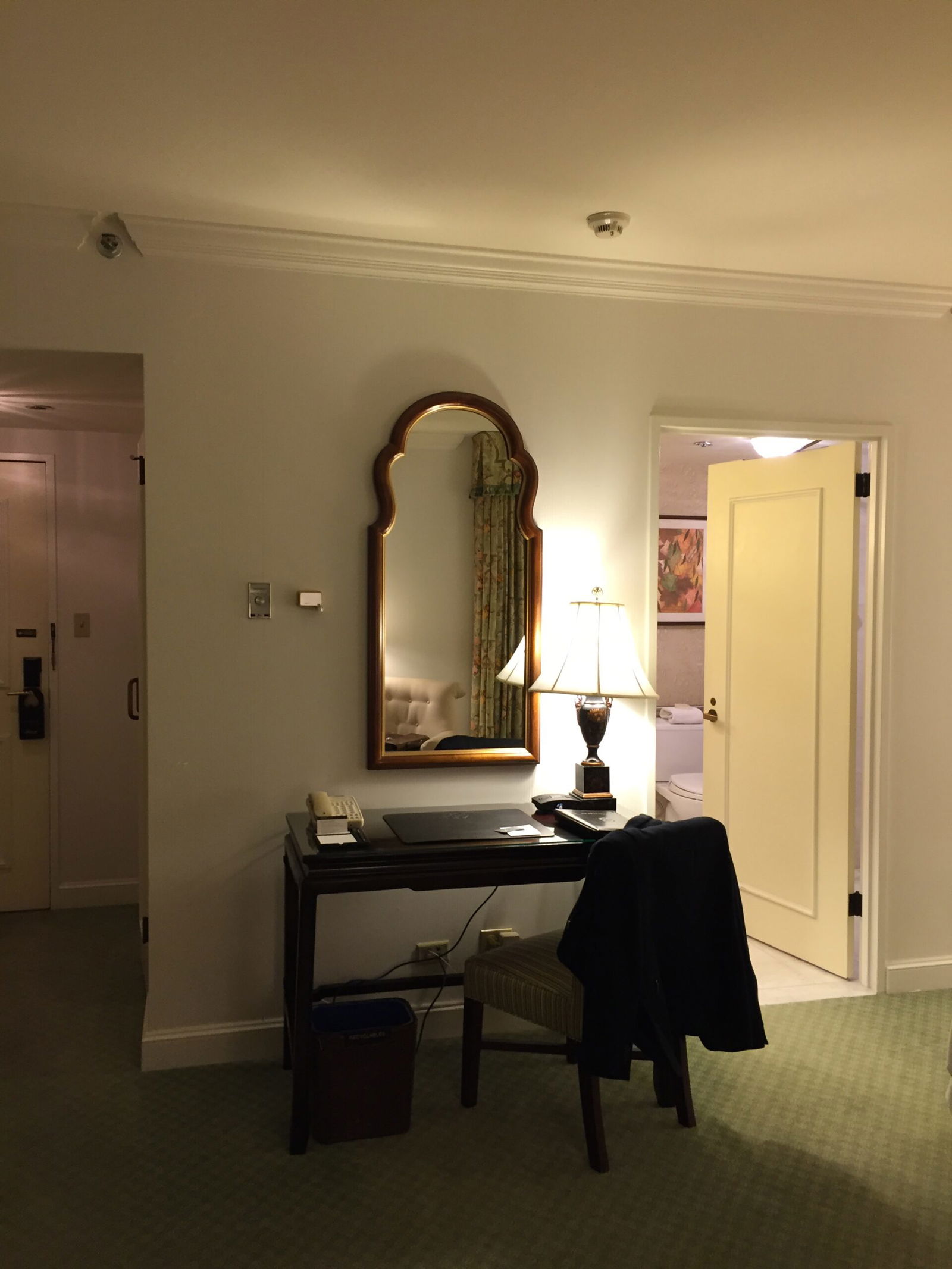 There was a desk with a mirror on one side of the room. Opposite the bed was a coffee station set up with a Keurig machine and complimentary coffee pods, as well as some snacks and drinks for purchase.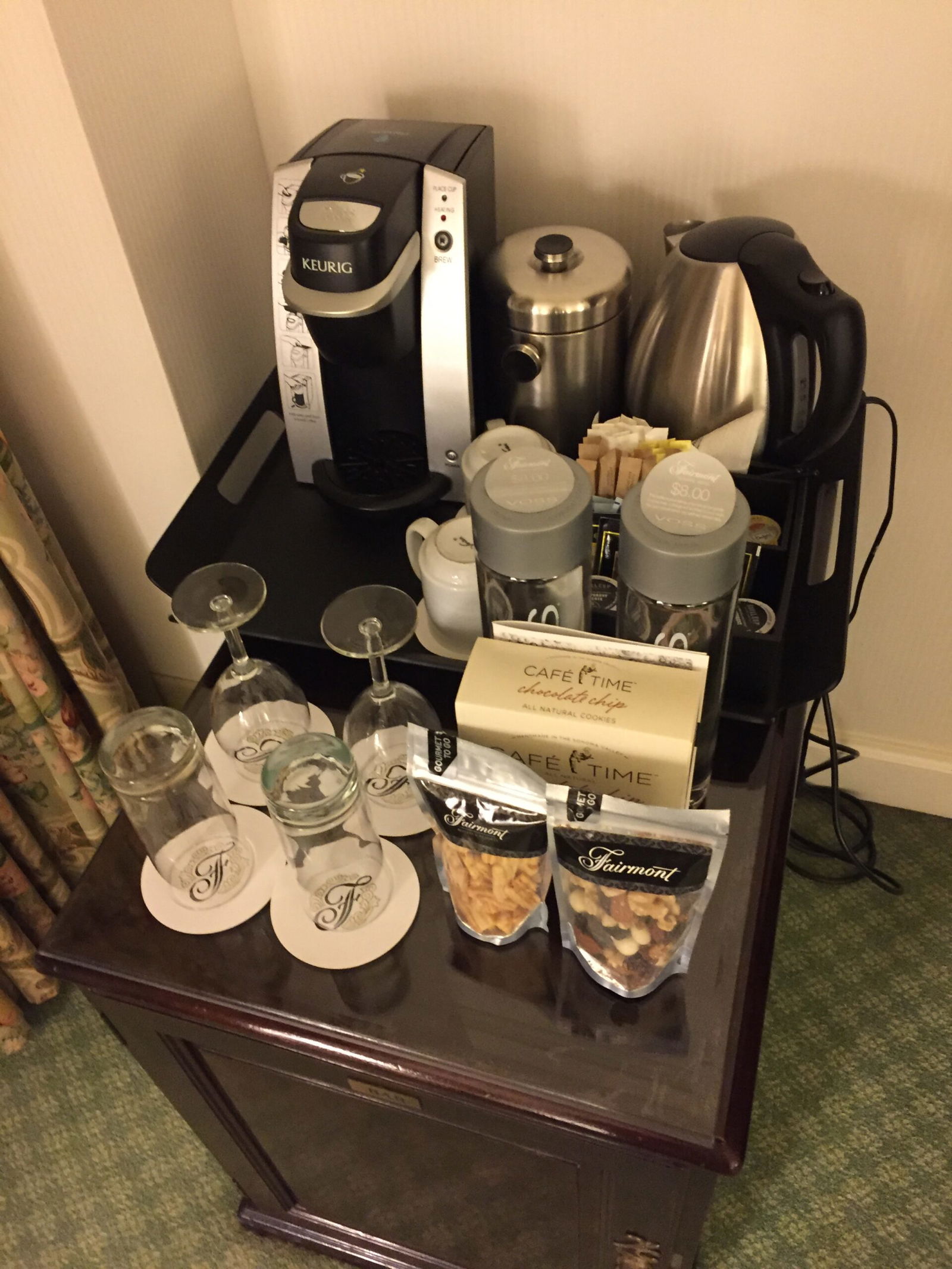 The bed itself was a roomy king-sized affair, and it was terrifically comfortable.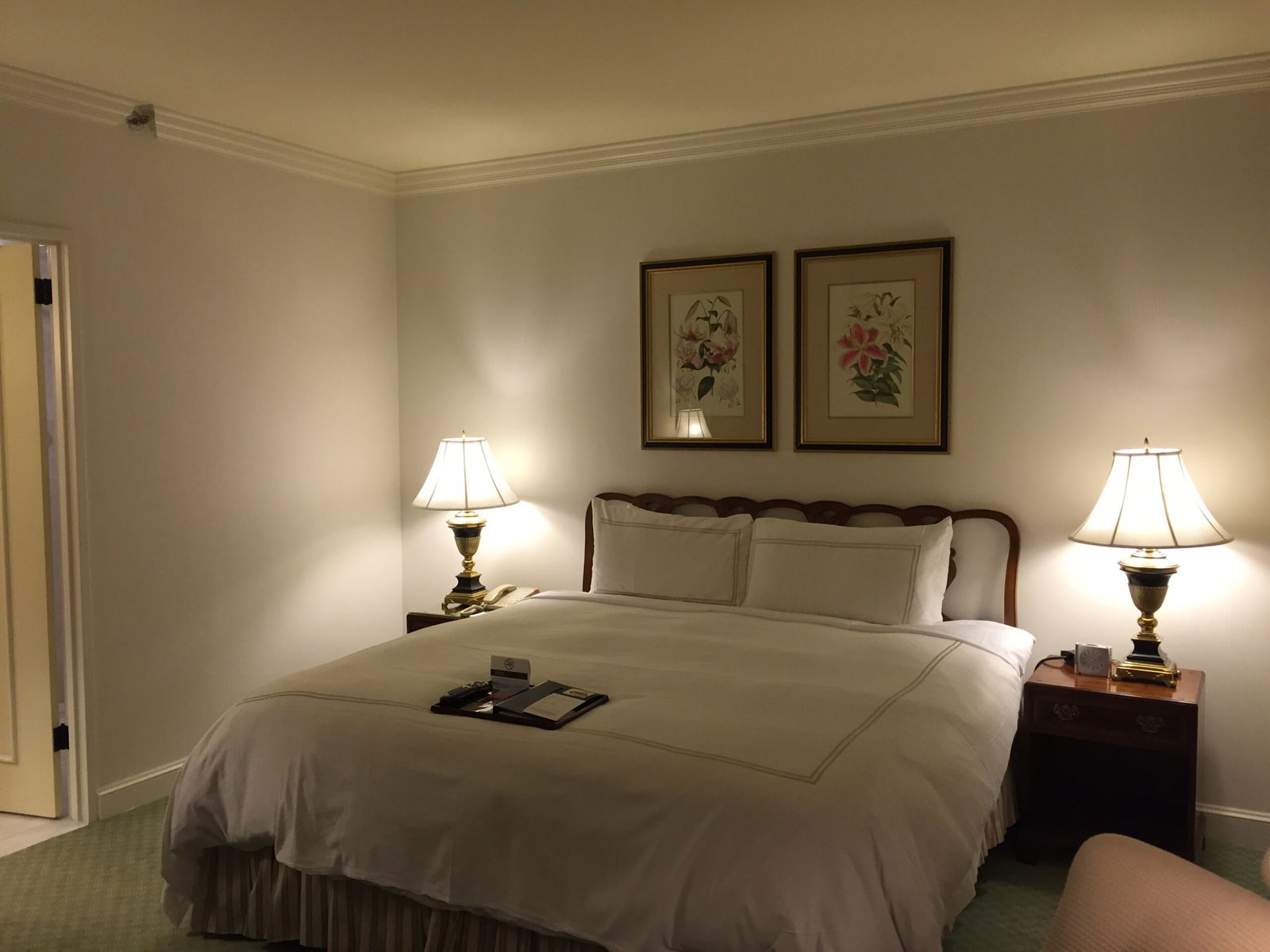 On the other side of the bed was an armchair, ottoman and side table with reading materials.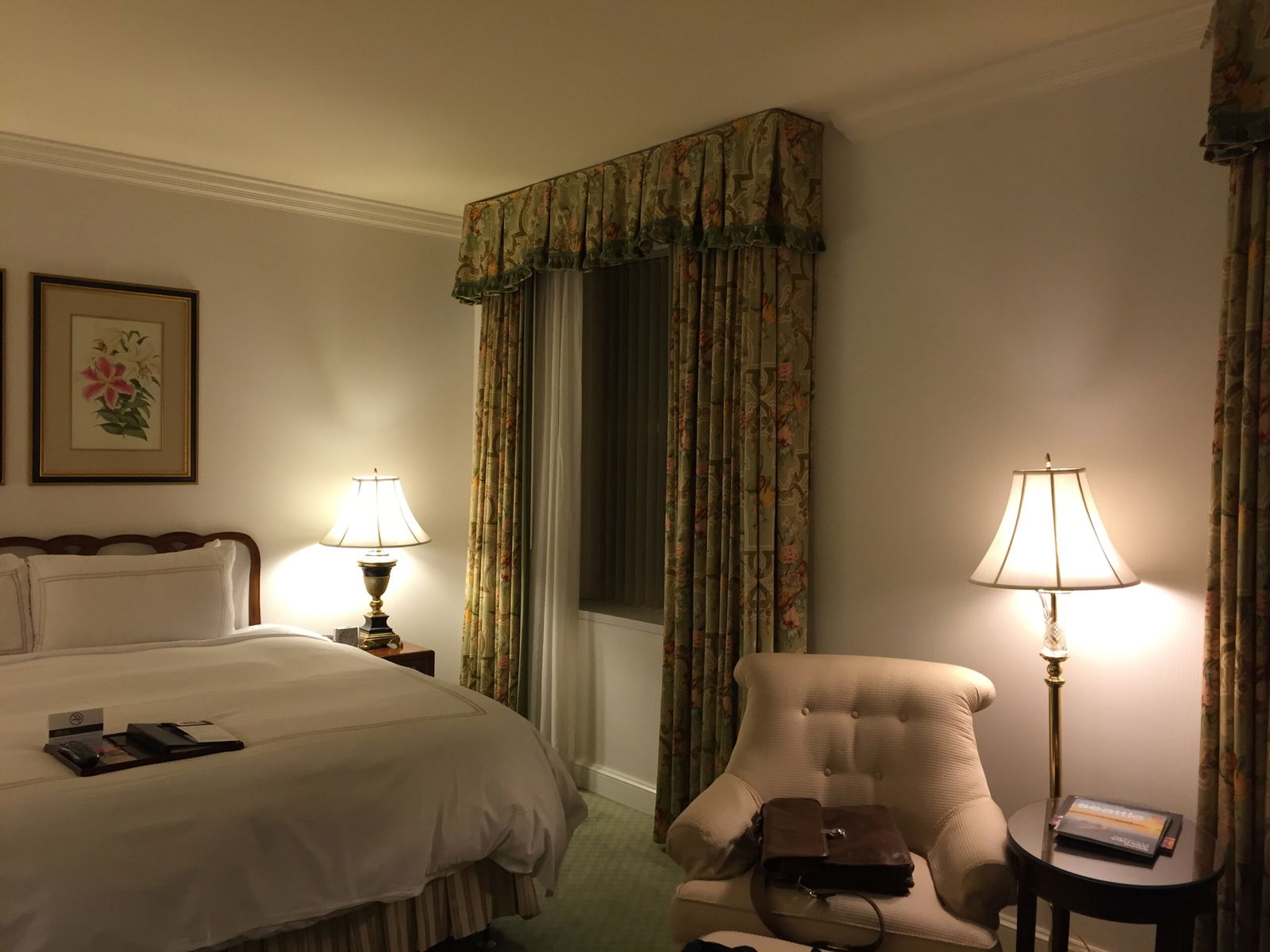 Now let's talk about the decor.
First, the hotel will be undergoing a $25 million room and corridor renovation beginning in just a few weeks, on December 9, 2015 — with full completion expected by July 2016 and renovated rooms available as soon as February 2016. So it's clear that the rooms could use an update, and I'm curious as to whether the Fairmont keeps the timeless look in place or goes with a more modern, Hyatt- and Westin- brand standard look.
Second, I thoroughly skewered the Park Hyatt Tokyo for its dated decor, and rightfully so. In that case the mid-1990's furniture, fixtures and technology were intended to be cutting edge and modern, which makes the passage of time all the more sad. 1990's design has not aged well. (And the Park Hyatt has not announced any forthcoming renovations, either.)
The Fairmont Olympic guestrooms, on the other hand, are not "of a certain area" so much as they feel very "traditional," almost strikingly so. I mean, it's hard to argue the technology feels dated (as it does at the Park Hyatt Tokyo, when once it felt cutting edge) when it's clear technology was never part of the room design to begin with.
I mean, are these temperature controls analog as f@% or what?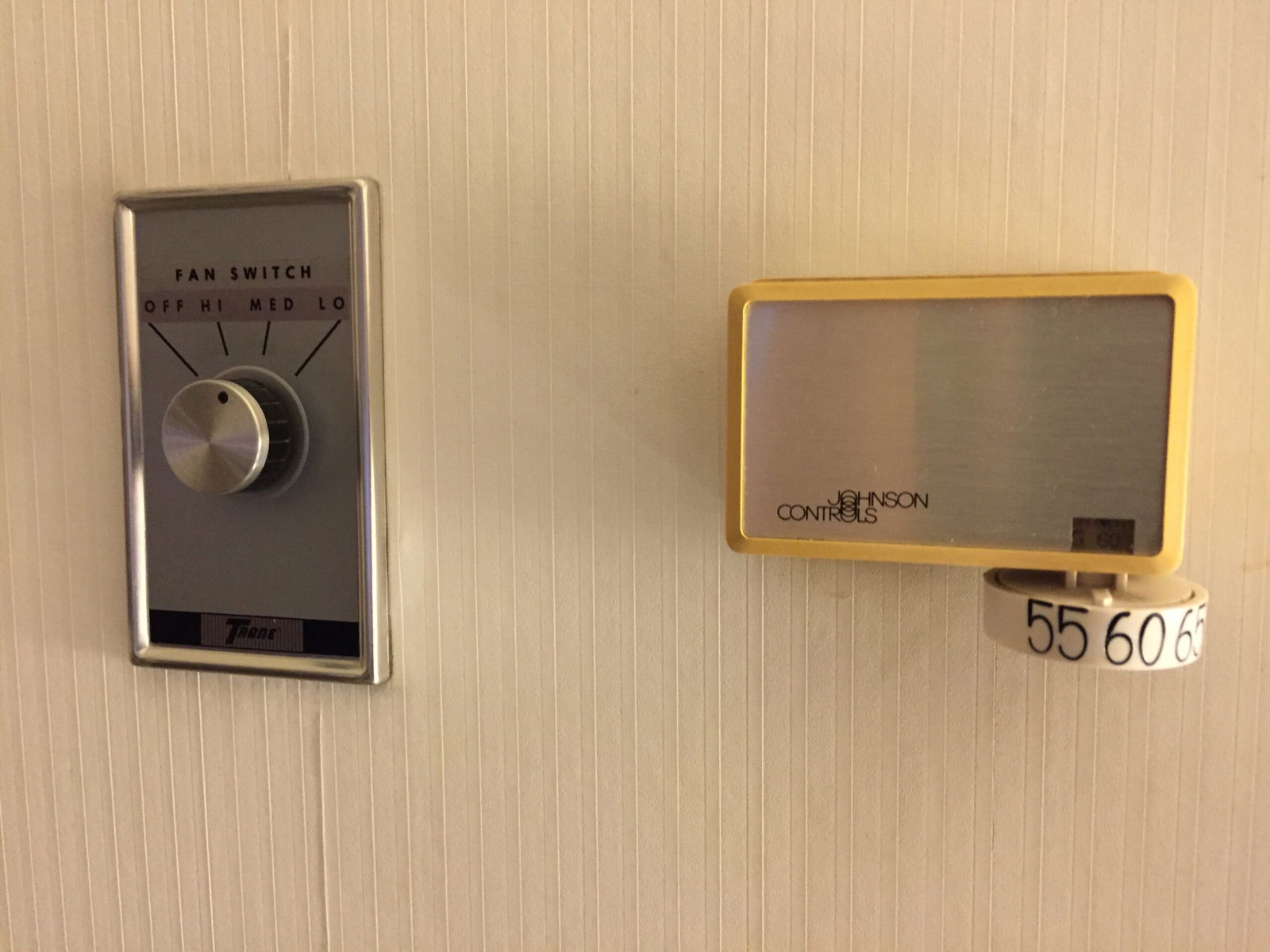 And again, while I love a set of tech-heavy bedside controls for curtains, lights and air conditioning, there's something sort of simple I appreciate about a fan switch from the 1960's that still works perfectly.
In any event, the discussion is somewhat academic, as I expect Fairmont to introduce more technology into the guestrooms in the upcoming refresh, since that's really one of the more disappointing aspects of the room. While there were a set of outlets by the desk, for example, there weren't any convenient electrical outlets for either of the bedside tables — a necessity in 2015 when everyone uses their smart phones as an alarm.
Anyway, the bottom line is that the room decor is certainly traditional to the point of being fuddy-duddy, but it at least fits the general timelessly elegant vibe of the property, so while an update appears to be welcome, the rooms are not jarringly dated.
The bathroom was extremely spacious, with luxurious white marble tiled floors.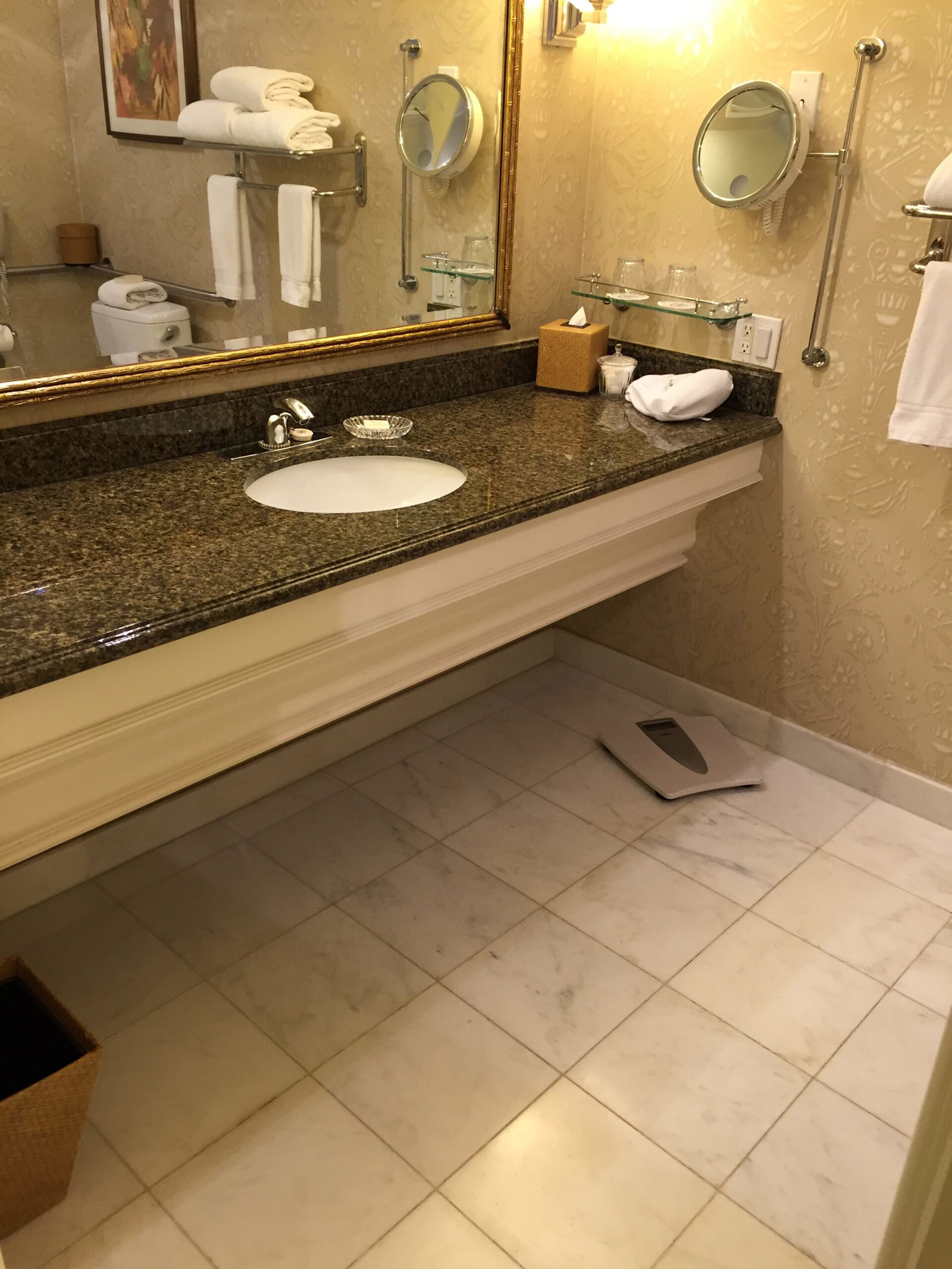 Because it appeared to be an ADA-certified bathroom, the shower was a bit on the quirkier side, and I can't say that I wouldn't have preferred something less exposed.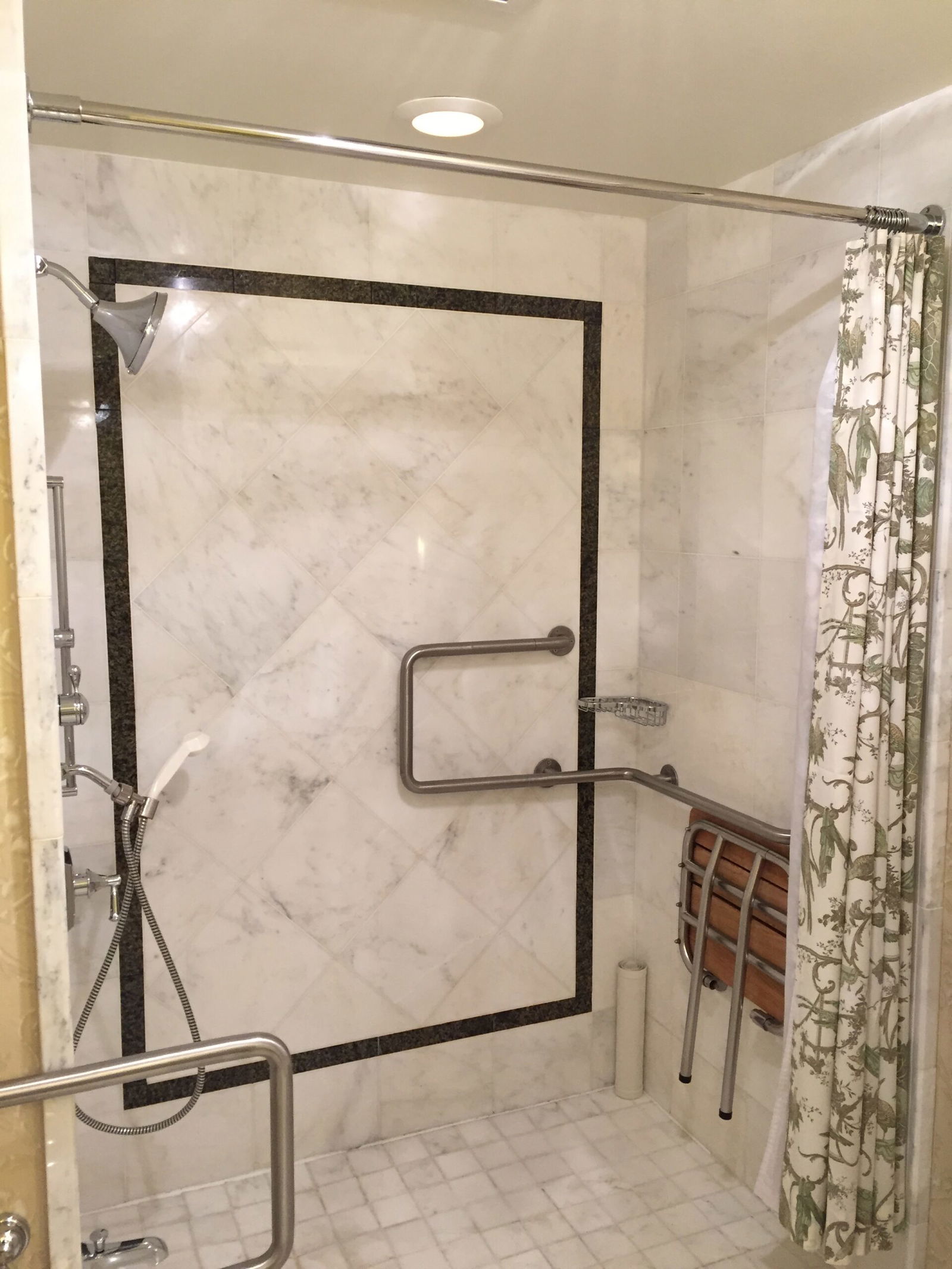 There was plenty of counter space, though I found my biggest frustration with the bathroom to be the sink, which was not only small, but automatic. It's one thing to have a public bathroom sink be sensor-activated, but I found it to be endlessly annoying for typical bathroom tasks such as brushing teeth.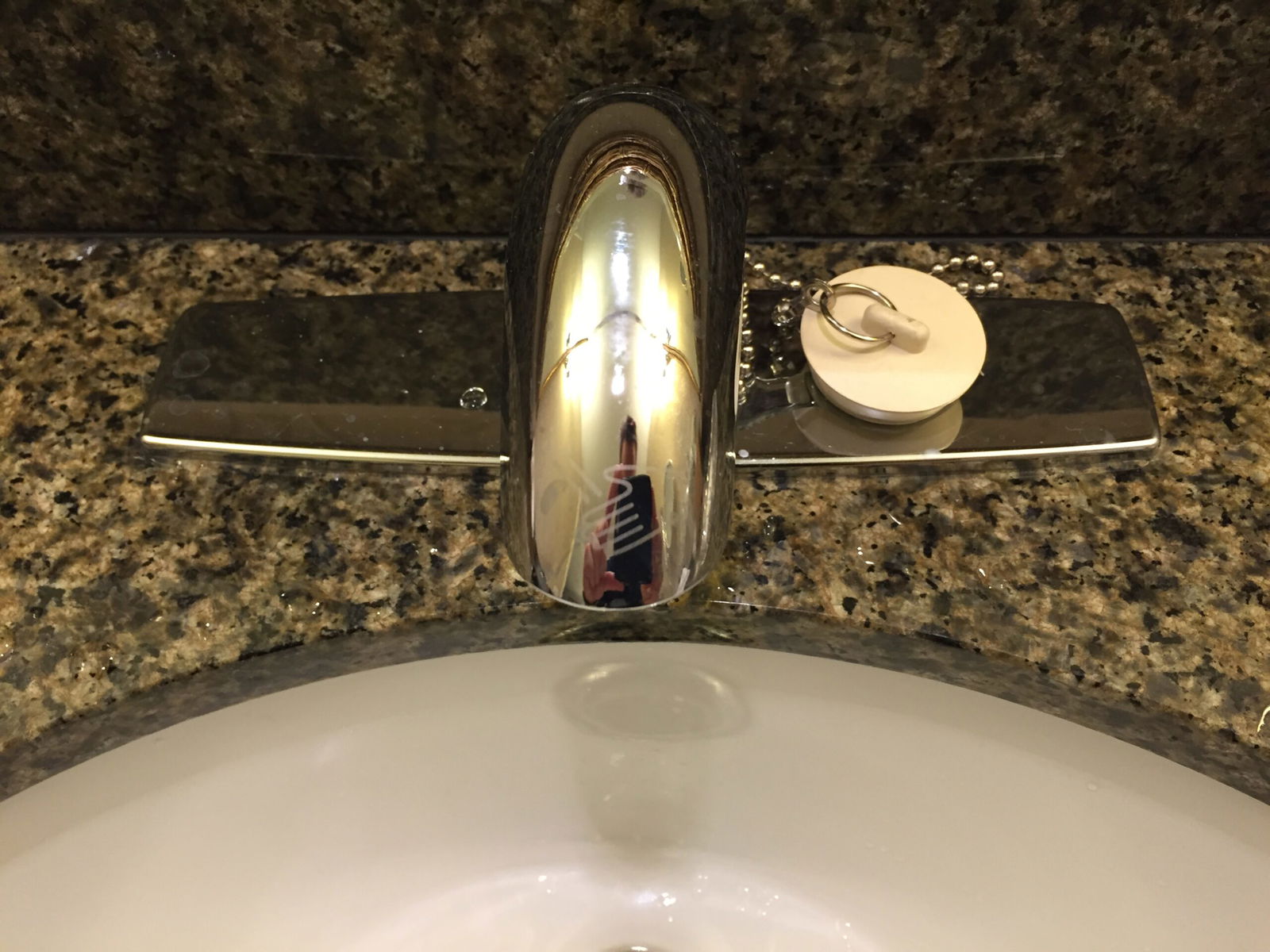 I certainly hope there is room in the $25 million renovation budget for hot and cold faucets.
The "soft" details in the bathroom were marvelous, though, with fluffy robes hanging on the back of the door, incredibly soft bath sheet towels, and Le Labo-branded rose-scented toiletries.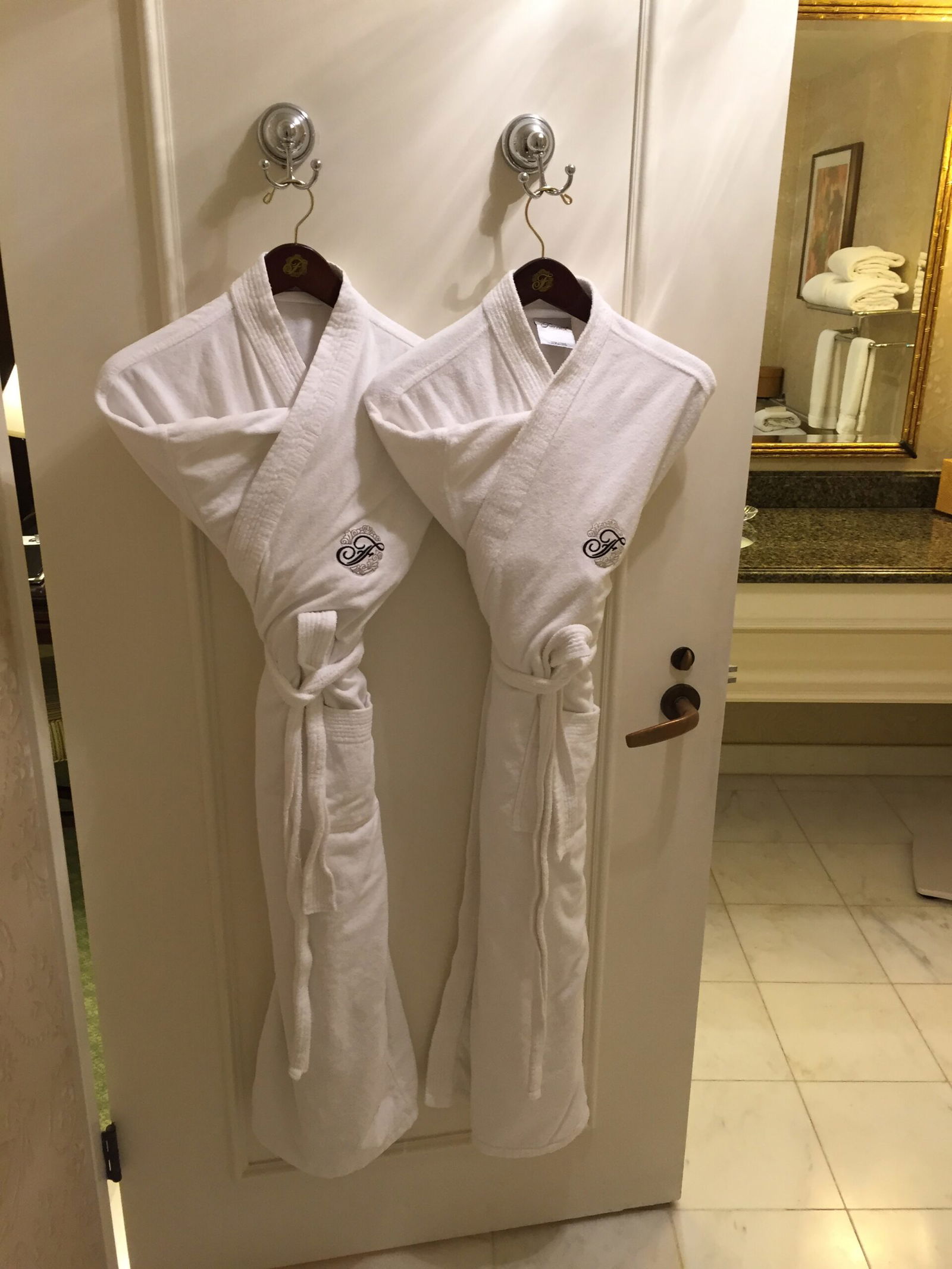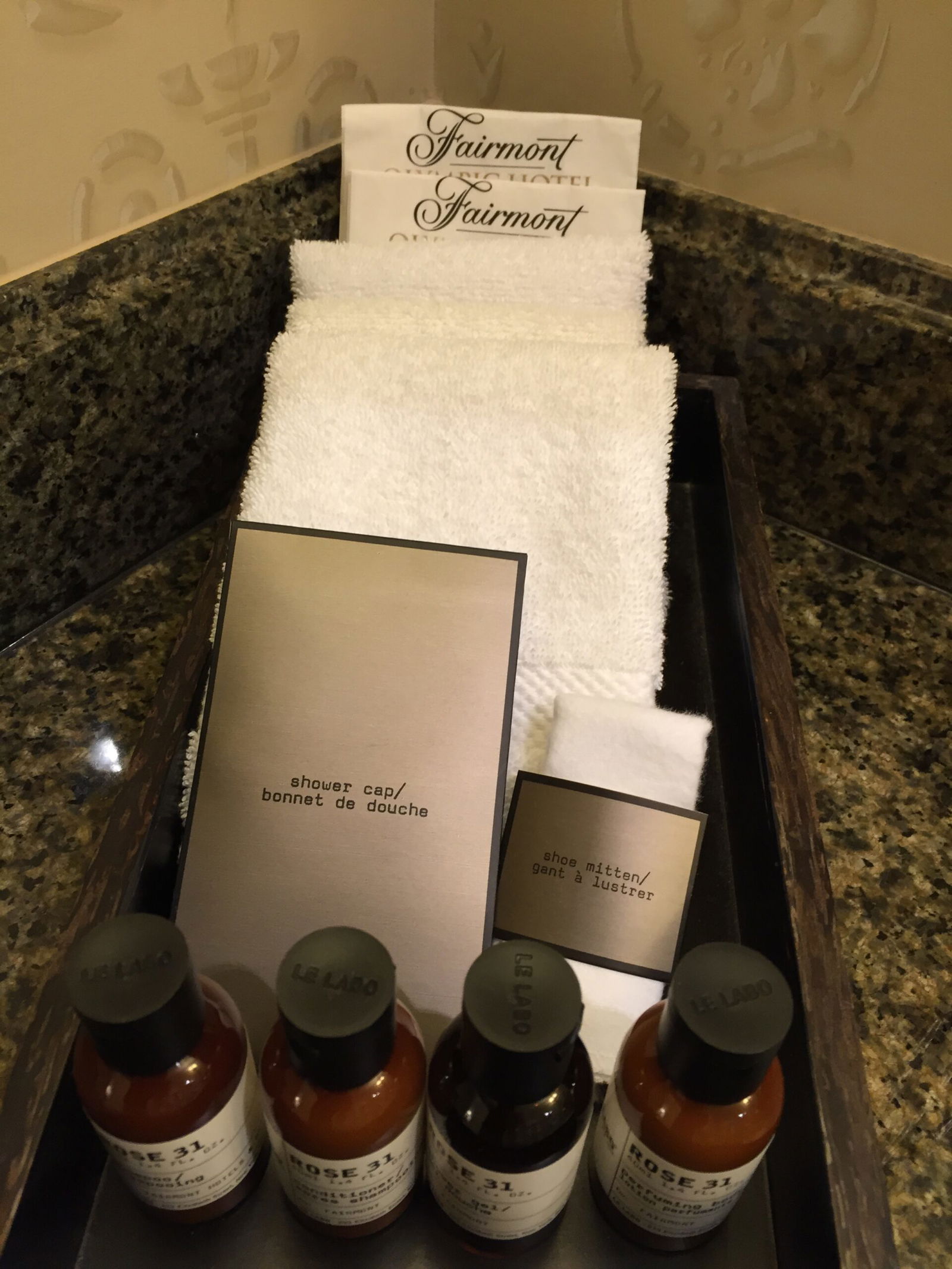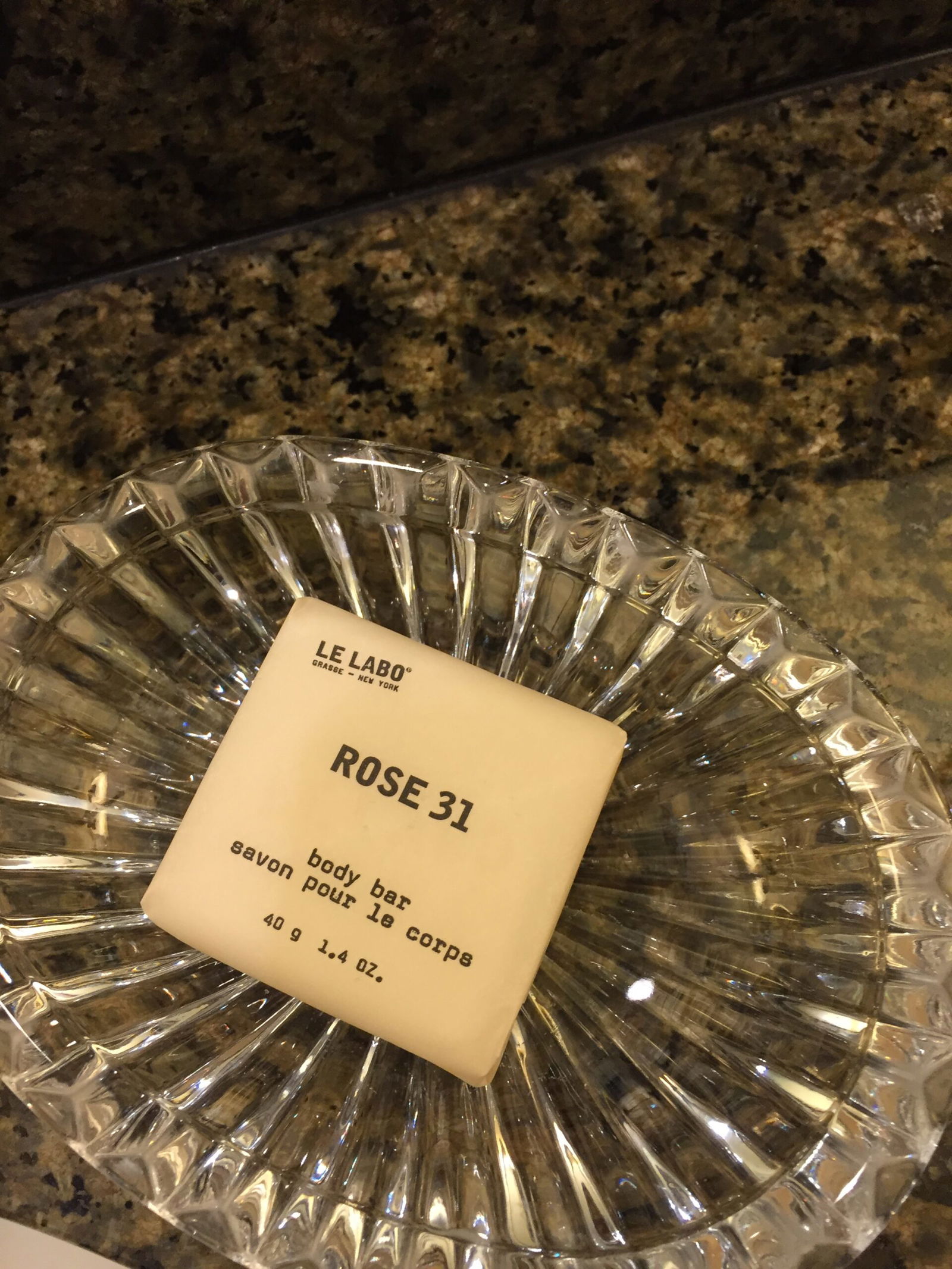 I — much like Ben — judge hotels by their toiletries. Le Labo is certainly a top-end brand, but more importantly it's a product I really enjoy, so I really have to give Fairmont credit for implementing Le Labo as their brand standard. (By comparison, Le Labo is the house scent at a few select Park Hyatts, a hotel brand that I think is considered a half-step above Fairmont.) It's certainly nicer than that June Jacobs crap Hyatt gives its guests at even the most luxurious Grand Hyatts.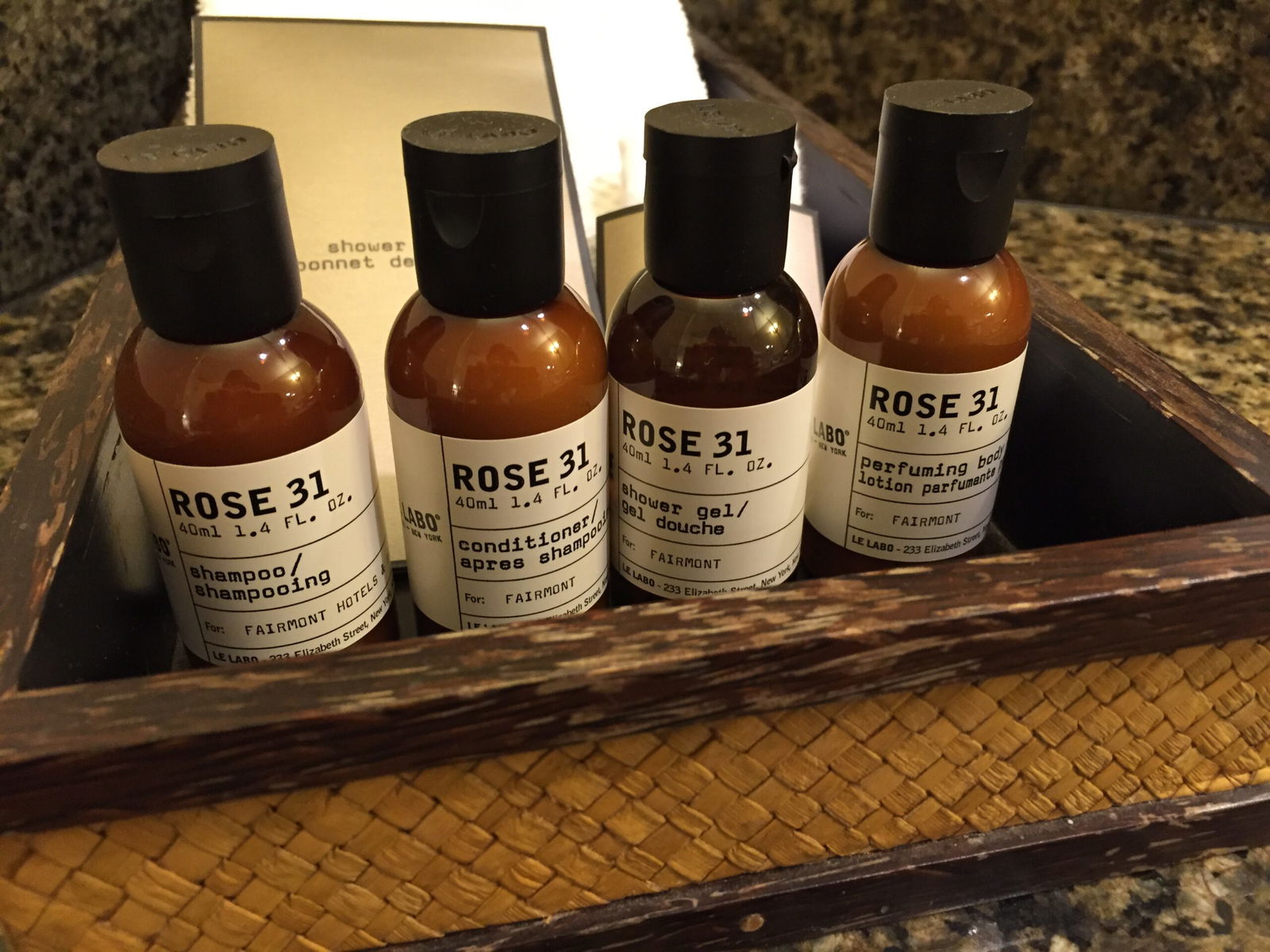 So overall, the guestroom decor is overly traditional but comfortable — and a bit of a moot point since it's due for a refresh in the near future anyway. On the "soft product" side of things, though, the sumptuous bed and the nice touches like the Le Labo toiletries and Keurig coffee maker left me with a good, solid impression.
Food and Drink
I was only at the hotel for one night, so my experiences were rather limited, but on the first evening I went down to the hotel's lobby bar, called the Terraces Bar, for a drink and a bite to eat.
The bar itself was essentially part of the lobby, surrounded by brass accents and greenery. There was a piano player doing his thing and it all felt very much like something out of Arthur Hailey's "Hotel."
https://www.youtube.com/watch?v=X0y1rAfL26Q
My glass of wine was good and relatively reasonably priced. The hotel tries to focus on Pacific Northwest wines and food, at least at the bar.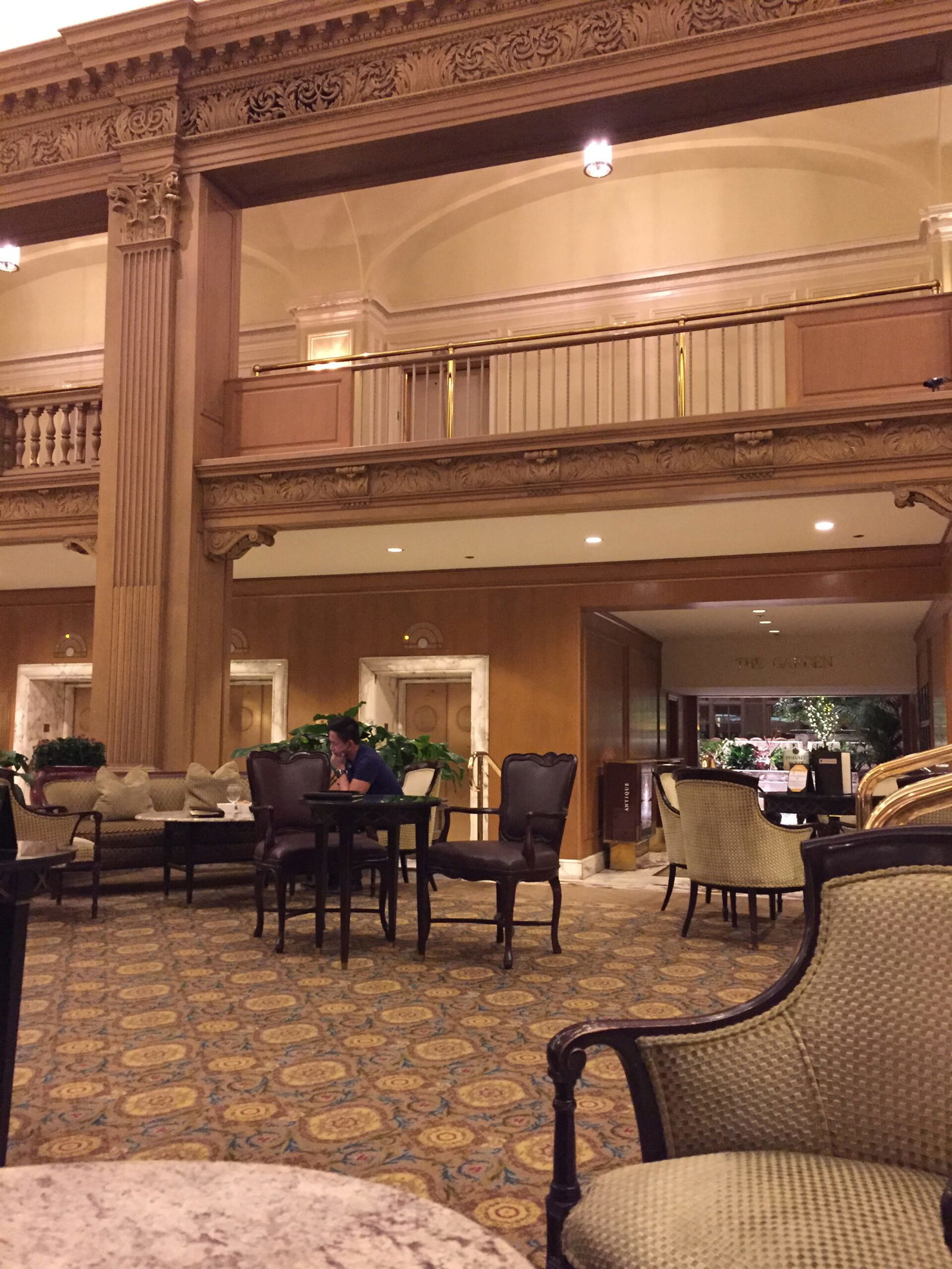 I ordered a snack described as "Salmon Bites," and it was… interesting.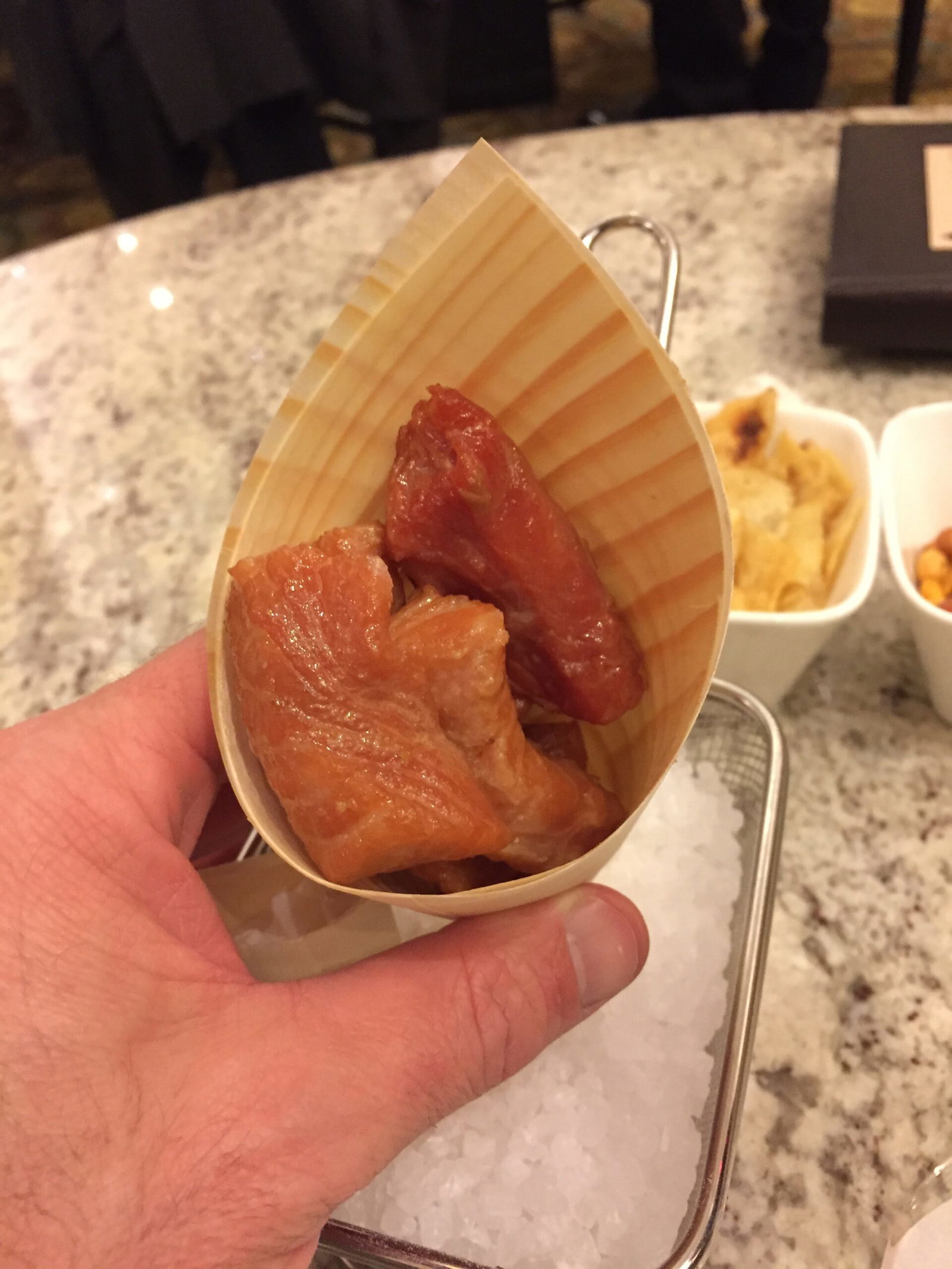 It was basically nuggets of candied hot smoked salmon served french fry-style in a cone. It was tasty, but so pungent and salty that it would have been a better appetizer to share among a few people.
The hotel's main restaurant, the Georgian Room, was already closed for the evening when I was there, but I took a peek through the glass French doors and the room looked, again, very elegant and breathtaking in a totally traditional, classic way — the kind of place you do an afternoon tea or take your mom to Mother's Day brunch, not the kind of place you go on a first date.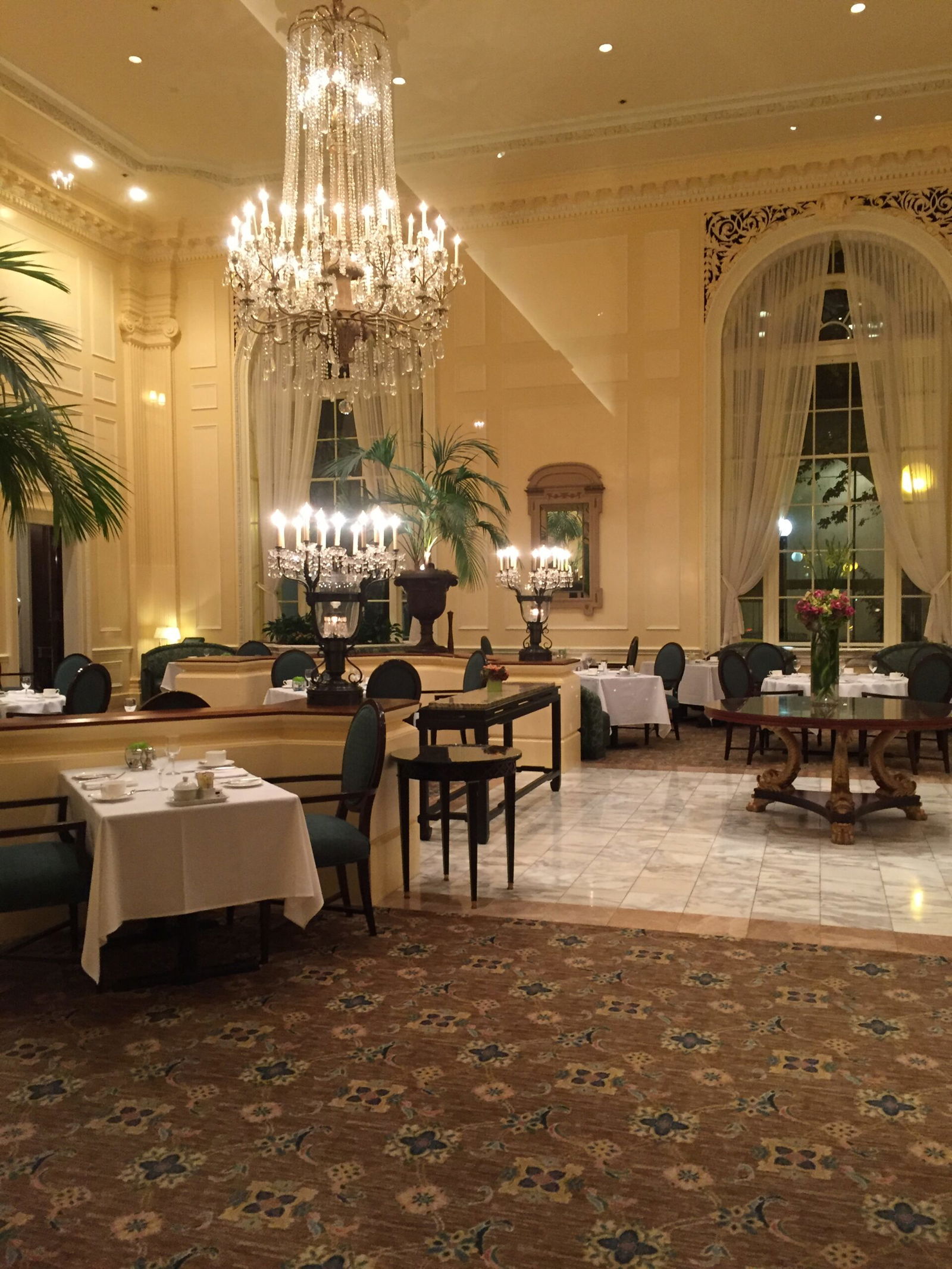 I also ordered room service breakfast, which was quickly and efficiently served the next morning. While I didn't order anything special — two poached eggs and an English muffin — it was served with a banana chocolate chip mini-muffin as well as a sinfully delicious patty of hash browns so buttery that it probably came from Paula Deen's personal recipe book.
Fairmont Olympic Hotel Seattle Bottom Line
I had a quick stay, so I can't really speak (at least on an in-depth level) to the consistency of the food and drinks at the hotel or the service beyond the few polite, efficient interactions I had.
However, the reason I'm writing this review in the first place (since I don't necessarily review every hotel I stay at for OMAAT) is that I was struck by something truly special at the Fairmont Olympic.
I've only stayed at one other Fairmont before, quite some time ago in Chicago, which I remembered as being nice but fairly unmemorable. However, my experience with and understanding of Fairmont is that they are a solid luxury hotel brand that values historic properties a great deal. Prior to my stay in Seattle, I might have written off the Fairmont brand as something most equivalent to an Intercontinental — sometimes luxurious, mostly very nice, few of them truly remarkable. Now I would go out of my way to stay in a Fairmont, particularly a historic Fairmont, again.
As for the Seattle Olympic property itself, I thought it was stunning and gorgeous and gave out a real "sense of place" that most of the more modern chain options in Seattle — Hyatt, I'm looking directly at you — lack. The rooms could use, and are getting, an update, but their current decor did not really take away from my favorable overall impression of the property.
There are very few "grande dame" hotels left in their original, opulent state, and I have to say it's kind of refreshing to have that "old school" luxury experience in an era when every new Park Hyatt, Four Seasons and Ritz-Carlton is in a race to outdo itself with sleek, contemporary decor.
I'd stay again in a heartbeat, especially after a guestroom refresh, and I hope that the renovations don't take away the soul of the hotel, which is palpable. I do hope the renovations add at least some basic technological advances — as well as a real working bathroom sink.
Fairmont, color me impressed.