As part of my mileage run/weekend dash to Europe, I booked a quick stay in Milan. I chose the Excelsior Hotel Gallia, which is a newly-renovated property in Starwood's Luxury Collection.
While I have spent quite a bit of time in Sicily, that's not really the same as Italy, and definitely not the same as Milan. I always feel like a bit of a country bumpkin, as it's just such a stylish city. Even the dialect is crisper and more polished than the animated flourishes of Sicilian-Italian, and my accent is hopeless in sophisticated Milan.
So I haven't spent much time in Milan, and don't have favorite neighborhoods or anything. The Excelsior Gallia is just across from the central train station, which seemed super convenient on a short trip, and I'm always curious about new (or newly redone) hotels.
And wow. Wow, wow, wow. I hardly have words to describe how strikingly beautiful the Excelsior Hotel Gallia is, in such a deliciously unconventional way.
A bit of backstory
The Excelsior Gallia has an interesting history, and was first opened to complement the railway station in 1932. The recent restoration was led by renowned Milanese designer Marco Piva and the attention to detail is incredible. Everything is new, down to the flatware in the restaurants.
This isn't an easy property to revamp – the exterior is firmly Liberty Style, many of the rooms were historically sized, and so forth. The common approach would probably have been to refresh the wall treatments and seek out period-appropriate furnishings – think the styling at the Westin Palace Madrid, Hotel Des Indes in The Hague, etc.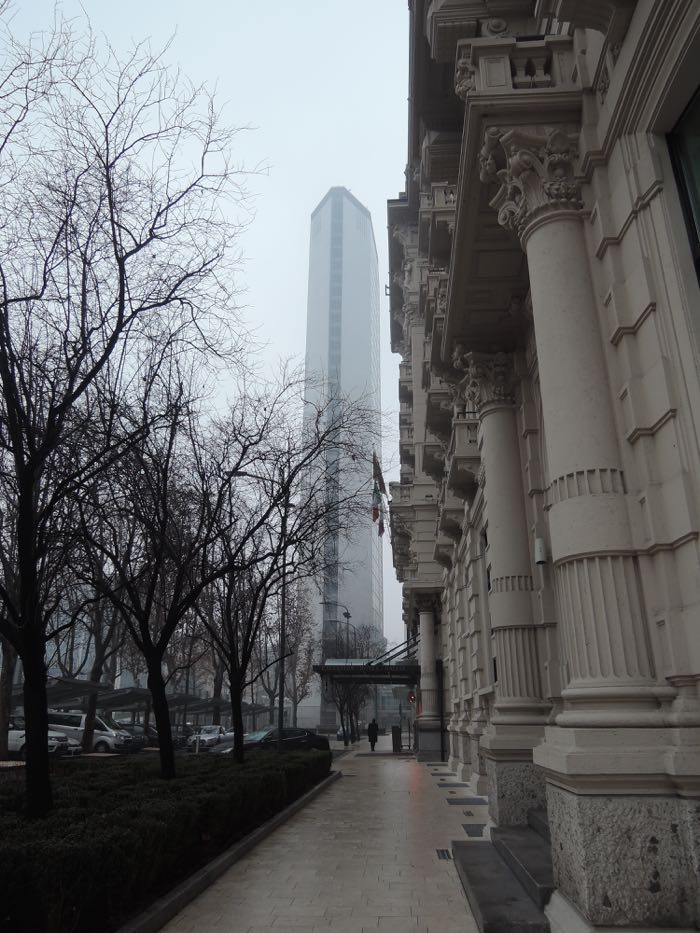 Liberty facade of Hotel Gallia
Instead, Pivo took the complete opposite approach, giving the Excelsior Gallia an updated style I can only describe as "mod art deco."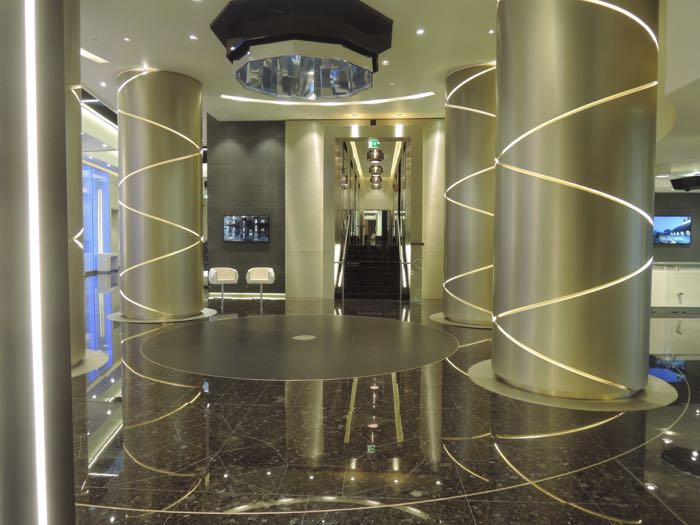 Look at the swirls on those pillars!
It embraces the chic aesthetic of the 1960's (which was just such a great decade for Italian style), gives a nod to history with vintage fonts and luxurious finishes, but pushes the envelope with a dramatic color scheme of champagne and charcoal, accented with mixed metals.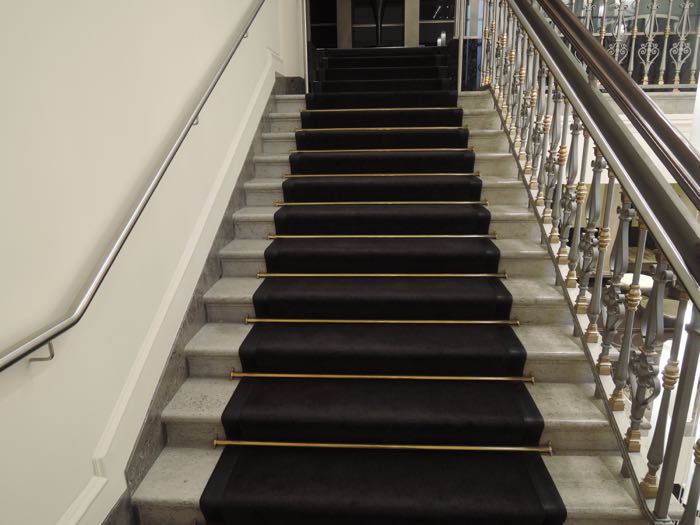 And the metallic finishes on the railing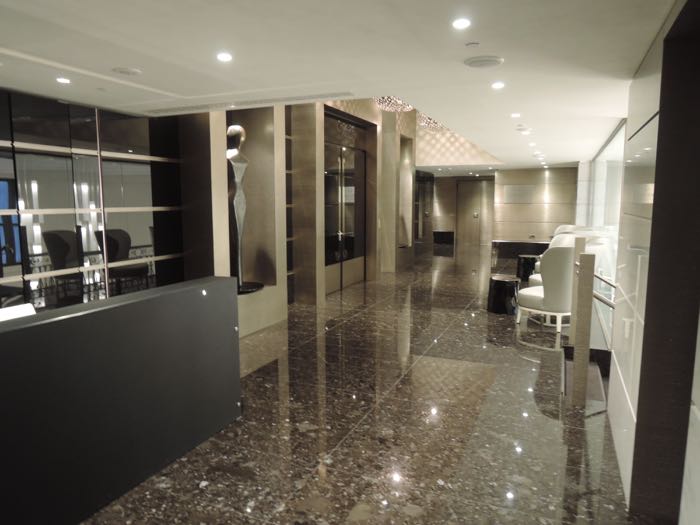 Entrance to Terrace Bar (closed when I was there)
So you have things like copper pineapple-shaped ice buckets on marble bar tops, flanked by champagne saucers. Or the glass and filament chandelier running the full height of a 200-year old staircase.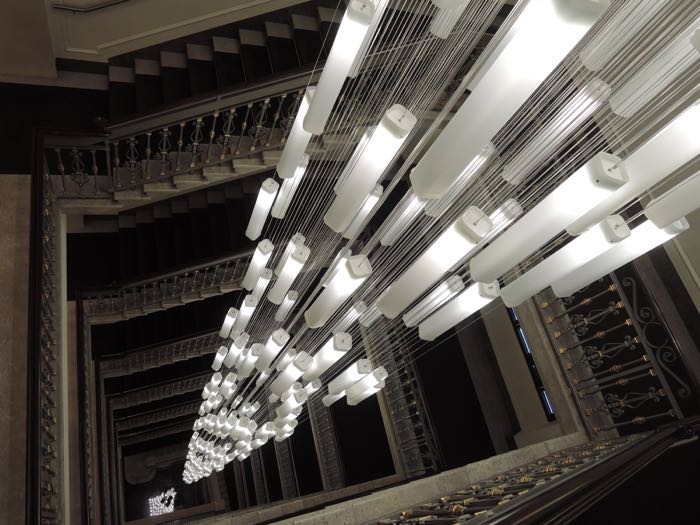 Chandelier and stairwell
It totally works. And it's gorgeous.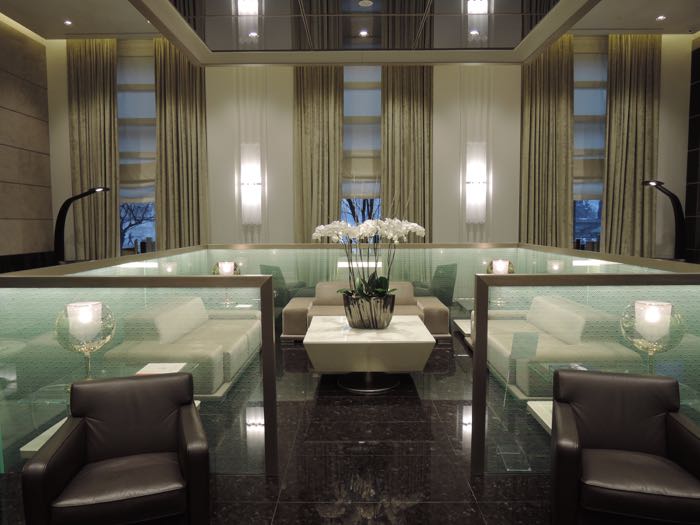 Lobby lounge
Arriving at the Excelsior Gallia
The Malpensa Express took about 45 minutes, and at 18 euros for the roundtrip, that's definitely the best way to get into the city. And you get to see a pretty incredible train station.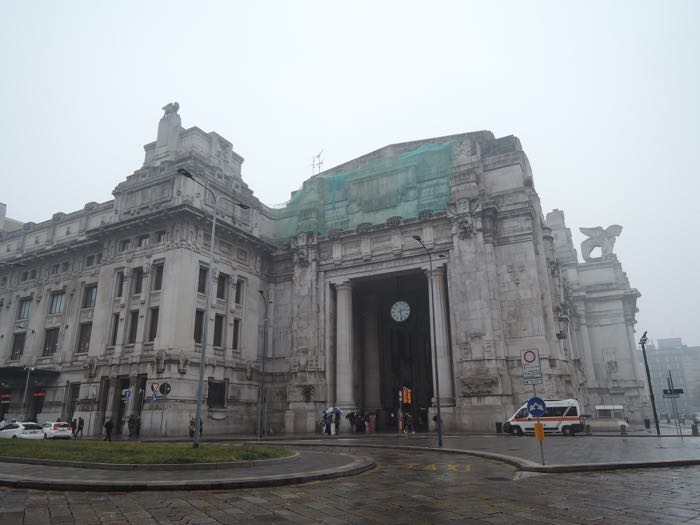 Milan Centrale exterior
The Excelsior Gallia is just across the street from the train station, so couldn't be more convenient. The crosswalk situation could be a bit improved, but: Italy.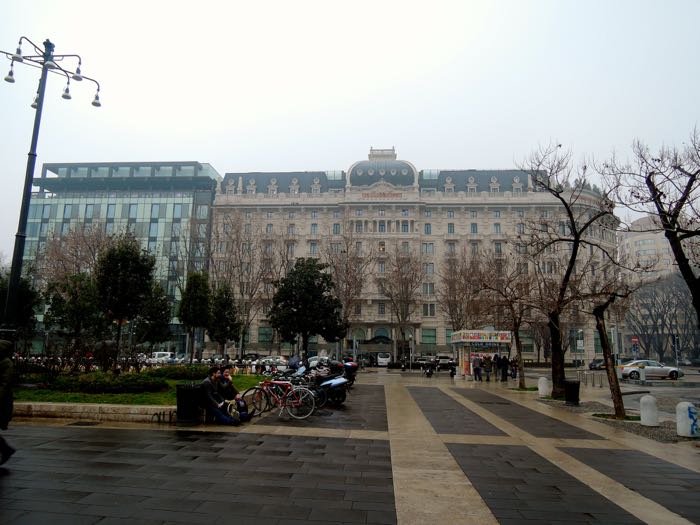 Excelsior Hotel Gallia exterior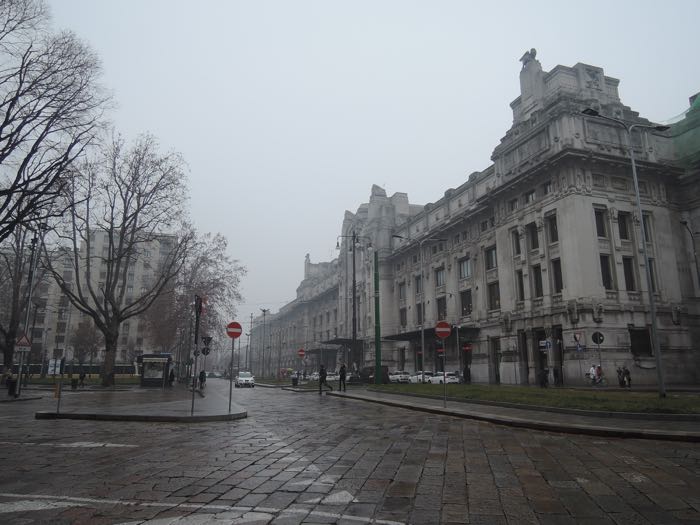 Street between the hotel and train station
The lobby felt both intimate and grand.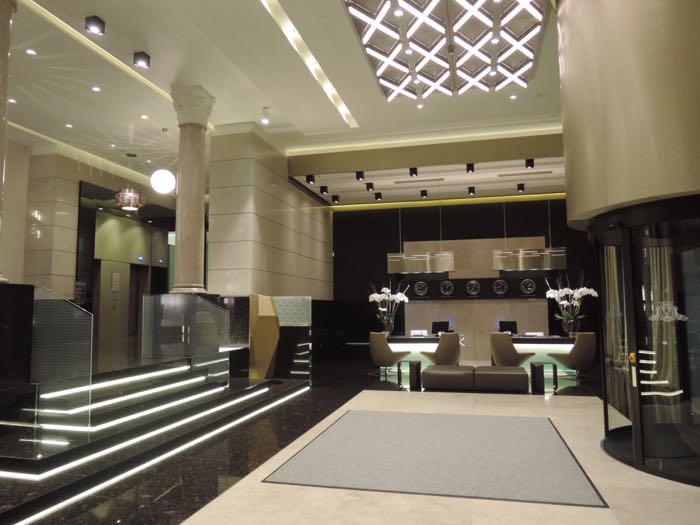 Excelsior Hotel Gallia lobby
The front desk associate was friendly and professional, thanked me for being an SPG Platinum, and noted they'd proactively upgraded me to a Signature Suite. Lovely!
With the formalities completed, she then escorted me through the lobby and to my room.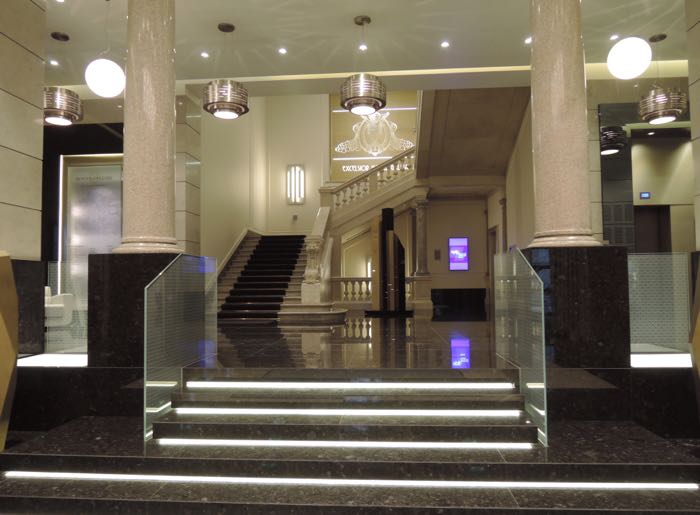 Excelsior Hotel Gallia lobby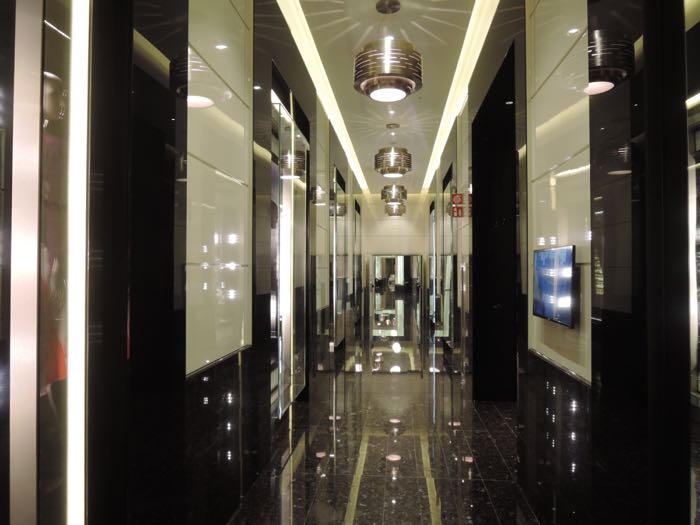 Excelsior Hotel Gallia lobby — those lights!
As a side note, can we talk about how damn impressive it is that Ben takes so many hotel photos without other people (or his reflection) crowding the frame? I felt like I was auditioning for Cirque du Soleil getting pictures of this hotel.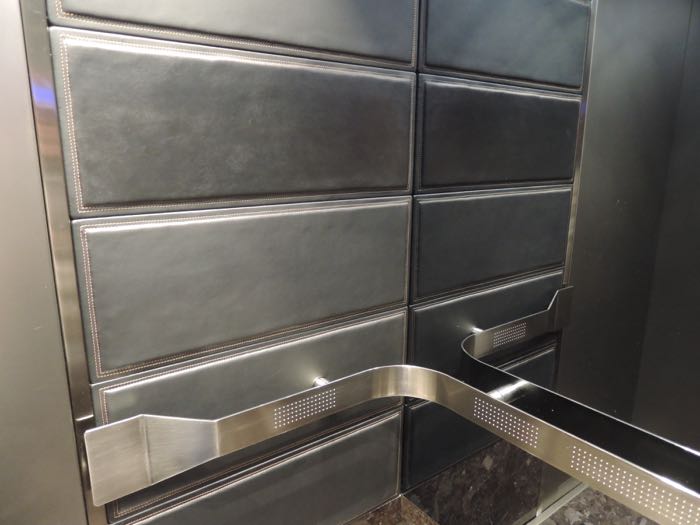 Two-toned hand-stitched leather elevator paneling, because why not?
Excelsior Gallia Signature Suite
The landings and common areas were stunning, with a fun blend of black and white photographs and super funky light fixtures.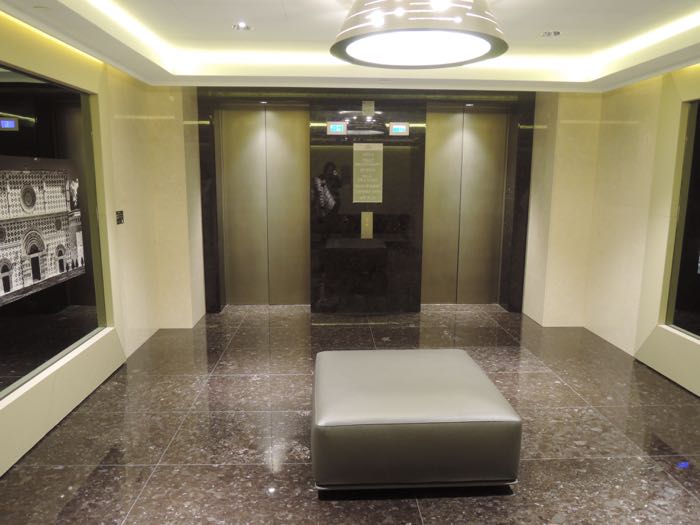 Very reflective elevator foyer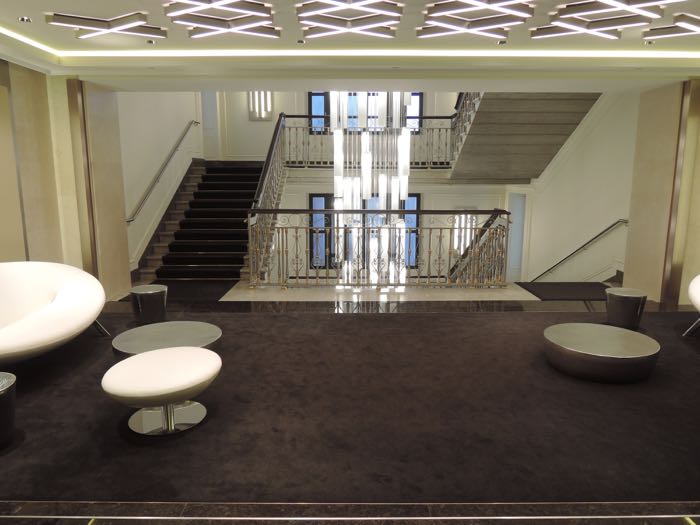 Each floor had a landing to the staircase as well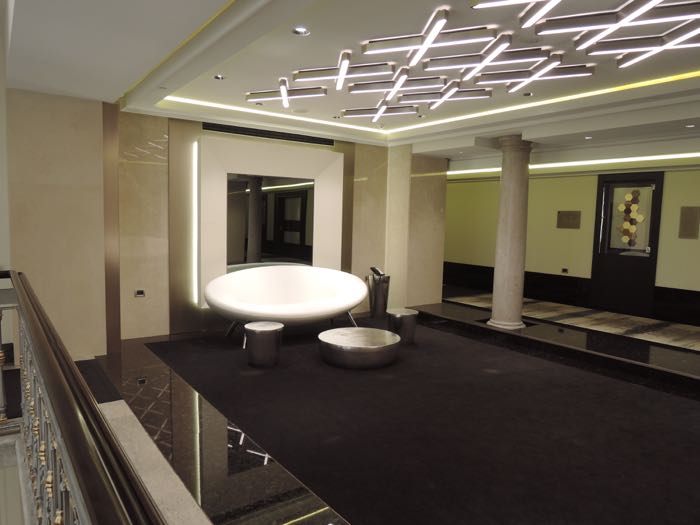 Mod seating flanked by vintage marble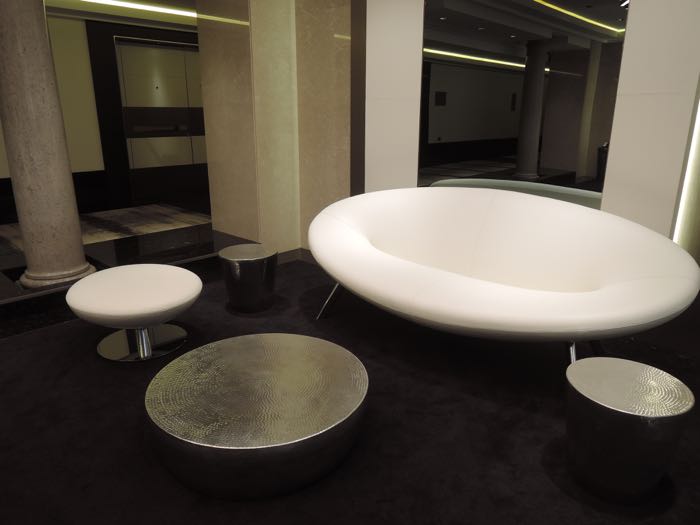 Surprisingly, this couch was actually comfortable
I was assigned room 444, a suite on the 4th floor.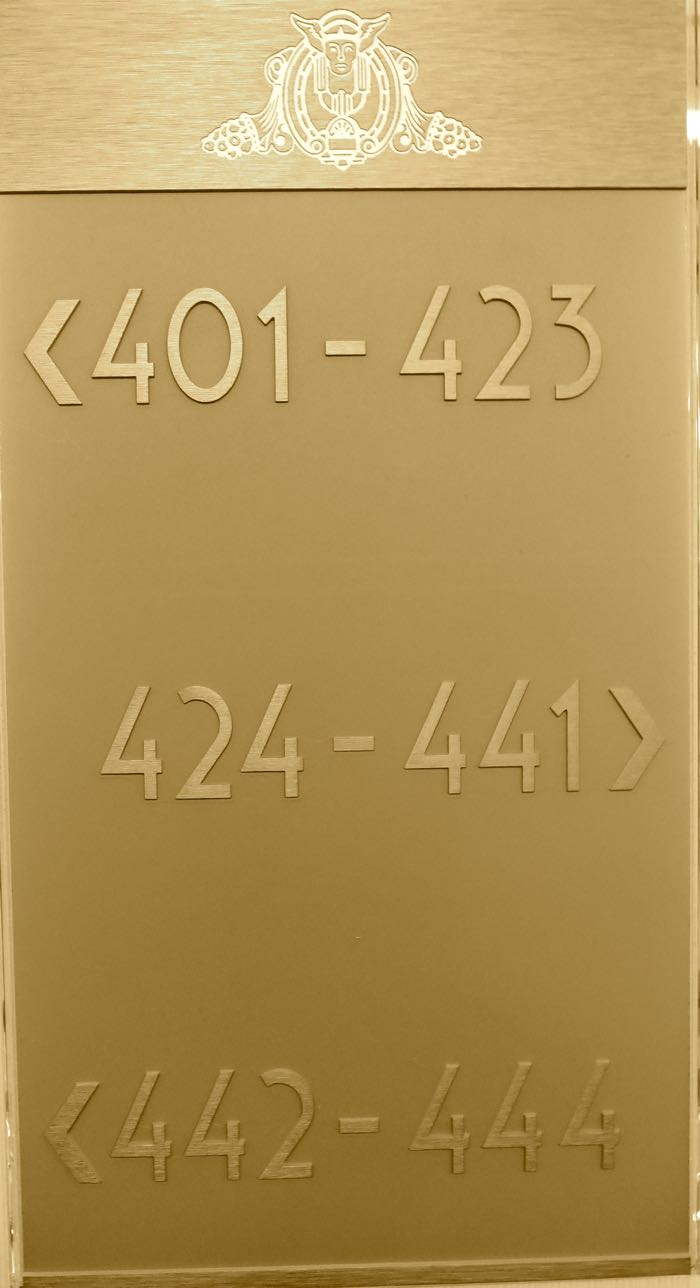 Art deco fonts and metal wall plaques, check and check!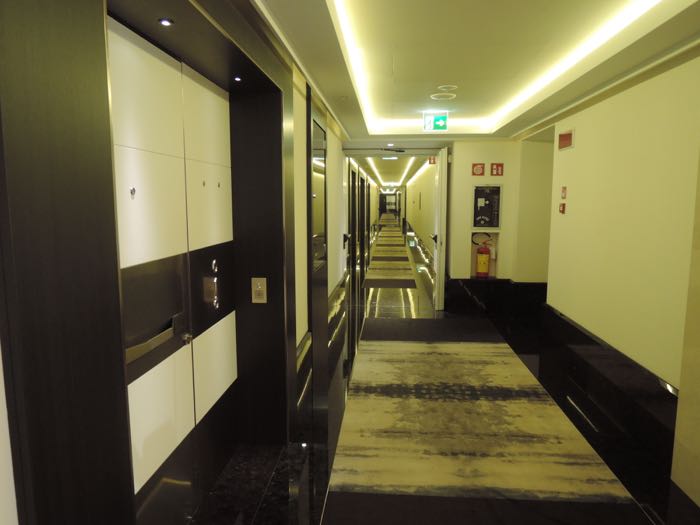 This hallway was not actually ugly in person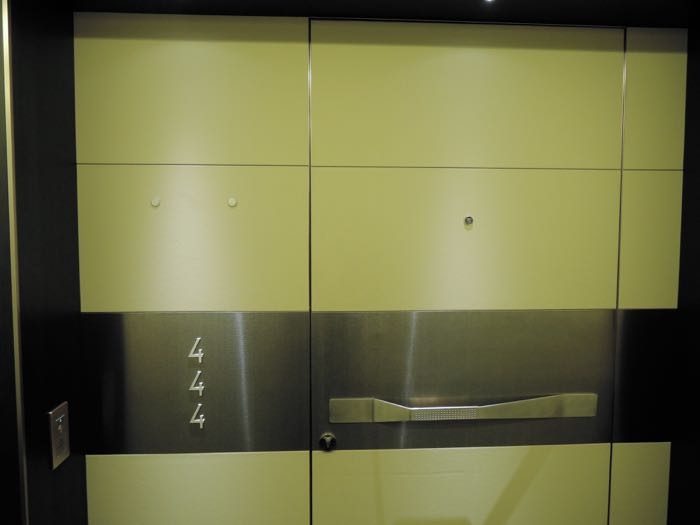 Massive door at suite entrance
Due to the historic nature of the property, the floor plans are very unique, so this suite was long and skinny.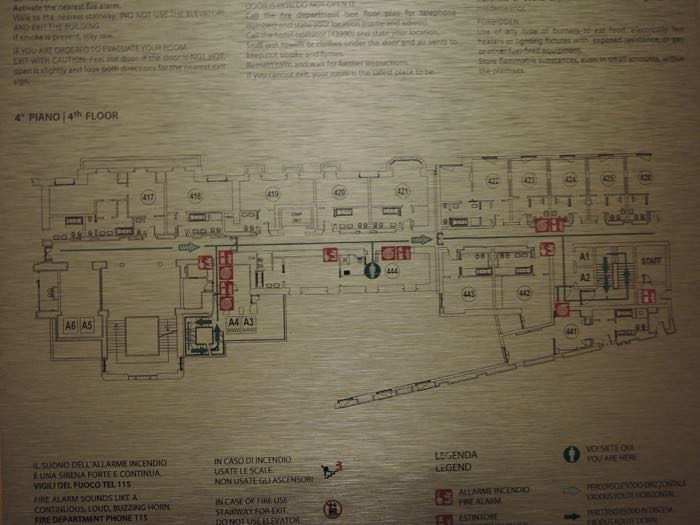 Excelsior Hotel Gallia floorplan
The walls were a lovely champagne color, accented with darker tones of gold and bronze on the floors and curtains, and pops of bright white. The color scheme managed to be both minimalist and opulent in a space that could have otherwise been wholly unappealing.
To the left of the entrance was a mod sitting area, with funky lounges and a built-in desk.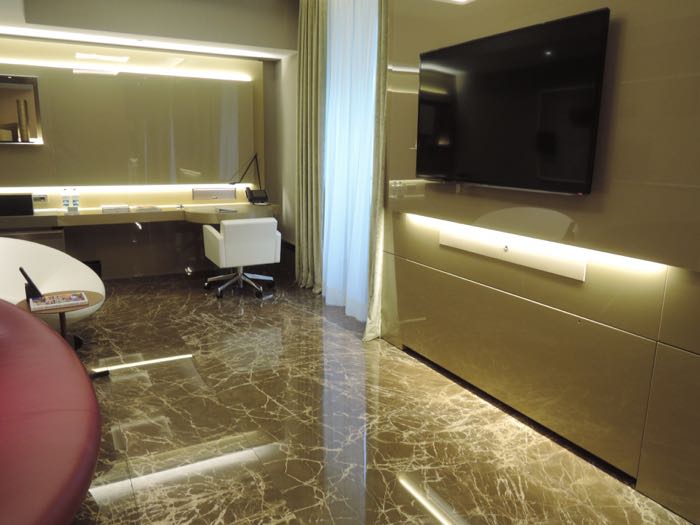 Excelsior Hotel Gallia Signature suite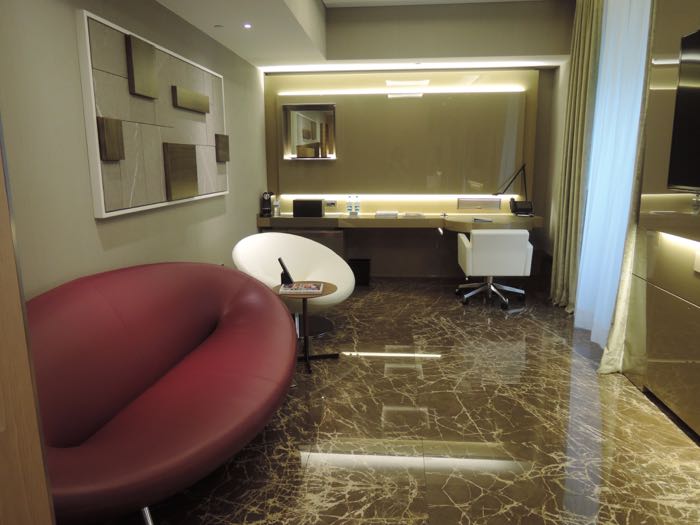 Excelsior Hotel Gallia Signature suite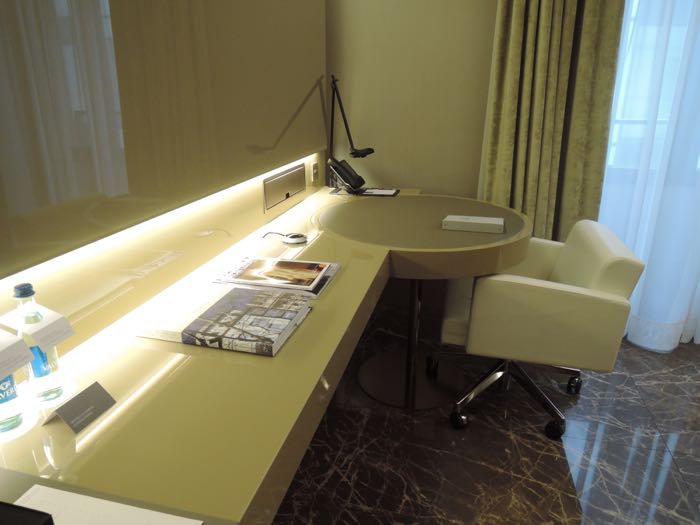 Excelsior Hotel Gallia Signature suite
There was also a minibar, and a coffee setup.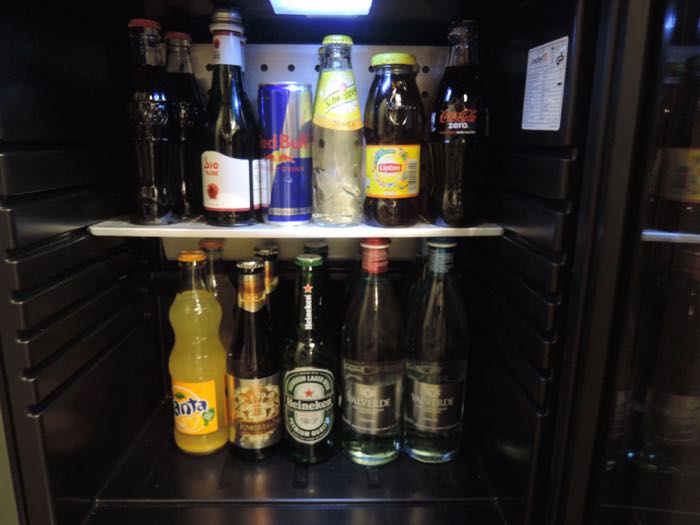 Excelsior Hotel Gallia Signature suite minibar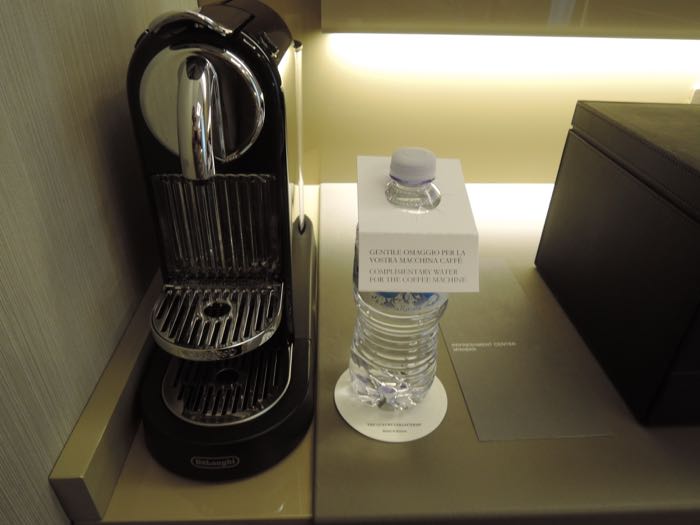 Excelsior Hotel Gallia Signature suite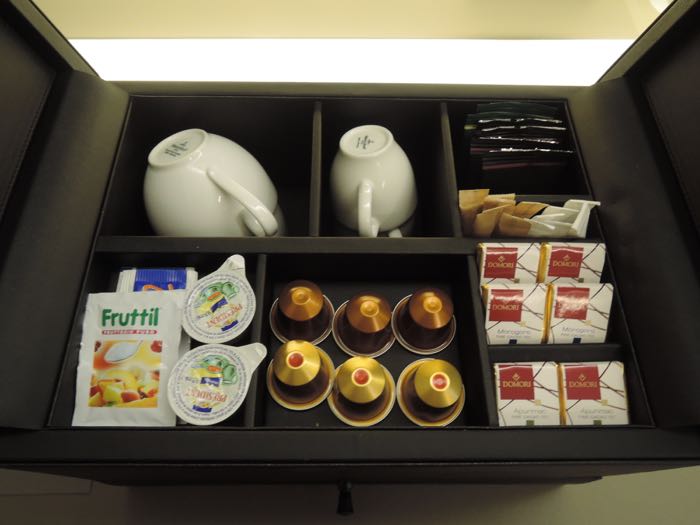 I may or may not have eaten several of those chocolates in the middle of the night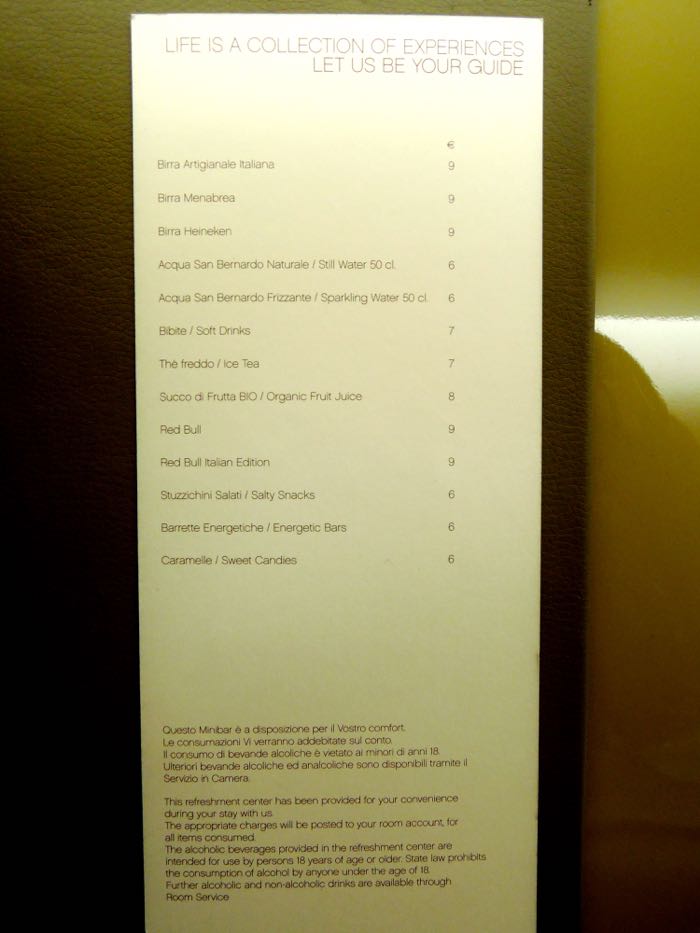 Excelsior Hotel Gallia minibar prices
The rest of the suite was to the right of the entrance, starting with a sleek guest bath off the hallway.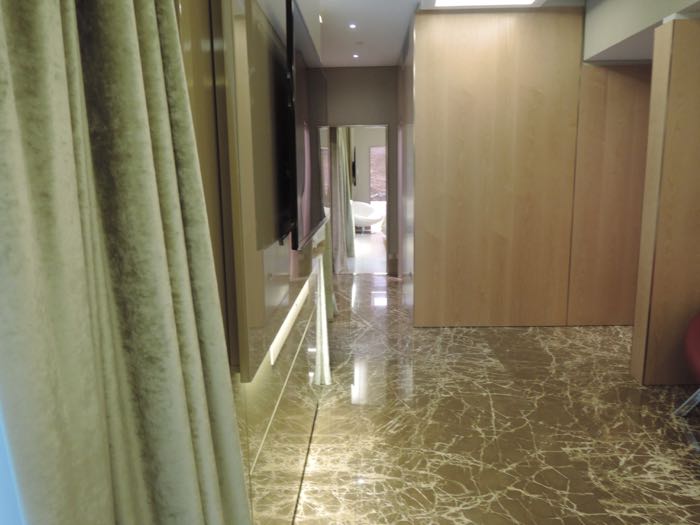 Excelsior Hotel Gallia Signature suite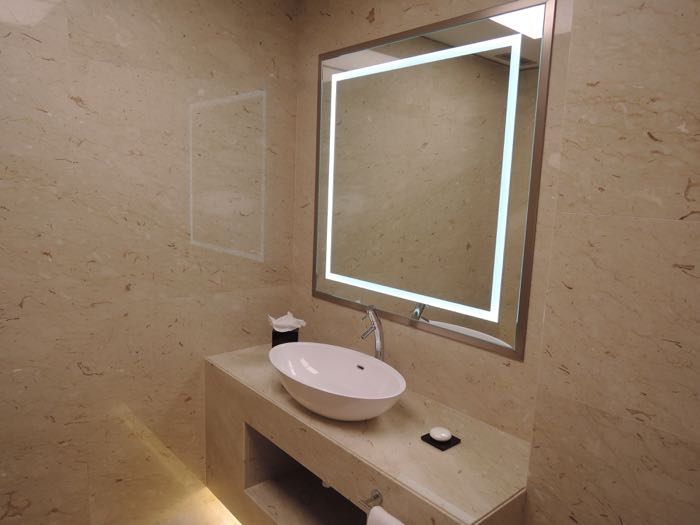 Excelsior Hotel Gallia Signature suite half-bath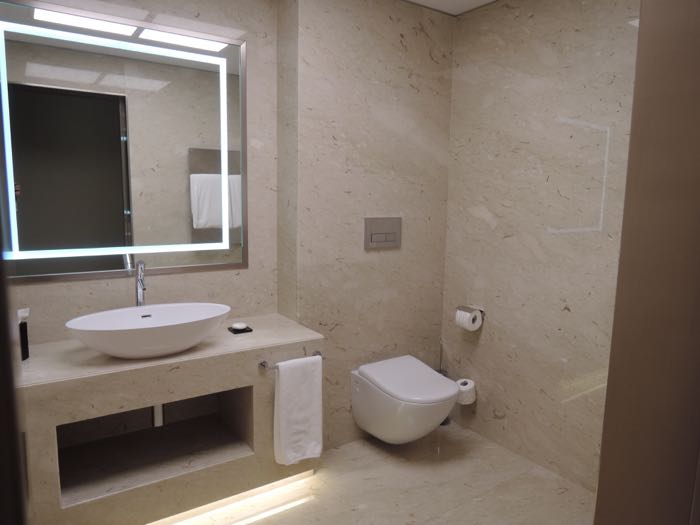 Excelsior Hotel Gallia Signature suite half bath
The bedroom was unconventionally swoon-worthy. The pistachio-green velvet added the perfect contrast to the champagne and white, and softened the look. The linens were silky and crisp – some of the best I've experienced.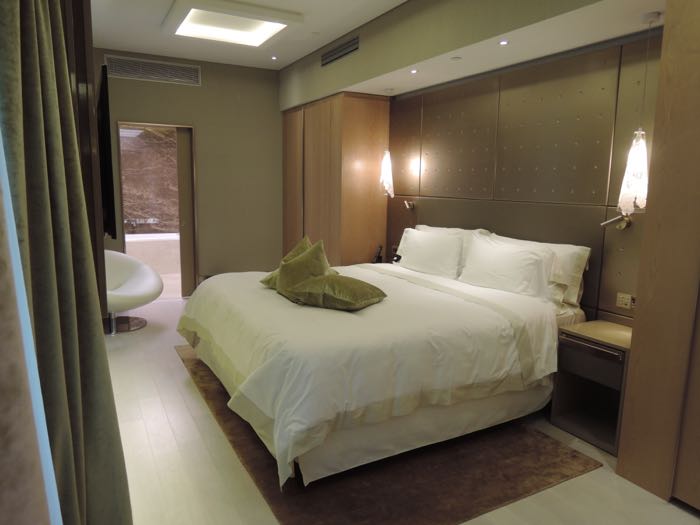 Excelsior Hotel Gallia Signature suite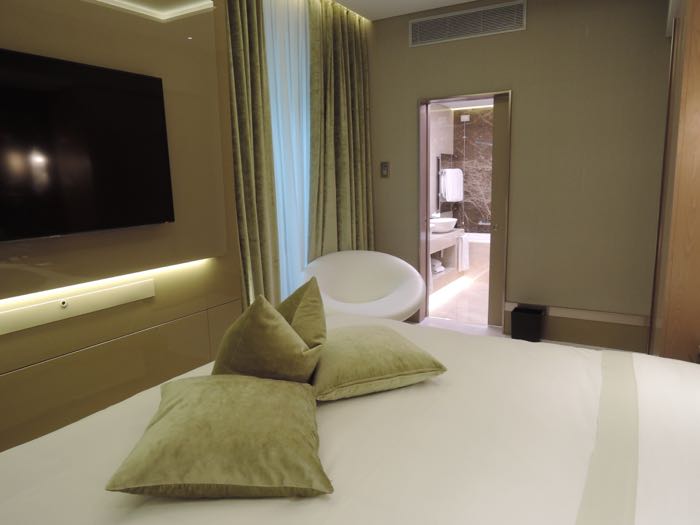 Excelsior Hotel Gallia Signature suite
I loved the closets, which had great storage and kept the space tidy.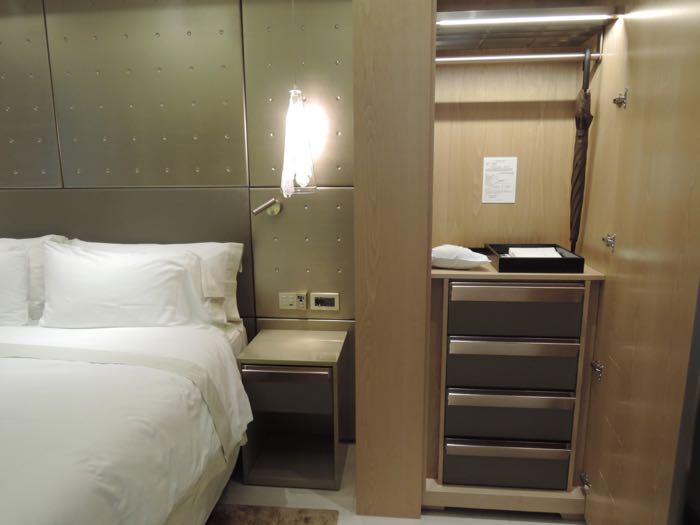 Excelsior Hotel Gallia Signature suite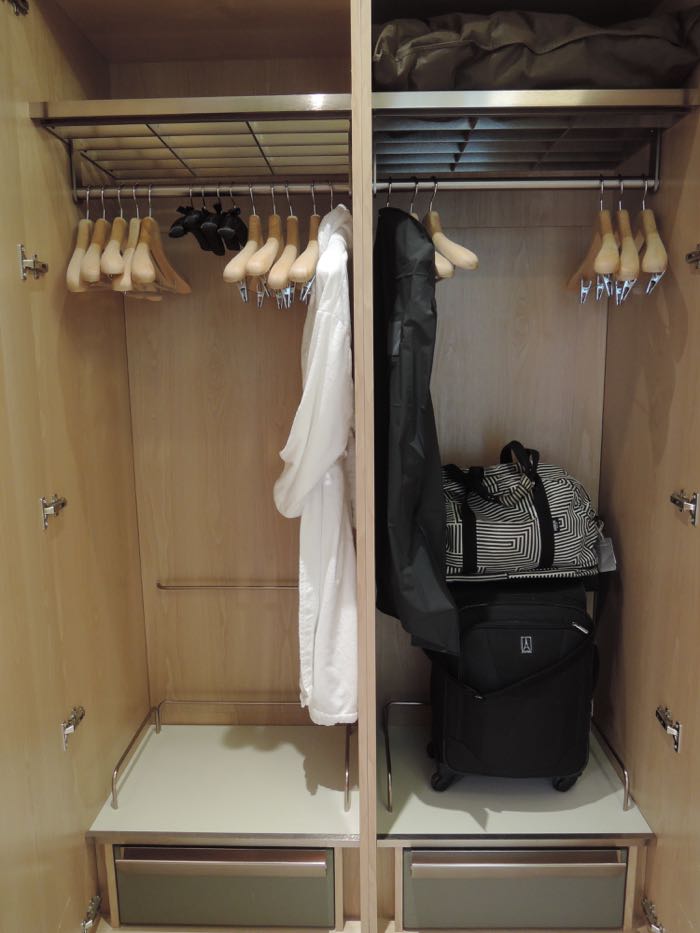 Excelsior Hotel Gallia Signature suite
And the small details, like the funky lamps, the bedside USB port and outlets, and the alarm clock being integrated into the wall panel.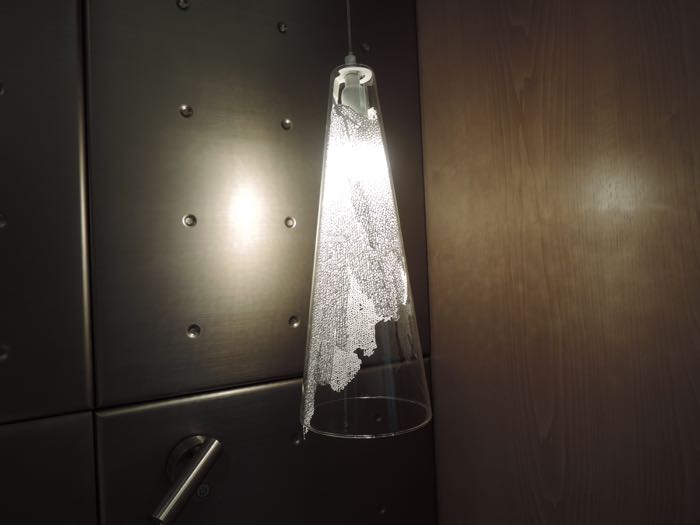 Excelsior Hotel Gallia Signature suite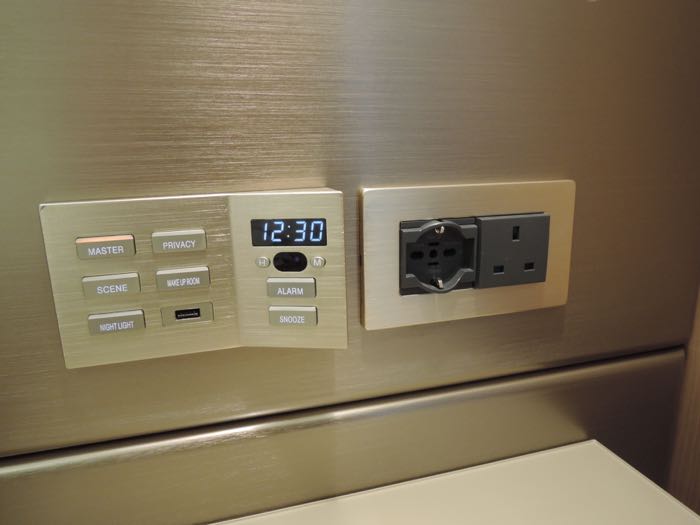 Excelsior Hotel Gallia Signature suite
Beyond the bedroom was the main bathroom, which featured double sinks, a soaking tub, a separate toilet room, and a shower that doubled as a steam room.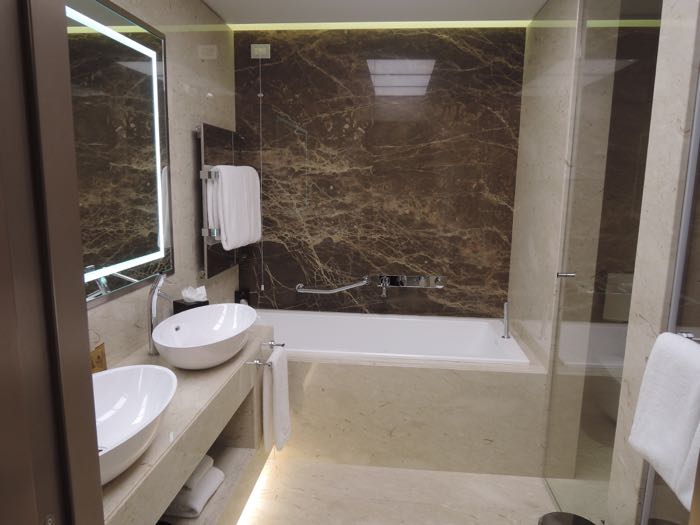 Excelsior Hotel Gallia Signature suite bathroom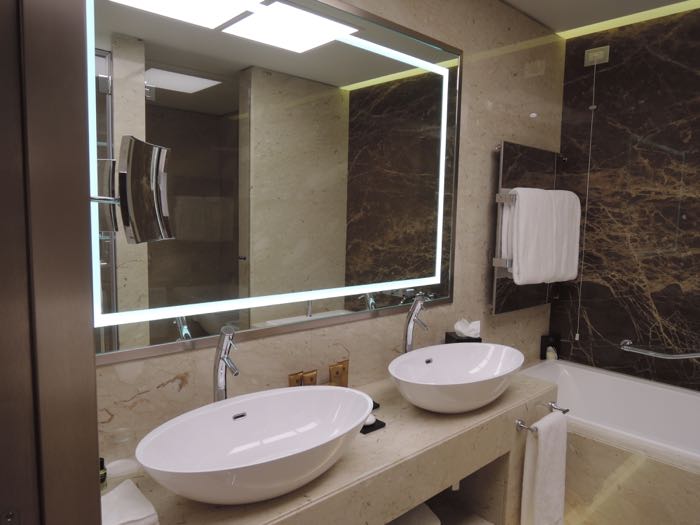 Excelsior Hotel Gallia Signature suite bathroom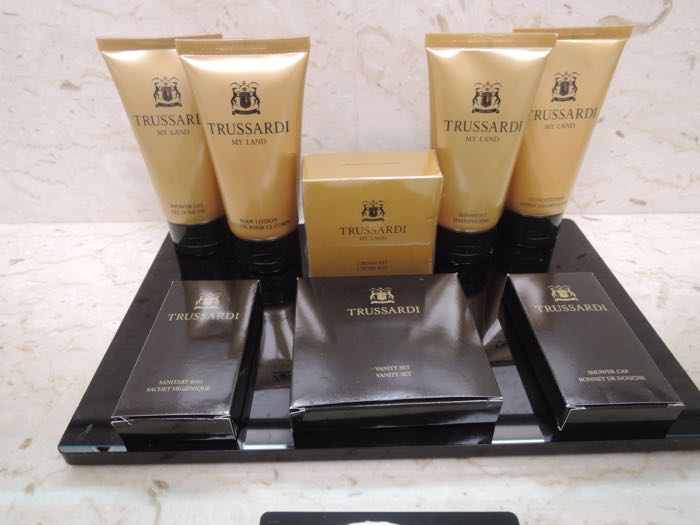 Excelsior Hotel Gallia Signature suite bath amenities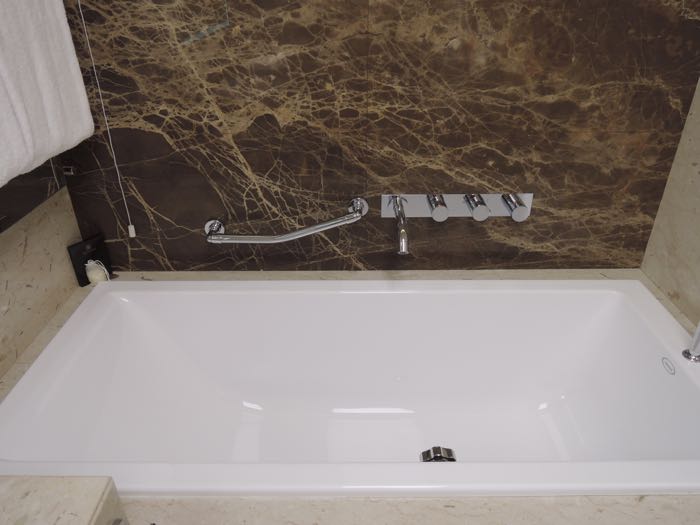 Excelsior Hotel Gallia Signature suite bath tub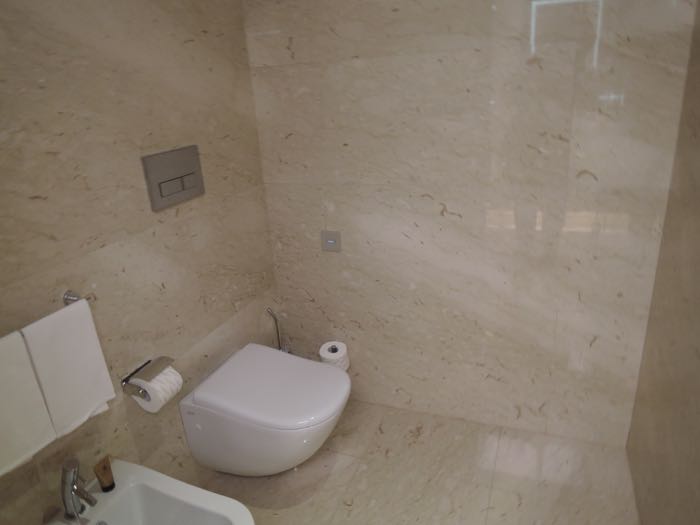 Excelsior Hotel Gallia Signature suite toilet and bidet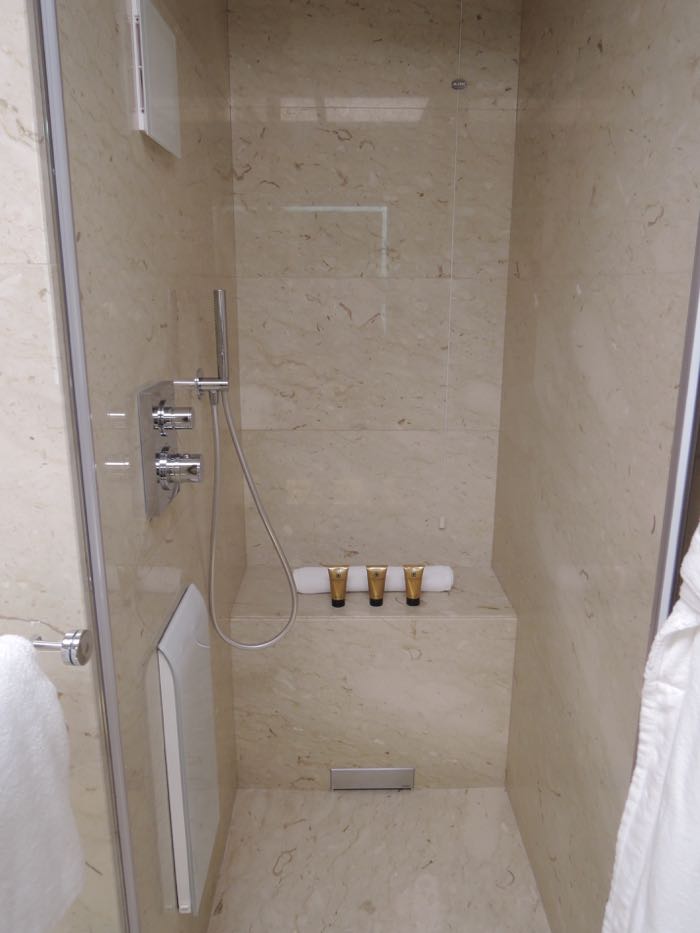 Excelsior Hotel Gallia Signature suite shower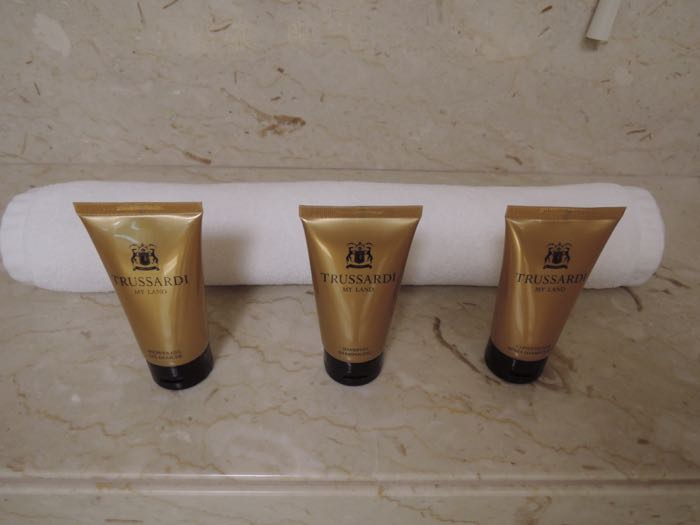 Excelsior Hotel Gallia Signature suite toiletries
Swoon.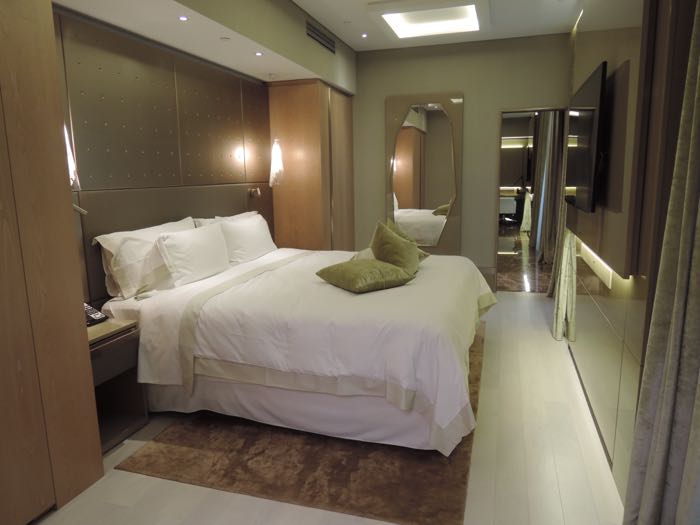 Excelsior Hotel Gallia Signature suite
Visiting the city center
While the Excelsior Gallia is super-convenient to the train, it is just a bit outside of the typical central shopping area. The hotel has a solution, of course, with a complimentary shuttle to the city center.
But this is Milan, so said "shuttle" is a private Maserati to the Galleria Vittorio Emanuele II.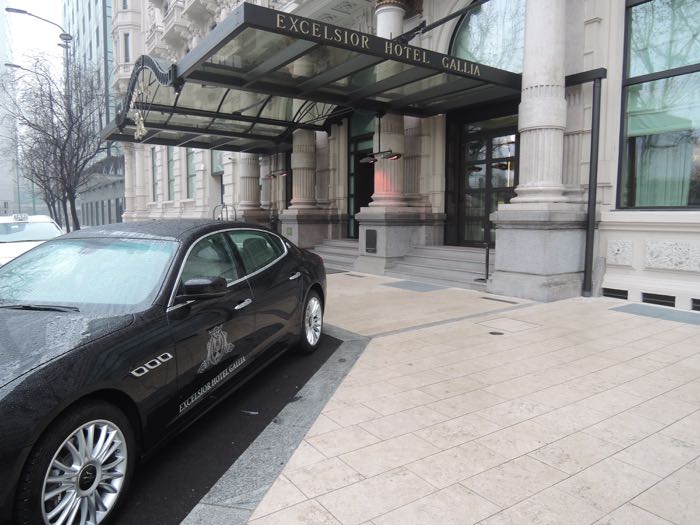 It's like they planned on keeping the car parked there to glam up the entrance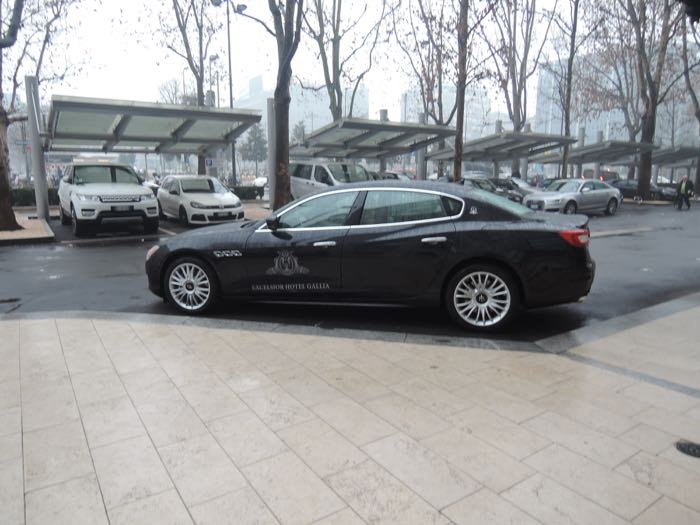 Excelsior Hotel Gallia Maserati
I mean…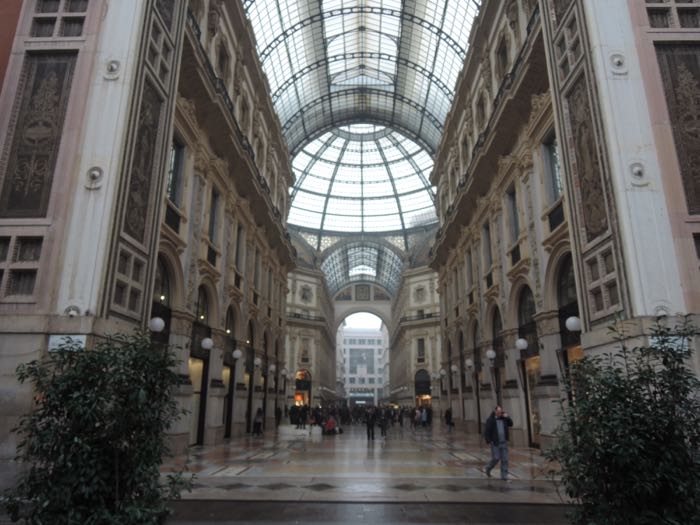 Entrance to the Galleria
I spent a few hours walking around the city, though the weather was pretty abysmal, and there were a lot of tourists.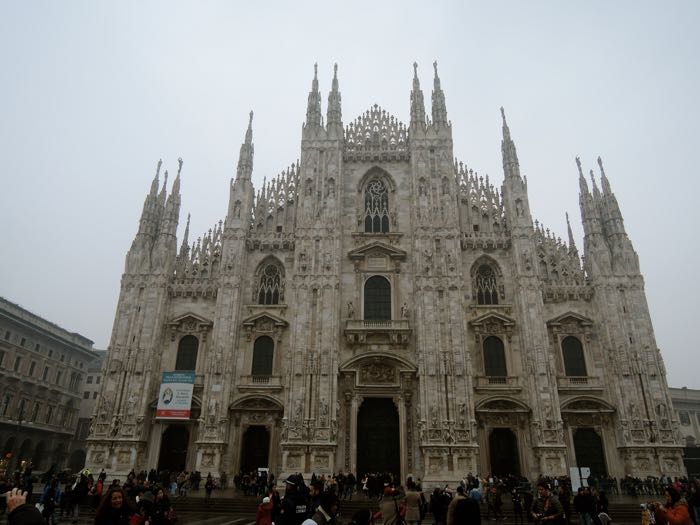 Milan Cathedral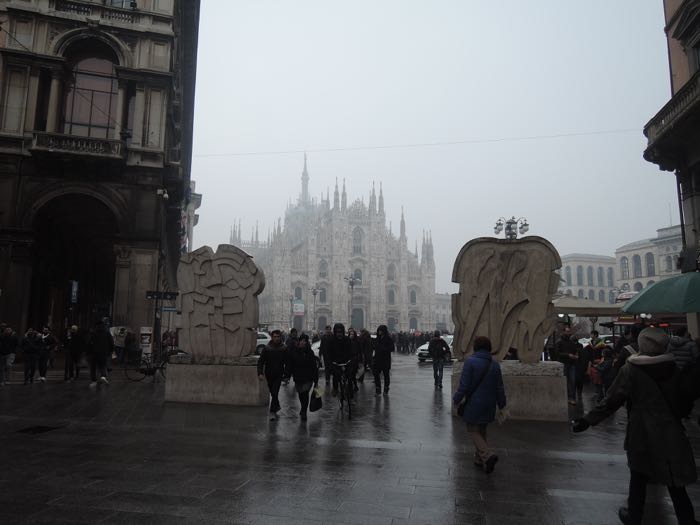 Walking away from the main piazza is generally a good way to lose the crowds
Eventually I decided to find some gelato (for which I paid an exorbitant €3, even away from the tourist zone), and called it a day.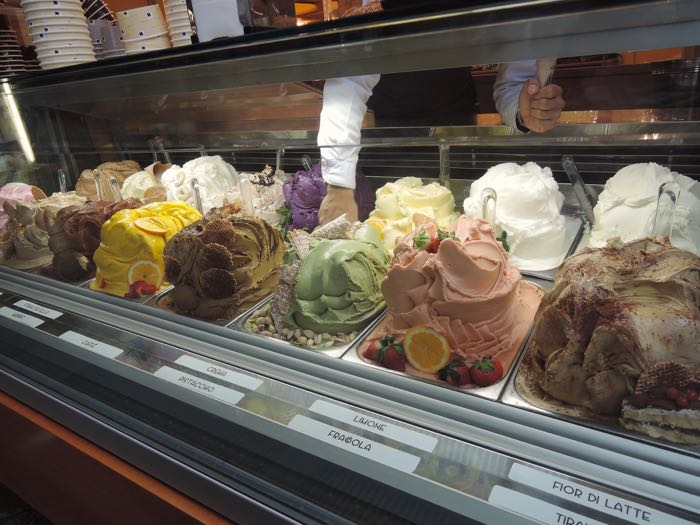 This gelato is actually a little too pretty for my taste, to be honest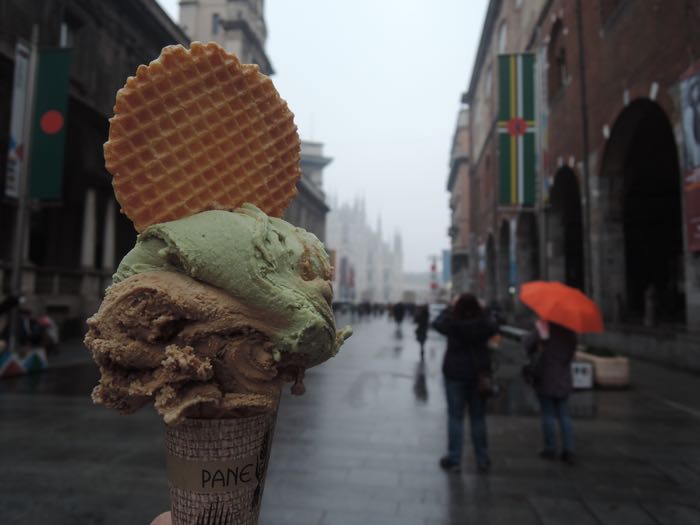 But gelato in Italy is still gelato in Italy
For the return trip, I opted for the decidedly more plebian subway. Uber is an option in Milan as well, and if it hadn't been raining I might have just walked, but public transportation in Milan is actually easy to use.
It's only four quick stops on the yellow line from the Duomo back to the Central Station, and a one-way ticket is ~$1.50, so this is a great option.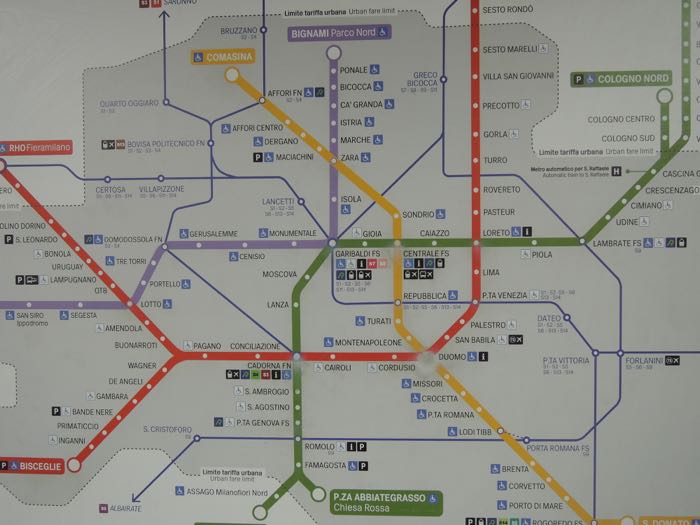 Milan subway map
Milan also has a bike-sharing scheme now, and could the bikes themselves be any more Italian?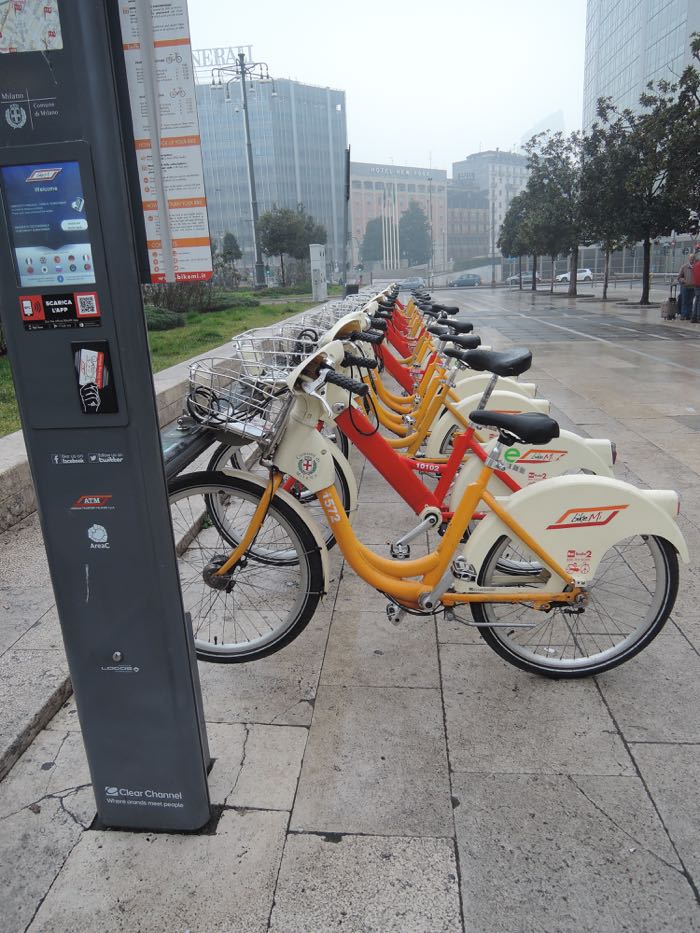 I have no idea if they're good bikes, but they're so stylish!
Gallia Bar
In the evening I stopped into the ground floor bar to have a snack and work for a bit, and was unsurprised to find another gorgeous space.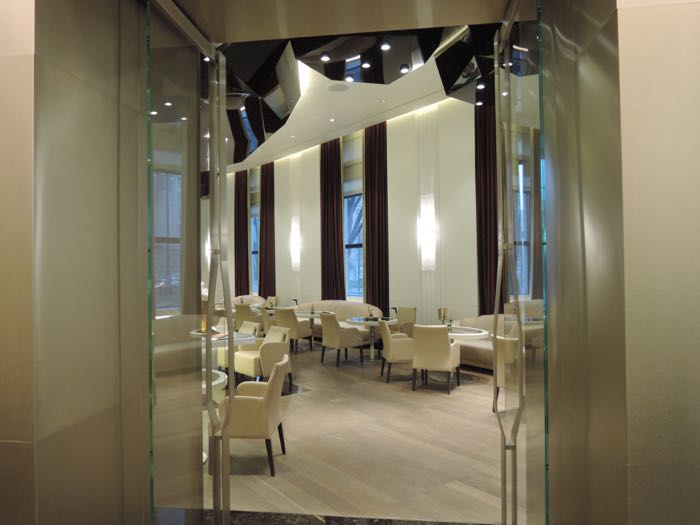 Entrance to Gallia Bar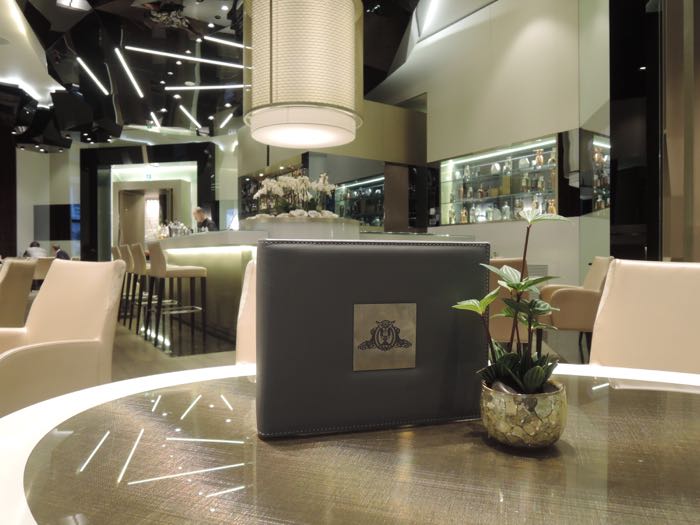 Gallia Bar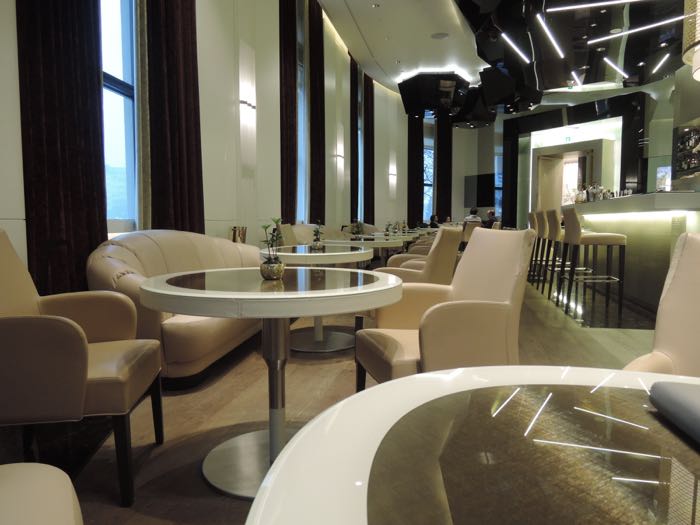 Gallia Bar
The hotel has been promoting their signature drink as an "Italian" gin and tonic, which I of course had to try.
The bartender was delighted with my order, and offered me a choice between a spicy or botanical tonic, which, if I wasn't already in love with this hotel, would have sealed the deal.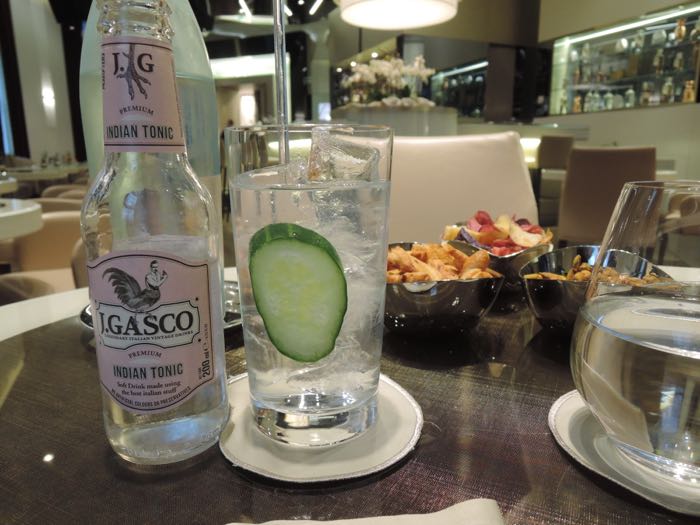 Italian gin and tonic at the Gallia Bar
The gin is distilled in Italy, and apparently the tonic is local as well (though there's an awful lot of English on that label, so who knows).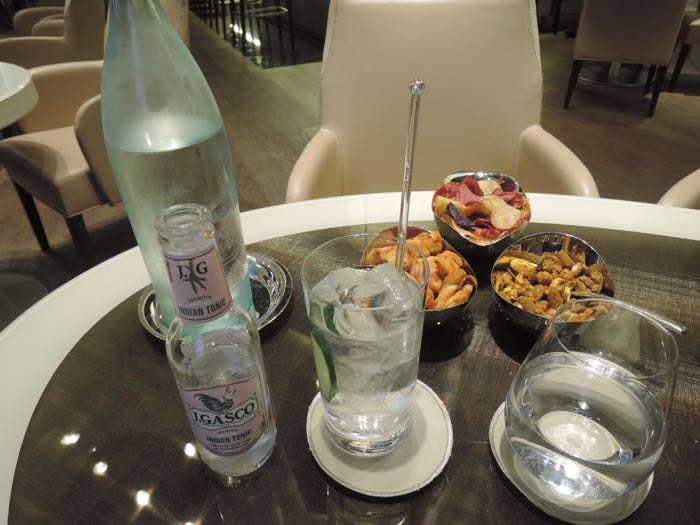 Aperitivo!
In classic Italian tradition, the cocktail was delivered with an assortment of snacks. While I have been known to make a meal out of aperitivo, I eventually ordered a caprese salad as well, which was just perfectly done.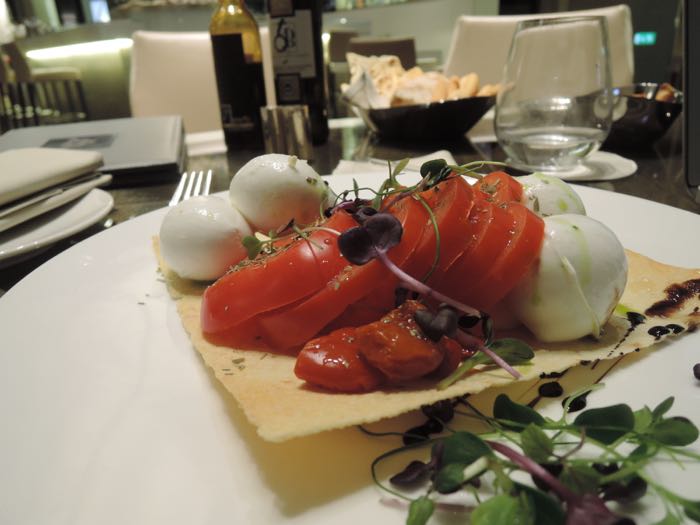 Caprese salad
(Side note to Ben, my husband, and really anyone who has ever shared a meal with me: Yes, I ordered a caprese salad, and yes, I know that consists mainly of raw tomatoes, and yes, I promise I was traveling by myself. The burratta and sun-dried tomatoes were worth the excavation effort.)
Spa and fitness center
I decided to end my evening by exploring more of the hotel, and checking out the fitness center. This was up a secondary elevator to the 6th floor, and then you walked through the spa and up a third elevator to get to the actual gym level on the 7th floor.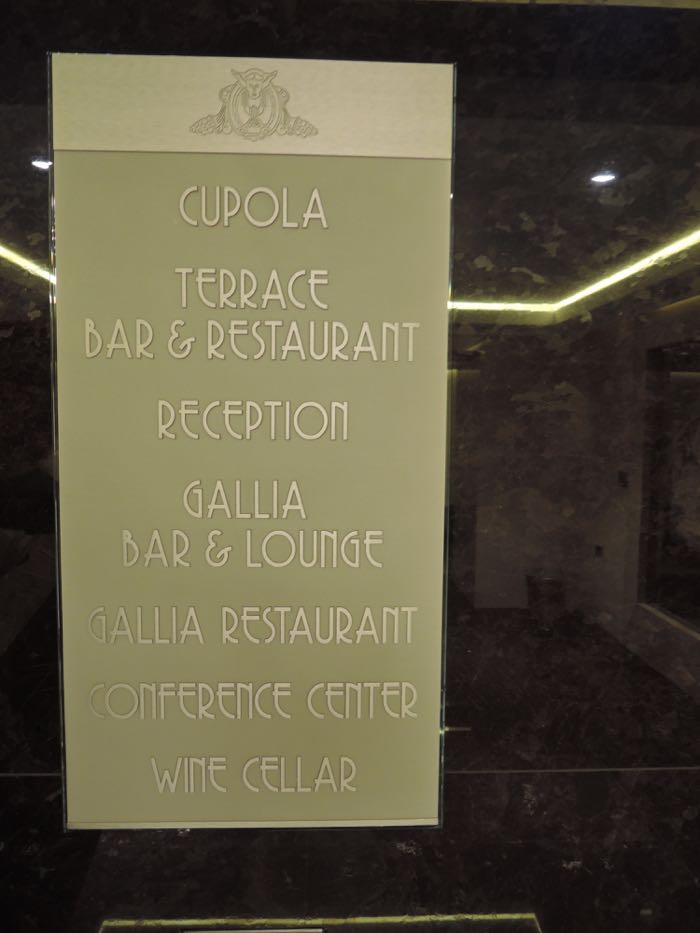 Excelsior Gallia signage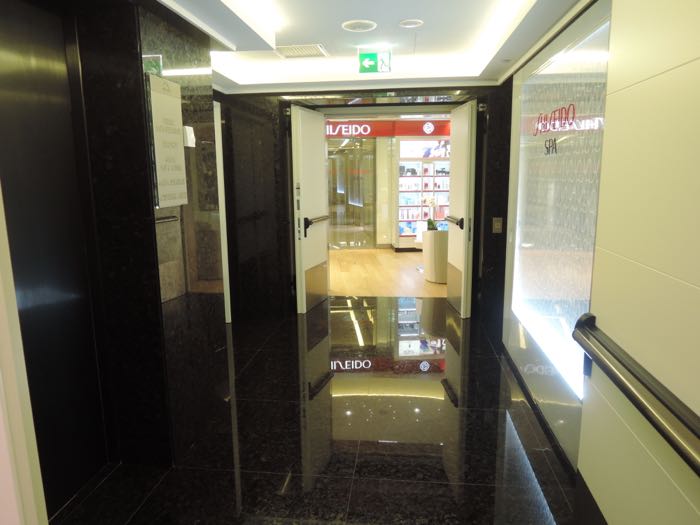 Excelsior Gallia spa entrance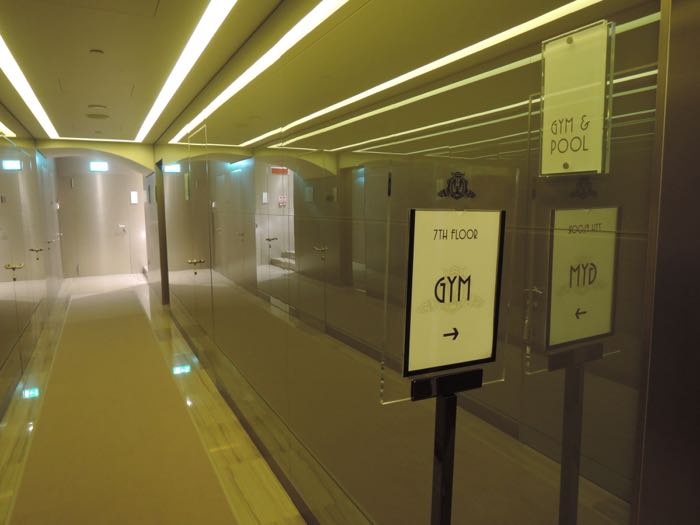 Excelsior Gallia gym elevator (with bonus irony)
Sing along if you know the words, because the space was stunning.
The gym equipment was brand-new, and while it was a small space it wasn't crowded.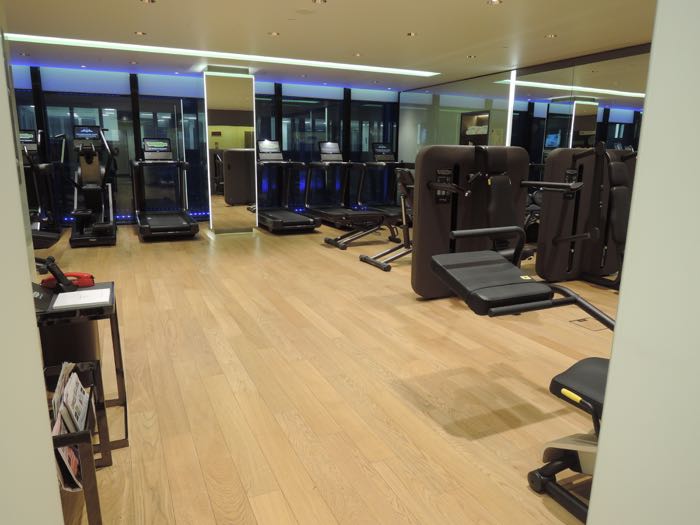 Excelsior Hotel Gallia gym
There was a juice bar as well, though it wasn't being used either: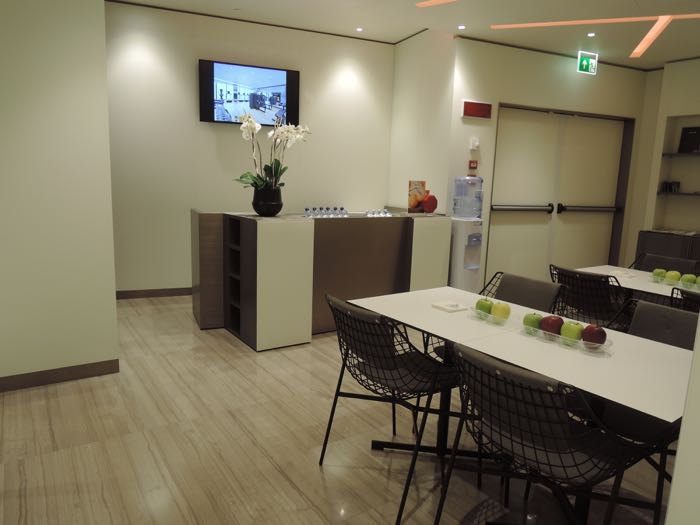 Excelsior Hotel Gallia juice bar
And a full assortment of saunas, steam rooms, a salt wall, and as, the staff member showing me around called them, "emotional showers."
"Emotional showers?"
"Yes, they have feelings."
I later discovered that she meant more like "themes" or "sensations". Each had a different motif, with sounds, lights, and aromatherapy. But I sorta like thinking of the showers as the characters from Mr. Men.
The real show-stopper was the pool, at least in terms of aesthetics: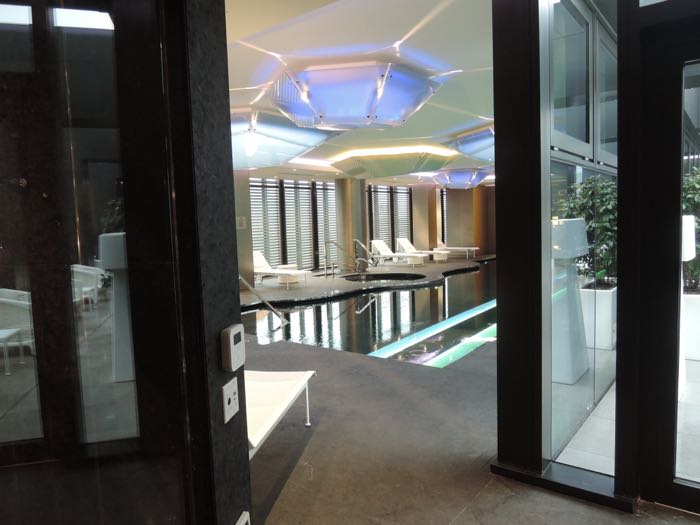 Excelsior Hotel Gallia pool and terrace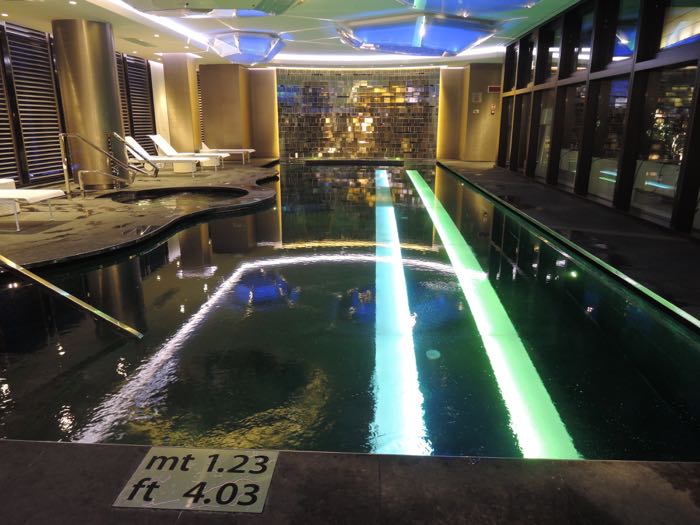 Excelsior Hotel Gallia pool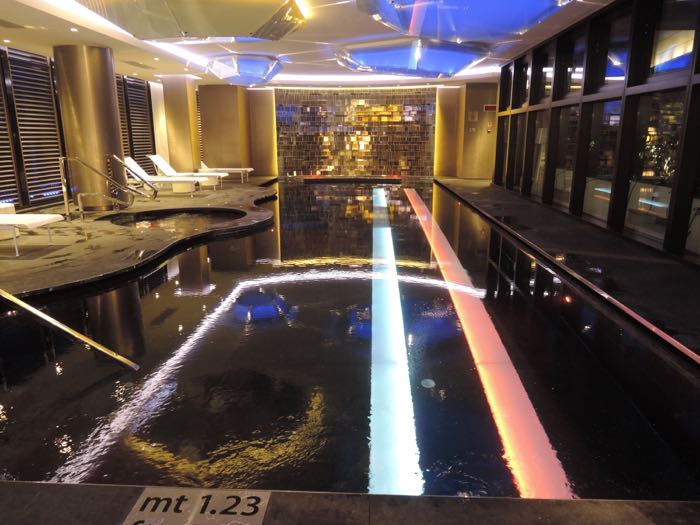 Excelsior Hotel Gallia pool
In terms of function, however, the pool area was the one thing I didn't love about this hotel. The pool was a little too warm to swim laps in, while the Jacuzzi was only slightly warmer, and thus too cool to comfortably soak in.
But that's okay, because I had an emotional shower to make me feel better about the situation.
Gallia Restaurant
I had booked a 7:20AM train ahead of my 10AM flight, which gave me a relatively short window for breakfast. The restaurant opens at 6:30, and I'd considered skipping it, but I am so glad I didn't.
The breakfast room was (unsurprisingly) breathtakingly gorgeous. It looks a little stark in the photos, because you can't see the incredible textures and finishes. It felt chic and warm in person.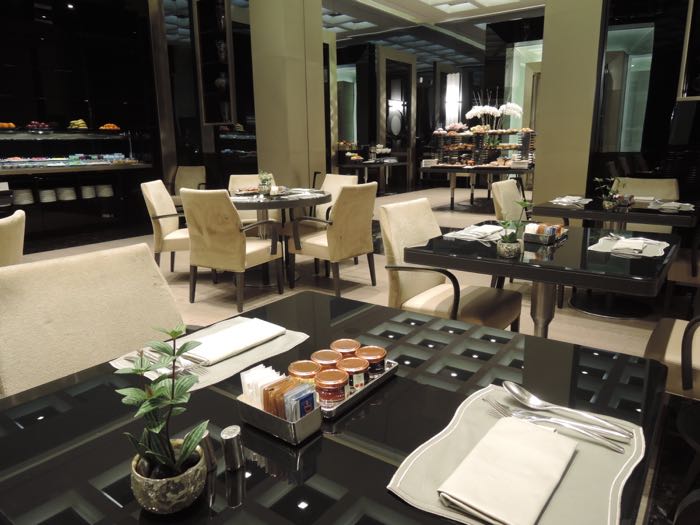 Gallia Restaurant
And oh my goodness the breakfast spread.
The selection of preserves says a great deal about the assortment, I think. Of course strawberry jam was offered along with orange marmalade and honey, but those were complimented by peach, blueberry, and cherry preserves.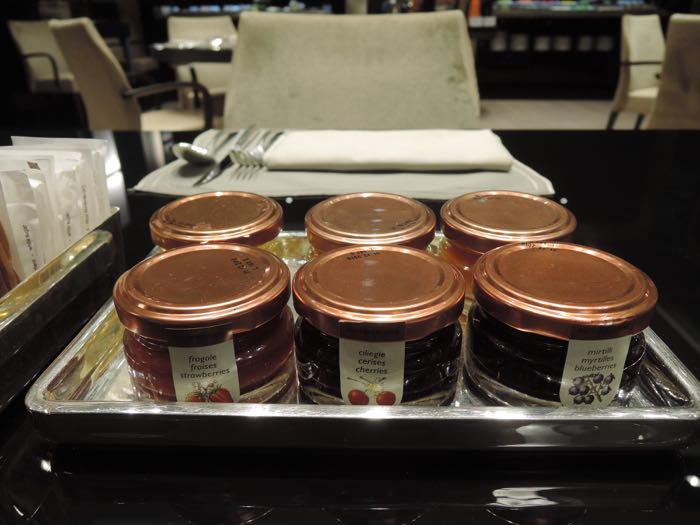 Gallia Restaurant breakfast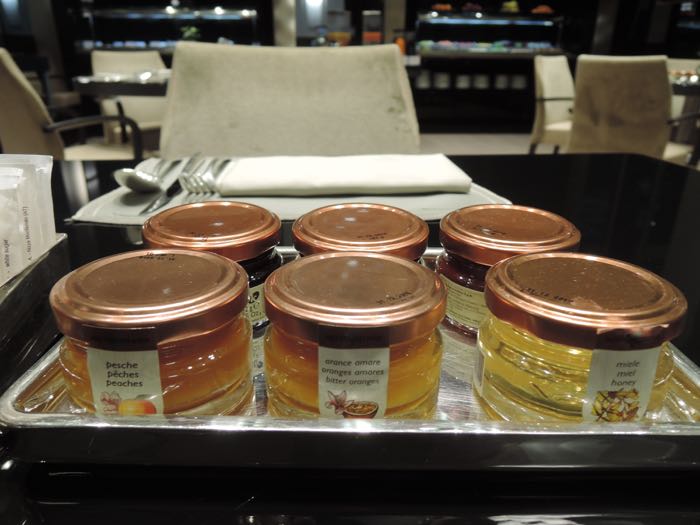 Gallia Restaurant breakfast
None of which are my thing, but A++ for selection, which held true across the board (six types of sliced meats, more than a dozen cheeses, three types of smoked fish, innumerable pastries, and so forth).
I'll let the other pictures speak for themselves: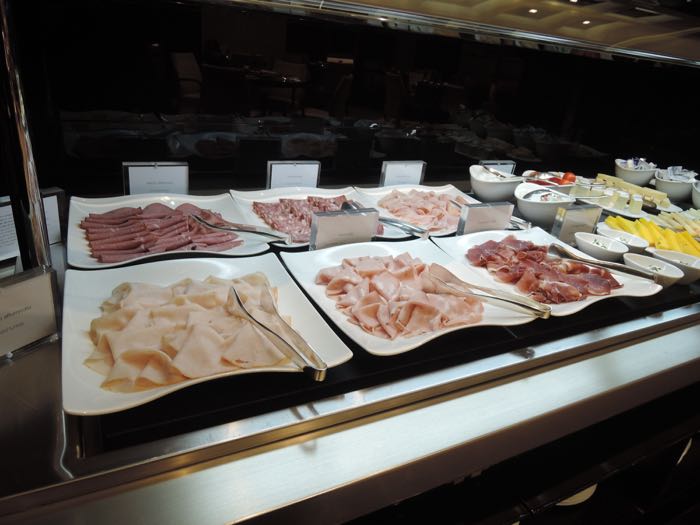 Gallia Restaurant breakfast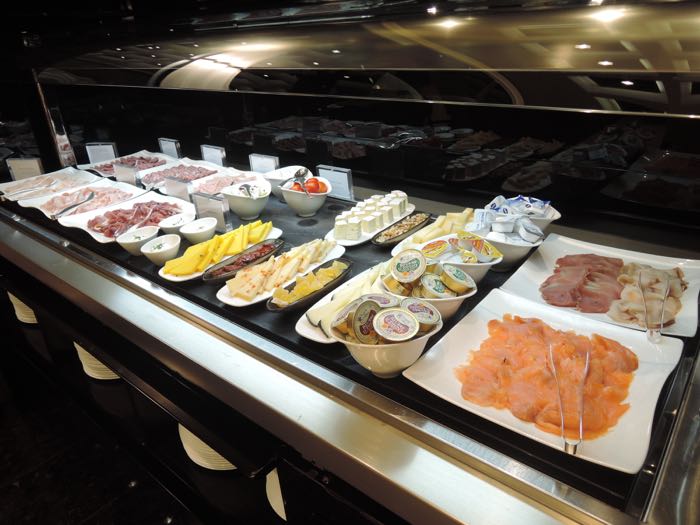 Gallia Restaurant breakfast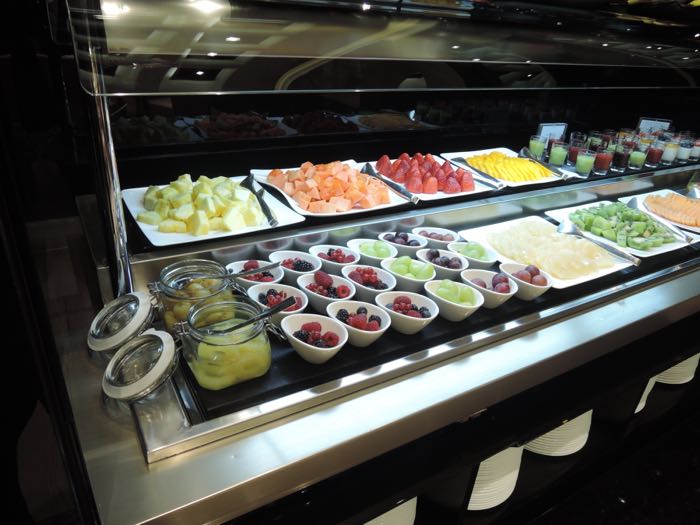 Gallia Restaurant breakfast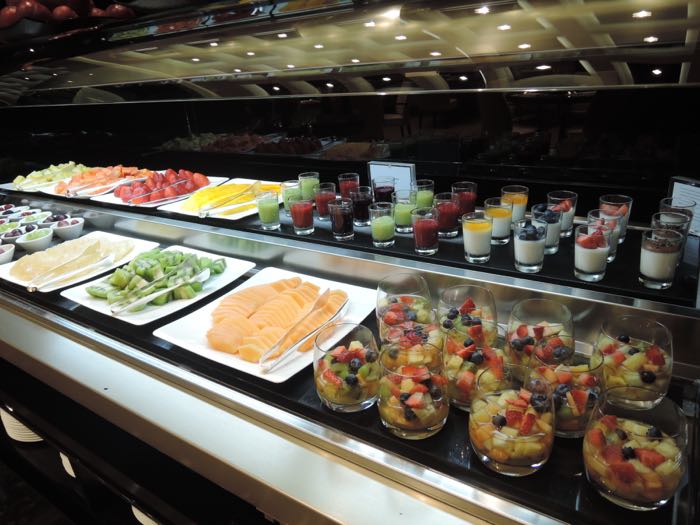 Gallia Restaurant breakfast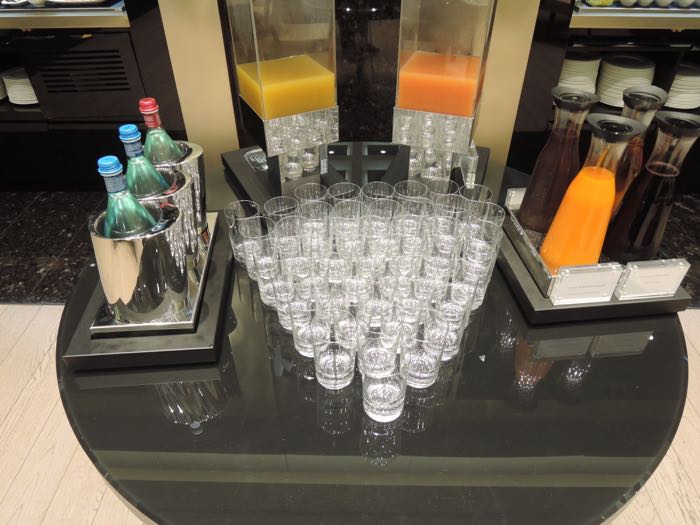 Gallia Restaurant breakfast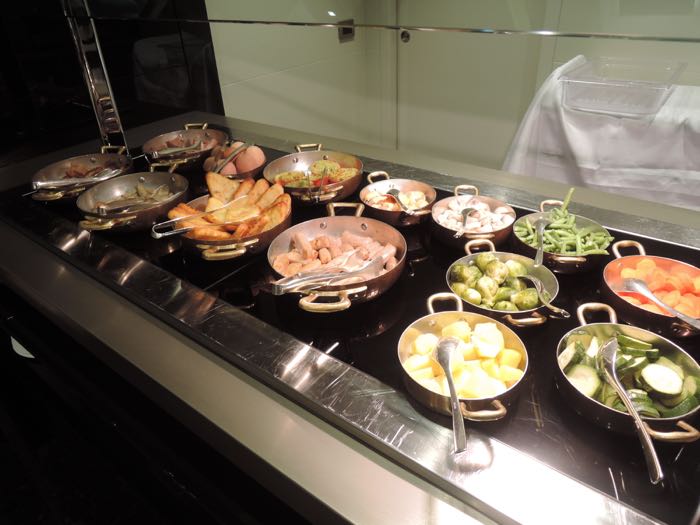 Gallia Restaurant breakfast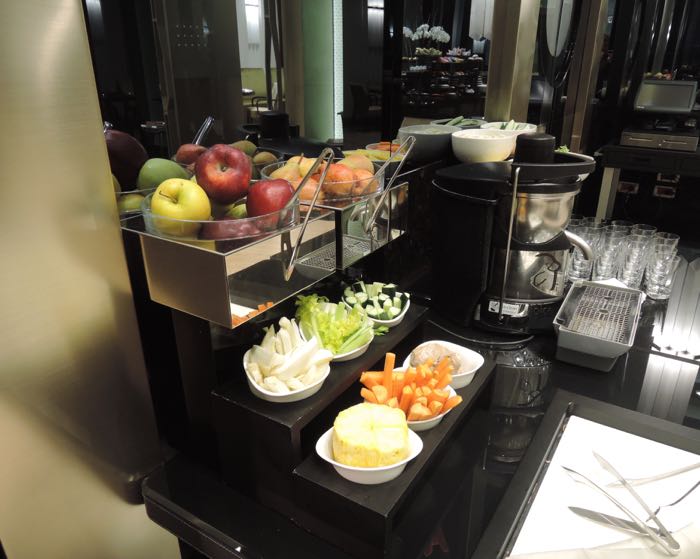 Gallia Restaurant breakfast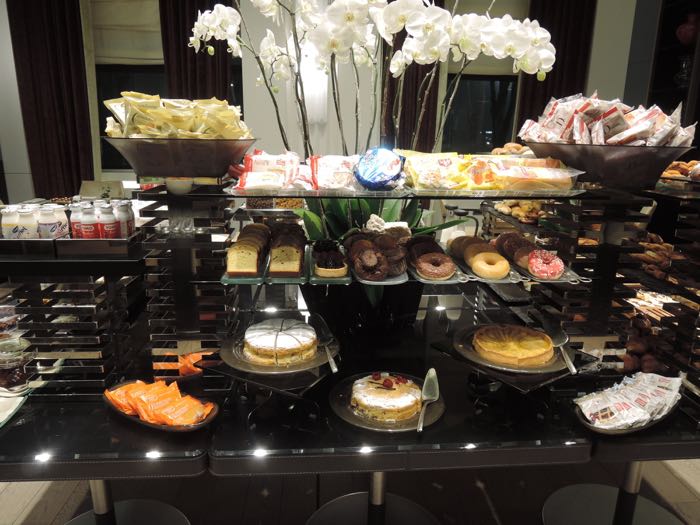 Gallia Restaurant breakfast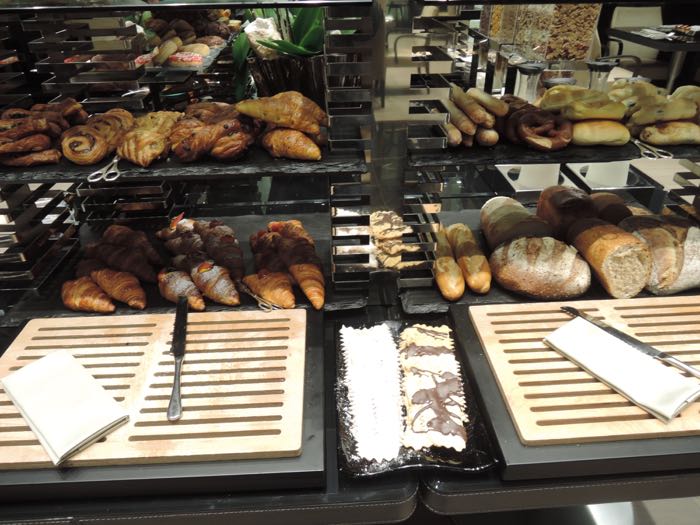 Gallia Restaurant breakfast
In terms of quality, this was hands-down the best caliber of food I've had at any hotel breakfast, with the possible exception of the Park Hyatt Paris Vendome. But they're neck and neck, truly. The prosciutto was perfect, the berries were artfully selected, the croissants were flaky while still moist. And the cappuccino was heavenly.
And I don't even like breakfast!
Overall
I loved everything about this hotel, and would stay again in a heartbeat. It's one of the few hotels I've actively had a desire to return to (generally I just want to return to a city or region), but I've spent the past few weeks thinking about how I can manufacture some time in Northern Italy so I have an excuse to go back.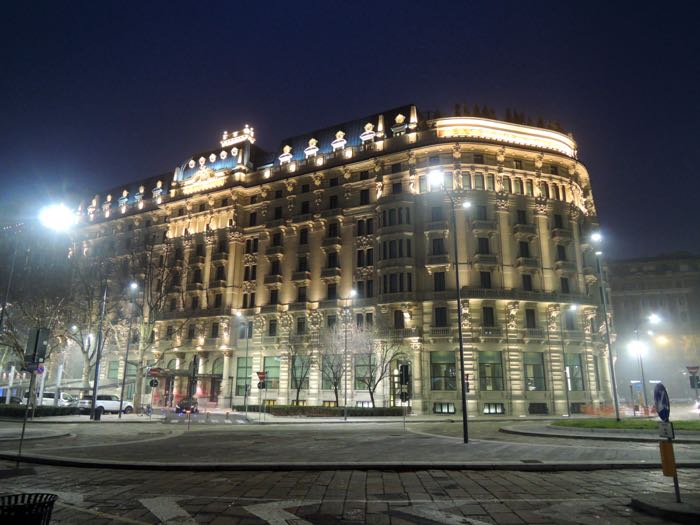 Excelsior Hotel Gallia exterior
Given the proximity to the train station, I think this is perfect for short stays as well. Many people spend a night or two in Milan before or after a broader trip to Italy, and I think I'd rather be here than in the crush of tourists by the Duomo, personally.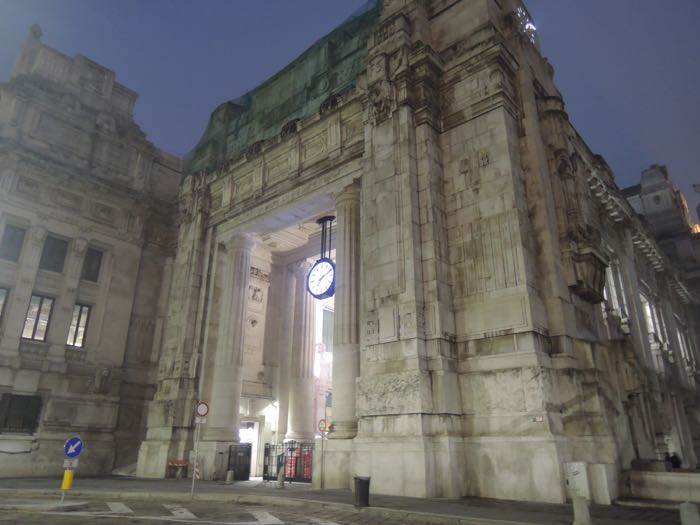 Milan Centrale train station
Has anyone else been to the Gallia? What were your thoughts?