A reader posed an interesting question about hotel welcome amenities, which I wanted to address more broadly, since it's not something I've ever written about. What are hotel welcome amenities, at what hotels and under what circumstances should you expect them, and what do I make of them?
What are hotel welcome amenities?
In a nutshell, a hotel welcome amenity is a gift that's typically placed in your room on the first day of your stay. Sometimes you'll find a welcome amenity in your room when you arrive, while in other cases it may be delivered on your first afternoon or evening, after checking in (which is why it could be worth not putting up your "do not disturb" sign). At more limited service properties, you may be given a gift bag upon check-in, or something along those lines.
In some cases a welcome amenity is advertised as a perk of a stay, while more often than not it's a "surprise and delight" thing, where it's not something that's published, but it is common.
You'll find that luxury hotels consistently provide these to guests. The quality can vary significantly, though. At some hotels (like the Mandarin Oriental Boston) it could be a few pieces of fruit.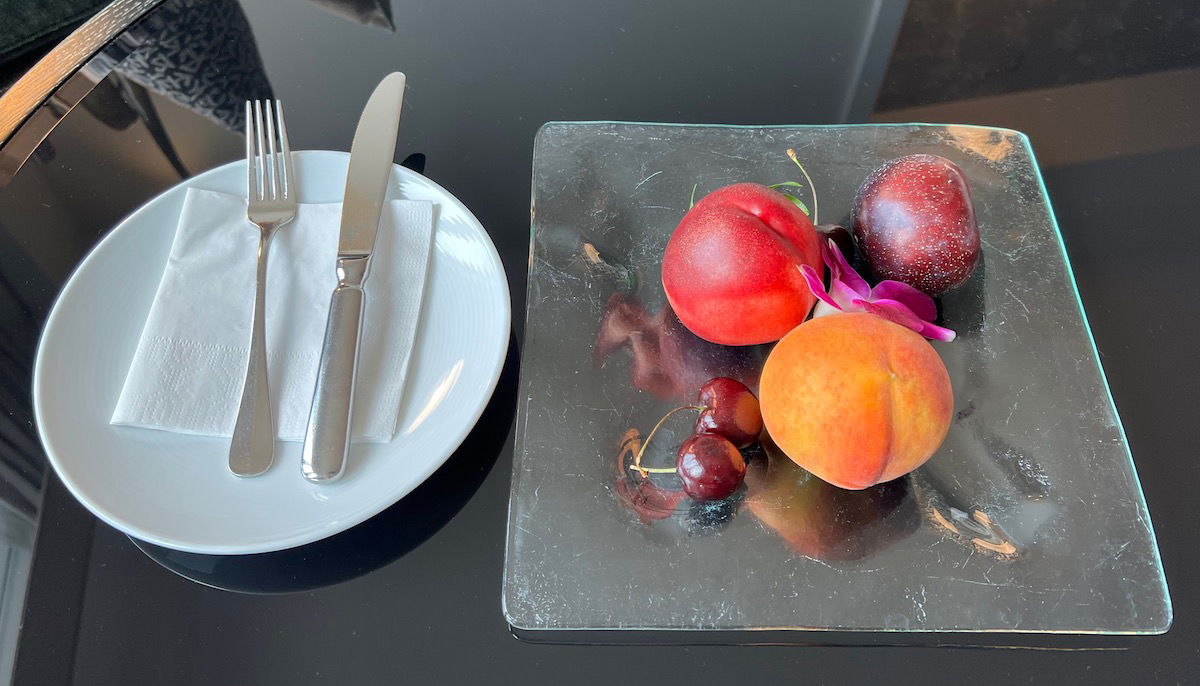 At other hotels (like Cheval Blanc Paris), it could be a bottle of champagne, and some amazing homemade sweets.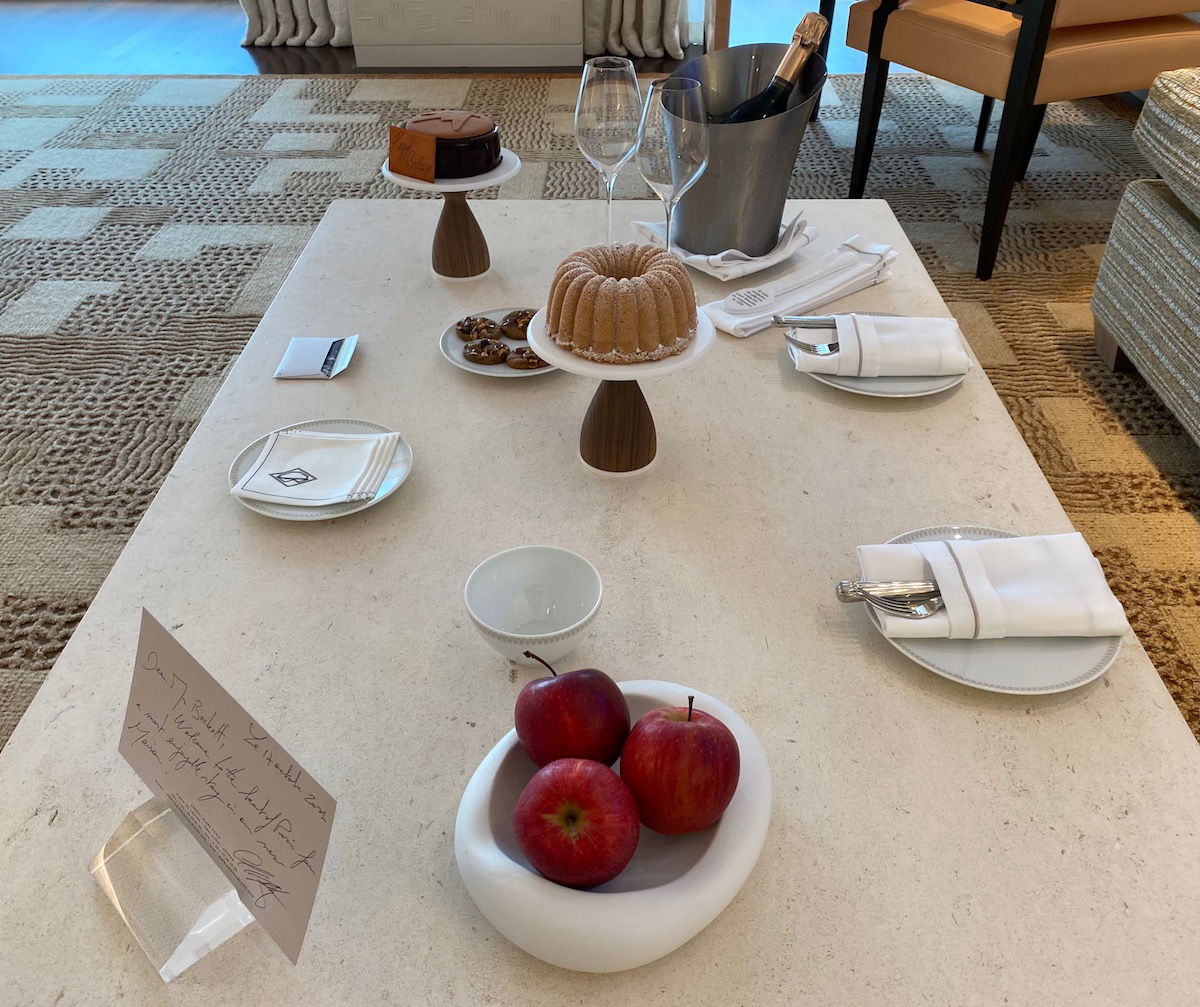 What's offered as a welcome amenity can vary significantly, though more often than not it's some sort of a food & beverage offering. It's most commonly a cheese plate, sweets, and/or wine.
Note that in this post I'm not talking about hotel welcome amenities offered by hotel loyalty programs, where you may receive some bonus points as a "welcome amenity." I'm talking about tangible in-room gifts provided proactively by hotels.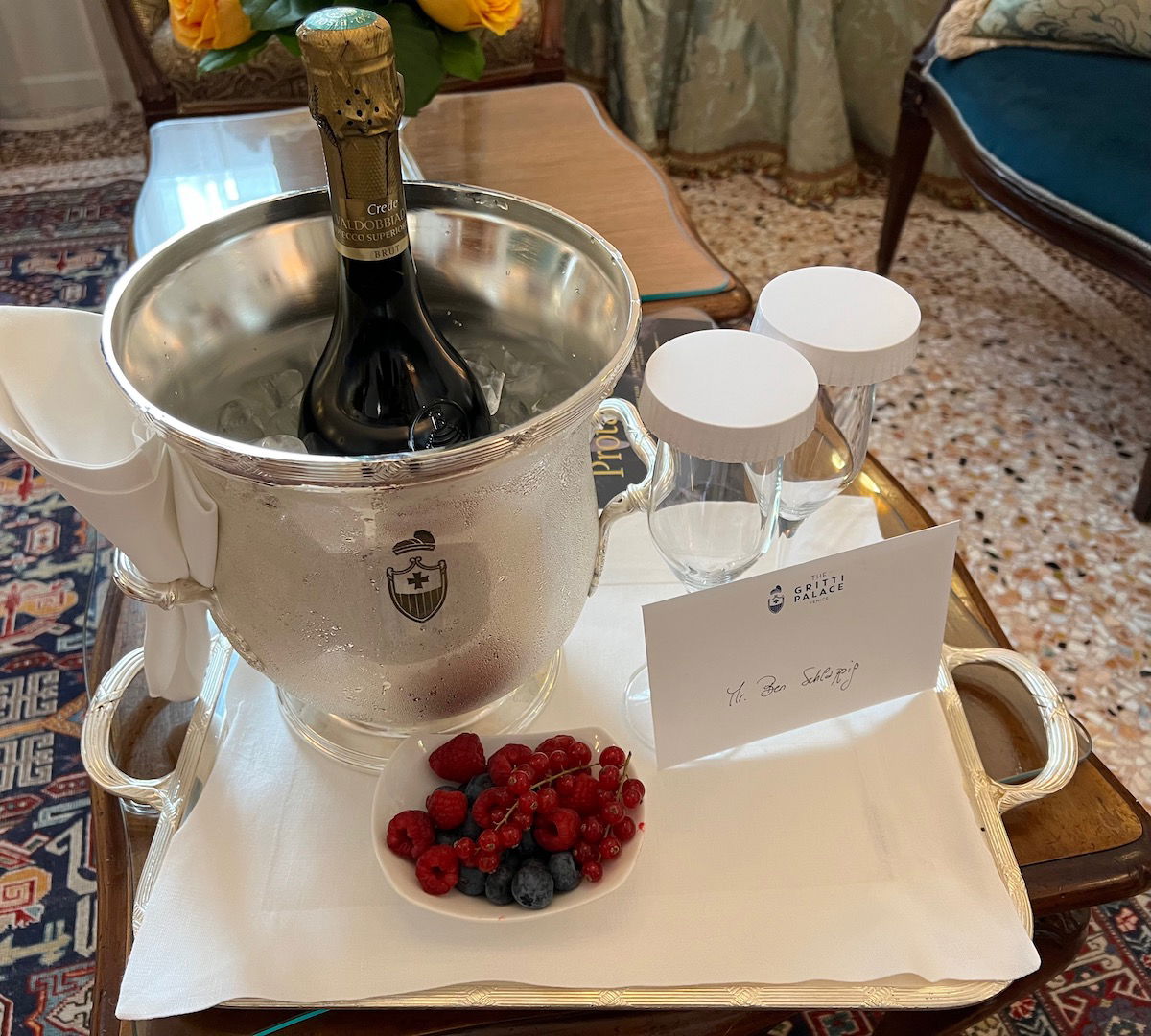 What impacts whether you get a hotel welcome amenity?
I find that most "true" luxury hotels offer some sort of a welcome amenity to guests. Even beyond that, though, you may find that many upscale hotels also offer welcome amenities under some circumstances.
What impacts if you get a welcome amenity, and for that matter, the quality of the welcome amenity? Potential factors include:
The type of hotel you're staying at
Your elite status, if you're staying at a hotel with a loyalty program
Whether you're a repeat guest at that specific hotel
If you're celebrating anything special, like an anniversary or birthday
If you booked through a travel agent program that offers a welcome amenity as a published perk, including Hyatt Privé, Mandarin Oriental Fan Club, Marriott STARS, etc.
Don't be offended if you stay at a hotel that doesn't offer you a welcome amenity. Similarly, you may find that you stay at the same hotel twice, and are offered a welcome amenity once, but not the other time. Whether or not you're offered one on a particular stay can come down to a variety of factors, including how busy the hotel is that day, what staffing is like, etc.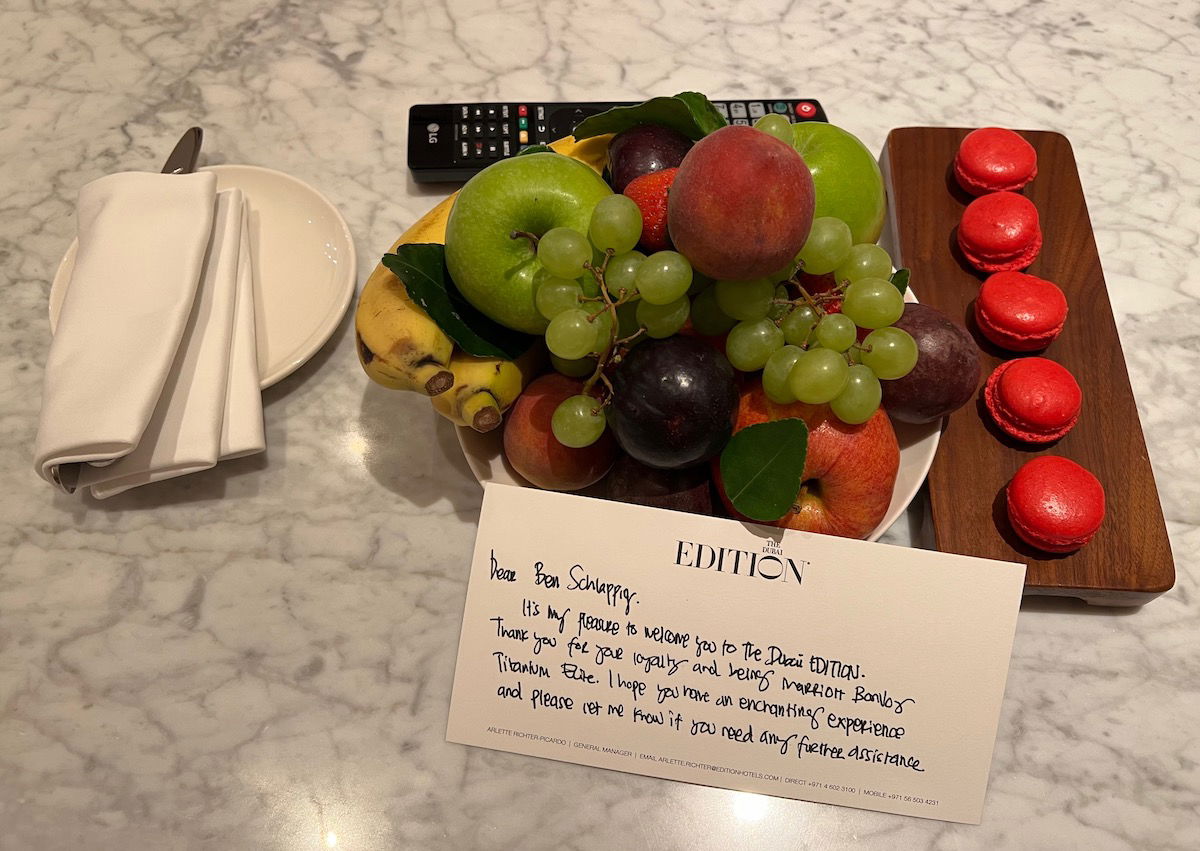 My take on hotel welcome amenities
I figured I'd share a few personal thoughts on hotel welcome amenities, of course acknowledging that this is hardly the most important aspect of a hotel stay. Then I also want to pose a question to OMAAT readers.
The way I see it:
Personally I'm a bit surprised when I don't receive some sort of a welcome amenity at a luxury hotel, while otherwise I don't expect one, and am pleasantly surprised when I receive one
I admit that hotels are in a tough spot when it comes to welcome amenities, especially with alcohol; it's nice when a bottle of wine is offered, but if it's a $6 bottle of sparkling wine, it may leave a bad taste in some peoples' mouth (figuratively, and maybe even literally), especially if they're paying a lot for a stay
While it's always nice to receive a welcome amenity, as a frequent traveler it can be hard to "maximize" these — I hate wasting, but when I'm given a plate with about 4,000 calories of chocolate…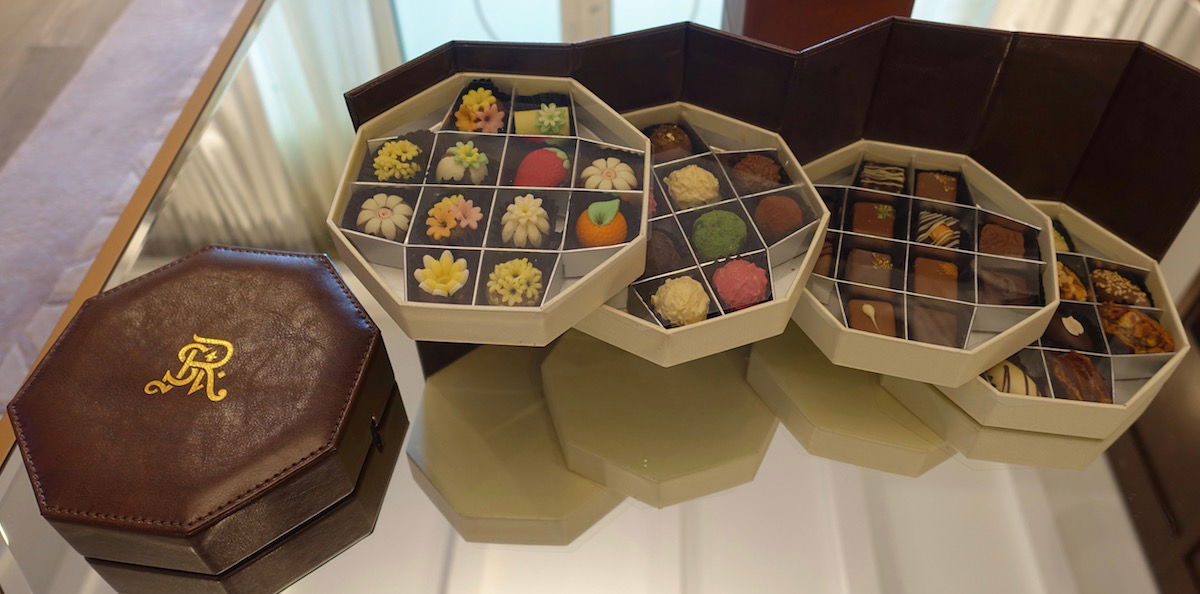 Now here's a question for readers — if you're proactively offered a welcome amenity but you don't like what's being offered, do you let the hotel know? Here's my personal take:
Unless it's a published benefit of what I booked (like for booking through a certain program with a travel agent, or at certain luxury hotels that market a welcome amenity as a feature), I would feel weird requesting a different gift; I think the exception would be if I didn't drink alcohol, and the amenity consisted of alcohol, or if allergies came into play
At the same time, if you are offered a nice bottle of wine, it doesn't seem unreasonable to request a swap to a different similarly priced bottle (for example, if you like white wine, but are offered red wine)
I know some people will even email hotels and request a specific kind of welcome amenity even if a welcome amenity isn't an official perk. Personally I would feel sheepish and never do that, but to each their own…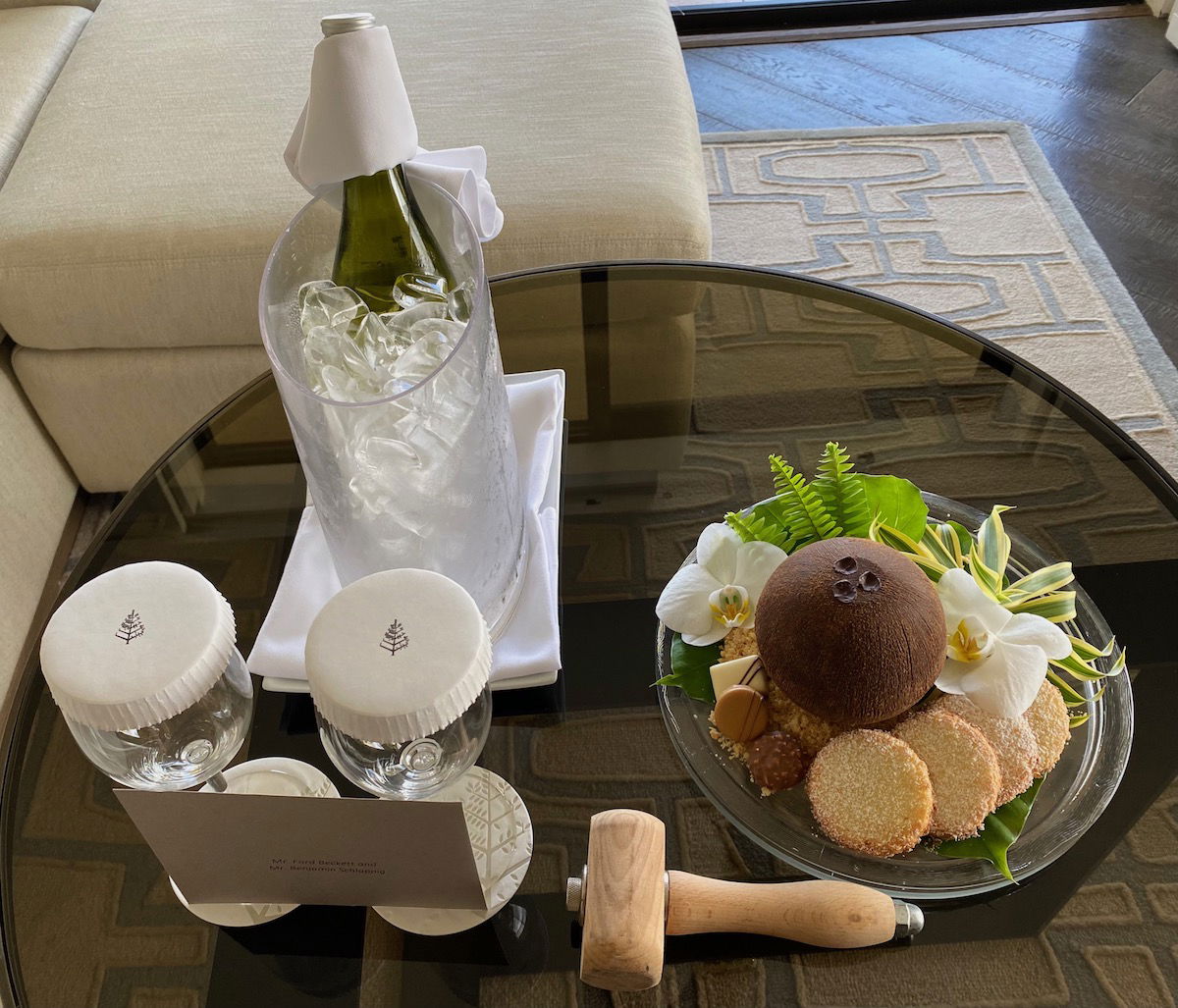 Bottom line
It's always a treat to get a welcome amenity at a hotel. The quality can vary significantly, and it could be anything from a couple of bottles of water to a nice bottle of champagne and a cheese plate. It's most common to find welcome amenities at luxury hotels, at hotel groups you have status with, or at hotels that you frequent.
What's your take on hotel welcome amenities? When do you expect them, and what do you expect?