Hyatt announced that the Carmelo Resort and Spa in Uruguay has joined the brand. The property was formerly a Four Seasons and is regarded as one of the of Latin America's top luxury hotels and one of Travel + Leisure's "World's Best Top 100 Resorts and Hotels."
The property looks amazing. There is a private beach, a wine cellar, and a golf club. And the rooms are huge, bigger than my first apartment.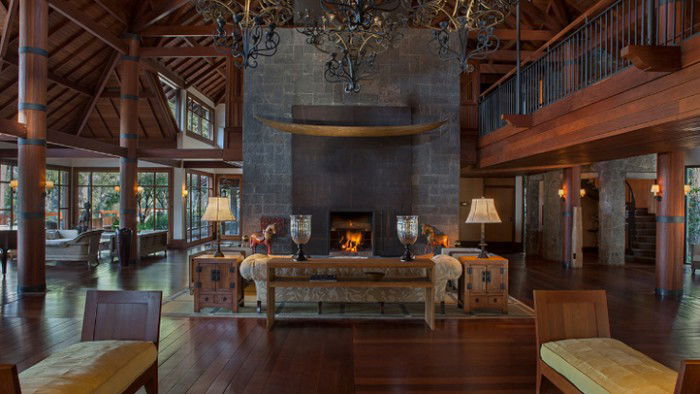 The Hyatt Carmelo is located on the Rio de la Plata about an hour from Colonia del Sacramento, which is itself a 1-3 hour ferry ride from Buenos Aires (depending on whether you take the fast or slow boat). Or it's a 3 hour drive from Montevideo should you happen to fly into Uruguay directly to avoid the $160 Argentinian reciprocity fee (if that applies to you).
From the official press release:
The 44-guestroom resort incorporates Asian and South American design touches, including the use of imported woods, that, when combined, create a rich holistic zen retreat environment for guests, all the while maintaining authentic Uruguayan hospitality and terroir. Each of the resort's exquisitely appointed 24 bi-level suites and 20 detached villas are designed for travelers to live and luxuriate in. All accommodations offer a private terrace for outdoor living and private dining, and stunning views of the surrounding area that includes a eucalyptus forest, pine groves, vineyards, and the famed Rio de la Plata.
Rooms
The base room type is the Bungalow. They are 970 sq ft.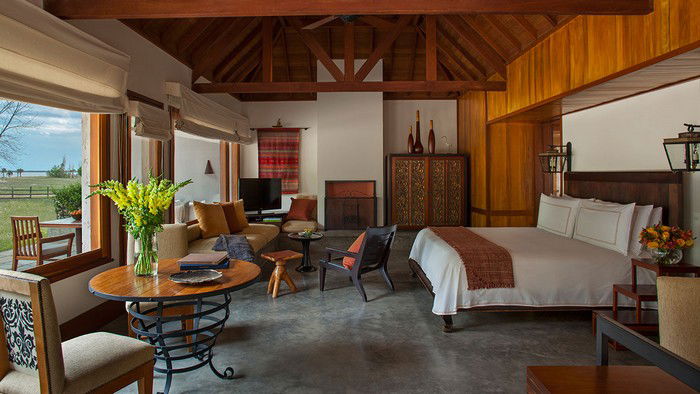 The Bi-Level Suites are even bigger at 1,291 sq ft and include a living and dining area. (No pictures available yet.)
Then there is a "Premium" Bi-Level Suite that is 1,453 sq ft and has two floors (I kind of assume the standard Bi-Level Suite does as well) and two bathrooms. The description for this unit mentions a kitchenette, which as a family traveler, always gets me excited.
Now Open
It looks like the property is bookable immediately, as in you could stay there tonight. Rates are around $250 per night in July (winter) and look to go to $500 in December. Interestingly, it seems that the rates are the same for both the Bungalow and standard Bi-Level Suite. The rate for the Premium Bi-Level suite is not listed on the website.
I called Hyatt Gold Passport to inquire about booking the Premium Bi-Level. The representative could not find a single date between now and October when it is available for booking on revenue. Perhaps it is not entered into the system yet?
Diamond Suite Upgrade
I also inquired about using a Diamond Suite Upgrade at the property, and he informed me that a DSU would upgrade me into the Bi-Level Suite. I then politely pointed out that the Bi-Level Suite is the same price as the Bungalow and therefore a DSU wouldn't really accomplish much. He sort of shrugged (as much as you can shrug on the phone) and said "that's what the property has designated for DSU's to upgrade into." Let's hope that the Premium Bi-Level Suite makes it into the system at some point and are DSU-eligible, otherwise DSU's seem kind of useless at this property.
Award Nights
On the points side, this is a Category 5 property costing 20,000 points per night. Unfortunately, that means we can't use Hyatt Visa anniversary nights.
Uruguay
This property actually excites me quite a bit.
We visited Uruguay for the first time in 2010 by taking the ferry over to Colonia from Buenos Aires for a night. I remember Colonia being a picturesque little town that was great for looking at vintage cars that are still daily drivers. We enjoyed it quite a bit. Oh, and did I mention the meat?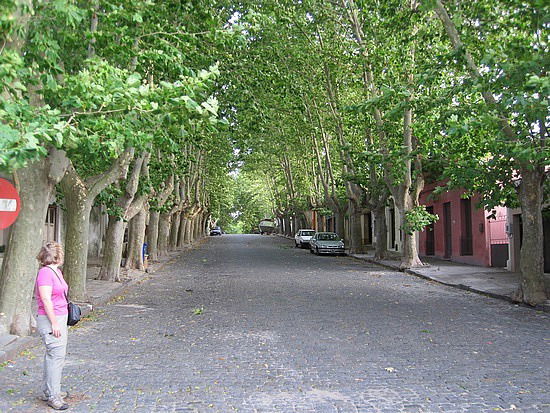 We returned to Montevideo in 2013 and stayed at the Radisson, which is a very interesting property in its own right. I had actually read that Hyatt was planning to open a hotel in Montevideo, which was expected to be the first of the brand in Uruguay. The official press release was from 2012 with a target opening of 2015. Not sure what happened there.
At any rate, I'm always excited to see Hyatt expand their footprint especially in off-the-beaten path parts of the world. Even more so when it includes reasonably priced (at least in the off-season) luxury properties.
---
Have you been to Uruguay? Does this get you excited to go?