As it turns out, IHG Rewards has an award price calendar, whereby you can see nightly award costs for a month at a time. The catch is that it takes some work to find it.
How to find IHG Rewards' award price calendar
IHG Rewards has dynamic award pricing, and award rates at a particular hotel can vary significantly. As a result, it can be worth playing around to find the best award pricing for a particular property. As it turns out, IHG Rewards has an award calendar that will show you award pricing at a particular hotel for a month at a time. It's just hidden. Very hidden.
Essentially you need to go through the standard process of searching for award availability at the property you're interested in booking. However, you need to find a night where the hotel doesn't have award availability (which isn't necessarily as tough as it sounds, since IHG Rewards does have capacity controls on awards).
Let's say you want to find the award calendar for the InterContinental London Park Lane. I did an award search for July 1 for one night — I figured that might be a popular time, and maybe there wouldn't be award availability. If you want even better odds of having no availability, just search availability for a month-long stay, since there will likely be at least one day that doesn't have award availability.

Sure enough, the InterContinental London Park Lane didn't have award availability for that night, but there was a button that said "View Available Dates."

When you click that, you can see award availability for a month at a time, and can easily also navigate forwards and backwards.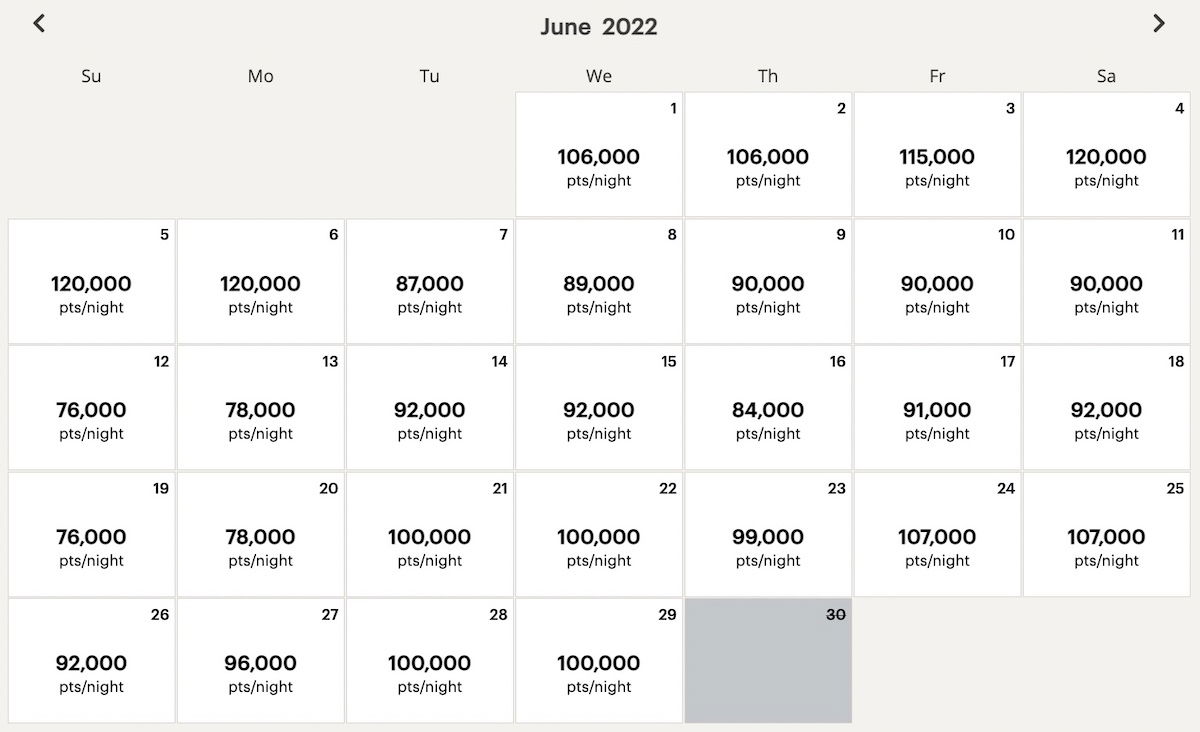 I'm not sure if this is new, but it's the first time that I've seen this, and it sure is mighty helpful. I think maybe in the past there was a calendar showing whether there was availability or not, but not showing the actual price?
It would be nice if this were more easily accessible, rather than something you can only find with a lot of effort.
Why is the IHG Rewards award calendar so useful?
On the most basic level, the IHG Rewards calendar is useful because who doesn't like to find the best deal? With IHG Rewards having moved to fully dynamic award pricing, there can be huge variance in terms of how many points you'll pay for a redemption, and it doesn't even consistently reflect the cost of a stay in cash.
One reason this calendar could be especially valuable right now is because IHG Rewards free night certificates are valid at properties costing up to 40,000 points per night. At some properties you'll find that pricing is sometimes below 40,000 points, and sometimes above 40,000 points, so using the calendar function could be the key to being able to redeem a certificate.
IHG Rewards is making major changes as of March 2022, and this includes some positive changes to credit card benefits. As part of this, it'll soon be possible to top off free night certificates with points so that they can be redeemed at properties costing more than 40,000 points per night.
Bottom line
As it turns out, IHG Rewards has an award price calendar. If you want to see award pricing at a particular IHG property for a month at a time (with the ability to easily scroll beyond that), just find a night at a hotel that isn't available, and then you'll have the option to access this.
This is super helpful, and something I'll consistently use going forward when redeeming IHG Rewards points or free night certificates.
Anyone else find this IHG Rewards calendar to be useful?
(Tip of the hat to Katie Genter)