A Journey To One Of The Four Corners Of The Earth
In the last installment I talked about our room at the Fogo Island Inn, as well as the general amenities offered by the hotel. In this installment I wanted to talk about about dining at the hotel, as well as what we did on Fogo Island.
Dining at Fogo Island Inn
Rates at the Fogo Island Inn include three meals per day, as well as all non-alcoholic beverages. So aside from a bottle of prosecco we had with dinner one night, we didn't spend a dime on incidentals.
The inn's restaurant is on the first floor, right next to reception. There's a cozy bar and lounge area, where you can enjoy a cocktail, coffee, or pot of tea.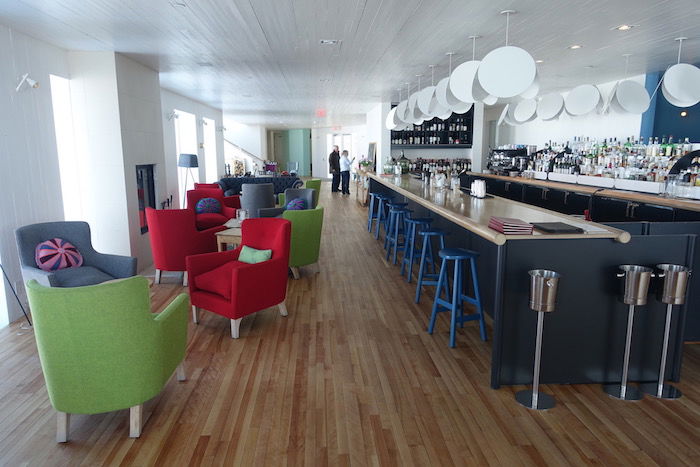 Fogo Island Inn bar & lounge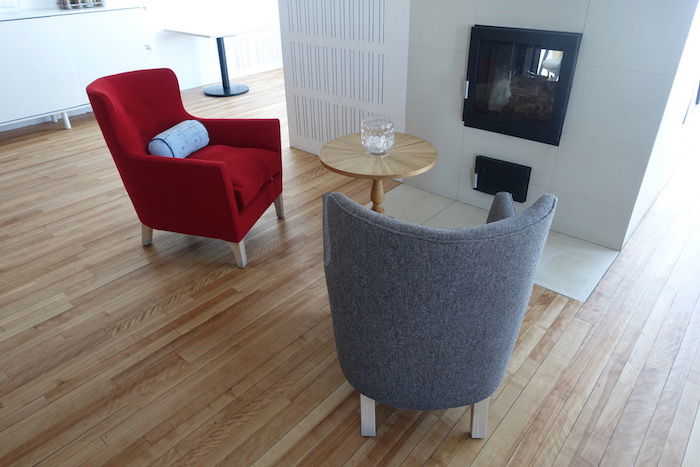 Fogo Island Inn bar & lounge
For those who drink, the bar has an impressive selection of liquor.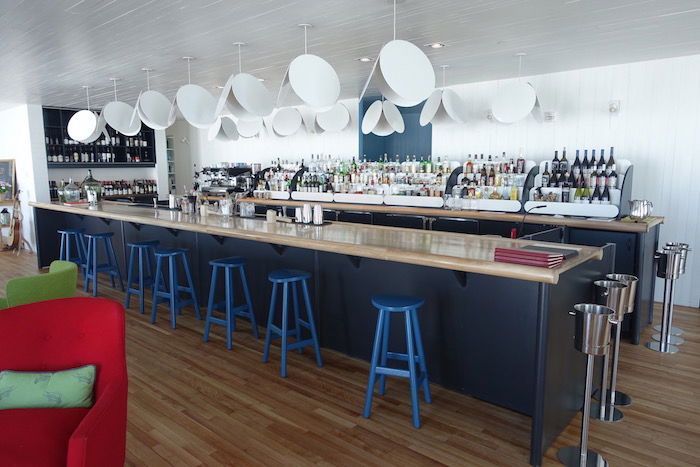 Fogo Island Inn bar
Then there was the dining room itself, which had about a dozen table, with massive floor to ceiling windows that must have been over 20 feet high. For breakfast and lunch, the hotel had colorful and varied tablecloths.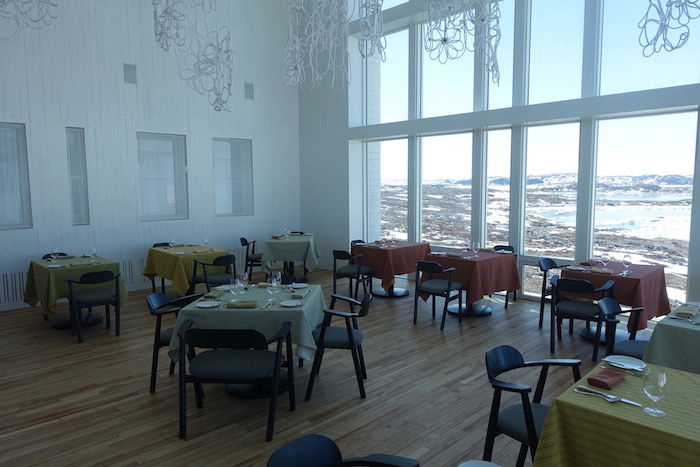 Fogo Island Inn restaurant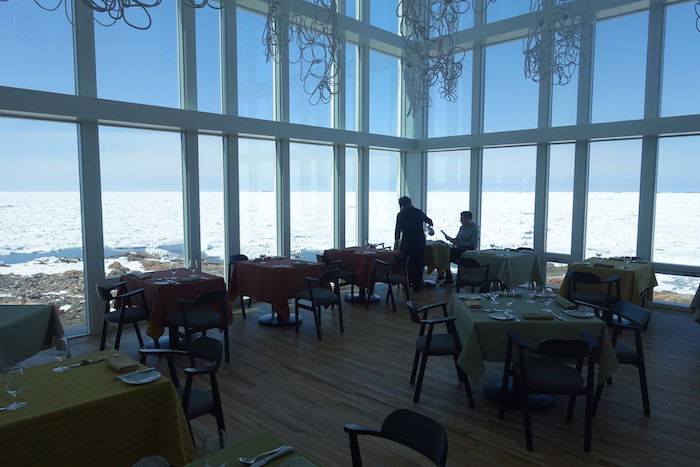 Fogo Island Inn restaurant
Meanwhile for dinner there were white tablecloths.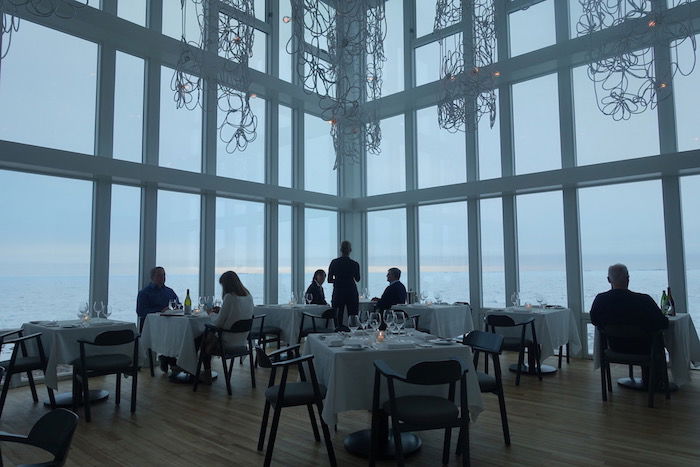 Fogo Island Inn restaurant
What a stunning vantage point from which to enjoy all your meals.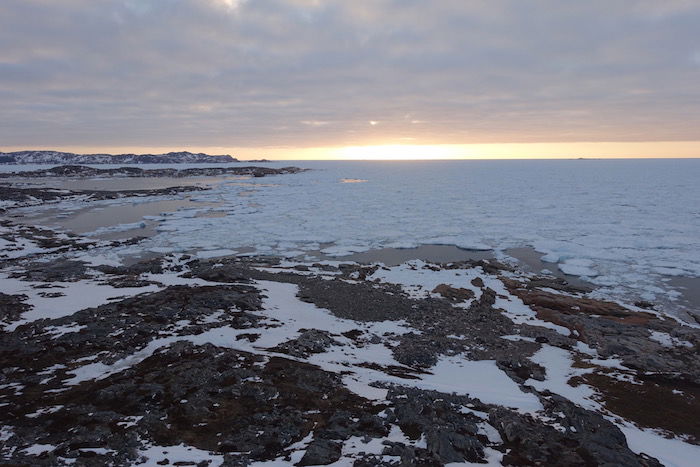 Fogo Island Inn restaurant view
Meal times seemed to be highly flexible. Breakfast is served from roughly 7AM until 10AM, lunch is served from around 12PM until 3PM, and dinner is served from around 6PM until 9PM. Again, these times are highly flexible, and I don't think you'll be turned away for a meal at any reasonable hour.
One day I overheard a couple at a nearby table ask what time breakfast started to be served since they were leaving the next morning, and the server said that they'd be happy to come in earlier to be sure they had breakfast before leaving. Now that's service.
The servers in the restaurant couldn't have been friendlier. The dining service reminded me very much of an Aman. You never had to sign a check (even if there was a charge for alcohol), you never had to provide your room number, they remembered your water and coffee/tea preferences, and knew of dietary restrictions (for example, I don't eat pork). Beyond that, they were just so genuine. A special shout out to Amanda, who was a gem.
I should also mention that the hotel specifically discourages tipping of any sort — as you can see at the bottom of the menu, it says "Our Inn is a non-tipping social enterprise."

With that out of the way, let's look at the actual food.
Breakfast at Fogo Island Inn
The menu changed once during our stay, so here were the two breakfast menus during our visit (you'll notice that there's a fair bit of overlap):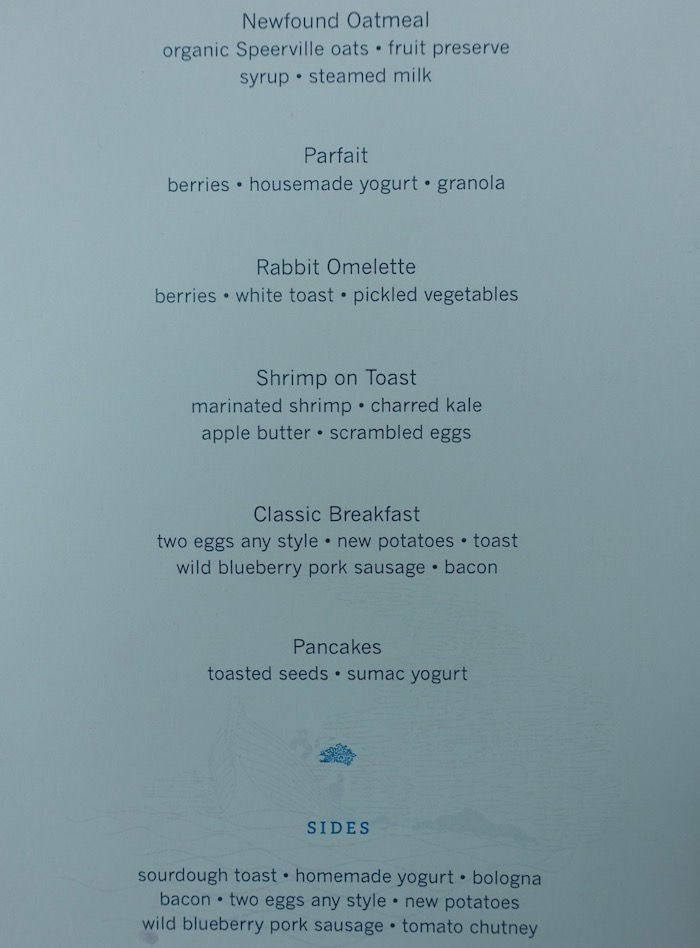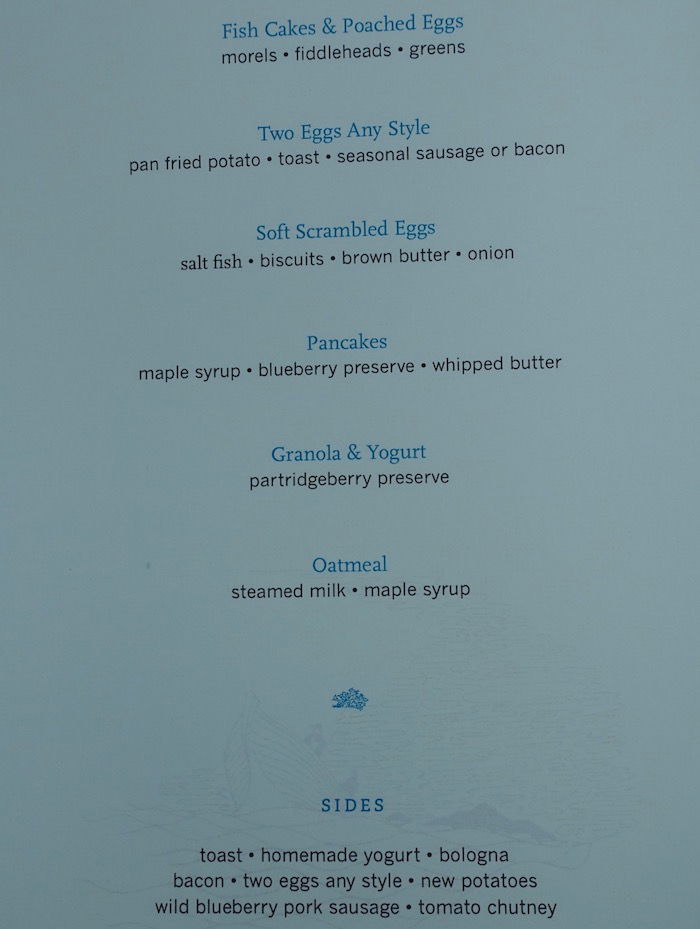 Usually I'm a big coffee drinker at breakfast, but thanks to the great daybreak service where they deliver coffee and muffins/scones to your room I stuck to juice and tea at breakfast. The juice was clearly fresh.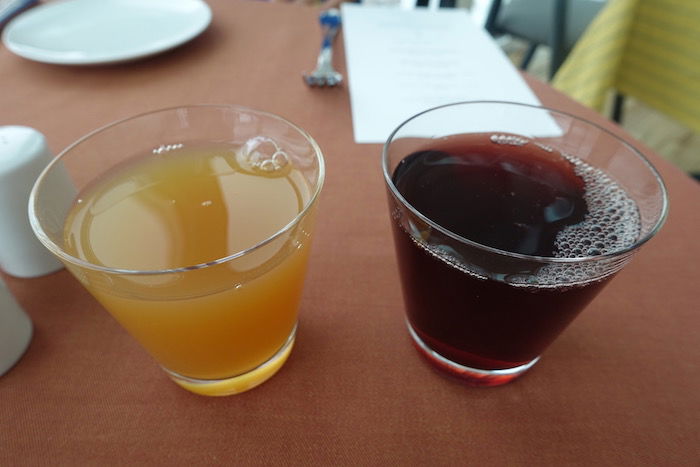 Fogo Island Inn breakfast — juice
The teapot was also adorable.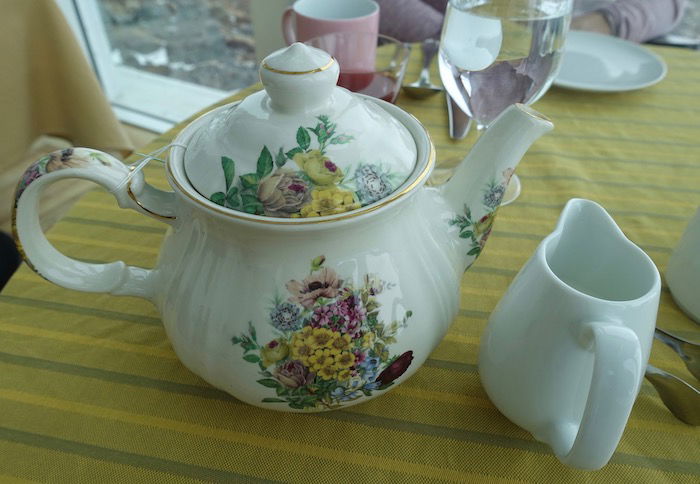 Fogo Island Inn breakfast — tea
One morning I had the shrimp on toast, to try and eat "local," and Ford had the rabbit omelet.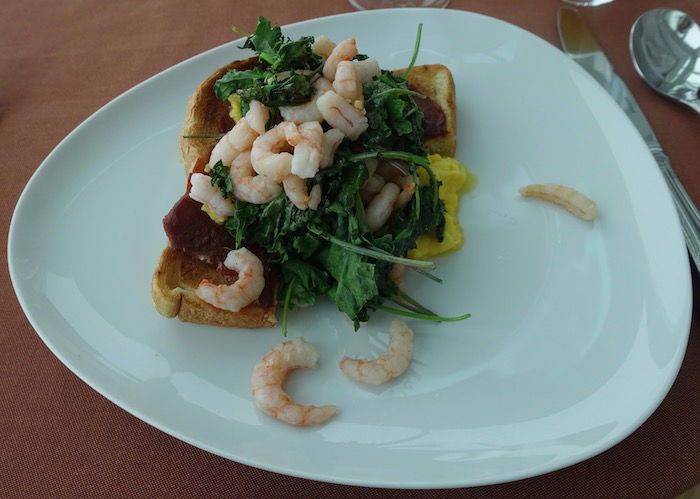 Fogo Island Inn breakfast — shrimp on toast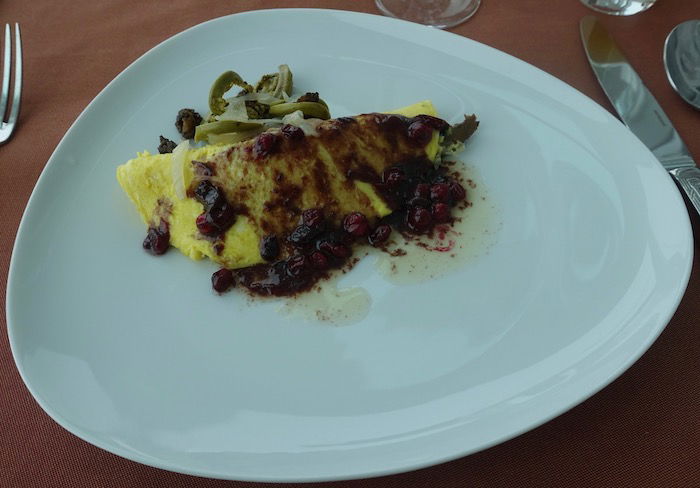 Fogo Island Inn breakfast — rabbit omelet
We also had a parfait to share.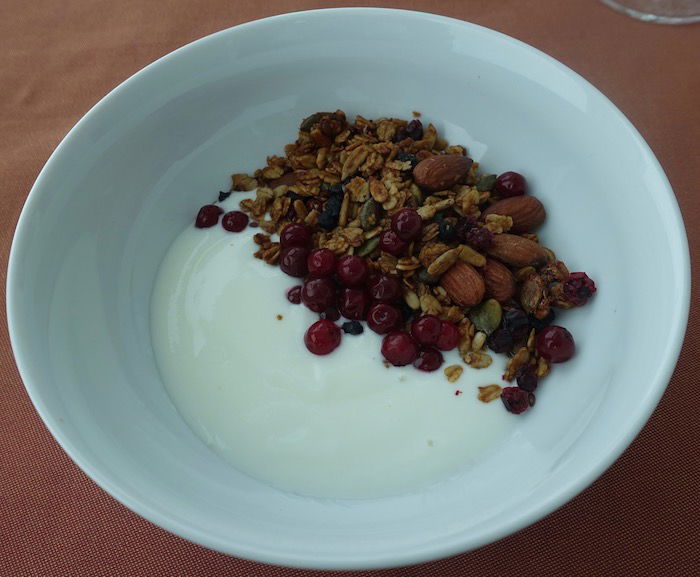 Fogo Island Inn breakfast — parfait
Another morning I had the oatmeal and Ford had two eggs prepared to his preferences.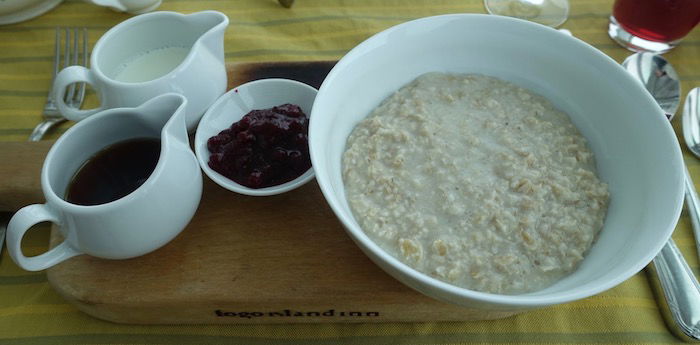 Fogo Island Inn breakfast — oatmeal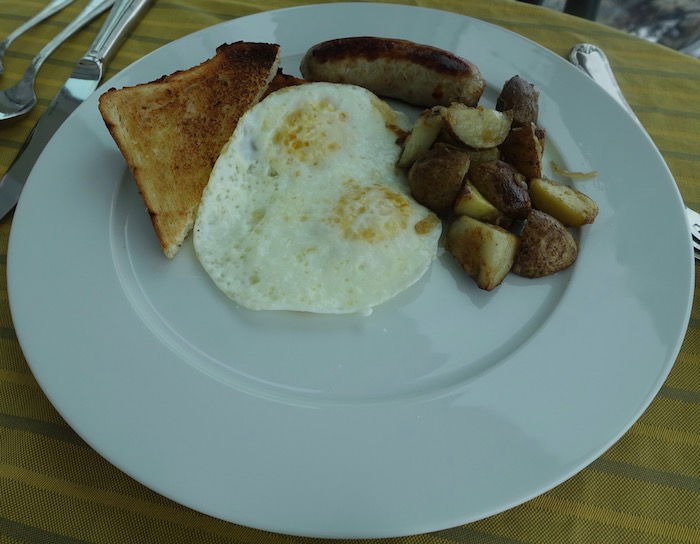 Fogo Island Inn breakfast — eggs any style
They also always came around with pastries, etc. However, given the pre-breakfast daybreak basket, that was plenty of food.
Lunch at Fogo Island Inn
There were also two different lunch menus during our stay, as follows: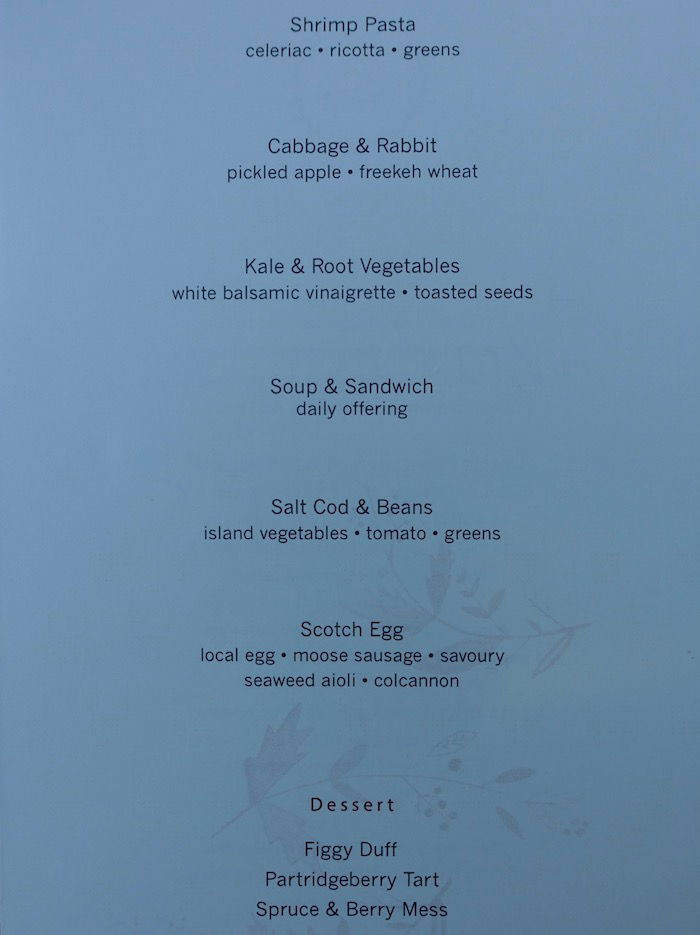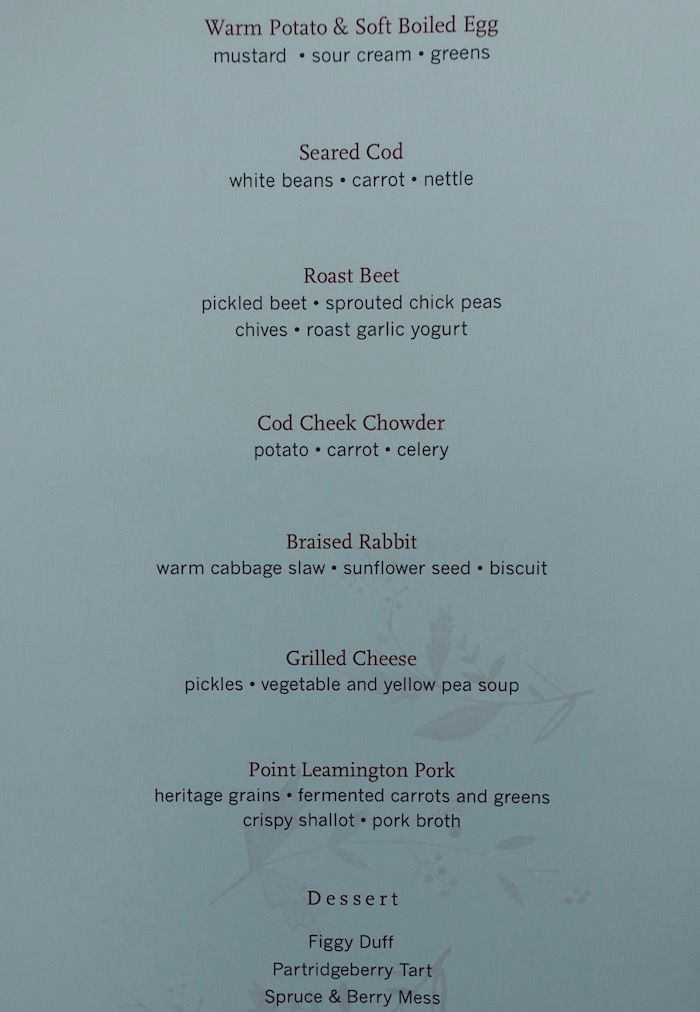 The meal always started with freshly baked rolls that were hot out of the oven, and tasty salted butter.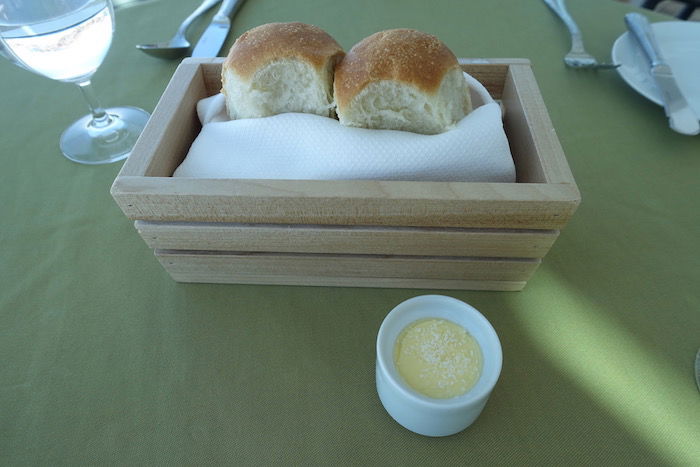 Fogo Island Inn lunch — bread
One day I had the salted cod, while Ford had the scotch egg.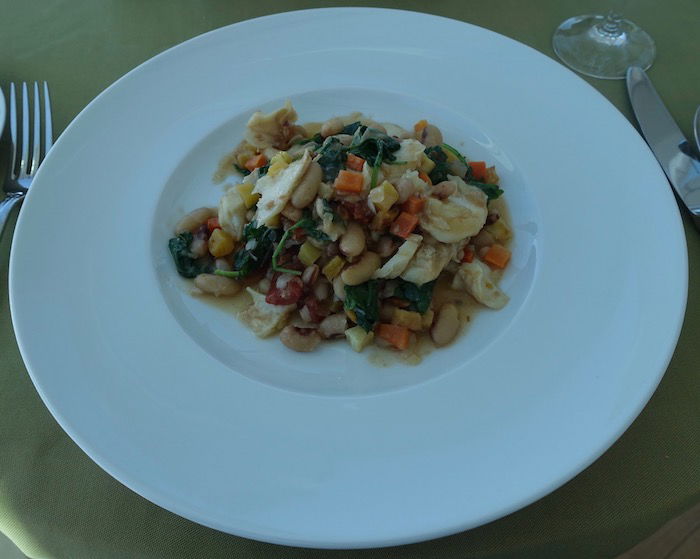 Fogo Island Inn lunch — salt cod & beans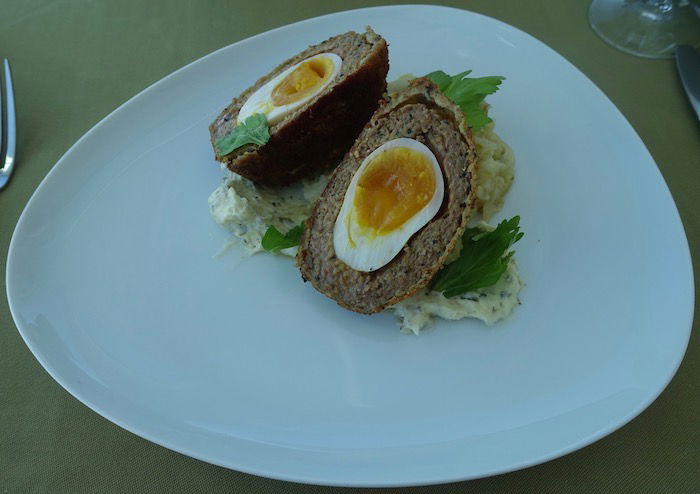 Fogo Island Inn lunch — scotch egg
The next day I had the grilled cheese sandwich with vegetable and yellow pea soup. OMG it was so good.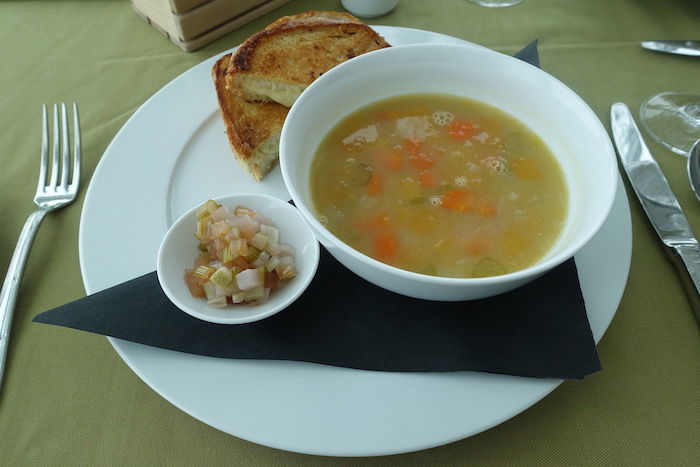 Fogo Island Inn lunch — grilled cheese and soup
Ford had the warm potato & soft boiled egg.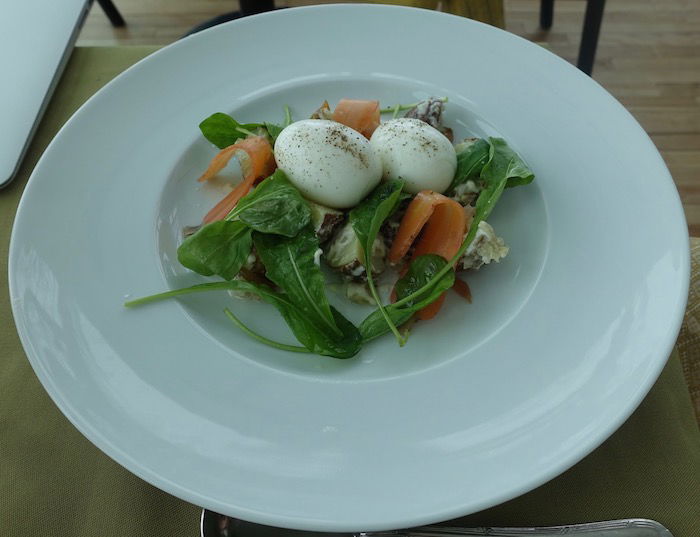 Fogo Island Inn lunch — warm potato & soft boiled egg
The mains were great, though the desserts were to die for. Ford loved the figgy duff.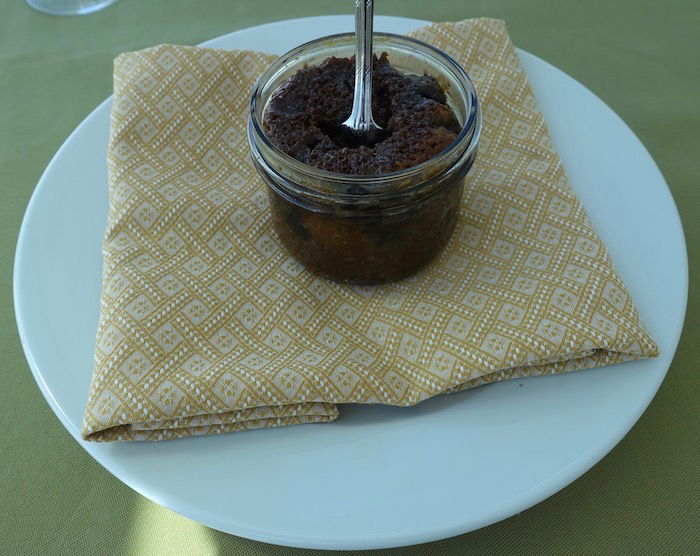 Fogo Island Inn lunch — figgy duff
Meanwhile I loved the spruce & berry mess. My mouth is watering as I write this just thinking about it.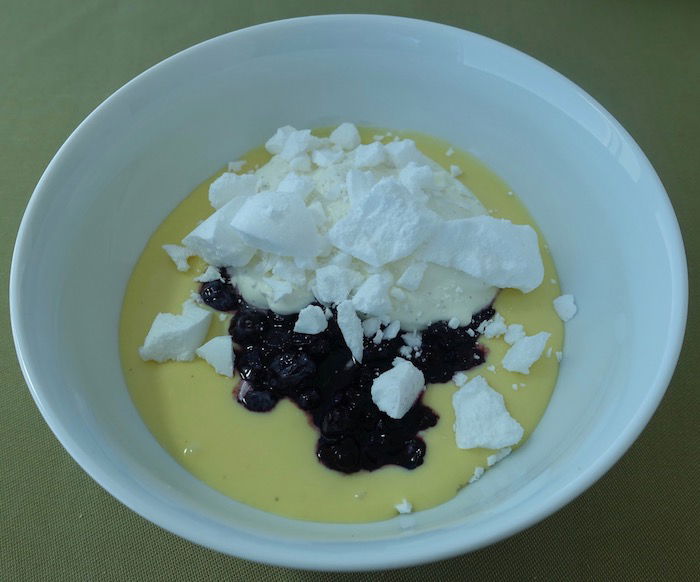 Fogo Island Inn lunch — spruce & berry mess
The partridge berry tart was incredible, though our last favorite of the three (which is a reflection of how good the other two were, and not of this one being anything other than excellent).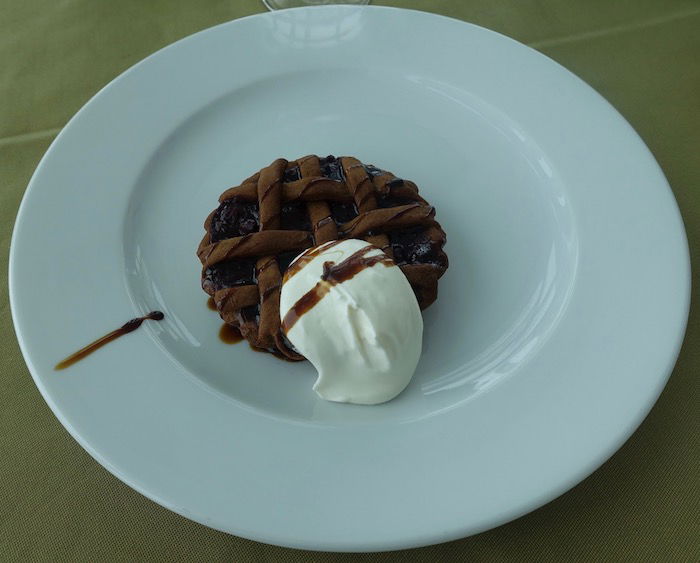 Fogo Island Inn lunch — partridge berry tart
Dinner at Fogo Island Inn
Dinner had a set menu, though they'd modify it based on your dietary restrictions. The meal always started off with an amuse bouche and bread.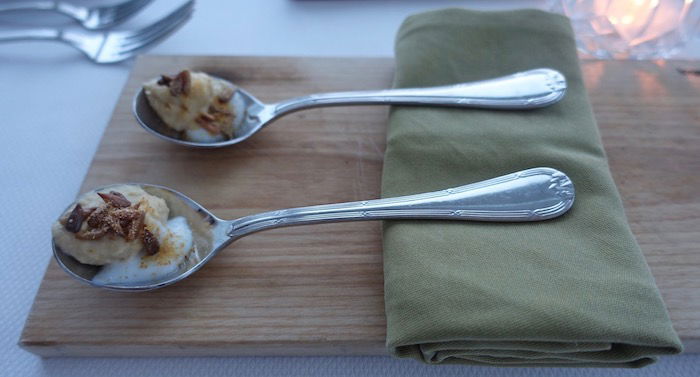 Fogo Island Inn dinner — amuse bouche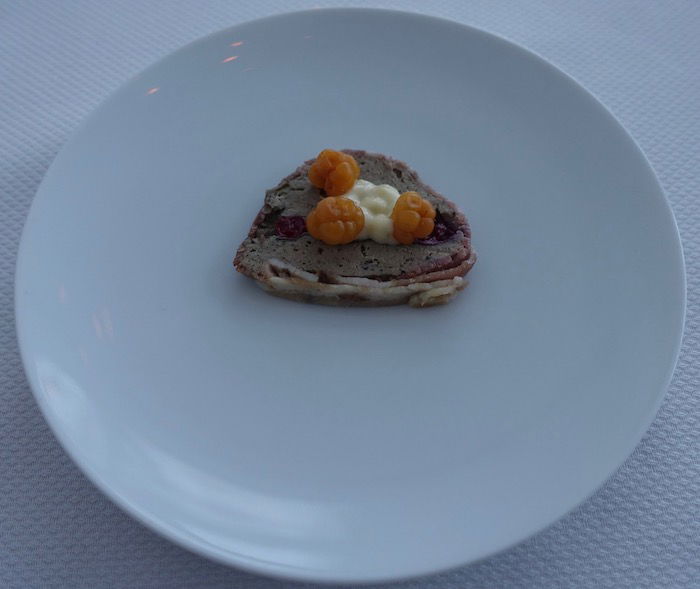 Fogo Island Inn dinner — amuse bouche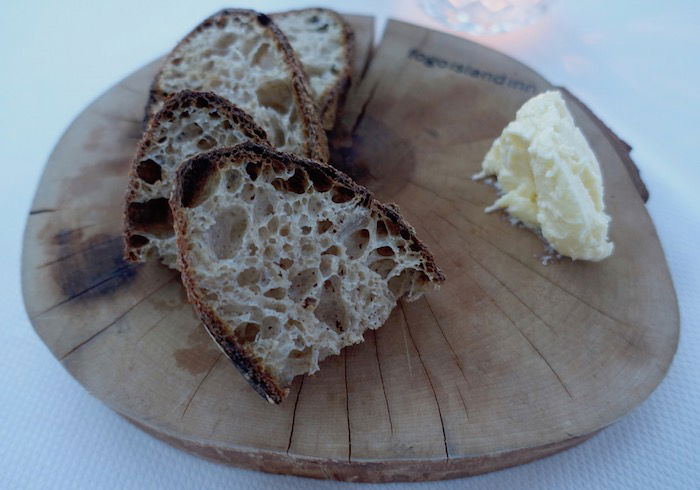 Fogo Island Inn dinner — bread
With dinner there was a starter, main, and dessert. There was no printed menu, and unfortunately I forgot to write down exactly what was being served, despite their very detailed descriptions. So I'll let the pictures speak for themselves.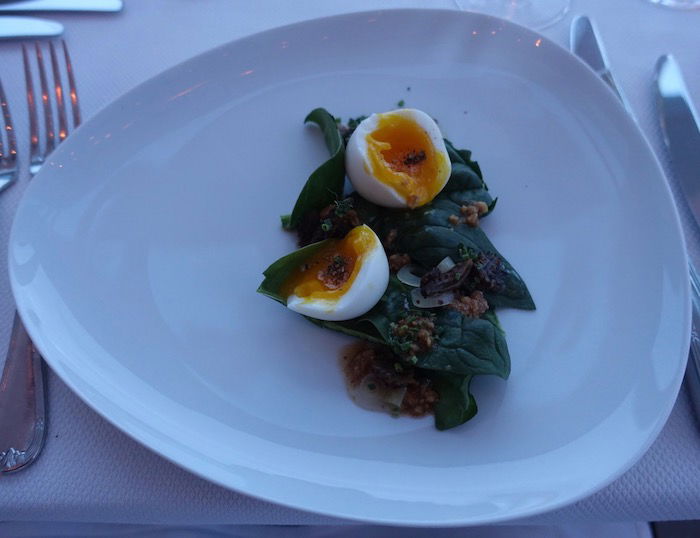 Fogo Island Inn dinner starter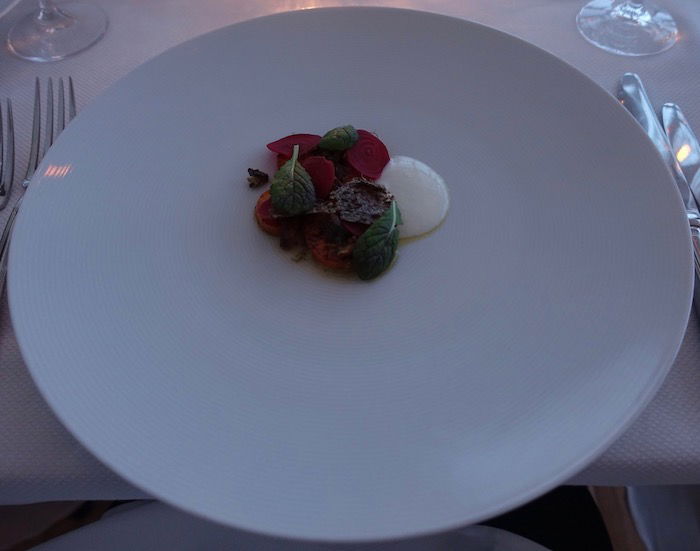 Fogo Island Inn dinner starter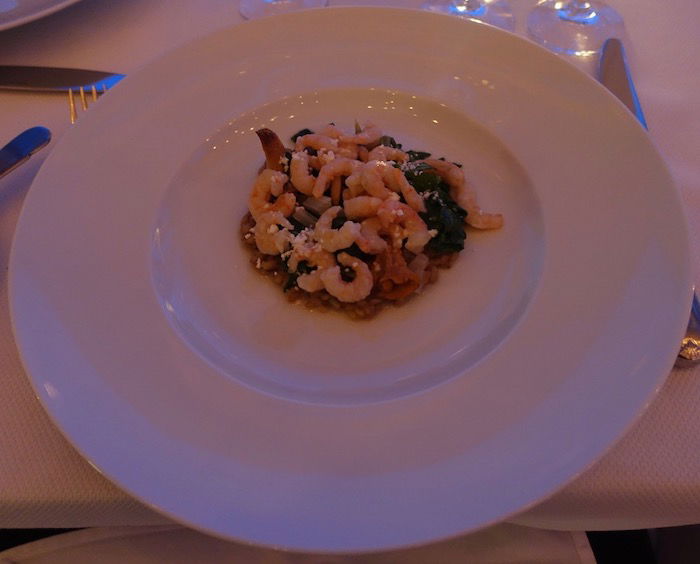 Fogo Island Inn dinner main course

Fogo Island Inn dinner main course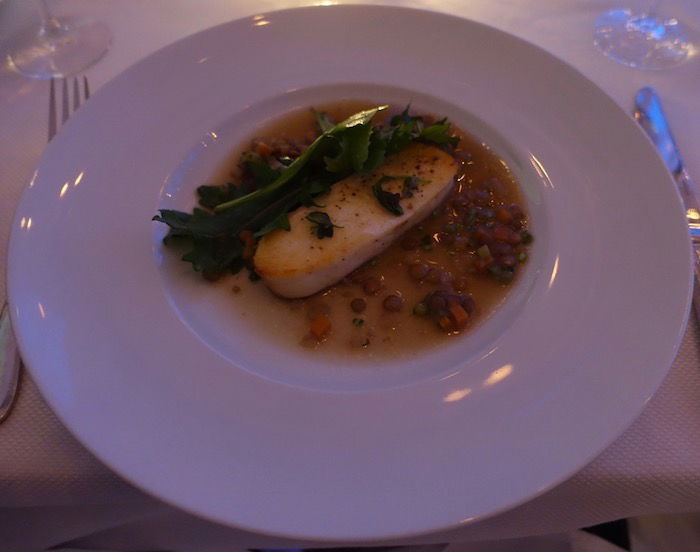 Fogo Island Inn dinner main course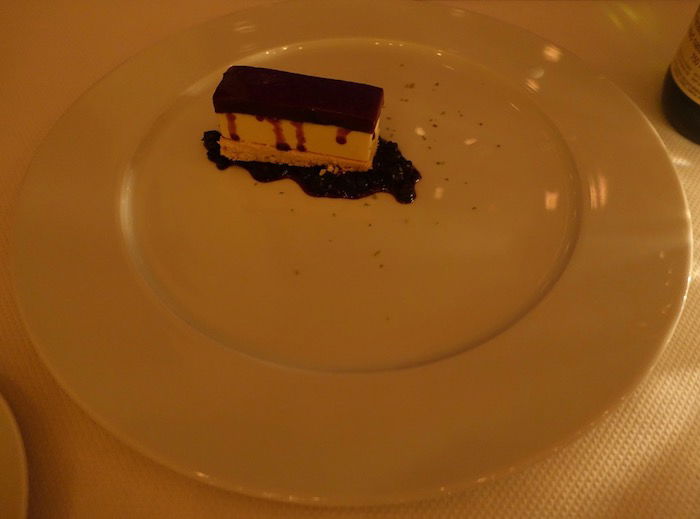 Fogo Island Inn dinner dessert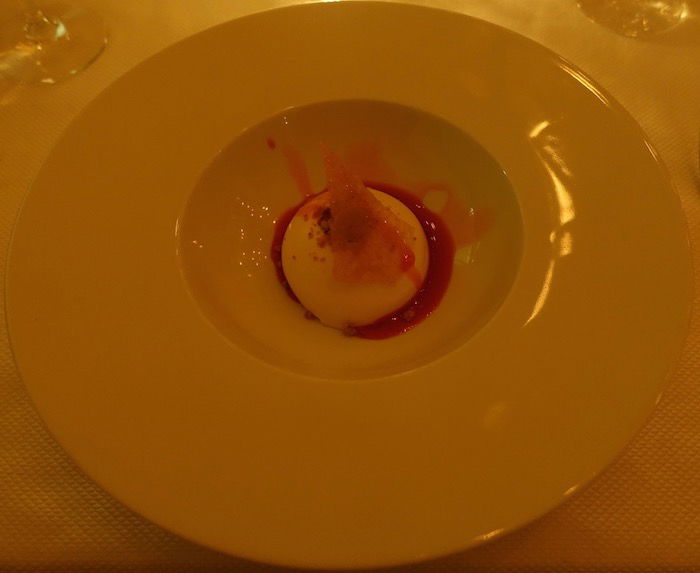 Fogo Island Inn dinner dessert
When we first checked in there were maybe four rooms occupied at the inn, while towards the end of our stay maybe double that many were occupied. As a result, for the first day or two we typically dined alone, or at most with one or two other parties. Meanwhile by the last night, an average of about five or so tables were occupied.
Across the board the food was excellent. The food served at Fogo Island Inn is very different than what you might order elsewhere. For example, I don't think I've ever had salted cod prior to my stay, while I had it several times at Fogo Island Inn. Similarly, things like a rabbit omelet, moose meat, etc., aren't the most mainstream dishes in North America, but Ford enjoyed all of them.
Activities around Fogo Island
Fogo Island claims to have seven seasons, and summer is the most popular time to visit (it's my understanding that the hotel is pretty consistently full during those months). However, there are lots of things to enjoy in the other seasons as well.
What I wasn't fully prepared for, however, is just how cold it would be. I was expecting it to be pleasant given that we were there in late April, but I was wrong. It was below freezing the entire time, and it was very windy. I'm someone who avoids cold climates at all costs usually, that took some getting used to.
Shortly after checking into the inn we were introduced to the activities coordinator, Sandra, who was so lovely and explained that all guests receive a free island orientation, where a community host shows them around the island. Fogo Island has several towns, and this tour can take one hour, six hours, or whatever you'd like, really.
She also pointed out the board with some of the activities around the hotel, and told us to come back to her if we wanted more ideas of things to do.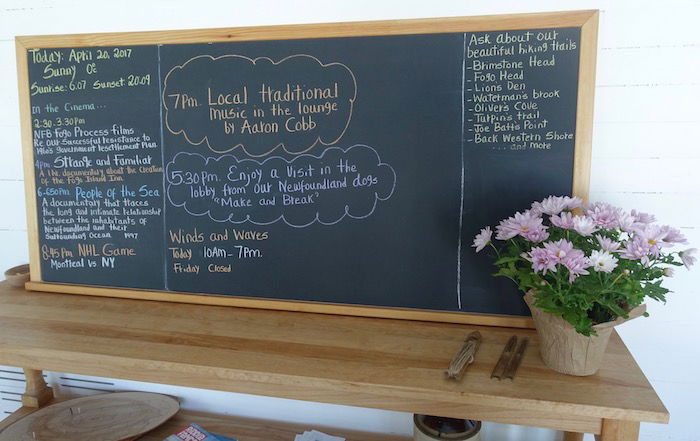 Fogo Island Inn activities board
So on our first full day we took advantage of our island orientation, which would be done by Blanche. The hotel has several "community hosts" they work with, who are basically locals who show guests around the island. I imagine in summer they probably need a dozen hosts at any time, while in winter they probably don't need quite as many.
Having the pleasure of spending a few hours with Blanche was possibly the highlight of our time on Fogo Island. We still talk about it now, and I can't help but smile when I think of her. Blanche explained that she used to be the county clerk, and had just retired when her husband suddenly passed away, so then she started working again.
Her positive attitude was just so heartwarming, and hearing about her life on the island was great.
I realize this is something many others (understandably) can't relate to, but when you're gay, you're constantly in situations where you can decide whether to "come out" or not. This isn't at all an issue in major cities, but in smaller communities and countries where it's not accepted, I certainly think twice about what to say.
When you travel with your significant other, often the question is "are you friends/brothers?" Most of the time we'll just say "yes," since it's often not worth the discussion, especially in places where you feel that might not be welcomed.
Moments after we met Blanche, we were caught really off guard when she said "are you guys partners?" Generally if I were to meet an older person who has lived in a fairly secluded place her whole life, I'd expect they'd ask "are you friends?" or something. So we were very pleasantly surprised when she asked that, and then later it came out that he son was gay too (he's older and doesn't live on Fogo Island, etc.), so we had a lot to talk about.
I know this sounds minor, but it sure makes you feel welcome when you can be who you are and don't have to make up stories (ie, being in the back of an Uber in Russia while they're trying to sell you discounted tickets to a strip club — no thanks).
I'm not sure if this was just a coincidence or if the hotel (smartly) sets people up this way, but it made the journey all the better. Blanche was such a sweetheart, and hearing her thoughts on the island, the inn, etc., gave us so much perspective of things. We almost want to move to Fogo Island and just hang out with Blanche every night.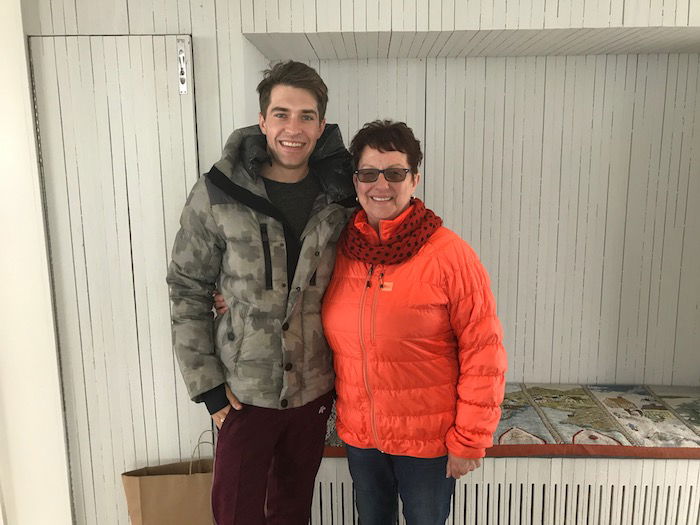 Ford and Blanche at the Fogo Island Inn
She also had some interesting stories to tell about the inn. For example, she explained (after I specifically asked) that when it opened a lot of locals were skeptical of it, but the inn has been good to the community. For example, when it opened they gave everyone who lives on Fogo Island a free night stay there. That's a pretty big gift, when you consider there are just 29 rooms, and there are ~2,500 residents on Fogo Island.
It was also so cool to drive to the various towns and see Blanche waving to everyone — she's a popular lady.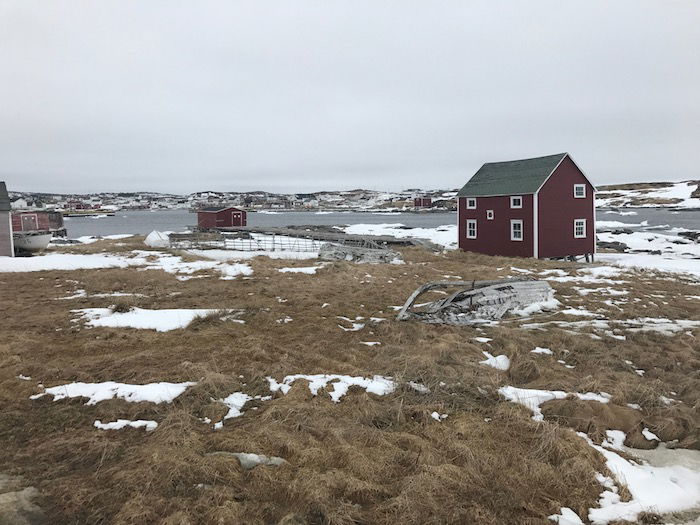 Driving around Fogo Island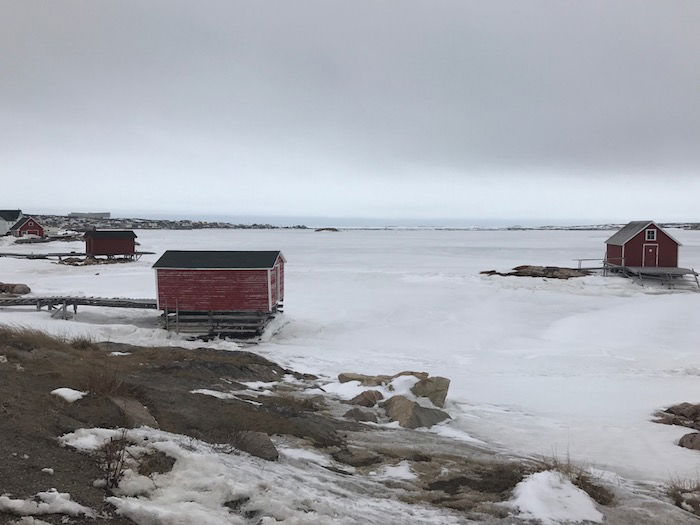 Driving around Fogo Island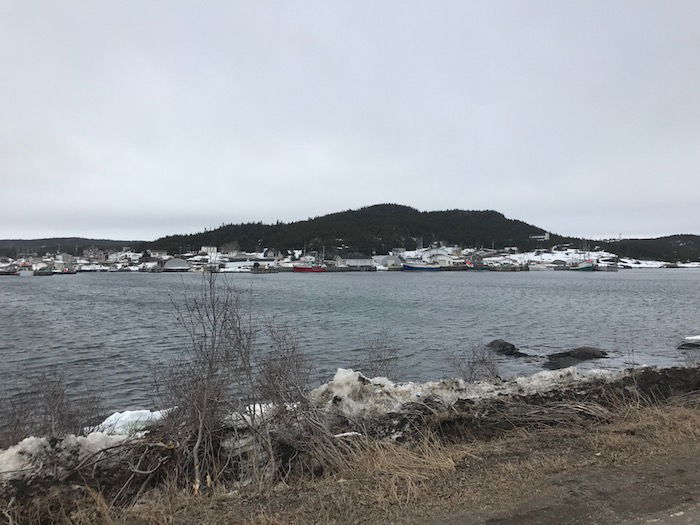 Driving around Fogo Island
The Fogo Island Inn also built four residences around the island for artists, which are also ultra modern. You can visit all of them, though due to the snow and temperatures, we decided to only visit the two that were easiest to access, and didn't require too crazy of a hike.
Wow…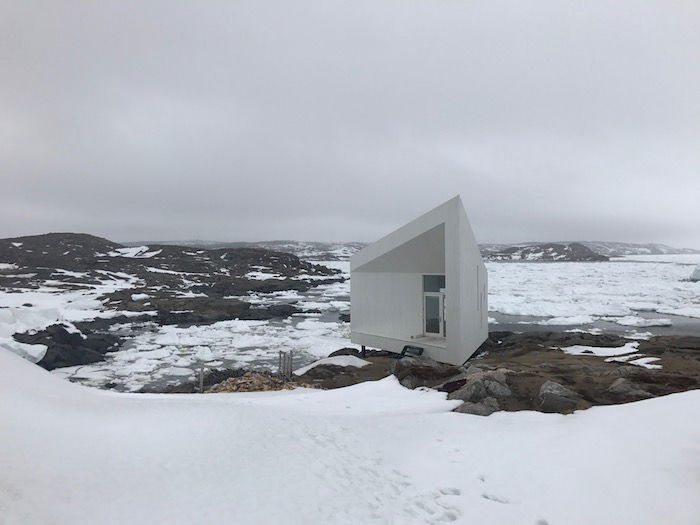 Fogo Island Inn artist residences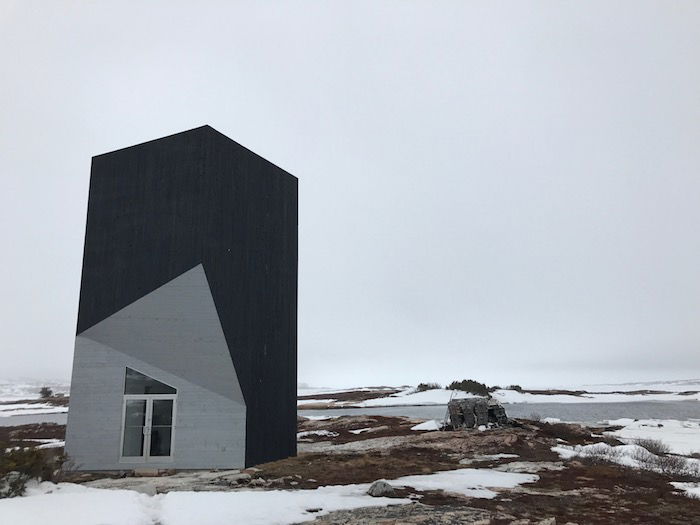 Fogo Island Inn artist residences
Bottom line
Our time at the Fogo Island Inn was unforgettable. The scenery was incredible, but even more so than that, the people stood out most to us. The people we interacted with on Fogo Island — both in and out of the inn — were among the kindest people I've had the pleasure of meeting. What a special place…