A Journey To One Of The Four Corners Of The Earth
---
Our flight arrived in Gander at 1:30AM, and since we had to take a ferry to Fogo Island, this required spending a night in Gander. Gander is more of a highway town than anything, so it doesn't have much in the way of lodging. There seem to be a few hotels, and based on Trip Advisor reviews, it looks like the Comfort Inn is the nicest option.
So we booked that. It was sold out when I first looked at hotels a few weeks before the trip, though it opened up a few days before our anticipated stay. The hotel isn't cheap for the area/brand — our rate was 160CAD (~120USD). That was roughly the same price as the other hotels in the area, including Sinbad's Hotel & Suites and the Albatross Inn.
It was a cruel 15 degrees Fahrenheit outside when we arrived in Gander, and with very gusty winds, it felt significantly colder than that. For a few moments we questioned why we decided to subject ourselves to this (though any doubt was wiped away the next day).
We rented a car, and the drive from the airport took about five minutes, though that only happened after sitting in the parking lot for about 20 minutes trying to get the ice off our windshield, as it was just about frozen solid. As someone who hasn't voluntarily spent much time in a cold climate for as long as I can remember, I felt a bit like Paris Hilton in "The Simple Life."
The Comfort Inn isn't especially nice looking from the outside.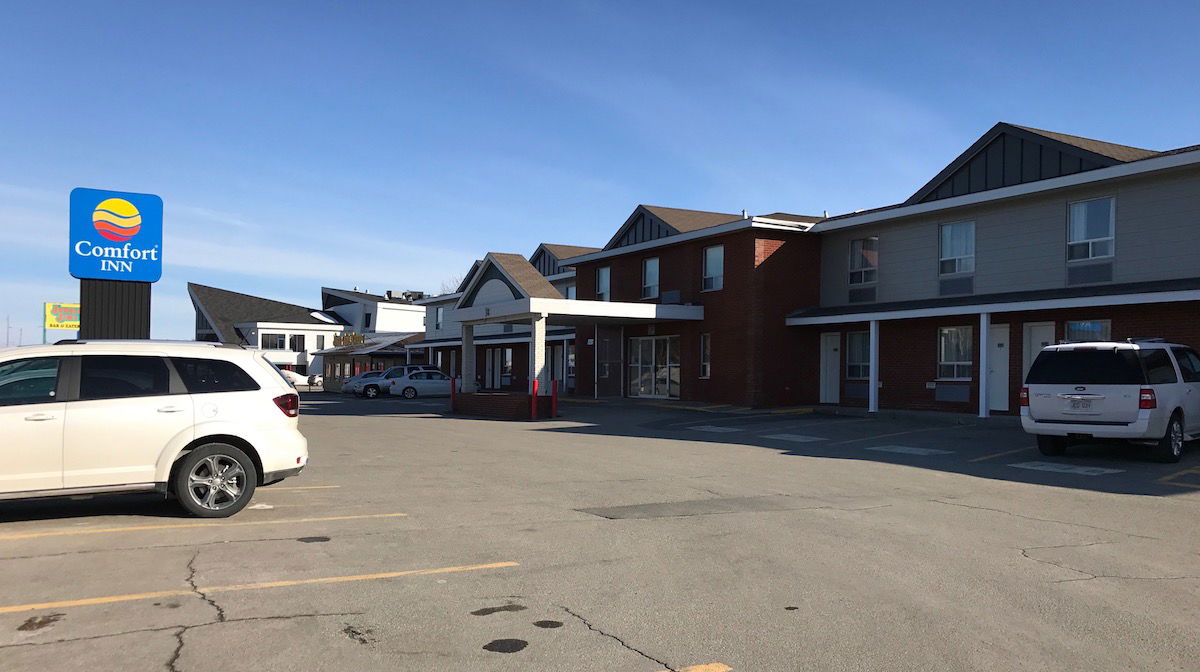 Comfort Inn Gander exterior
We pulled right up to the front for check-in formalities, but ended up parking around the back of the hotel, where our room was located.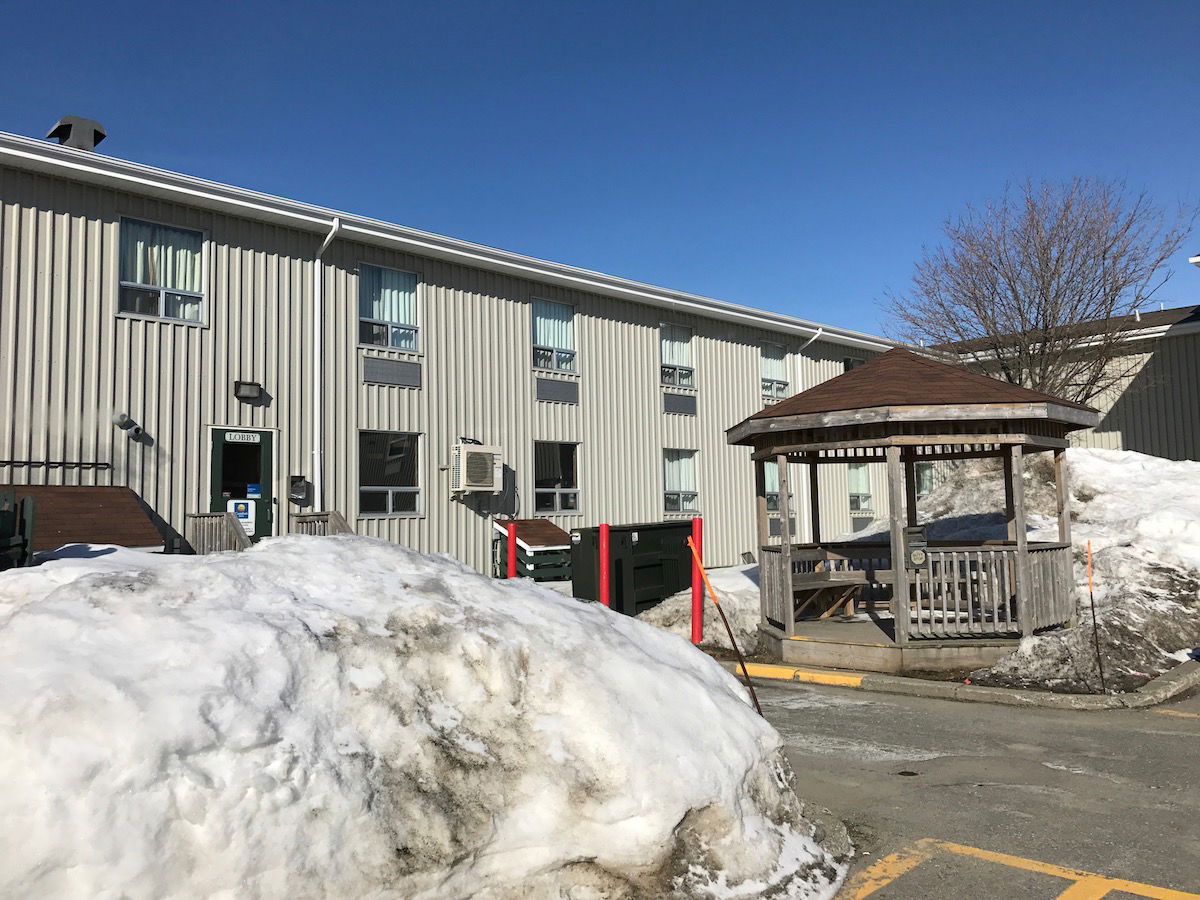 Comfort Inn Gander exterior
The lady working the nightshift was friendly, and within about a minute we had a key to our room.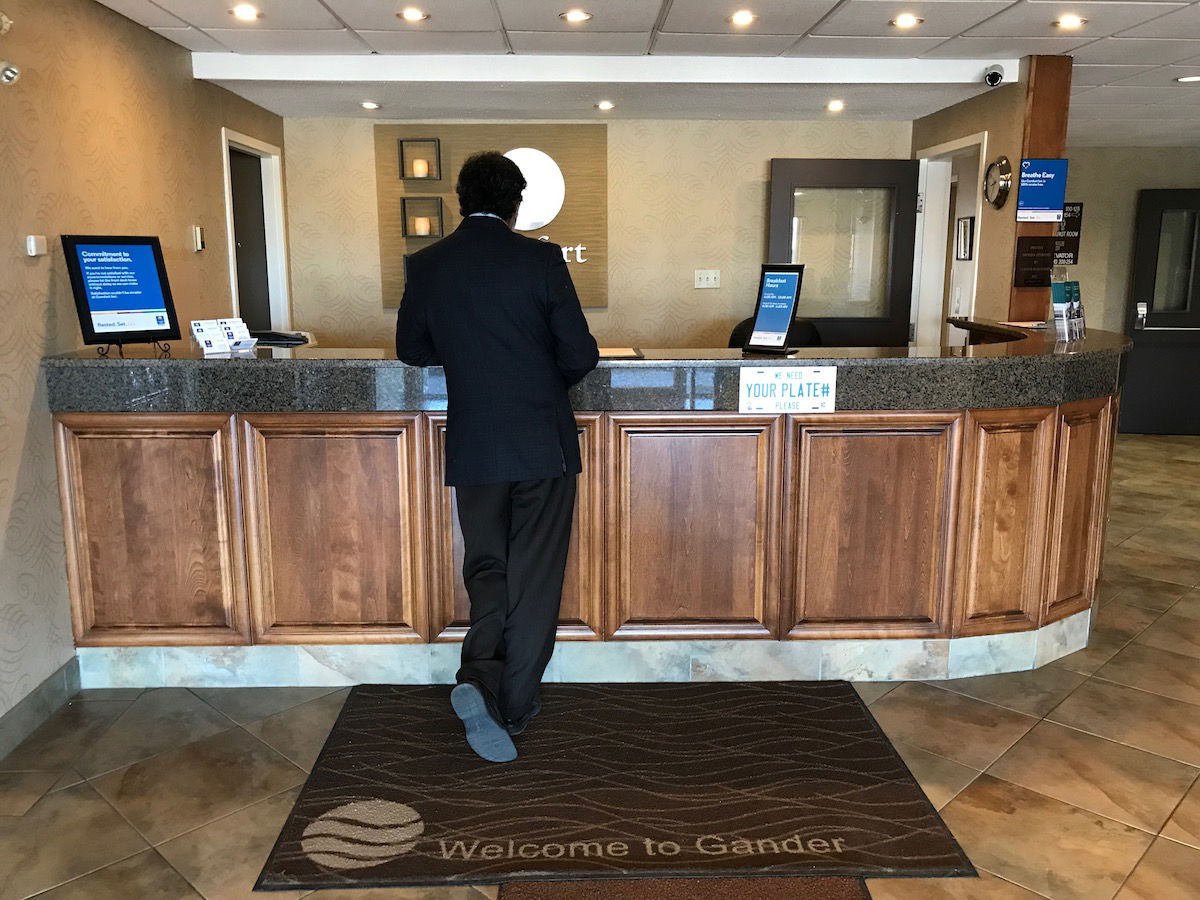 Comfort Inn Gander reception
The lobby had a small sitting area, as well as a computer, along with a couple of vending machines.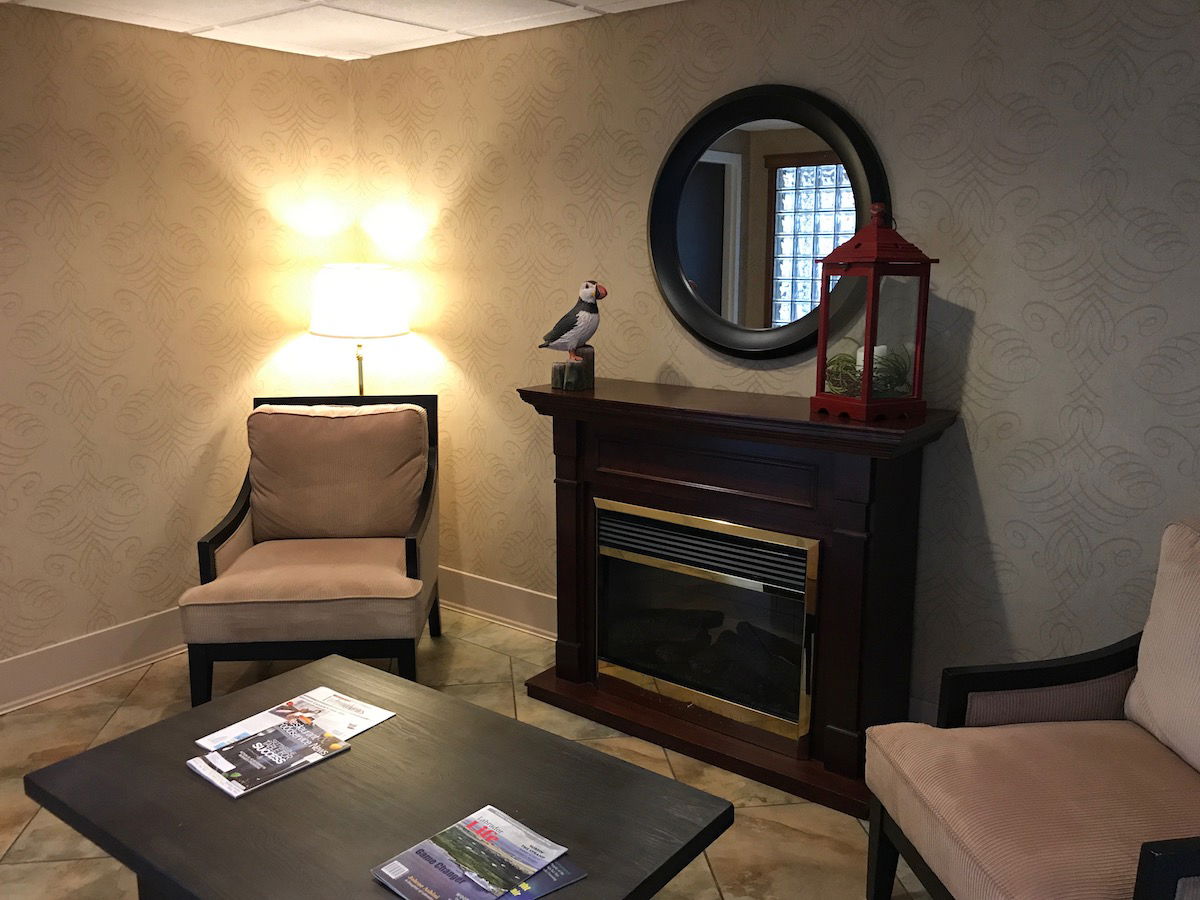 Comfort Inn Gander lobby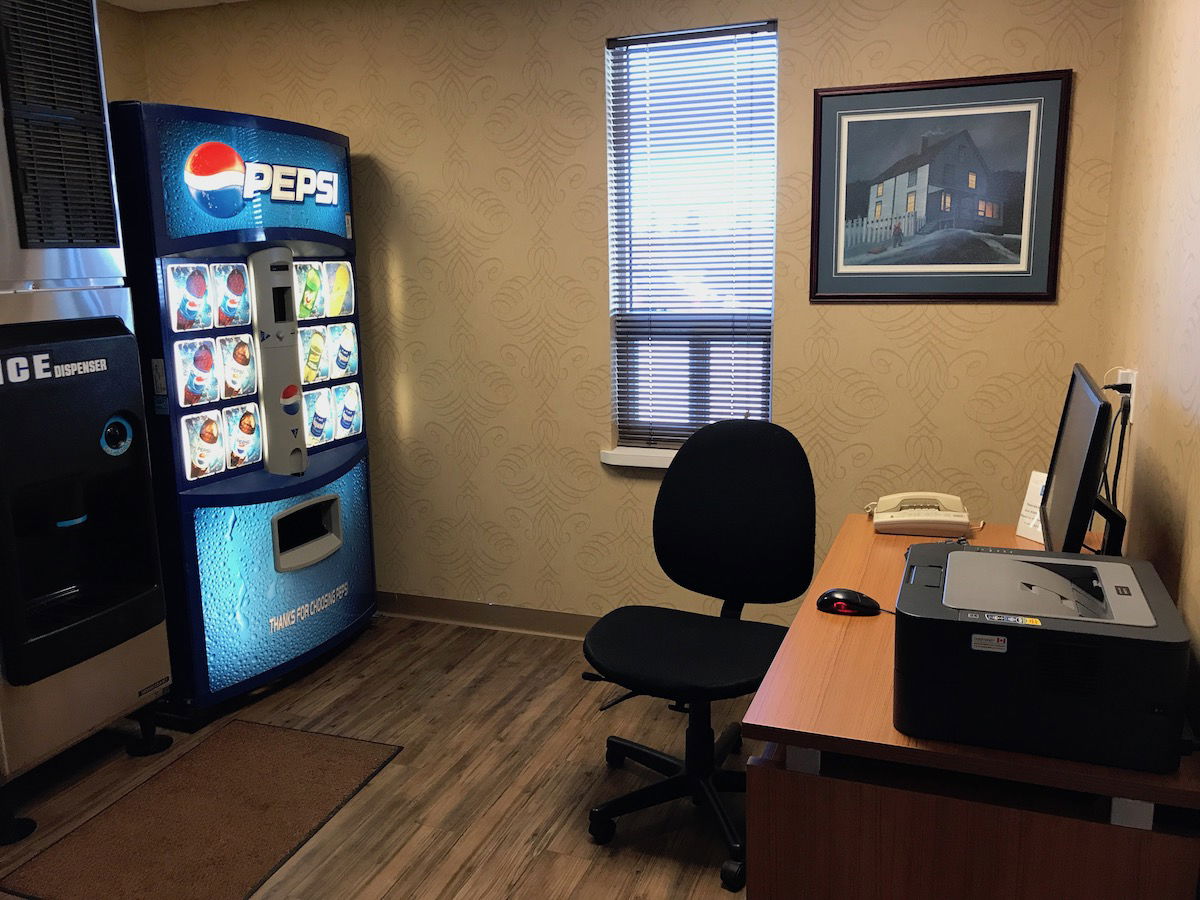 Comfort Inn Gander business center & vending machine
After parking around the backside we found our room, #100, which was at the end of the hallway.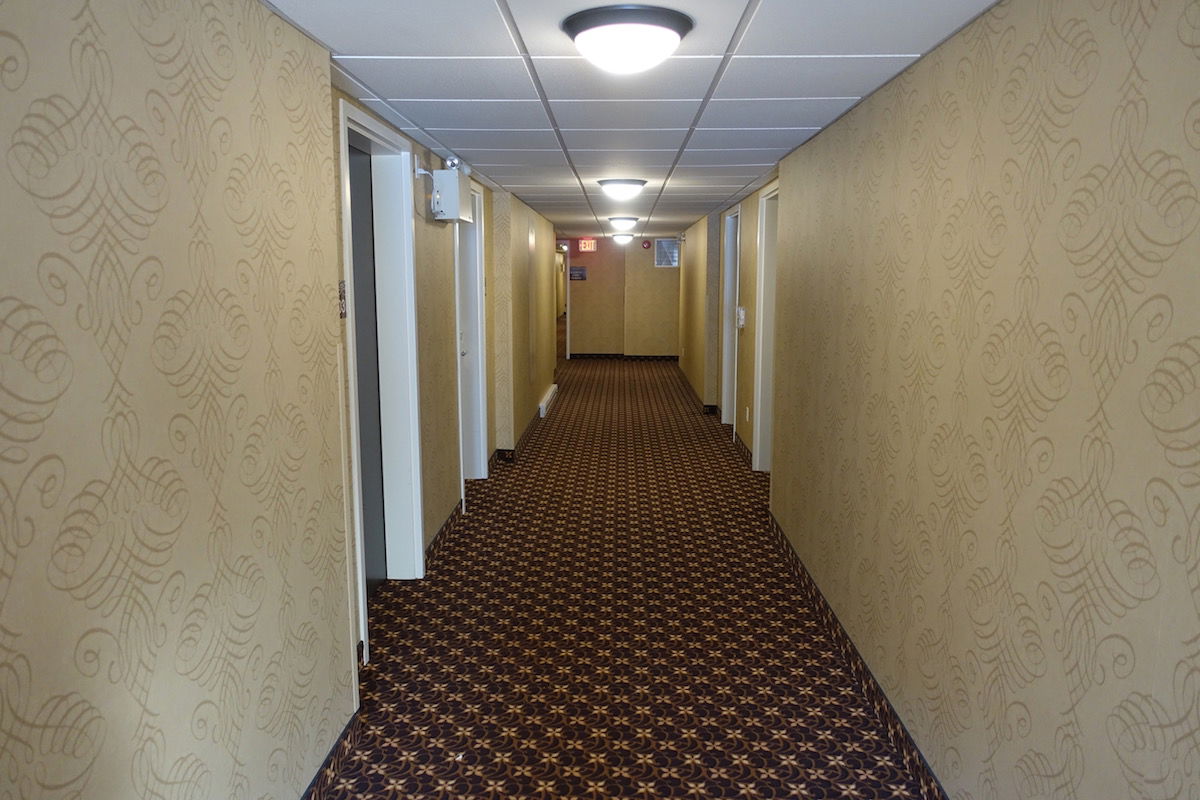 Comfort Inn Gander hallway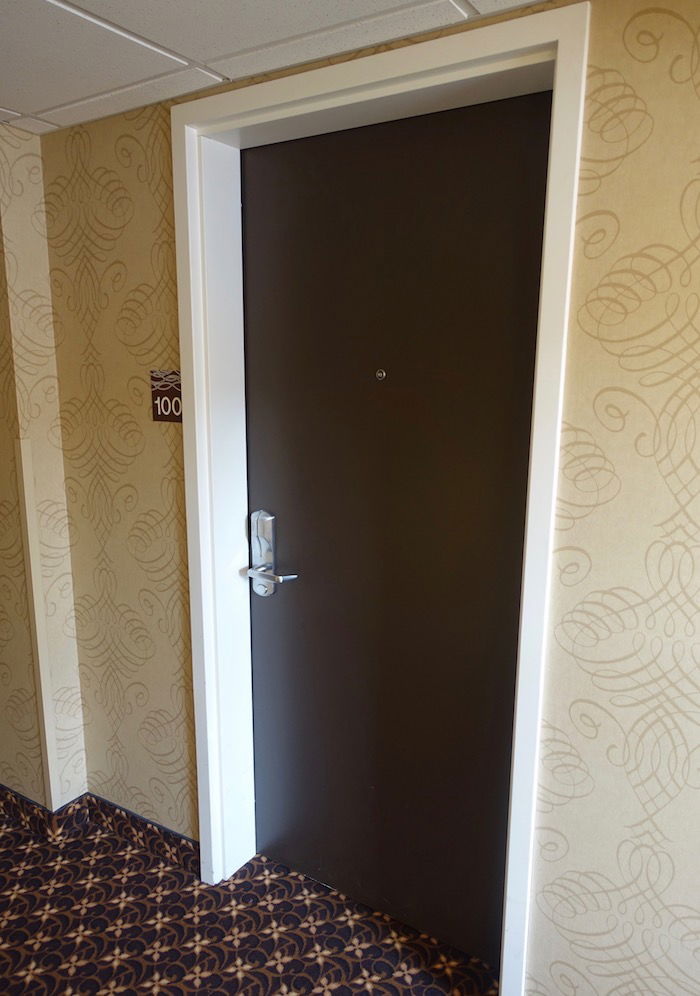 Comfort Inn Gander room exterior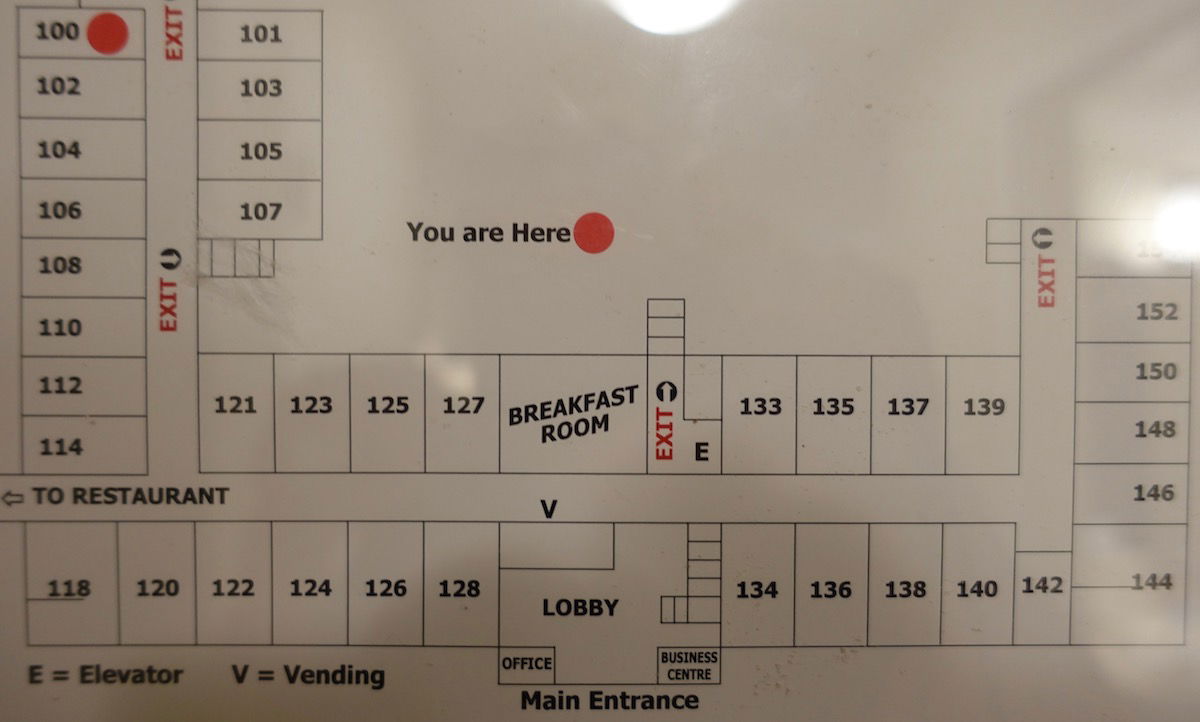 Comfort Inn Gander floorplan
The room was… beautiful! It has been a long time since I've stayed at a Comfort Inn, though I was very impressed. This room was every bit as nice as what I'd expect in a Hilton, Marriott, etc.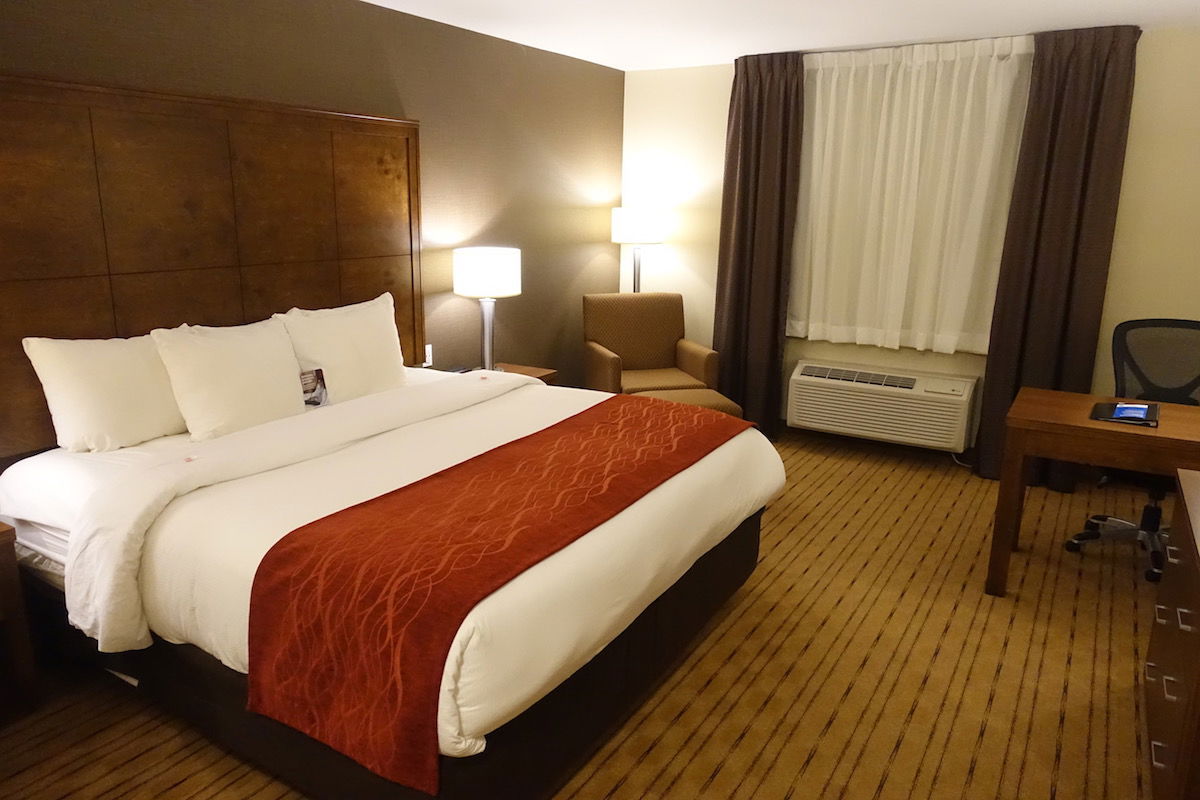 Comfort Inn Gander king room
The room featured a comfortable king size bed with five pillows. The mattress was soft, and sheets were reasonably good quality.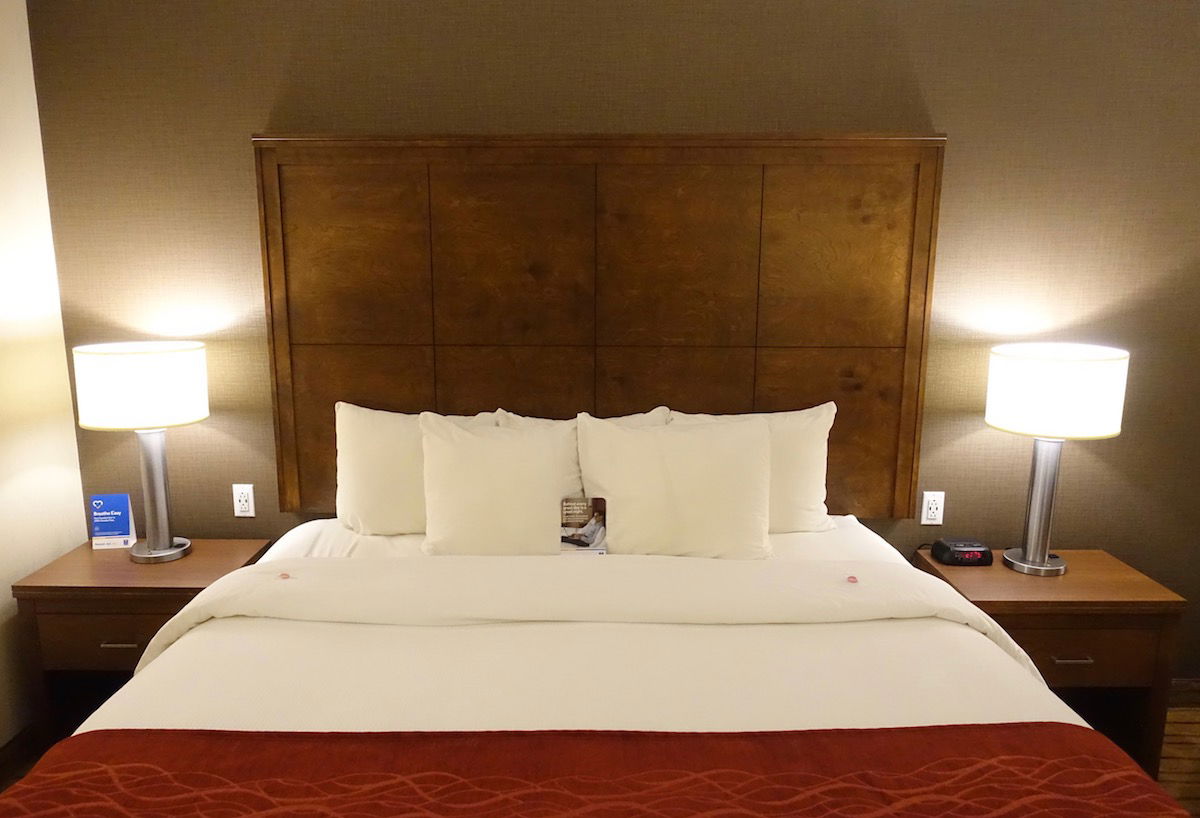 Comfort Inn Gander king bed
In the corner by the window was a pretty basic chair with ottoman, which had no stains on it (if I had a dollar for every horribly stained hotel room chair I've seen…).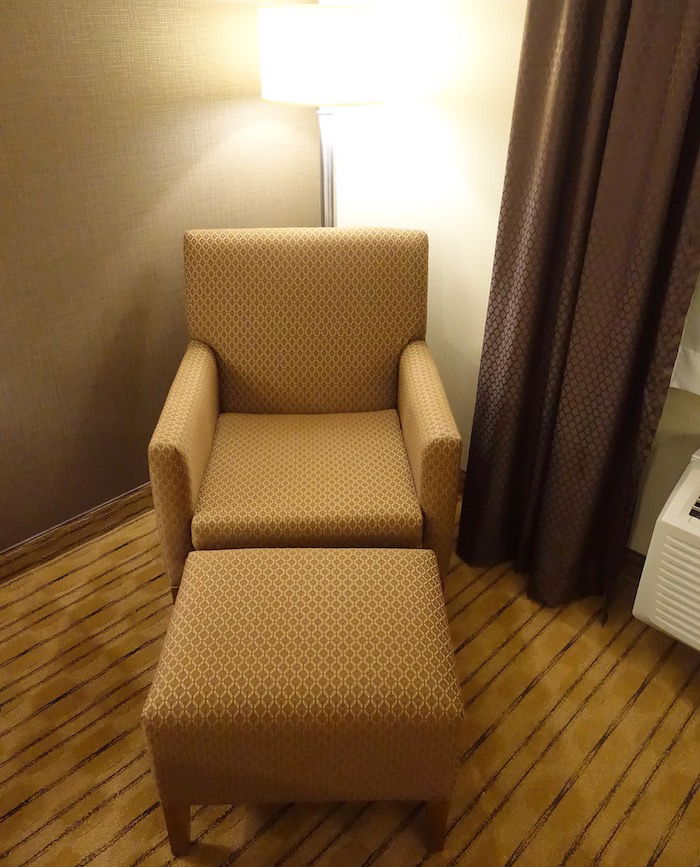 Comfort Inn Gander king room seat & ottoman
Across from that was the desk and TV. There was a legitimate office chair, which I'd usually appreciate, though didn't have a need for with this stay. Still, so many hotels I stay at don't get office chairs right, so I was happy to see that. There was a large TV on top of a dresser, which had plenty of drawers.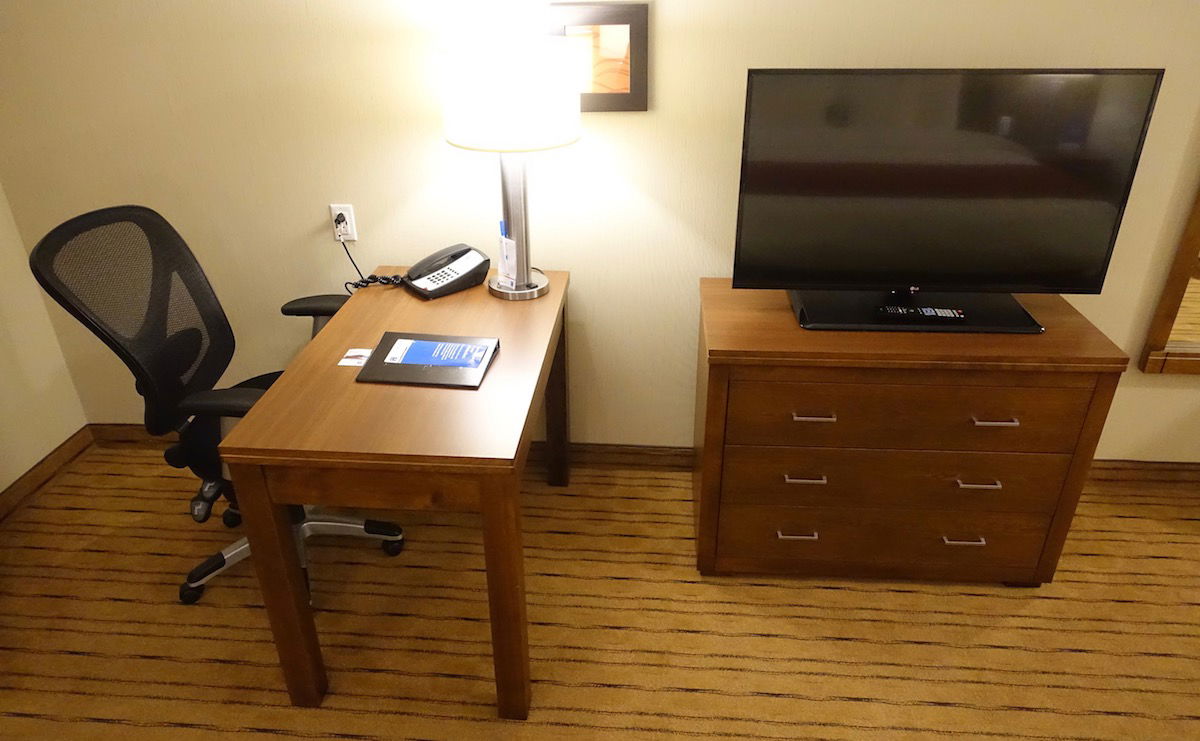 Comfort Inn Gander king room desk & TV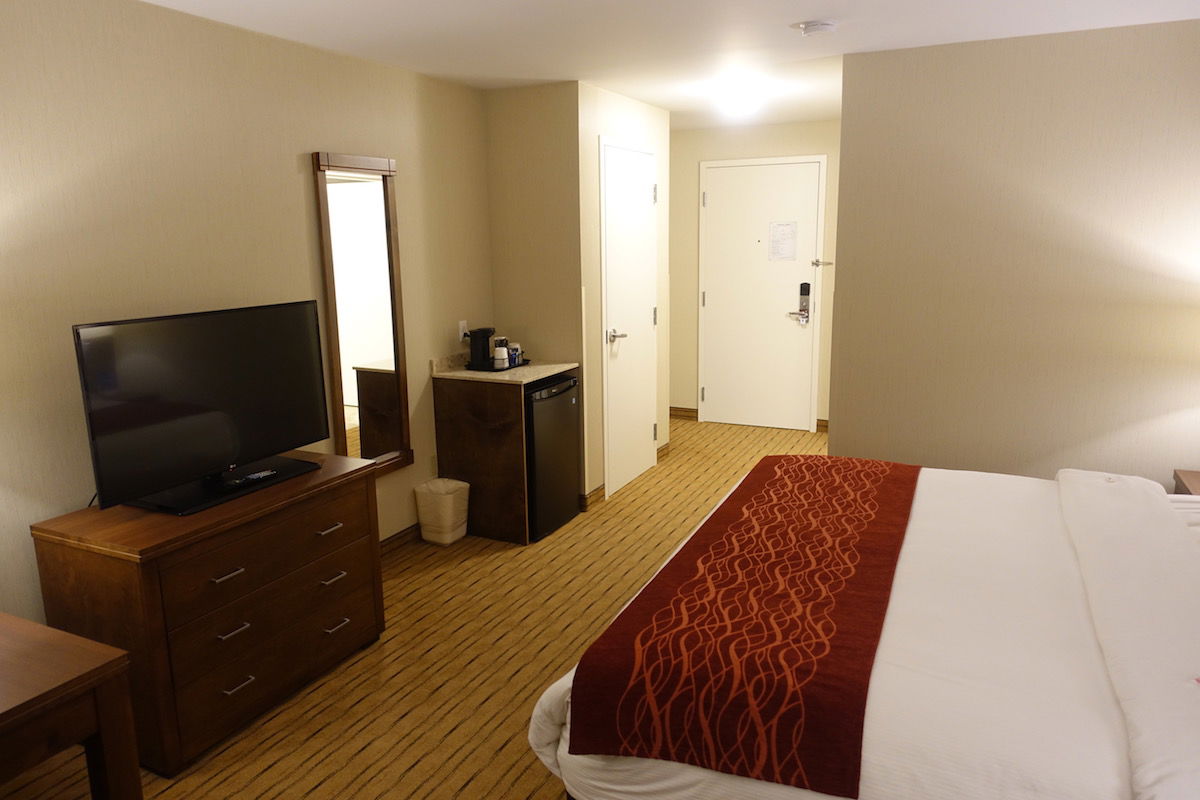 Comfort Inn Gander king room
Back near the entrance was a coffee machine, as well as a mini-fridge. I do wish there had been some bottled water somewhere in the room, but there wasn't.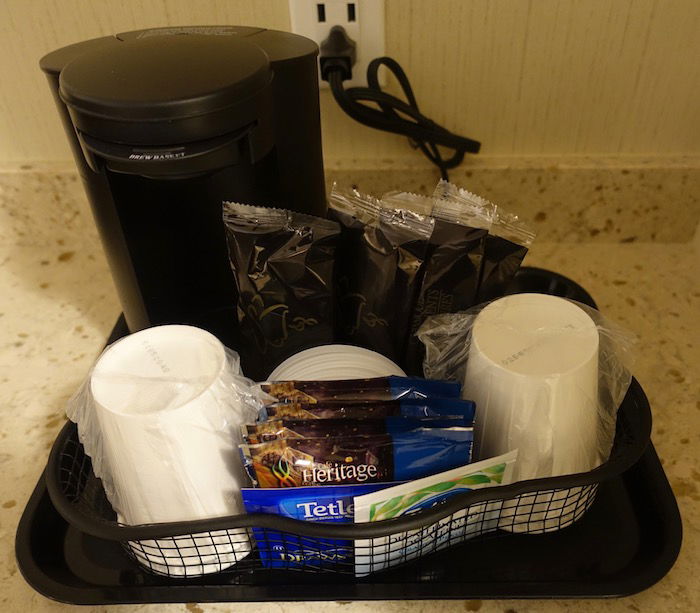 Comfort Inn Gander in-room coffee maker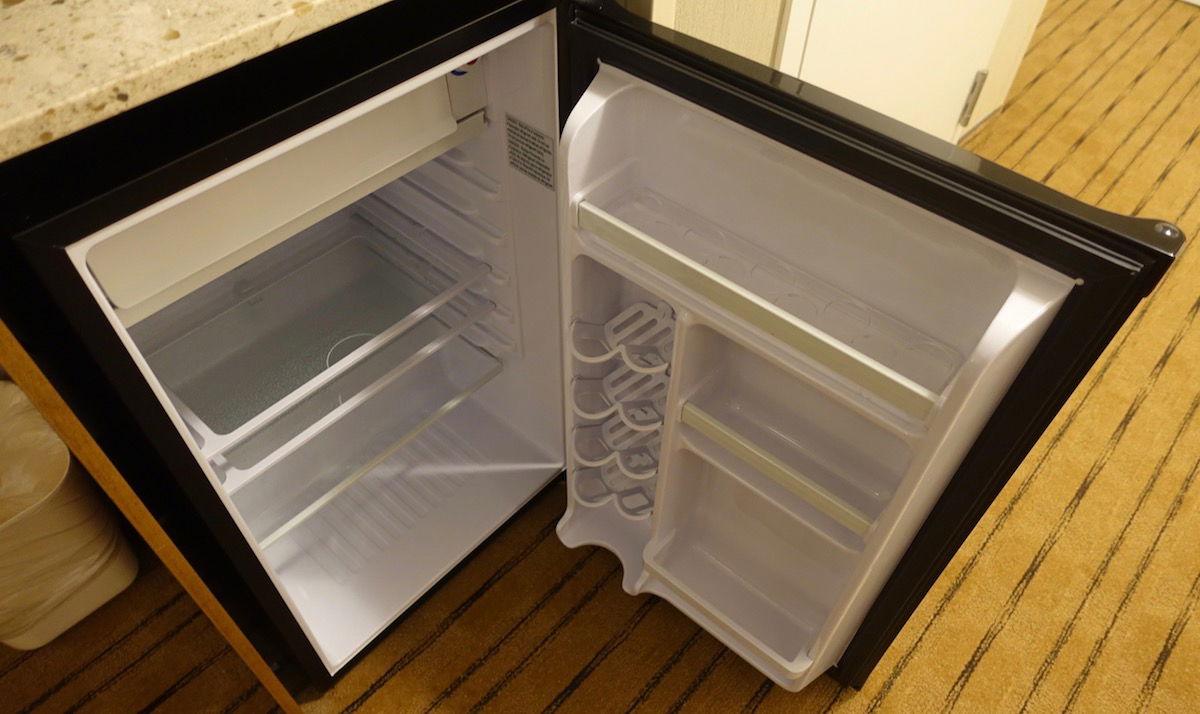 Comfort Inn Gander mini fridge
The bathroom was also quite nice, and featured a sink, toilet, and walk-in shower.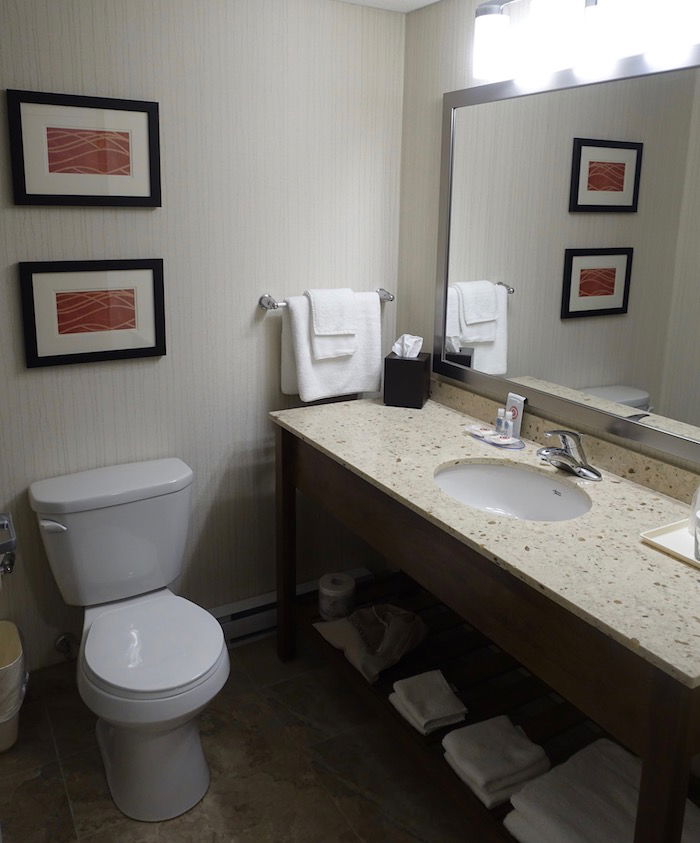 Comfort Inn Gander bathroom
The shower was logically designed, as they placed the shower controls on the opposite side of the shower of the shower head. Why can't more hotels get this right?!?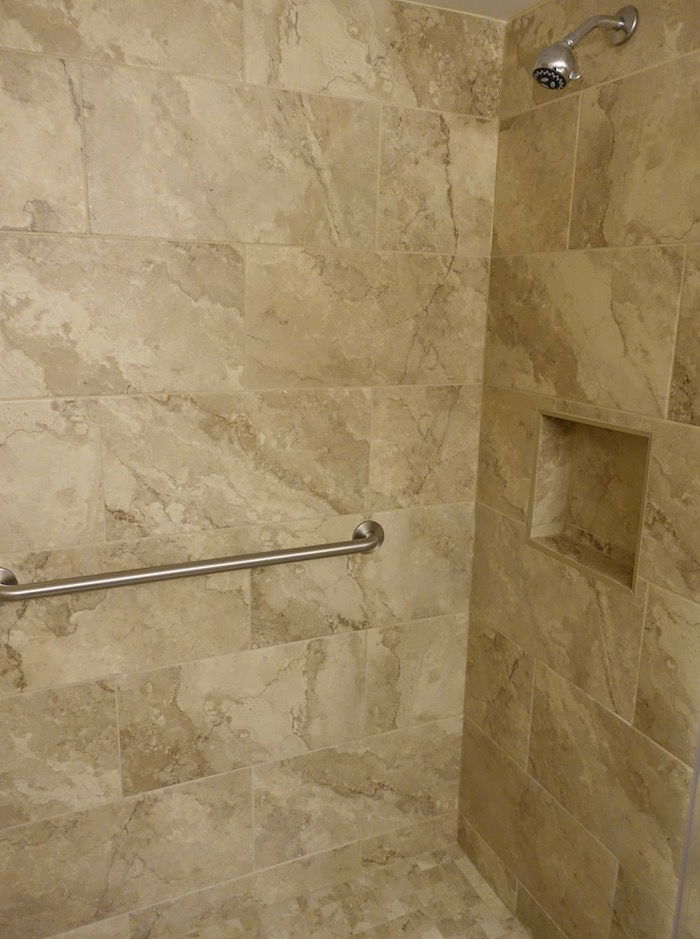 Comfort Inn Gander shower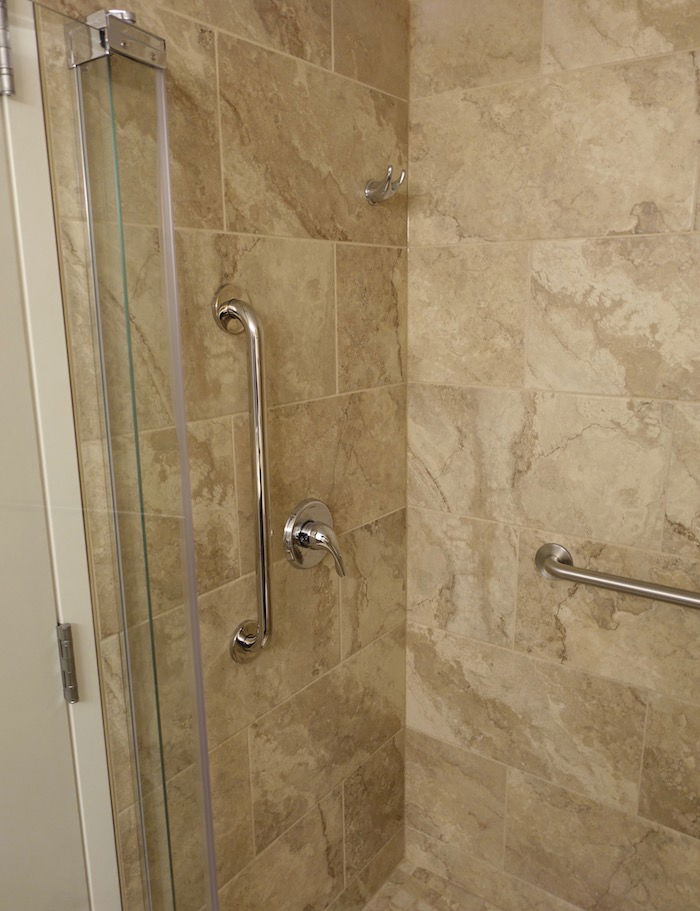 Comfort Inn Gander shower
Toiletries were provided by Raio. To be honest I didn't shower during the stay, but the hand soap was fine.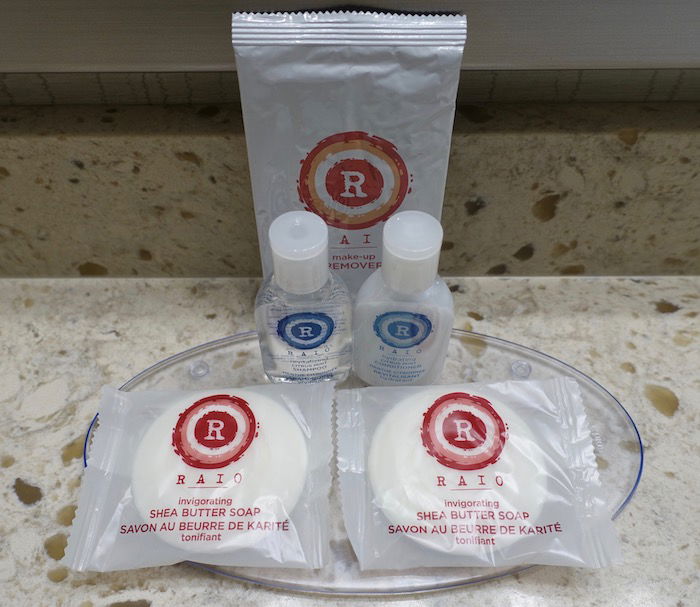 Comfort Inn Gander toiletries
By the time we settled in it was 3AM, and we wanted to be up by 7AM, so it was a very short night. However, we got 3-4 hours of sleep, and woke up to a view of a parking lot and a lot of snow.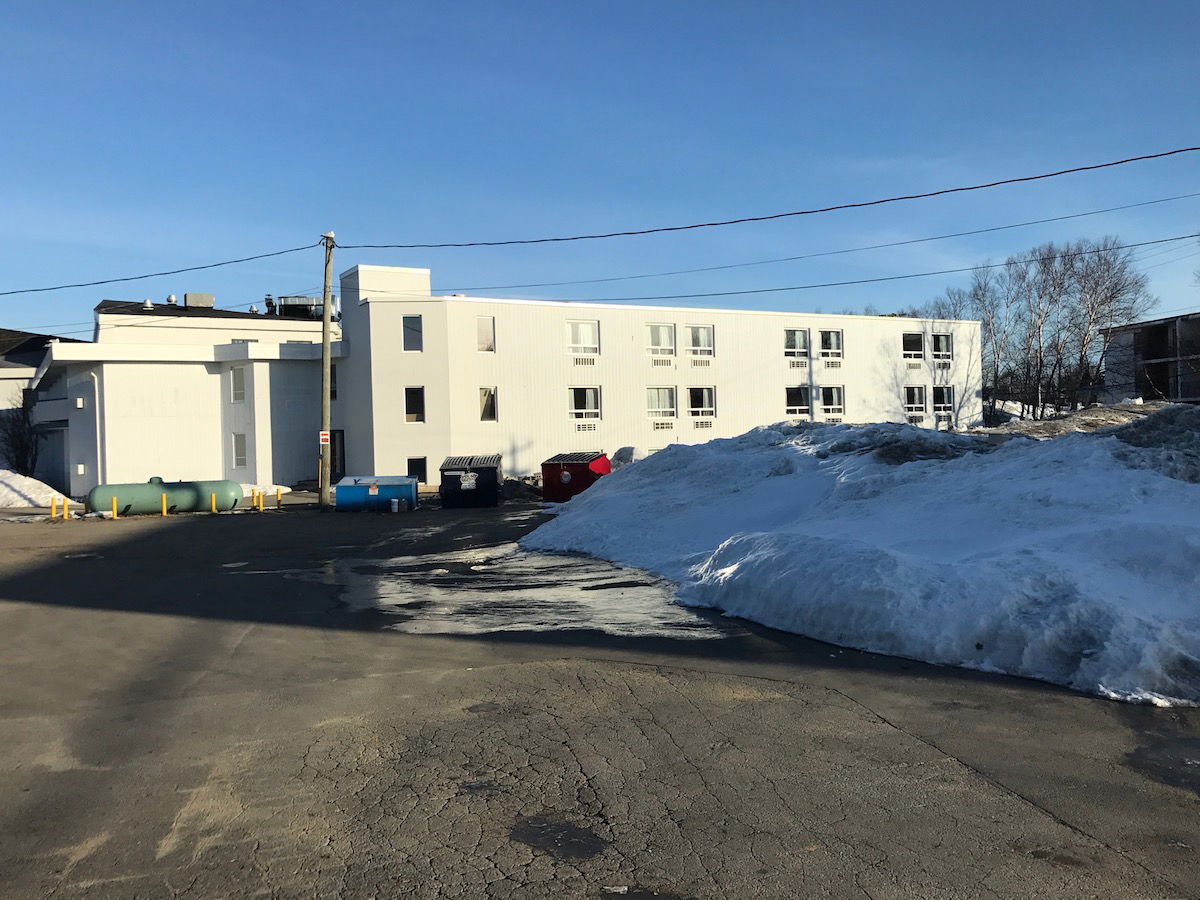 Comfort Inn Gander room view
The room was clean, in great condition, and the Wi-Fi was fast and free.
Shortly after waking up we headed to the breakfast room, located just down the hall, near the lobby. Breakfast is served at the hotel from 6AM until 10AM, and is included for all guests.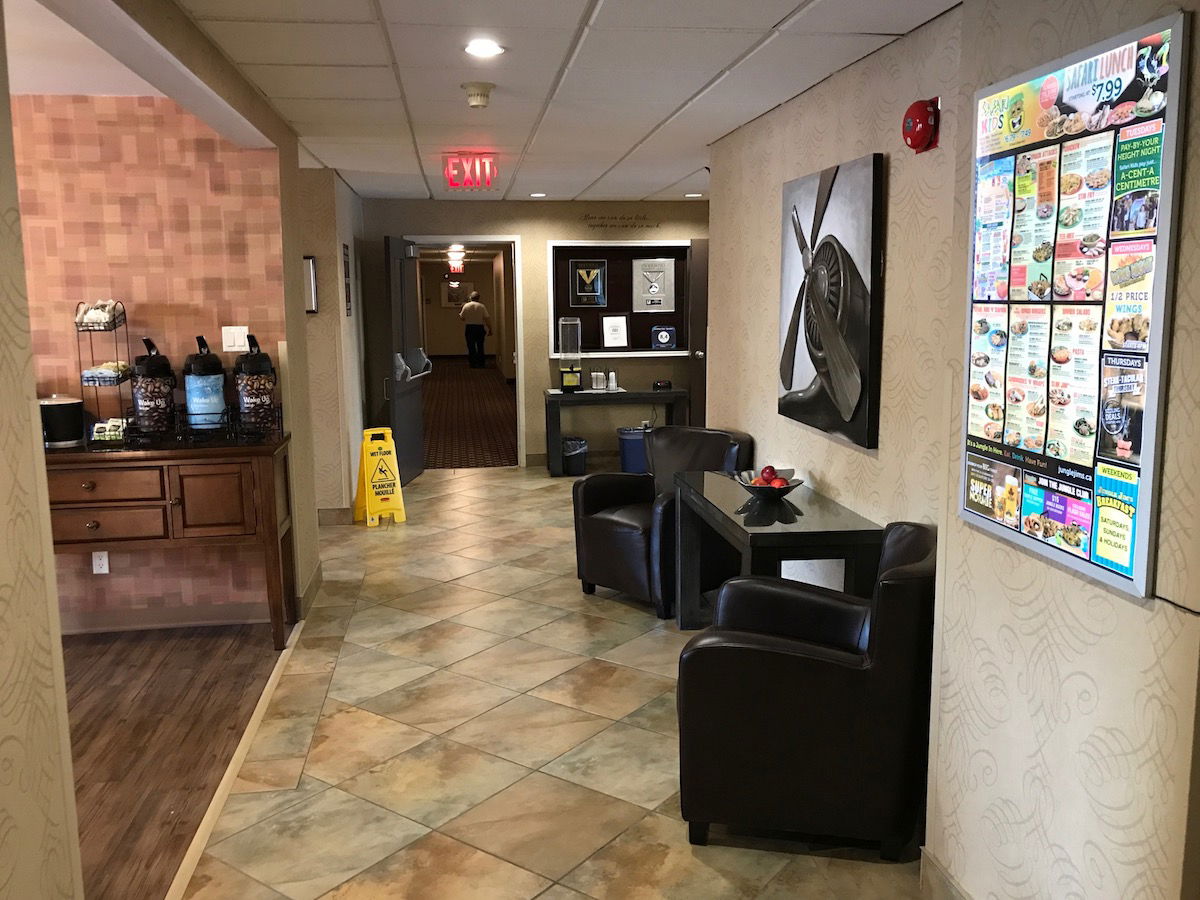 Comfort Inn Gander breakfast area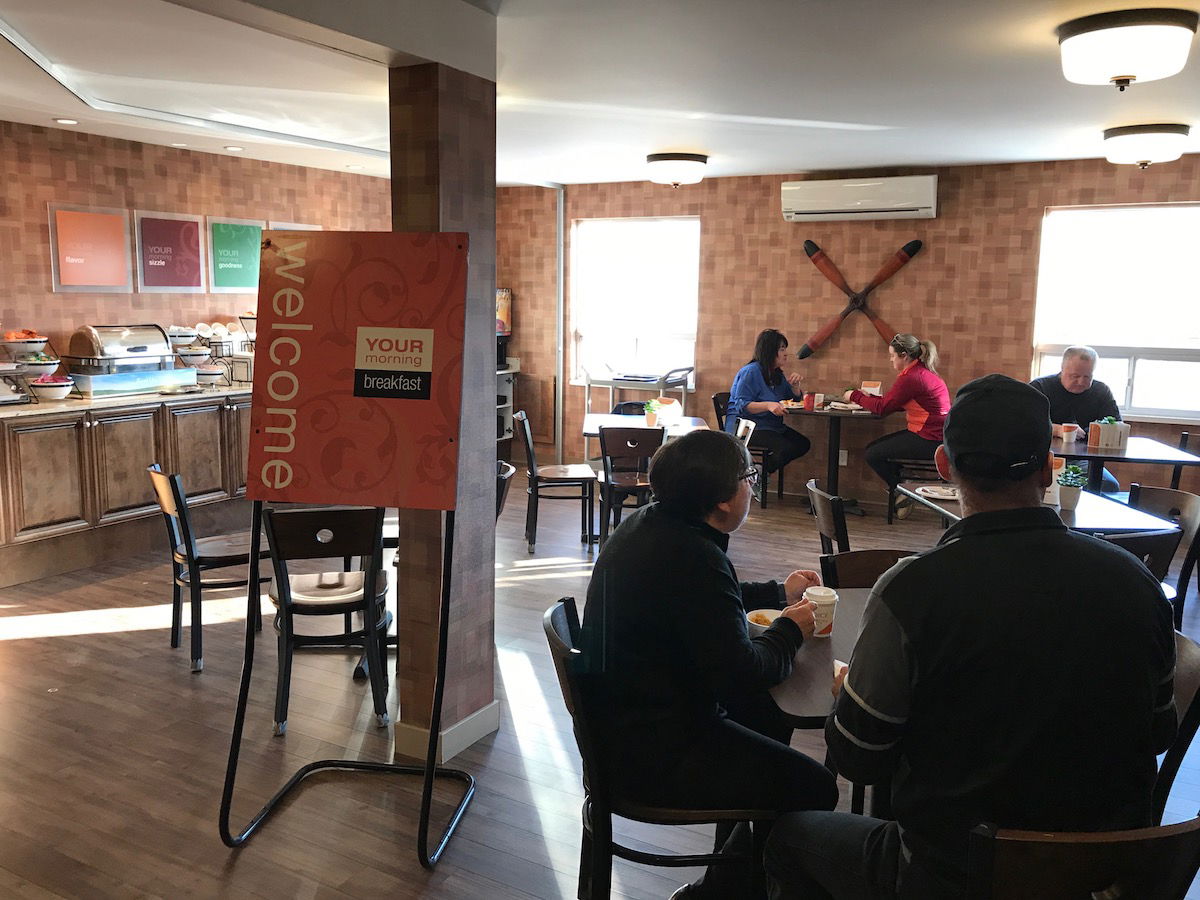 Comfort Inn Gander breakfast room
The breakfast was almost identical to what you'd find at virtually any limited service property, so I'll let the pictures speak for themselves.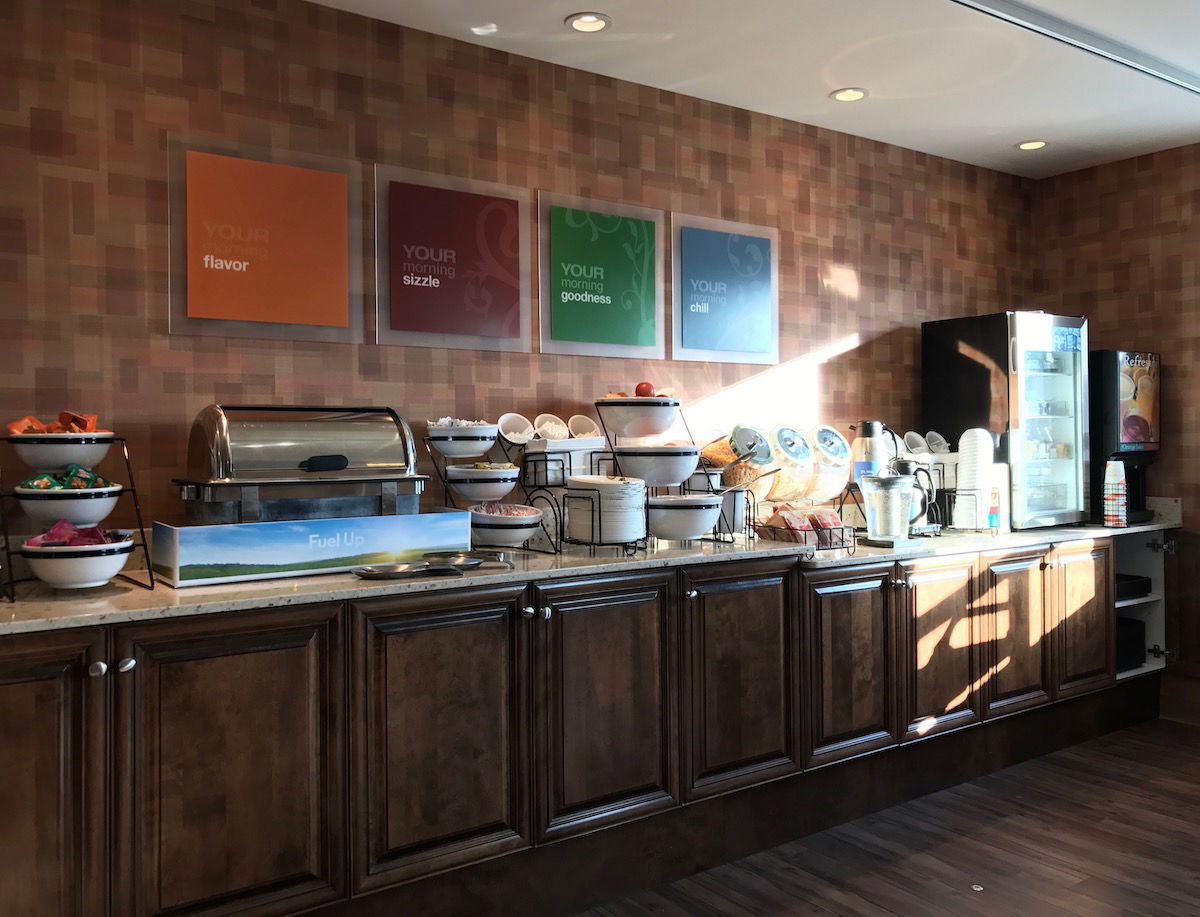 Comfort Inn Gander breakfast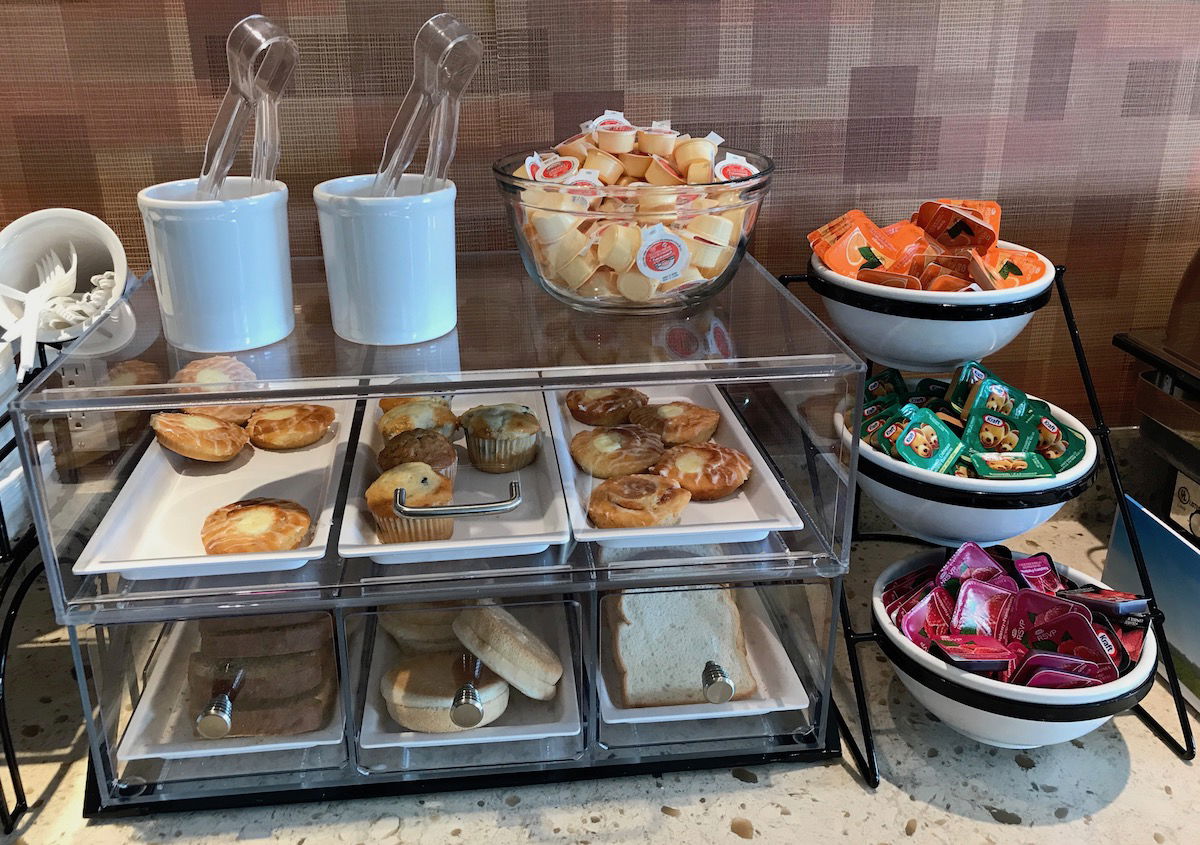 Comfort Inn Gander breakfast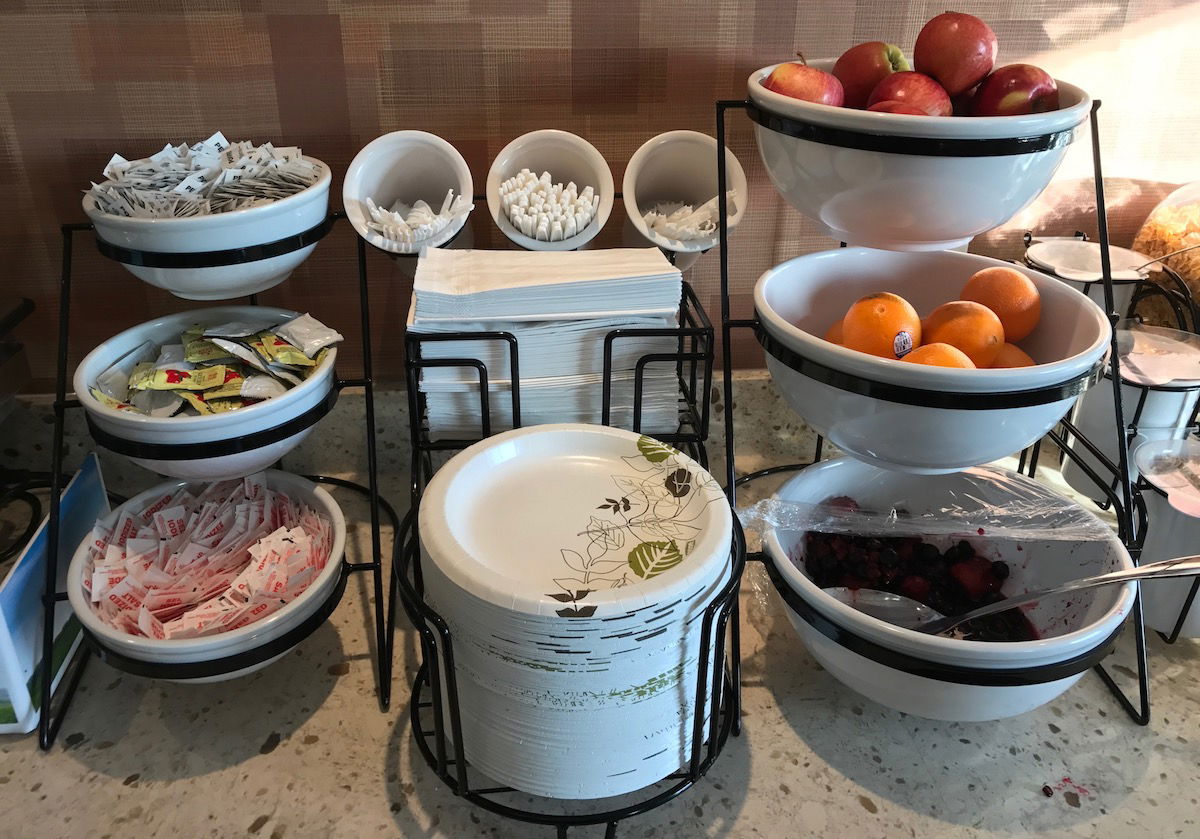 Comfort Inn Gander breakfast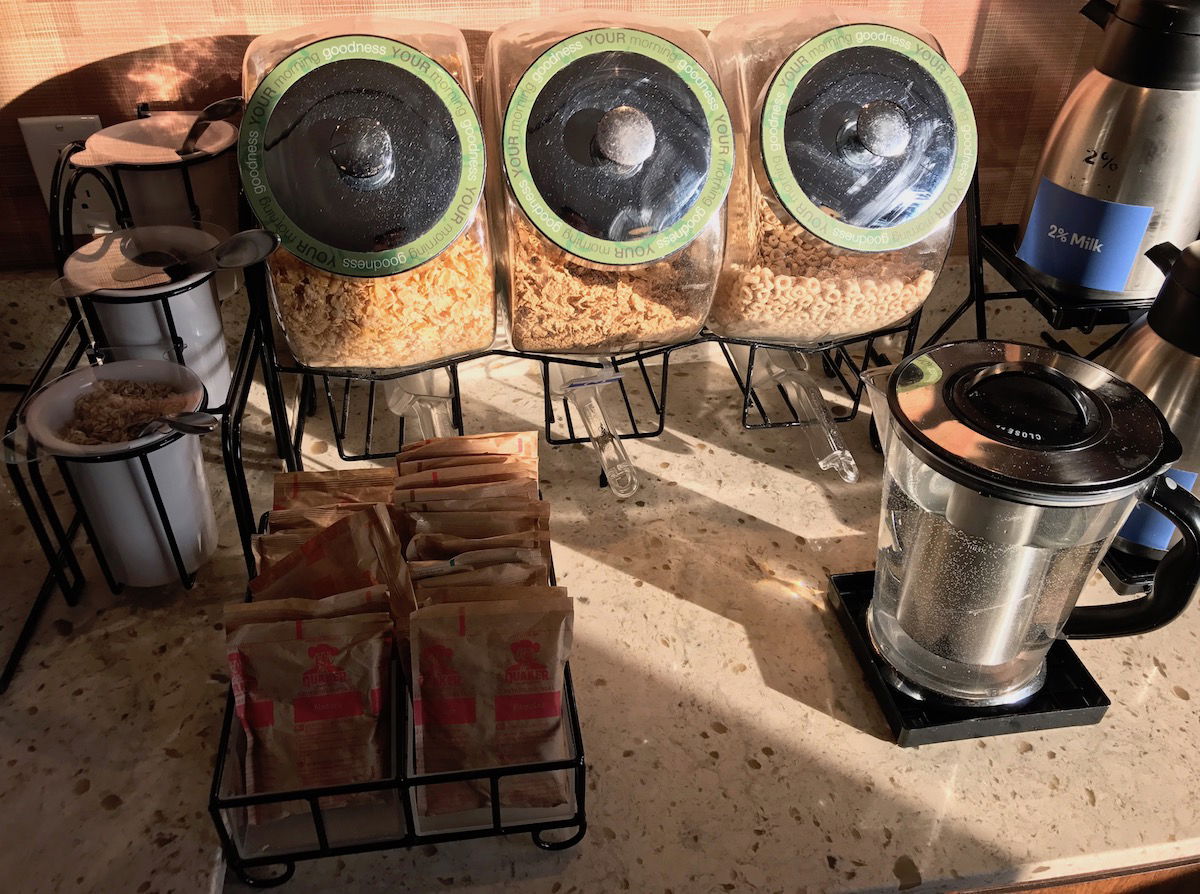 Comfort Inn Gander breakfast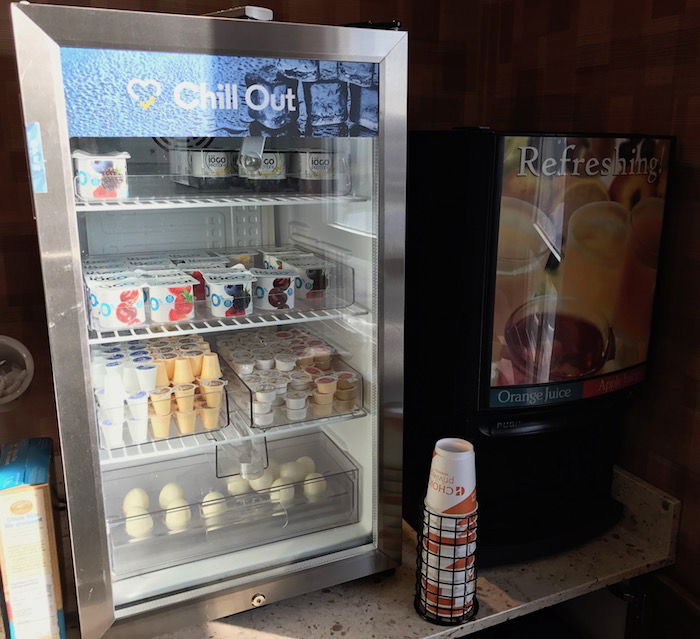 Comfort Inn Gander breakfast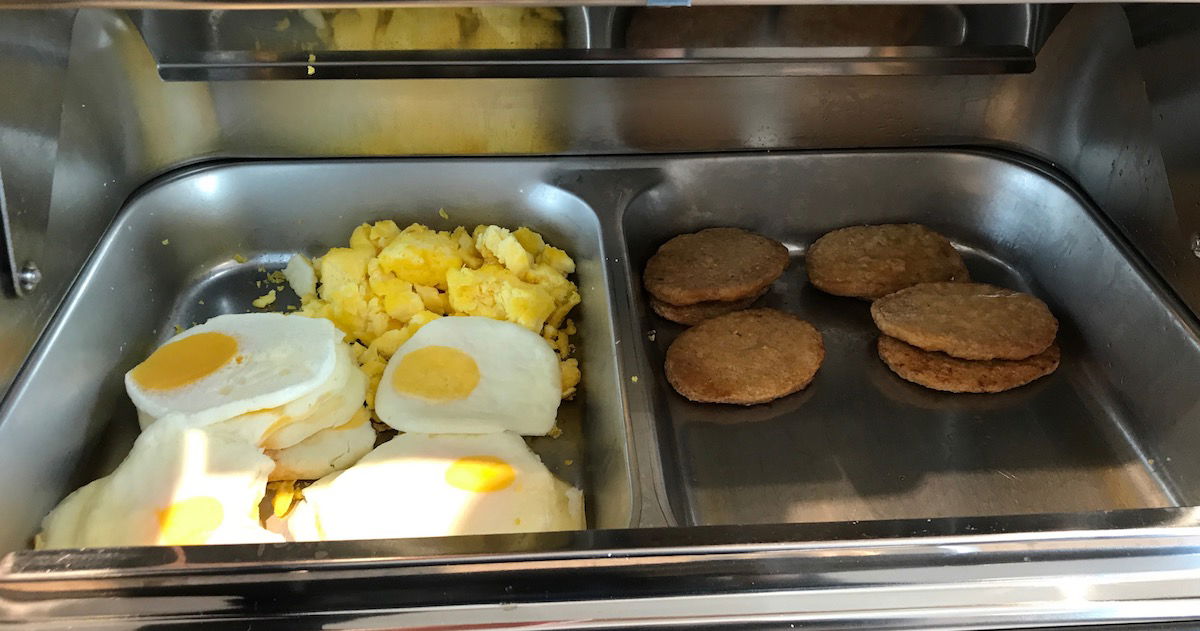 Comfort Inn Gander breakfast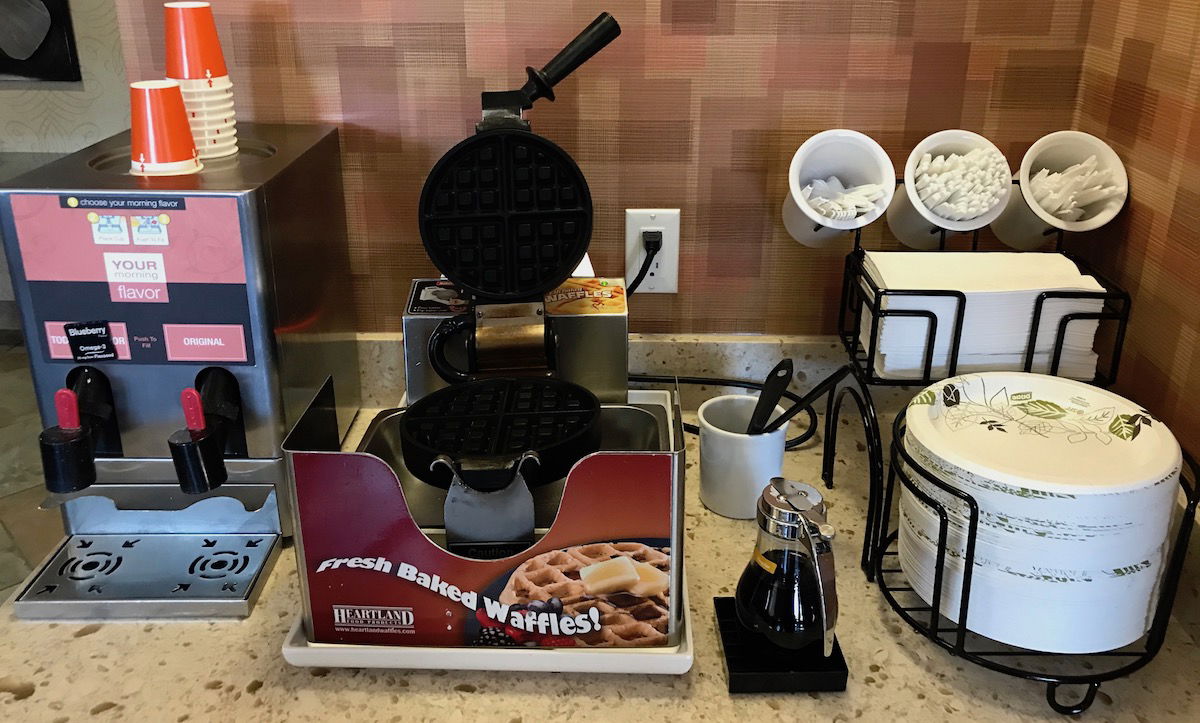 Comfort Inn Gander breakfast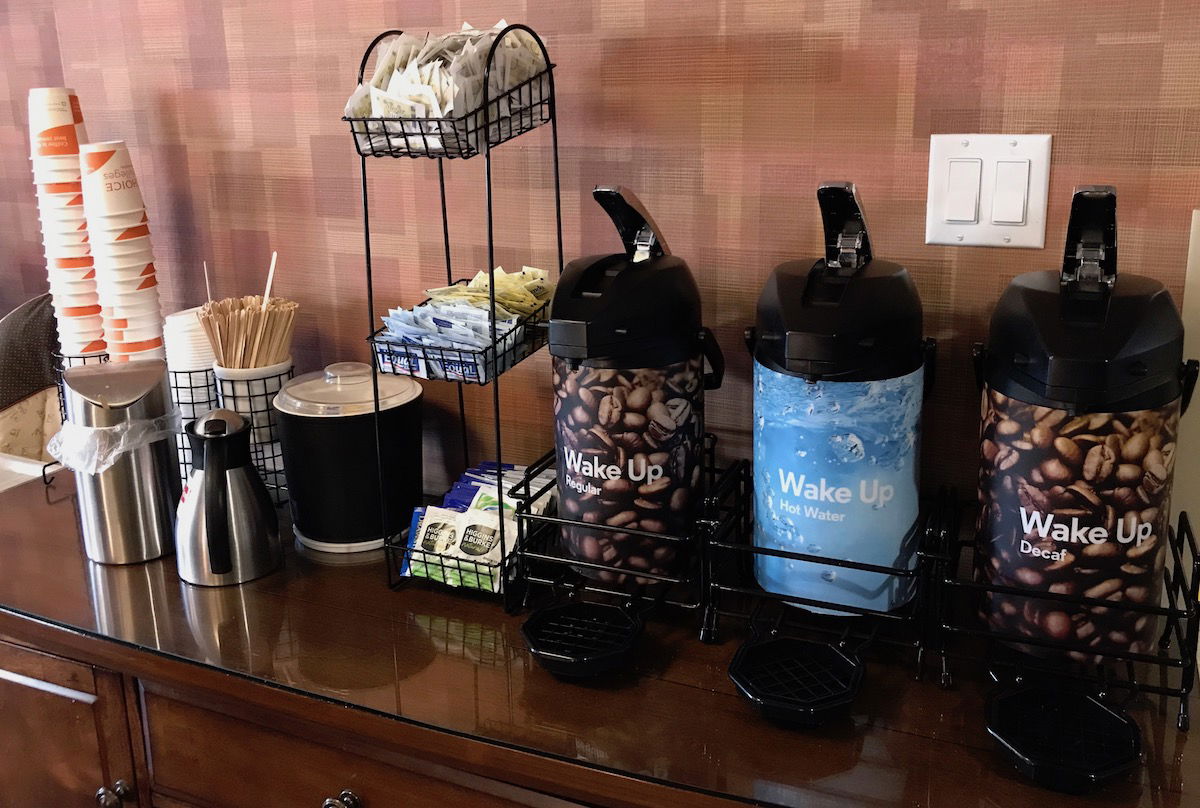 Comfort Inn Gander breakfast
Personally I'm not a huge fan of processed egg/meat dishes (which is tough when you fly a lot), so I had some cereal, yogurt, and coffee, which hit the spot. Overall it was a nice breakfast.
While we didn't use it, I also checked out the gym, located on the basement level.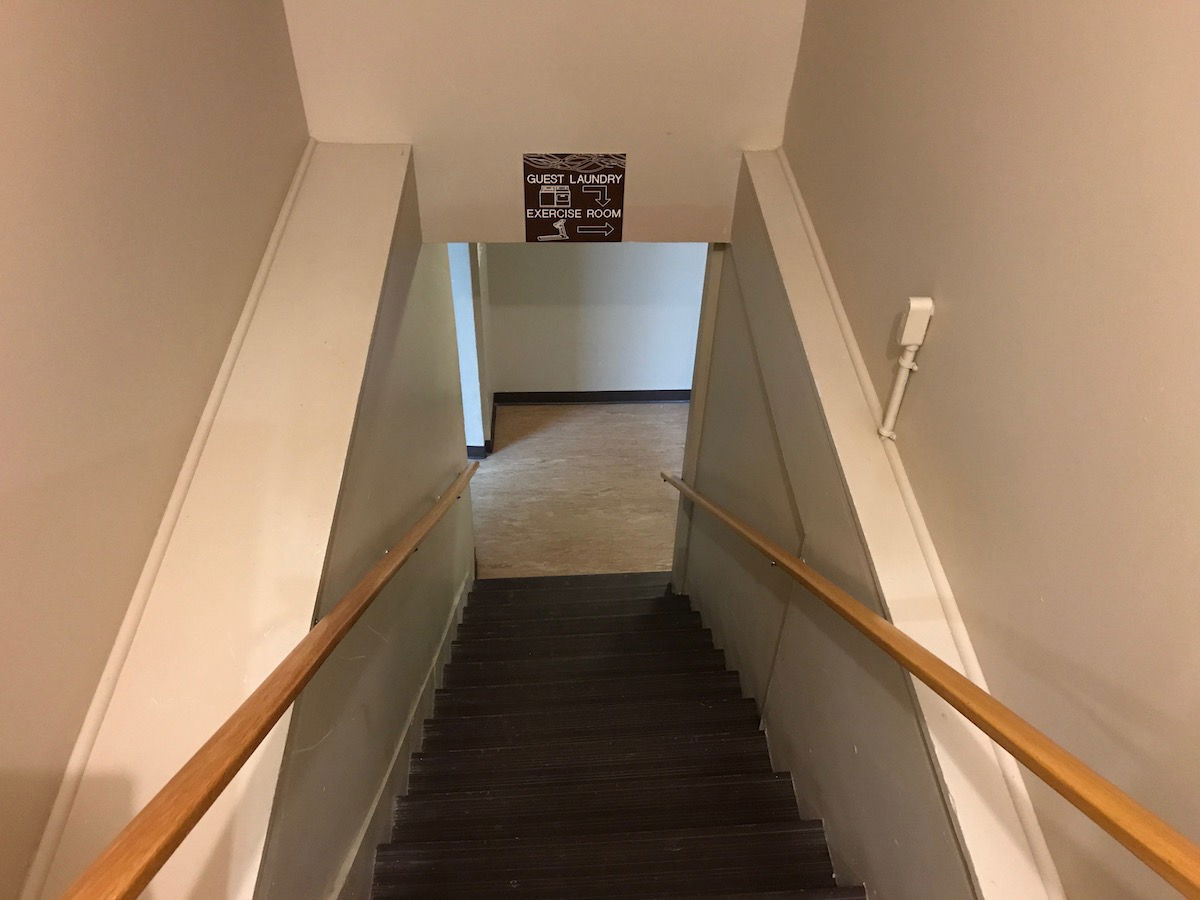 Comfort Inn Gander stairs to gym
The gym was extremely basic, with just a few pieces of equipment.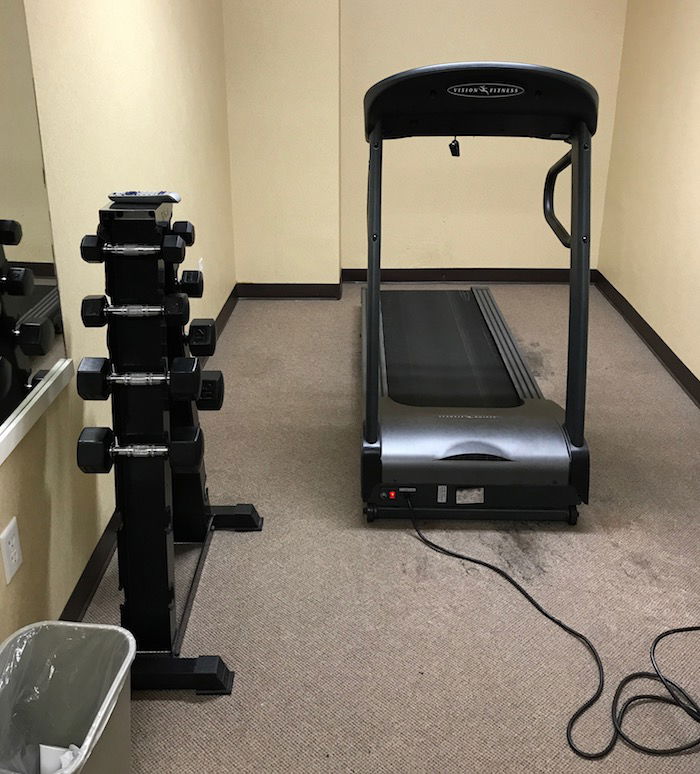 Comfort Inn Gander gym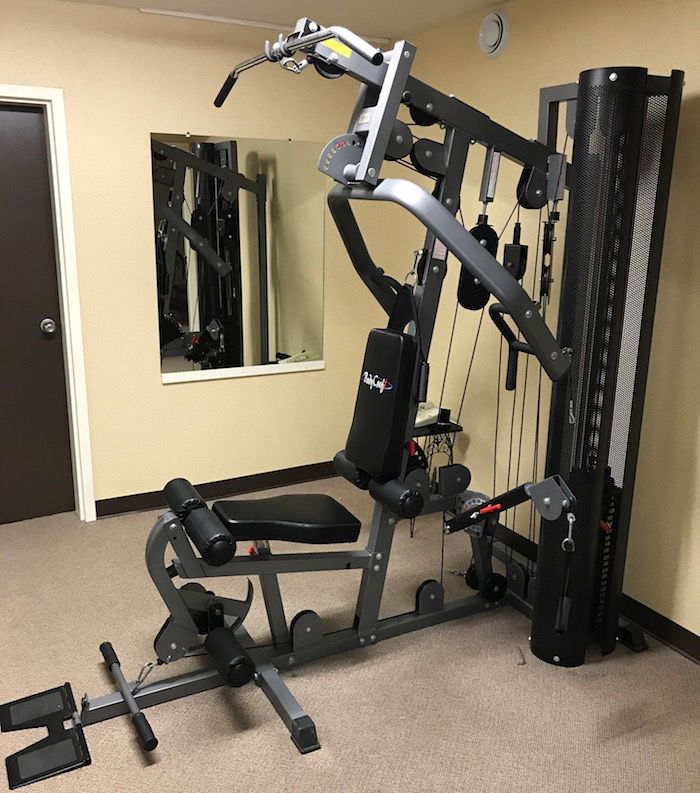 Comfort Inn Gander gym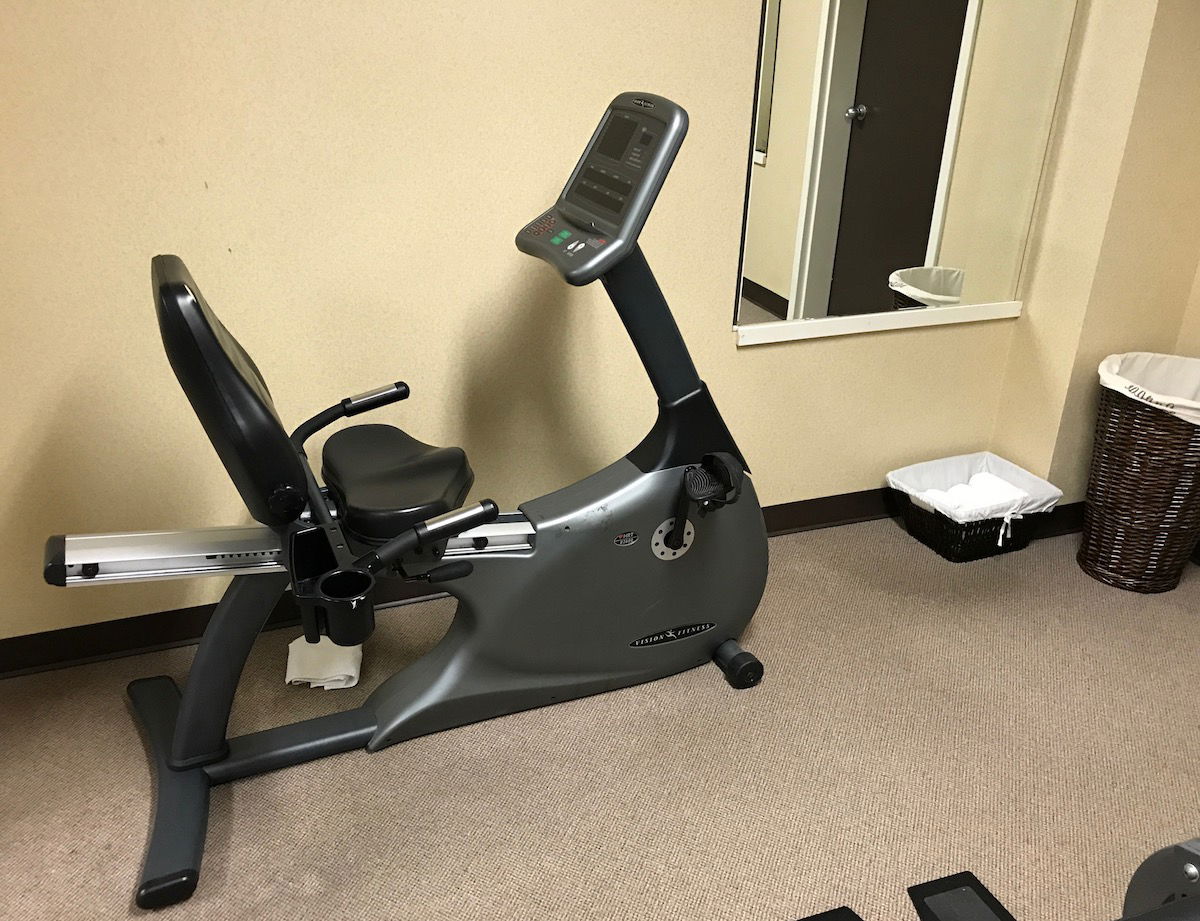 Comfort Inn Gander gym
There was also a sign pointing towards guest laundry, which is an amenity that I wish more hotels offered. I did see a washing machine and dryer, and didn't see anywhere to insert coins, so maybe it was free? Cool!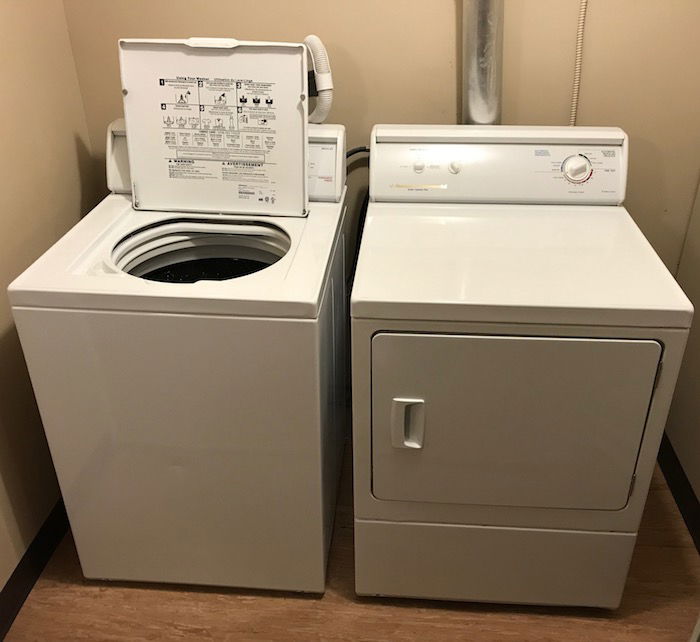 Comfort Inn Gander laundry
Our plan was to take the 11:30AM ferry from Farewell to Fogo Island, so we left the hotel at around 9AM. That was way earlier than we needed to go, but we didn't know what the conditions would be like.
Comfort Inn Gander bottom line
Our six hour stay at the Comfort Inn exceeded my expectations, in particular our room. While the hotel didn't look like much from the outside, the rooms were in good condition, clean, and well appointed, much more so than many other major chain hotels I've stayed at. The free breakfast was good as well, and the limited interaction I had with the staff there was positive. I'd absolutely recommend this hotel if overnighting in Gander, and I can see why it's the top rated hotel there.