I've been wanting to try the new JetBlue "Mint" product that is exclusively operated on the New York > Los Angeles route. It hasn't quite worked with my schedule, but my friend recently flew in the new Mint "suites" and offered to share his impressions. He's one of the funniest people I know and quite possibly the only person that appreciated Part 1 of the Real Housewives of New York Reunion more than I did.

Please pardon the picture quality, as he wasn't planning on sharing these with a wide audience, though agreed to write a report when I asked him to.

---
Hi there, everyone.  I'm a longtime reader of the blog, first time caller.  I'm here to tell you about JetBlue Mint, which I flew this past weekend from LAX to JFK and back.  JetBlue isn't a legacy airline with a viable mileage program, alliance, or real elite recognition, so it's not typically on Ben's radar screen (nor, really, mine).  But I'm a sucker for shiny new products, good marketing and the possibility of seeing a celebrity in-flight, so I thought Mint – at $599 each way, a hell of a deal – would be a glamorous way to get to New York for a very short weekend, especially since one leg would be a redeye.
Now, as I have discovered, "glamorous" is not really a word that applies to our friends at JetBlue.  Virgin America seems to have really tapped into that glamorous cross-country market, with planes that feel stylish, and a hipster crowd of cognoscenti in the front and in the back (true story: I once sat in the same row as Boy Meets World's Ryder Strong… in coach!… on VA.  If you consider TGIF castmembers to be glamorous. Which I do).  Even Virgin's giant white leather recliner seats in First feel different and sexy.  JetBlue, on the other hand, has always prided itself on being the Airline of the People, the champion of the common man.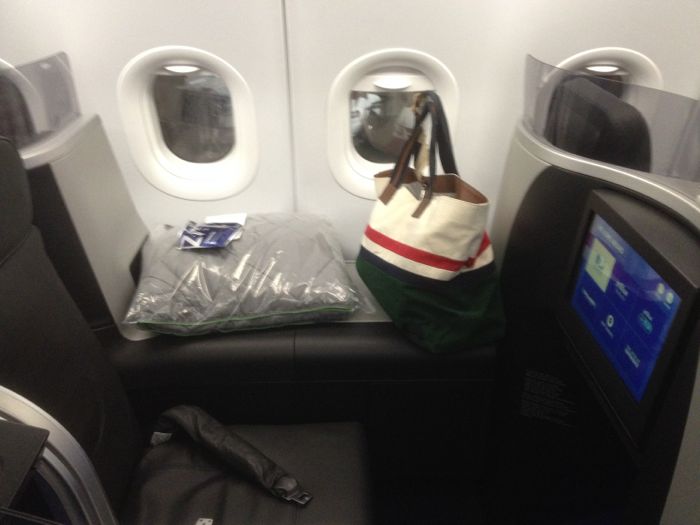 The Booking Process
When I knew we had a wedding to go to in New York this summer on a quick turnaround, months ago, I eagerly jumped on JetBlue's website and, surprisingly, seats in Mint were wide open at the $599 price point.  Mint has five rows of first class, two of which are "suite" rows of one "suite" seat on either side of the aisle, and three rows of which are four-across seating in the manner of United's P.S. service business class seats. I booked ourselves into two of the suites on both legs, since there was no cost differential, and the seating chart was wide open.
The Boarding Process
JetBlue flies out of LAX's Terminal 3, the same sad-sack terminal that Virgin America uses, and one badly in need of renovation.  Luckily, Terminal 3 is home to Virgin America's Loft lounge, which is partnered with Priority Pass, so we had free use of a really nice domestic lounge while we waited.  Our flight was a redeye scheduled to depart at 8:59pm and land at 5:10am at JFK, which is not ideal for a redeye and which I wasn't looking forward to.  In reality, though, the flight was delayed by well over an hour, so the flight ended up being more of a "typical" red-eye where you'd feel sleepy at a normal hour, and land in New York at a not-inhuman time – and luckily we could wait out the delay at the Loft.  However, when we descended from the Loft down to the gate area, what awaited us was utter chaos.
I mean, UTTER CHAOS.  It looked like Port Authority Bus Terminal the day of a citywide evacuation.  Now, I don't mean to sound snobby, but… (I mean, of COURSE I'm going to be snobby, otherwise, what fun would this be?) JetBlue is truly an airline of the People, of Real Amurricans.  It's clear few business or otherwise frequent flyers use JetBlue, and so you're left with a sea of first-time leisure travelers.  And, you're aware of the phrase "gate lice"? Well, this was a full-scale infestation of gate lice.  People literally climbing over cordons and ropes and ignoring the one sole gate agent.  When they finally announced boarding for Mint, people were still pushing us out of the way to board before us.
The return flight was slightly better, but not really.  Terminal 5 at JFK, the JetBlue terminal, is indescribably nice, just a really lovely place.  And it being JetBlue's home turf, the gate agents were far more competent.  But the airline seems to have a policy whereby lines = evil, where it doesn't matter what boarding zone they're calling, as long as you can muscle your way up to the front of the line, you can board first.  As my boarding card was being scanned, a Mosaic member (which is JetBlue's "elite" status) in coach literally pushed me aside and handed his boarding pass to the gate agent, and announced to everyone that because he was Mosaic, he had priority boarding.  The gate agent didn't seem to bat an eye (or care to enforce the line).
All I'm saying, JetBlue, is do what the legacy carriers do and have two lines – one for Mint/Mosaic, and one for everyone else.
The Seat
I'm going to put the bitchiness aside for just a moment to say that when we did board, we boarded onto a shiny new plane with a beautiful interior. Mint is simply stunning, all clean lines and serenity.  Though, a bitchy point:  Mint is at the front of the cabin near the boarding door, and when Ma and Pa Kettle are pushing their way onto the plane, they are stopping to oooh and aah at the Mint seats, pointing at the fancy pants people riding in FIRST CLASS with just a hint of derision, and generally making you feel like you're on display at an Occupy Wall Street rally.
But back to the good stuff.  Mint is essentially two classes in one.  The "suites" are truly spectacular, and certainly one-of-a-kind for transcontinental travel.  I know that American's A321 transcons have a separate First class, but it couldn't possibly compare with the Mint suites.  Our seats were extraordinarily spacious and had copious amounts of storage space.  So much storage space, you guys.  And then tons of shelf/counter space off to the sides for laptop storage, bags, etc.  The suites have "doors," as it were, which are only about waist-high but do a wonderful job of making you feel private when you're sleeping or relaxing or watching Million Dollar Listing: Miami and you don't want anyone to know your secret shame.
 And the seats/beds!  They're pretty wonderful.  Evidently JetBlue's seats are cushioned with air, so you can make the seat or bed as firm or as soft as you like, and when fully reclined the seats feel wide and quite long.  I wouldn't say it's like sleeping on a real bed, but it did feel like I was sleeping on a really comfortable couch, if that means anything.  JetBlue provided a quilted comforter and a surprisingly heavenly (though not Westin™ Heavenly™) pillow.  With a Xanax, a half an Advil PM and a glass of pinot noir, I slept like a baby.  (And truthfully, I slept better than I did in First on Cathay Pacific, but mostly because Cathay Pacific keeps their cabin temperatures set at "Bangkok on an April afternoon.")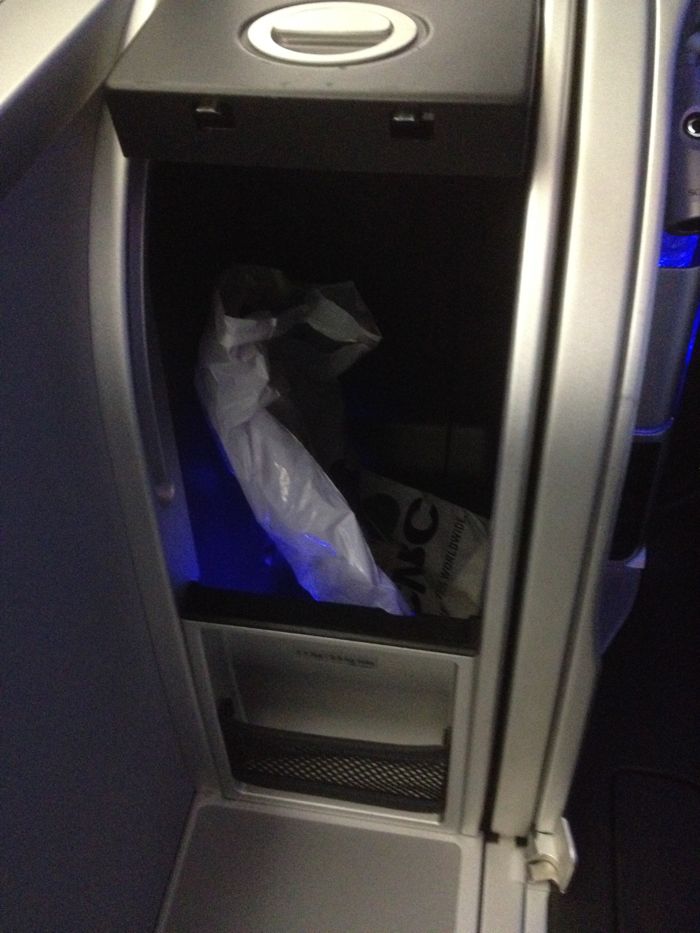 As for the non-suite Mint seats, they still offer the same soft-product amenities as the Suites, and they have the same seat pitch, cushioning and recline, but being two across they lack the storage and privacy that the Suites have.  They are very good business class seats, comparable to AA, UA and DL's transcon product.  But they are not Suites.  So if you have the option of choosing Suites over two-across – even if you're traveling with a partner or friend – choose the Suites.  It's a no-brainer.
The Food and Drink
JetBlue welcomes you with a signature mint-flavored cocktail (or mocktail), which I declined in favor of sparkling wine on my outbound flight and pinot noir on my return flight.  (Note: it ain't Krug.  Though I looked it up and the Argyle sparkler they offer is a $20-30 bottle of wine, it still tastes like something you'd want to add orange juice to at an all-you-can-drink mimosa bar.  New rule should be never to order "champagne" on a domestic flight.)  I've been told the cocktail is delicious, but I didn't really feel like hard liquor.  I prefer to get drunk on wine, like a good Housewife (hopefully Heather, but I'll take LuAnn… oh, who am I kidding, I really want to be LuAnn).
On the redeye, you're offered an amuse-bouche followed by three set small-plate courses, all of which were served cold.  To be honest, the food was good but totally unmemorable, though it's possible that my memory of the food was wiped clean by the aforementioned Xanax/Advil PM/wine combo. On the flight back, we were offered an amuse bouche, a choice of 3 out of 5 small-plates (most of which were warm) and dessert.  The amuse bouche was a deviled egg, which HELL YES.  I stole my husband's, also, because he doesn't care for deviled eggs and that is his one true flaw in this world.  I then had the Corn Custard and Poached Lobster appetizer, which was delicious; the Beet Gnudi, which was apparently a special dish from a trendy hipster eatery in NoHo that was honestly not meant to be reheated (most of the gnudi was gummy and stuck to the serving plate); and the Herb-Roasted Monkfish, which was decent.  Dessert was coffee ice cream (though the menu said mint chocolate chip), which was at the perfect temperature, somehow, and just creamy and velvety smooth.  Such a nice change from the rock-hard ice cream I'm otherwise used to on planes.
Though the sparkling wine is avoidable, the Meiomi Pinot Noir is actually a really lovely wine, the kind you'd bring to a nice dinner party.  Whatever complaints about JetBlue's taste level that I may have, I will say their sommelier keeps it classy (and maybe should be promoted to keeping other things on the plane classy).
As you land, they hand you a little gift box of a brownie and cookie.  These are good.  You should eat them.
The "Amenity Kit"
Ugh, the amenity kit.  Mint will not shut up about how revolutionary their Birchbox-branded amenity kit is and how proud they are to offer it to customers.  Well, it's useless, sorry.
For those of you who aren't familiar with Birchbox, evidently it's a web-based service that, for a not inconsequential monthly subscription fee, will send you a box of sample-size toiletries once a month.  So if you want to pay $20/month to get a dollop-size of sunscreen and some eye serum, well have I got the useless tech startup for you.  In any event, the Birchbox amenity kit comes in a bright green drawstring bag and contains such useful items as shaving cream, after-sun lotion, eye renewal serum and lip balm, but nothing so useful as, I dunno, toothpaste, a toothbrush, deodorant or a comb.  So if you were hoping that your amenity kit would help you refresh yourself when you wake up from a redeye, you're S.O.L., Mint flyers.  But if you were hoping to slather on some lotion to protect yourself from harmful UV rays while in an enclosed, pressurized Airbus cabin, you're in luck!
The IFE and Electronic Stuff
Biggest pro of all:  Mint – and the entire plane, actually – comes with free Wifi that JetBlue calls Fly-Fi.  It's reasonably fast and infinitely preferable to Gogo.  It feels so civilized of JetBlue to offer free wifi that it seems like a no-brainer that other airlines don't.  If this starts an industry-wide revolution, then all the better.  Fly-Fi was fast, reliable and easy to use.  You could pay a little under $10 an hour for high-bandwith Wifi if you wanted to download movies or stream media, but it seems unnecessary for basic uses like checking Facebook, uploading photos to Instagram and reading the Wikipedia entry for Countess LuAnn de Lesseps.
As for the seatback IFE, the screen is relatively large but doesn't tilt or angle, meaning that it's only really watchable from a semi-reclined position. If you lie fully flat, you're not going to also be able to watch TV and drift off to visions of Sonja Morgan's nonexistent yacht in your head.  The IFE is also strangely not touch-screen, even though by all accounts it appears to be touch screen, and is controlled by a not-very-user-friendly remote control.  From what I understand, JetBlue has imminent plans to upgrade the IFE on these flights, which is good news.  I ended up mostly watching DirecTV, but JetBlue offers a handful of "movie channels" on a loop, which in this day and age seems positively retro.  If you were hoping for on-demand entertainment, you should check out Virgin America.
On our outbound flight, we were presented with brand-new headphones from Grado Labs, which were phenomenal (we were told this was the first day of using the Grado headsets on JetBlue, which would make sense as other, previous Mint reviews seem to indicate that the headphones were substandard and junky).  They weren't really noise-cancelling per se, but they more than did the trick.
Service, Atmosphere and Final Thoughts
I have to say that Mint service was really unparalleled.  It truly feels like the kind of caring, personalized, thoughtful service you get on an international airline, and when you enter there are little welcome cards at your seat signed by the in-flight crew.  At all times warm and professional, humorous but unobtrusive, the Mint crew has got their $#it down.  I like Virgin America's service, and have had good flight attendants on Delta and United, but typically don't expect to fly a transcon for the service as one might fly, say, Cathay or Singapore for its service.  Mint might truly be a game-changer in that regard…
Except that, but for the gracious service and the hard product (which, granted, are the two most important things by far), flying Mint didn't actually feel all that rarefied.  And maybe that's a good thing, bringing First Class to the masses.  A recent emigre from Eastern Europe was on the seat in front of me on the way out, marveling to everyone that he had bought his seat for "only $250" (unclear if it was a buy-up, if he bought through a consolidator, or if he was just lying) and offering cash to the flight attendant for his vodka, and, well, let's just say he wasn't the only one in the cabin who had never flown premium (or anything but Aeroflot) before.  And I know I sound like a dick when I say that.  And I truly am glad that Mint is in the grasp and reach of far more people, and that premium seats can now be purchased outright instead of had only by virtue of mileage awards, Platinum status or generous employers.  But… there was a guy in full-on Duck Dynasty gear on my return flight.  And a portly gentleman with a neck tattoo of Jesus.  And just generally, the feeling on board JetBlue is that it is an airline for the masses, a hipper Southwest.  And that's honestly, truly great.  Airlines should NOT just be catering to savvy business travelers only, and it's terrific that there's an airline that can offer lower fares to infrequent flyers.
But… the feeling is very incongruous.  You have a best-in-class hard product that is, frankly, not being marketed to JetBlue's advantage.  The LAX-JFK route is very competitive and sophisticated.  You could, and Virgin America regularly does, stock first class full of music industry execs, TV actors, dot com entrepreneurs and fancy architects.  But our flight might as well have been Orlando to Wichita.  JetBlue, moreso than other domestic airlines, feels a bit like a bus, frankly. And no matter how wonderful the service, how delicious the food, how groundbreaking the seat – you're still flying JetBlue, and that's kind of how this shook out for me.  The ground services at LAX (and soon to be at SFO) are outright terrible, and the boarding process at both LAX and JFK were a clusterf—k.
If the trip report sounds negative, I don't want it to.  For the value, it's an unbeatable product.  And the service blows away that of other carriers. Ultimately, I'm glad I flew Mint and would honestly probably fly them again at that price point – and would certainly recommend that seat to others.  To fly in a Suite with a closing door and an incredible amount of privacy is a true luxury on an American airline – and for $599, a no-brainer.  I mean, really, Mint is spectacular in so many ways, and puts the legacy carriers to shame.  But here's the giant caveat: you're still flying JetBlue, and JetBlue has a very, very long way to go before they can truly win over the premium market.  So much of the premium transcon LAX-JFK route is about high expectations, and JetBlue at this point simply isn't prepared to meet all of them. It's hard for an airline like JetBlue, whose identity is so grounded in being egalitarian and casual-traveler-friendly, to make the leap into extreme luxury, because it is a complete 180 degrees from 14 years of heavy branding.  So basically, if you go in knowing all this, and knowing to expect ground services on par with Vietnam Airlines and a clientele who all apparently bought their tickets on Groupon, then I say: enjoy your seat, because it's amazing, and it's doubtful it will stay $599 for very long.  When you settle down in your suite, and close that door, you can almost imagine you're not flying with the entire cast of Breaking Amish, Duck Dynasty and Jersey Shore behind – and in front of! – you.
So what I'm really saying is, if Mint were Virgin America's new premium product, it would be perfection.