I think people tend to romanticize travel. Which isn't to take away from how awesome travel is, but rather to suggest that the awesome thing about travel isn't what people might assume.
Most people go into a vacation thinking it'll be relaxing, seamless, and they'll return back home well rested.
The reality is typically quite the the opposite. People go on vacation and battle jetlag, scams, crankiness, finding out places might not be as picturesque as they looked online, etc. Unless you're driving a couple of hours to the beach and plopping down there for a week, odds are that your trip won't actually be "relaxing," even if you're going to Bali, the Maldives, etc.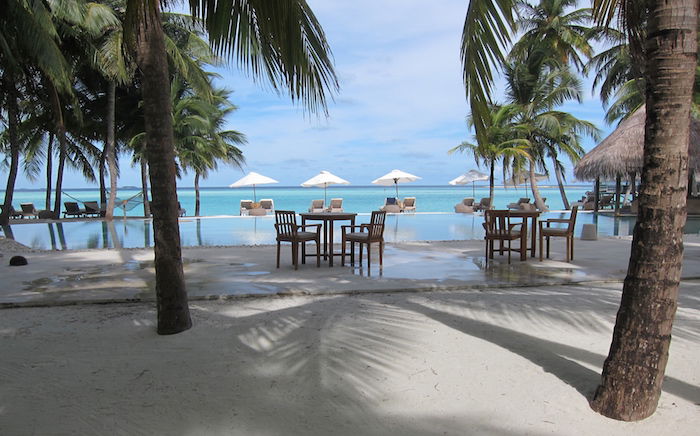 The Maldives is relaxing… the journey there often isn't!
But that's not necessarily a bad thing, because I think the most happiness you'll actually derive from a journey will come in the form of both anticipation and also recollection. We get excited about trips, and then best of all we can remember those trips for the rest of our lives.
This Thanksgiving I'm thinking about some of the things I'm grateful for, and of course there are tons — all of you guys, travel, my family and friends, etc.
Specifically on the travel front, this week was my dad's birthday, and it made me recall what was my favorite trip ever. Perhaps that's a big claim, but I can say without a doubt that it was my favorite trip, and I don't think there's anything that will ever beat it. It's a trip I'll remember for the rest of my life, which makes me grin ear-to-ear every time I think about it (which is just about every day).
I figured I'd share it again, partly because it makes me happy to think about, and partly because I can't encourage people enough to take a similar trip.
Last year my dad celebrated a "round" birthday, and we went on an incredible round the world trip. Perhaps the most enjoyable part for both of us was that the trip was a complete surprise for my dad, so every step of the journey he didn't know where we were going next.
For those of you who are new to the blog and didn't have the chance to read (and see) the report, here it is: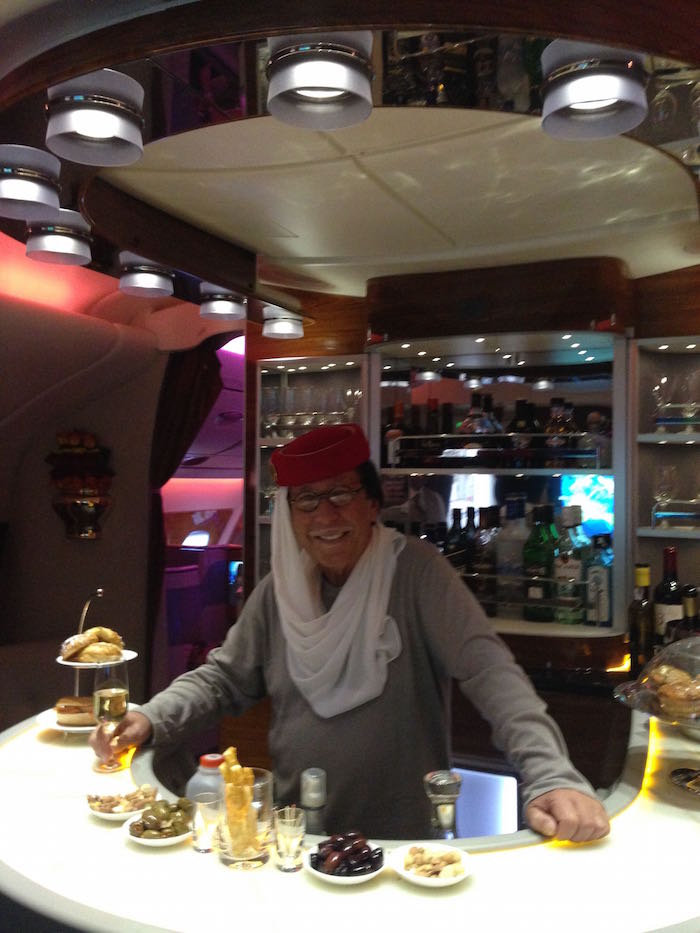 My dad at the Emirates A380 bar
That trip will likely be the highlight of my life, and it's something my dad and I talk about all the time. It wouldn't have been possible without miles & points either.
If I'm being honest, when I originally planned the trip I figured it would be more fun for my dad than it would be for me. But from the second we started the trip I literally couldn't have possibly enjoyed it more. Not only because it was my dad's first time visiting so many places and trying so many airline products, but perhaps even more so because he had no clue where we were going next.
Another thing I'm happy about is that we recorded some videos capturing his surprise every step of the way. He was an amazing sport about it, though selfishly I was most excited about it because it allows me to go back and watch his genuine reaction whenever I want.
Bottom line
One of the things I'm thankful for this Thanksgiving is what an amazing gift travel can be. There's nothing better than sharing travel with family/loved ones, and that trip with my dad will probably be my most memorable trip ever. It's something I'll never forget.
I can't recommend taking a family member on a trip enough, in particular if they're up for a surprise. That added so much fun to the experience.
Thanks for indulging me with this post, but it really does make me grin ear-to-ear every time I even think about it.
I'd love to do a similar trip again, but the challenge is that I know I'll never be able to top the last trip and create such a genuine surprise again. But I guess I'll start planning for the next "round" birthday?
Do you have one trip which stands out to you as most memorable ever?
Happy Thanksgiving to those who are celebrating (and even if you're not, there's never a bad time to be thankful!), and thanks for all the support over the years!