Hello from Abu Dhabi! Yesterday I flew from London to Abu Dhabi in Etihad's A380 First Class Apartment. I've reviewed Etihad's A380 first class many times before, so won't be writing a full review. If you want a super thorough review, check out my posts about my past flights from Abu Dhabi to London, Abu Dhabi to New York, New York to Abu Dhabi, and Abu Dhabi to Sydney.
In this case I took the 2PM flight from London to Abu Dhabi, which is perfect in terms of enjoying the short flight, since you can have a nice lunch or dinner service, and then get some rest.
Etihad's A380 first class cabin is stunning — it's hands down the most visually stunning cabin on a commercial plane, in my opinion. It's also the only single-aisle cabin on a widebody commercial aircraft.
I was in Apartment 1H, which is the rear facing seat in the first row, across from the Residence. Generally I prefer being in one of the "true" window seats, where you're closer to the window than the aisle, but that wasn't available.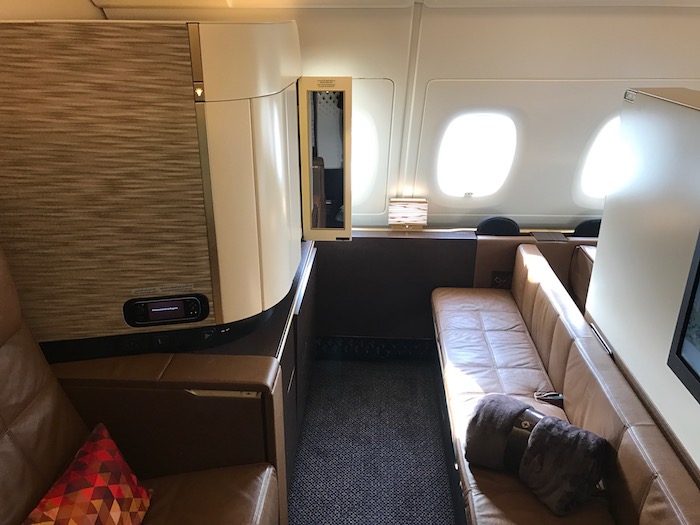 In addition to a comfortable lounging chair, there's a separate bed.
It's really a bench that can be used as a buddy seat for dining, but can then be converted into a bed.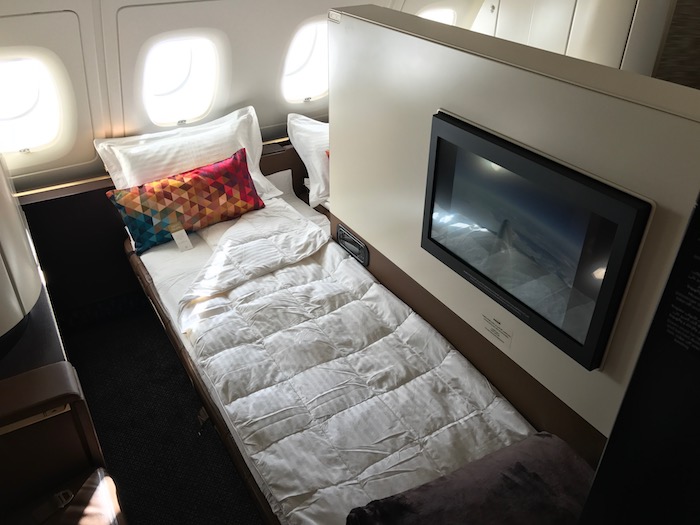 If you select one of the sets of two seats behind one another (rows one and two, or rows three and four), you can actually convert the seats into quasi-double beds. It's not really a double bed since there's still a partition, but at least you can sleep face to face, which is pretty cool.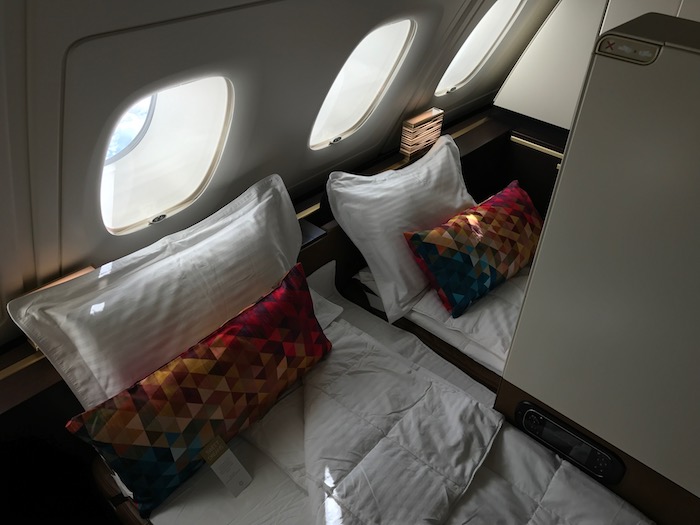 I've heard rumors of Etihad cutting their soft product a bit, and I'd say that's somewhat true. I love the fact that they have a highly customizable menu, in the sense that you can choose your protein, sauce, and sides. But I feel like the quality has suffered a bit. Or perhaps I just had a bad flight.
I "just" had a three course meal, which started with an amuse bouche.
Then for the starter I had the mezze, which was even worse than in the past. Perhaps the worst part is that they ran out — they only cater three for the entire first class cabin, so two of my travel companions weren't able to order it. Meanwhile Ford had the chickpea soup, which he enjoyed.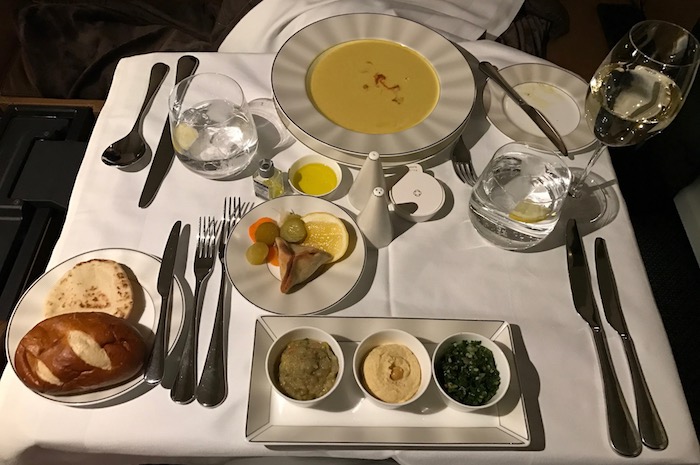 For my main course I had seabass with risotto. The risotto and veggies were good, though the seabass was chewy.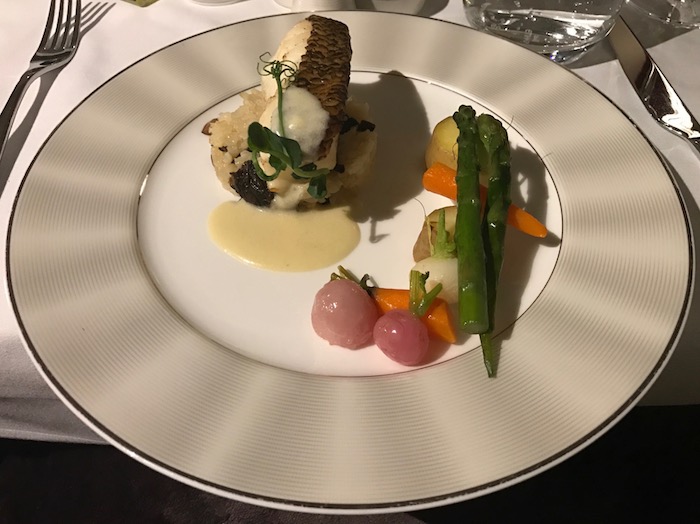 For dessert I had the chocolate and pistachio sphere with mascarpone and orange. It was alright. It wasn't as flavorful as I would have expected based on the dish's description and appearance.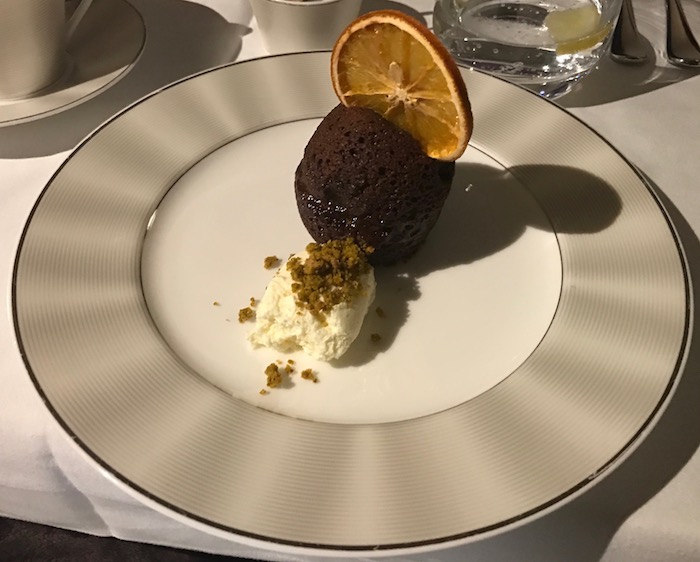 So overall it was a perfectly fine meal, though I wasn't impressed by the quality. It's also disappointing that they ran out of mezze even before takeoff. How expensive can one portion of mezze really be?
As far as drinks go, Etihad serves Billecart-Salmon champagne in first class. That's the same champagne many other airlines serve in business class.
The service on this flight was also just okay. The crew was friendly enough, but not especially refined or attentive. I've found Etihad crews to be hit or miss, with some being excellent, and others being not-so-great. This crew fell in the latter category. Often it was 20 minutes after I finished a course before my plate was cleared.
In terms of amenities, I was offered pajamas, slippers, and an amenity kit. I quite like Etihad's pajamas, as well as their amenity kit.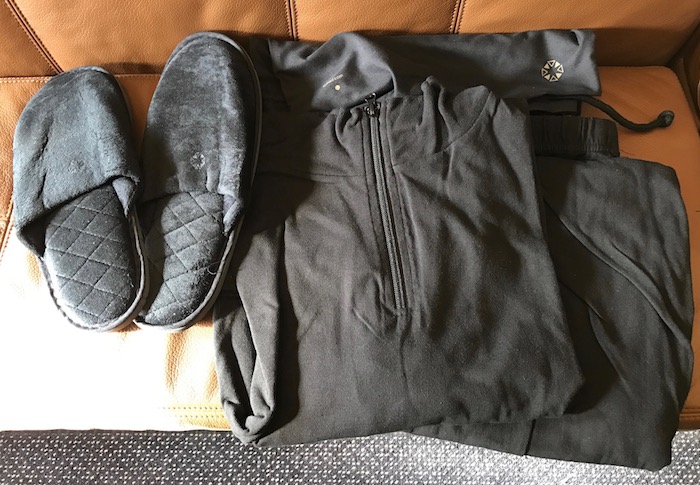 Etihad's entertainment selection is excellent, as is their wifi. For ~$21 you can get a wifi pass that lasts the entire length of the flight without data caps, and the speeds are generally quite good.
So overall Etihad's A380 first class continues to be one of the best in the world. The hard product is simply unrivaled in terms of the amount of personal space. There's also an onboard shower and lounge, etc.
However, service and food on Etihad is hit or miss. Sometimes you get a great crew, and sometimes they're just okay. This crew was just okay. While Etihad's dining concept is great, they need to get better about not running out of food. It's also clear they're doing some general cost cutting. I know it sounds minor, but for example, they don't have well known water brands (ie, Evian or Fiji), but instead use Al Ain water. That's not a huge deal, but there are plenty of airlines that have a better water selection in business class, let alone first class.
So the negatives listed are ultimately very minor, but when we're talking about international first class, it's the little details that count.
If you've flown Etihad's A380 first class lately, what was your experience like?