Later this week Etihad Airways will have their inaugural commercial A380 flight from Abu Dhabi to London. This will be one of the most anticipated airline events of the year, as Etihad's A380s look to be truly revolutionary. The most unique product is The Residence, which is a three room suite with private butler.
Fortunately I managed to snag a seat on the inaugural in a First Apartment.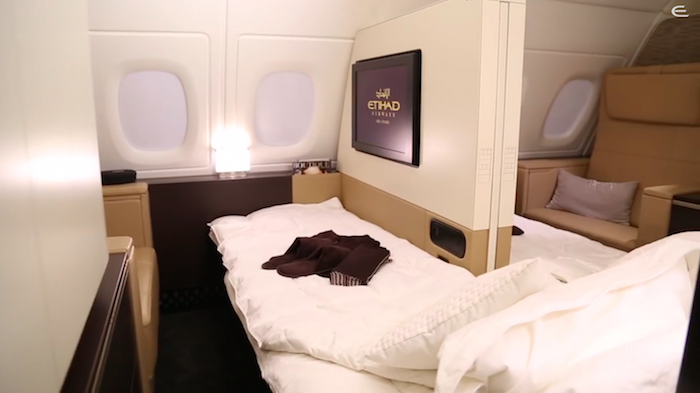 Etihad's A380 First Apartment
I was unsuccessful in my attempt to get a seat in The Residence, though I'm happy that the guy who booked it on the inaugural happens to be awesome. 😉
Skift has an article about Gino Bertuccio, who booked The Residence on the inaugural flight later this week.
Gino was also on the inaugural Qatar Airways A380 flight from Doha to London, and was a fun guy to talk to.
Skift highlights just how much of an airplane nerd Gino is:
Bertuccio makes a habit of firsts and lasts in aviation. He won the competition to be onboard the first commercial flight of the ANA Boeing Dreamliner in 2011 because he inadvertently "added an extra digit onto his bid," but was reportedly happy with the error. He also enjoyed Suite 1F on the first flight of the Singapore Airlines A380, though Julian Hayward from Sydney Australia beat Bertuccio to first place by flying suite 1A, and Julian's mate, Adam McLeod, took suite 2A. Bertuccio was also onboard when Singapore Airlines' last flew the world's longest flight from Newark to Singapore in 2013.

In all, Bertuccio has flown 22 inaugural and final flights in premium class cabins since he began this expensive hobby 25 years ago. He also collects airline memorabilia, with nearly 2,000 model airplanes, and has collected albums-full of boarding passes, certificates and photos from his luxury adventures in the skies.
Gino has high expectations, though much like everyone else, wishes the flight were longer (and personally I wish it weren't a redeye):
"There are going to be many firsts on this inaugural flight—new amenities, services and other innovations to try," he said. "For the first time in my flying experience, I really don't know what to expect but I do know that flying in the Residence by Etihad will be a truly unique adventure, the top of luxury. I have huge expectations. My only wish is that the flight was longer."
As a measly first class passenger, I'm just hoping they don't run out of food. 😉
I can't wait for the inaugural! I know at least a handful of people booked in first class on this flight, and they're all airline nerds. Can't wait to see what festivities they have planned — hopefully more than for the inaugural Abu Dhabi to Los Angeles flight.
Anyone reading this planning on being on the inaugural Etihad A380 flight later this week?
Update: Here's a cool video that Etihad published with Gino in it: