---
I don't think I've ever boarded a plane as "blind" as when I got on this Gulf Air flight. SeatGuru shows three configurations for Gulf Air's A330s, none of which matched the seatmap for my flight. Gulf Air's website barely even makes reference to their new business class product, which I assumed my flight would have.
Gulf Air 2
London (LHR) – Bahrain (BAH)
Monday, December 22
Depart: 9:30AM
Arrive: 7:00PM
Duration: 6hr30min
Aircraft: Airbus A330
Seat: 3H (Business Class)
I boarded through door 2L, where I was welcomed by one of the crew, who pointed me towards my seat.
Gulf Air's business class cabin consists of a total of 36 seats, spread across two identical cabins. Each cabin features a total of three rows in a 2-2-2 configuration — one is before the main entry door, and one is behind the main entry door, and they're separated by the galley and lavatories.
I was the first passenger in the forward business class cabin, so took the opportunity to snap some pictures.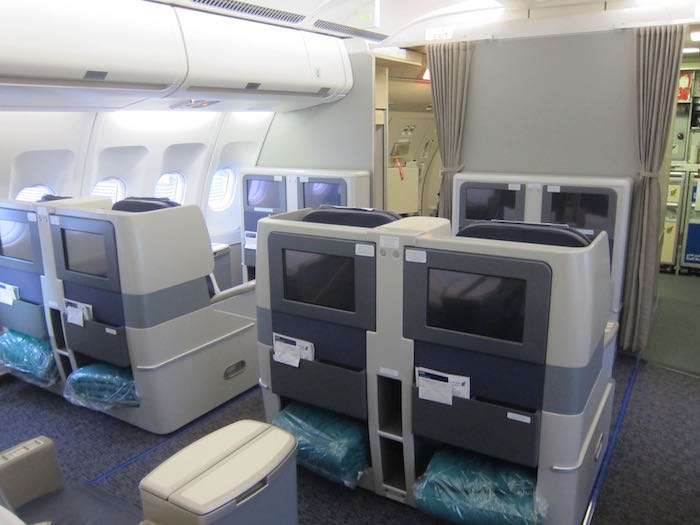 Gulf Air business class cabin A330
The new business class product was nice — this wasn't a state of the art business class product or anything, but instead they were standard forward facing fully flat seats. They're quite nice, especially if you're traveling with someone. Between the seats themselves and the "shells" of the seats, the whole cabin felt kind of "boxy."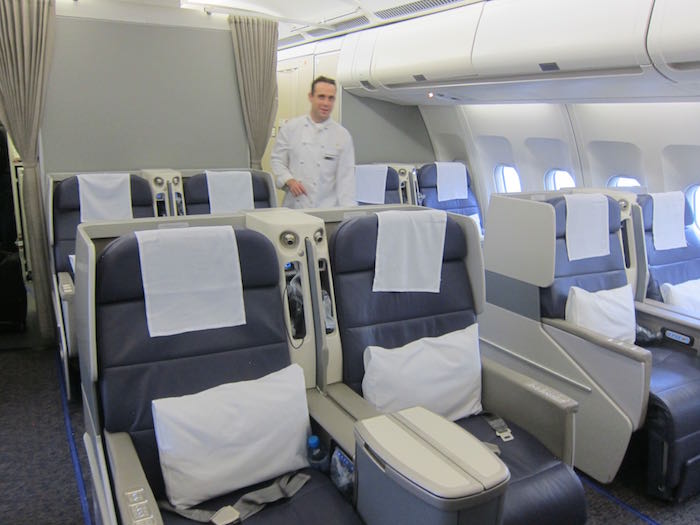 Gulf Air business class cabin A330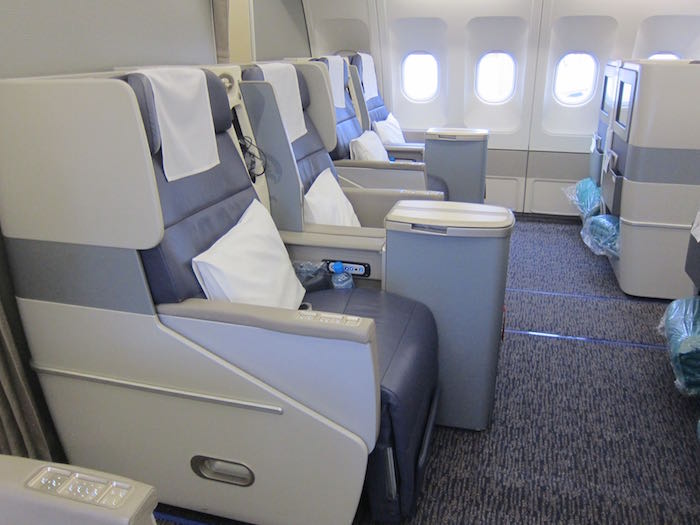 Gulf Air business class seats A330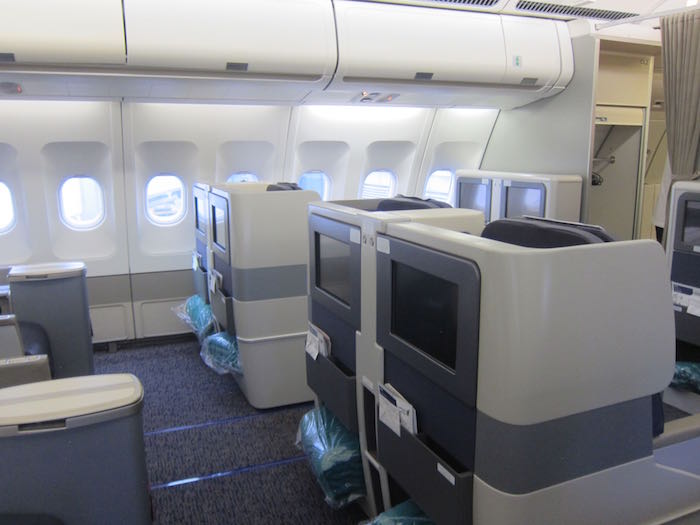 Gulf Air business class cabin A330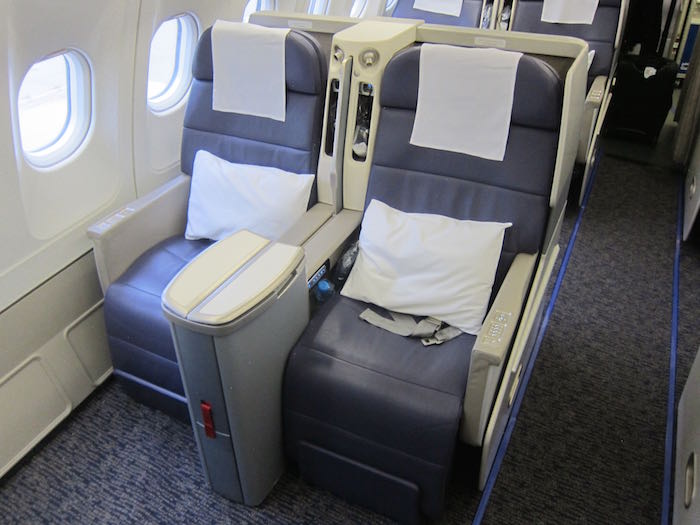 Gulf Air business class cabin A330
I quickly settled into seat 3H, which was the aisle seat in the last row of the forward cabin.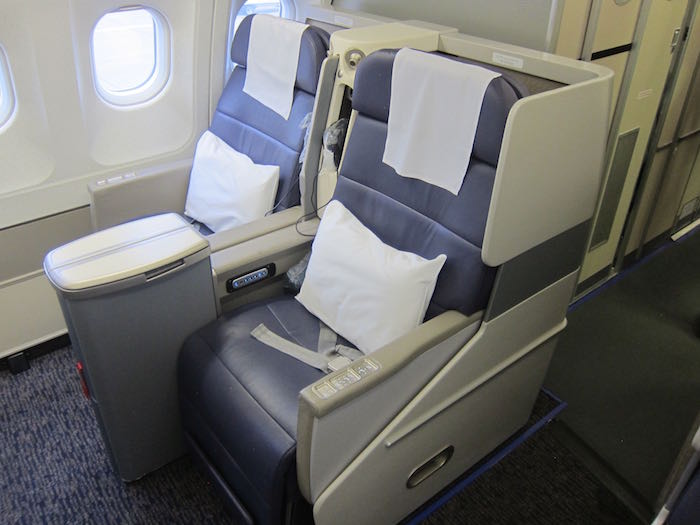 Gulf Air business class, seats 3H & 3K

In front of the seat was a large television, as well as a small "cubby" by the floor, which housed the blanket available to me for the flight. In the center section were two small shoe compartments.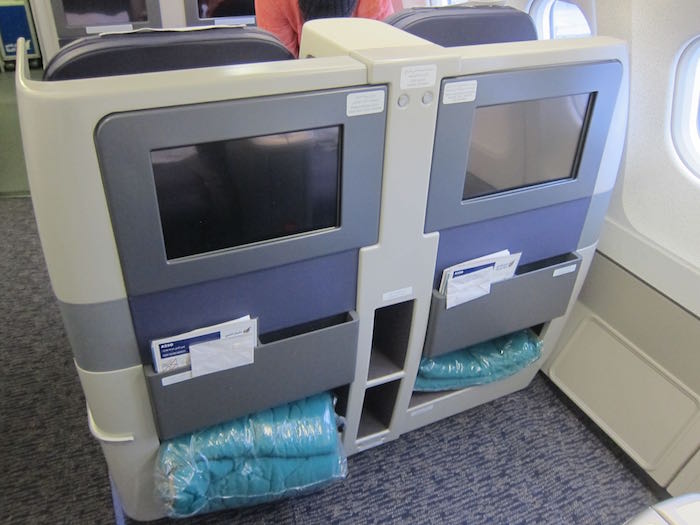 Gulf Air business class, seats 3H & 3K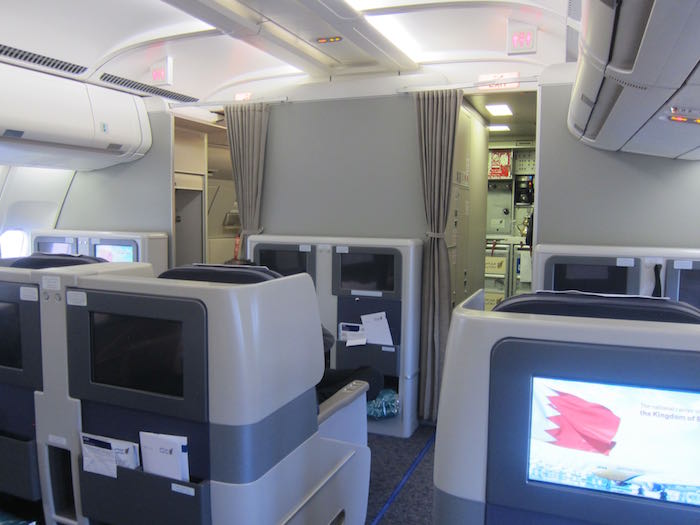 Gulf Air business class cabin view from seat 3H

Between the two seats were lights, USB plugs, and storage for headphones.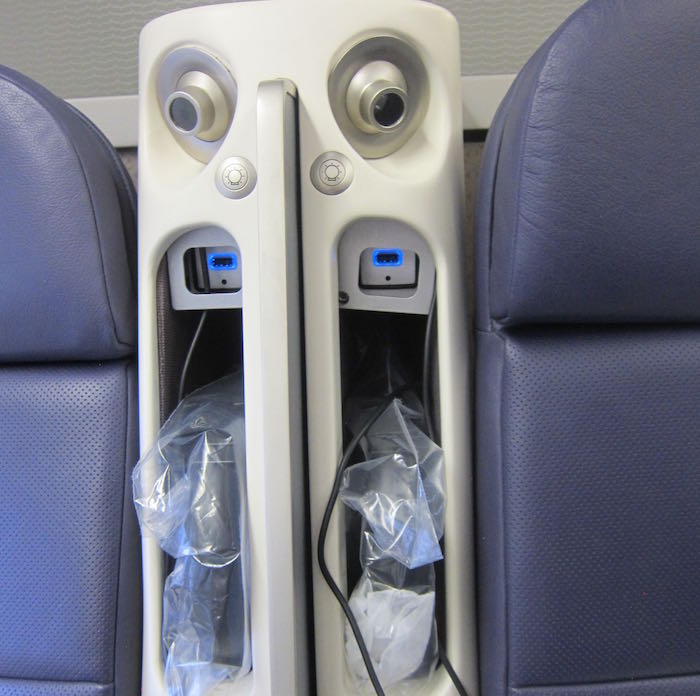 Gulf Air business class seats A330

On the left side of my seat were the seat controls, which were oddly extensive for what seemed like a pretty simple seat. It took me a bit to figure them out, though eventually I decided just to stick to the pre-sets.


Gulf Air business class seat controls A330
The tray table popped out of the center armrest.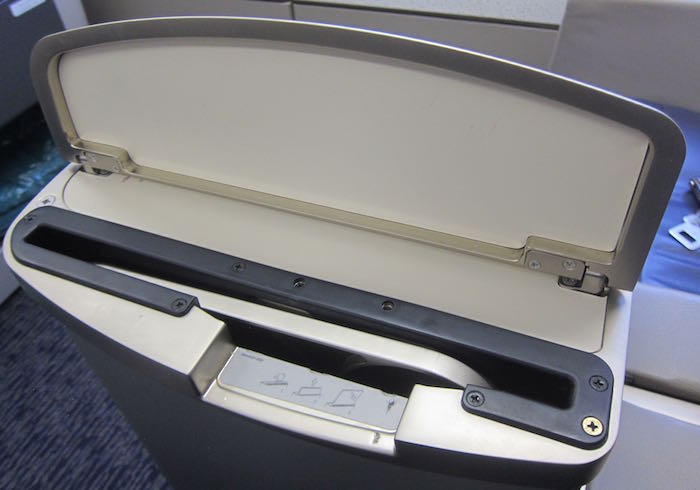 Gulf Air business class tray table A330
Behind that were the entertainment controls, as well as a storage compartment, where I found a bottle of water and the amenity kit for the flight.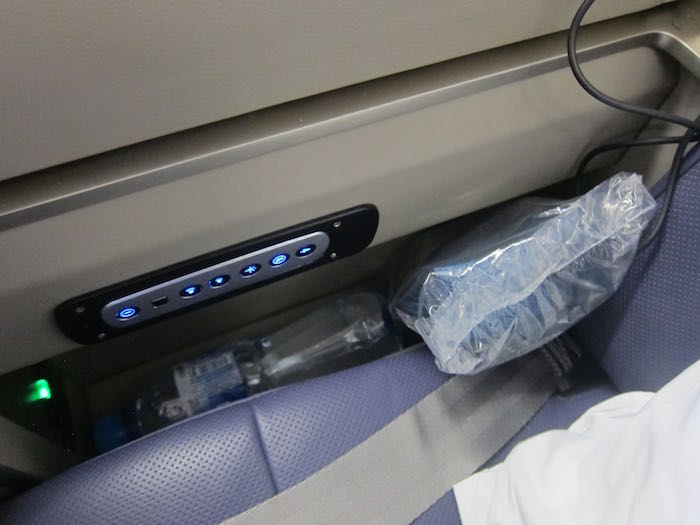 Gulf Air business class entertainment controls A330
Usually I love forward facing business class seats when traveling with someone, but hate them when traveling alone, since you have to look at your seatmate for the whole flight. One thing Gulf Air does really well is their privacy shields between seats. I couldn't see my seatmate the whole flight (though I could smell him — goodness gracious).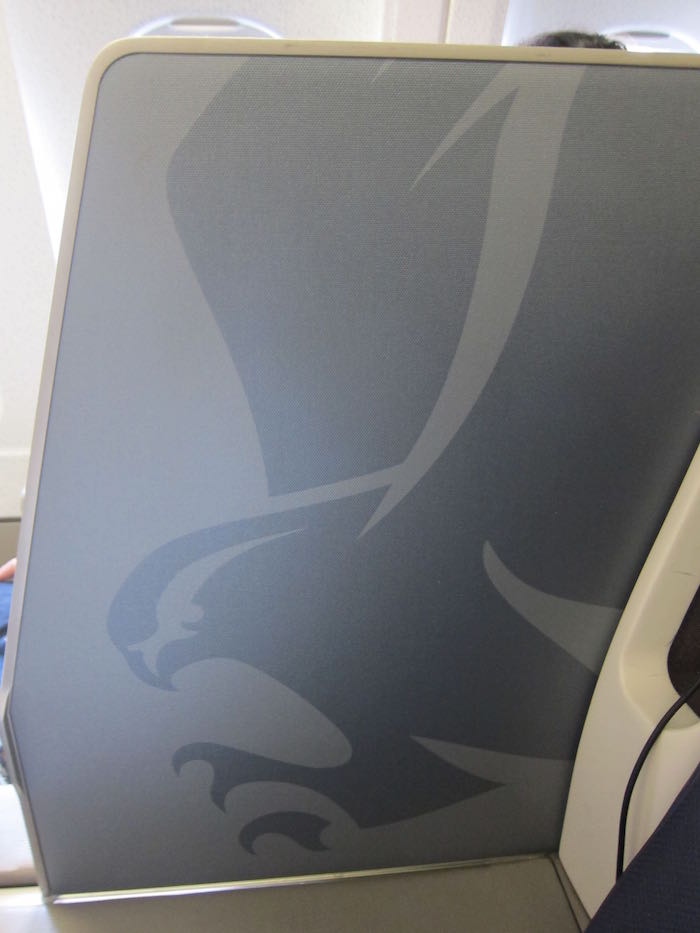 Gulf Air business class privacy partition A330
I was quickly offered a pre-departure beverage, with the choice between lemon juice, orange juice, and water. I selected the former.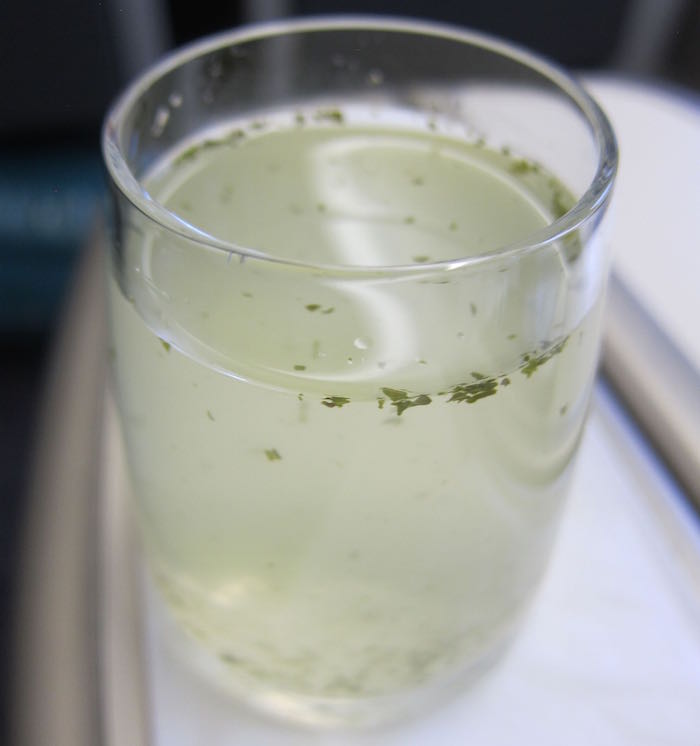 Gulf Air pre-departure beverage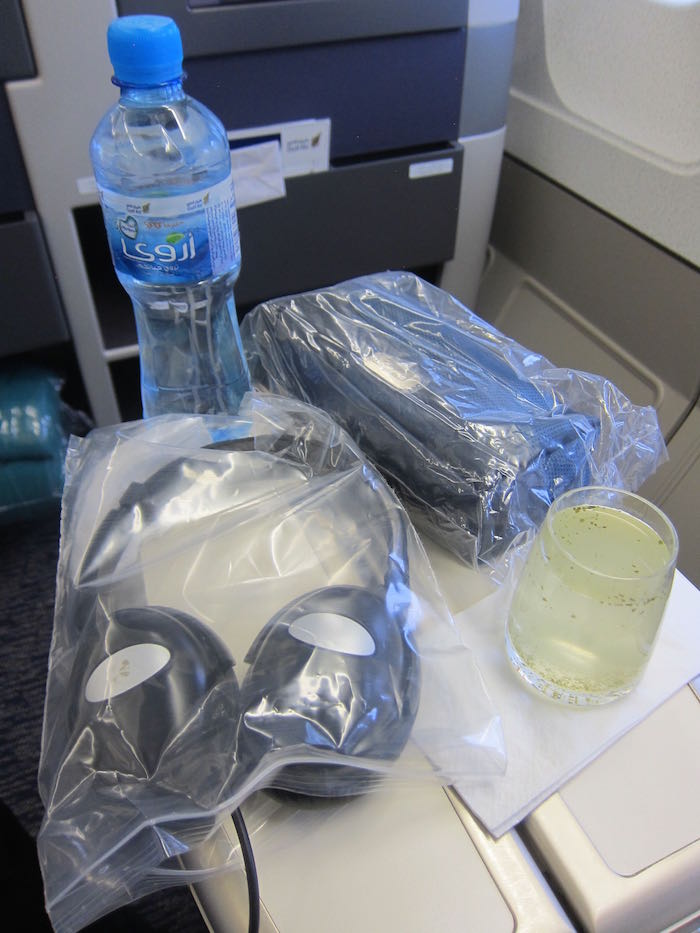 Gulf Air headphones, amenity kit, bottled water, and pre-departure beverage

I took the opportunity to look at the amenity kit, which was quite nice for a short daytime flight, and contained Chopard branded toiletries.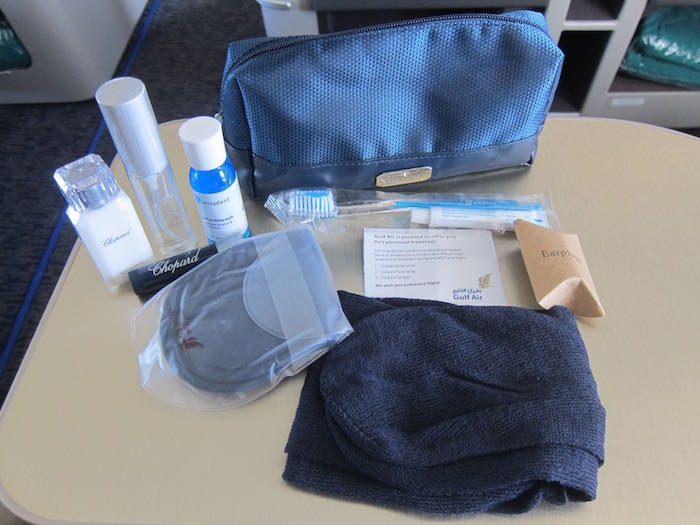 Gulf Air amenity kit contents

After I had a few minutes to settle in, the French onboard chef, Cedric, came by to introduce himself. He was charming and very friendly — perhaps even a bit too enthusiastic, if there is such a thing — and clearly loved his job. He handed me the menu and went over the dining "concept" for the flight. He explained there would be lunch after takeoff, then afternoon tea before landing, and that I should let him know if I needed anything.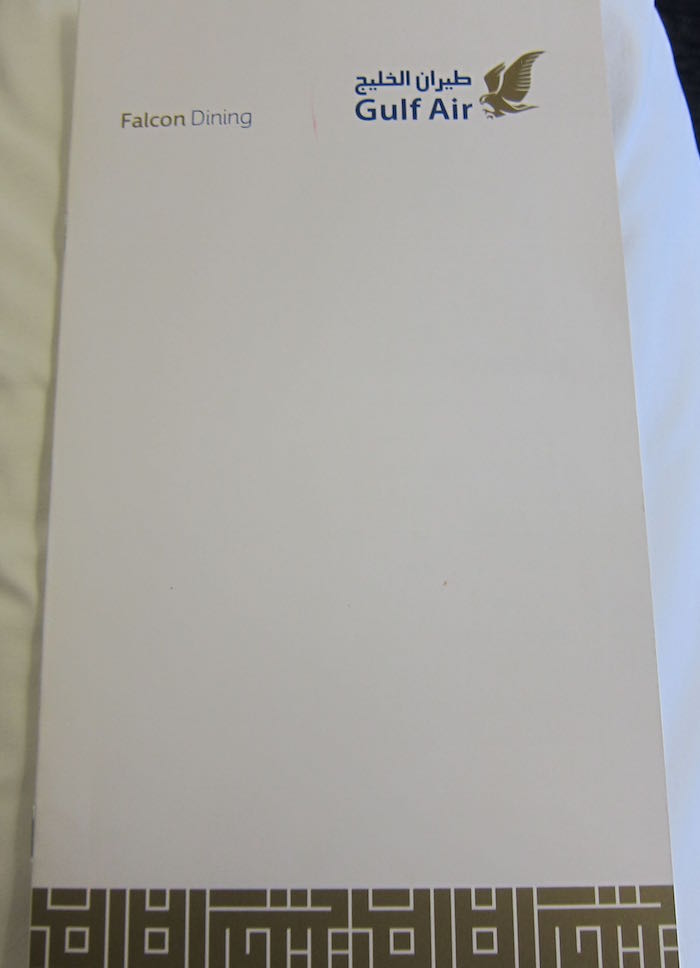 Gulf Air Falcon Dining menu
Shortly thereafter one of his colleagues offered me magazines, newspapers, and towels. For the towels I had the choice between hot or cold (I do always love having the option).
Then shortly thereafter I was offered Arabic coffee and a date.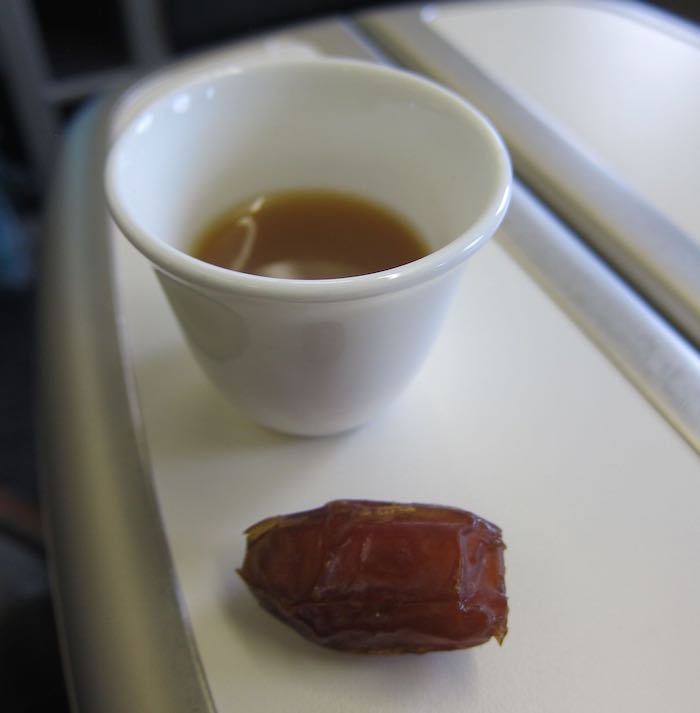 Gulf Air Arabic coffee & date

The cabin service manager was Baha, an older guy from Bahrain, while the rest of the crew was very international — the crew working business class were Russian, Thai, Kenyan, French, and Filipino. Funny enough whenever an announcement was made the IFE screen would make it look like the pilot was making an announcement.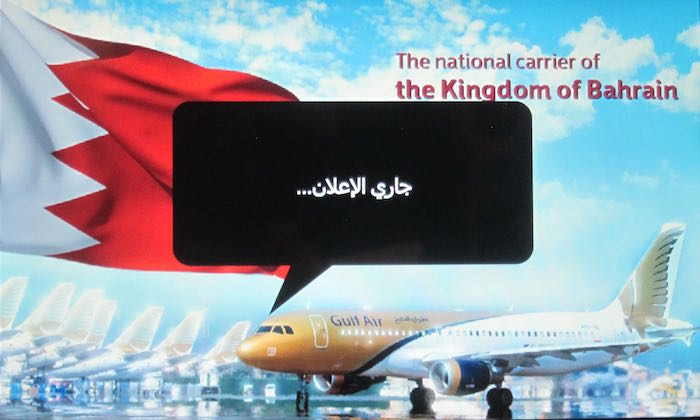 Gulf Air IFE announcement screen

The cabin door closed at 9:20AM. At that point the travel prayer was played over the PA, which was much longer than the version Etihad plays.
Then the cute animated safety video played (I couldn't find the A330 version, but it was the same type of video shown here):
For what it's worth, the cabin was about half full. The guy seated next to me was from Bahrain, while the guy seated across from me was a young American guy. He seemed very nervous, and the fact that he brought four of those huge Monster energy drinks didn't help his situation. He opened one before takeoff, which puzzled me a bit. Like, you realize you're going to be sitting still for the next seven hours, and more energy is probably the opposite of what you need? Anyway…
While still at the gate with the door closed, Cedric came around the cabin to take meal orders.
There were printed menus, but despite that you couldn't get a word in without Cedric basically listing everything on the menu. Which I sort of found cute, because he clearly loved his job.
"Have you decided what you would like as your starter? Maybe an Arabic mezze? Or maybe I can tempt you with a fresh garden salad? Or perhaps a potato and leek soup?"
"And for your main course, have you decided? I have a lovely lamb shank. Or perhaps some butter chicken? Or would you prefer a sea bass fillet? Or how about some linguini pasta?"
We only pushed back at around 9:35AM, at which point the cabin service manager immediately announced "cabin crew seats for takeoff."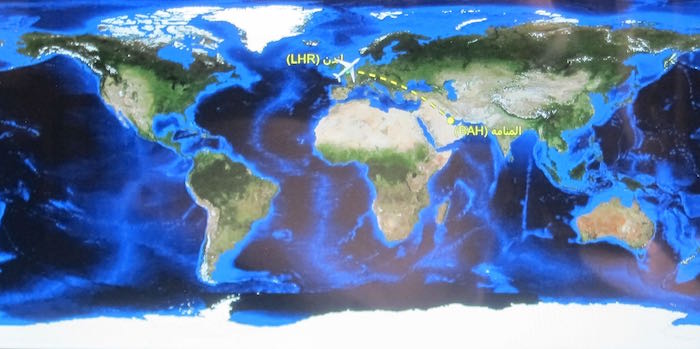 Gulf Air airshow from London to Bahrain

We taxied out to runway 27R, which took nearly 25 minutes. On the taxi out the captain made a quick welcome aboard announcement, informing us of our flight time of six hours.
At 10AM sharp we were cleared for takeoff, and began our fairly quick takeoff roll. These seemed to be military pilots, because their flying was really abrupt. For example, when the plane rotated there was nothing gradual about the climb, but it was almost like he flicked his wrist once he reached the "rotate" speed. Not that there's anything right or wrong with that, but I just couldn't help but get the military pilot "feeling" from these guys, more so than any other A330 I've flown on in recent memory.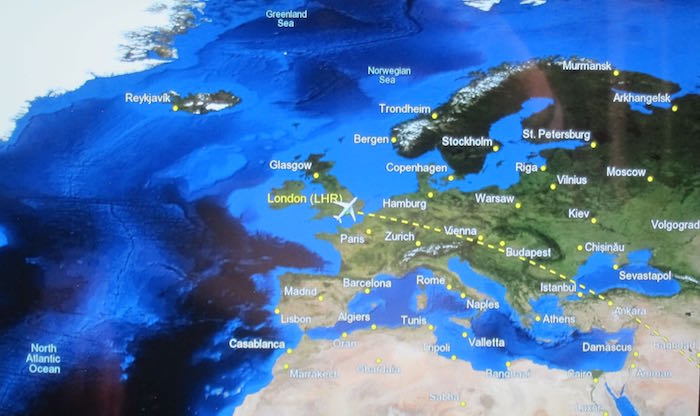 Gulf Air airshow from London to Bahrain
On the climb out I decided to browse the entertainment selection. The selection was pretty crappy, in that there wasn't much variety, and even among the few shows they did have, they seemed to have only one episode per show.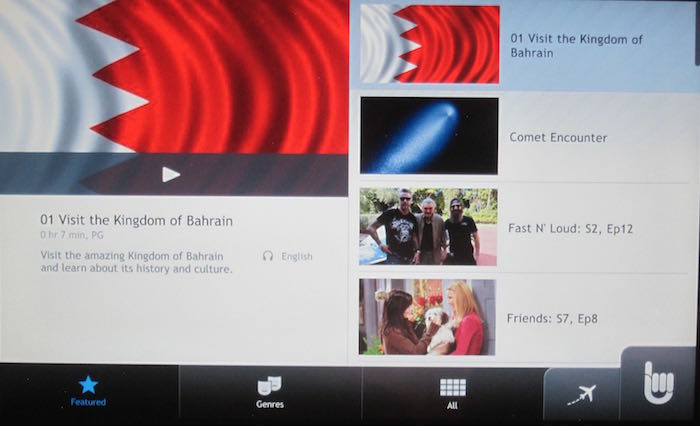 Gulf Air entertainment selection

Usually I couldn't care less about entertainment, since I'm always either on my laptop or iPad. But go figure I forgot to download shows onto my iPad since I overslept that morning.
Fortunately there was an episode of Hawaii Five-0 to watch.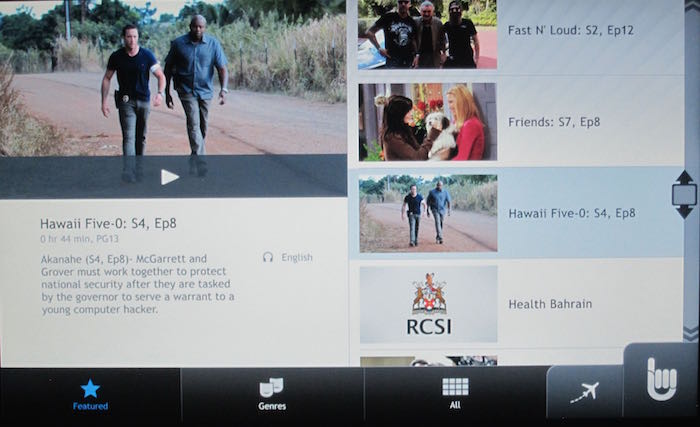 Gulf Air entertainment selection
Possibly the best episode ever, no less!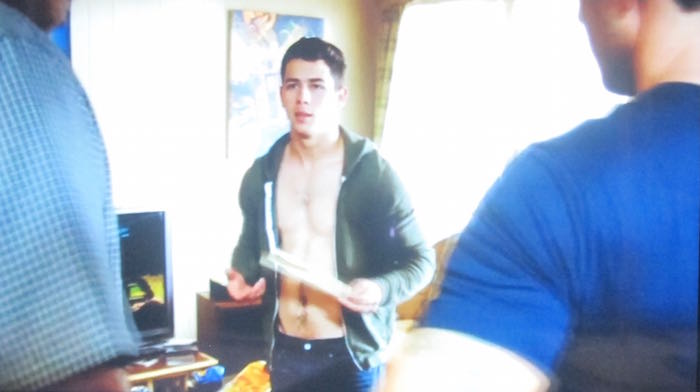 Gulf Air entertainment selection
It was about 30 minutes after takeoff before drinks were served. Gulf Air isn't a dry airline on longhaul flights — they do have alcohol, though they don't have a wine list.
I ordered a glass of champagne to start, which was Jacquart Brut Mosaique — perfectly drinkable, though nothing special. It was served with some mixed nuts.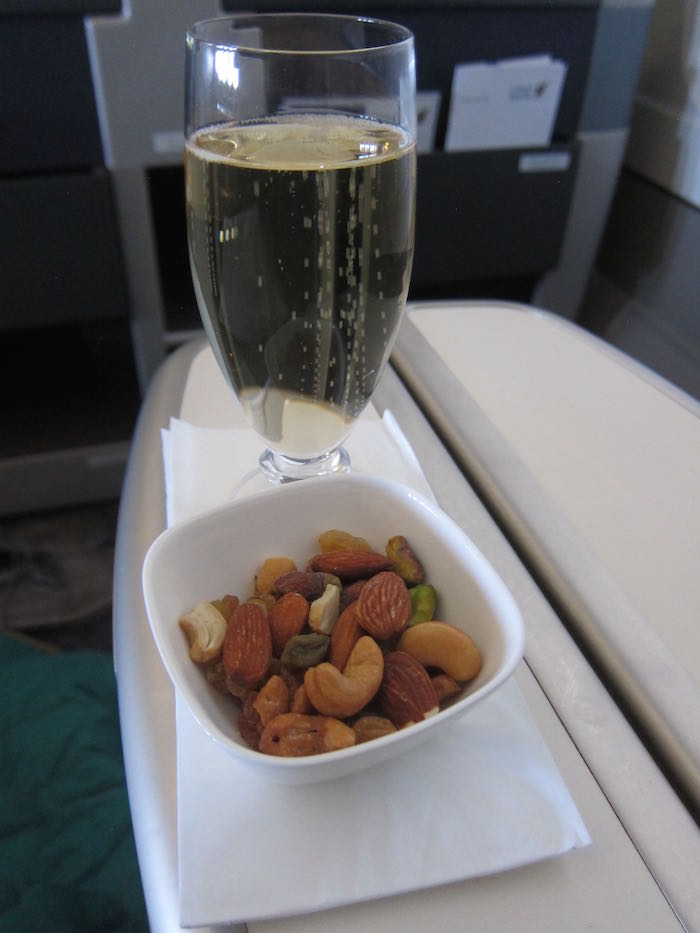 Gulf Air business class hot nuts & champagne

While drinking champagne and eating nuts I browsed the duty free magazine. While it's perhaps embarrassing for a grown ass man, I do have a tendency to collect airline teddy bears. I don't know why. So I always check out the duty free magazine to see if the airline sells teddy bears.
Not only does Gulf Air sell teddy bears duty free, but they literally sell the cutest teddy bears I've ever seen. They give Olaf from "Frozen" competition on the cuteness front:
The only downside is that they only had one for sale. Which I took immediately.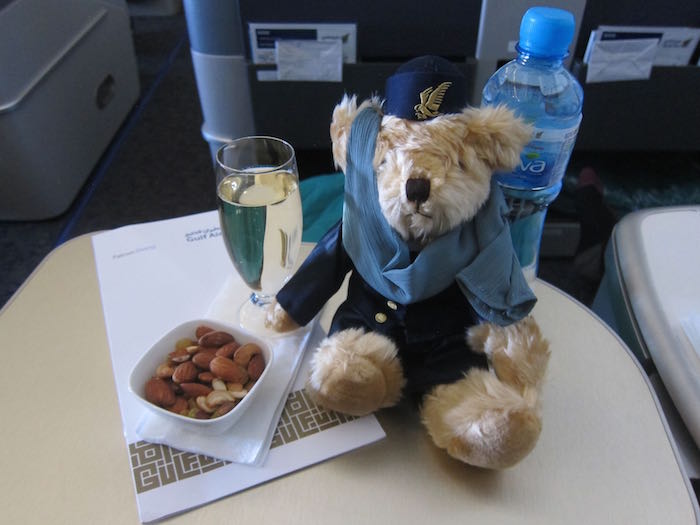 Gulf Air business class hot nuts & champagne & cute teddy bear
After the episode of OMG Nick Jonas Hawaii Five-O, I decided to watch "And So It Goes," which was an airplane movie if I've ever seen one.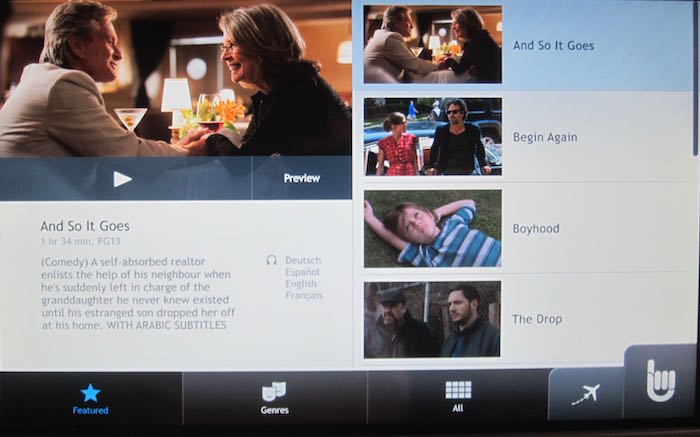 Gulf Air entertainment selection
The lunch service was slow to start. I guess they wanted to serve the meal over lunchtime in the UK, so it was about 90 minutes into the flight before lunch was served.
The lunch menu read as follows: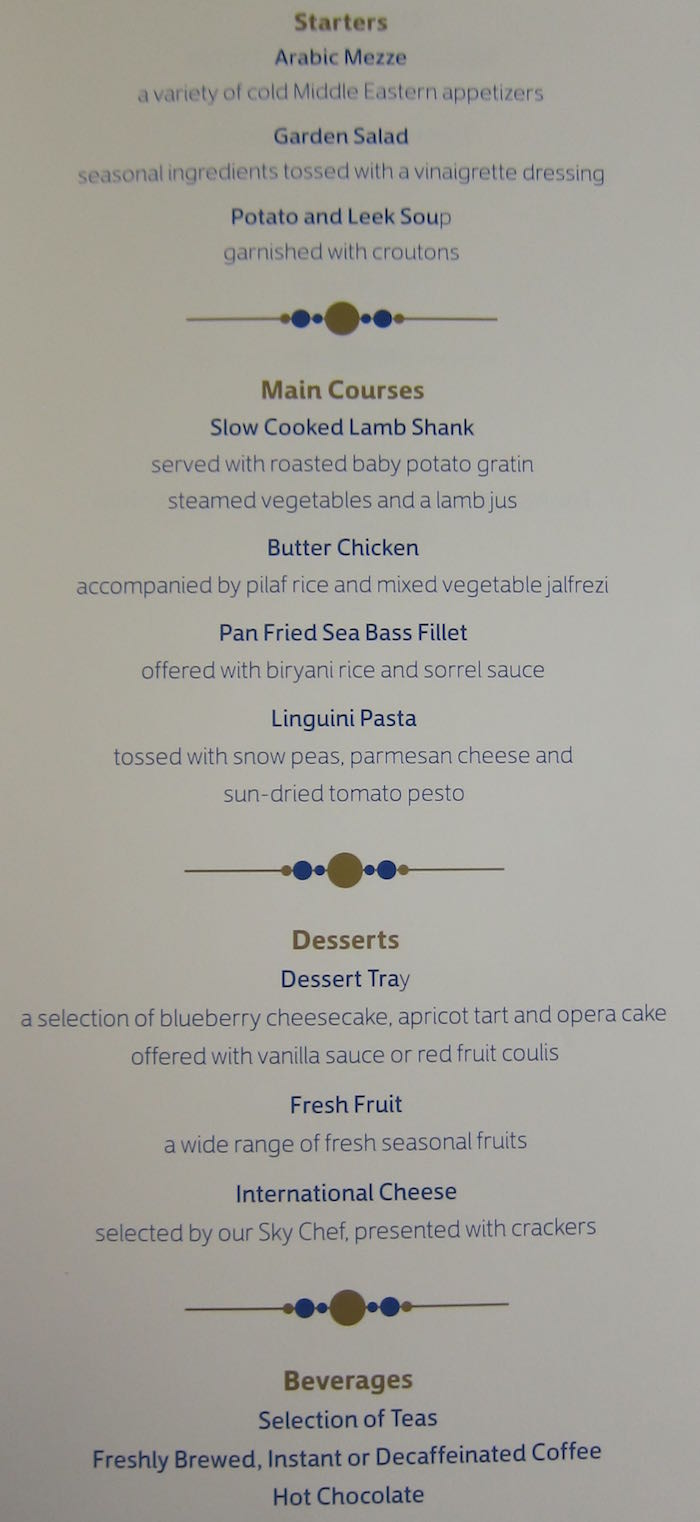 For the starter I had the Arabic mezze. It was nice enough, though the presentation, quality, and quantity wasn't what you get on some other airlines.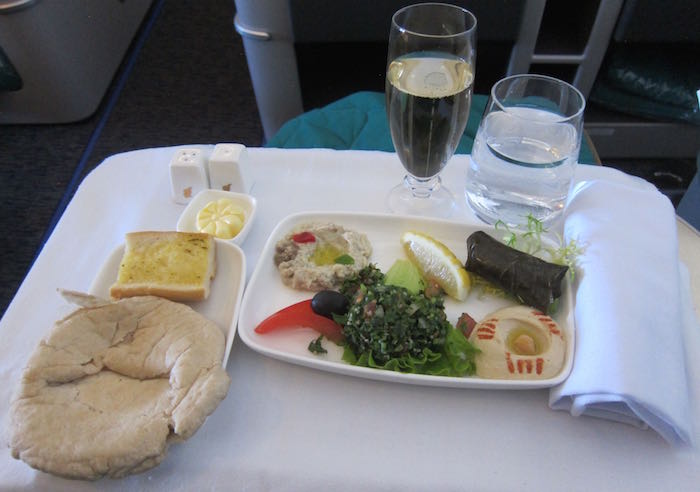 Gulf Air business class lunch: Arabic mezze starter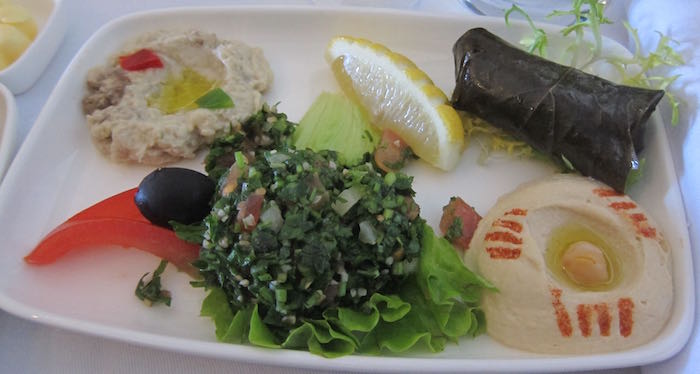 Gulf Air business class lunch: Arabic mezze starter
I had some Arabic bread and garlic bread to accompany it.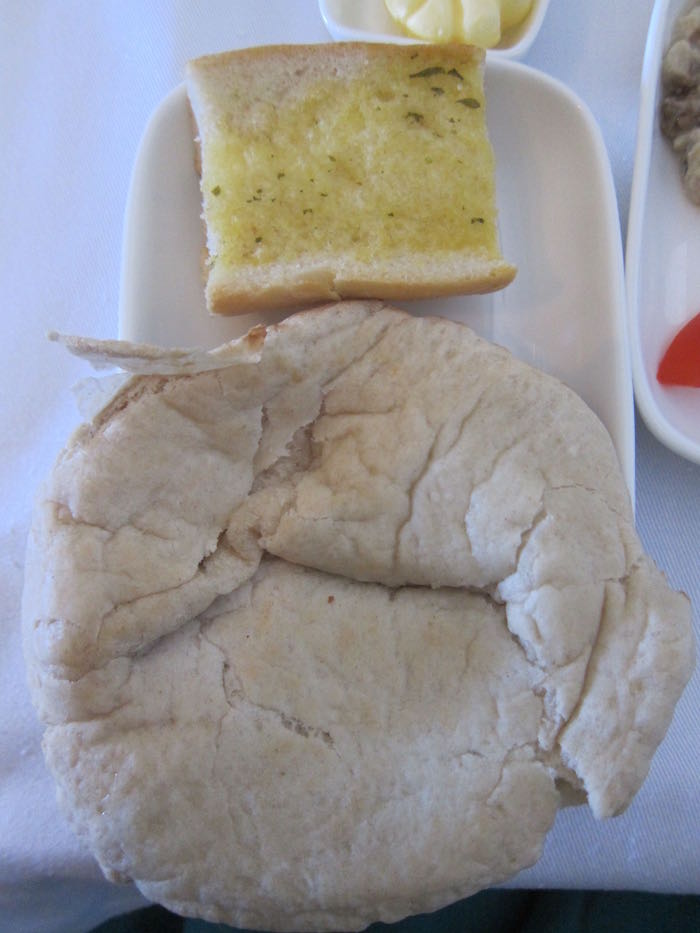 Gulf Air business class lunch: Arabic bread and garlic bread

For the main course I had the sea bass, which was reasonably good, especially factoring in this was catered in the UK.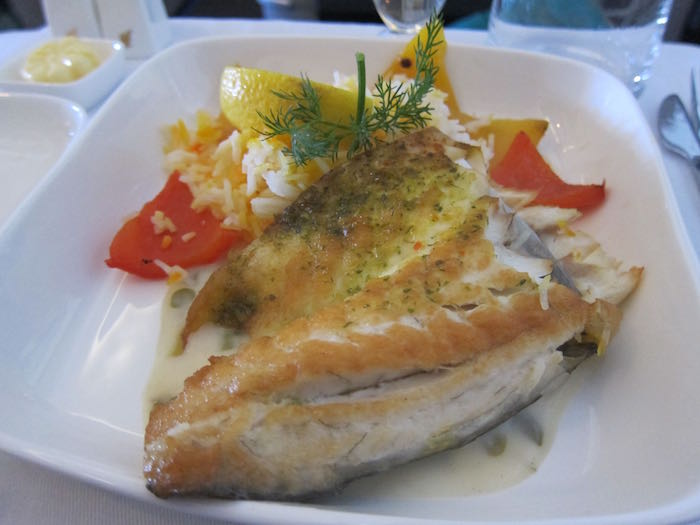 Gulf Air business class lunch: pan fried sea bass fillet

Dessert was served off a trolley, and looked divine.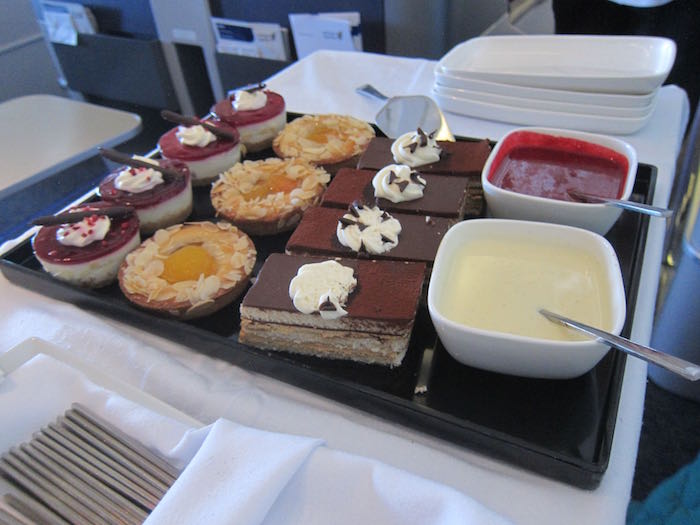 Gulf Air business class dessert cart

I managed to restrain myself and only have an opera cake, which was really good.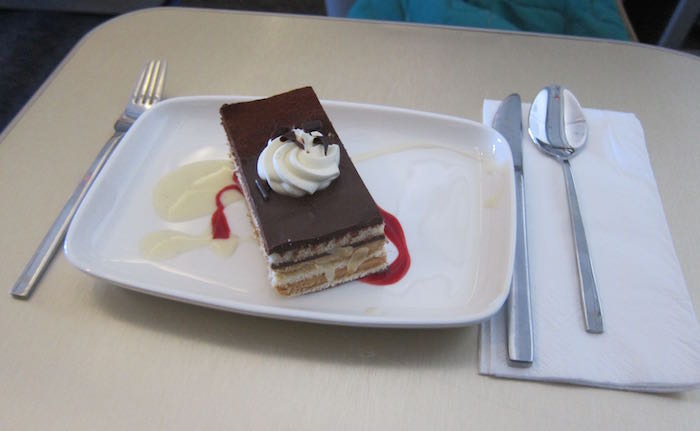 Gulf Air business class dessert: opera cake

Next a fruit and cheese cart was rolled around, which I passed on.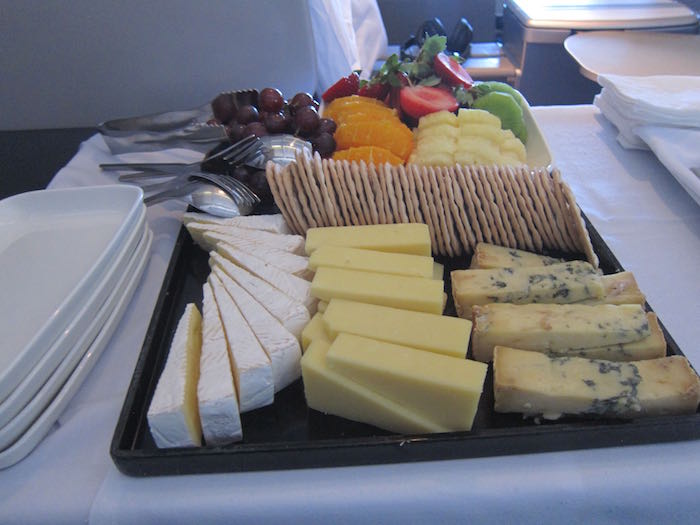 Gulf Air business class fruit & cheese cart
After lunch I tried to order a cappuccino — they're supposed to have them, though apparently the machine was broken. Instead I was offered a coffee.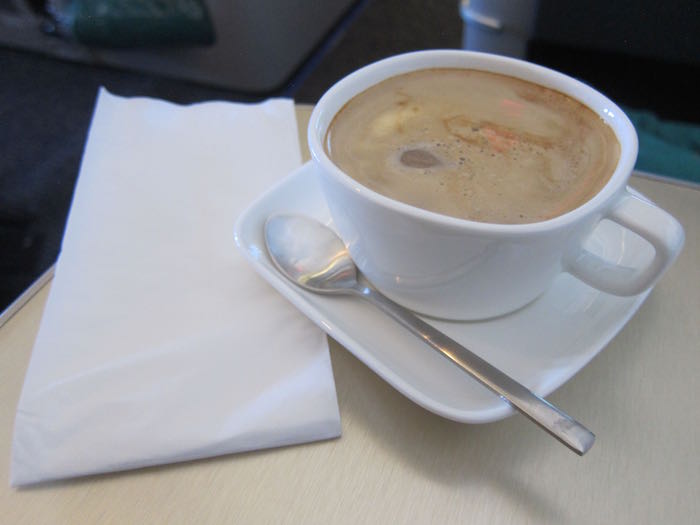 Gulf Air business class coffee
The service throughout the meal was attentive enough. Cedric clearly loved his job, though the rest of the crew was a little bit less enthusiastic.
I guess I kind of perceived the crew's mentality as being "well, we wanted to work at Emirates or Etihad and didn't get the job, so I guess this is better than nothing." At least that's how it felt.
By the time the meal service was done we were only about three hours outside of Bahrain. I decided to nap for a bit, and woke up about 80 minutes before arrival, as we were passing between Baghdad and Tehran.
Shortly thereafter the crew came around with a tray of juice.

Gulf Air business class orange juice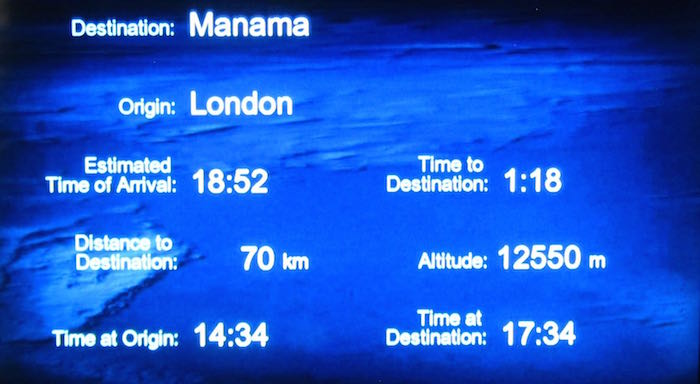 Gulf Air airshow London to Bahrain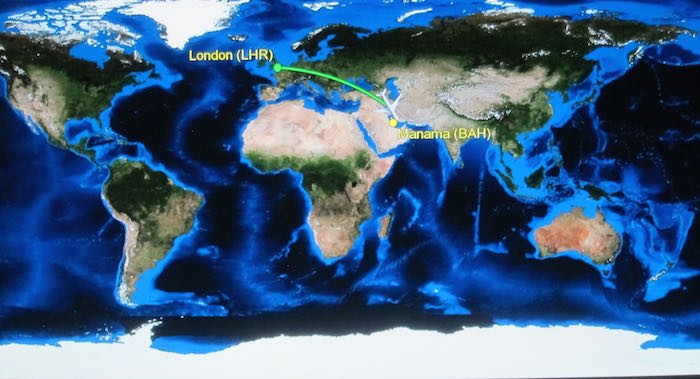 Gulf Air airshow London to Bahrain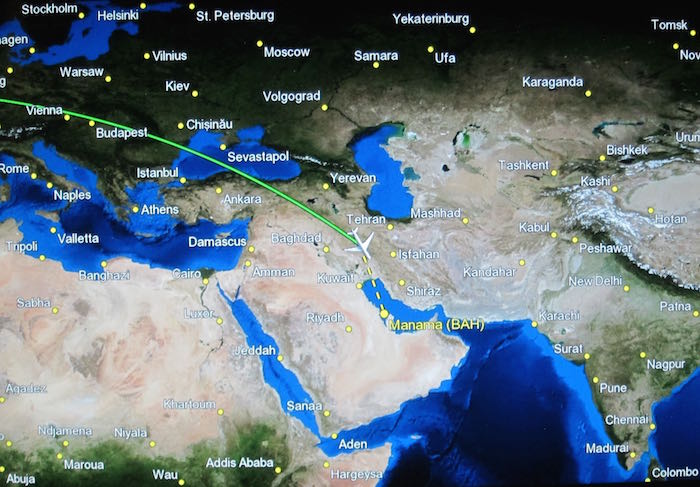 Gulf Air airshow London to Bahrain
At that point the afternoon tea service began. The menu read as follows: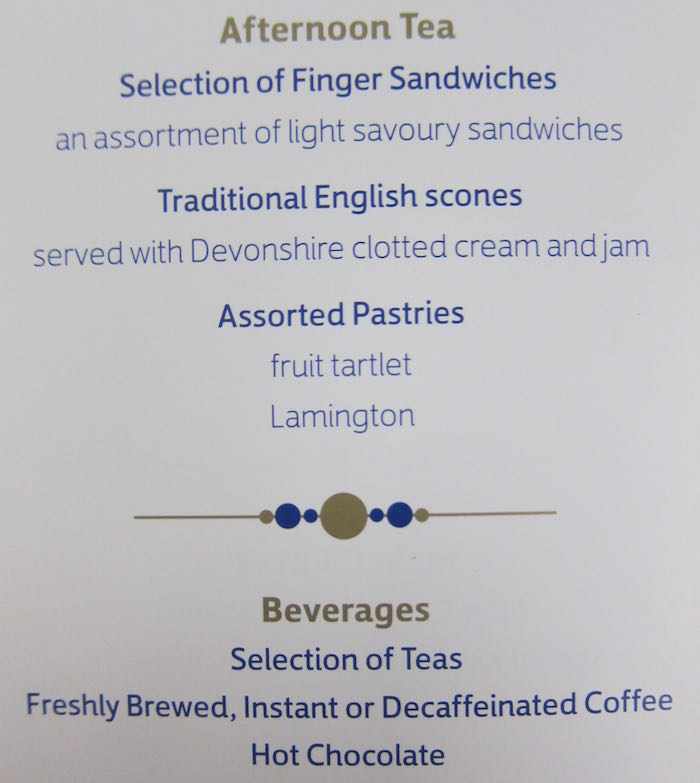 The afternoon tea was served off a cart, and you could pick and choose what you wanted.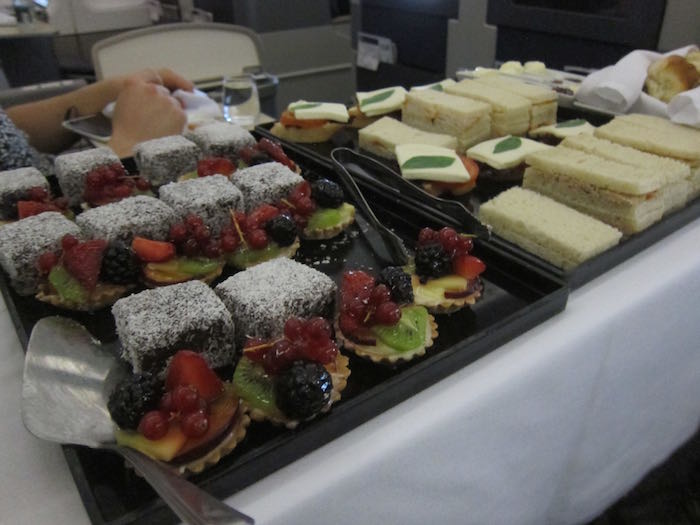 Gulf Air business class afternoon tea cart
I had a couple of finger sandwiches, a scone, and some outrageously tasty chocolate cake thing. I had a coffee to go along with it.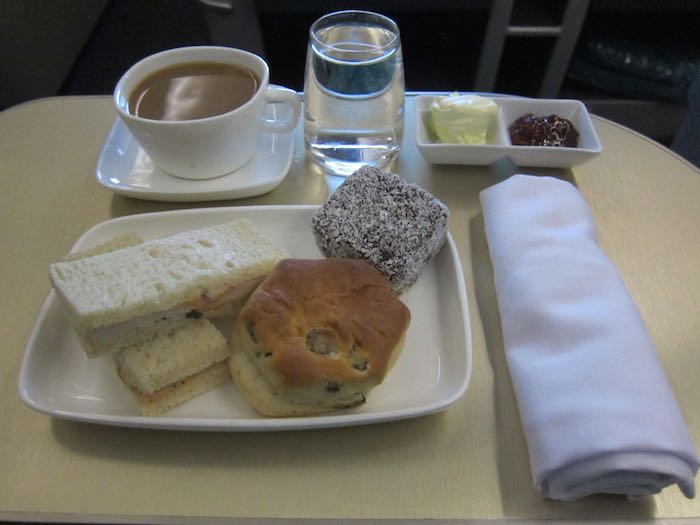 Gulf Air business class afternoon tea

Shortly thereafter we began our descent, and I stowed all my belongings. We had a smooth touchdown in Bahrain at around 6:55PM, and after a five minute taxi made it to the gate right on schedule.
To my surprise we arrived at a remote stand.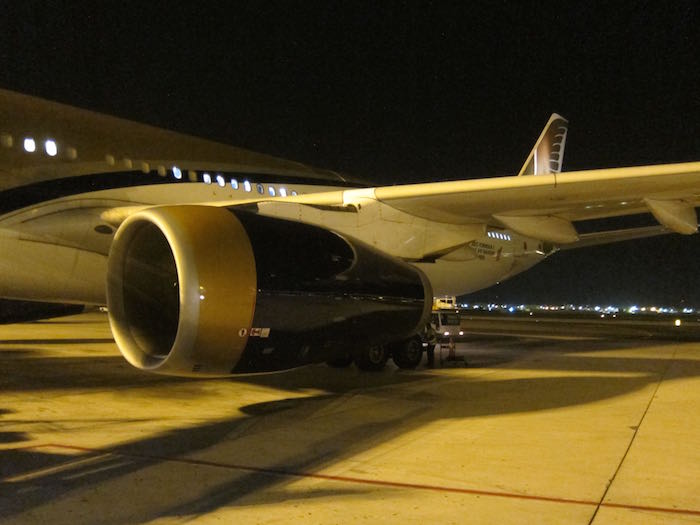 Gulf Air A330 upon arrival
Fortunately there was a business class bus, which was fairly large and left as soon as the 20 or so business class passengers deplaned.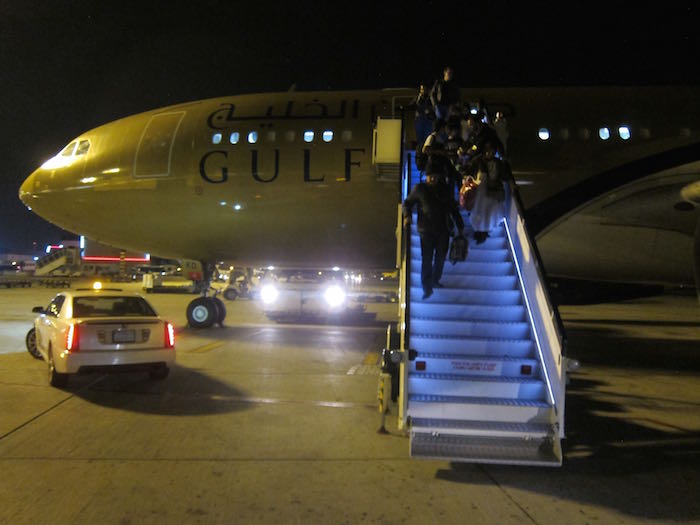 Gulf Air A330 upon arrival
We were dropped off in the arrivals hall, which isn't at risk of giving the airports in Dubai or Doha a run for their money.
Bahrain issues visas on arrival, which aren't cheap at all. I needed a 72 hour visa, which cost me ~$40. The process was a bit odd as well. Upon arrival I went up to an immigration window, where the agent handed my passport to someone else and told me to have a seat while they processed it. I sat there for about 10 minutes before the agent approached with my passport, at which point I had to get back in line in order to be processed for entry.
From there I hopped in a taxi to the Westin, curious to see what Bahrain had in store for me.
Gulf Air Business Class bottom line
I was pleasantly surprised by Gulf Air. I had low expectations going in, just looking at Gulf Air's trajectory. Back in the day they were a leader in the Middle East, though over the years their financial situations and route network seems to have gotten progressively worse.
Are they Emirates or Etihad? Nope. But in the grand scheme of things they offered a competitive product. They had a nice hard product, onboard chef, and perfectly edible food. I wouldn't hesitate to fly them again, especially given that they seem to release an almost unlimited amount of business class award availability.