Emirates' president Tim Clark is one of the smartest guys in the airline industry. In the battle between the "big three" US carriers and the "big three" Gulf carriers, I tend to think he's the voice of reason, for the most part.
Unlike Etihad and Qatar (which I imagine are bleeding money), I'd speculate that there's a decent chance Emirates actually turns a legitimate operating profit. They've managed to scale their operations enough so that there's a sustainable business model behind it, assuming too many foreign governments don't block the Gulf carriers going forward.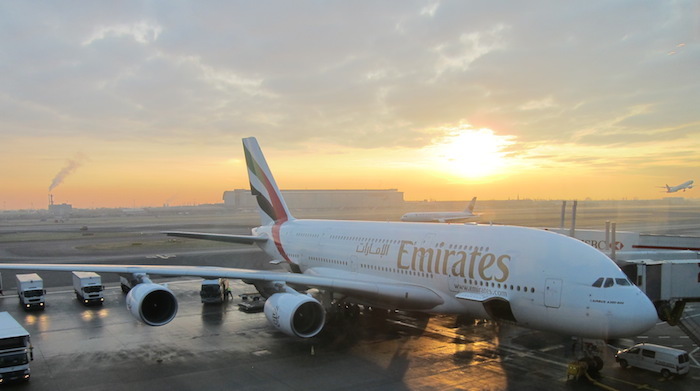 The IATA Annual General Meeting (AGM) occurred in Dublin a couple of weeks ago, and it's an event attended by many airline executives. The Financial Times has some interesting quotes from Emirates' president, Tim Clark, about where he sees the future of airfare and business class:
The "good old days" of lucrative business class revenues are numbered as companies rein in spending and low-cost competition intensifies on long haul routes, the head of one of the world's biggest airlines has said.

Sir Tim Clark, president of Emirates Air Line, said airlines would have to adapt their strategies as business class passengers migrated to cheaper seats.

"I see a change out in the way corporate business is going to develop which of course will affect our yields because the high end stuff isn't going to come through as it was in the good old days," Sir Tim said.

He forecast that passenger volumes would continue to grow despite a weak global economy, but air fares, expected to fall 7 per cent this year, would remain depressed. "We are going to be there for a long time on these fare levels," he said.
It's interesting how the industry comes full circle at some point. We've seen many (though far from all) airlines phase out first class, because there wasn't a market for it anymore. Business class became so good that it was hard to justify first class.
Many airlines nowadays claim that business class is their bread and butter. But as business class keeps getting better and as many airlines continue to introduce premium economy, the market for business class is getting smaller.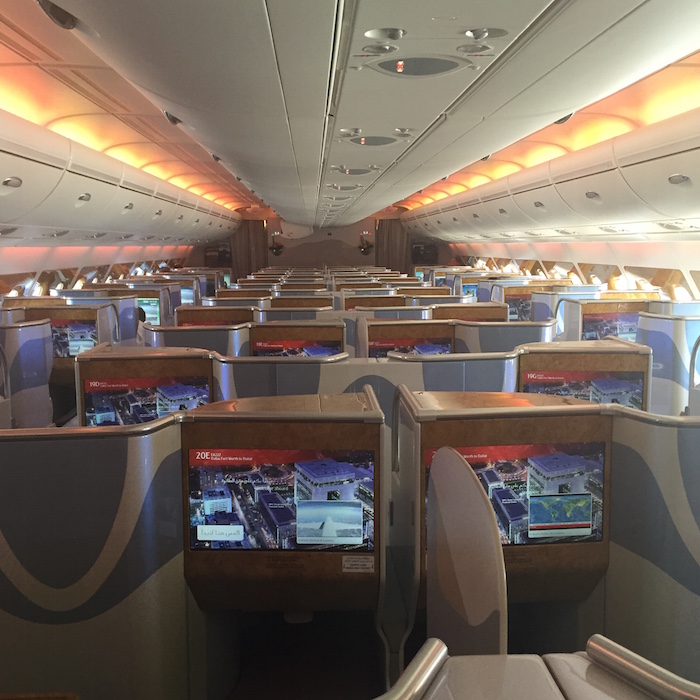 Emirates' huge A380 business class cabin
Why are business class yields going down?
There are many factors which are impacting business class yields:
The premium economy hard product is about as good as business class was a couple of decades ago, so it's tougher for businesses to justify paying for business class
Airlines have done a better job of price discriminating in business class, which is good for leisure travelers and bad for business travelers; we're seeing lower business class fares than ever before for those booking far in advance during sales, while we're seeing high business class fares in many instances for people booking last minute and without a Saturday night minimum stay
The Gulf carriers have really driven down paid business class fares in many markets, causing other airlines to match
All of this insight is especially interesting coming from Emirates' president, given that the airline doesn't have a premium economy product. As a matter of fact, none of the Gulf carriers do. However, it's something Emirates is looking at, and I suspect within a year or so they'll announce that they're introducing premium economy.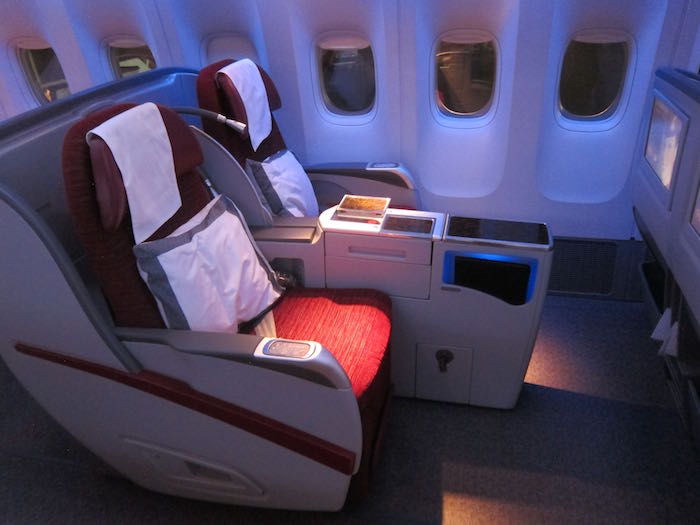 Qatar Airways' 777 business class
What does all of this mean for business class fares and awards?
At the moment we're seeing airlines with a lot of excess business class capacity. High yield demand simply doesn't match capacity in many markets, which is why we've seen so many business class fare sales.

British Airways' huge 777 business class cabin
At the same time, airlines are trying to condition passengers to pay for the cabin they want to fly, rather than count on upgrades. They'd rather someone outright books a cheap business class fare, rather than upgrade (even from a more expensive economy fare).
Over time I suspect the trend will be that planes will feature more dense configurations with fewer premium seats. There will be a limited number of business class seats, premium economy cabins on most planes, and a dense economy configuration.
American's leaked A350 configuration is the perfect example. The plane is roughly comparable in size to the 777, but take a look at the difference in configuration between American's "old" thinking and "new" thinking:
The 777 features 45 business class seats and 215 economy seats
The A350 will feature 32 business class seats, 24 premium economy seats, and 262 economy class seats
In other words, in the end I suspect we'll see the area which was exclusively dedicated to business class, now allocated to both business class and premium economy. Because airlines don't want to lose the "sure bet" revenue of economy.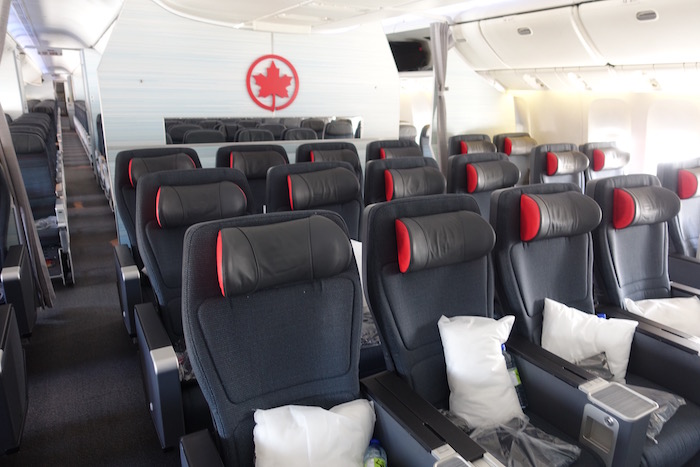 Air Canada's 777 premium economy cabin
Bottom line
Right now airlines have excess business class capacity, and that's partly why we're seeing so many incredible business class fare sales. Competition is also fierce, especially thanks to the Gulf carriers, which are driving down prices. Over time business class cabins will continue to get smaller, while premium economy will continue to be more prevalent.
In the meantime, I'd be very shocked if Emirates didn't introduce a premium economy cabin soon, and I suspect eventually Etihad and Qatar will even follow (even if Qatar's CEO is too proud to admit there's a market for it).