Virtually all major airlines have reduced service during the pandemic in order to minimize contact between flight attendants and passengers, and also to maximize the amount of time passengers spend with their masks on.
We've seen airlines continue to adjust service as time goes on. Delta Air Lines has just announced how it will be improving its inflight service in the coming weeks. The timing of this is no coincidence, as Delta will stop blocking seats as of May 1, 2021. On top of that, Delta has also announced that it will be easier to earn SkyMiles Medallion status in 2021.
Delta's current inflight service details
Delta has historically been known for providing some of the best service of any major US airline. During the pandemic the airline has cut back service more than its peers, all while blocking seats on flights.
For some context on the current state of Delta's domestic inflight experience, here's what the economy class experience is like:
For all flights, passengers are offered a snack bag with two snacks, a bottle of water, hand sanitizer, and a napkin
For flights of 1,500+ miles, passengers are offered an additional snack bag prior to landing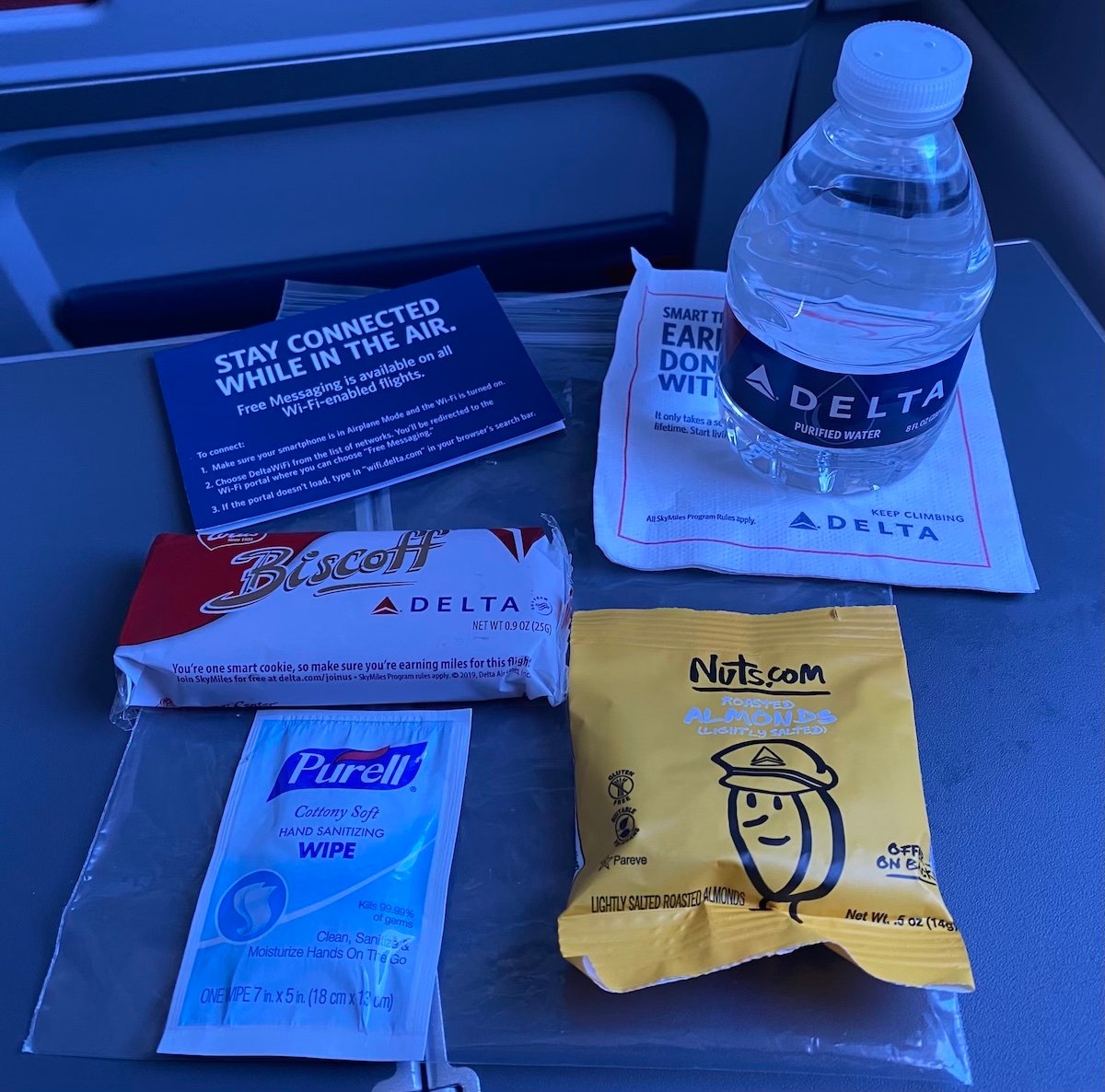 Delta's current economy snack pack for all passengers
Then here's what the first class experience is like:
For all flights, passengers are offered a snack bag with two snacks, a bottle of water, hand sanitizer, and a napkin
For flights of 500+ miles, passengers are offered beer or wine
For flights of 900+ miles, passengers are offered a snack box
For flights of 1,500+ miles, passengers are offered a second snack bag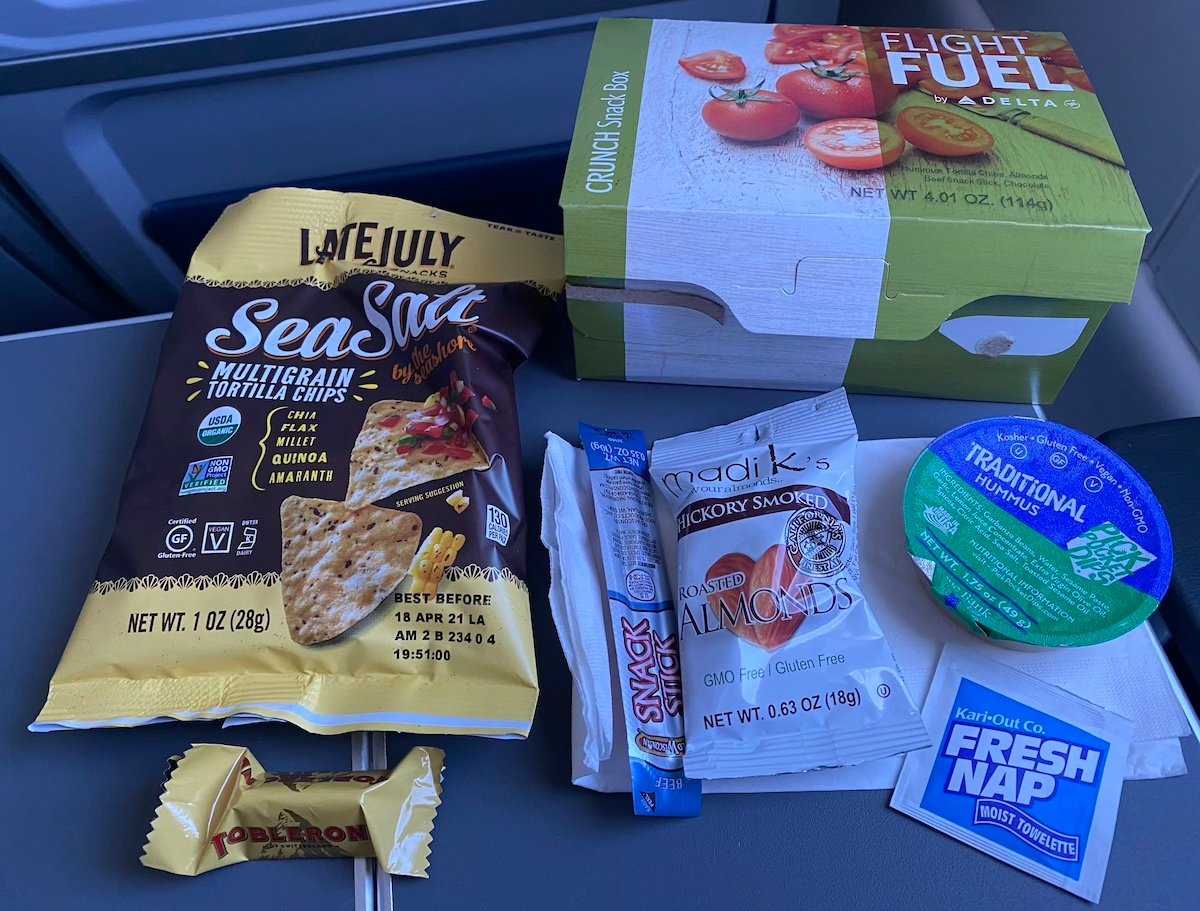 Delta's current first class snack box for first class passengers
There are a few interesting things that set Delta apart:
Delta offers economy passengers nothing but water, even on transcon flights (American serves economy passengers drinks on request on longer flights)
Delta doesn't offer any coffee or tea, soft drinks, or liquor, even in first class (American offers all of those in first class on most flights)
Delta doesn't offer a meal service in first class, even on transcon flights (American offers hot meals in first class on transcon flights)
While a lot of people have complained about how Delta is uncompetitive with its peers, I respect Delta in this regard:
The airline has made it clear that it's not looking to its peers to decide what kind of service will be offered, but rather is taking its own approach based on safety
There is something to be said for minimizing service to maximize the amount of time people keep their masks on
I don't think anyone can claim Delta is doing this just to be cheap, given that the airline is blocking seats, which is more costly than a 25 cent can of soda
That being said, I do recognize that Delta has at least been arbitrary with its service restrictions, like serving wine but not soft drinks in first class, for example
Delta's modified inflight service
Delta has revealed how it plans to progressively add back service in all cabins, starting on April 14. As Delta's SVP of Inflight Service, Allison Ausband, describes these changes:
"Our flight attendants are excited to continue doing what they do best – warmly welcoming, serving and connecting with the world's best customers. These single-serve options are the first step in bringing back food and beverages even better as more customers return to Delta, and we've worked with our trusted partners at Mayo Clinic to ensure we safely serve these items as we continue to deliver on our promise of safer travel."
Let's get into the details of what's changing.
Drinks & snacks return to all cabins
As of April 14, Delta domestic and select short haul international flights will feature expanded beverages and snacks in all cabins:
Delta will start serving coffee and tea
Delta will restore soft drink service, with new 7.5 ounce mini cans of Coke, Diet Coke, Sprite, and Seagram's Ginger Ale; these cans will be served unopened, and a cup of ice will be available upon request
Delta will bring back liquor in the form of canned cocktails from Tip Top Proper Cocktails; for those in economy, payment can be made using a new contactless system
Delta will roll out a new snack lineup including almonds, Cliff Bars, Goldfish crackers, and Biscoff cookies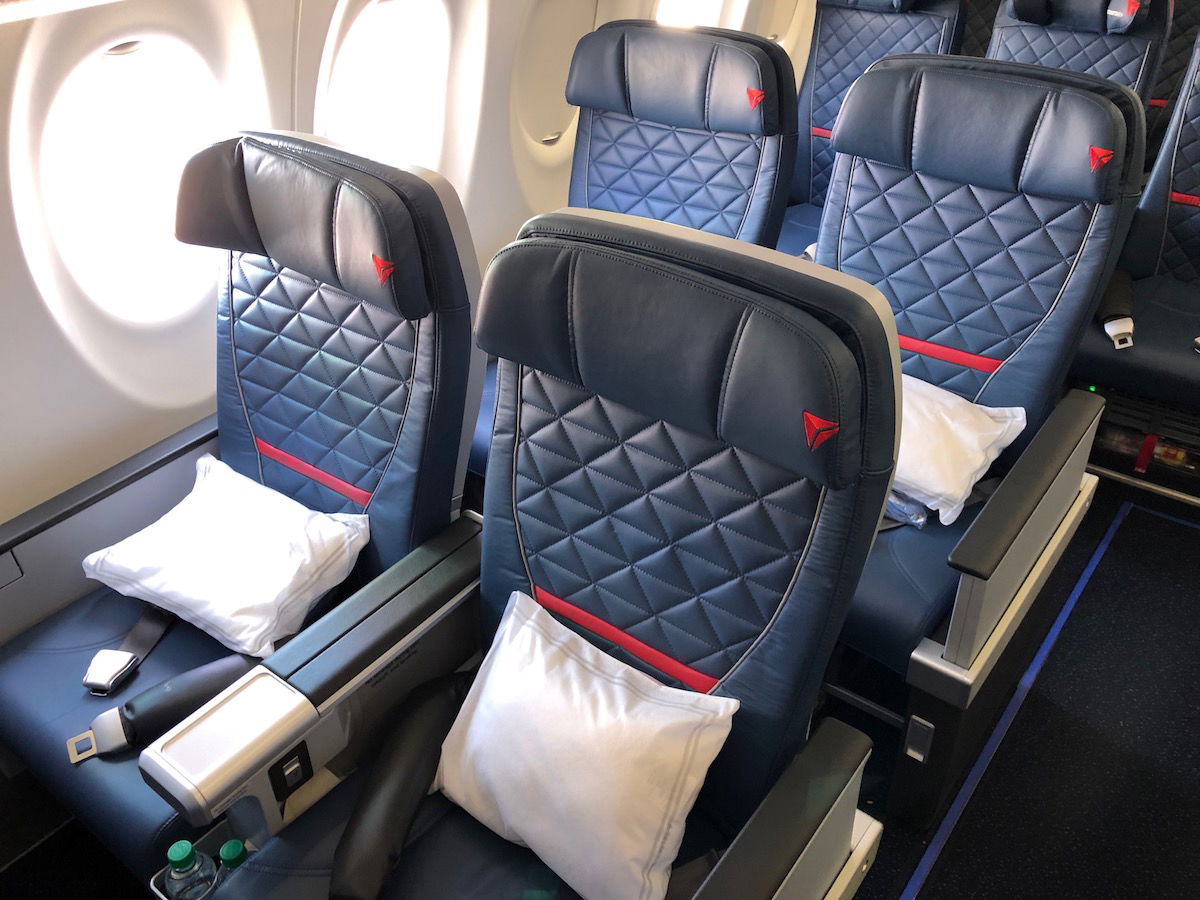 Delta will be improving its food & drink selection in April
Hot food returns to first class
Delta will be bringing back more substantial food for Delta One and first class passengers starting in a few months:
As of early June, Delta One and first class passengers on select domestic and coast-to-coast flights will see hot food options return
As of early July, first class passengers on other key US routes can expect fresh boxed meals
Those are all the details we have as of now, though I'm sure more information will be revealed soon. In the meantime, first class passengers will continue to receive a snack box.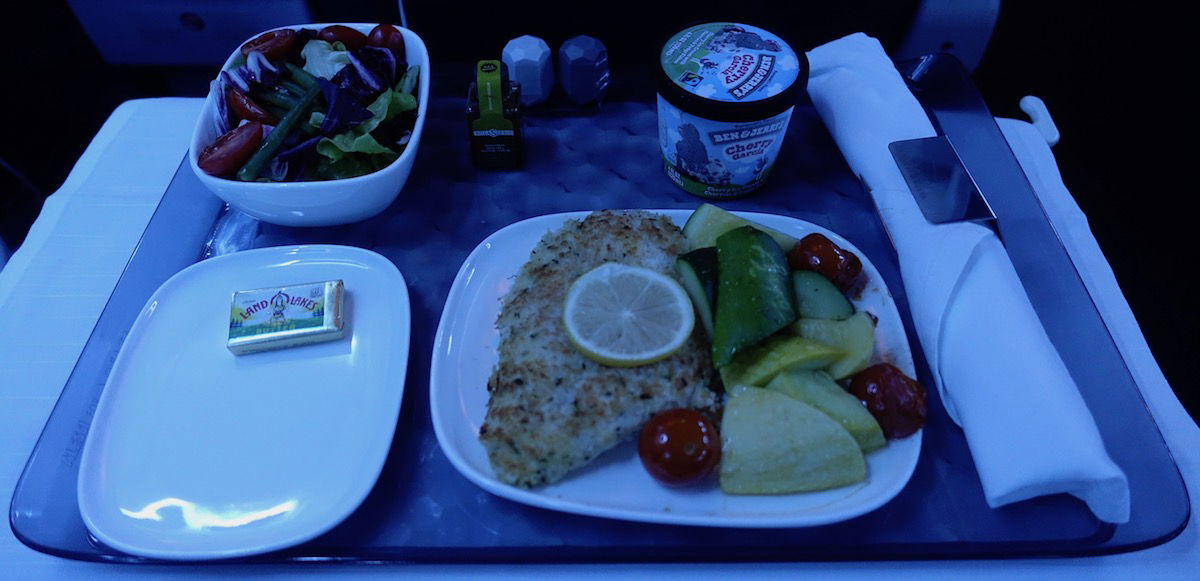 Some sort of hot food will return to Delta first class in June
Delta SkyClubs get more substantial food
Starting in May and continuing through the summer, Delta SkyClubs will gradually evolve their food and beverage offerings:
Clubs that can accommodate assisted service will bring back full hot & cold fresh food stations
Other locations will reintroduce chef's tables, featuring a hot, seasonal feature of the day, in addition to an enhanced grab-and-go selection of fresh foods, hot breakfast sandwiches, and soups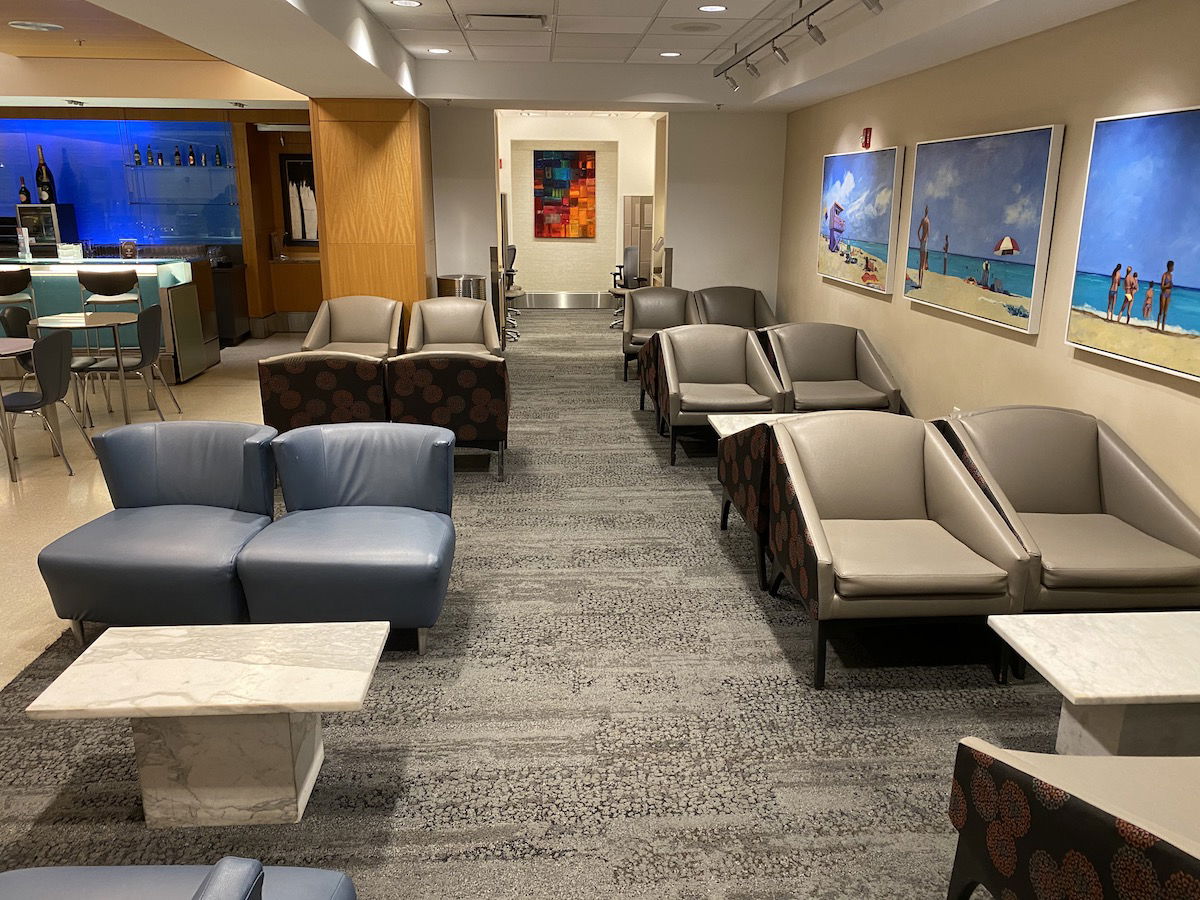 Expect more substantial food to return to Delta SkyClubs in May
Questions about Delta's service changes remain
While these updates are great news, there are still several questions we don't know the answers to:
How long does a flight have to be to feature this enhanced service?
What routes will receive hot food in Delta first class?
When will Delta resume its standard liquor service, even just in first class?
When will Delta start serving beer & wine in economy?
I'm sure we'll get the answers to these questions eventually, but it doesn't seem like there's any info about this just yet.
Bottom line
Delta has outlined how it will be adjusting service in the coming months, and it's definitely a significant improvement. Of course it's worth keeping in mind that Delta made the most cuts to its inflight service among major US carriers, and also that the airline will stop blocking seats as of May 1.
It's nice to see that as of April 14, soft drinks, coffee, and tea, will be returning to all cabins, along with a new selection of cocktails. On top of that, we can expect new SkyClub food offerings as of May, and hot food on select first class flights as of June.
What do you make of Delta's inflight service adjustments?