I've recently shared my impressions of United Airlines first class and Alaska Airlines first class flights in the coronavirus era, so figured I'd also share my experience on a recent Delta Air Lines Airbus A220 first class flight from Chicago to Salt Lake City, given how differently Delta does things.
Why I booked Delta Air Lines first class
At the time I was trying to fly from Chicago to Salt Lake City, I had two options:
Booking an American Airlines CRJ-700 in economy for $200, with first class already sold out at the time of booking, meaning an upgrade was highly unlikely
Booking a Delta Air Lines Airbus A220 in first class for $350, with the seat next to me blocked
I'll let you guess which option I chose for this flight that's blocked at over 3.5 hours. Now, I should emphasize that while Delta has an industry-leading seat blocking policy, this will end as of May 1, 2021.
Delta Air Lines SkyClub Chicago
I had the chance to check out the SkyClub Chicago O'Hare prior to my early morning flight. I was able to access the Delta SkyClub thanks to my Amex Platinum Card, which gets me access when flying Delta same day.
It's kind of funny to visit a SkyClub at an airport that's a major hub for both American and United. The lounge was quiet and a good size, given that this is an outstation for Delta.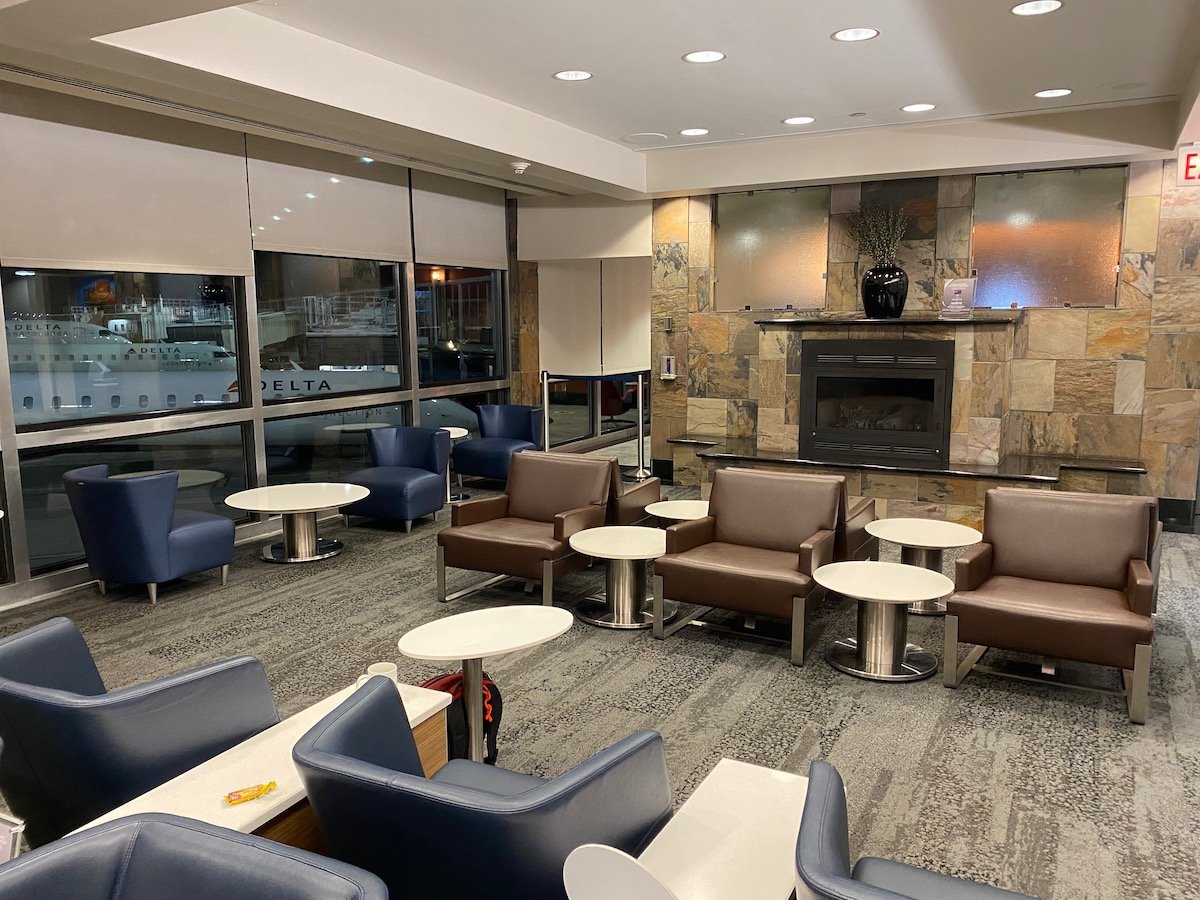 Delta SkyClub Chicago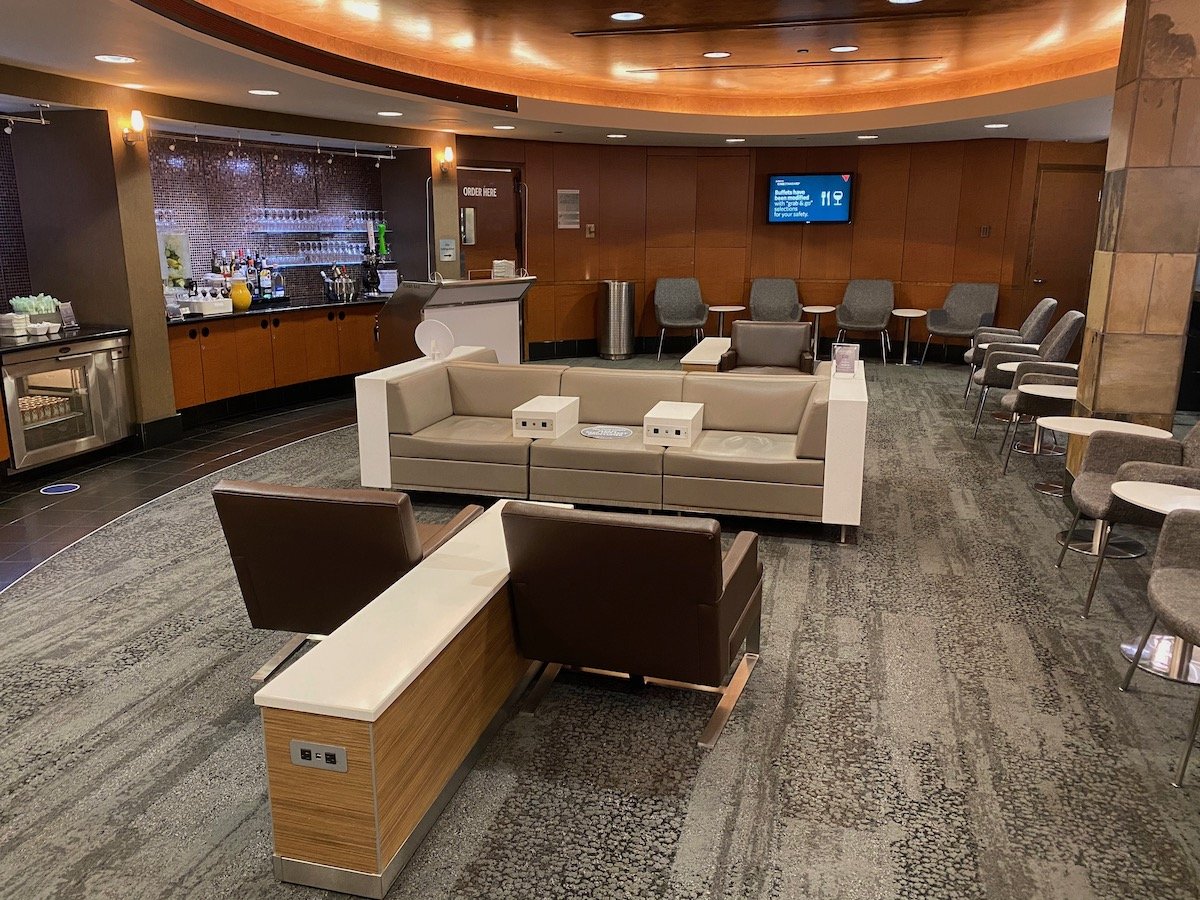 Delta SkyClub Chicago
The food selection was modified due to coronavirus, but was still better than what I've seen in American Admirals Clubs. There were packaged muffins, donuts, bagels, pastries, cereal, oatmeal, and more.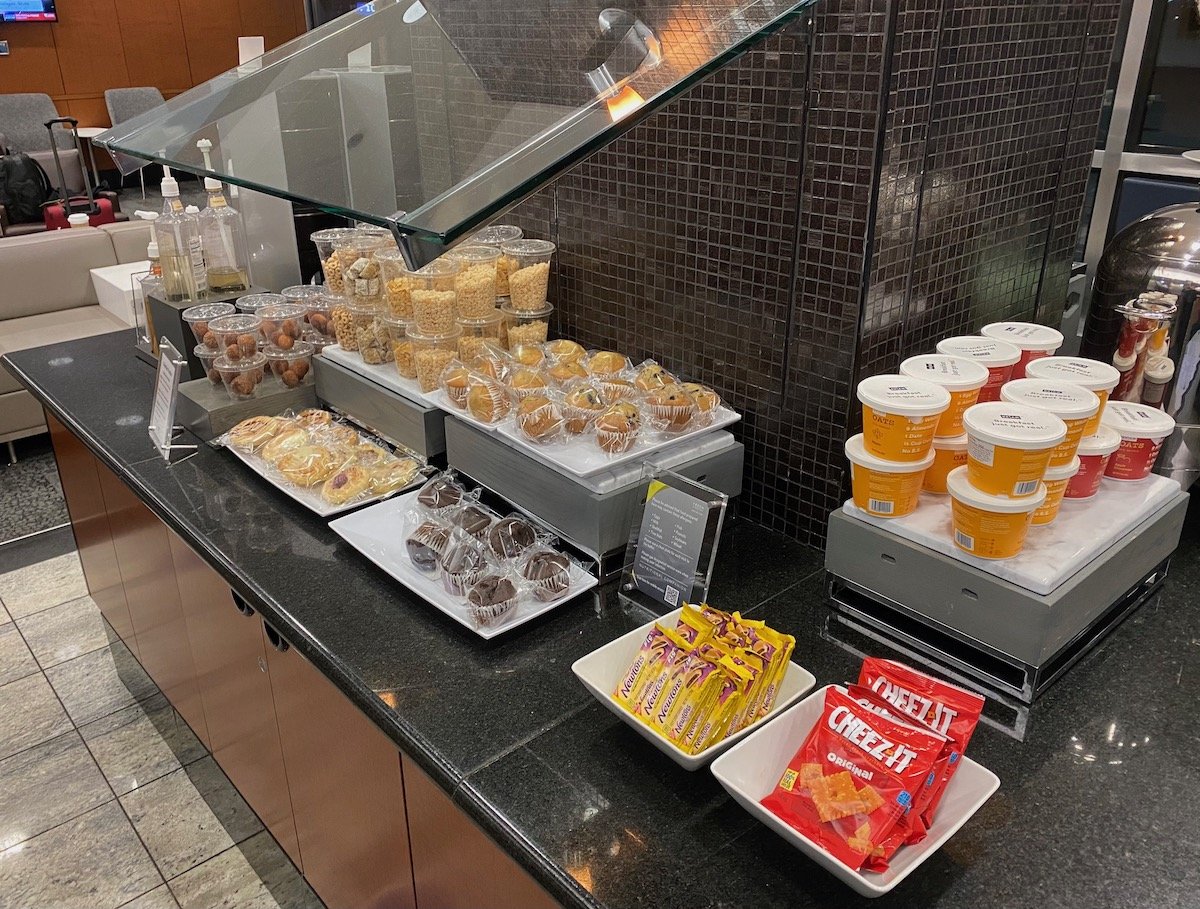 Delta SkyClub Chicago breakfast selection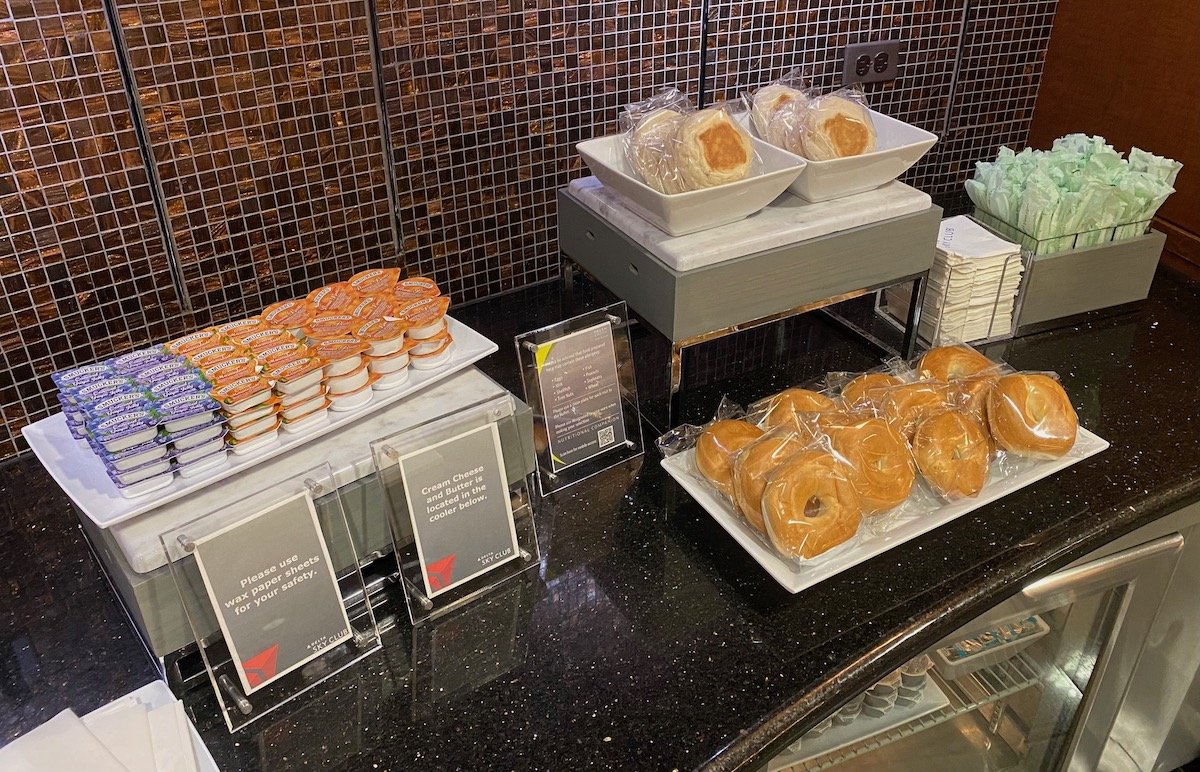 Delta SkyClub Chicago breakfast selection
Then there was a selection of yogurt, fresh fruit, and hardboiled eggs.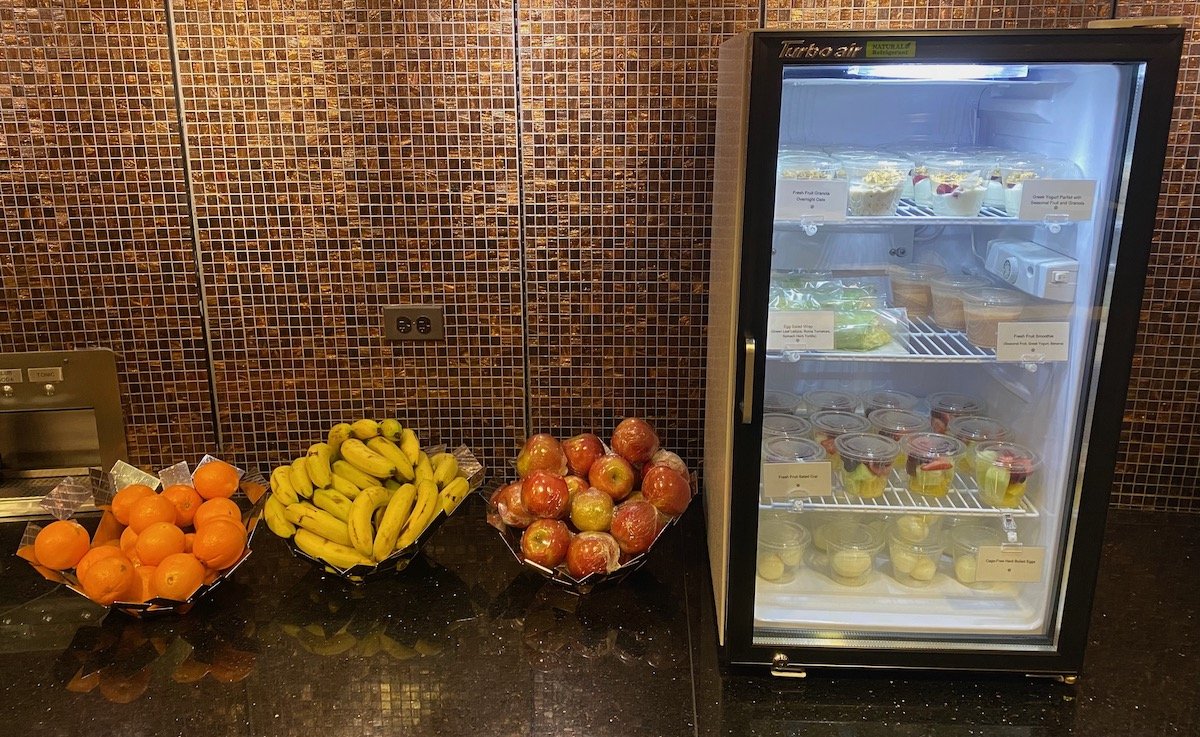 Delta SkyClub Chicago breakfast selection
There were even a few types of hot breakfast sandwiches.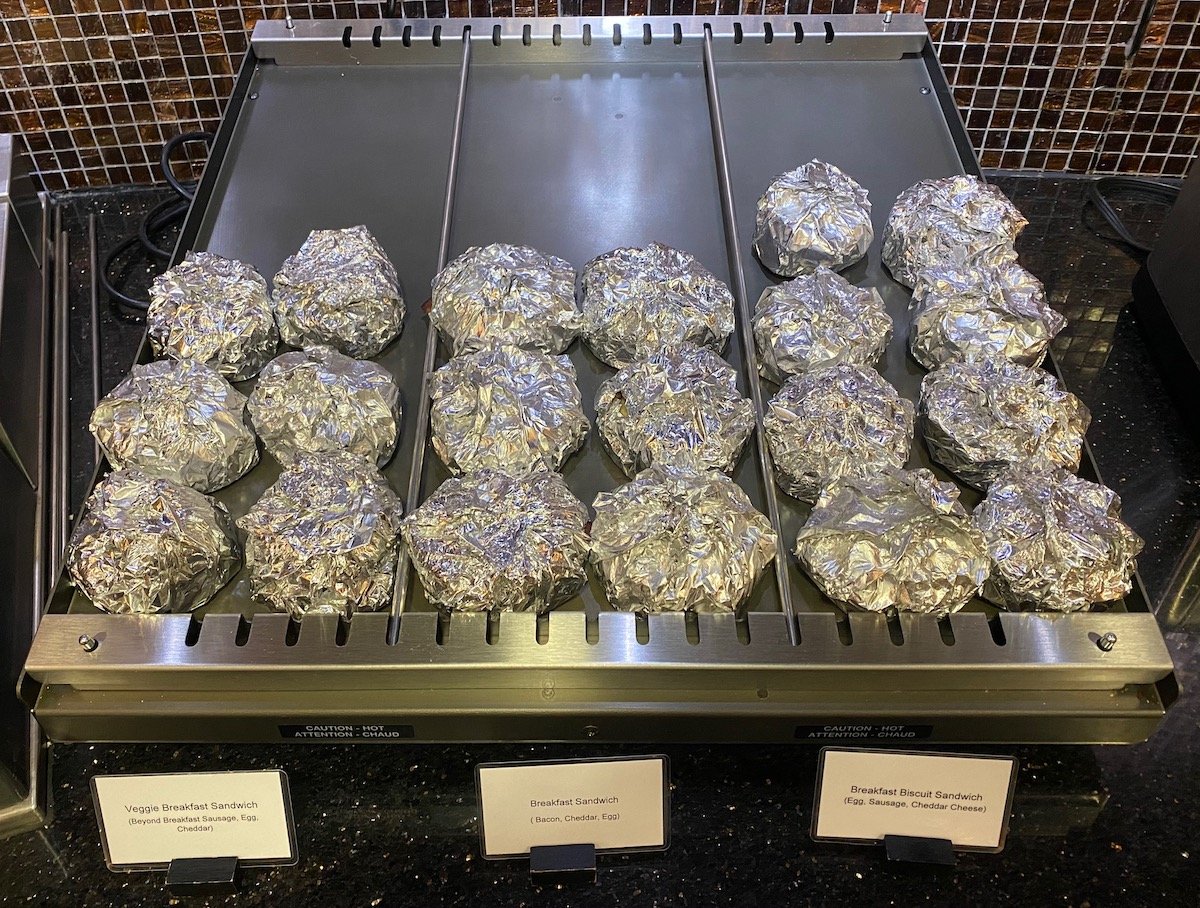 Delta SkyClub Chicago breakfast selection
There was also a selection of self serve liquor, beer, and wine, not that I was going to have any at 6AM.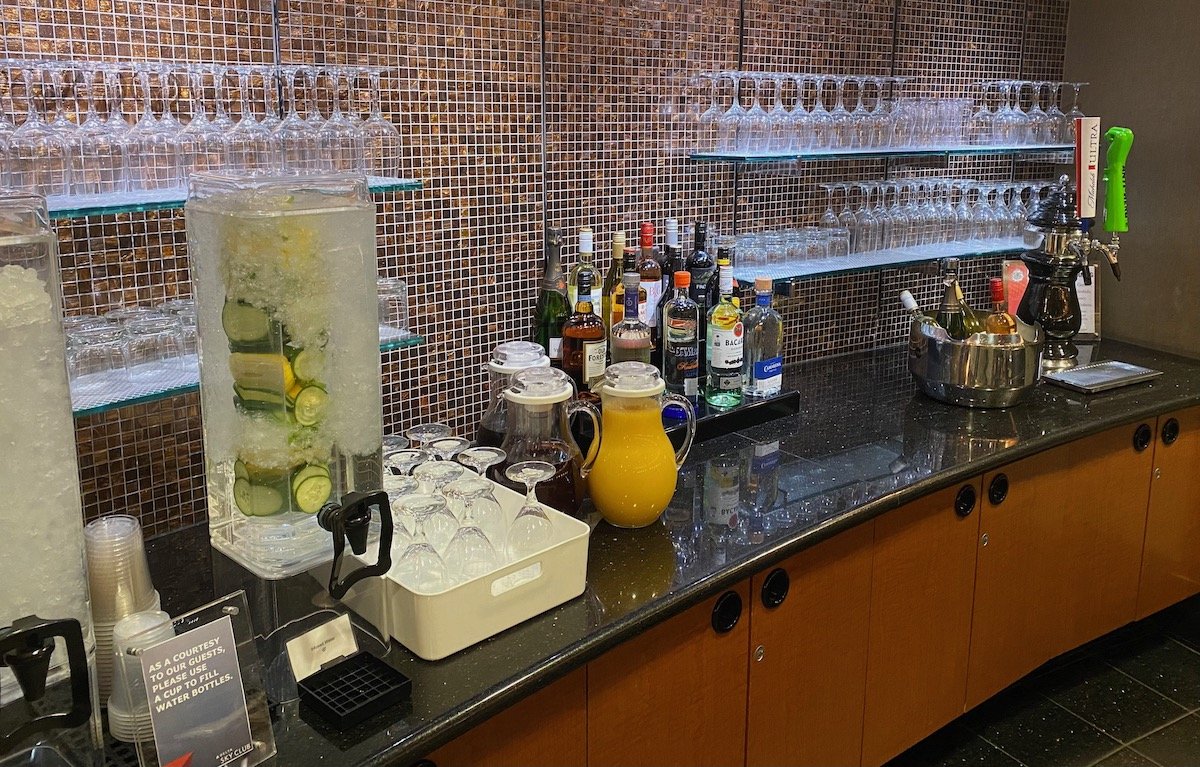 Delta SkyClub Chicago drink selection
Mainly I was just guzzling coffee, since I hadn't had any that morning, and knew there wouldn't be any onboard.
Delta Air Lines first class seating
Interestingly boarding on Delta started from the back of the plane, with SkyMiles Gold Medallion members and above being allowed to board at any time. In other words, the last people allowed to board are those in first class who aren't at least Gold Medallion.
It's an interesting system, but I suppose it's not an issue because there's enough overhead bin space for everyone on Delta thanks to the seat blocking.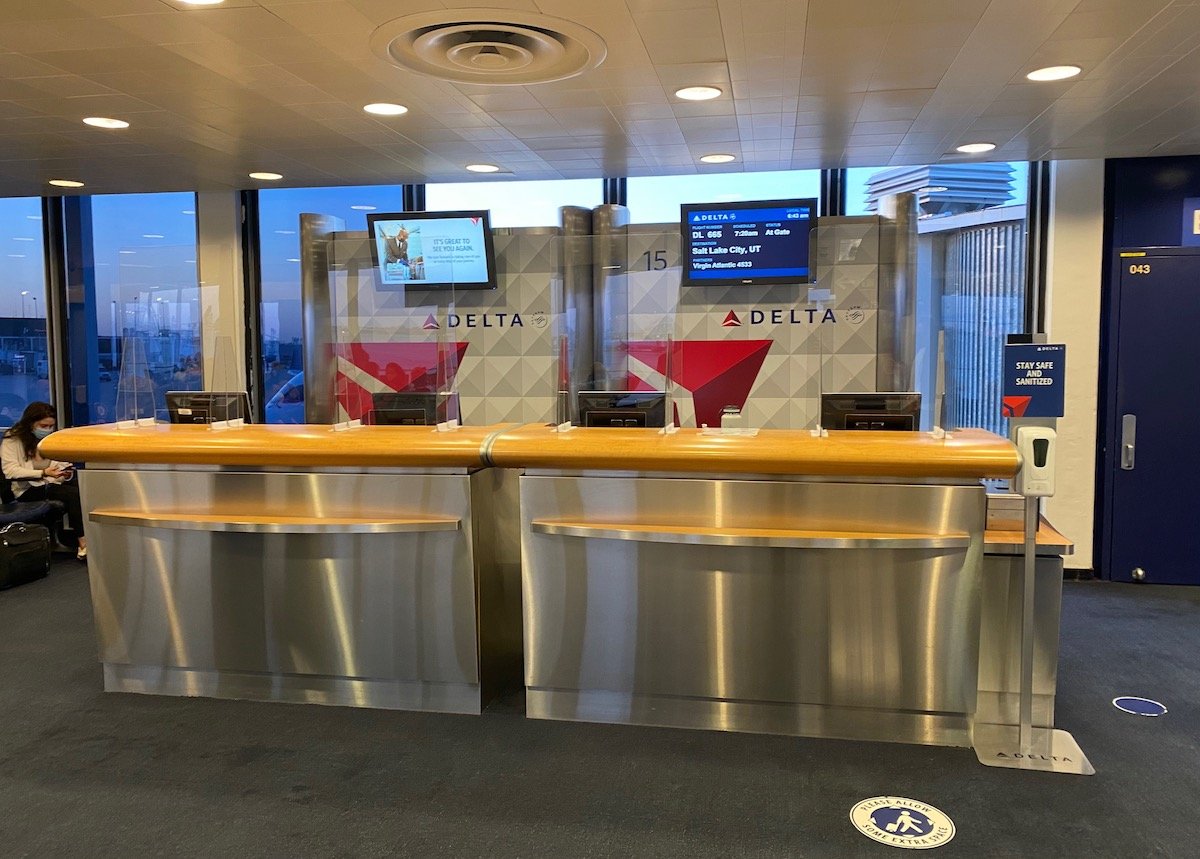 Delta gate Chicago O'Hare
I reviewed Delta's A220 first class a couple of years back, and it's an all around nifty product, especially if you view the A220 as a hybrid between a regional jet and a mainline jet, and as a replacement for MD-80s and 717s.
Delta has 12 first class seats on the A220, spread across three rows in a 2-2 configuration. On this particular flight there were just seven people in first class (everyone had a blocked seat, except two people traveling together who were seated in the first row).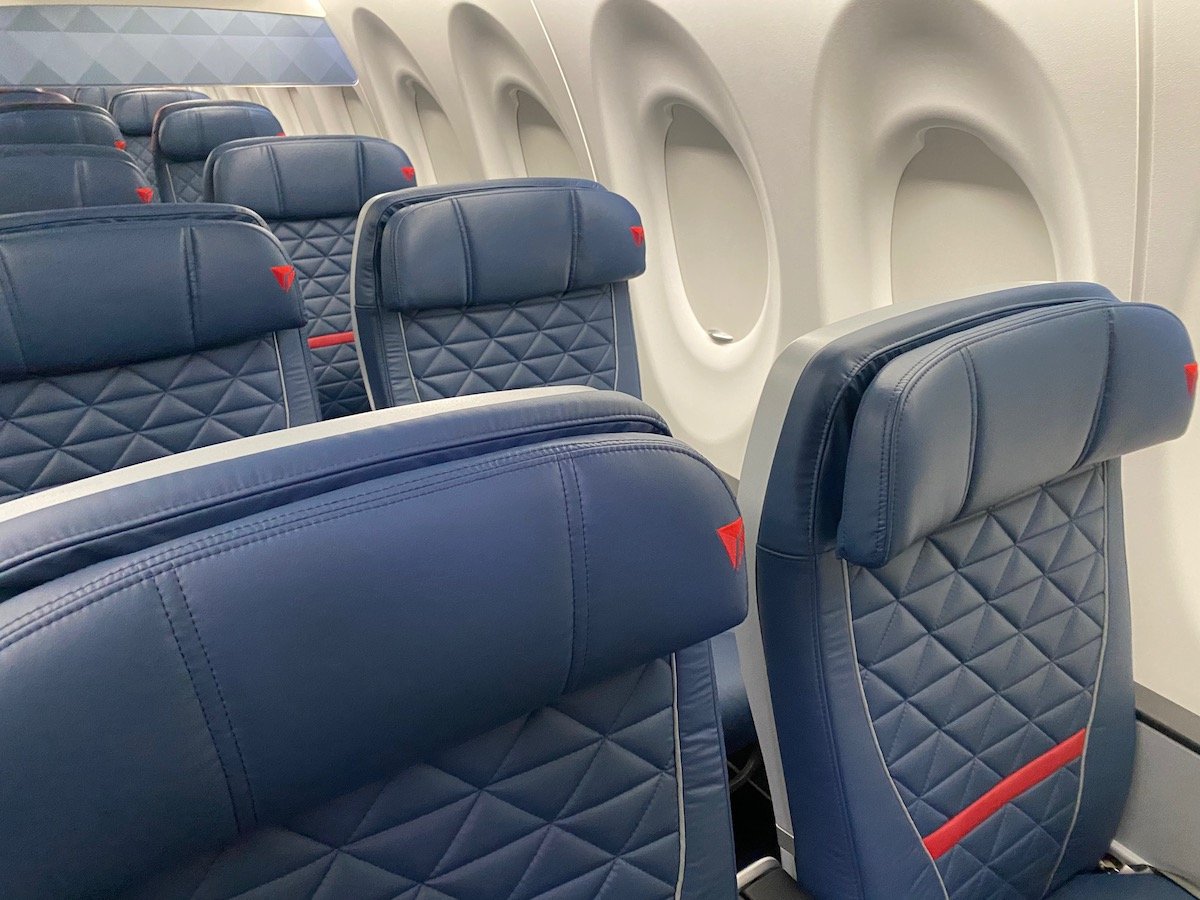 Delta Airbus A220 first class cabin
I will say that Delta's A220 first class feels a bit more like an international premium economy seat than a first class seat, given the fairly small armrest between seats. This isn't surprising when you consider how much narrower the plane is than typical mainline jets (the economy configuration is 2-3, compared to the usual 3-3 configuration).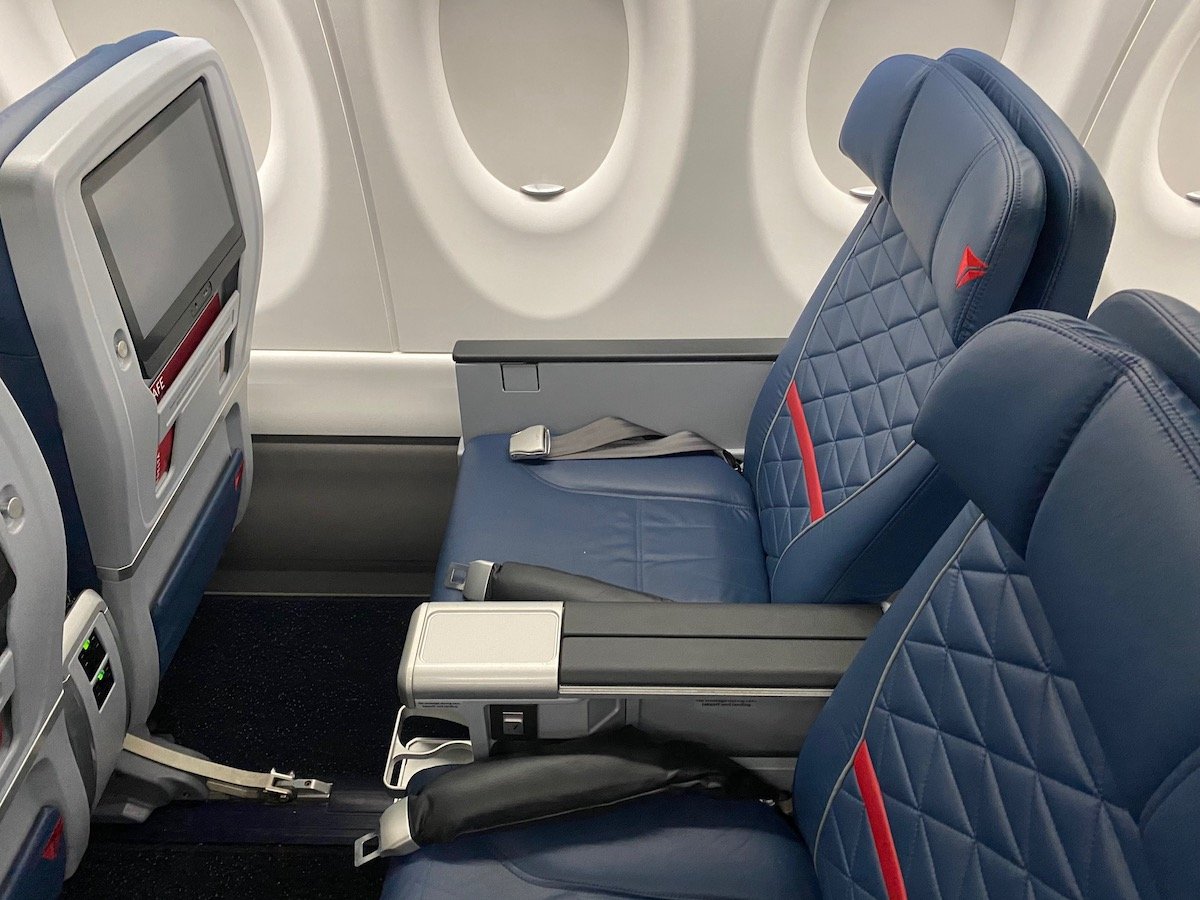 Delta Airbus A220 first class seat
Of course with a blocked seat next to me, there was plenty of room to stretch out.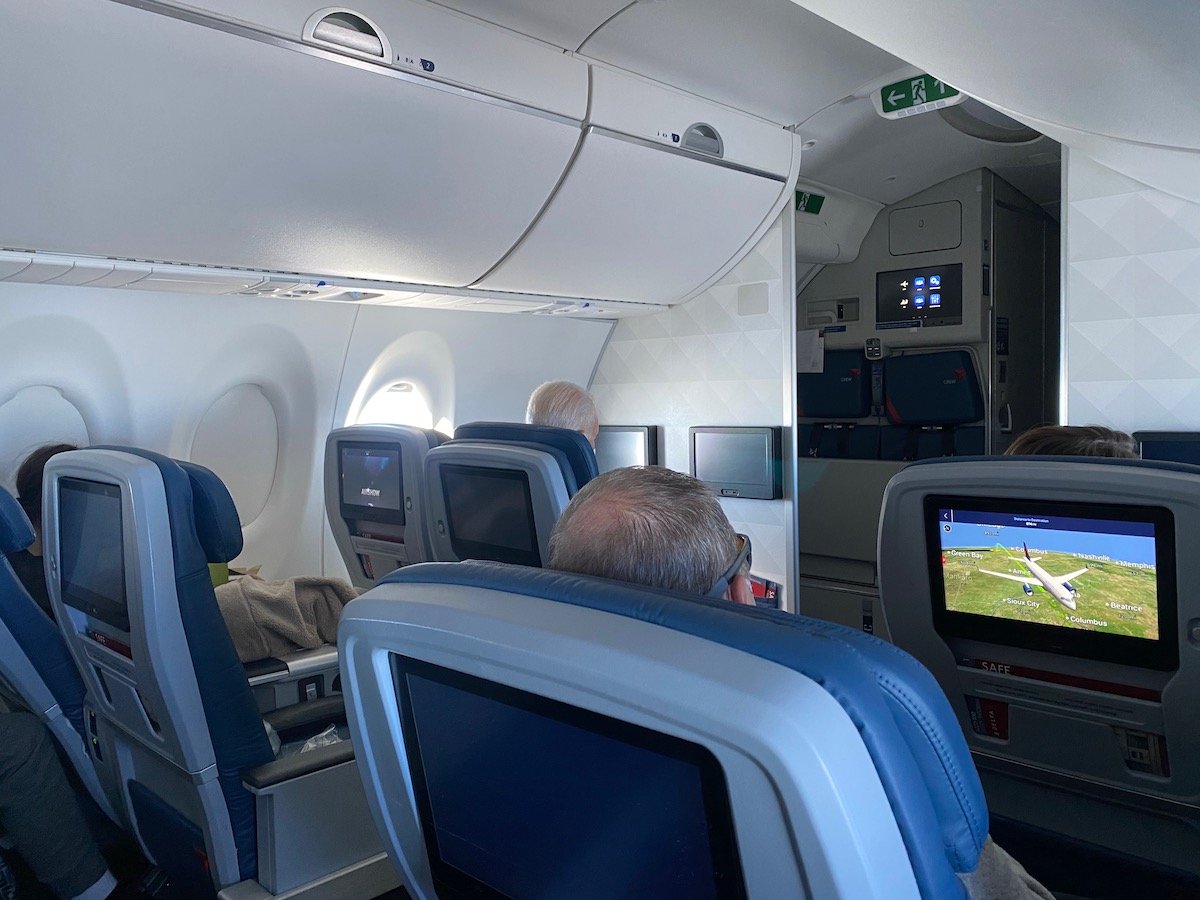 Delta Airbus A220 first class cabin
Delta Air Lines first class service & catering
Delta has by far the most limited service of any major US airline right now, through that will be changing as of April 14, as the airline is bringing back some inflight service. The airline intentionally limits service to maximize the amount of time that people have their masks on, and I respect that:
While other airlines have cut service largely to cut costs, I don't believe that was the case at Delta; blocking seats is more costly than anything the airline could possibly serve
There is a bit of an inconsistency when an airline wants you to keep your mask on the whole flight, but will also serve you four Woodford Reserves, or whatever your drink of choice is
Service on Delta was extremely limited. Upon boarding each passenger was offered a hand sanitizing wipe.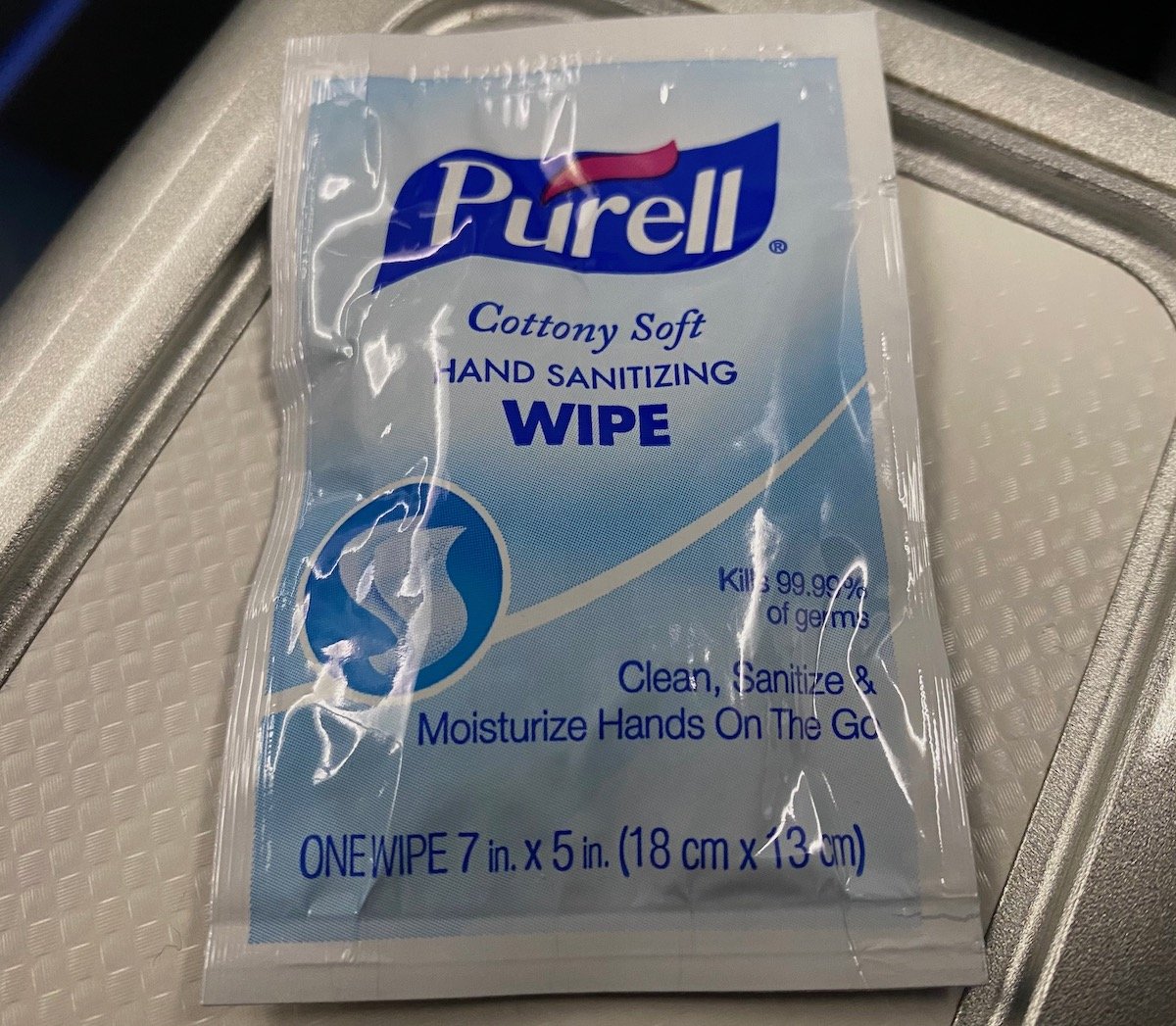 Delta hand sanitizing wipe
Shortly after takeoff the crew offered the only service of the flight.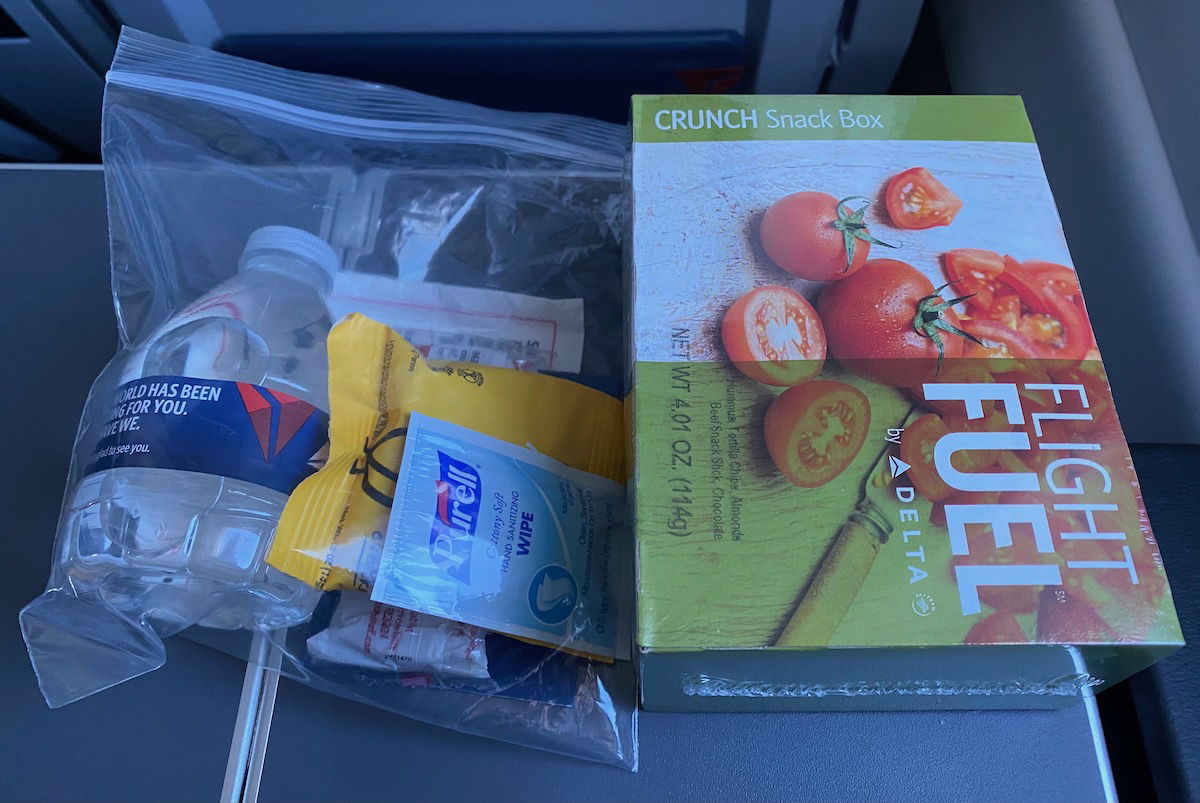 Delta first class catering
This included a bag that all passengers on the flight received, which had a small bottle of water, and two snacks, including Biscoffs and some roasted almonds.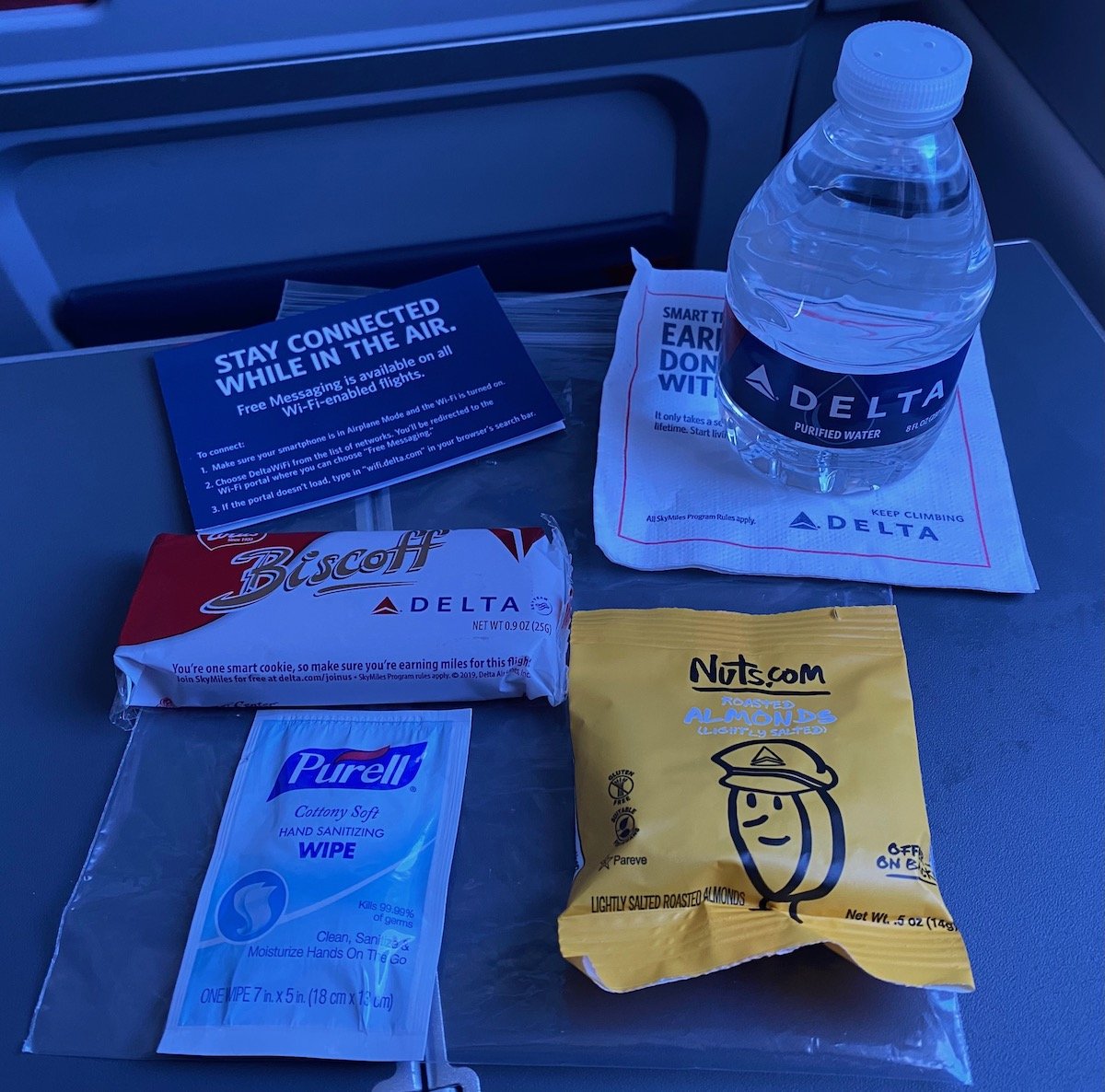 Delta first class catering
Then exclusively for first class passengers there was a "Flight Fuel" snack box, which had things like almonds, tortilla chips, hummus, chocolate, and more.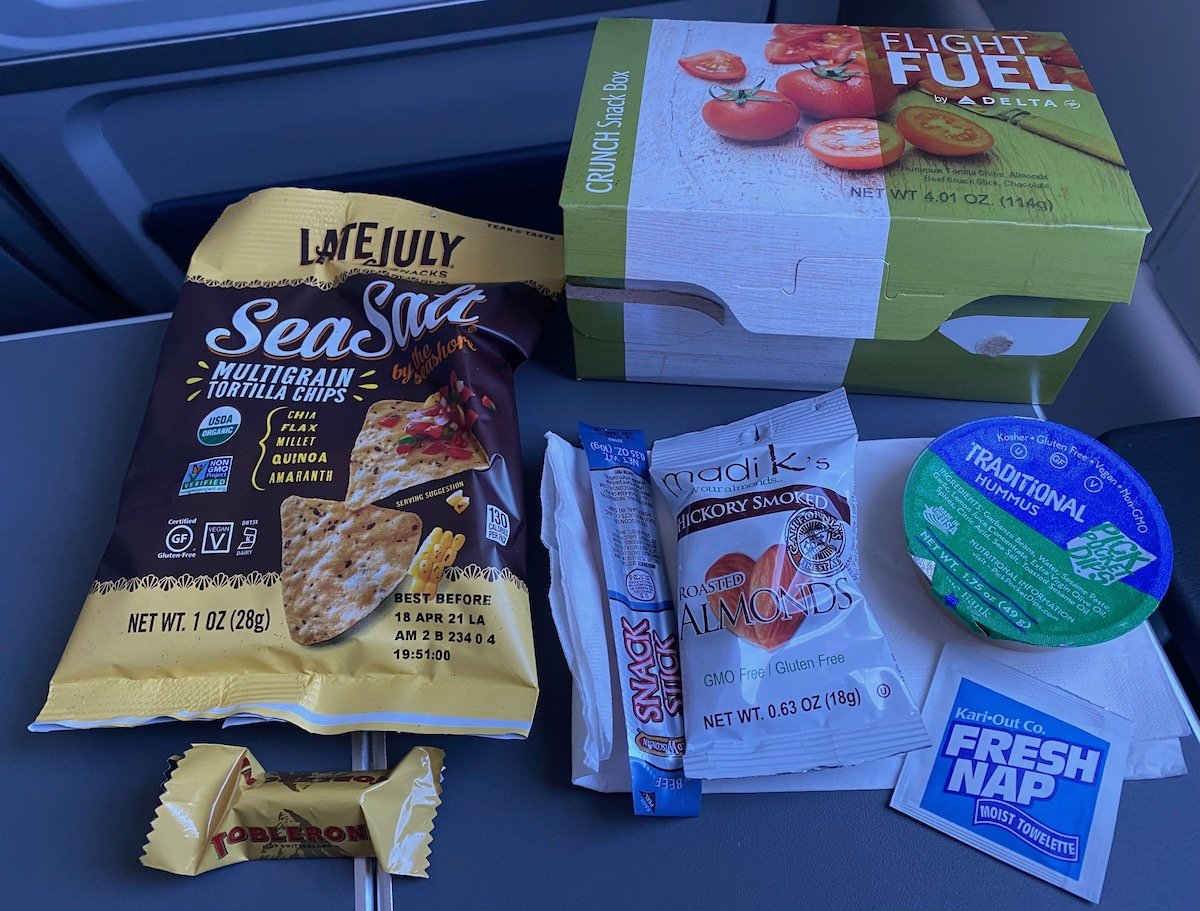 Delta first class catering
The crew came through the cabin a few more times to offer more bottles of water, but that was it. Technically beer and wine were also available in first class on demand, but nobody was drinking at this hour.
I will say, I've never seen passengers so consistently keep on their masks, so I guess this works.
Delta Air Lines first class service
Usually on Delta I find crews to be consistently friendly and gregarious, though this crew wasn't. In fact, I don't think they said a single word to passengers during the flight, aside from the announcements over the PA. Even as they handed out bottles of water, they didn't say anything.
I don't know if this is intended to minimize contact in general, or if this crew just wasn't very chatty. Regardless, I didn't mind.
Delta Air Lines first class Wi-Fi & entertainment
You can't beat Delta's entertainment & Wi-Fi setup on domestic flights:
There are personal televisions at every seat (which I mainly use to track the progress of the flight)
There's Gogo 2Ku Wi-Fi, so I could remain productive
There's free messaging on mobile devices, so I could message on my phone for free while working on my laptop
There are plenty of outlets, so you can keep your electronics charged throughout the flight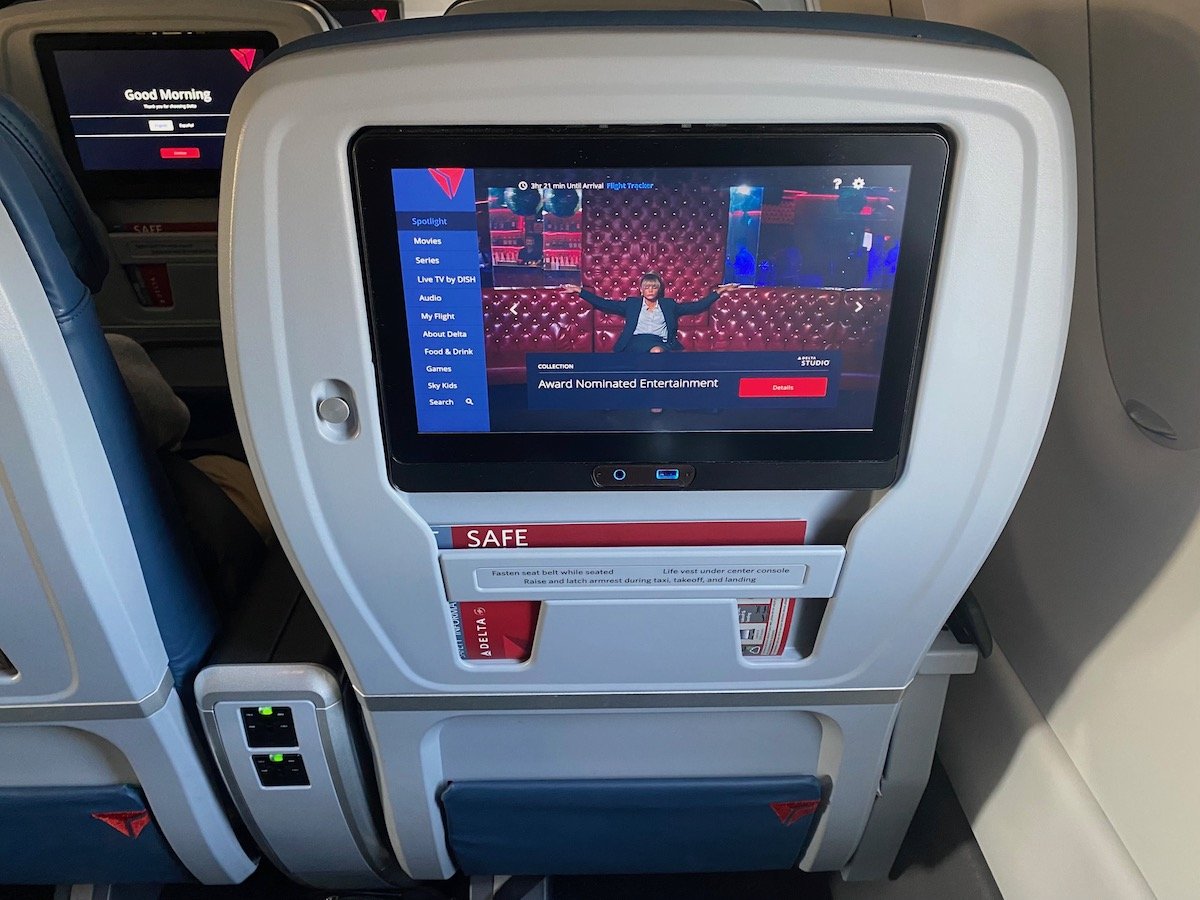 Delta A220 first class entertainment screen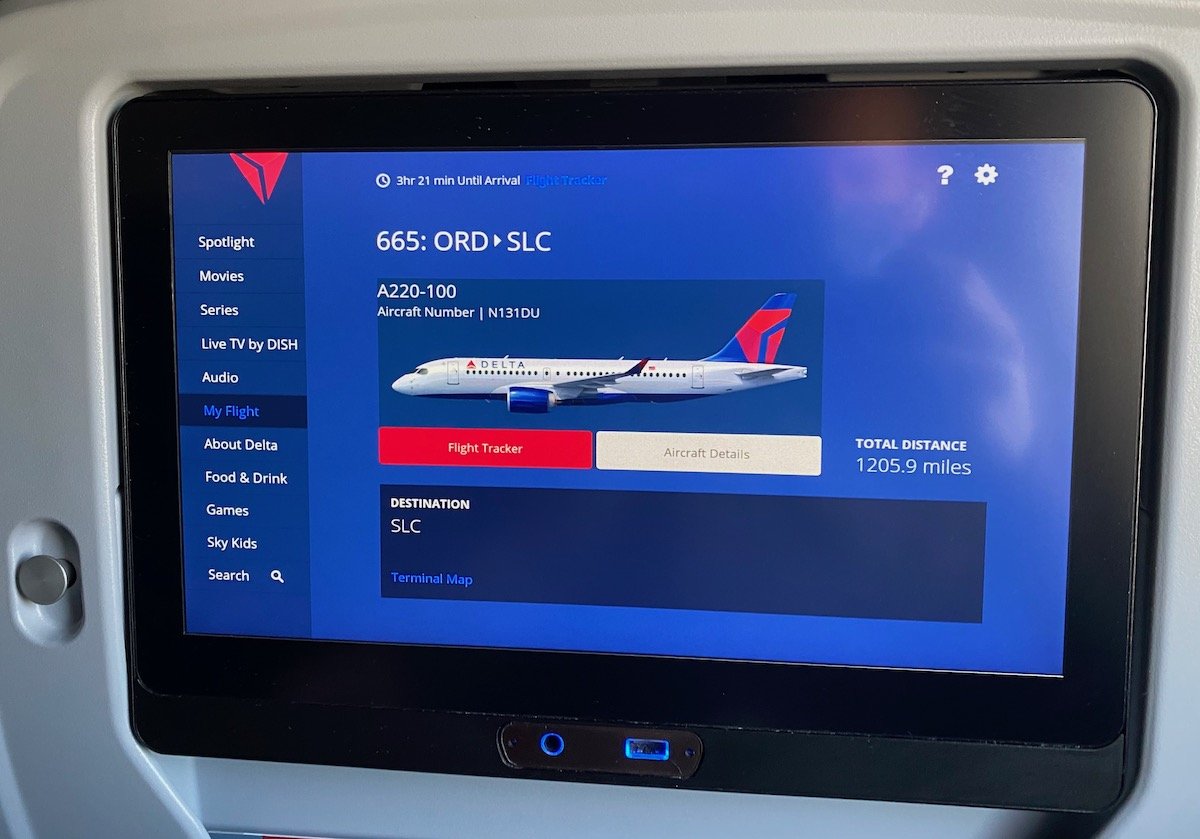 Delta A220 first class entertainment screen
Ah, looking out the window!
The pandemic has taught me never to take travel for granted again, and I have to say, it has also given me a new appreciation for just looking out the window when flying. Don't get me wrong, I've gazed out the window in amazement when flying since a young age, but it's still something I took for granted. That's not the case anymore.
Goodness is the world beautiful, and goodness are airplanes amazing machines!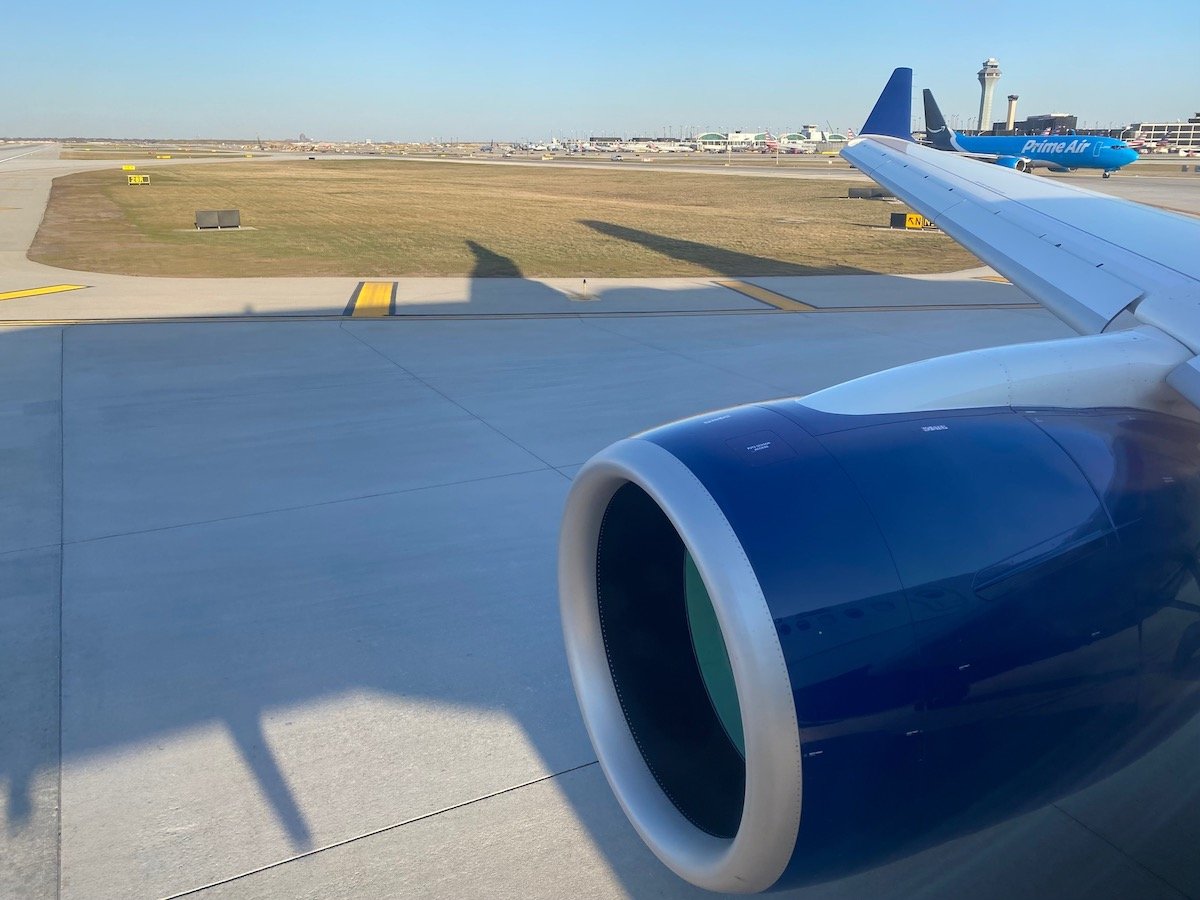 Taking off from Chicago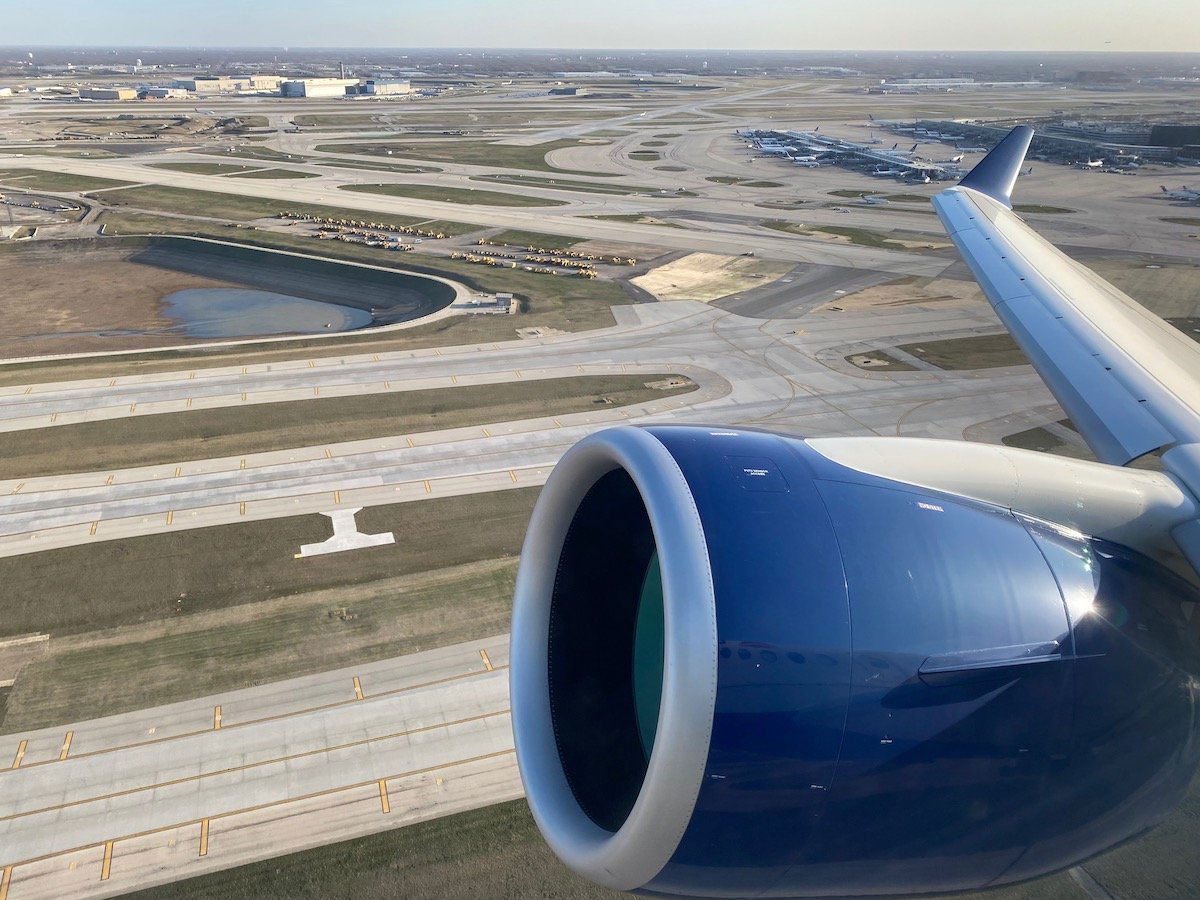 View after takeoff off from Chicago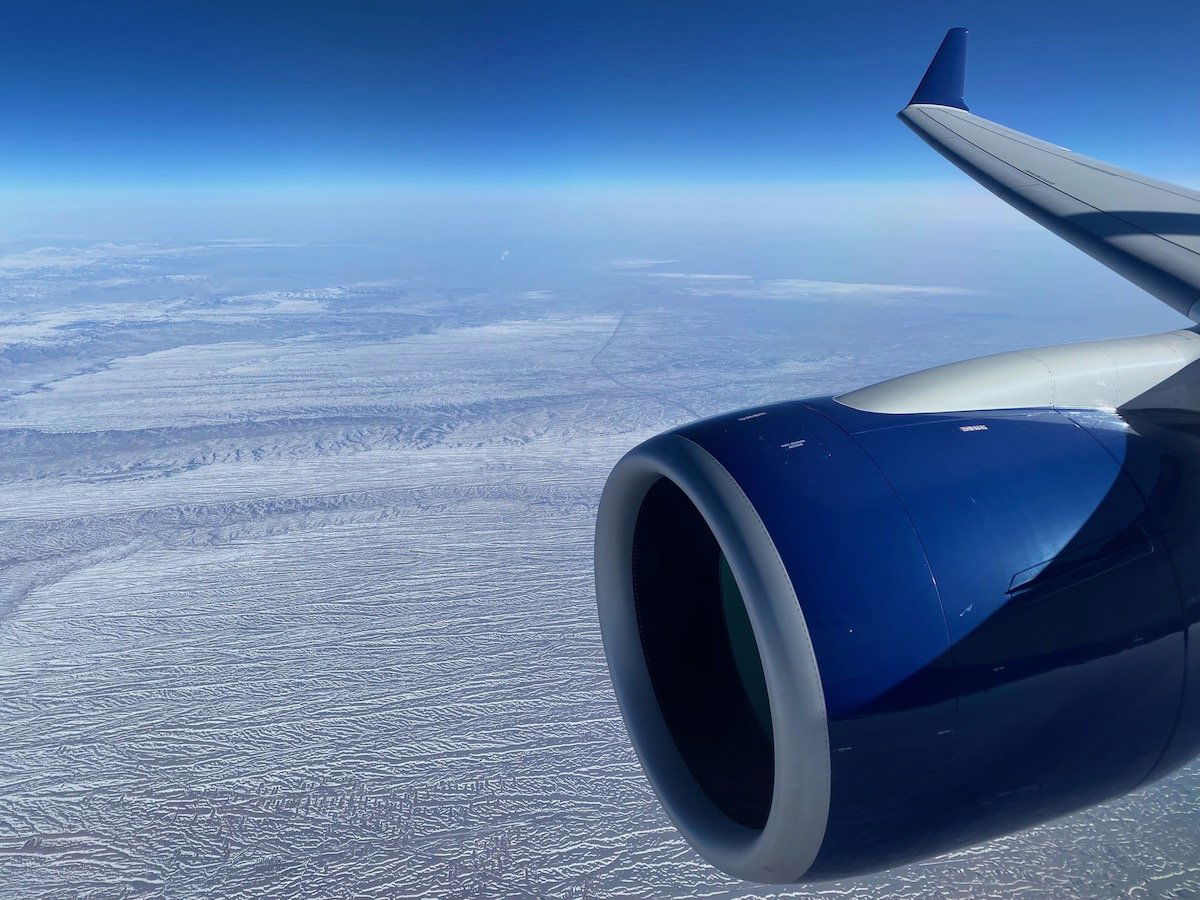 View approaching Salt Lake City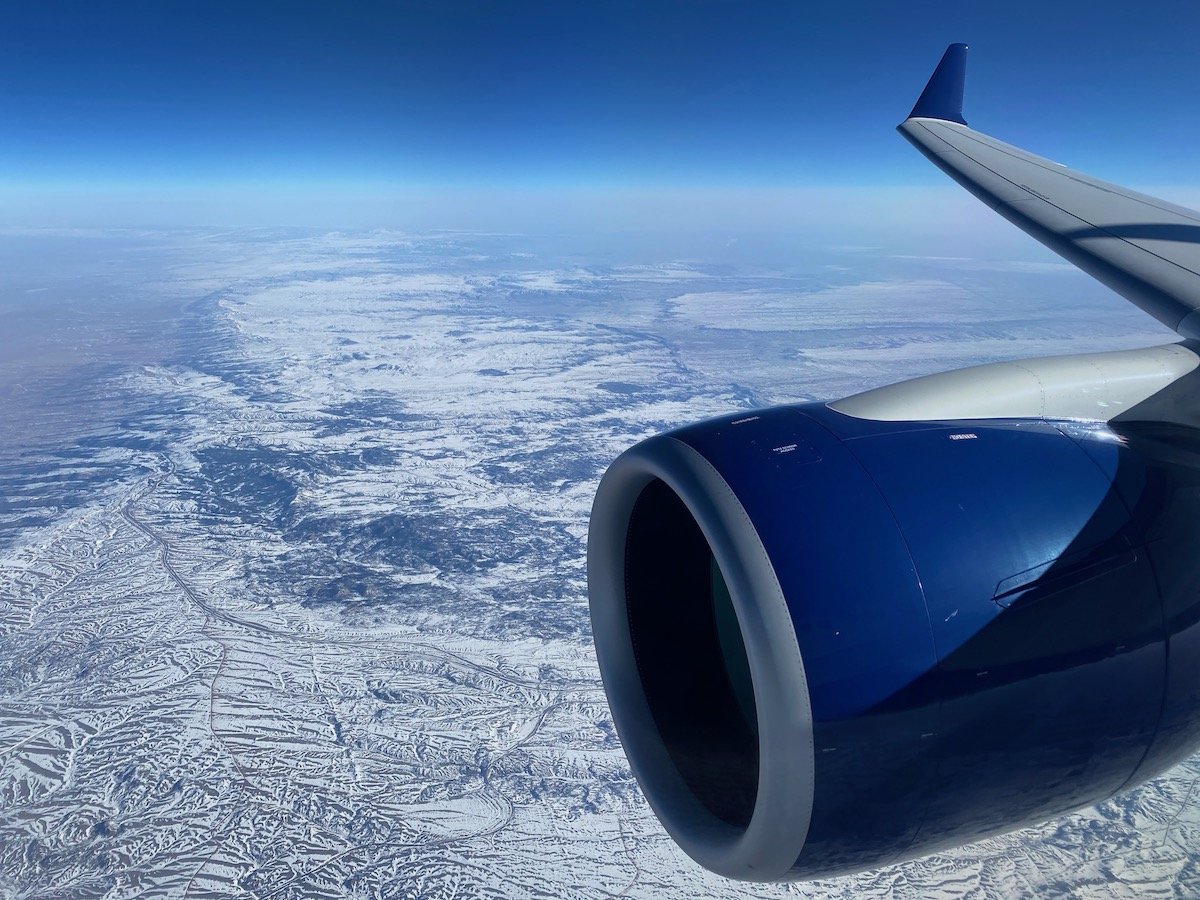 View approaching Salt Lake City
Bottom line
This was my first time flying Delta in over a year, and it was a completely different experience than flying with any other US airline.
Delta's seat blocking policy is awesome, and at the same the airline offers the most limited inflight service. If the goal is to keep people masked, then I have to say that it works, because I never saw such consistent mask usage on a flight.
I know some people have avoided Delta because of this, but personally I'll take the extra space over drinks on just about any flight.
Now, in fairness, the game totally changes as of May 1, when Delta ends seat blocking. Even with Delta's improvements to inflight service as of later this week, the airline won't offer as extensive of a service in first class as American does, for example.
For this flight Delta was the obvious choice, between the superior plane on the route (compared to a CRJ-700), plus the empty seat next to me.
If you've flown Delta first class in the past year, what was your experience like? What do you value more in first class during these times– blocked seats or more inflight service?